Looking for the best website builder for small business? For small businesses on tight budgets, hiring a web designer or developer can be one expense too much. That's why website builder software is so important.
Website builders:
Are a great option for small business owners with budget, skill and time constraints
Let you create an amazing website really fast at an affordable price
Allow you to use the money you would have spent on web development to grow your business
How Do I Create a Professional Website for Free?
It is possible to create a website for free, but it may not look very professional.
When you look deeper, many free website builders aren't really free because:
You can't use your own domain
Your website is covered in ads you don't control
You have to pay for templates and any addons
You don't have full control over your site
We DO include a few free builders in our list below. However, it's crucial to pay attention to what's on offer and make sure it fits your needs.
In this roundup, we'll be looking at the six best website builders for small business, and we've included a handy table of contents. If you're interested in a specific builder, click the links below to go straight to it:
Before we jump in to the website builder reviews, let's take a look at our requirements. What makes a website builder the "best"?
Small Business Website Builders: What to Look For
Here are a few of the most important factors to look for in website builders for small businesses.
Affordability: One of the most important factors for small business owners is the price. You need a website builder that's affordable now, and will still be affordable when your business grows. Think about how your site will evolve as your business grows. The best website builder software will ideally include plans that allow you to scale up easily when you need to.
Ease of use: You'll also need your website builder to be easy to use and learn, with a wide range of templates for all situations. You should have a hassle-free way to add:
The basic website pages you need, such as the home page, about page, services page, and contact page
More complex features like image galleries and video content
Other website elements that some businesses need or want, like a blog, a booking or reservation system, membership features, or an online store
Search engine friendliness: You'll also want a website builder that's search engine-friendly, so your site content appears in search results for your target keywords, and helps to attract your target customers.
With these features in mind, we've narrowed down our choices for the best website builder for small business.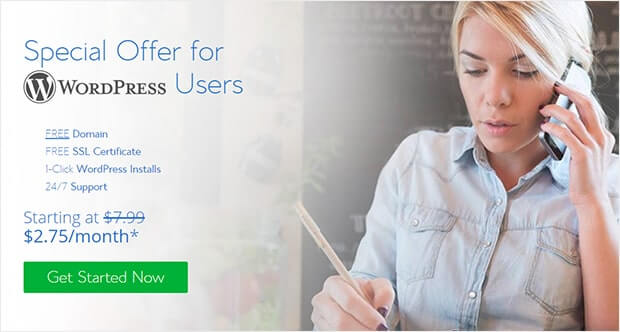 There's a reason why a third of the web runs on WordPress and it's the world's most popular CMS. That's because it's flexible, scalable and easy to use. We don't want to jump ahead here, but WordPress is pretty much the best free website builder for small business.
Just so you know, there are actually two versions of WordPress (learn more about the difference between WordPress.org vs WordPress.com here). We recommend the self-hosted version (WordPress.org) as your small business website builder because it's even more flexible than the other version.
Pros:
WordPress is open-source and completely free, so it's available on most web hosting platforms. For example, Bluehost, an official WordPress partner, has a one-click install.
Designing your site is easy, with thousands of pre-made themes that cover every business niche you can imagine.
For those who prefer more control, you can integrate WordPress drag and drop page builders. Two of our recommendations are Elementor, a fast, responsive website builder, available at $49 for a single site, and Beaver Builder (shown below), a live page builder which costs $99 for use on unlimited sites.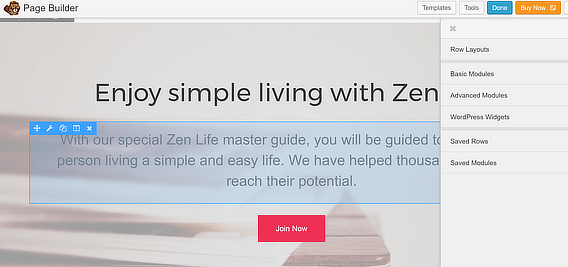 WordPress has tens of thousands of plugins to give your website additional functionality, like adding customizable forms, for example.
In fact, you can create almost any kind of site with WordPress, whether simple or complex.
Dozens of big name brands use WordPress, including many content-heavy sites. So WordPress is a great platform for your small business website, both when you launch your business, and as it grows.
WordPress is search engine-friendly by design. You can also use plugins like Yoast SEO to ensure your content is optimized to show up in search results.
WordPress integrates with virtually every online platform or tool you might want to use, giving you unlimited flexibility to create websites of all kinds, from content-rich blogs to eCommerce websites with thousands of products. You can even design a custom "coming soon" page using the SeedProd plugin to build your audience before your site even goes live.
Check out our top picks for WordPress eCommerce plugins to build your best business.
Cons:
Once WordPress is installed, you're in charge of website security, which means backing up your site, keeping themes and plugins up to date, and updating WordPress itself when needed. Some of this has to be done manually, which means another addition to your to-do list.
One way to solve this is by using managed WordPress hosting, which means someone else looks after the technical aspects of running your site, leaving you free to concentrate on running your business.
Pricing:
It's hard to believe that one of the best website builders for small business is free, but that's exactly what WordPress is. Of course, you'll have to pay for your domain name and hosting. Domains cost about $14.99 per year and shared hosting costs around $7.99 per month.
Get started with WordPress on Bluehost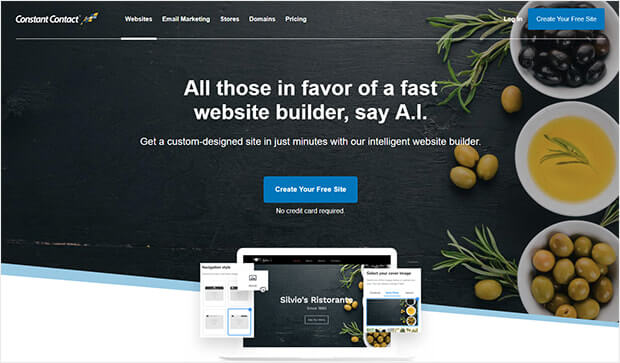 Constant Contact is not only one of the best email service providers, but they also offer a small business website builder that's very easy to use.
Their website builder software uses artificial intelligence to quickly create a beautiful custom website based on your Facebook Business Page. (Not on Facebook? No worries, you can easily use their drag and drop website builder to create your own custom design.)
Pros:
Constant Contact makes it easy for anyone to build a professional-looking website in just a few minutes, even if you're not technically inclined. With the drag and drop builder, you can completely customize the look of your site, no code needed. The website builder is integrated with Unsplash so you get free access to thousands of images.
Constant Contact websites will also load quickly thanks to their super-fast content delivery network (CDN).
Your site will also be extra secure thanks to a free SSL certificate that keeps your customers' data safe from hackers.
Constant Contact is well known for their customer support. They're ready to help you 24/7 by phone, email, or chat.
Best of all, you can get started with Constant Contact's website builder for free.
Cons:
Constant Contact website builder does offer a generous free plan that even includes an online store and 24/7 support. But if you want access to more advanced features like a custom domain name or advanced analytics, you'll need to upgrade to a pain plan which starts at $10 per month.
Since their website builder is newer than WordPress, there aren't any third-part extensions you can install on your website to add new features. So, if you need more advanced features, then WordPress is probably the better choice for you.
Pricing:
You can use Constant Contact's free website builder to create and publish your website for free. The free plan even includes an online store with up to 3 products. If you want to sell more products or unlock more advanced features, the paid plans start at $10 per month.
Get started with Constant Contact website builder today.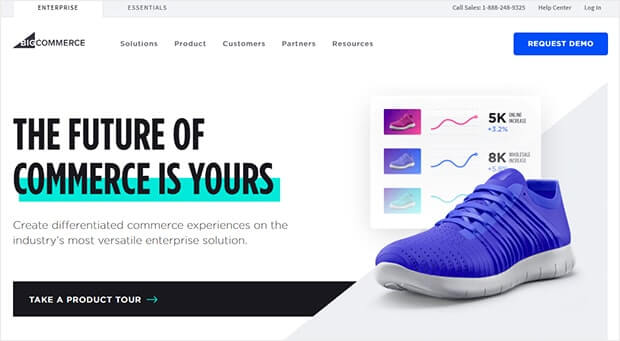 If you're looking for an eCommerce website builder, then BigCommerce is a great choice. That's because it's specifically designed to help businesses handle online sales. The BigCommerce platform powers Ben & Jerry's, Skullcandy, CamelBak, and other famous online stores.
Pros:
BigCommerce is a great way to launch an eCommerce store and start making money, without having to worry about the technical aspects of managing it. Their Essentials plan includes everything you need to build, run, and scale an online store, without having to know any code.
Even absolute beginners find it easy to create their first online store with their stunning templates, so you can have a professional-looking ecommerce store up in minutes.
Not only that, but you can easily customize your store with BigCommerce apps. They allow you to unlock more advanced features to grow your online store, like shipping and inventory solutions, built-in customer reviews, email marketing automation tools, and much more.
Since you're handling financial transactions, you have the added benefit of built-in security features to keep your customer data safe.
BigCommerce also offers educational video courses and 24/7 live support via phone, chat, and email.
Cons:
For some small businesses, the biggest disadvantage of BigCommerce is that it isn't free.
You need to upgrade to more expensive plans to get:
Pricing:
BigCommerce has a 15-day free trial. The Standard plan starts at $29.95 per month.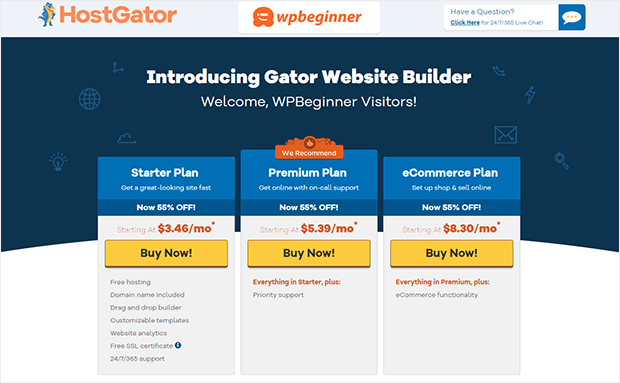 Next on our list of the best website builders for small business is Gator Website Builder. Developed by web hosting company HostGator, the Gator Website Builder makes it easy to create a simple website with just a few clicks.
Pros:
Gator Website Builder boasts no learning curve, with a library of professionally-designed themes to choose from. The drag and drop website builder software makes it easy to customize your website with images, video, Google Maps, and more.
The Gator Website Builder package includes free web hosting, a domain name, website analytics, and a free SSL certificate to keep your site secure and help you rank high in search engines.
There's even a save history feature, so you can easily revert your website to a previous version with just a click.
Cons:
Gator Website Builder is a simple website builder that doesn't include advanced features. So if you're looking to open an eCommerce site or add more functionality to your website, this wouldn't be the best choice for you.
Pricing:
The Gator Website Builder starts at just $3.46 per month, including hosting and domain name. This makes it a really cost-effective choice for small businesses who just need a simple web presence.
Get started with the Gator Website Builder today!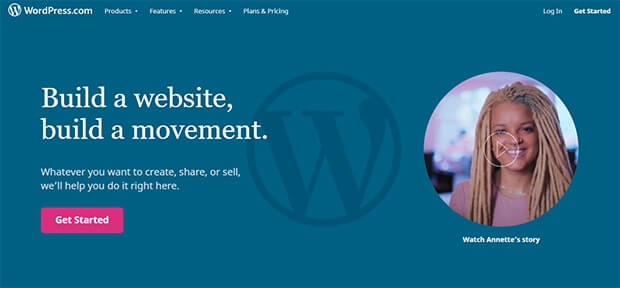 WordPress.com is a version of WordPress that's hosted for you. It's a website builder and hosting service that was created by the co-founder of WordPress software.
WordPress.com is a good choice for getting started with a simple website or hobby blog.
Pros:
WordPress.com is hosted for you, so you don't have to worry about setting up your own web hosting account.
It's a free website builder that includes dozens of themes to choose from, and up to 3GB of storage space. You can upgrade to a paid plan to access more features, like your own domain name, advanced customization options, and ad removal.
You don't have to worry about updating your site, because WordPress.com will automatically take care of that for you.
Cons:
WordPress.com has a lot of limitations compared to self-hosted WordPress:
You can't upload custom themes or plugins to extend your site.
You have limited customization options and have to use one of their available themes.
On the free plan, they will place ads on your site that you have no control over.
Pricing:
WordPress.com is a free website builder, but you'll have to upgrade to a paid plan to access more than basic features. They have a Blogger plan starting at $3 per month, and the eCommerce plan starts at $45 per month.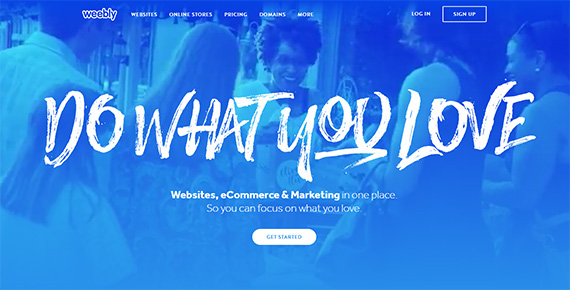 Weebly is often listed among the best free website builder software. It's true; it's hard to argue with the price tag, but as with most things, you get what you pay for.
Pros:
Weebly's fully hosted, so you won't get bogged down in the technical details of running your site.
You can create your Weebly site with its drag and drop builder, choosing from dozens of mobile responsive templates with modern designs.
Weebly also includes features to make your site search engine friendly. Weebly includes some lead generation features, though these are limited in the free version. Site storage is restricted to 500MB in the free version, which means if your website files take up more than that amount, you'll need to upgrade.
Upgrading lets you use Weebly with your own domain, which is a must for the professional reputation of any small business. Domains are available free with the upgrade, along with a $100 credit to promote your business with Google Ads.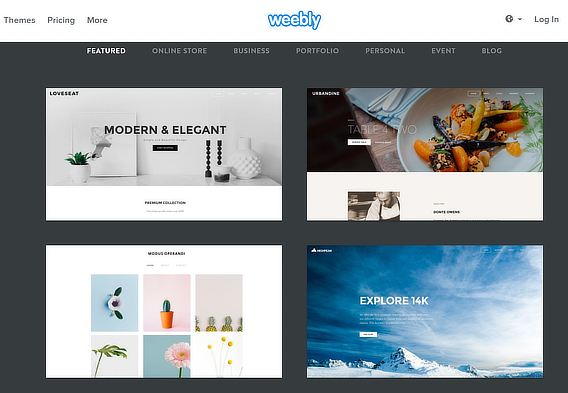 With different plans, you also get access to site analytics, site search, HD audio and video, and the ability to run a membership site.
Weebly also has a number of plans designed for businesses with online stores, though these aren't free. Depending on the plan you choose, you can benefit from:
The ability to sell digital goods
Reduced transaction fees
The ability to offer coupons and gift cards
Abandoned cart emails
Additional shipping functionality
Cons:
While Weebly's often included among the best free website builders for small business, it's probably more accurate to call it freemium. That's because you have to pay if you want your own domain and more extensive site options. Small businesses running eCommerce stores will also have to pay.
Not everyone finds Weebly's drag and drop builder easy to use, either. And under the hood, there's some unnecessary code, which can hurt your SEO.
Finally, the main disadvantage of using Weebly is that you get locked into their platform. If you want to change website platforms later, you'll find it difficult to move without having to recreate your entire site from scratch.
Pricing:
Weebly's pricing for a regular website starts at $0 and ranges up to $25 per month. Its eCommerce pricing is between $8 and $38 per month.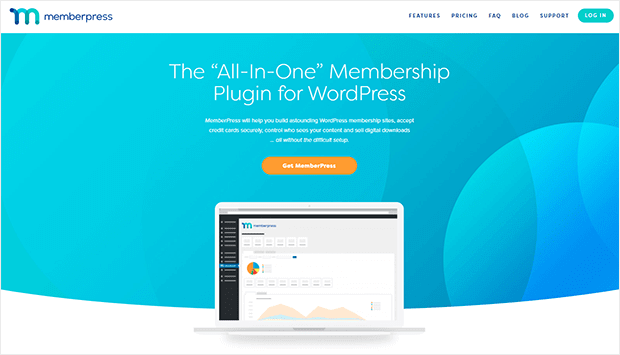 Do you want to create a membership website, where visitors can register to access exclusive content? Then you need MemberPress.
MemberPress is actually a WordPress plugin that helps you to build stunning membership sites. You can accept payments for memberships, sell digital downloads, and control who sees all the content on your site.
Pros:
Since MemberPress runs on WordPress, it comes with all the flexibility and other advantages listed above.
With a MemberPress site, you can:
Set up your membership site in minutes, no code needed
Create a business with recurring subscription revenue
Manage your site members and give them access to specific content depending on their membership level
Integrate with other plugins to create forums, build your email list and more
Use any WordPress theme you want for a unique custom design
Plus, MemberPress is well known for providing high quality customer support to help you create and maintain your membership site.
Cons:
One disadvantage for small business owners is that this website builder isn't free. MemberPress has a basic plan that's $149 per year.
And because it runs on WordPress, you're responsible for software updates and backups.
Pricing:
You can get started with MemberPress for $149 per year – that's less than $13 per month. They do offer a 14-day money back guarantee so you can get started with no risk!
Get started with MemberPress site builder today!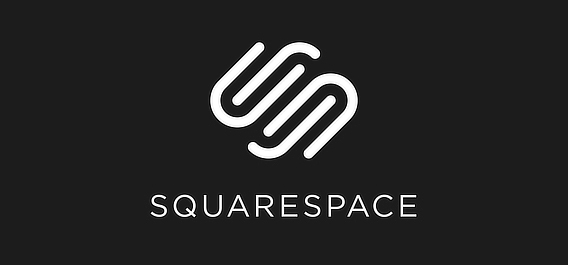 One of the reasons Squarespace made our list of the 6 best website builders for small business is because sites built with Squarespace look great! Squarespace users love its beautiful designs and ease of use.
Pros:
Squarespace is easy to use, even if you're a complete beginner, with dozens of designs and templates to choose from.
It's not free, but its basic plan will let you set up a 20-page website, which is a good way for a small business to get started. You can use Squarespace with a custom domain, available for free for the first year. It's fully hosted, which means Squarespace keeps your site updated for you.
Squarespace provides a lot of functionality at an affordable price. Small business owners can get an SSL certificate, web analytics, and eCommerce features within the basic package. You can also sell unlimited products, and accept donations.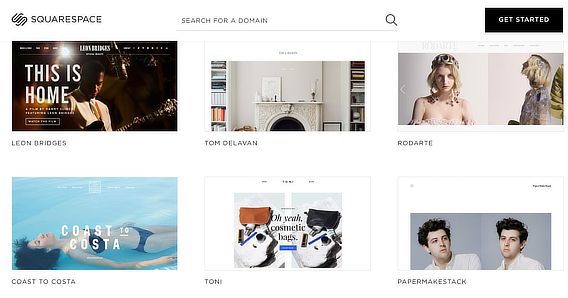 If you want more robust features for your online store, Squarespace has more advanced functionality via its online store plans. Depending on the plan, you'll get access to inventory management, accounting, checkout, abandoned cart recovery, and eCommerce reporting.
Cons:
One disadvantage for small business owners is that this website builder isn't free. And if you get your domain name through Squarespace, you'll have to pay renewal costs after the first year.
Some people find there's a learning curve for building your site, though Squarespace's excellent support will help solve any issues.
And if eCommerce is important to your business, you'll need to spring for one of the more expensive plans to get the features you need.
Pricing:
Squarespace websites are available at either $12 or $18 per month. Their online stores cost either $26 or $40 per month.
9. Wix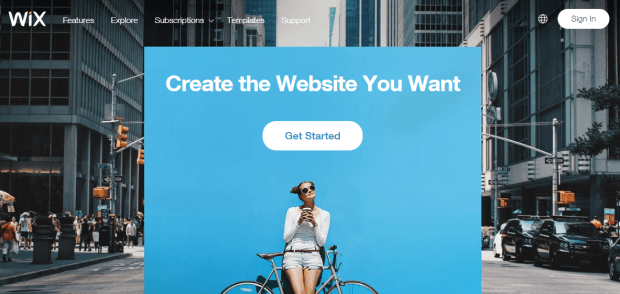 Wix is one of the best-known brands in the website builder product type. They've been around for quite a while (since 2006!), and have built their brand largely through word-of-mouth advertising. Wix is one of the most popular all-inclusive website builders and has drag and drop design for a simple user experience.
Pros:
Wix has more than 500 high-quality templates available for you to use. The templates are up to today's design standards and already structured and formatted for you. All you need to do is pick the one you like and replace the pre-populated content with your own. And, the templates are super easy to customize in the drag and drop website builder.
You can create awesome eCommerce sites like this in minutes: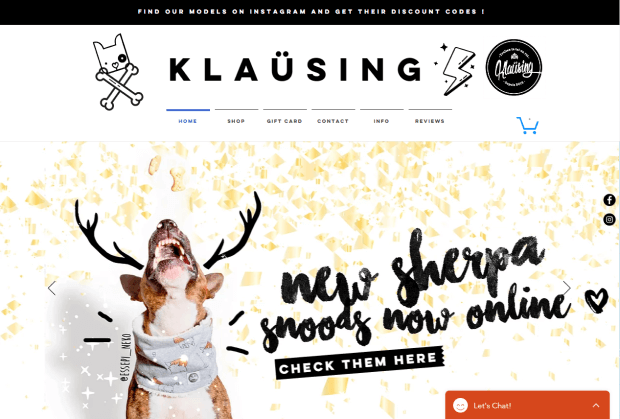 Speaking of the builder… Wix is constantly introducing new features and designs that make your site even more appealing to customers (and generate more sales for you).
And, if that wasn't enough, the builder has an artificial intelligence system called Wix ADI (Wix Artificial Design Intelligence) that can help you build the first version of your site automatically, as well as implement additional changes, like all of the new features that come out.
Cons:
Though Wix deserves its place among the best website builders for small business, there are a couple of issues to consider.
First, once you've selected a template, it's pretty hard to make changes. With so many templates available, this may cause some headaches for business owners who find that they have to add their content over and over again just because they want a different look to their site.
Also, if you do end up moving your site away from Wix, you may find it a bit complicated to make it happen.
Pricing:
Wix monthly plans start at $11 for the Combo Plan, $14 for the Unlimited Plan, and $29 for the VIP Plan. Business Plans are available at $20, $25, and $35 per month.
What Is the Best Website Builder for Small Business?
So, now that we've narrowed down our choices for the best website builder for small business, which builder wins?
It depends…
Best DIY Website Builder
WordPress is our all-around pick for the best website builder for small business. That's because it's flexible, extensible, scalable, and easy to use.
And with a quarter of the web running on WordPress, there's a strong community to help provide the resources and help you need.
Best eCommerce Website Builder
BigCommerce wins our vote for the best eCommerce website builder. We love its user-friendliness, professional designs, and expert tools so you can create a high-earning online store your customers will fall in love with.
Once you've chosen your website builder, we recommend that you start growing your email marketing list and building an audience even before you launch your site. The sooner you start building your list, the more value you'll see in terms of leads and conversions.
To unlock this value, it's essential to choose a marketing tool that integrates with the website builder of your choice. OptinMonster has advanced targeting features that will help you market to the right audience at the right time, no matter which website builder you choose. Our targeting features include:
Our signature Exit-Intent Technology, which grabs your visitors' attention just before they leave your site
Page-level targeting, which lets you create page-specific offers that are more relevant to your customers
Onsite retargeting, to show different offers to people who've already seen previous marketing campaigns
OptinMonster also integrates with all the major eCommerce platforms and the industry-leading email marketing services.
And with our wide range of templates and themes, you can easily create high-converting marketing campaigns that match the design of your newly-created site.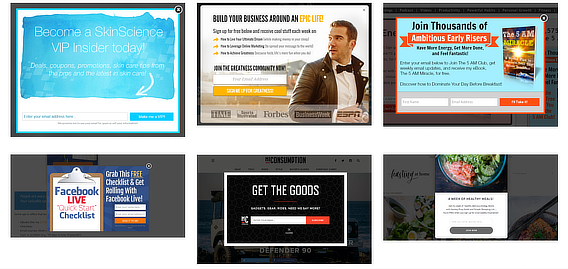 Not using OptinMonster yet? Get started today so you can convert more visitors into subscribers and customers!