Are you looking to connect TrustPulse to software with which we don't have a native integration? Our Zapier integration allows you to connect TrustPulse to Zapier's 500+ apps! Here we'll show you how to set up TrustPulse as an action in Zapier to start connecting.
NOTE:
Please be aware that
Zapier
has a free tier, but certain usage limits and integrations may require the paid version. They do provide a trial if you wish to try out their services to determine if they're a good fit for your needs.
---
Step 1 – Configure a Zapier Trigger
In Zapier, create a new zap and choose the trigger that you want to use for your TrustPulse campaign. For example, you can create a trigger for Shopify or WooCommerce that fires when someone makes a purchase. You could also connect to your email service provider so that it fires whenever someone subscribes to your email list.
In this example, we are going to use a Google Sheets trigger that fires whenever a new row is added to a specific Google sheet.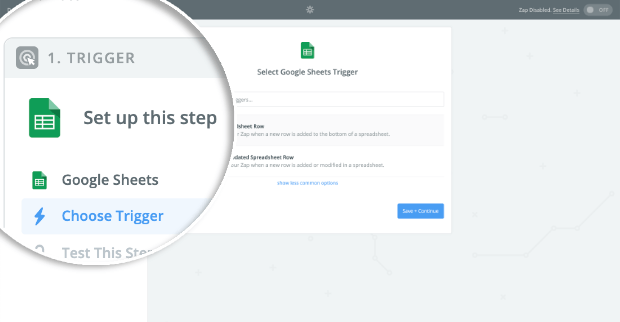 Step 2 – Connect Zapier to TrustPulse
Step 1 – Create a Campaign
In TrustPulse, create or edit a campaign in your Dashboard. Then, go to the Capture Activity section.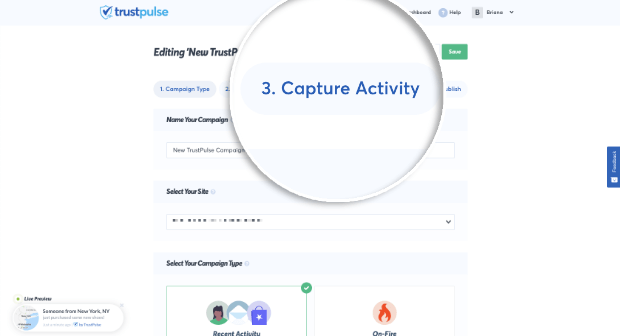 Choose the Zapier option.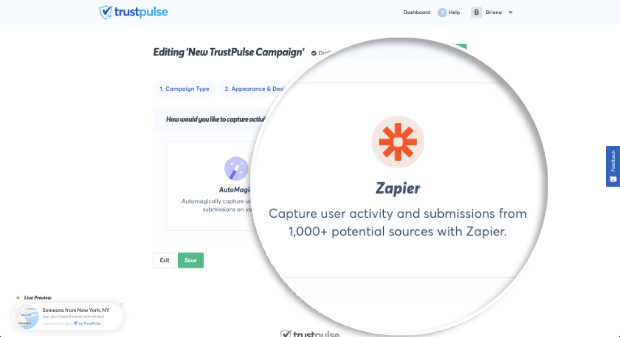 Click Connect with Zapier.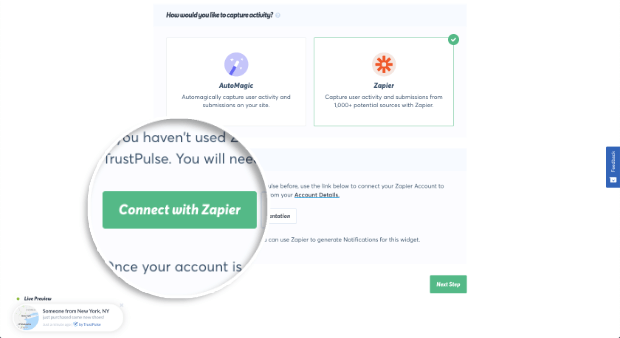 Step 2 – Configure the Zapier Integration
In Zapier, click Accept Invite & Build a Zap to use the TrustPulse app.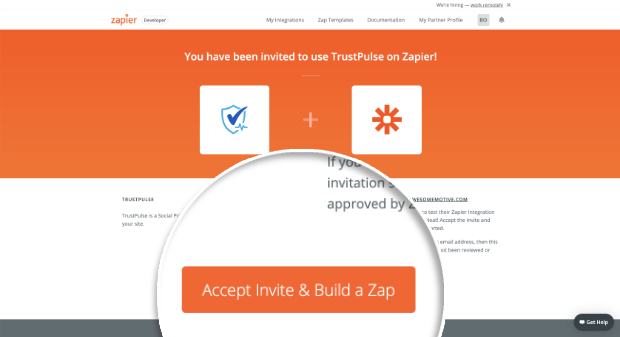 Then, in your Zapier Dashboard, edit the zap you created. In the Action step, choose the TrustPulse app.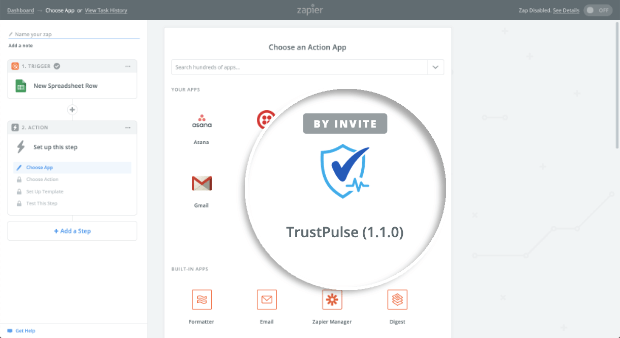 Use the Create Notification option. Click Save + Continue.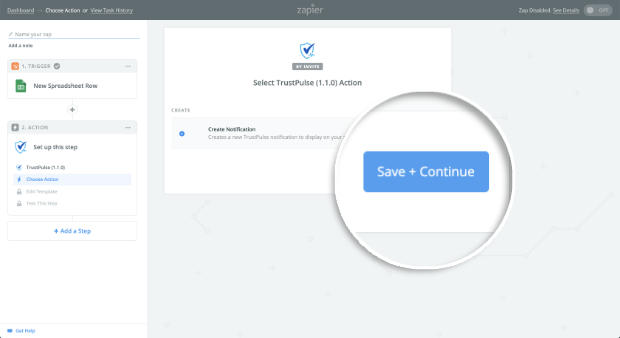 Use the Connect an Account option to connect to your TrustPulse account.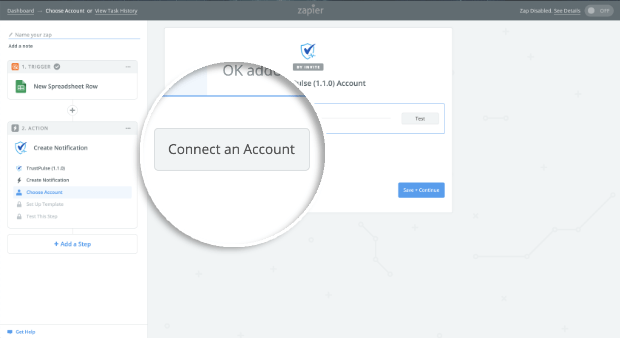 In the modal that pops up, click your dashboard to retrieve your API key.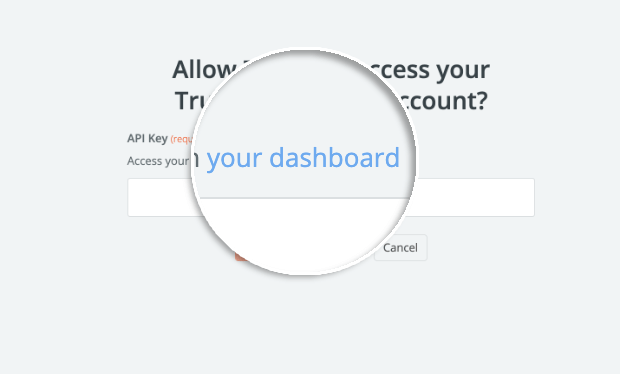 Copy your API key from the TrustPulse dashboard.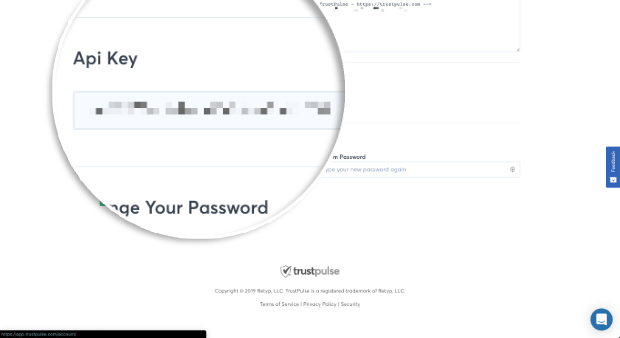 Paste the API key back in the modal that appeared. Then click Yes, continue.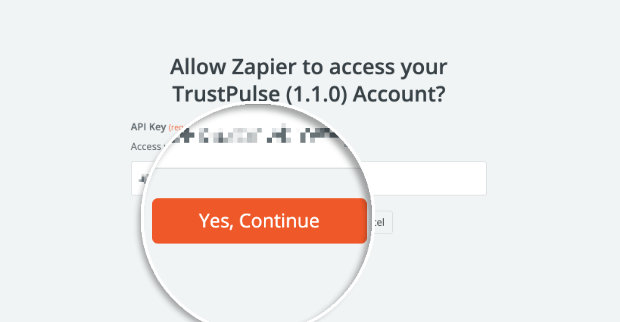 Zapier will now connect to your TrustPulse account.
NOTE: Use the Test button to ensure Zapier and TrustPulse are connected successfully.
Click Save + Continue.
Choose which TrustPulse campaign to use and match the trigger data with the corresponding fields in the TrustPulse Action template. Then click Continue.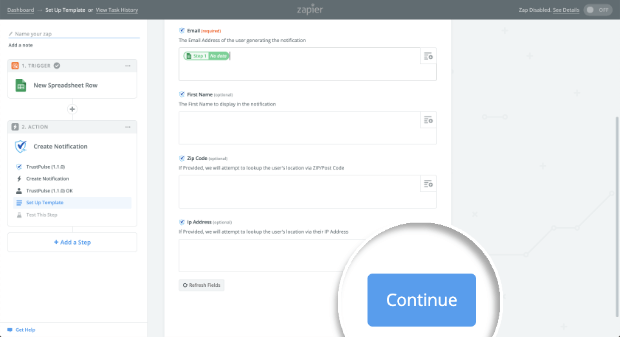 Step 3 – Test Zapier Integration
Review the zap and click Send Test to TrustPulse.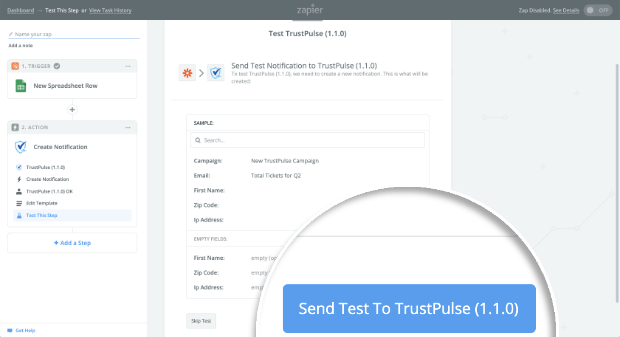 Then, click Finish.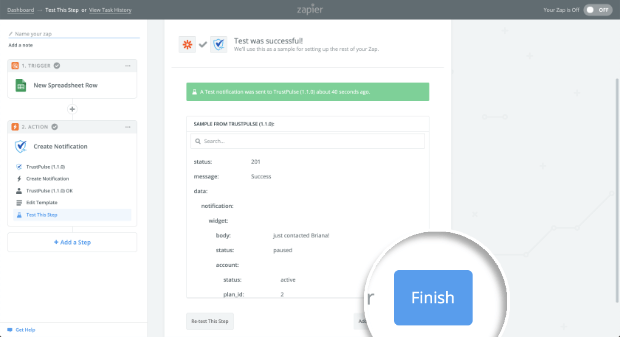 Finally, give your zap a name and turn it on.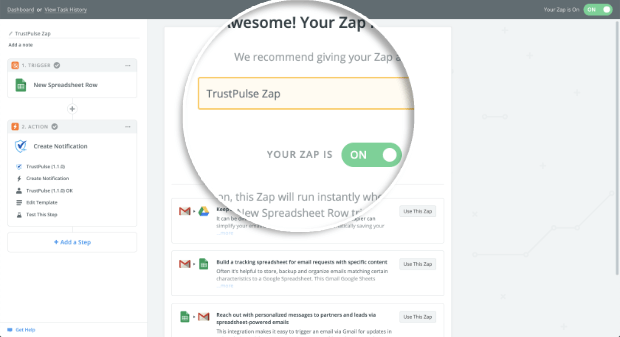 That's it! You've connected your TrustPulse campaign to Zapier.
If you're serious about supercharging your website with social proof then get started with TrustPulse today!