Are you looking for the best Google Analytics WordPress plugin?
Google Analytics helps you discover everything you need to know about your website visitors but setting it up is quite technical.
Luckily, there are Google Analytics WordPress plugins that make it easy as clicking a few buttons.
In this blog, I'll show you the top Wordpress Google Analytics plugins that give you valuable insights to make your site a success.
Why Use a Google Analytics WordPress Plugin?
Google Analytics is a free tool that gives you insights to develop content and campaigns that meet your audience's needs.
Here are a few things you can learn from Google Analytics:
Number of visitors: how many people are visiting your site
Best content: the top posts that get the most visitors
Conversions: the number of people taking action on your site
Traffic: best website traffic sources
Setting up Google Analytics requires some amount of technical knowledge. But with a Google Analytics plugin, all you need to do is install the plugin and activate it. Then follow the prompts to connect to Google Analytics.
Google Analytics WordPress Plugin – Top 9
Check out our hand-picked list of the best WordPress Google Analytics plugin.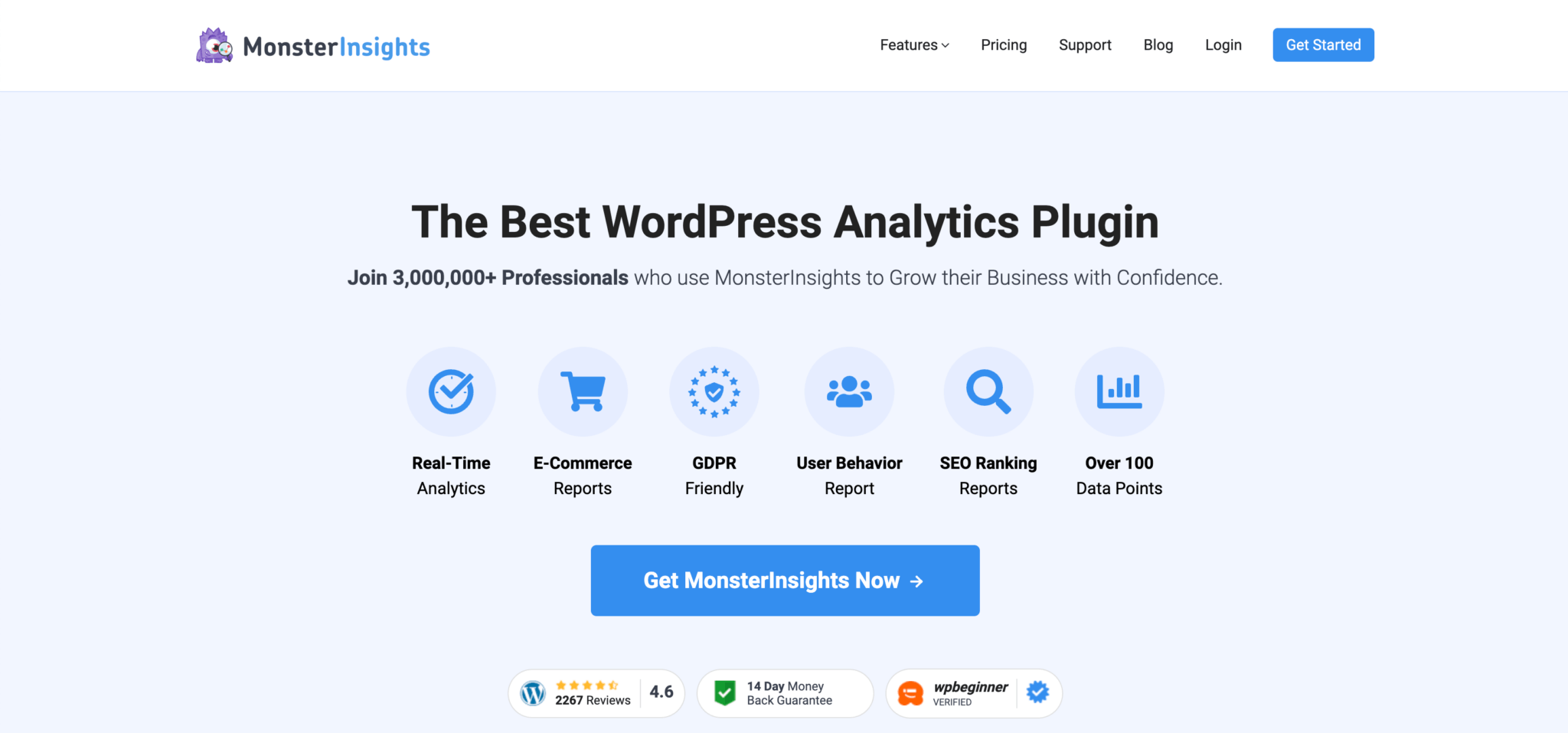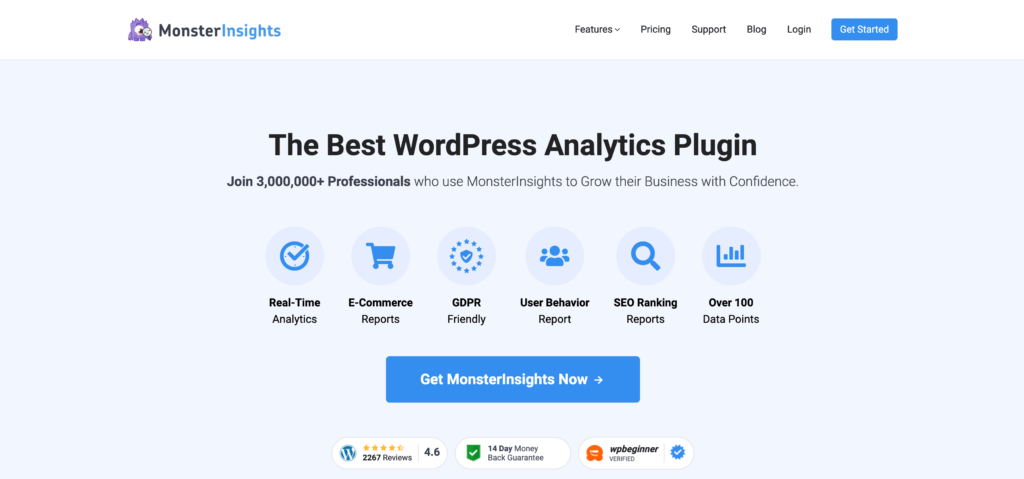 MonsterInsights is the best and most popular Google Analytics WordPress plugin that shows you detailed analytics data in easy-to-understand reports within WordPress.
With MonsterInsights, installing Google Analytics is easy on your site. You don't even have to touch a single line of code during the installation. You can connect to Universal Analytics (GA3) or Google Analytics 4 (GA4). You can even connect both versions at the same time using the dual tracking feature.
Once activated, MonsterInsights adds an analytics dashboard to your WordPress admin area. And it won't slow down your site, unlike other plugins.
It also works with any WordPress theme to deliver real-time stats and crucial information to refine and optimize your marketing strategy.
Key features and addons include:
Easy reports: View key Google Analytics account data within the WordPress dashboard
eCommerce tracking: Boost sales with powerful eCommerce features, like tracking total revenue, conversion rate, and average order value
Custom dimension tracking: Check your best publication times, popular categories and tags, and SEO score
Form tracking: Show conversion rates for all your WordPress forms
Events tracking: Monitor affiliate links, outbound links, downloads, and call to action buttons' performance
MonsterInsights also displays a Google Search Console report to show how your website is ranking. Plus, it's GDPR compliant.
There's a free version of this plugin, but it comes with limited features. The pro version comes with a 14-day money-back guarantee. That gives you all the power of Google Analytics for your WordPress site with ZERO risk.
Get started with MonsterInsights today!


ExactMetrics is another great Google Analytics WordPress plugin that lets you check your website statistics right from your WordPress dashboard.
It's easy to install and offers free and paid versions. ExactMetrics has powerful tracking features and shows you all sorts of valuable data such as:
Demographic reports
Affiliate link tracking
Popular authors
Top traffic sources along with custom dimension options
Best performing posts and page-level insights
eCommerce tracking for WooCommerce
ExactMetrics data is very accurate and displays in real-time. Plus, it comes with advanced performance optimization features.
It's no wonder over 1 million website owners use ExactMetrics as their go-to WordPress analytics plugin to grow their business faster.
Get started with ExactMetrics today!


ShareThis Dashboard for Google Analytics is a basic WordPress Google analytics plugin from ShareThis. Like MonsterInsights, you can view your plugin analytics from within WordPress.
This plugin lets you view:
Five popular traffic sources
Trends for the past 7 days, like page views, users, and bounce rate
Top 10 most viewed pages
This is a free Google Analytics plugin for WordPress, but as you can see, the range of data you get with it is fairly limited.
Get ShareThis Dashboard for Google Analytics!


Analytify – Google Analytics Dashboard For WordPress is another popular WordPress Google analytics plugin.
It's easy to install and lets you view your reports inside your WordPress dashboard. Like other analytics plugins on this list, there are free and paid versions.
It shows all the basic analytics including your total number of visitors, bounce rate, and mobile device statistics.
You can also track top countries and best referral sources.
The paid version comes with eCommerce analytics for WooCommerce and Easy Digital Downloads.
One thing to keep in mind is you might need to use shortcodes to view additional data. Depending on your needs, this might be harder to set up.
Get started with Analytify today!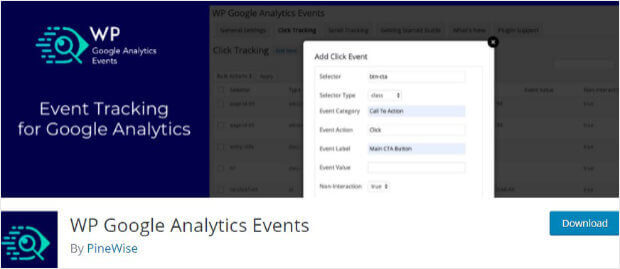 WP Google Analytics Events is a Google Analytics plugin for WordPress that lets you track exactly how your visitors are interacting with site events.
Here are examples of the kind of things you can track:
When someone views your pricing table
Comparing clicks on different call to action buttons
The percentage of visitors who get to the end of an article
This is different from other WordPress analytics plugins because it only tracks events. Typically, you would need to hire a developer to set up event tracking on your WordPress website. But this plugin takes care of the technical setup and makes it easy to get reports on your site's events.
Get started with WP Google Analytics Events today!


Analytics Integration Plugin For Woocommerce is a good option for those looking specifically for eCommerce data.
More than 40,000 online stores use this plugin for WooCommerce and it takes less than 5 minutes to set up.
It helps you use the data to track your online shoppers' entire journey with reports such as:
Audience reports: which countries your shoppers are from and their devices and interests
Behavior reports: shows which people are engaging with your site and how much time they are browsing before making a decision
Acquisition reports: which sources are bringing website traffic and how they are performing
If you're not using WooCommerce, you might need to consider a different plugin.
Get started withAnalytics Integration Plugin For Woocommerce!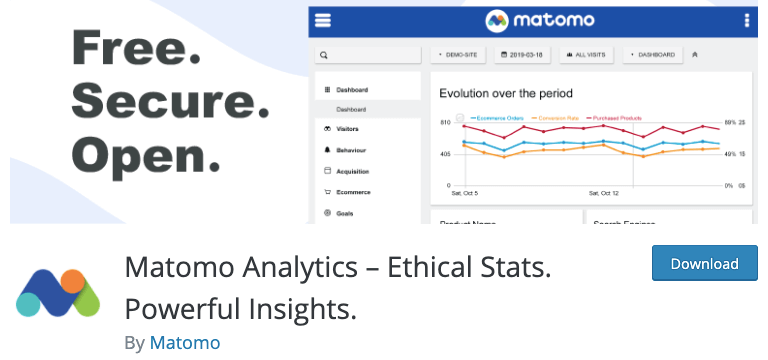 Matomo Analytics gives you an easy way to get customer insights to grow your business.
It has a range of powerful features to help you improve your website.
This plugin is that it hosts the web analytics data on your own servers. The upside to this is that your data is more secure as it's not shared with a third-party. That said, it can slow down your site's speed which isn't good for SEO.
Matomo is a forever free Google Analytics WordPress plugin.
Get started with Matomo Analytics today!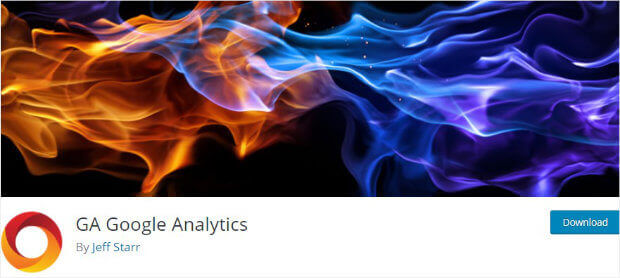 GA Google Analytics lets you connect your site to Google Analytics easily.
This means you won't have to add the Google Analytics tracking code yourself. Once connected, you can view your data in Google Analytics.
Keep in mind that this WordPress analytics plugin is quite limited. You'll need to use one of the other plugins on this list if you want to see your reports within WordPress.
Get started with GA Google Analytics today!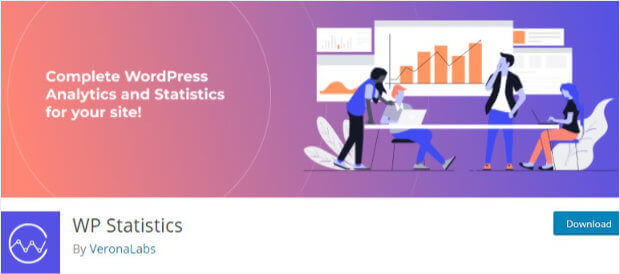 WP Statistics is a simple Google Analytics WordPress plugin.
In addition to showing the visitors from each search engine, WP Statistics displays your top:
Countries and cities
Browsers
Referring sites
Visited pages
You'll also get analytics for specific writers, tags, and categories. You will need to pay for real-time statistics and more advanced reporting.
The information is presented in easy to understand graphs and charts. WP Statistics stores the data in your server, so this might cause performance issues for your site.
Get started with WP Statistics today!
And there you have it! We've covered the top 9 Google Analytics plugins for WordPress.
Which Is the Best Google Analytics Plugin for WordPress?
MonsterInsights takes first place among the best WordPress analytics plugins!
It makes it so easy to set up Google Analytics and what really stands out is its reports. It collects complex data and creates simple reports that anyone can understand.
So you can get detailed analytics and valuable insights for your WordPress site without needing any technical skills.
Ready to get valuable insights to grow your site? Get started with MonsterInsights!
Beyond Google Analytics..
Once you've identified popular product pages or landing pages, you'll want to optimize them. And the best way to do that quickly is with TrustPulse.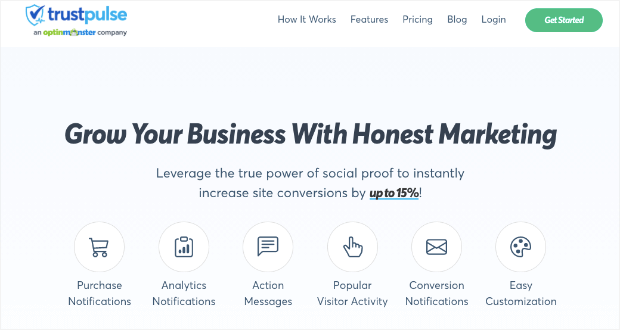 TrustPulse is the best social proof app in the market. It lets you convert your Google Analytics data into social proof that you can display on your site.
So for instance, you can showcase how many people are signing up for your newsletter, reading your blog posts, or buying a product.

This builds trust and credibility with visitors to instantly boost conversions and sales on your site.
TrustPulse also lets you control where these popups appear. So you can show them personalized popups depending on which page the user is on. This helps maximize conversions and campaign results.
Once you have data about your visitors and what they like, you can use it to create campaigns and promotions that your audience will respond to.
And if you want to instantly boost conversions, join TrustPulse today!
If you're looking for more resources on creating a winning website, check out these posts: