Are you looking for reputation management tools?
Whether you're an individual or a business, maintaining a positive online reputation is crucial for success. With the rise of social media and online reviews, managing your reputation has become more challenging than ever.
That's where reputation management tools come into play.
In this article, we'll take a deep dive into the following:
By the end of this article, you'll know which online reputation management tool is best for your business to stand out online positively.
What Are Reputation Management Tools?
Reputation management tools are software solutions designed to monitor, analyze, and improve your online reputation. These tools offer a range of features and functionalities that empower you to stay on top of what people say about you or your business.
By utilizing these tools, you can proactively manage your online presence and address any negative feedback before it escalates.
Importance of Reputation Management Tools
The following are the benefits of employing reputation management tools:
Maintaining a Positive Image: Reputation management tools are crucial in helping individuals, and businesses maintain a positive online image. By monitoring online mentions and reviews, these tools enable proactive customer engagement, promptly addressing negative feedback and amplifying positive experiences. This helps in building trust, credibility and fostering a positive reputation.
Mitigating Potential Damage: In the age of social media and online review platforms, negative feedback or damaging content can spread rapidly and harm your reputation. Reputation management tools allow you to identify and address negative sentiment early on, preventing it from escalating into a full-blown reputation crisis. Timely action can help mitigate potential damage and protect your brand's reputation.
Improving Customer Experience: Reputation management tools enable businesses to effectively listen and respond to customer feedback. By analyzing customer sentiment and identifying areas of improvement, businesses can make data-driven decisions to enhance their products, services, and overall customer experience. This can increase customer satisfaction, loyalty, and positive word-of-mouth referrals.
Monitoring Competitors: Reputation management tools also provide insights into competitors' online reputations. By analyzing their strengths, weaknesses, and customer sentiment, you can identify opportunities to differentiate yourself and stay ahead in the market. Understanding your competitors' reputations can inform your own reputation management strategies and help you position yourself effectively.
Data-Driven Decision Making: Reputation management tools provide valuable data and analytics that enable businesses to make informed decisions. By tracking sentiment trends, identifying customer preferences, and measuring the impact of reputation management efforts, businesses can refine their strategies, allocate resources effectively, and optimize their online presence.
Enhancing Search Engine Visibility: A positive online reputation can directly impact search engine visibility and rankings. Reputation management tools help businesses monitor and manage online reviews, ensuring search engines view them favorably. This can lead to higher search engine rankings, increased organic traffic, and improved online visibility.
Building Trust and Credibility: Reputation management tools provide opportunities to showcase positive customer experiences through testimonials, reviews, and social media interactions. By highlighting positive feedback, businesses can build trust, credibility and establish themselves as industry leaders. A strong online reputation enhances the brand perception and attracts potential customers.
When it comes to first impressions, you don't have much time to make a good one. In fact, most
Ten Reputation Management Tools to Improve Your Online Image
When it comes to reputation management tools to monitor your online image, you've got a lot of options to choose from. Let's start by looking at a few free tools any business can start using today:
Free Online Reputation Management Tools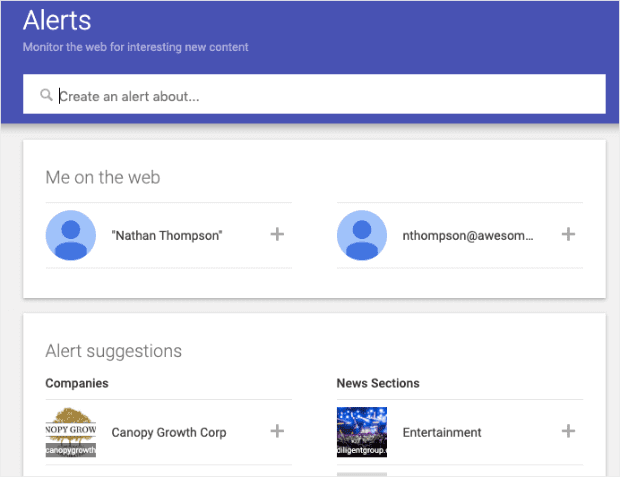 A lot of business owners don't take full advantage of all the free tools Google produces. Google Alerts falls in that "underused" category.
You can create alerts for your business, your personal brand, or keywords related to your niche. Then, you have consistent updates about those names and phrases. Here's a search we recently ran for OptinMonster: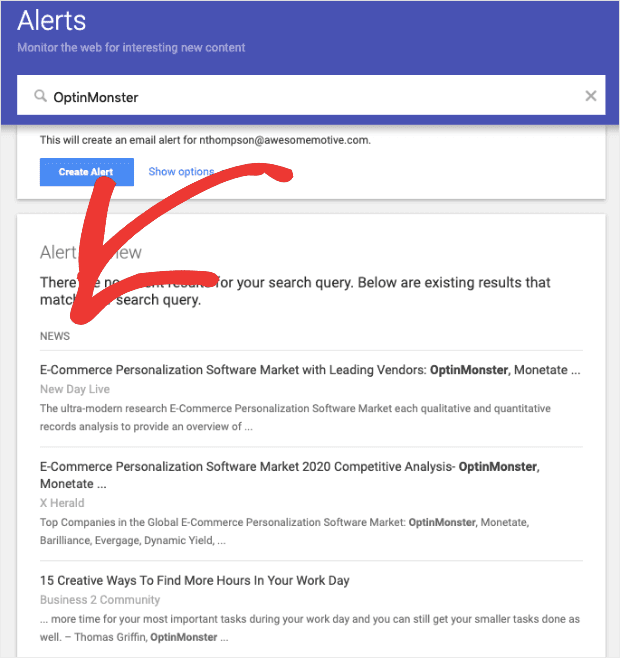 What follows are several articles about our software and provides us with some insight into what conversations our brand has become a part of.
This is also a good way to find backlink opportunities. You may find some articles that mention your brand without providing the link. If so, you can contact this warm lead to have them add a link to your site, which will help your SEO efforts.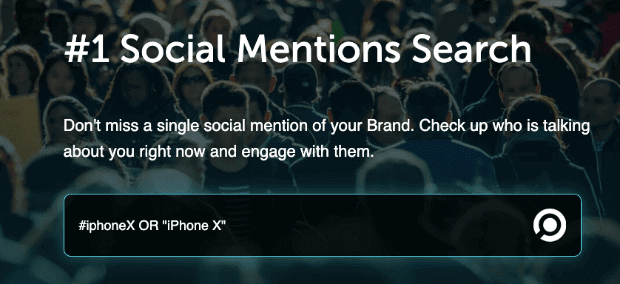 Social Mentions is a reputation management tool that has a few paid plans, but the free version (or "freemium") is more than enough for most small to medium-sized businesses.
With Social Mentions, you can check for brand names or keywords across all your social media platforms. You get a free report on your dashboard and don't even need to sign up for the service to use it.
A quick search for TrustPulse brings up a whole dashboard of related online conversations:

Again, there are paid plans that are definitely worth checking out, but the free version is an awesome tool to get started.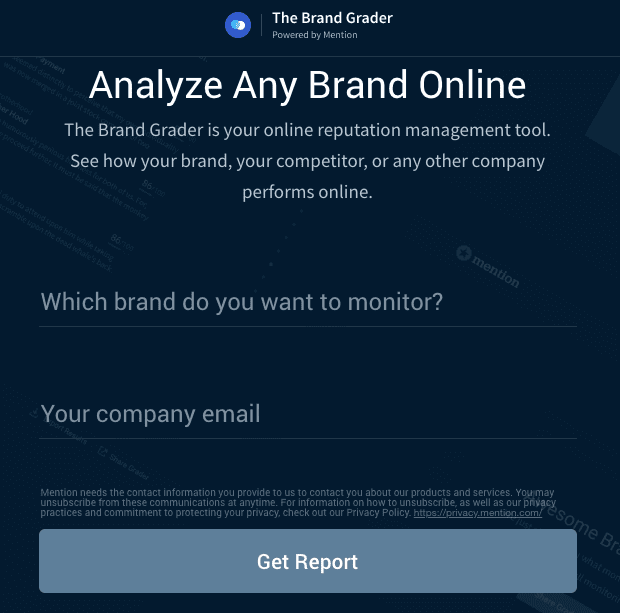 The Brand Grader offers a free report of how your brand is performing online. It's powered by Mention (which we'll talk about a bit later) and is very impressive for being a free tool. You need to sign up, create an account, and then you can get a report about your brand.
The report is broken down into detailed sections: web influencers, top sources, mention overview, and mention locations. One of the coolest features though is their sentiment detection which breaks down the percentage of positive vs. negative reviews: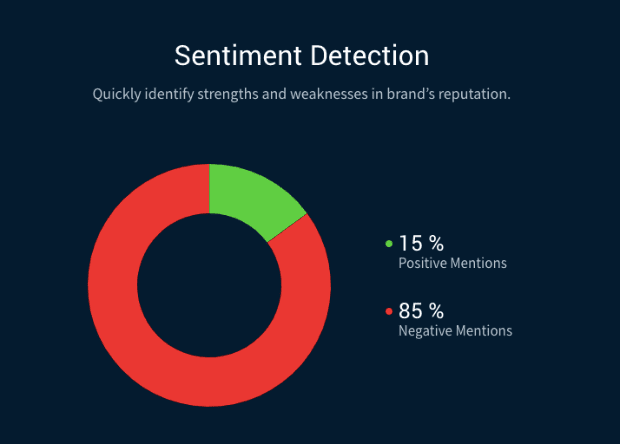 The only downside is that when you run into a lot of negative mentions (as in the example above), you can't get a detailed view of your online mentions unless you sign up for the site's sister company, Mention.
That said, as far as free tooling goes for your online reputation, the Brand Grader is a good place to start.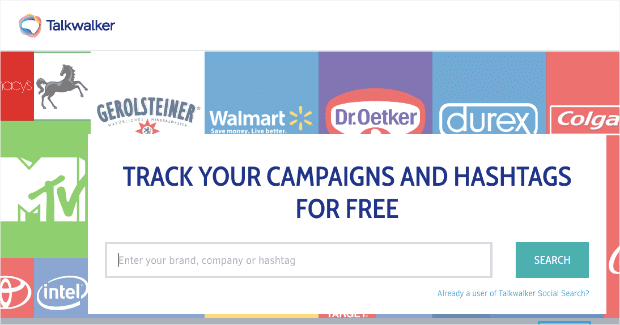 Talkwalker is another free tool that allows you to monitor your brand across multiple platforms. Though it is free, you need to sign up with an email address and company name.
Plus, you can't access your brand search until you confirm your email address and reset your password. So the first time you use the software is a little annoying.
But after that, the tool is awesome! You have a dashboard with key metrics, top themes, influencers, demographics, and sentiments: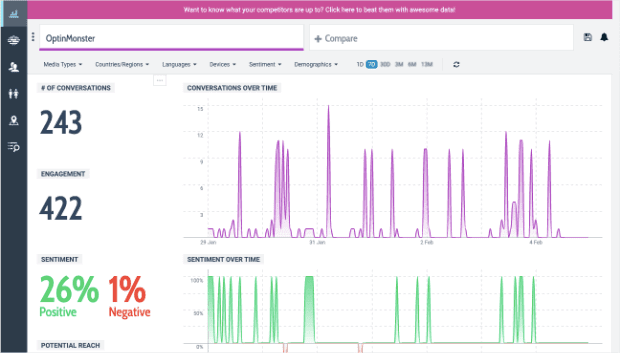 The research tool is pretty great as well. It shows you the top conversations that your brand is a part of and lets you filter by platform (like Facebook, YouTube, Twitter, and so on).
On the free tools list, this one feels the most comprehensive. However, it does make you jump through more hoops to use. If you don't mind the occasional notification email from Talkwalker, it's likely worth handing over your email.
Like Google Alerts, this is another great way to build backlink opportunities. You can scan through the list of Top Conversations on Talkwalker and make sure your company is getting the appropriate links.
5. You
No, that isn't a new type of technology with a confusing name. And no, it isn't the binge-worthy show on Netflix, either.
"You" literally means you, yourself, and…you. That's because one of the best practices you can do is search for your own company through the eyes of a client.
Put yourself in your customer's shoes. Google your niche to see what comes up. Does your product, service, or physical location appear in the search results? If so, what do you see first?
Then do the same on social media but, again, look at everything through your audience's eyes.
Are you responding to both negative and positive comments? Are you getting back to questions in a reasonable amount of time?
This can be difficult to do because you need to remain as objective as possible. You're trying to recreate the experience a customer has when searching for the product or service you offer. What would they see and learn about your company? And is that the image you want them to have?
Using yourself as a reputation management tool is about as old-school as it gets. But it's still one of the most valuable practices to maintain your image online.
Paid Reputation Management Tools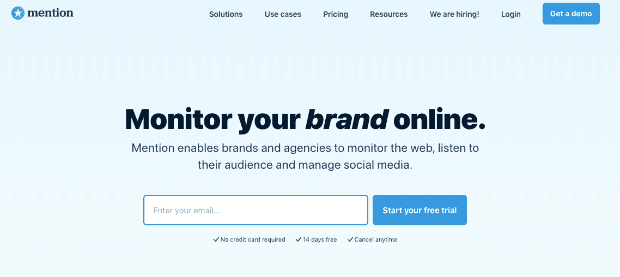 Ok, so Mention does have a free version that anyone can use. But to be honest, their paid plans are where it's at. You have two features with Mention:
Listen: This allows you to monitor what is being said about your brand or product online. You can get detailed industry analytics and get reports about trends in your niche or field. Custom notifications allow you to be in-the-know at all times with immediate feedback.
Publish: Like other social media publishing software, Mention lets you pre-schedule posts. It also helps you craft your messages based on industry-wide trends (which can be helpful when thinking about new content ideas).
Mention is a useful tool for small to medium-sized businesses.
Pricing: Mention's pricing for paid plans starts at $25/month for the Solo plan and goes to $83/month for the Pro plan. Enterprise pricing starts at $450+/month.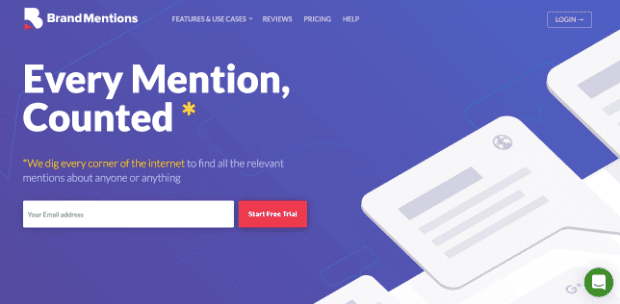 When it comes to managing your online reputation, Brand Mentions helps with a little bit of everything. They help you find and connect with key influencers in your niche. They also help you identify not only who is talking about you, but whether those conversations are positive or negative.
This helps prioritize which comments you address because it's always good to reply to negative comments as quickly as possible. Which brings us to another cool feature with Brand Mentions:
Alerts.
You can hook up real-time notifications and have a daily report sent to your inbox. With custom reports, you can start your day with all the information you need to manage your online reputation.
Pricing: Brand Mention's pricing has a large range. The New Business plan starts at $49/month and graduates to the Growing Business plan at $79/month. Larger companies may benefit from more features with the Company plan priced at $299/month.
However, all the plans mentioned above have a 14-day free trial.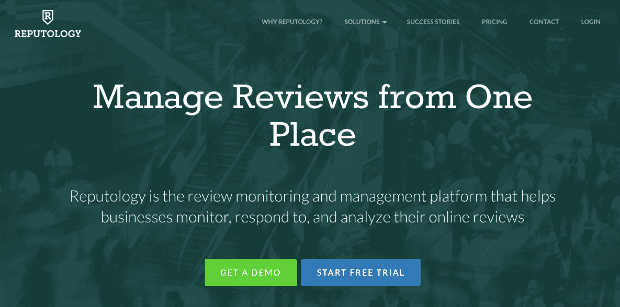 Reputology lays out its services very clearly on the homepage. They help you monitor your business, respond to, and gather metrics on your online reviews. This tool is more for review sites than social media, though the two occasionally overlap (with sites like Facebook, for example).
One great aspect of Reputology that stood out to us was their Analyze Customer Sentiment feature. Reputology will take all of your reviews and break them down into specific, actionable data to make your life easier.
This way, you can prioritize which problems seem to be bothering the most customers and make faster changes to improve reviews.
They also have some great tips for responding to negative reviews if that is something you struggle with.
Pricing: Reputology's pricing may not make it the best tool for smaller businesses. The Professional plan begins at $180/month, the Agency plan goes to $400/month, and the Partner/Enterprise plan is $2,500/month.
Since this tool is super extensive, this online reputation management software may be better suited to larger companies with bigger pockets.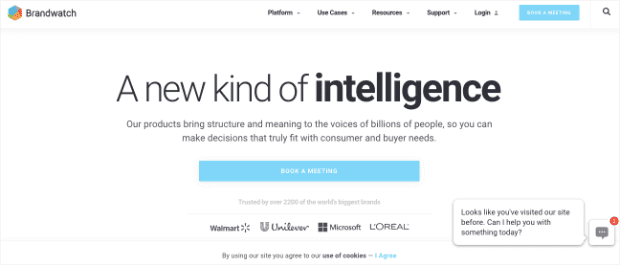 Brandwatch has many parts to it, but what we're concerned with is their Brand Management feature. This tool allows you to monitor your brand across a wide range of platforms. You can also gather and analyze data about key trends in your niche: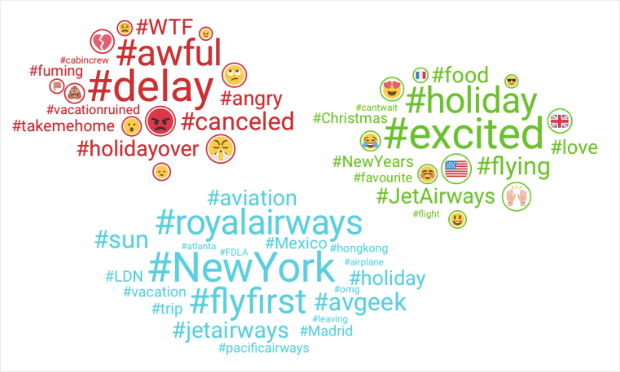 But full-disclosure: we weren't able to play around with Brandwatch for this article. There is no free trial and to see a demo, you need to book an appointment with a sales consultant.
However, Brandwatch made it on this list because they have a strong reputation in brand monitoring.
Perhaps one of their biggest advantages is they claim to be able to monitor your brand in online conversations "even when your brand is not mentioned directly."
That is a feature not offered in many of the free tools we've seen today and isn't even on some of the other paid tools.
Price: Not made public. For inquiries, you need to book a demo through their site.

Meltwater is another company with a little bit of everything when it comes to your online presence. For today's article, we'll focus on their PR Product Suite.
With this feature, you can monitor social media and news outlets, find and reach influencers in your field, create stylish reports for your colleagues or stakeholders, send information out to major news channels, and do all of the above from your smartphone.
It's the ability to create reports that really stood out for us. If you have a company and need to show social proof to your stakeholders, this can be a good tool to do so (especially if you don't have hours of time to create them yourself).
The other features with Meltwater have everything you would expect from an online reputation management service.
This tool would likely be better suited for larger agencies or companies who need to focus on their brand's reputation for raising capital.
Pricing: You need to request a price quote directly from the Meltwater team. Pricing isn't listed on the website, and there doesn't appear to be a free trial.
How To Choose the Right Reputation Management Tool
When selecting a reputation management tool, it's crucial to consider your specific needs and goals. Here are some key factors to consider:
1) Monitoring Capabilities: Ensure the tool covers a wide range of platforms, including social media, review sites, news articles, and forums, to gain a comprehensive view of your online reputation.
2) Review Management and Response Features: Look for tools that allow you to promptly monitor and respond to customer reviews, demonstrating your commitment to customer satisfaction.
3) Social Media Monitoring and Engagement: Choose a tool that provides real-time social media monitoring and enables you to engage with customers directly on these platforms.
4) Analytics and Reporting: Opt for a tool that offers detailed analytics and reporting features, providing valuable insights into sentiment trends, customer demographics, and overall reputation performance.
5) Integration Options: Consider tools that seamlessly integrate with popular review sites, social media platforms, and other relevant tools or systems you use for your business.
By considering these factors and aligning them with your specific requirements, you can choose the reputation management tool that best suits your needs.
Focusing on the Positive
94% of online shoppers reported that a negative review has convinced them to avoid visiting a business
70% of consumers read multiple review sites before choosing a local business
71% of consumers are more likely to choose a business when they've seen that the business has responded to existing reviews
84% of consumers trust online reviews as much as a suggestion made by someone they know
The average consumer reads ten reviews before beginning to trust a company
A lot of businesses make the mistake of thinking that their consumers see an ad, click, and buy based entirely on the product.
These same companies fail to realize that there is usually another step involved: research.
Many consumers read reviews, research brands, and interact with companies before they feel comfortable making a purchase.
And that's exactly why your online reputation matters. The stronger it is, the more revenue you can count on. The weaker it is, the more likely you'll see sales stagnate.
But here's the good news: your online image doesn't come down to chance or luck.
It's totally in your control. You just need the right tools!
With TrustPulse, you can add the power of social signals to your website.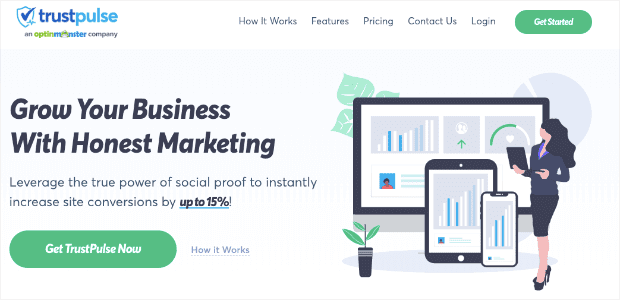 Without knowing any code, you can embed a small popup that shows users when someone buys or engages with your services.
While cold traffic is deciding whether or not to buy your product, they'll get to see other customers who were in the same position and decided to move forward: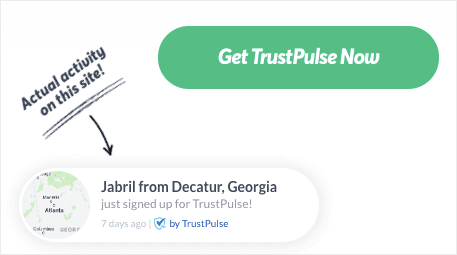 This type of social proof has been shown to increase conversions by up to 15%!
So while you are maintaining and fixing your online reputation outside of your website, don't forget to show off how much conversation your product generates right at home (or, more accurately, right on your homepage).
Interested? Start boosting your conversions with the power of social proof, and sign up with TrustPulse today!