Have you been wondering about SEO for eCommerce product pages and how to optimize things better?
Ecommerce product page SEO simply refers to optimizing your eCommerce product pages to rank higher in search rankings. Higher search rankings help improve search traffic, conversions, and revenue. It may seem difficult at first, but with the right tools and practices, product page SEO can become systematic and effective.
In this post, we share the best product page SEO strategies that can help you optimize your eCommerce store and drive more organic traffic.
12 SEO Best Practices for Product Pages
The following SEO best practices for product pages work for most eCommerce stores. These tips cover everything: from keyword research to on-page optimization to structured data.
1. Keyword Research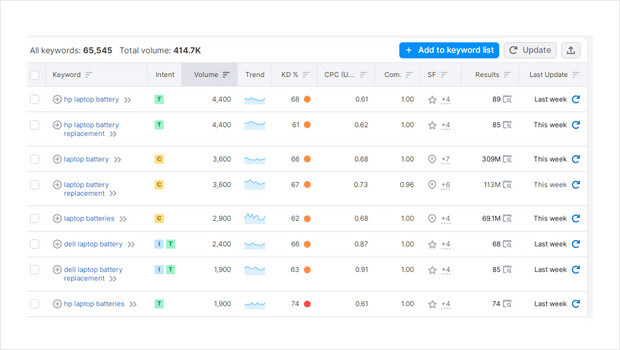 Keyword research is one of the fundamental aspects of product page SEO. You need to find the right keywords that potential buyers use to find your products. This helps your eCommerce product pages rank for the relevant search queries and drive traffic and potential customers to your eCommerce store.
Choosing the right keywords can be difficult, but with these eight simple tips, you'll know exactly how to optimize your product pages for search engines.
Identify your business goals: What are you trying to accomplish? How do you want your website visitors and potential customers to perceive your company? Are you looking to drive more traffic or increase conversions? These goals must align with your keywords to be as effective as possible.
Identify the right seed keywords: When you're researching for phrases and keywords that customers will use, think about which might drive the most traffic.
Research related keywords: Once you've come up with a solid list of relevant keywords, it's time to broaden your horizons by thinking about related words or synonyms that could work just as well.
For example, if you're selling running shoes, "shoe" is an obvious keyword to include in your research, but athletic shoes might also make sense depending on the type of shoe you're selling and how it relates to the people you're selling to.
Research competition: To develop an accurate plan for optimizing your product page SEO strategy, it's important to understand who your competitors are in the industry and where their strengths lie.
Analyzing competitor websites can help readers:
Identify top pages
Lead visitors to pages that are getting the most traffic
Identify backlink sources
Identify keywords competitors aren't using
Add long tail keywords throughout content: Long-tail keywords are more specific and longer than regular keywords. While long-tail keywords typically get less traffic, they also have a higher conversion value because they are more specific.
Don't forget to include long tail keywords throughout your content. Long-tail keywords can help pages rank higher for low-competition queries that are often transactional in nature.
For example, Reebok might be a primary keyword, while Reebok Men's Classic Leather Shoe is a long-tail keyword with higher commercial intent.
Adding long-tail keywords is one of the most important ways to rank higher in organic search results and increase sales.
Create consistency: Whether you're updating a blog post, sharing new content on social media, or adding new products to your store, keep consistency with your keywords at the top of your mind.
Maintain keyword uniformity across platforms in terms of topics covered and all of your content so that visitors feel like they can trust you as an authority in your field.
Monitor keyword analytics: Do you know where you stand with regard to your targeted keywords? Are you getting the number of impressions, clicks, and conversions you want? Monitoring analytics allows you to see trends and adjust accordingly.
There are three common tools for looking at analytics:
Research keywords regularly: Just because an eCommerce product page is ready, doesn't mean it won't need periodic updates or refreshes. Schedule some time to look at analytics and page rankings for your eCommerce product pages regularly. This will help you identify keywords that you have recently lost.
Set aside some time to optimize your pages as you go, so they continue to rank for the most number of related keywords.
2. Structure Data Optimization
An important component of eCommerce product page optimization is actually optimizing the data on the product page itself. This is important because if customers can easily make their way around your site, they'll have a better experience. This also means you'll sell more products more frequently.
Structured data gives Google a better idea of what the content on your website is about.
There are a few benefits of structured data:
Rich results: Structured data gives you rich results. Rich results are rich snippets that provide more information about your products.
Google's Knowledge Graph: With structured data, your products can turn into established entities, and this can boost brand authority.
Semantic search: Semantic search looks deeper into search queries instead of just using keywords. So an example of this is if you ask Google who the small green guy is in Star Wars, Yoda will pop up.
Expertise, Authority, Trust: EAT, for short, is an acronym for expertise, authority, and trust. Google considers all of these things when gathering information about your website.
3. Unique and Helpful Product Descriptions
Unique and helpful product descriptions are important because they help a customer make an informed purchase decision. Incorporating keywords into product descriptions will also increase the visibility of your website.
When optimizing your product pages, the most important thing to remember is that the copy should be written for humans, not search engines. It's a common misconception that keyword stuffing will improve rankings and lead to higher conversions, but Google has made it clear that this isn't true.
In many cases, the opposite is more likely to happen. Your site could get penalized by Google.
Let's look at some eCommerce best practices in 2022 for product descriptions.
Focus on customer needs in your product descriptions: The idea behind writing product descriptions with your customers in mind is to portray confidence and competence. You want your customers to feel like you have their best interests at heart and know exactly what they need from the product you're selling.
That means including all relevant information about your product and any necessary disclaimers so potential buyers can make informed decisions about buying from your company. Optimizing for other words or phrases, such as e-Commerce and eCommerce, also helps, as these are relatively generic terms.
Provide relevant information in bulleted lists: Not everyone will read through paragraphs of text before deciding to buy something online, which is why bullet points are such an important feature on eCommerce product pages.
You can use them to highlight specific features or benefits of your products or different variations that might interest different types of shoppers without having to add long blocks of text anywhere else on the page.
Don't make assumptions about customer needs: It can be tempting to assume all of your customers are looking for something specific on your eCommerce product pages. That's not exactly how it works.
That's why you need to include a good range of search terms related to your products to maximize search exposure.
Avoid duplicate product descriptions: Many eCommerce stores copy and paste descriptions from the manufacturer's website into their product descriptions. Avoid doing that because Google may consider it as duplicate content and not rank it as high as it should be.
4. FAQ Content
FAQ content is important because it helps build brand authority and answers many customer questions before they have to reach out to you. It can boost your SEO and save you time in the long run.
To rank better in search engines, you need high-quality content on your website. SEO product pages should include a helpful section of frequently asked questions. Having a simple section of frequently asked questions eliminates customers having to spend their time sending you emails through contact forms.
Many companies don't place a strong focus on FAQ content, which can be a big mistake. Include relevant keywords in the FAQ section to maximize search potential. Good FAQ pages or sections can turn into a quick conversion for your products or services.
You might be wondering how you can create an SEO-friendly FAQ page.
Here are three tips to help you with that:
Focus on strategy: The first thing you need to focus on when creating an SEO-friendly FAQ page is strategy.
Your FAQ content should include:
A list of some of the most popular questions your customers ask
A clear and concise answer to all of the questions being asked
Research questions being asked: Here are some tips to get a list of some of the most common questions that might be asked:
Check with co-workers for questions that customers have asked them in the past
Review customer surveys
View chat logs and emails that customers have submitted
Check online forums such as Reddit
View People Also Ask results on Google
Give thorough answers: When answering questions in your FAQ section, be as thorough as possible.
To do that, follow these tips:
Pull answers from other sources, such as from co-workers or whitepapers
Answer each question as concisely as you can
Include internal links to some of your content where customers can find more information
5. Meta Tags Optimization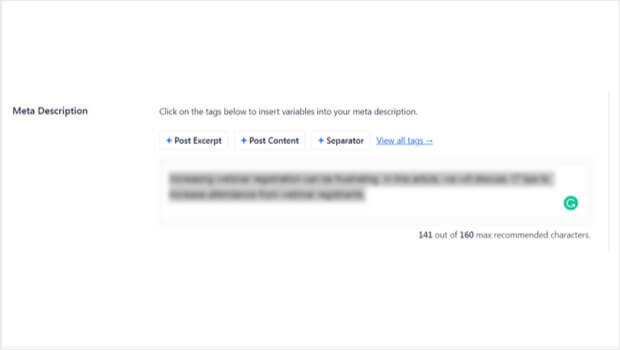 Meta tags are important for your eCommerce product page because they give search engines information about what content is on your website. Once search engines understand what your product page is about, they can display your pages to the right people for the right search queries.
There are a total of four meta tags that you can tweak to optimize your site for SEO eCommerce product pages.
Title tag: The first thing people notice when visiting a website is the title. It gives a quick glimpse as to exactly what your site is about. It also appears in search results, so it should be concise, descriptive, and only between 40 and 60 characters.
Search engines may use titles to discover and understand your content.
You can optimize the meta title on each product page with a plugin like AIOSEO.
Meta description: The meta description is another meta tag that should be optimized.
The perfect length for a meta description varies between 140 to 160 characters, but recent updates from Google have adjusted to show longer meta descriptions. You can use AIOSEO to optimize your meta description.
Alt text: The alt text attribute is another type of meta tag that can help search engines understand images. Since search engines cannot read images, they rely on alt text attributes to understand what an image is about. Keyword-rich and descriptive alt text can help your images rank in Google Images search results, which can be an additional source of traffic to your eCommerce product pages.
Canonical tag: Some websites have pages that are very similar to each other. If you have an eCommerce site like this, search engines need to be informed of the original page that should be indexed and prioritized in search results. This helps avoid potential content duplication issues.
Learn more about canonicalization here: Canonical Tags: A Simple Guide for Beginners
6. Relevant and High-Quality Images and Videos
Relevant and high-quality images and videos are important because they show customers what they can expect from your product. Images can increase trust and confidence, especially when customers receive your products and they look like your images.
Optimizing your product page is critical to your eCommerce success. Search engine rankings and conversion rate can improve based on how your product page looks and feels.
You can make a lasting impression by adding high-quality images and videos to your product pages. This will help you rank higher in search results and give potential buyers a sense of what it's like to use the products you're selling.
Along with your high-quality images and videos, you should also include important information such as:
Dimensions
Warranty information
Manufacturer contact information
Return policy information
Including some of this information will let people know what they are buying into before they complete their purchase.
Take your time to pick out high-quality images and videos relevant to each product. Customers will appreciate how in-depth your product pages look and feel, increasing your chances of ranking higher on search engines.
Google also prioritizes pages with original, high-quality product images in search engine rankings. In addition, images and videos improve the user engagement rate, which is another positive signal for Google that often leads to higher search engine rankings, traffic, and sales.
7. Web Page Speed Optimization
Web page speed optimization is so important because it improves the entire user experience. Website visitors don't want to be slogging through a slow website when purchasing products.
Website speed optimization is a search engine ranking factor, which directly affects how high a page ranks. If a page takes too long to load, people quit the web page, and conversion rates drop.
Google did a review of over 11 million mobile landing pages in over 213 countries. The study revealed that most mobile sites were too slow to browse and didn't live up to user expectations.
Yelp had added a bunch of new features that ended up slowing load times on their website by 3 seconds. After optimizing their website for speed, they noticed increased conversion rates of nearly 15%.
Ebay also increased its return on investment by speeding up load times by 100ms. This resulted in an increase of 0.5% in people's carts.
As you can see, web page speed optimization plays a large role in improving customer experience and search engine rankings.
Here are some tips to increase the loading speed of your eCommerce product pages:
Pick the right website hosting provider: Not all hosting providers are created equal. The cheapest hosting providers aren't always the best ones, and with lower page speed, that can end up lowering conversions.
Optimize images: While high-quality images increase the quality of your content, their huge size can also increase loading times. Using a straightforward image compressing tool like Tiny PNG can help your load times.
Check redirects: Websites with too many redirects can increase loading times. While some redirects might be necessary, you should get rid of ones that aren't.
Ease off on the plugins: Certain plugins can slow website speeds down. Consider disabling and removing certain plugins and only keeping the ones you need.
You can learn more about website speed optimization by reading this blog post: How to Speed Up Your eCommerce Website (14 Proven Tips)
8. Internal Linking
Internal linking is important for eCommerce product pages because it boosts the authority of your pages. With higher page authority, your eCommerce product pages will have more exposure, and that means more sales.
Use internal linking to optimize SEO for your product pages. Internal linking is when you link one page of your site to another page on the same site.
Google will know better what your page is about when you include internal links on your website. This will result in ranking higher in search engines.
The more pages on your site that are linked together with internal links, the better this process becomes. The most common way that eCommerce sites use internal linking is by creating category pages that list all of the products within a certain category. Then they link those categories to other relevant categories or product pages.
Links on product pages can be important for helping your SEO, but you should use them carefully.
There are a couple of useful ways to add links to product pages that add value to website visitors and Google search crawlers.
Use relevant internal links to add value to your website visitors. Think from your site visitor's perspective. Suppose, they are reading a blog post about the top 10 highest-rated running shoes this year. Then it would add value to create internal links to the relevant product page when discussing each pair of shoes, in case they want to buy one.2.
Don't add too many links, especially if they are not contextual and don't add value to readers. Internal links can be used to negatively influence search engines, which eventually leads to a penalty and demotion in search rankings. Many links in one place can cause your site to rank lower in search results.
Finally, make sure to use keyword-rich and descriptive anchor texts. This sets the right expectations for visitors as well as search engines even before they click on a link. If there's a mismatch between the anchor text and the link, it may have a negative effect on the user experience and search rankings.
9. Don't 404 Out-of-Stock Pages
What do you do when a product goes out of stock?
One option is to 404 that page, which means when users visit that page, they see a 404 error.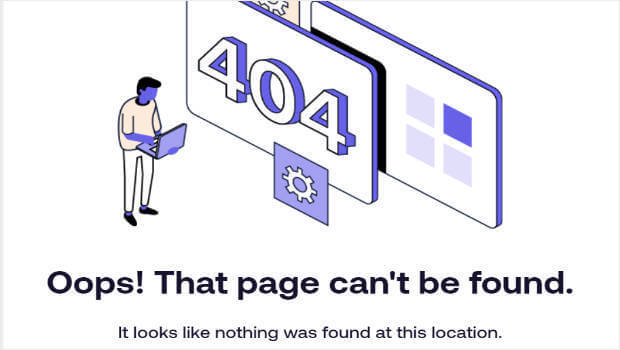 The argument for this practice is that users can't buy the product anyway because it's out of stock. Therefore, it's better to show the 404 errors and prevent users from visiting that page in the first place.
However, the problem is that 404 pages may start losing their link equity. If a page remains 404 for a long time, it will also drop in search engine rankings.
That's why you should not 404 out-of-stock pages. Keep their link equity and search rankings intact by keeping that page active and available to visit. Simply put an out-of-stock sign on the page to let visitors know that they cannot purchase the product right now.
10. Keep the Same URL for Seasonal Pages
It's a common practice to create a new page for every seasonal promotion or product. The problem with this practice is that it never allows a page to accumulate link equity and rank in search engines.
That's why we recommend keeping the same URL for seasonal pages and just updating the content.
For example, instead of creating a new page for Black Friday campaigns every year (e.g., yoursite.com/black-friday-2020, yoursite.com/black-friday-2021, and yoursite.com/black-friday-2022), just create one page that can be used every year. In this case, that'd be yoursite.com/black-friday.
Every year, just update the content to reflect the latest offer and discounts.
11. Create an Intuitive Site Architecture
A well-defined site architecture is essential for any growing eCommerce website. Otherwise, you may end up with a complex website structure that is difficult to navigate for visitors and search engines. An intuitive site architecture means having a clear navigation system that helps customers find the products they're looking for and a consistent structure across all your product pages.
The most common way to achieve this is by using category pages with an intuitive navigation system. This should be based on the customer's intent when searching. All your product pages should be neatly organized in relevant categories. This helps with user navigation as well as with passing link equity across pages for better search engine rankings.
Secondly, it's important to optimize your category and subcategory pages with on-page SEO best practices in order to make sure those pages rank well in search engines. This will help improve the chances of someone landing on one of those pages and then finding their way back up the hierarchy to find what they were initially looking for. You can also use UI/UX practices, such as having a visible breadcrumb trail on your eCommerce site, to facilitate navigation.
Lastly, the main and footer menu plays a big role in making your eCommerce site user-friendly. Identify the most important pages, group them into categories, and highlight them in the main menu.
As a general rule, it should not take users more than 3 clicks to reach any page from the homepage of your website.
12. Make Product Pages Mobile-Friendly
The importance of mobile-friendliness cannot be overstated. Mobile-friendliness is important because many people visit websites on mobile devices. When your site is accessible via mobile, you'll have increased conversions.
Mobile devices make up 60% of total internet usage, and the number is only going to continue growing. If your eCommerce website isn't optimized for mobile, you may lose a lot of potential customers who can't find what they're looking for. That's why you need to make sure your product pages are mobile-friendly.
Here's how:
Have a responsive, mobile-friendly design
Make sure that your product pages load quickly on mobile devices. You can use the Google PageSpeed Insights tool to test how fast your web page loads on mobile.
Make sure that the user experience is good enough on smaller mobile screens. This includes displaying important information prominently, using white space effectively, and having CTAs that are easy to find and tap.
Bonus: How AIOSEO Can Help Improve Product Page SEO
All-in-one-SEO (AIOSEO) is the best SEO WordPress plugin that more than 3 million websites use. This plugin provides detailed insights into how you can rank your website higher in search engines.
As you can see in the following image, AIOSEO tells you how your site is optimized with green checkmarks. If something is off, it will show as a red x.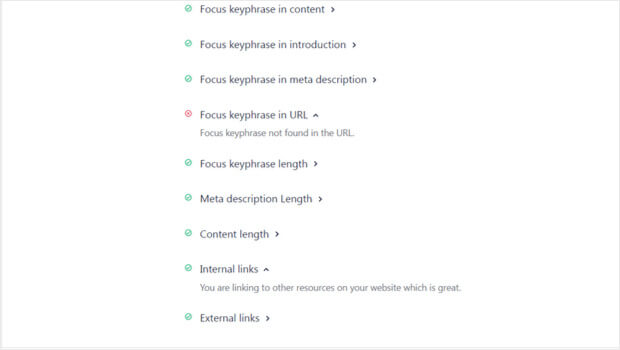 You can integrate AIOSEO with the rest of your webmaster tools and social media platforms.
Some of the features you get with AIOSEO are:
Sitemap creation: AIOSEO will create a sitemap that search engines use to find pages on your website.
Optimization tools: AIOSEO will alert you of little things that will make your site perform better and boost the user experience. This will all lead to people being able to find your online store in search results.
Search engine notifications: If you add new content to your website or eliminate duplicate content, AIOSEO will alert search engines of this. So if you update a product name and need indexing on your site again, AIOSEO takes care of the process for you.
Integrate webmaster tools: You can easily integrate Google Search Console and other webmaster tools into AIOSEO. This will provide better analytics and data for you to base your SEO and growth strategies.
Image SEO: Getting the right target keywords on your page content will increase your click-through rates and boost the organic traffic for your eCommerce store.
The above tips that can help you generate more organic traffic to your eCommerce product pages. However, most of that traffic will go to waste if you don't convert it.
TrustPulse is a marketing platform that uses social proof to boost trust, conversions, traffic, and sales. And it can help you convert the traffic you generate to your eCommerce website by up to 15%.
That's because 92% of people will trust a recommendation from a peer. When website visitors see notifications popping up that other people have purchased your products or services, they'll be more inclined to do the same.
Here is an example of a notification from TrustPulse that you can set up on an eCommerce website:

Some of the benefits of TrustPulse include:
Purchase notifications
Analytics notifications
Action messages
Popular visitor activity
Conversion notifications
Easy customization
Real-time tracking
Smart targeting
Join 100,000+ professionals who use TrustPulse to increase conversions on their websites. Check out the different plans we offer.
If you have any questions, please reach out to us.