Are you looking for more ways to drive conversions? Since 92% of people look for social proof like testimonials before making a purchase decision, it's no surprise that getting customer testimonials will help you drive conversions through the roof.
In this article, we'll go over how testimonials help your business, what good testimonials are built of, how you can get them, and some examples of companies that use testimonials well.
How Customer Testimonials Help Your Business
The stats don't lie. Using social proof like customer testimonials in your marketing strategy can help drive conversions like crazy.
Did you know that 70% of people trust online consumer opinions?
And once the visitor interacts with a testimonial of your company, the conversions really start to show. According to BigCommerce, generally 3 things happen:
Your website generates 62% more revenue per site visitor
Visitors buy 3% more per order
Why Do Customer Testimonials Work so Well?
As you can see, there's no harm in using customer testimonials in your marketing strategy. But you might be wondering how customer testimonials convert so well?
Well, conversions start with the visitor. Customer testimonials help visitors find peace of mind, answer questions, and realize your companies selling points.
Through customer testimonials, you can also attract targeted customers by using testimonials with the same psychographics and demographics as your targeted audience. If your targeted customer stumbles upon these specific testimonials, they'll think "yes, I'm in the right place!"
What Makes a Good Customer Testimonial?
Now that you know how testimonials can help your business, it's important to also know what key characteristics a good testimonial has.
A Good Testimonial Is Short 
Long testimonials are unnecessary. Visitors are likely to skim over the information without actually absorbing any of it.
Short testimonials, on the other hand, don't take much time to read and they keep the customer engaged.
Pro Tip: If a customer sends you a long customer testimonial and it's loaded with value, you can bold or highlight the most important parts.
OptinMonster does this often on their testimonials page. This testimonial by Lucas Morello is rather long, but we draw attention to important points using bold text.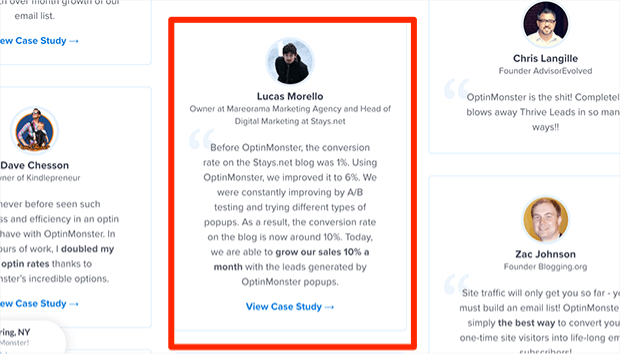 A Good Testimonial Is Unique 
Which testimonial would you trust:
Example 1: "I really enjoyed this product because it got the job done."
Example 2: "This course helped me step-by-step with my marketing strategy. I learned so much and now I'm making 6 figures per year!"
The first testimonial could have been written for any product. However, the second testimonial talks about how THAT specific course helped the customer be successful.
A Good Testimonial Is Direct
In just a few words, visitors should get the main (and best) parts of the testimonial. You can always edit your testimonial drafts to include the best parts at the beginning and cut out unnecessary sentences.
When editing, you want to ask yourself these questions:
Which words of the testimonial are power words?
What parts of the testimonial answer visitors' questions?
Which parts show off your unique value the most?
How to Get Customer Testimonials That Rock
Now, this is the tricky part. When asking customers for testimonials, you never know what you're going to get. Every customer is different, and if you take the wrong steps, you won't get those high-quality customer testimonials that will drive conversions.
Let's take a look at steps to get the best testimonials from your customers.
1. Choose the Right Timing
As soon as the customer has gotten value from your product is the best time to ask for testimonials.
At this point, the customer has gone through the entire buying process. They've experienced your amazing customer service, the simplicity of buying the product, and they've had a successful win while using your product.
If all has gone smoothly, the customer should be willing to give you a good testimonial. Don't wait too long after they've reached success. Otherwise, you might not be able to capture all their excitement in the testimonial.
But of course, the right time to ask for testimonials will be different in every situation.
If you're working at a marketing agency, it will be right after the customer has reached their goal. If you work at a SaaS company, you'd be better off asking 30 days after the customer has been using the product.
2. Follow the Customer's Journey
Customers don't only experience success within a few days of purchasing your product. Your product could help them years down the road and if you're not following, you'll miss an excellent opportunity to ask for a testimonial.
But if you have hundreds of customers, you might not be able to keep up with everyone. That's where automated email tools can help. Set up a follow-up email to your customers 30 days after their purchase.
A great way to use an automation tool is to set up an initial email asking customers how things are going. You can include a call to action button for smiley and sad faces or buttons that say "great, thanks!" or "not so great."
Depending on their answer, this could be a great way to get feedback or testimonials.
By this we mean, if customers answer with a sad face, an automated email asking them for feedback on how you can improve can be sent. If they answer with a happy face, an automated email asking them for a testimonial can be sent.
3. Give Your Customers a Reason to Say "Yes"
If your customer replies to your automated email with a smiley face, this is where you can get creative.
Since customers don't usually throw themselves at the idea of writing testimonials, you may need to offer an incentive. Anything like a gift card, a discounted rate, or a freebie will do.
Here is an example template you can use to offer incentives in return for testimonials.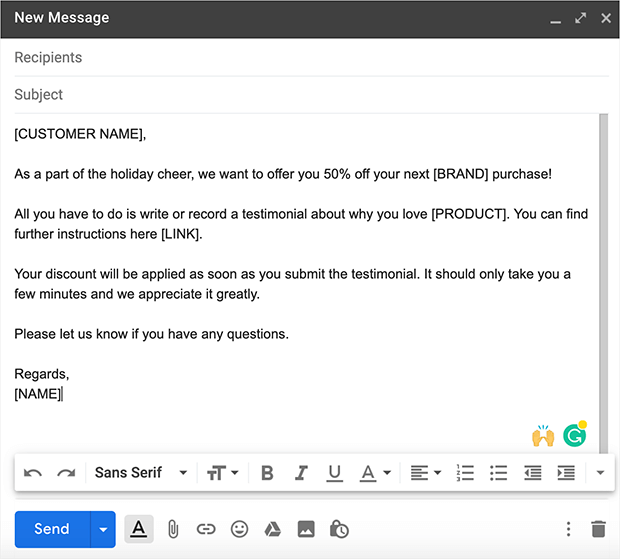 You can set up an automated email like this to be sent out after 30 days of your customer's purchase.
4. Make it Easier for Your Customers
Most people don't have a whole lot of experience writing testimonials. When you ask them, they may freeze up and won't know what to write.
To help your customers out, you can send them a list of things they may want to include. For example, in a follow-up email, you can ask how they're using your product, their favorite features, easiness of use, and in what way the product has helped them reach their goals.
Another way to get testimonials is to ask your customers the same questions without letting them know it's a testimonial. Once you have their responses, ask them if you can use what they wrote in a testimonial. This creates less pressure and less work for the customer.
5. Give Your Customers the Choice
Not every customer will want to do a testimonial in the same way. You can give them the choice between writing a testimonial or recording a video testimonial.
If they're a millennial, it's possible they'll prefer recording a video since millennials have an increased appetite for video content.
Other things that might affect your customer's decision to record or write would be the accessibility of different electronic devices. So, make sure you're always giving them both options.
6. Personalize Your Emails, and Your Subject Lines
Did you know that personalized subject lines are 22.2% more likely to be opened? Since email open rates are already so low (17.92%), personalizing your subject lines is a great way to get your customers to open your emails more.
But the personalization shouldn't stop at the subject lines. You should be personalizing throughout the entire email body.
Personalizing throughout the email is an excellent way to maintain your relationship with your customers, make them feel valued, and increase your chances of them writing or recording a nice testimonial for you.
Types of Testimonials (With Examples)
Now that you know what a good customer testimonial looks like and how to get testimonials that drive conversions, let's look at some of the different kinds of testimonials, where to place them, and examples of companies who did this well.
Video Testimonials
Amazon is a giant company. And due to their millions of users, they've been able to collect many customer testimonials. Instead of adding a video of individual testimonials, they created a compilation.
Customer Testimonials Page 
A testimonials page is an awesome way to showcase all your testimonials in one place. And, you can always send visitors to the page to show them that your product is worth it, and others think so too.
OptinMonster has a testimonials page with 64 testimonials! Some are by industry influencers like Neil Patel and some are by CEOs from all kinds of different companies.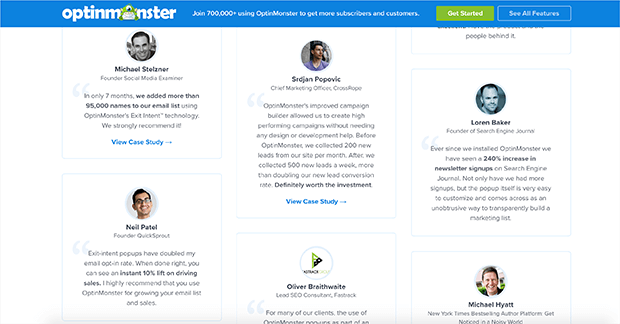 Social Media Testimonials Page
You can also create a page on your site to display testimonials from social media. In the example below, SeedProd displays a feed of tweets that mention their account: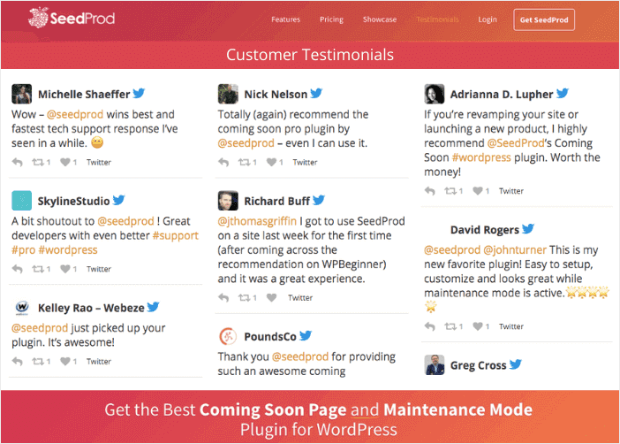 You can easily add a feed like this to your site with Smash Balloon's Custom Twitter Feeds Pro.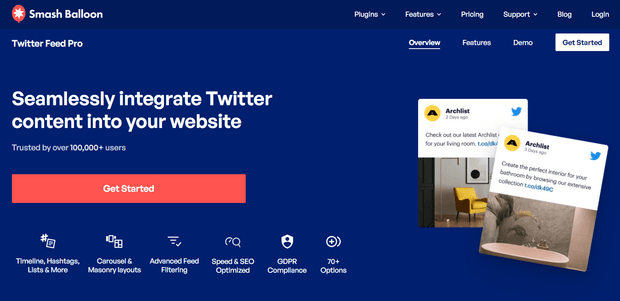 All you have to do is install the plugin, connect your social media account, and in less than 30 seconds you can display a beautiful feed of testimonials anywhere on your site.
Customer Testimonials on the Homepage
A lot of your organic traffic will land on your homepage. Putting customer testimonials directly on your homepage, as Codecademy did below, gives you a chance to give your visitors a good impression right away.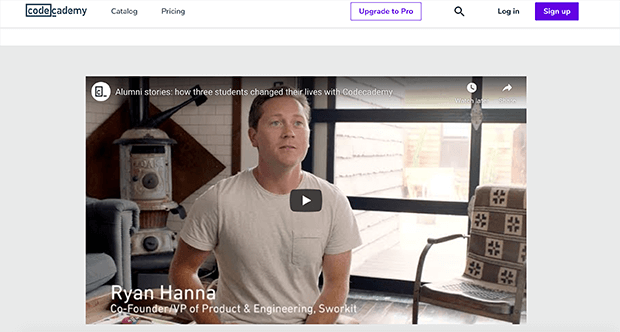 Testimonials in Case Studies
Nerdfitness often uses testimonials in case studies. As the company is a fitness blog, doing case studies on the changes people have gone through while being apart of the Nerdfitness team works wonders for them.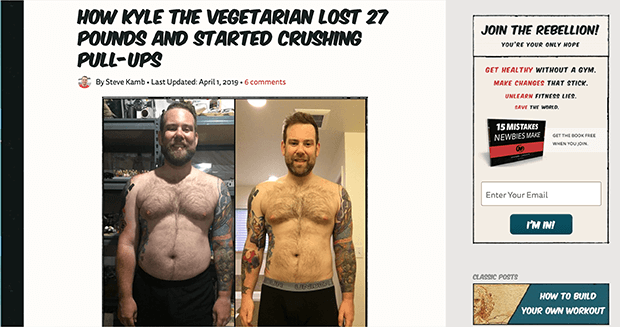 There you have it! Getting customer testimonials that drive conversions isn't that hard. 70% of your customers will be willing to leave a review when asked. For a greater chance of success, follow the strategy laid out in this article and start asking!
Testimonials are one way of boosting your site's conversions, but there are plenty of other ways. With TrustPulse, you can leverage the power of social proof and increase conversions up by 15% immediately by using smart tracking and targeting. Get started with TrustPulse today!