Are you looking for the best WordPress search plugin to help you deliver a better experience for your site visitors? Learn more by reading our SearchWP review.
These days, many people go straight to the search bar on a new website. They might not even look at your navigation menu.
But the built-in search function in WordPress is very limited. Customers can't search for products or look for content in specific categories. Frustrated visitors may give up and leave your website.
Using an advanced search plugin like SearchWP can make all the content on your site searchable. This can yield better search results and keep customers on your site long enough to convert.
We're going to go over the key features that make SearchWP the best WordPress search plugin for your website.
If you have a specific question, feel free to use the table of contents to jump to what you need:
Table of Contents:
Why Should I Use An Advanced Search Plugin?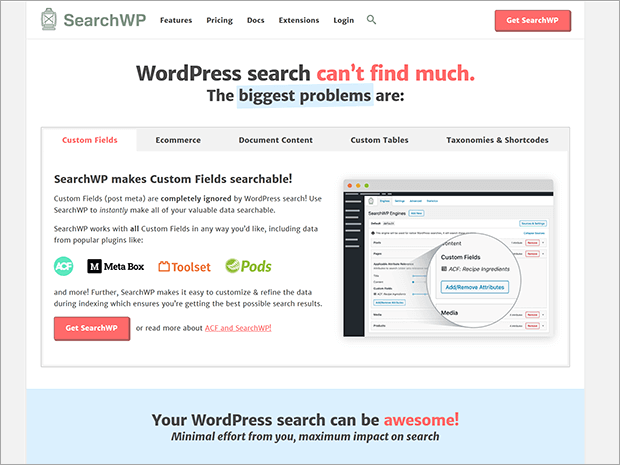 SearchWP is the best advanced search plugin for WordPress.
But wait, doesn't WordPress already have a search function?
Yes! But the regular search function on WordPress completely ignores custom fields, product details or other metadata. It only looks at the post title and content. You also cannot search by category and subcategory without a WordPress plugin.
SearchWP makes product details, custom fields, shortcode output, documents, forum posts, and other content all searchable.
This important data can help your visitors find what they want faster. This makes them less likely to leave your site. When they find your site helpful and easy to use, they're more likely to join your email list, purchase a product, or take some other action. Reducing your bounce rate can also improve your SEO. Check out our ultimate guide on how to reduce your bounce rate.
SearchWP can also prioritize certain results, such as products or landing pages. This is especially important on sites that contain a large amount of content.
Finally, SearchWP can even show you visitor search data. This data can help you improve your site content and, ultimately, your business.
Installing SearchWP
Setting up SearchWP is very simple.
First, subscribe to a plan of your choice at SearchWP.
There are three license types to suit your needs, whether you are a blogger, eCommerce business, or agency.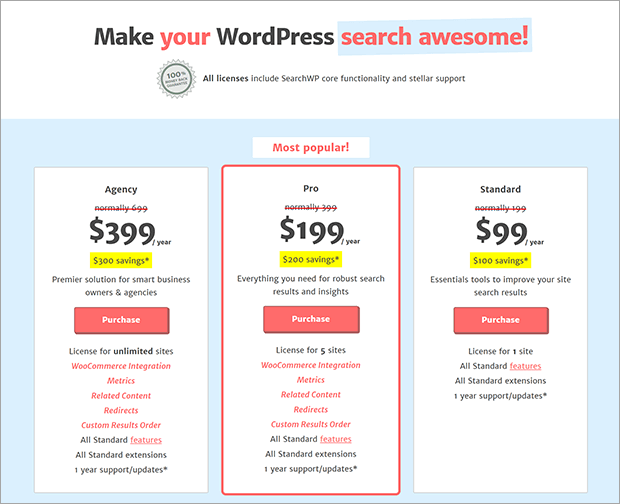 After you purchase your license, you will get an email with your account information and purchase receipt.
Log into your SearchWP account. You'll be taken to the Overview page.
First, click on the Downloads tab.
Next, click on Download SearchWP.

If you want to use any of the Pro extensions, click the download icon for the extensions you want. Most of the extensions are included with a Standard license. You can download these from the SearchWP Extensions page.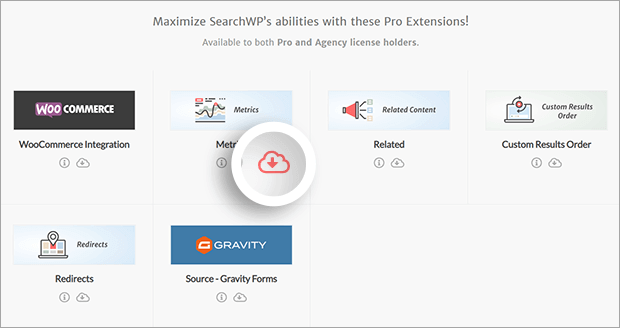 Save all the .zip files to your computer.
Next, go to your WordPress dashboard. Click on Plugins » Add New.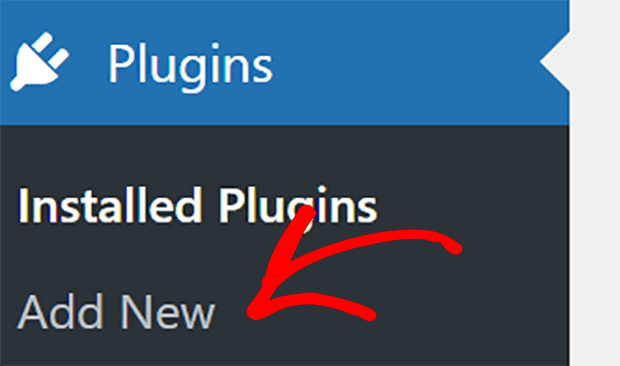 Click on Upload Plugin.

Click on Choose File.
Find the SearchWP .zip file you downloaded earlier.
Click on Install Now.

When the file finishes uploading, click on Activate Plugin.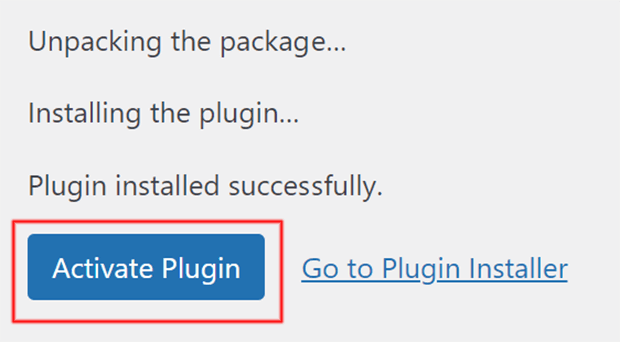 Do the same for any Pro or Standard extensions you want to install.
What Can I Do With SearchWP?
You can use SearchWP to fully customize the search experience on your website. This ensures a better user experience and can improve your conversion rate. Here are 7 things you can do with SearchWP's powerful features.
1. Create Custom Search Engines
The default WordPress search looks at everything on your website. SearchWP can customize the default search to only show certain content types such as posts or products.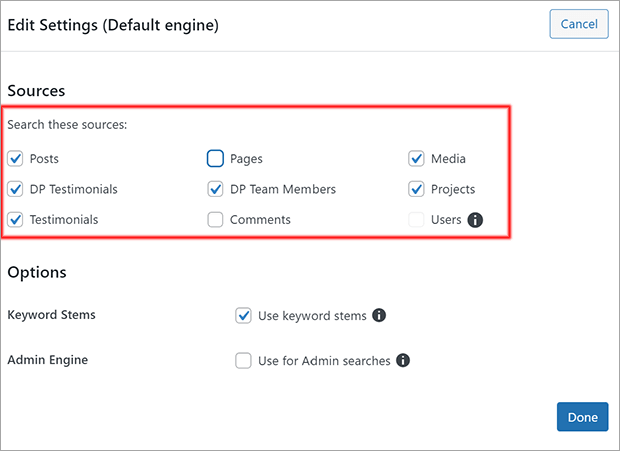 SearchWP can also create different search engines for specific sections of your website. This is called a supplemental engine.
For example, perhaps you want a search form that only searches the knowledge base:

You can set up supplemental engines the same way you set up your default search engine.
2. Place Search Forms Anywhere
You are no longer limited to having search forms in the header, footer, and sidebar. The Shortcodes extension makes it easy to add your search engines even if you don't know how to code.

You can match the button text to your brand voice and the form will automatically pick up the your theme styles.

Supplemental search forms can go in the sidebar, footer, individual pages, and anywhere else you want.
3. Search By Category
SearchWP lets you limit searches to a specified category. Doing this means visitors don't need to wade through irrelevant content to find what they need.
In this example, the user can search for documentation based on the plugin they're using. The search engine won't show them anything related to other plugins. This means less confusion and frustration for the user.

To limit which categories to show results from, you simply add rules to your search engines.

4. Recognize Synonyms
Synonyms are words that mean the same thing. SearchWP recognizes synonyms, which makes search results less dependent on spelling or syntax. This can also help international or regional users find what they're looking for.
For example, "tee" is used as a synonym for "t-shirt." A search for "tee" would pull up the right products, even if the product titles say "t-shirt" instead. Similarly, a search for "jumper" or "sweater" would pull up the same results.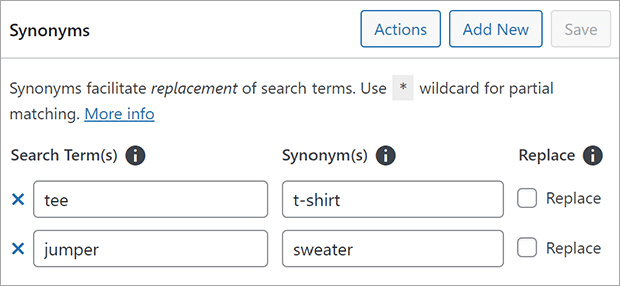 5. Search Product Details
WooCommerce is a commonly used eCommerce platform.
WooCommerce product listings can include metadata such as categories, tags, variations, attributes, and reviews. But the default WordPress search can't find or understand any of this metadata.
SearchWP's WooCommerce extension lets visitors search for exactly what they want from your products. For instance, they might be searching for how well something fits. This information might not be in the description but could be in reviews. With SearchWP, that information is searchable.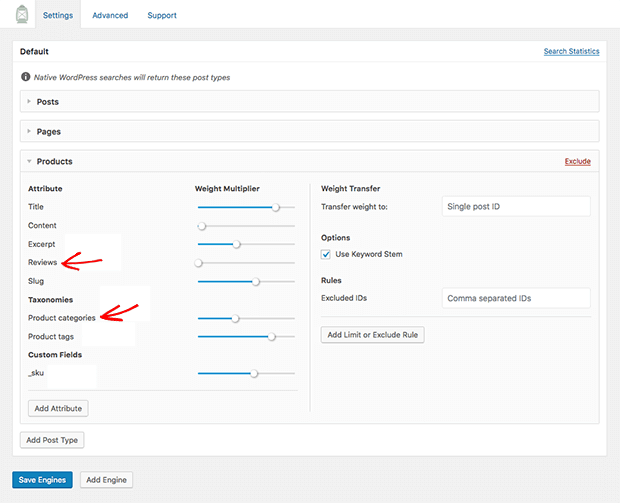 SearchWP WooCommerce extension can even be used with OptinMonster to deliver targeted offers based on search data. Learn more in our ultimate eCommerce personalization guide.
6. Prioritize Certain Results
SearchWP can exclude or weight different results based on what you most want to show readers.
For example, maybe you want to prioritize newer content to help build your search rankings. With SearchWP, you can show only posts newer than a certain date.

SearchWP can also weight certain attributes differently. A title with the search term could be weighed more or less than an excerpt with the same search term.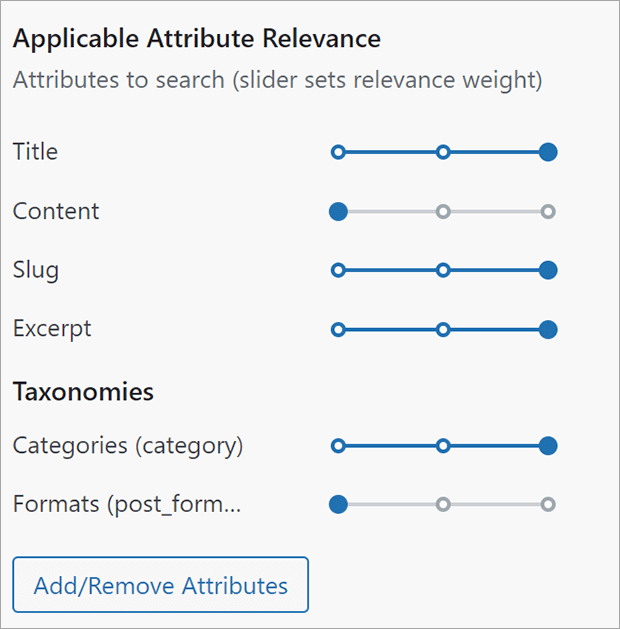 7. Analyze Metrics
You certainly want to show visitors what they're searching for. But SearchWP can also track and analyze onsite search activity.
Understanding search activity can help you improve your content, make sales and marketing decisions, and deliver a better overall experience.
SearchWP Metrics shows you search terms and volume, searches per user, clicks per search, and any searches with no results. You can even see suggestions for which pages are most worth optimizing.

What Are SearchWP Extensions?
SearchWP Extensions can expand your onsite search functionality even more. These are 5 of our favorite extensions:
1. Redirects
The Redirects extension automatically redirects to a specific page when certain searches are performed. This saves users a click and is another way to "read their mind" and show them what they want before they even ask.
For instance, someone searching for "hours" is presumed to be searching for the store hours. They would automatically be redirected to the About page, rather than given a list of pages or posts that might contain the word "hours."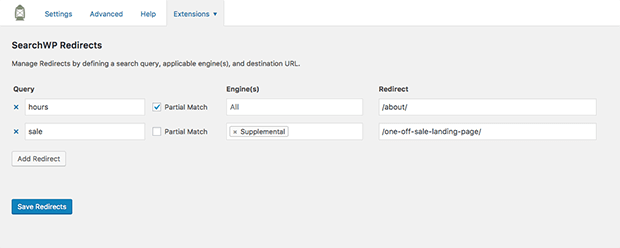 2. Related Content
The SearchWP Related Content extension takes advantage of the content index created by SearchWP. Once you install the extension, you can customize the keywords used to determine related content for every entry.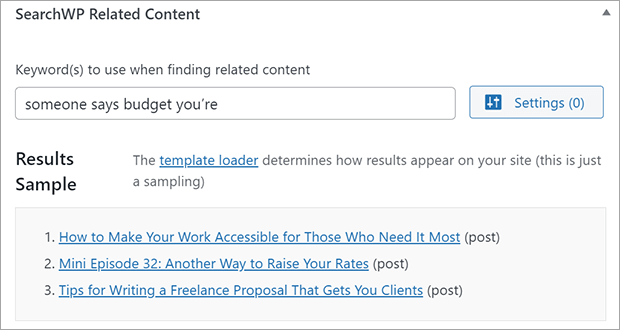 Even though there are other related content plugins, why not take advantage of the index you already have from SearchWP?
3. Boolean Search
The Boolean Search extension for SearchWP allows visitors to search for "A but not B."
For example, a non-Boolean search for "cats" could show posts that are primarily about dogs but happen to mention cats. Using Boolean Search, the user can search "cats -dogs" to only show results with cats but not dogs.
4. Modal Search Form
The Modal Search Form extension makes it super easy to add a lightweight popup search form anywhere on your website.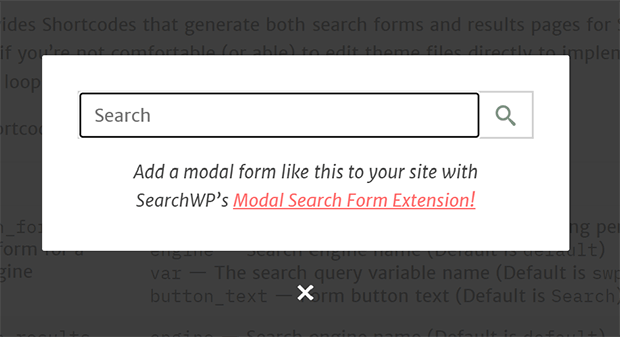 Modal search forms can be a menu item, a sidebar widget, a Gutenberg block, or part of your theme template.
You can get the Search WP Modal Search Form for free on the WordPress plugin. It does not require a SearchWP license to work.
5. Live Ajax Search
The Live Search extension shows search results in real time like Google or Amazon's autocomplete search functionality. This is a great way to show the search results without redirecting to another page.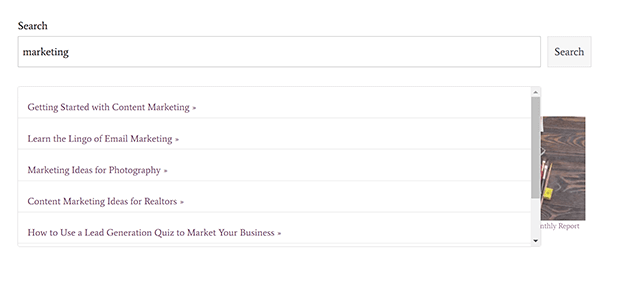 You can get the Search WP Live Ajax Search on the WordPress plugin repository for free. You do not need a SearchWP license to use the Live Search extension, as it will work with default WordPress search as well.
SearchWP Pricing
SearchWP has three simple license tiers:
Standard costs $99/year and offers standard features and extensions for 1 site
Pro costs $199/year and includes the five premium extensions and all standard features and extensions for 5 sites
Agency $399/year and is the same as the Pro license does but can be used on unlimited sites
Your SearchWP license grants access to world-class support and regular updates to keep your search engines running smoothly.
Is SearchWP the Best WordPress Search Plugin?
Hopefully this SearchWP review shows you why SearchWP is the best WordPress search plugin.
SearchWP is the easiest way to help users find the information they want. The plugin is easy to install and comes with great support and frequent updates.
Still not fully convinced? Learn about other WordPress search plugins in our ultimate guide to search plugins.
Ready to supercharge your onsite search? Get started with SearchWP today!