Are you looking for a WordPress lead generation plugin?
A lead generation plugin for WordPress helps increase your subscriber list and creates growth opportunities for your online business.
In this article, we list the best WordPress lead generation plugins on the market that you can use to explode your email list.
What Is Lead Generation?
Lead generation is capturing and collecting potential customer information directly from the website. It involves using various strategies, techniques, and tools to attract visitors, engage with them, and convert them into leads.
The primary goal is to encourage website visitors to take a specific action, such as filling out a contact form, subscribing to a newsletter, downloading a resource, or making a purchase.
Lead generation on a website typically involves using lead capture forms, popups, call-to-action buttons, landing pages, and other conversion-focused elements. These elements are strategically placed throughout the website to capture visitor information and build relationships with potential customers. The collected information can include names, email addresses, phone numbers, company details, or any other relevant data that can be used for further communication and lead nurturing.
By implementing effective lead generation strategies on a website, businesses can expand their reach, generate qualified leads, and ultimately increase their conversion rates and sales. It is a critical component of digital marketing efforts, enabling businesses to turn website traffic into valuable leads that can be further nurtured and converted into customers.
Importance of WordPress Lead Generation Plugins
Here are a few reasons why WordPress lead generation plugins are important:
Simplifying Lead Capture: Lead generation plugins make it easier to collect leads by providing ready-made forms, pop-ups, and slide-ins. These plugins often have user-friendly editors where you can create attractive forms without coding. They save time and effort by eliminating the need to design and code forms from scratch.
Increasing Conversion Rates: Lead generation plugins offer features like exit-intent pop-ups, timed triggers, and advanced targeting options. These features help you display your forms to the right audience at the right time, increasing the chances of converting visitors into leads. For example, exit-intent pop-ups appear when a user is about to leave your website, giving you the last opportunity to capture and convert their attention.
A/B Testing and Optimization: Many lead generation plugins include built-in A/B testing functionality. This allows you to test different versions of your forms or pop-ups to see which ones perform better in terms of conversions. Testing and optimizing your lead capture elements can continuously improve your conversion rates and make your lead generation efforts more effective.
Seamless Integration with Email Marketing: Integrating lead generation plugins with email marketing platforms is crucial for effective lead nurturing. These plugins often offer integrations with popular email marketing services, allowing you to automatically send captured leads to your email list or marketing automation workflows. This integration ensures a smooth transition from lead capture to lead nurturing and simplifies the management and communication with your leads.
Analytics and Insights: Lead generation plugins provide valuable analytics and insights to track the performance of your forms and campaigns. They offer metrics like conversion rates, impressions, and click-through rates. By analyzing this data, you can understand how effective your lead generation strategies are and make data-driven decisions to improve your campaigns.
Customization and Branding: Lead generation plugins usually offer various customizable form templates and design options. This allows you to match the appearance of your lead capture forms with your brand identity. Consistent branding creates a professional and cohesive user experience, building trust and credibility with your audience.
Best WordPress Lead Generation Plugins for WordPress
Before we dive into lead generation plugins, we want to draw your attention to building trust and credibility for your site.
Because no matter which lead generation plugin you use, visitors are unlikely to sign up if they don't trust you.
With the TrustPulse app, you can instantly use social proof to build trust and confidence with visitors.

You can get more signups than ever by displaying notifications whenever someone becomes a subscriber. This is because people are more inclined to take action when they see others doing the same.
In fact, TrustPulse is proven to boost conversions by up to 15%!
Sign up for your 100% risk-free TrustPulse account today!
Now that you know how to build trust with your visitors, let's dive into the best WordPress lead generation plugins to grow your email list!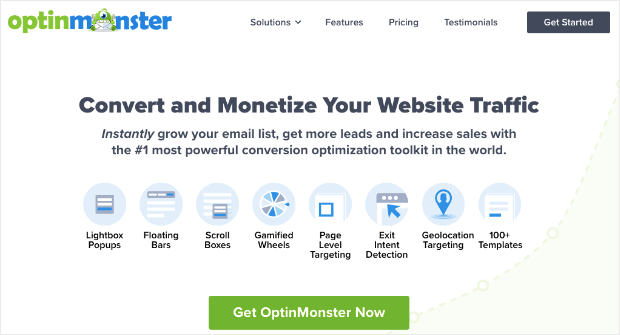 Are you looking for a way to create attention-grabbing opt-in forms that website visitors actually want to engage with? If so, OptinMonster is the perfect WordPress lead generation plugin for you.
But OptinMonster offers more than simple signup forms. Its state-of-the-art smart tools enable you to track and predict visitor behavior, create retargeting campaigns, and engage with visitors that are likely to abandon their carts.
Its key features include:
Ready-to-use templates and a drag-and-drop builder that makes it easy to create beautiful campaigns
Smart Abandonment Recovery: OptinMonster's Exit-Intent® technology can boost conversions by as much as 4% by engaging visitors when they plan to leave your website.
Page-Level Targeting: Want to create targeted email campaigns that appeal to specific segments of your visitors? Page-level targeting does just that by presenting those visitors with custom-tailored opt-in forms based on how they respond to your website.
A/B Testing: Tired of trying to guess which of your methods are working and which are driving away potential customers? OptinMonster's A/B testing allows you to make informed decisions about your lead generation initiatives by assessing the performance of two campaigns side by side.
Campaign Types: You can create lightbox popups, floating bars, slide-ins, countdown timers, welcome mat popups, exit intent popups, sidebar forms, fullscreen overlays, and more.
This WordPress lead magnet plugin is powerful, easy to use, and integrates with popular email marketing services like AWeber, Constant Contact, Mailchimp, and GetResponse, to name a few. This makes OptinMonster the ideal WordPress popup builder for growing email lists and turning visitors into loyal customers.


WPForms is a powerful drag-and-drop form builder that lets you optimize your lead capture page on WordPress websites. It's perfect for the tech-savvy eCommerce professional and beginners working on their first virtual storefront.
WPForms allows users to choose from a number of beautiful pre-made contact forms, email subscription forms, payment gateways, and any other type of form you may need on your WordPress site.
Stand-out features of WPForms include:
Protection Against Spam: Powered by CAPTCHA and Honeypot methods, WPForms protects your site against spammers and people who abuse your registration process.
Integration with Tools: WPForms offers seamless integration with popular email marketing services and customer relationship management (CRM) providers, allowing you to incorporate leads into your email list effortlessly. Also integrates with Elementor and Divi.
Smart Conditional Logic: Certain elements of your forms can be shown (or hidden) from visitors depending on how they interact with your website.
With WPForms, you can build visually stunning, mobile-responsive WordPress lead generation forms with a few clicks of a mouse, with no coding necessary. Thanks to its extensive templates and drag-and-drop editor, designing a contact or subscription form that meets the unique needs of your business has never been easier.
WPForms has a free plan for small businesses that you can get started with to build simple forms. The Pro version gives you access to tons of fantastic features.


SeedProd is the best drag-and-drop page builder for WordPress. With SeedProd, you can easily create high-converting landing pages for your eCommerce site, including sales pages, opt-in pages, webinar pages, and more. This landing page builder also comes with built-in coming soon and maintenance mode functionality. This makes it possible for you to grow your email list before your site is even live or while your site is under construction.
Its powerful features include:
Drag and Drop Builder: Easy-to-use visual drag and drop builder with real-time preview.
Landing Page Templates: Over 100 beautiful landing page templates so you can get started quickly.
Landing Page Blocks: Ready-made landing page blocks like opt-in forms, call-to-action buttons, countdown timers, and more.
Premium Integrations: Integrates with popular email marketing plugins like Constant Contact, ActiveCampaign, Mailchimp, and others.
SeedProd qualifies as a fitting WordPress lead generation plugin as you can quickly and easily build dedicated landing pages for your opt-in campaigns to collect leads without touching a line of code.


RafflePress, which is the best giveaway plugin for WordPress, might not be the first tool that comes to mind when you're trying to grow your email list. But running a viral giveaway can be a great way to drive traffic to your site, get more email subscribers, and even generate sales.
With RafflePress, you can easily create an online contest and add bonus entry actions that reward participants with extra entries for performing specific tasks. There're entry actions for signing up for your email newsletter, following you on social media, referring a friend, visiting a page, and much more.
Key features of RafflePress include:
Drag and Drop Builder: Use the easy drag and drop builder to create a custom giveaway campaign in no time.
Giveaway Templates: Ready-made viral giveaway templates designed to help you reach your goals.
Email Marketing: Works seamlessly with popular email marketing providers to grow and manage your email list.
Social Media Integrations: Quickly grow your following on platforms like Facebook, Twitter, Instagram, YouTube, and others.
For the chance to win an awesome prize, most users will be more than willing to become subscribers.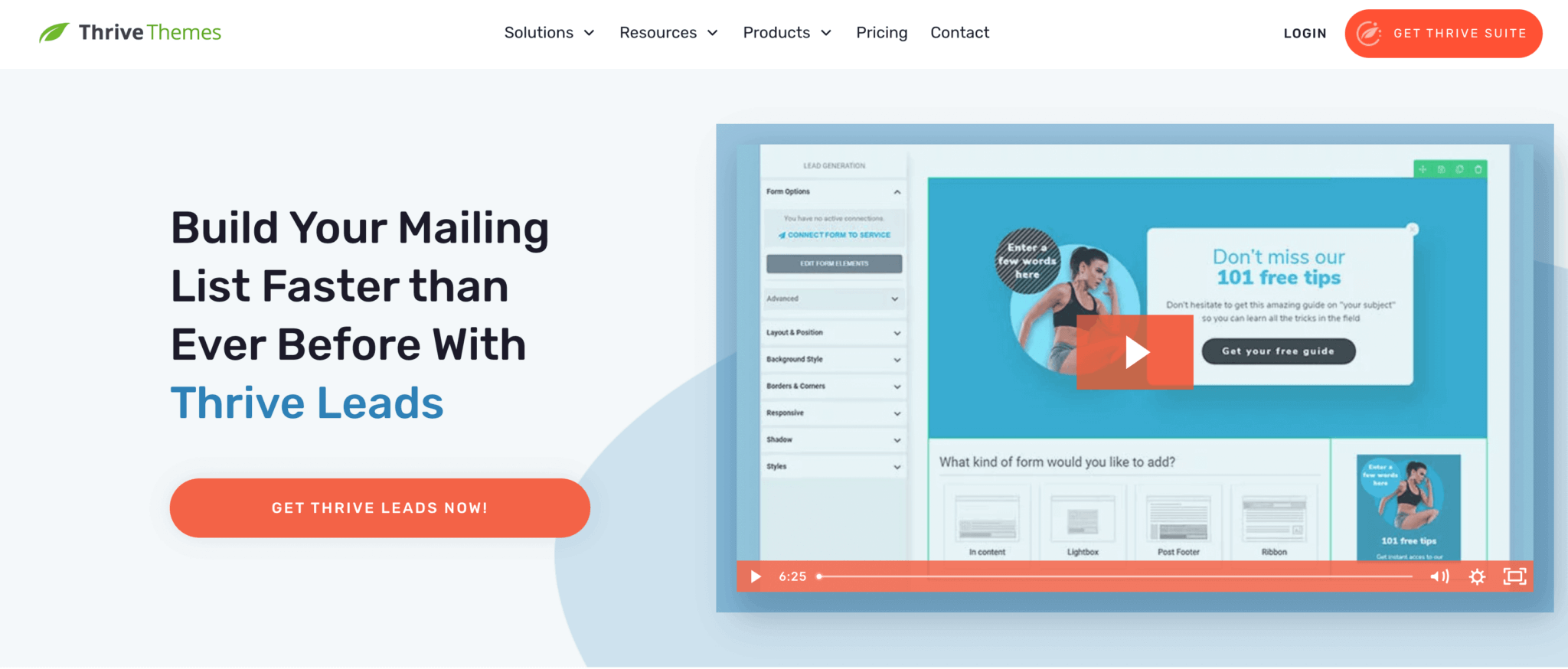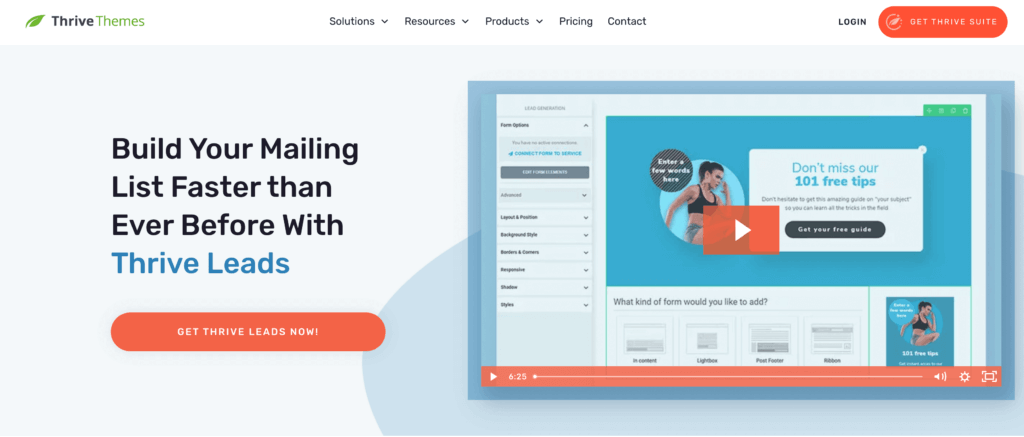 Thrive Leads is a comprehensive lead generation plugin for WordPress that empowers you to create and manage multiple opt-in forms easily. It provides a range of form types, including pop-ups, sticky ribbons, in-line forms, and slide-ins.
Thrive Leads also offers extensive targeting options, allowing you to display your forms based on user behavior, page content, or referral source.
Additionally, the plugin integrates seamlessly with popular email marketing services, enabling you to streamline your lead nurturing process.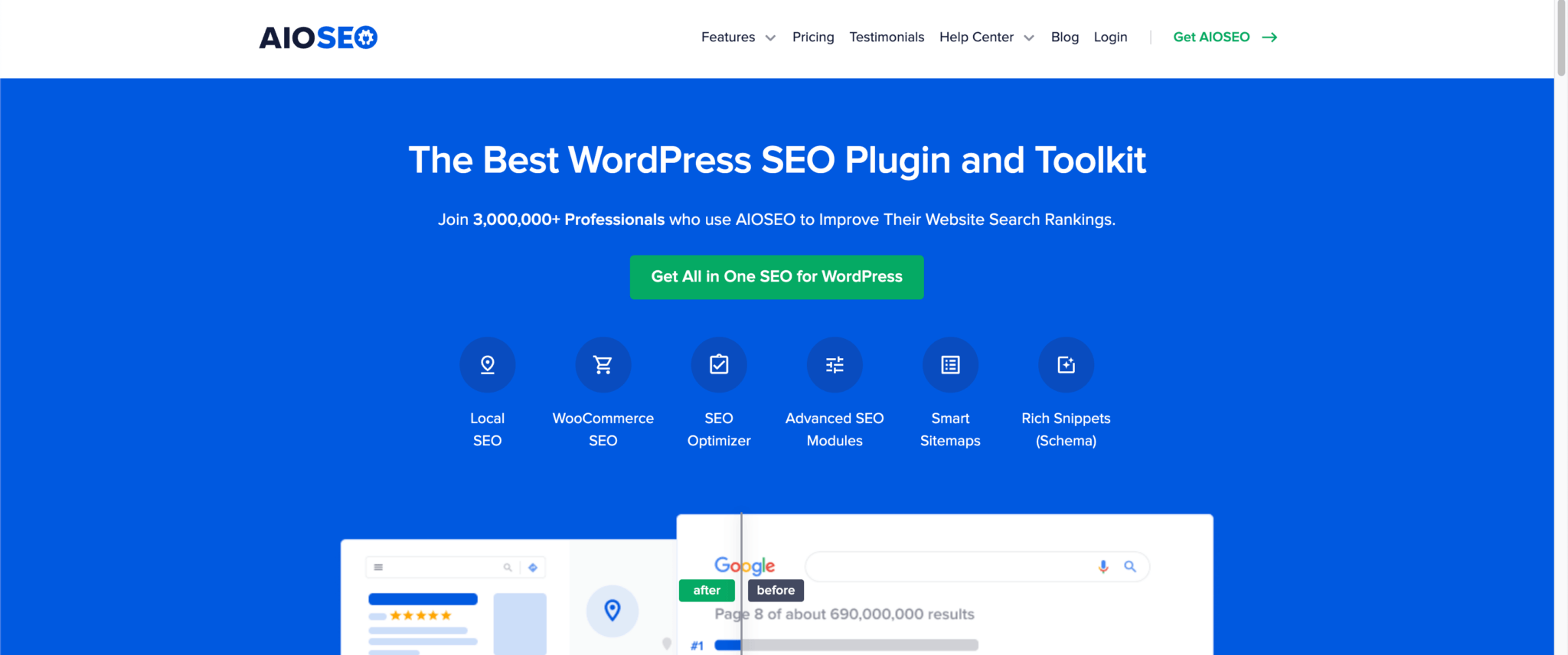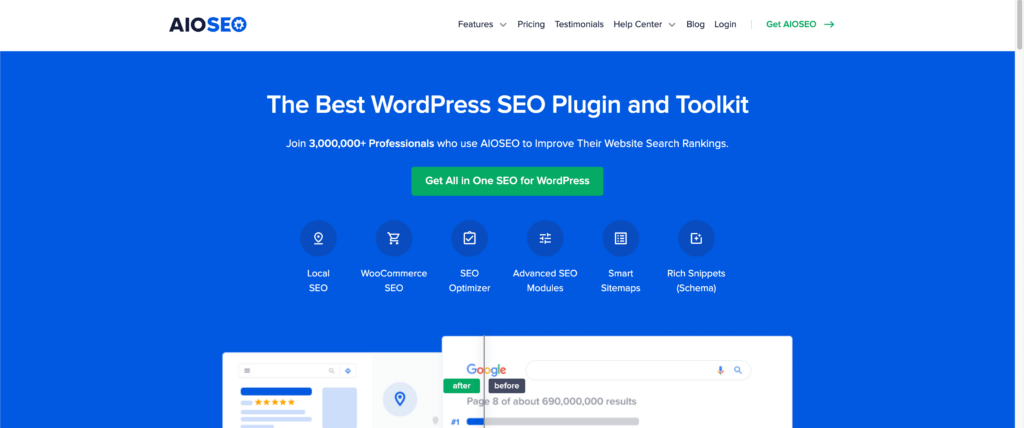 All in One SEO is a popular WordPress plugin used by over two million websites to improve their search engine rankings. It offers a comprehensive set of tools for SEO without requiring you to understand complicated SEO terms.
Having good SEO for your WordPress site is essential for generating leads. It helps bring more people to your website, allowing them to join your email list, call you, or subscribe to notifications.
Once you install and activate the plugin, a user-friendly setup wizard will guide you in choosing the best SEO settings for your business. This helps you increase your website's traffic and visibility.
The plugin also provides a TruSEO score, which offers a detailed analysis of your on-page SEO. It gives you a checklist of actionable steps to optimize your posts and pages, making it easier for search engines to find and rank your content.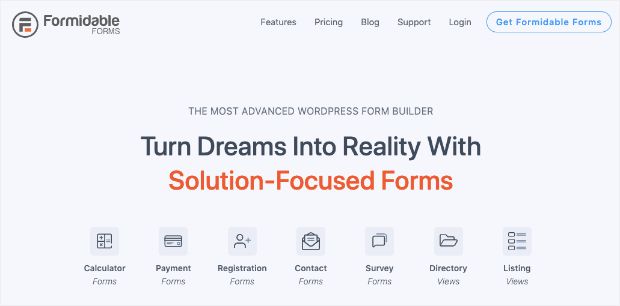 Formidable Forms may look like a contact form plugin, but it offers so much more than simple WordPress forms.
For example, Formidable Forms makes it easy to collect and analyze data, which can be viewed in the form of charts, tables, and graphs. As such, you can access the performance of your opt-in forms more easily, giving you the ability to adopt a data-driven approach toward mailing list optimization.
And, Formidable lets you build interactive forms to calculate problems in real time. For example, if you're a health company, you can add a BMI calculator to your mailing opt-in form. This gets the visitor to actually engage with your form, increasing the likelihood that they'll join your mailing list.
But that's not all. Formidable Forms even integrates with the WordPress eCommerce plugin WooCommerce, which can collect customer information, calculate prices based on add-ons and shipping options, and many other exciting features to drive sales and enhance customer experience.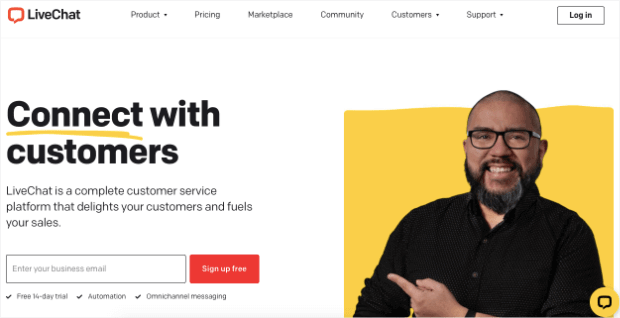 Customer experience is the new brand, and what better way to give unparalleled customer experience than through LiveChat?
Research suggests that companies with response times shorter than five minutes are 10x more likely to make contact with leads than their slower-responding competitors. That's where LiveChat comes in.
LiveChat is lead gen pro WordPress plugin that engages with visitors in real-time as they browse your eCommerce site. Perfect for collecting customer data, LiveChat also seamlessly integrates with a number of popular email marketing tools, including Mailchimp, Constant Contact, and Campaign Monitor.
Growing your email list has never been easier. Simply use LiveChat to engage with prospective customers, share their contact details and customer information with your email marketing platform, and then add potential leads to any relevant mailing campaigns you're working on.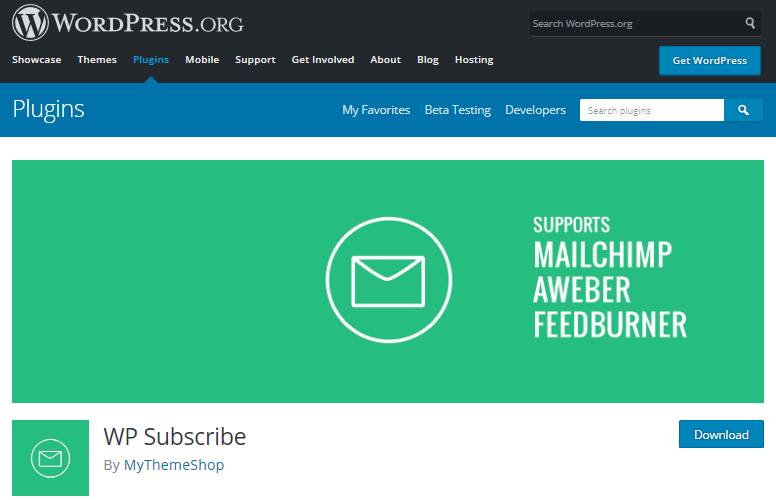 Arguably the best free email opt-in plugin for WordPress, WP Subscribe lets users embed a lightweight, easy-to-use opt-in form directly into their blog or eCommerce store.
While it's designed to be intuitive and simplistic, don't let WP Subscribe's minimalistic design fool you. The plugin might not be loaded with powerful marketing tools, but it gives you everything you need to grow your email lists. This makes it perfect for mom-and-pop eCommerce businesses looking to build email campaigns without spending a lot of money.
Plus, setup is quick and easy: install the plugin, activate it, and add its widget to your WordPress pages. Those three steps are all it takes to include a fully-responsive opt-in form on your website.


HubSpot for WordPress provides a user-friendly form builder that allows you to create various form types, such as embedded forms, standalone pages, pop-up boxes, dropdown banners,
and slide-in boxes.
Besides the convenient drag-and-drop form builder, HubSpot offers additional tools like live chat and email marketing.
Furthermore, the plugin includes HubSpot's renowned CRM, enabling you to manage your contacts effectively, segment them into lists, and track every interaction they've had with your website.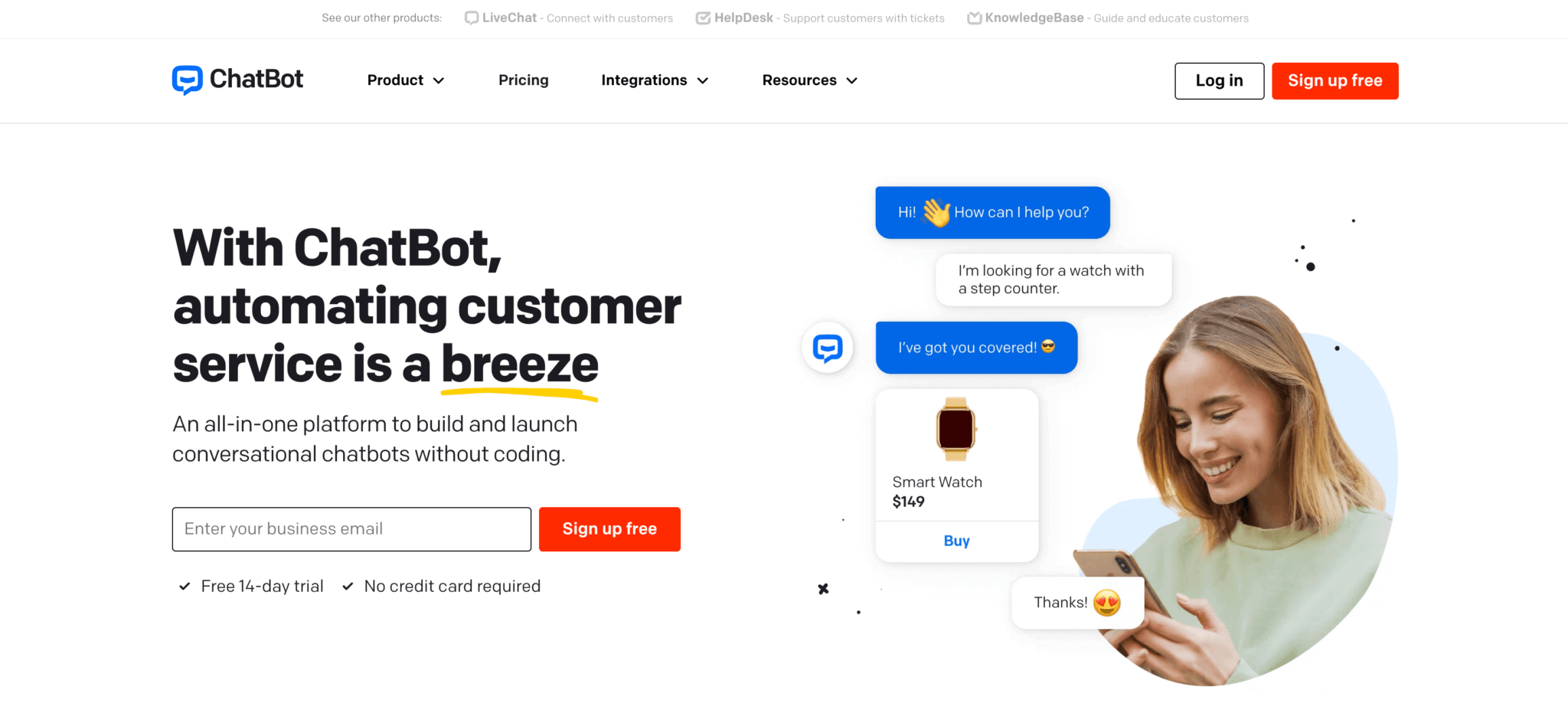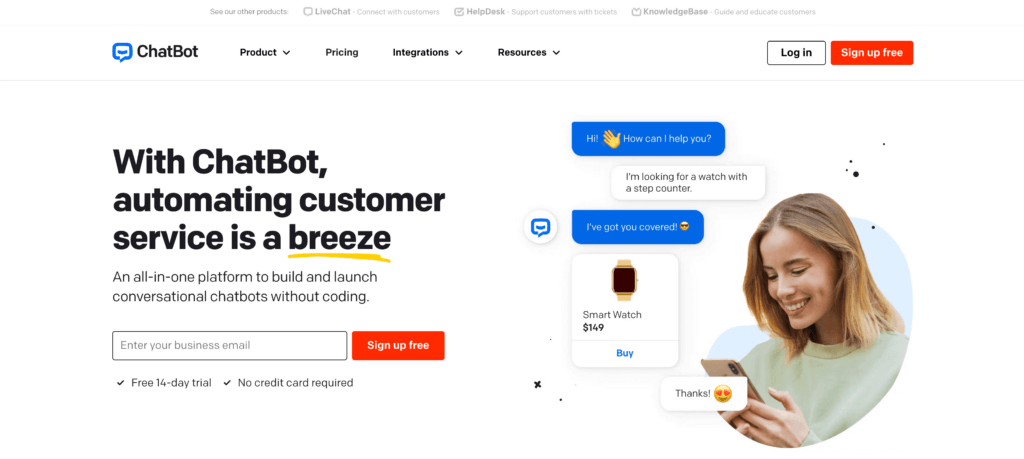 ChatBot is an exceptional AI chatbot software available in the market that enables you to leverage automated live chat for seamless customer interactions and round-the-clock responses to inquiries.
With a wide range of pre-designed templates, ChatBot allows you to kickstart your chatbot implementation effortlessly. For example, you can utilize the lead generation bot template for scheduling calls, while the sales bot template enables you to sell products directly within the chat window.
ChatBot is compatible with Facebook Messenger and website integration, making it an ideal choice for businesses and organizations receiving numerous inquiries through Facebook.
Moreover, integrating ChatBot with other applications like LiveChat is a breeze. This integration allows a live agent to seamlessly join the conversation whenever necessary, ensuring a smooth customer experience.
And there you have it! That's our list of the best WordPress lead generation plugins.
With the help of these WordPress lead magnet plugins and a solid email marketing strategy, you'll be on your way to building a colossal email list of customers who look forward to hearing from you.
Which Is the Best WordPress Lead Generation Plugin?
After seeing what the top WordPress lead generation plugins offer, we can confidently say that OptinMonster takes the #1 spot.
OptinMonster is flooded with options to create different forms and lead generation campaigns for your site, allowing you can get creative through different seasons, holidays, and trends.
With OptinMonster, creating and customizing stunning popup forms and converting visitors into subscribers is easy. And it's the only tool with powerful targeting features to get the best results.
Did you know that it only takes 60 seconds to sign up for OptinMonster and build a fully-customizable lead generation campaign from the ground up? That means you can spend less time worrying about collecting leads and get back to what really matters: your awesome products.
And if you still haven't made your site trustworthy, join TrustPulse today! It helps maximize your lead generation marketing campaign results and skyrocket your subscriptions.