WordPress and eCommerce go together like avocado and toast.
WordPress' intuitive design and fully-customizable layout make it easy to create the perfect eCommerce shop in a matter of minutes, without any coding experience needed.
Plus, there's an ever-growing library of WordPress plugins that can help you do anything from boosting conversion rates to enhancing customer experience, and everything in between.
In other words, WordPress appeals to beginners building their first eCommerce store, as well as established veterans in the industry looking to optimize every element of their online storefront.
And while both types of professionals have very different needs and expectations, they both can maximize conversion rates and build comprehensive email lists with one of the top WordPress lead generation plugins that we're covering today.
If you're looking to grow your mailing list without trying to reinvent the wheel, this post is for you. Read on to see our favorite WordPress lead generation plugins and how they can be incorporated into your eCommerce site.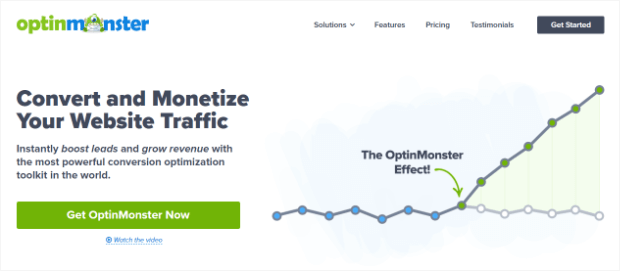 Are you looking for a way to create attention-grabbing opt-in forms that visitors actually want to engage with? If so, OptinMonster is the perfect tool for you.
But OptinMonster offers more than simple contact forms. Its state-of-the-art smart tools enable you to track and predict visitor behavior, create retargeting campaigns, and engage with visitors that are likely to abandon their carts.
Its key features include:
Smart Abandonment Recovery: OptinMonster's Exit-Intent® technology can boost conversions as much as 4% by engaging visitors the precise moment they plan to leave your website.
Page-Level Targeting: Want to create targeted email campaigns that appeal to specific segments of your visitors? Page-level targeting does just that by presenting those visitors with custom-tailored opt-in forms based on how they respond to your website.
A/B Testing: Tired of trying to guess which of your methods are working and which are driving away potential customers? OptinMonster's A/B testing allows you to make informed decisions about your lead generation initiatives by assessing the performance of two campaigns side by side.
Best of all, this WordPress lead-magnet plugin is powerful, easy to use, and integrates with popular email marketing tools like Constant Contact, Mailchimp, and GetResponse to name a few. This makes OptinMonster the ideal solution for growing email lists and turning visitors into loyal customers.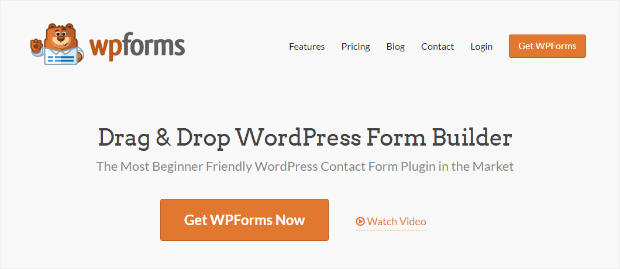 WPForms is a powerful tool that lets you optimize your lead capture page on WordPress sites. Perfect for the tech-savvy eCommerce professional and beginners working on their very first virtual storefront, WPForms allows users to choose from a number of beautiful pre-made contact forms, email subscription forms, payment gateways, and any other type of form you may need on your WordPress site.
Stand-out features of WPForms include:
Protection against spam: Powered by CAPTCHA and Honeypot methods, WPForms keeps your site protected against spammers and people trying to abuse your registration process.
Integration with email tools: WPForms can be used to create opt-in forms for Mailchimp and AWeber users, making it easier and more convenient for people using these platforms to build their email lists.
Smart Conditional Logic: Certain elements of your forms can be shown (or hidden) from visitors depending on how they interact with your website.
With WPForms, you can build a visually stunning, mobile-responsive WordPress form with a few clicks of a mouse, no coding necessary. Thanks to its extensive templates and drag-and-drop features, designing a contact or subscription form that meets the unique needs of your business has never been easier.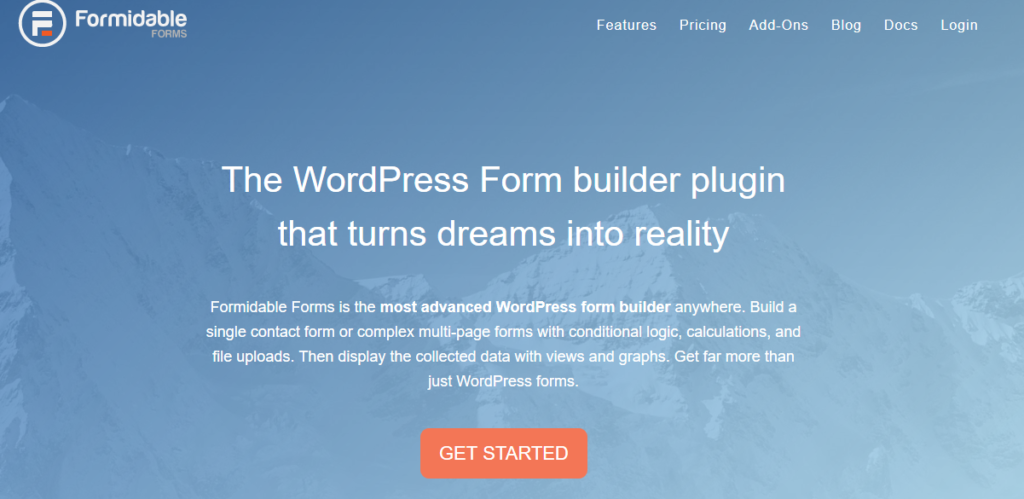 Formidable Forms may look like a contact form plugin on the surface, but it actually offers so much more than simple WordPress forms.
For example, Formidable Forms makes it easy to collect and analyze data, which can be viewed in the form of charts, tables, and graphs. As such, you can access the performance of your opt-in forms more easily, giving you the ability to adopt a data-driven approach towards mailing list optimization.
And, Formidable lets you build interactive forms able to calculate problems in real time. For example, if you're a health company, you can add a BMI calculator into your mailing opt-in form. This gets the visitor to actually engage with your form, increasing the likelihood that they'll join your mailing list.
But that's not all. Formidable Forms even integrates with the WordPress eCommerce plugin WooCommerce where it can be used to collect customer information, calculate prices based on add-ons and shipping options, and many other exciting features to drive sales and enhance customer experience.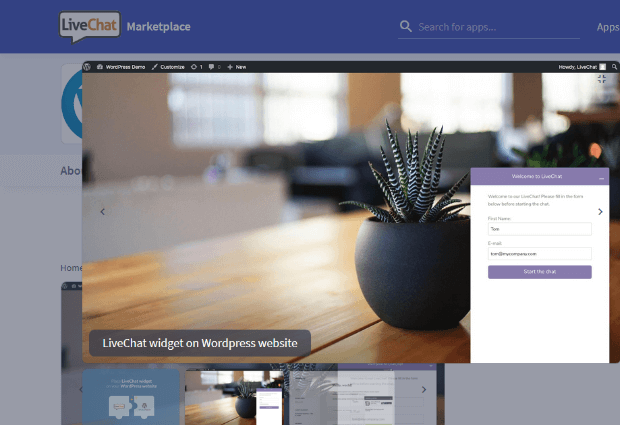 Customer experience is the new brand and what better way to give unparalleled customer experience than through live chat?
Research suggests that companies with response times shorter than five minutes are 10x more likely to make contact with leads than their slower-responding competitors. That's where LiveChat comes in.
LiveChat is a lead gen pro WordPress plugin that engages with visitors in real time as they browse your eCommerce site. Perfect for collecting customer data, LiveChat also seamlessly integrates with a number of popular email marketing tools, including Mailchimp, Constant Contact, and Campaign Monitor.
Growing your email list has never been easier. Simply use LiveChat to engage with prospective customers, share their contact details and customer information with your email marketing platform, and then add potential leads to any relevant mailing campaigns you're working on.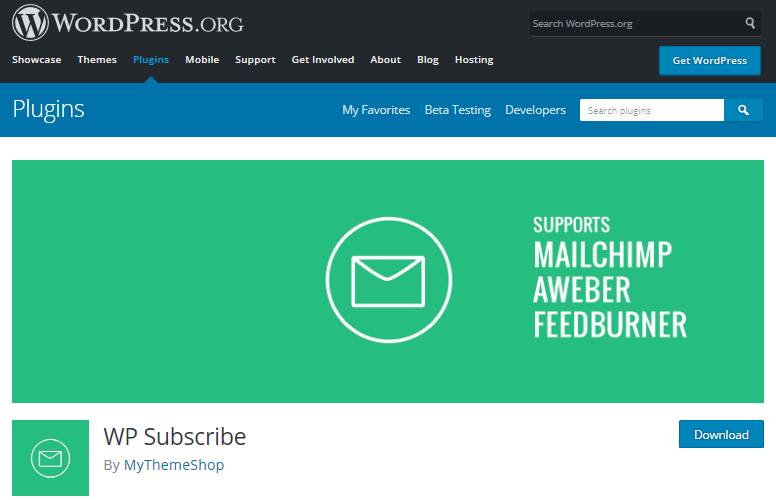 Arguably the best free email opt-in plugin for WordPress, WP Subscribe lets users embed a lightweight, easy-to-use opt-in form directly into their blog or eCommerce store.
While it's designed to be intuitive and simplistic, don't let WP Subscribe's minimalistic design fool you. The plugin might not be loaded with powerful marketing tools, but it gives you everything you need to grow your email lists. This makes it perfect for mom-and-pop eCommerce businesses looking to build email campaigns without spending a lot of money.
Plus, setup is quick and easy: install the plugin, activate it, and add its widget to your WordPress pages. Those three steps are all it takes to include a fully-responsive opt-in form on your website.
For only $27, you can buy the WP Subscribe pro and customize your opt-in widget so that it matches your WordPress lead generation theme.
Growing Your Email List
That's it! Pretty simple, right?
With the help of these WordPress lead gen plugins and a solid email marketing strategy, you'll be on your way to building a colossal email list of customers who look forward to hearing from you.
Did you know that it only takes 60 seconds to sign up for OptinMonster and build a fully-customizable lead generation campaign from the ground up? That means you can spend less time worrying about collecting leads and get back to what really matters: your awesome products. ?