Are you looking for a contact form plugin for WordPress that will help your site's visitors get a hold of you with questions, problems, and general inquiries?
Having a contact form on your website is an absolute must. It opens up the lines of communication between you and your audience. That way, they always have somewhere to turn if they run into problems or have a question.
But how do you easily create a contact form on your website? That's where contact form plugins come into play.
That's why, today, we're going to show you the best contact form plugins for WordPress. Before we dive into our list, though, let's look at why you need to have a contact form on your website in the first place.
Why You Need a Contact Form Plugin
A contact form plugin gives your site's traffic and customers a way of getting in touch with you when they need to. This could be for many reasons, including:
Asking a general question
Reaching out for product support
Making a complaint or feature request
And much more.
But a contact form isn't just a way to improve your user experience (UX). It has a few other advantages worth mentioning.
First, contact forms reduce the amount of spam you'll receive as the business owner or site administration. That's because when you show your email address on your site, spammers have direct access to your inbox.
Using a contact form, however, you can add reCAPTCHA to protect your form (and your inbox) from spam.
Second, using a contact form plugin can help you get more leads. When someone reaches out to you by filling out your contact form, they're showing an inherent interest in your company, products, or services.
You can use this as an opportunity to discuss what your business has to offer with a prospective customer.
Finally, having a contact form on your site can inspire trust and boost credibility. Your customers will feel more assured about buying your products if they know there's an option for getting support.
Even seeing that your site has a contact form can be enough to make your website appear more legitimate.
By using a contact form and other trust badges across your site, you increase your odds of drumming up more long-term business.
Now that you know why contact forms are so important, let's look at the best contact form plugins for WordPress.
The Best Contact Form Plugins for WordPress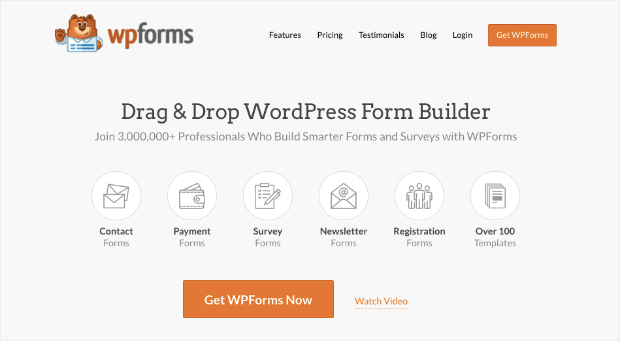 WPForms is hands down the best contact form plugin for WordPress that you can find. This plugin is super easy to use, integrates with most major email service providers, and comes loaded with features.
WPForms makes it easy to create your contact form. You can start with one of their user-friendly templates or create your own with a drag and drop builder.
As you get into the more advanced features, you can add conditional logic to your forms. That means your questions will change depending on how respondents replied to the previous one.
These are just a few of the reasons why WPForms is your best bet when it comes to finding a WordPress contact form plugin.
Pricing starts at $39.50/year and comes with a 14-day money-back guarantee.
Get started with WPForms today!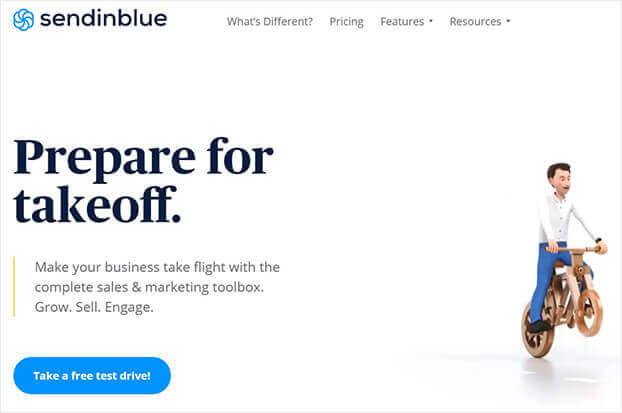 Sendinblue is primarily known for being an email service provider (ESP) and an SMS marketing platform. That said, it also has tons of other marketing features, including the ability to create a contact form.
And because Sendinblue integrates seamlessly with WordPress, it's one of the most convenient contact form plugins you can use.
If you're using Sendinblue for your email or SMS marketing (or thinking about switching to the platform), this plugin can be a great asset to your WordPress site.
Creating your forms with Sendinblue is incredibly easy and lets you quickly add reCAPTCHA to protect you from spam.
Pricing starts with a free plan and then ranges from $28 – $72/month. Larger enterprises can request special pricing.
Get started with Sendinblue today!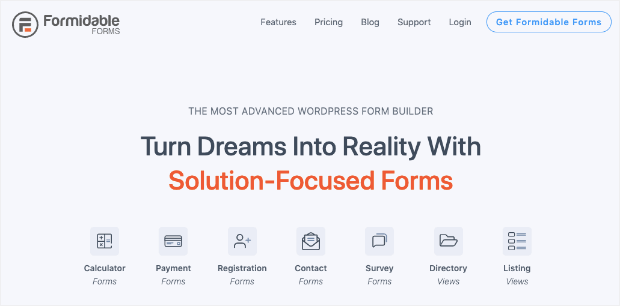 Formidable Forms is an excellent contact form plugin for WordPress. It has a drag and drop builder, comes with tons of templates you can use, and has advanced features like conditional logic.
Formidable Forms also comes with some cool addons, one of which is adding "Bootstrap styling" to your contact form. This means you change the style of your form so you can better match your site's branding.
Finally, this plugin integrates with most major email service providers so that you can get your responses sent automatically to your professional inbox.
Pricing starts at $99/year for the Basic plan and goes up to $399/year for the Elite package.
Get started with Formidable Forms today!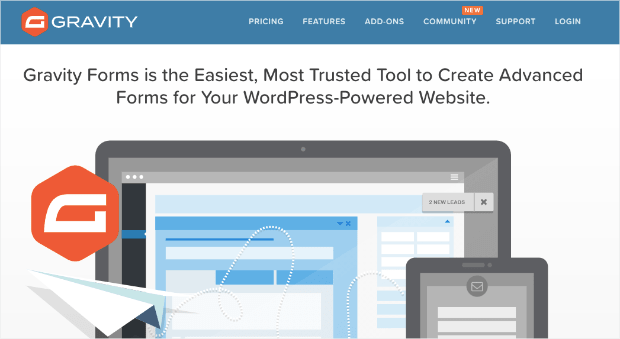 Gravity Forms is a popular choice when it comes to contact form plugins. Their form builder is easy to use, which lets you create a stunning contact form in minutes.
They have tons of templates that let you streamline the process, and addons to give your forms added power.
They've also got some other features, including:
Conditional logic
Email notifications
File upload
And more. Gravity Forms makes it simple for beginners to get started with their site's contact form.
Pricing ranges from $59 – $259/year, depending on the plan.
Get started with Gravity Forms today!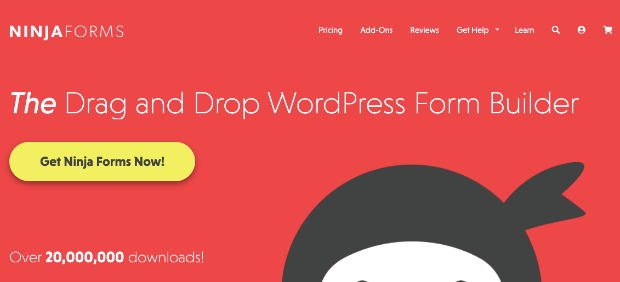 Ninja Forms is a drag and drop form builder for WordPress. They pride themselves on being a form builder made for beginners. In other words, if you have zero tech skills, Ninja Forms' intuitive software makes creating your contact form a breeze.
The plugin's features allow your site's visitors to add file attachments to the contact form, including PDFs, Excel files, and even Google Sheets.
Ninja Forms integrates with most major email service providers and other popular marketing tools like Salesforce and Zapier.
You can start using Ninja Forms for $49/year for personal use all the way up to $249/year for businesses.
Get started with Ninja Forms today!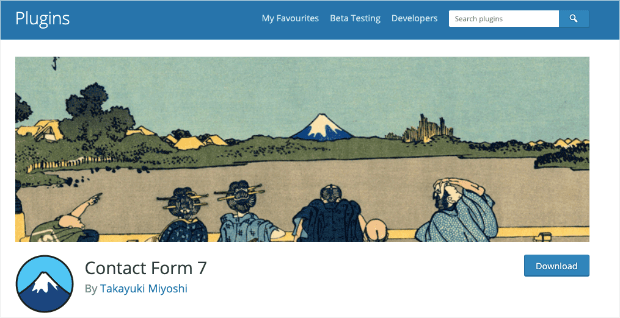 Contact Form 7 is another contact form plugin for WordPress that you can try out. The plugin is free (donation-based), which means, as you can imagine, it's fairly basic in functionality.
That said, you can quickly build contact forms and modify them with simple markup. The form has different features to protect you from spam, lets you add different fields, and integrates with your email service provider, so all submissions go straight to your inbox.
This is a free plugin, so you can try it out at no risk. They do, however, request donations to support the development team. That's because free plugins can be difficult to upgrade and maintain for its users.
Get started with Contact Form 7 today!

If you use WordPress, then you're probably already familiar with JetPack. JetPack Forms lets you create and embed a very simple contact form on your site.
It's easy to use, can be put in as a form block in the modern WordPress editor, sends email notifications, and integrates with most email service providers.
Even though this is a small part of the larger JetPack plugin, it's a great option for people already using JetPack. It doesn't have as many advanced features as, say, WPForms or Formidable Forms, but it can be a good solution for people who need the basics.
You can get the free version of JetPack which includes their form builder. Otherwise, JetPack Complete (which gives you all of JetPack's features) is roughly $80/month when billed annually.
Get started with JetPack Forms today!
And that's it! These are the best contact form plugins for WordPress that you can start using today.
Again, one of the major advantages of contact forms is that it helps inspire trust and boost credibility with your audience. But you may want to kick things up a notch with TrustPulse: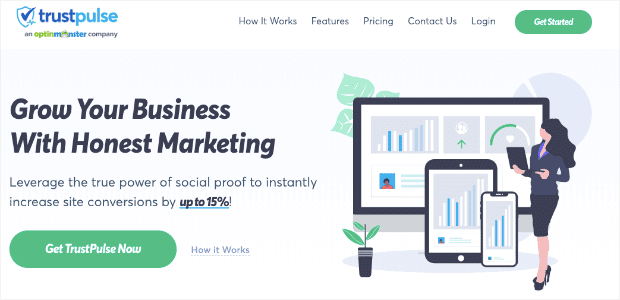 TrustPulse is the best way to build credibility with your audience using social proof notifications. These small messages let your site's traffic know when people are interacting positively with your brand.
When your customers see how popular your brand is, they feel more confident buying from you. As a result, you get more leads and sales.
In fact, TrustPulse has been shown to instantly increase sales by 15%. That's a huge impact for such a small change to your site.
Plus, it's only a fraction of the cost when compared to other social proof plugins. You can start TrustPulse for only $4/month.
To learn more about how TrustPulse stacks up to the competition, check out this helpful review: FOMO vs. UseProof vs. TrustPulse: Which Is Best for Social Proof?
Are you ready to build more trust with your audience and boost sales? Sign up for TrustPulse today!