Are you looking for a way to display social proof on your site to boost sales?
Social proof can have a huge impact on your customers' behavior. When they see how popular your brand or products are, they'll be more likely to engage with your business.
But how do you show that social proof in a way that transforms casual browsers into loyal customers?
Many companies provide a solution to this, but 3 stand apart from the rest:
TrustPulse
FOMO
UseProof (also known as "Proof")
So, today, we're going to take a look at each of these companies. More specifically, we'll look at what features they offer and how easy they are to use.
Then, we'll give our final conclusion to help you determine which is the right choice for your business.
But first, let's make sure we're all on the same page as to what social proof is and why it matters.
What Is Social Proof?
Social proof is the idea that people will change their behavior based on what they think other people are doing. For example, remember a time you heard a friend talk about how great a new restaurant or coffee shop was. Then, the following weekend, you decided to go see for yourself.
That's social proof in action.
You'd never had the urge to try that new restaurant or coffee shop before. When it was recommended by a friend, though, you just had to taste it. But why?
Because we all have a tendency to fall into FOMO (fear of missing out).
FOMO is a funny thing. It all boils down to the fact that, more often than not, we want what other people have if we think those things come with some benefit.
It's why children will fight over the same object in a room full of toys: once one kid is having fun with it, none of the others want to miss out on that fun.
Turns out, we never really grow out of that as adult consumers.
This is a powerful tool for marketers and business owners. It means that if you can display social proof on your website, you can inspire more people to buy your product or services. Eventually, this becomes a very profitable cycle:
The more happy customers you have, the easier it is to get new ones.
Now that we know why social proof is so valuable to your business, let's look at 3 companies that help you display social proof on your site.
All 3 create recent activity notifications which are small popups showing when someone takes a specific action on your site.
Let's dive in.
FOMO vs. UseProof vs. TrustPulse: Features
FOMO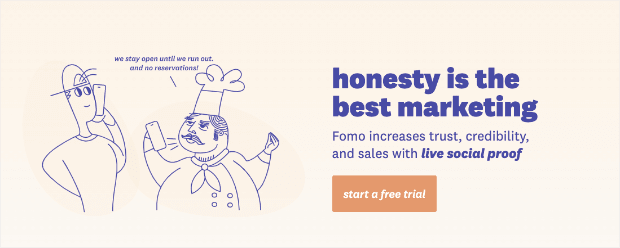 FOMO is a social proof software that displays recent activity on your website. It comes with 100s of integrations that let you capture activity both on and off your site.
They offer a few different types of campaigns to get started. It lets you customize your message, image, and link.
One of its stronger features is its tracking insights. It gives you a few options to optimize your conversion rate by making suggestions for your recent activity popup.
Features
Customizable
Templated rule sets (choose when to display)
Page rules (choose where to display)
Theme builder lets you change aspects of its style
Available in over 27 languages
Integrations help capture website activity on and off your site
Now let's take a look at another popular choice.
UseProof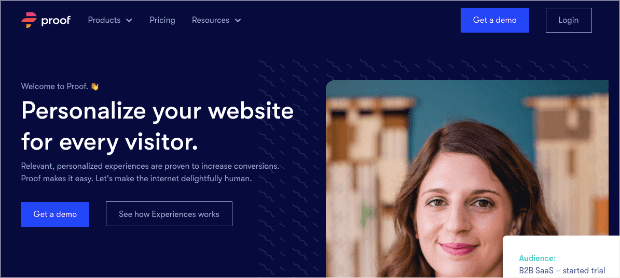 This company has rebranded to simply be "Proof," though the URL hasn't changed (it remains "useproof.com"). So as we do our FOMO vs. UseProof vs. TrustPulse comparison, keep in mind that "UseProof" and "Proof" are the same company.
Proof has 2 products:
For today's review, we'll exclusively cover Pulse.
Pulse is a recent activity notification to display actions taken on your site. They also offer details analytics and A/B tests to help you get as many conversions as possible.
Features:
Display "Hot Streaks" to show the total number of people taking action on your site
Show "Live Visitor" count
Integrate with Zapier to capture activity off your site
A/B test your campaigns to optimize conversions
Finally, let's check out our last company for this comparison.
TrustPulse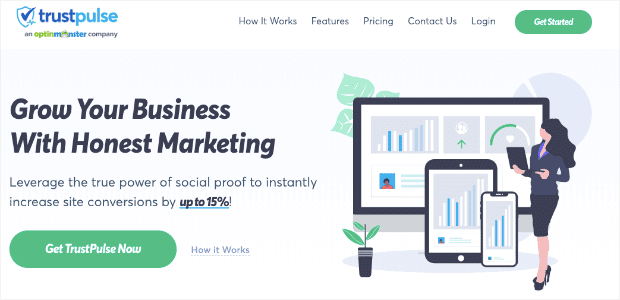 TrustPulse is an easy-to-use, honest approach to using social proof. We create recent activity notifications to capture activity both on and off your website.
We offer "Recent Activity" and "On Fire" campaigns, each playing a unique role in your marketing strategy.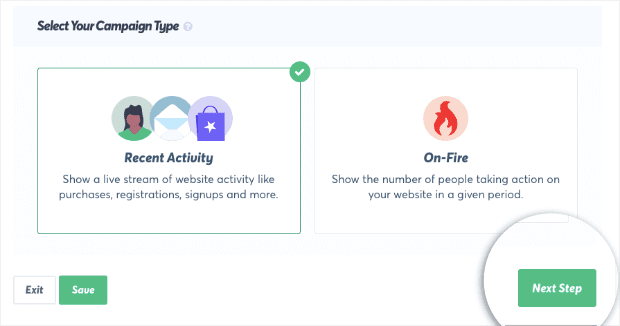 Recent Activity notifications show your site's visitors when other customers have taken actions on your website. This can include events like customers making a purchase, signing up for a newsletter, leaving you a review, and more.
Our On Fire campaigns show when large numbers of people have taken action on your site. These are ideal for popular pages on your website, flash sales, webinar registrations, and more.
Plus, we've made TrustPulse insanely easy to use. There's no code, and our campaigns are highly customizable with an intuitive customer dashboard.
At TrustPulse, we've seen customers use our product to boost sales by up to 15%!
Features:
Real-time event tracking
"On Fire" notifications to display large numbers of people taking action
Smart targeting to show your social proof to the right people at the right time
Flexible design needs to match your brand
Actionable analytics to get you the highest conversion rates possible
Easy to set up (no code needed)
Works on any website
Want to get started? Sign up for TrustPulse today and get up to 500 free sessions per month!
Ease of Use for Each Social Proof Software
Now that we have a basic idea of what features come with each software, let's look at how easy each of them is to use.
FOMO
To be honest, this software was a little more complicated than we would have liked. The main dashboard shows basic analytics to give an overview of your campaign: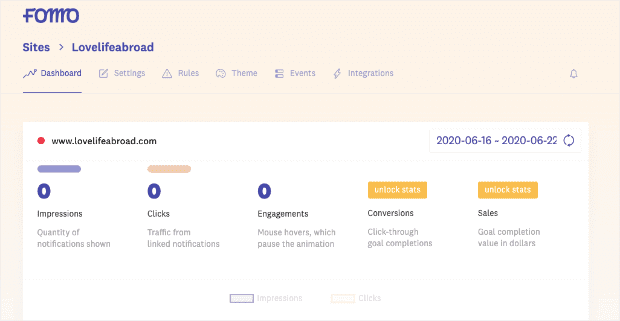 But nowhere in that dashboard is there a clear or easy option to "Build a New Notification."
That's because it takes a little more technical knowledge to build your recent activity notifications with this software. They do have a handful of templates you can use and modify to some extent.
For the most part, though, the way FOMO works is best summarized by a quote from their own documentation:
"As you can see, the ability to sync FOMO with your branding spans as deeply as your CSS chops."
Which is fine, so long as you have any "CSS chops" to begin with.
In the end, FOMO's audience seems more geared to people with at least a basic grasp of HTML and CSS. While there's nothing wrong with having this as their target audience, it doesn't fit for a large portion of new business owners and entrepreneurs.
With that said, let's see if UseProof is a little more beginner-friendly.
UseProof
Building your campaign is done in your UseProof website. In our experience, it's more intuitive to use than FOMO.
Everything is laid out in a clear way that makes your campaigns easy to modify. There are 4 steps:
Set your goals
Create a notification
Capture data
Display on-site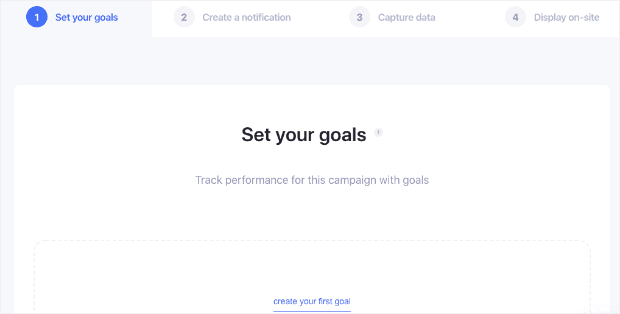 Setting goals or creating notifications to capture recent activity were relatively easy for the basic plan. All of their other campaign types require a Pro plan or higher starting at $79/month.
But we'll discuss pricing in just a bit.
You can customize your notification with a personalized message and image: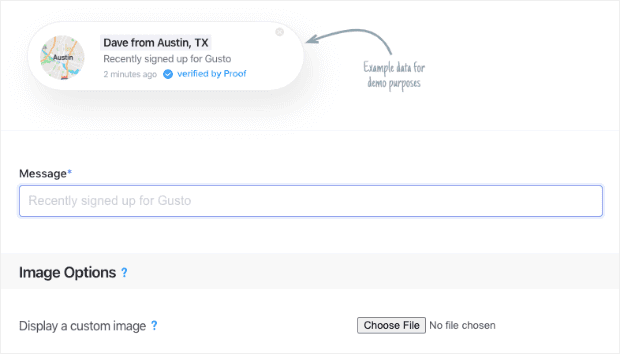 There are a few display rules to choose from to make sure you show your campaign to the right customers: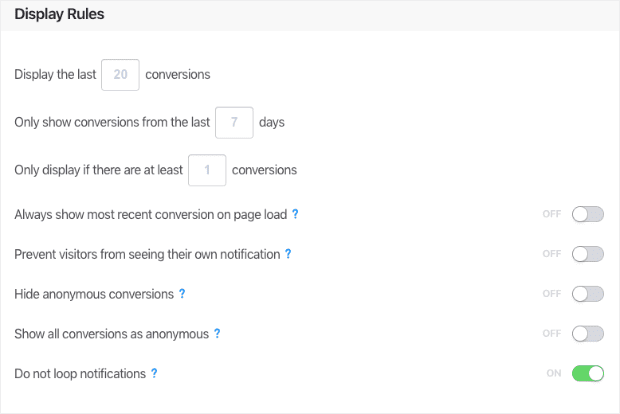 You can then choose how you want to capture your website's activity. This can be directly from your website, with the Zapier integration, or with webhooks.
Finally, you can choose where and when you want your notifications to display on your site.
Overall, UseProof is easy to set up and more user-friendly than FOMO. But is it easier to use than TrustPulse?
Let's find out.
TrustPulse
TrustPulse is designed to be incredibly easy to use. Our goal was to make the software accessible to everyone, no matter what their level is with technology.
That means even total beginners can create customized and beautiful recent activity notifications.
We break things down into 5 steps:
Campaign Type
Appearance & Design
Capture Activity
Display Rules
Publish
Each of these steps is further broken down into option fields that are easy to customize. Most everything is done in 1 of 3 ways:
Entering basic text (like your notification message)
Selecting options from a drop-down menu
Switching a toggle to On or Off
That's it! Here's a look at Appearance & Design, for example: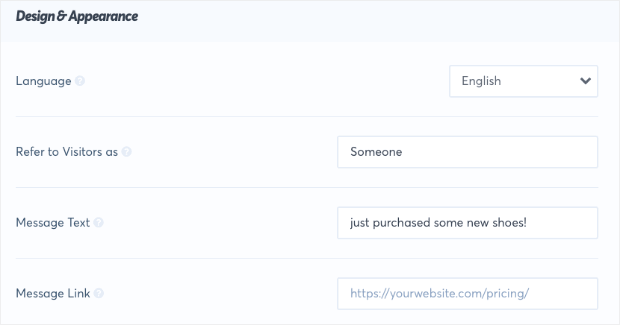 You can choose your language, change your message text, add a link to your notification, and more. No annoying code like HTML, CSS, or JavaScript required.
By default, your campaign will display your customer by name. But if their name isn't clear based on the information you have on them, you can personalize how you'd like to call them:

You can also change the image for your notification, decide when and where it displays on your site, and even add animation.
We have loads of integrations to make sure you're able to display actions taken off your site. That means you can create notifications for things like sales or positive reviews from 3rd party sites.
At the end of the day, TrustPulse makes everything as simple as possible. That way, you can create highly effective (and 100% unique) recent activity notifications to boost sales on your site.
Plus, it'll take you minutes to build instead of hours.
Finally, you can use TrustPulse with any site. That makes it one of the best social proof plugins for WordPress. It's also the most flexible FOMO software for Squarespace, Wix, and other platforms like WordPress that don't use plugins.
For information, check out this resource on how to set TrustPulse up on WordPress. For all other sites, read this article to get started.
And if you're really looking to increase revenue on your site, check out this eCommerce optimization guide. When you combine those tips with social proof from TrustPulse, you'll have a profit-generating site in no time!
FOMO vs. Proof vs. TrustPulse: Pricing
Now that we've talked about ease of use, let's discuss one of the most important aspects of investing in a social proof tool: pricing.
Let's see how much each software will cost users every month.
FOMO
FOMO starts at $19/month for their Starter plan. This scales up to $199/month for their Advanced plan with a few options in between. The biggest difference between the plan is the level of support customers receive and an A/B testing option in the Advanced plan. They offer a 2-week free trial to get started.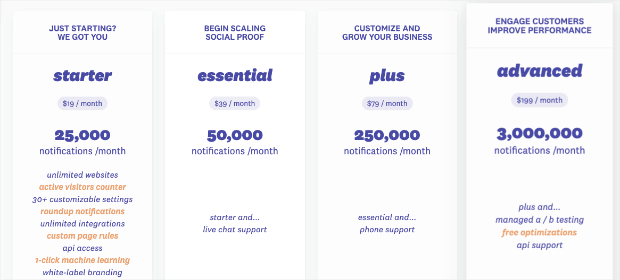 UseProof
UseProof's pricing plan is more complicated than FOMO or TrustPulse. It's highly dependant on how many unique visitors your site has each month. Their Basic monthly plan starts at $29 for up to 1,000 unique visitors.
Once you reach 2,000 unique visitors, that price jumps to the Pro plan at $79/month. At 11,000 unique visitors, you change to the Business plan at $129/month. Prices continue to scale until you reach the Enterprise plan (which you need to contact support to get a price quote).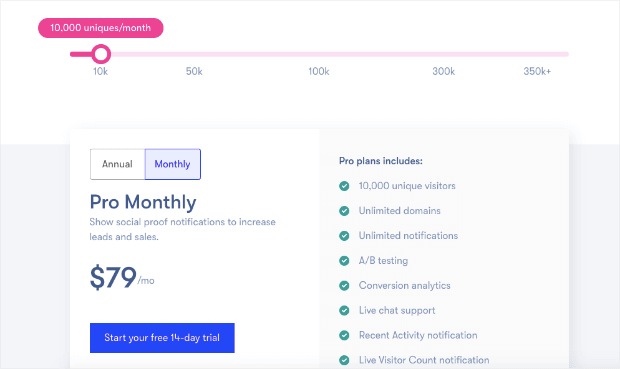 TrustPulse
We want to make sure that users can get started and see real change before committing to our software. That's why we offer up to 500 sessions per month totally free. This isn't a free trial, either. It's a no-strings-attached free 500 sessions per month.
That makes TrustPulse ideal for entrepreneurs just starting out.
From there, our prices start at $39.50 per year for the first year. That gives you up to 2,500 sessions and scales up to $299.50 per year for our Growth plan (for larger companies). Our most popular plan is Pro, which costs users just $199.50 per year.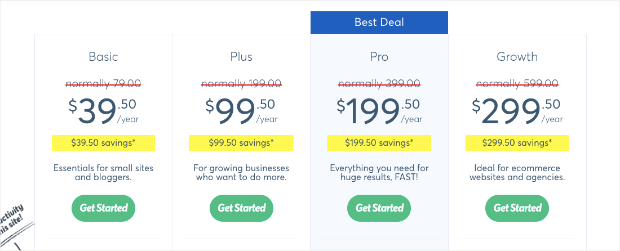 Yes, you read that right. Those price points are per year, not month.
So when we make a monthly comparison for each software's most basic plan, here's what that looks like:
FOMO: $19/month
UseProof: $29/month
TrustPulse: $3.29/month
Now, to be fair, FOMO's Starter plan gives you 25,000 notifications per month, and TrustPulse gives you 2,500 sessions. Is that the reason for the price gap?
No, not quite.
Because charging by notifications can be misleading. That's because you can show multiple notifications in the same user session. So, imagine one user visits your site for 5 minutes, and you have your recent activity popups display every 30 seconds.
That means you've shown 10 notifications for 1 user session.
When you do the math, those 25,000 notifications from FOMO are equal to our 2,500 sessions. The only difference is that those 25,000 notifications cost you 8x more.
And out of all 3 options, UseProof is the most expensive no matter how you look at it.
When it comes to pricing, TrustPulse comes out the clear winner.
FOMO vs. UseProof vs. TrustPulse: Final Review
Honestly, we thought the other products were good overall, though they both have some kinks to work out.
For example, FOMO wasn't as user-friendly as we would like it to be. When playing around with the trial version, there were several moments where we had to stop and think, "Wait… what's next?" or "How do we do this now…"
We've made it our top priority to make sure our customers never have to ask those questions with TrustPulse. We made it easy to build and display your recent activity notifications regardless of your tech skills.
UseProof, on the other hand, was easier to handle. It was just way too expensive to be a realistic option for many new businesses. At $360 per year, it's literally over 10x the cost of TrustPulse for the same product.
At the end of the day, here's what it all comes down to:
TrustPulse is 1/8th the cost of the closest competitor, comes with the same features, is easier to use, and lets you start with 500 sessions totally free.
That means that it's not just the best option for beginners or people who aren't tech-savvy.
It's the best option period.
Ready to get started? Join TrustPulse today, risk-free with our 14-day money-back guarantee. Or enjoy 500 sessions totally free for as long as you need!