Are you looking for the best social proof tools to build trust and boost sales?
The most successful online businesses know social proof is a powerful tool to convince customers they're credible.
Social proof shows people you already have plenty of happy, satisfied customers.
And as a website owner, there's plenty of tools you can use to show social proof on your website today.
What is Social Proof?
First, let's look at what social proof means and why it matters to your conversions.
Like many effective marketing techniques, social proof is based on basic human behavior.
So, how does it work?
We are more likely to do something if other people around us are doing it too. Even if we don't realize it, we look to others for clues to make the right decisions, especially when we're uncertain about it.
Now, social proof's always been around us in some way.
But, the world of digital marketing makes it's super simple for you to use social proof to help with conversions.
Why does this matter right now?
There's never been a better time to do business on the internet.
Globally, 93.5% of internet users have purchased products online.
What's more is that by 2040, it's estimated 95% of all our purchases will be through eCommerce stores.
In other words, you have the potential to gain tons of new customers online.
But most of them will be looking for social proof before they do business with you.
Have a look at these social proof statistics:
83% of people trust reviews over advertising.
Online product reviews can boost conversion rates by 270%
Customers would spend 31% more on a business with good reviews
To sum up, if you're not using social proof, you're missing out on a huge opportunity.
So, how do you show social proof on your site?
Social proof tools make it easy to take advantage of this powerful marketing strategy.
With these tools, you can easily display:
Social shares
Customer reviews and testimonials
Email subscribers
Recent customer activity
Now, let's have a look at the best social proof tools.
Best Social Proof Tools
There are plenty of social proof tools on the market, so it can be overwhelming to find the right one for your business.
We focused on tools that are easy to set up and use.
Below, we'll list some of the top social proof tools that you can start using to grow sales right away.
One of the easiest ways to add social proof is by showing how many people are already visiting your site and buying from you.
You can do this simply with social proof notifications.
These are small messages that appear whenever someone takes action on your site.
TrustPulse is a great tool for showing how other people are interacting with your site in real time.
One of the advantages of TrustPulse is it automates social proof. That means you get a constant stream of social proof with little effort from you.
Here's how that works.
When someone lands on your website, they can see other people just like them are reading your content or making purchases.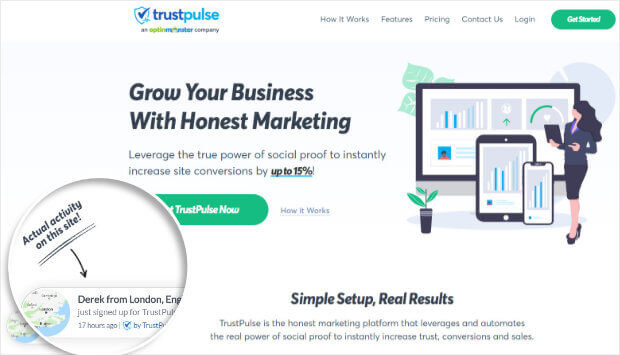 You can also show the total number of conversions on your site with On-Fire notifications.
These are great for times when you expect a lot of people to take action over a short period of time.

Here are some examples of the social proof notifications you can create with TrustPulse:
Show when someone recommends your business on social media
Display when you get a review on a third-party site like Yelp or Google Reviews
Trigger a notification when someone joins your mailing list
These notifications are fully customizable to match your site and brand perfectly.
TrustPulse integrates easily with all website platforms, and it's super simple to set up.
The best thing is it's totally free to get started with TrustPulse.
OptinMonster is the best tool for creating popup campaigns that convert your site visitors.
But, you can also use OptinMonster for social proof.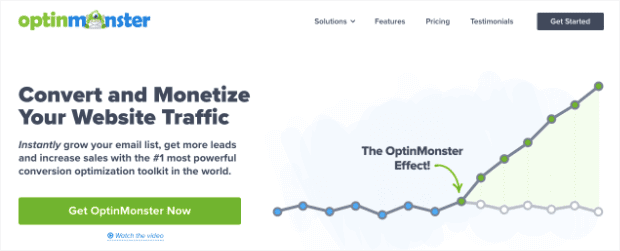 With OptinMonster, you can build beautiful, targeted popups that put social proof front and center.
Here's an example of how Post Planner used social proof to grow its email list.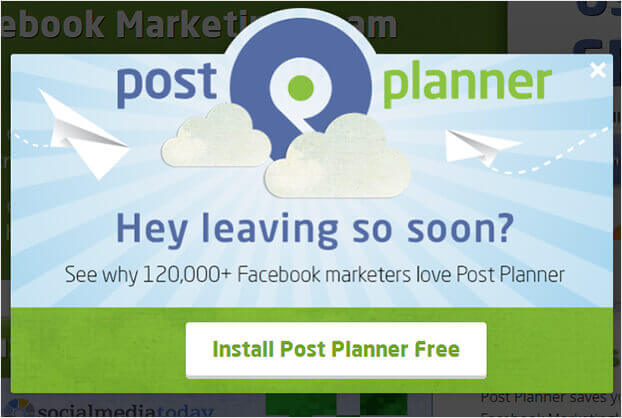 And once you start building an engaged email list, you'll be able to add social proof to your email campaigns with the next tool.
Promoting social proof in your email campaigns is a great way to increase site traffic and boost sales.
One of the best tools for running targeted email marketing campaigns is Constant Contact.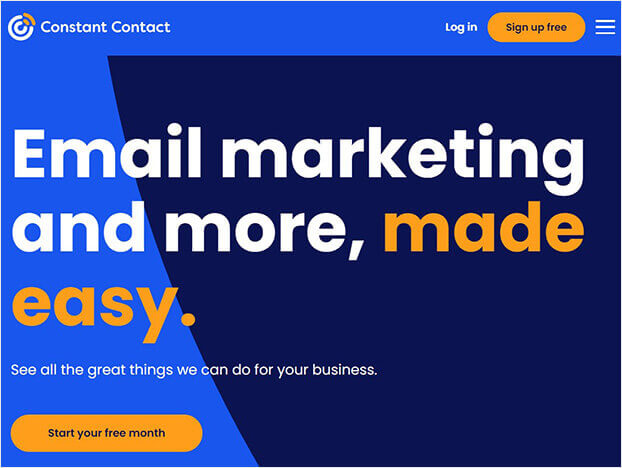 With Constant Contact, you can manage your email lists and send personalized emails.
Its drag and drop builder makes it incredibly easy for you to create stunning, engaging emails with social proof updates, like:
User-generated content
Best-selling products
Customer favorites
One of the most powerful forms of social proof is customer reviews.
That's because 83% of customers trust reviews more than advertising.
Put another way, people trust other people more than they trust brands.
The first thing you need to do is make it easy for customers to review your business.
A simple way to do that is to use a social proof tool like WPForms.
With WPForms, one of the best form builders for WordPress, your customers can easily submit reviews on your site.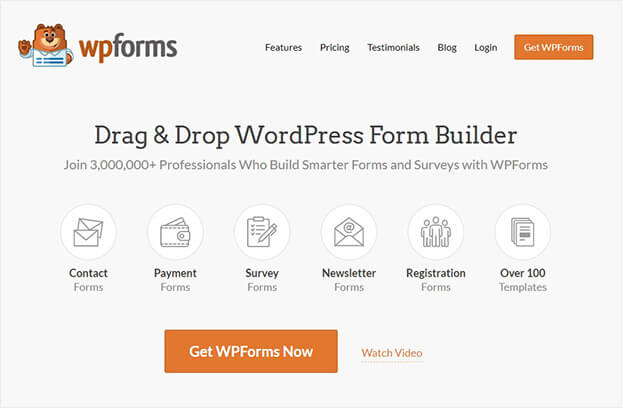 Here's how it works.
You add the form to your site. The customer submits the review, and WPForms will automatically create a post. You can then approve the review before it's published on your site.
An engaged social media following is a great form of social proof.
Showing potential customers that you have an active community online is one of the most powerful ways to build your credibility.
SmashBalloon lets you easily display your social media content on your site.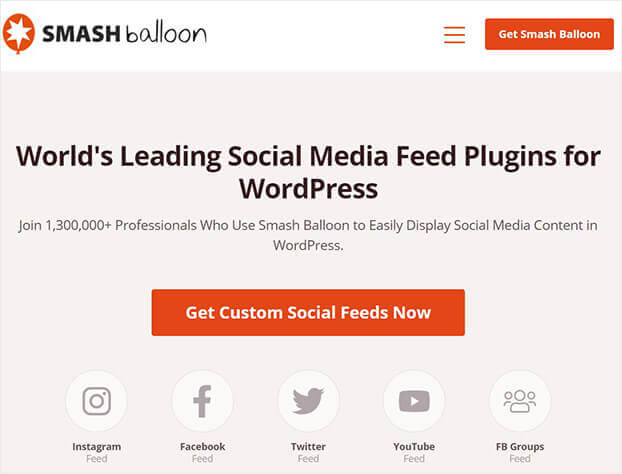 Show your likes, shares, and reactions from a dropdown box below each post.
So, it makes it very easy for your site visitors to engage with your content and follow you on social media.
Repuso is customer testimonial software that automatically collects reviews from your customers.
It collects reviews from social media and third-party review sites.
Then, all reviews are pulled together in your Repuso dashboard.
One of the advantages of Repuso is you can automate rules, like displaying 5-star reviews. This means you spend less time sorting through the reviews.
Like Repuso, Boast is a customer testimonial software.
You can collect testimonials in different formats, like video, text, and audio.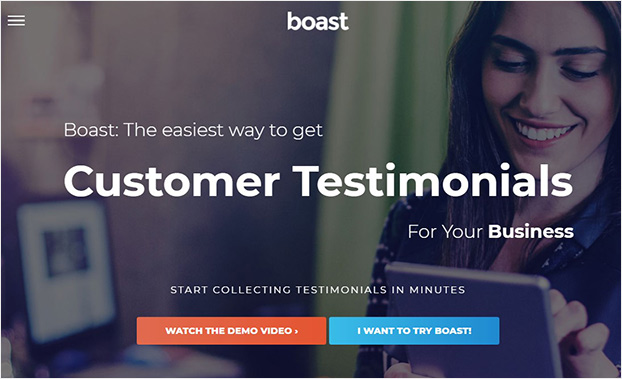 Plus, you can email customers from within Boast, so you can track customer testimonial requests.
Then, you can just add an embed code to display social proof on your site.
If your articles are being shared widely, it's time to turn that engagement into social proof.
With Shared Counts, you can show how many times your blog articles have been shared.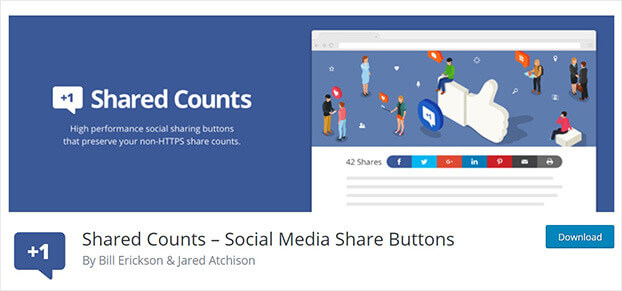 It helps to add credibility because it shows other people are reading your content. And that might prompt your new site visitors to do the same.
Yotpo displays social proof to your customers right when they're about to buy from you. It's a great choice for online stores.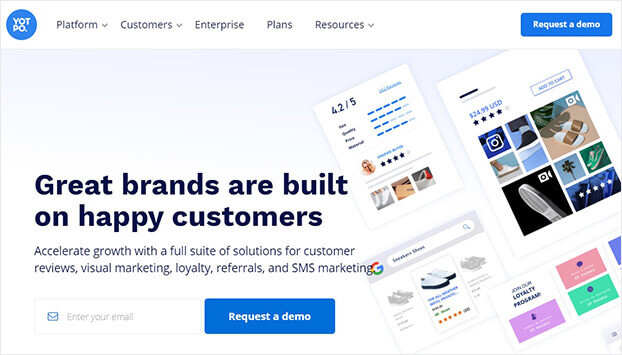 You can show reviews, ratings, and videos at points where customers convert across your site, like:
Home page
Category page
Product page
Checkout page
Seeing these reviews might be just the push your customers need to make a purchase.
Crowdy.ai automatically shows customer reviews on your site.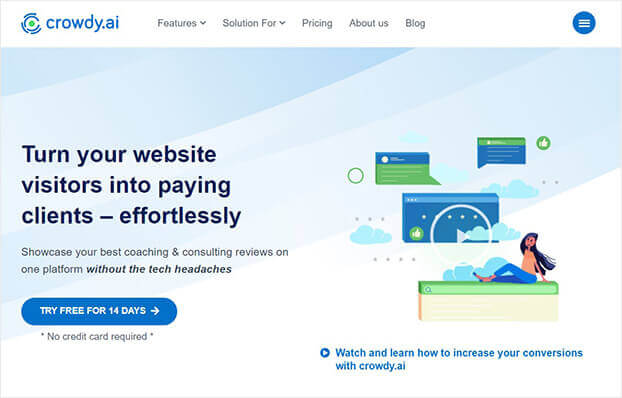 With Crowdy.ai, you share a link with your customers requesting a testimonial. You'll get to approve the review and it will be displayed on your site.
You can request written or video testimonials.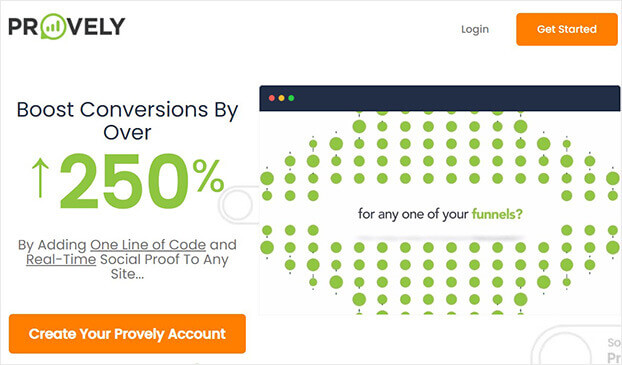 Provely is social proof software that shows how your site visitors are interacting with your business.
People feel comfortable joining your list or buying from you when they see other people doing it too.
Provely shows this kind of validation by displaying site user activity on your site.
We hope this article helps you find the right social proof tool for your site.
Ready to use social proof to explode your conversions? Get TrustPulse today.