Are you looking for the best social proof tools?
Social proof helps build trust with visitors to boost sales and conversion rates. And there are plenty of tools that help you display social proof on your site.
In this post, we'll list the best social proof tools for WordPress to increase conversions right away.
What Is Social Proof?
Social proof is a marketing concept that's based on the phenomenon that people follow the actions of others.
In simpler terms, we are more likely to do something if other people around us are doing it too. Even if we don't realize it, we look to others for clues to make the right decisions, especially when we're uncertain about it.
Social proof can be in the form of customer/product reviews and testimonials, social shares, or recent customer activity on your site. Here are a few benefits that social proof brings:
Boosts credibility and gain visitor's trust
Conveys the value of your content, product or service
Improves conversions and sales
Optimizes landing pages and high-converting pages
By using social proof marketing, you grab more opportunities to convert visitors and generate more revenue from your site.
Best Social Proof Software
There are plenty of social proof software tools on the market, so it can be overwhelming to find the right one for your business.
We've narrowed it down to the ones that are easy to use and have powerful features to get the most out of your social proof.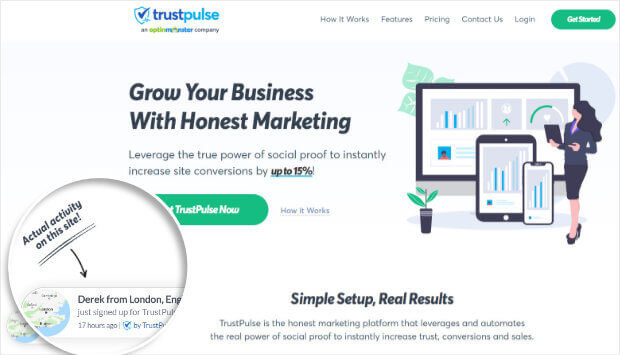 TrustPulse is the best social proof tool you can use to build confidence and trust in visitors. This is true whether you run a blog, a SaaS company, an eCommerce store, or any other money-making business online.
TrustPulse lets you create small clickable popups that show how other people are interacting with your site in real-time.
It comes with 4 different campaign types that can be used in an endless number of ways. These campaigns include:
Recent Activity: Show a live stream of website activity like purchases, registrations, signups, and more.
On-Fire: Show the number of people taking action on your website in a given period.
Visitor Analytics: Highlight active interest in your site by a live visitor count to your posts and pages.
Action Message: Display a single static notification to help drive visitors to take action or highlight information.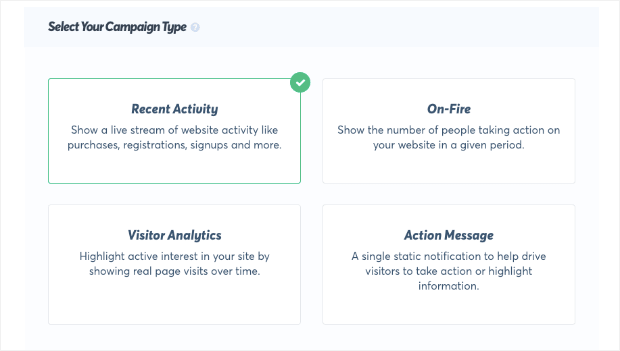 Here are some examples of the social proof notifications you can create with TrustPulse:
Someone purchased a product
Someone created an account or signed up for a membership
Someone recommended your business on social media
Someone reviewed your business on a third-party site like Yelp or Google Reviews
Someone joined your mailing list
And much, much more…
These notifications are fully customizable to match your site and brand perfectly. And with the Visitor Analytics campaign, you have access to a live visitor counter.
That lets you start using genuine social proof before you've even made a sale.
You can show how many people are engaged with certain pages or posts across your site (regardless of how users engaged with that post or page):

This gives you a huge advantage when you're just starting out. But if you've been around for a while, and you're actively selling your products or service, that's no problem, either.
You can choose what activity you want to track. And then decide when, where, and to whom the notifications are shown.
So you have complete control over your campaigns. At the same time, once you set up your rules, you won't have to do anything more.
TrustPulse will automatically track activity and create the popups.
Plus, this tool integrates easily with all website platforms like WooCommerce, Shopify, BigCommerce, and more. But it's lightweight, so it won't affect your site's performance (so your SEO efforts are safe!).
And it comes with analytics to see which campaigns perform the best. This way, you can optimize your results and boost conversions from your campaigns.
This makes TrustPulse one of your best assets when it comes to social proof marketing.
But the best part is there's a free trial, so you can sign up for your 100% risk-free TrustPulse account now!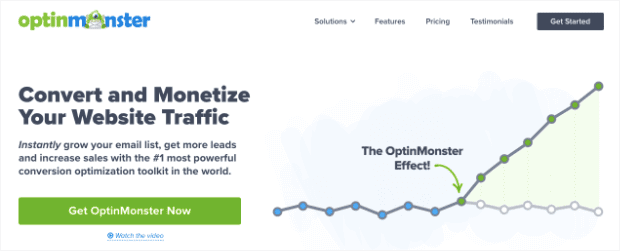 OptinMonster is the most powerful lead generation tool to convert your website visitors into subscribers and customers.
It's one of the best tools you can use to display your social proof. You can choose from lightbox popups, banners, floating bars, slide-ins, and more to create your campaigns.
OptinMonster has 100+ templates so you can build beautiful campaigns in minutes.
Plus, it comes with powerful targeting features. So for instance, you can set the popup to display only when someone is new, or they're about to leave your site, or they've been inactive for a while.
Here's an example of how Post Planner used social proof to grow its email list.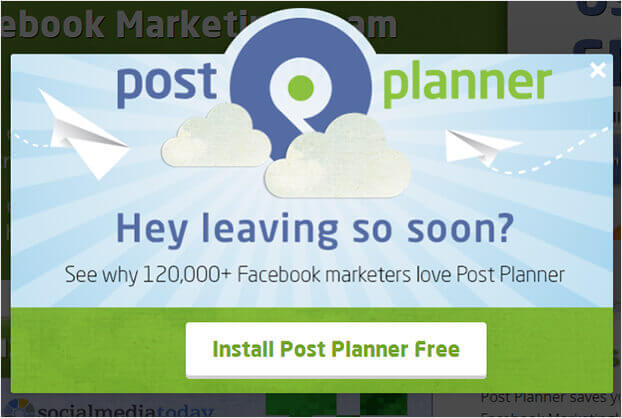 Visitors can see your social proof front and center and decide to take action.
And once you start building an engaged email list, you'll be able to add social proof to your email campaigns with the next tool.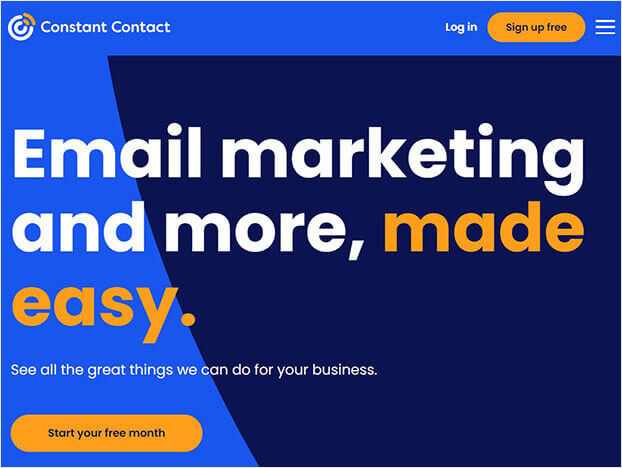 Constant Contact is one of the best tools for running targeted email marketing campaigns.
You can send personalized emails with social proof to increase site traffic and boost sales.
Its drag and drop builder makes it incredibly easy for you to create stunning, engaging emails with social proof updates, like:
User-generated content
Best-selling products
Customer favorites
With Constant Contact, you can also manage your email list easily and create segments to target subscribers better.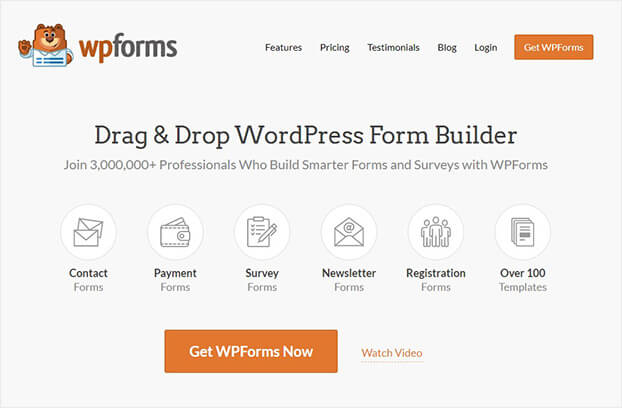 WPForms is the most beginner-friendly form builder. You can use it to gather customer reviews.
You may already have reviews on Google or social media platforms. But you can also collect your own directly on your site.
This gives you more control over the reviews you display so your brand image doesn't get damaged.
To start your own review collection, the first thing you need to do is make it easy for customers to review your business. WPForms lets you do this.
Check out this sample testimonial form created with WPForms that customers to fill out and submit.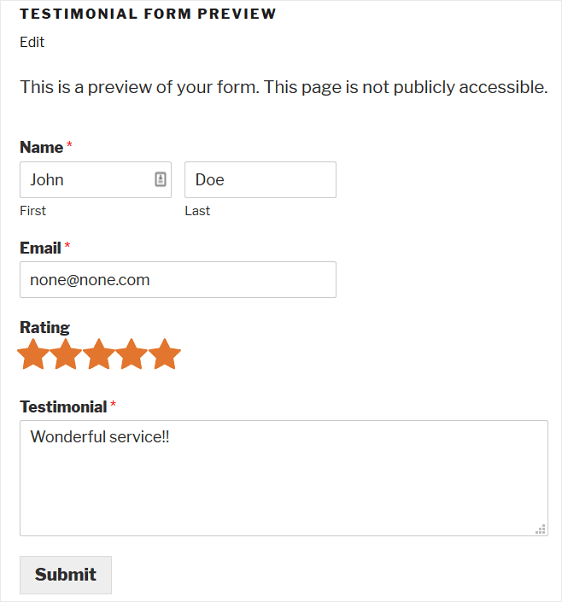 Here's how it works.
You add the form to your site. The customer submits the review, and WPForms will automatically create a post. You can then approve the review before it's published on your site.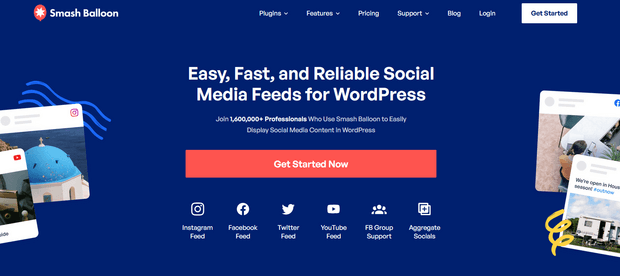 SmashBalloon is the best social media feeds plugin for WordPress. It lets you easily display your social media content on your site.
An engaged social media following is a great form of social proof. And showing potential customers that you have an active community online is one of the most powerful ways to build your credibility.
With Smash Balloon, you can show your likes, shares, and reactions from a dropdown box below each post.
So, it makes it very easy for your site visitors to engage with your content and follow you on social media.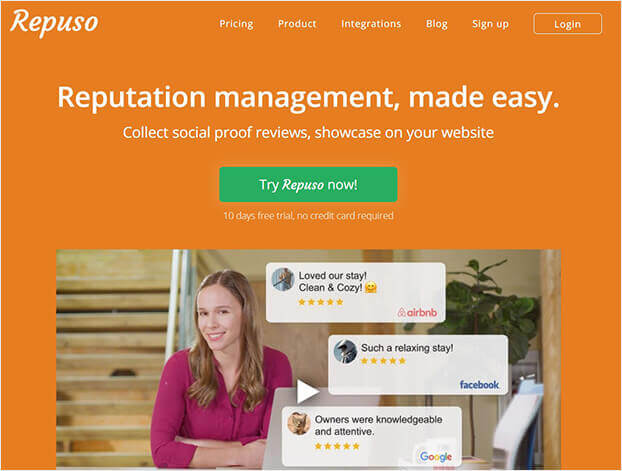 Repuso is customer testimonial software that automatically collects reviews from your customers.
It collects reviews from social media and third-party review sites.
Then, all reviews are pulled together in your Repuso dashboard.
One of the advantages of Repuso is you can automate rules, like displaying 5-star reviews. This means you spend less time sorting through the reviews.
There's a 10-day free trial so you can get started with it as a free social proof tool. After that, you'll need to upgrade to a paid plan.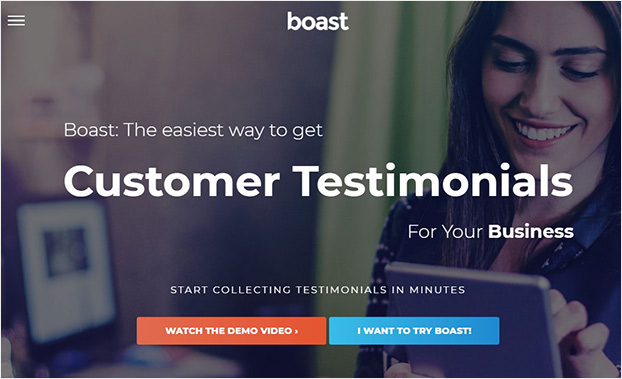 Like Repuso, Boast is a customer testimonial software.
You can collect testimonials in different formats, like video, text, and audio.
Plus, you can email customers from within Boast, so you can track customer testimonial requests.
Then, you just need to add an embed code to display social proof on your site.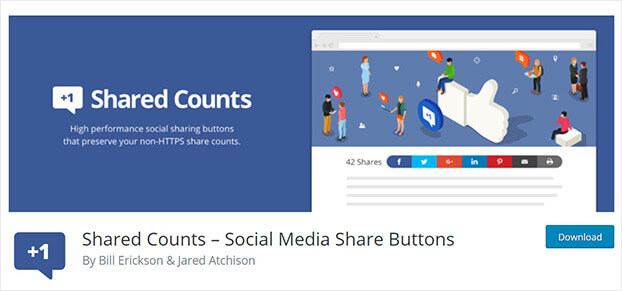 If your articles are being shared widely, it's time to turn that engagement into social proof.
With Shared Counts, you can show how many times your blog articles have been shared.
It helps to add credibility because it shows other people are reading your content. And that might prompt your new site visitors to do the same.
Shared counts is a free social proof tool that you can find in the WordPress repository.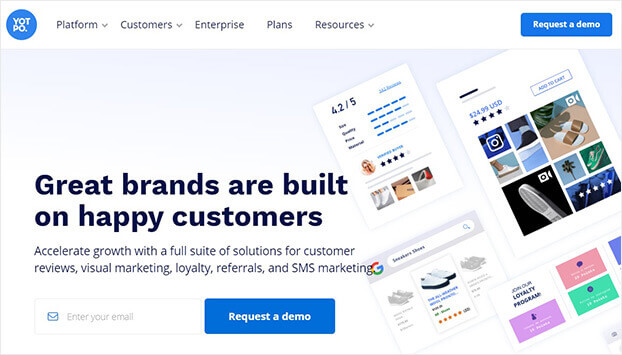 Yotpo displays social proof to your customers right when they're about to buy from you. It's a great choice for online stores.
You can show reviews, ratings, and videos at points where customers convert across your site, like:
Home page
Category page
Product page
Checkout page
Seeing these reviews might just be the push your customers need to make a purchase.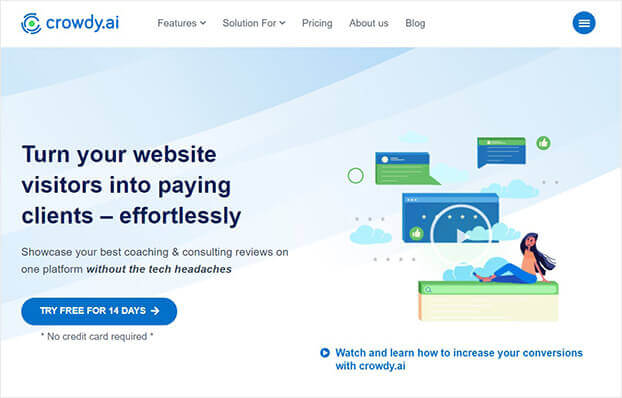 Crowdy.ai automatically shows customer reviews on your site.
With Crowdy.ai, you share a link with your customers requesting a testimonial. You'll get to approve the review and it will be displayed on your site.
You can request written or video testimonials. There's a 14-day free trial so you can try the tool before investing in it.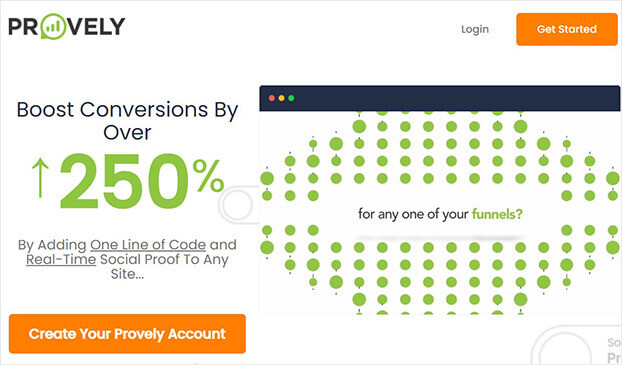 Provely is social proof software that shows how your site visitors are interacting with your business.
You can design your popup and then display it on any webpage by embedding a line of code.
It's a good option for people who are just getting started, though you'll be limited in the amount of social proof notifications you can add.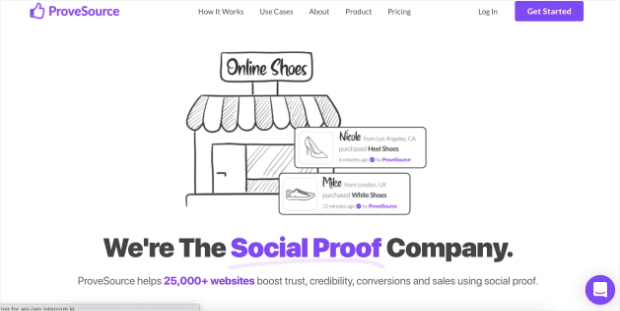 ProveSource is a social proof software that's incredibly simple to use.
All you need to do is sign up, add a line of code to your site, and build your notifications. From there, everything can be turned on auto-pilot.
Plus, you always have a powerful analytics dashboard to turn to if you want to optimize results.
This is an important feature if you're serious about improving your social proof strategy.
Finally, ProveSource comes with all the bells and whistles you'd want out of a social proof software, such as:
Time rules
Mobile-friendly
3rd-party integrations
Auto-tracking
And much more…
The only downside to this tool is the cost. While they do have a free plan, paid plans start at $18/month.
That's nearly 4x more expensive than competitors like TrustPulse.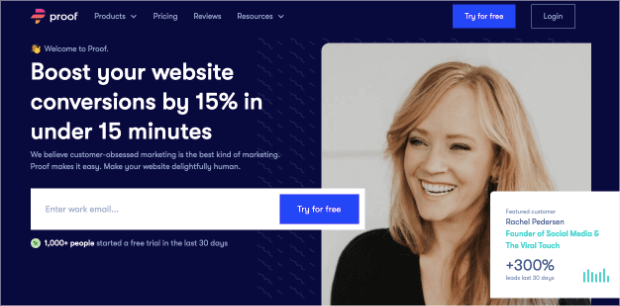 Proof (formerly known as "UseProof") is another advanced social proof tool. It may be last on our list, but it's certainly not the least qualified to be here.
This software offers a handful of social proof campaigns, including:
Hot Streaks
Live Sales
Live Visitor Counts
From there, Proof gives you everything you need to convert visitors with social proof. This includes things like a powerful analytics dashboard, customization options, targeting rules, and much more.
The bigges downside here is, again, the cost. This is especially true with Proof.
Paid plans start at $29/month. But after 1,000 unique visitors, that price jumps to $79/month.
This is definitely a resource best suited for larger companies with a big budget.
And that's our list of the best social proof software for WordPress.
We hope this article helped you find the right social proof tools for your site. If you liked this post, you may also be interested in:
Ready to use social proof to explode your conversions? Get TrustPulse today.