Do you want to leverage the power of social proof to instantly increase sales? Your site's visitors need to know they aren't the only ones checking out your products.
But this can be tricky for new marketers and business owners. The good news is we have a quick and easy solution:
Recent sales notification popups.
Stick around because, in this post, we're going to cover how to use recent sales notification popups to increase your bottom line.
Plus, we'll show you how to set it all up in less than 10 minutes.
What Is a Recent Sales Notification Popup?
A recent sales notification popup is a small popup that appears somewhere on your visitor's screen whenever another customer purchases a product from your site. These live sales popups have been proven to boost sales by up to 15%.
You're probably familiar with them. They look something like this:
The truth is that many of your site's visitors are going to be casual browsers. In other words, they know they have a problem, but they're just "window shopping" for now.
Recent sales notification popups change that. These small popups leverage the marketing tactic called fear of missing out (FOMO).
By showing casual browsers that other customers are actively purchasing what you're selling, you'll increase their need for your product. You'll also build trust with new visitors.
That means you increase conversion rates.
This isn't just limited to getting more sales, either. You can use these recent sales popups to drive more subscribers for your email marketing campaigns, get more reviews and testimonials, or any other action you want your website visitors to take.
Now that you know why you need a live sales notification, it's time to take action. So let's learn how to create a recent sales popup using TrustPulse in less than 10 minutes.
How to Create a Recent Sales Notification Popup
This tutorial will be split into 2 parts:
We'll start with installing the TrustPulse plugin to your site, but feel free to jump straight to learning how to create a recent sales notification popup if you already have a TrustPulse account.
Note that for today's tutorial, we'll be working with WordPress. If you don't have a WordPress site, no worries. Just read this article on how to integrate TrustPulse with any site.
If you want a WordPress site but aren't sure where to start, we've got you covered there, too.
Check out this guide by WPBeginner on how to start a WordPress website.
Let's get started by installing the world's #1 sales notification plugin: TrustPulse.
Installing the TrustPulse Plugin to Your WordPress Site
Your first step will be to make sure you have the TrustPulse plugin downloaded to your WordPress site. Head over to your WordPress dashboard and find the Plugins » Add New option in the left-hand side menu: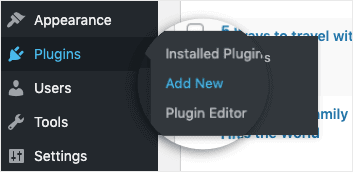 Then type TrustPulse into the search bar: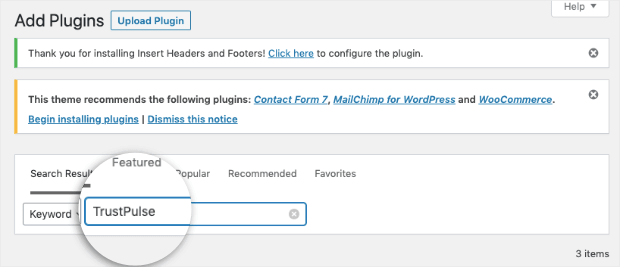 And locate the TrustPulse plugin (it's the first choice that comes up). Click Install Now:
When the plugin has installed, click Activate: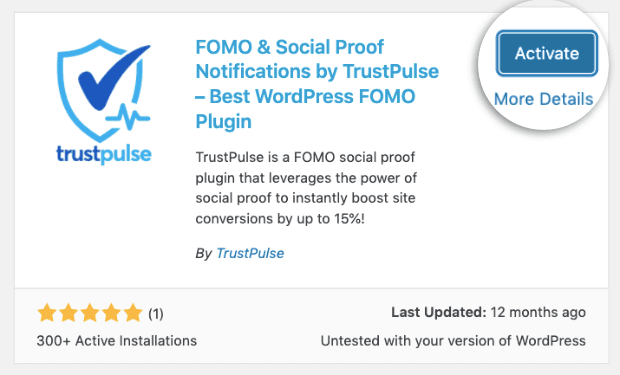 You now have two options: Get Started For Free or Connect to an Existing Account. For today's tutorial, we'll use the free version and assume you don't have your account created:

Fill out your new account information and click Get Started Now with TrustPulse: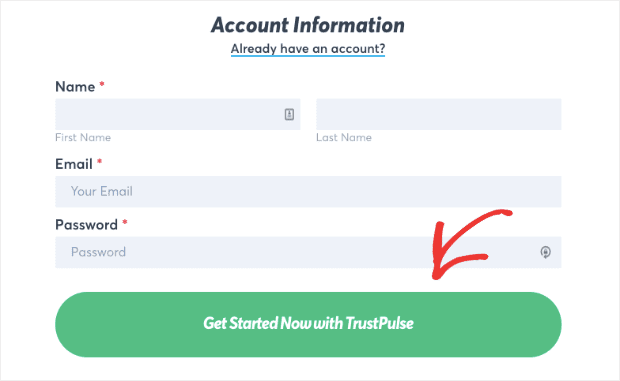 And enter your payment information: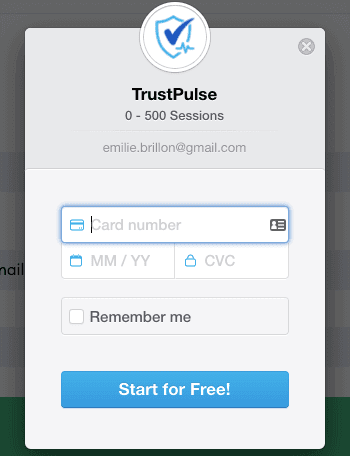 Your card will not be charged for the free version, which gives you up to 500 sessions on your site.
You can (and should) upgrade as you scale your business.
At this point, you're greeted with a welcome message from our Co-Founder and President, Thomas Griffin. Just beneath his signature, click Add Your First Site: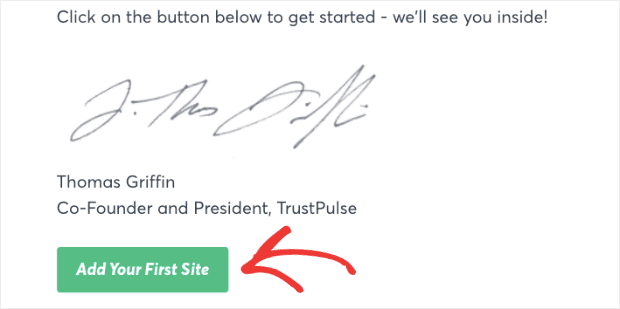 Enter the name and domain of your site and click Save Site: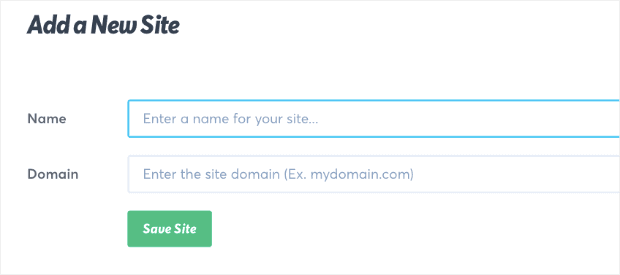 Here you should receive a confirmation message that looks like this: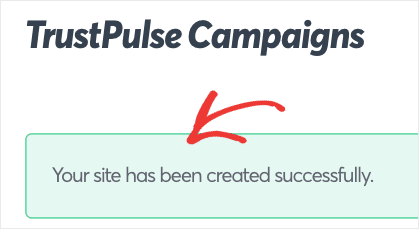 Now you're ready to create a recent sales notification popup. Let's take a look at how we do that.
How to Create a Recent Sales Notification Popup
On the same page that you received your confirmation message, click Create Campaign in the upper right corner: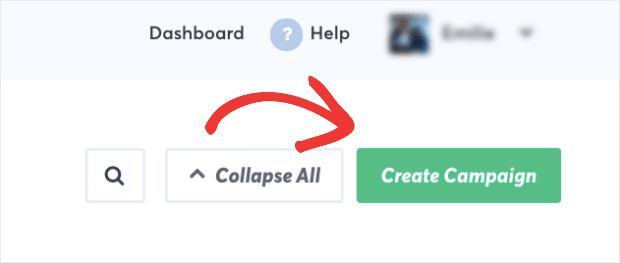 There are 5 steps to creating your campaign:
Campaign Type
Appearance & Design
Capture Activity
Display Rules
Publish
Let's start with Campaign Type.
1. Campaign Type
This is where you'll name your campaign and select your site: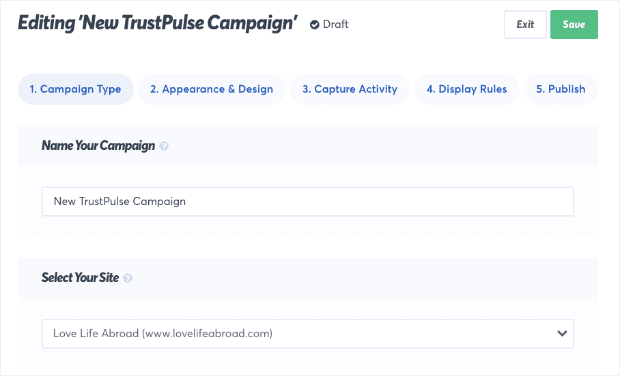 You'll also choose your campaign type: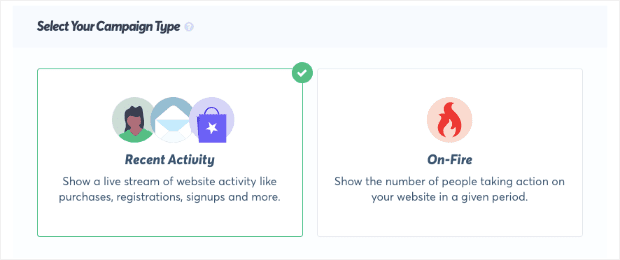 You have 2 choices for your campaign type:
For today's tutorial, we'll go with Recent Activity to create our recent sales notification popup. You can use On-Fire when you know you'll have lots of activity on your site.
The On-Fire campaign harnesses social proof for larger quantities of sales. This could include a popular flash sale, seasonal promotions, online contests, or any other activity where you'll have lots of sitewide engagement.
For now, click Recent Activity and hit Next Step in the bottom right corner: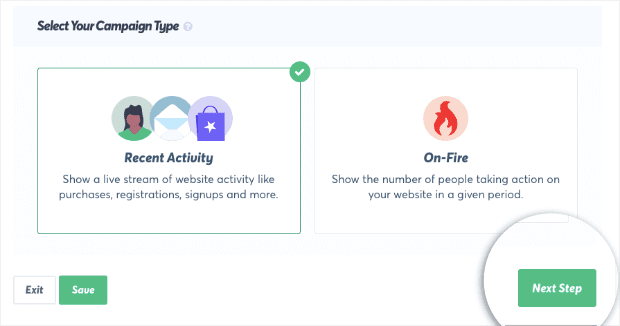 This will lead you to the Appearance & Design stage.
2. Appearance & Design
Now you're ready to design what your recent sales popup looks like in your Appearance & Design dashboard: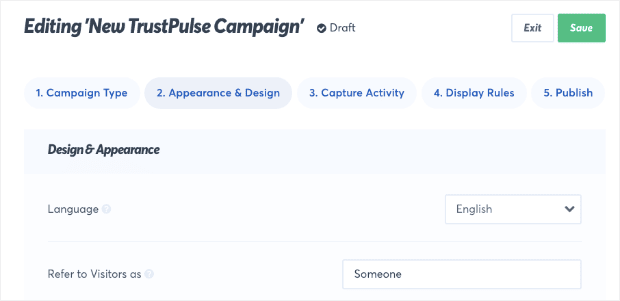 You can customize your recent sales popup to look, say, and link to whatever you want. You can personalize your campaign's:
Language
Visitor reference
Message text
Message link
Notification image
Location on your page
And more.
Plus, you have a live preview of what your recent sales popup will look like on your site: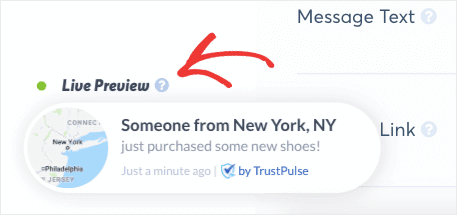 That way, you can see any changes you make to your recent sales notification popup in real-time. When you're done modifying how your recent sales popup looks, hit Next Step:

That will take you to the Capture Activity page.
3. Capture Activity
With TrustPulse, you can create a notification popup for any activity taken with your site. But we're focusing on how to create a recent sales notification popup, so we need to trigger your campaign for when someone makes a purchase.
Fortunately, we make this super easy.
You can choose between 2 types of campaign activities: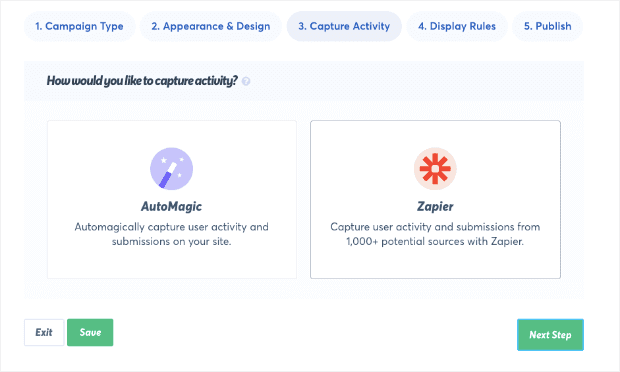 AutoMagic allows you to easily capture any activities taken on your site. Our Zapier integration can create notifications for actions related to your brand but not taken directly on your website.
So, for example, you can create a notification whenever someone leaves you a service or product review on Google My Business.
For today's tutorial, however, we'll choose AutoMagic:
Now you need to set up your trigger for when a sale occurs on your site. To do that, you'll need to track forms from your checkout page.
You'll see a list of options for What website activity should we watch for?, and need to select Form Activity from exact URLs.
It's the default setting and also the first option in your dropdown list: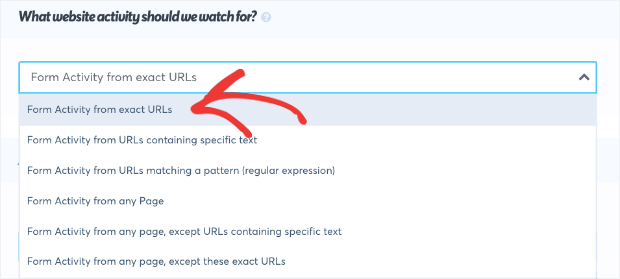 Then you need to type in the URL path of your site's checkout page:

Once you've done that, proceed to the next step: Display Rules.
4. Display Rules
Once your campaign is designed and has its appropriate trigger, you can set some display rules. The first thing you'll decide is where your notifications will display: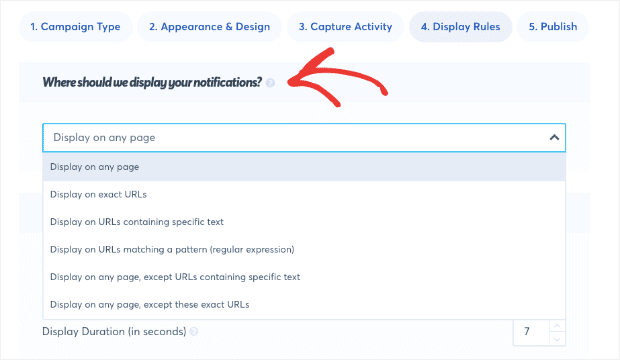 To display recent sales notifications, you're probably best off leaving the default Display on any page setting. But if you want to display your store sales on certain pages of your site, you can do that, too.
Then, you're able to modify other display rules, such as:
Delay before showing notification
Display duration
Delay between notifications
Load notification on mobile
Loop notifications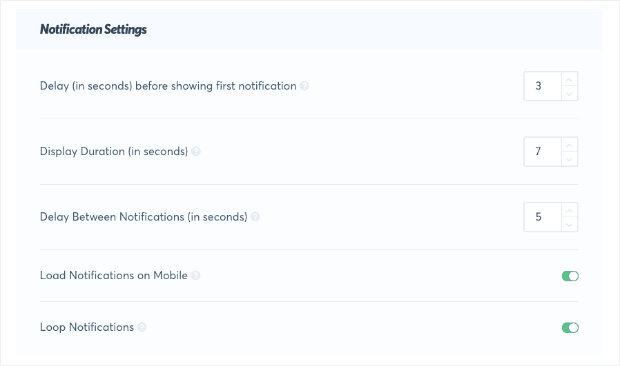 Because they are fully customizable, your recent sales notification popups a powerful tool in your marketing arsenal. They can be tailored to your audience and needs.
You can space out your notifications depending on how popular your site is. Or, if you're just starting out, you can loop notifications to get the most out of your recent sales popups.
Now there's just one more step.
5. Publish
When it comes time to publish, you should be at this screen: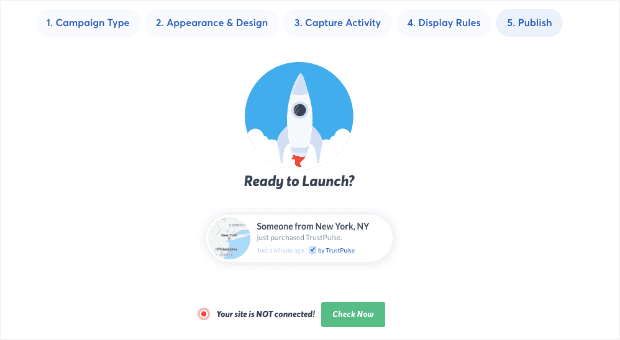 You'll notice the preview or your recent sales notification popup so you can check for any spelling mistakes or changes needed for your design.
If you've been following this tutorial, though, you'll see there's one thing left to do. Under the preview of the recent sales notification popup, it shows that our site isn't connected yet:

We need to fix that. Scroll down and find the embed code for your TrustPulse account: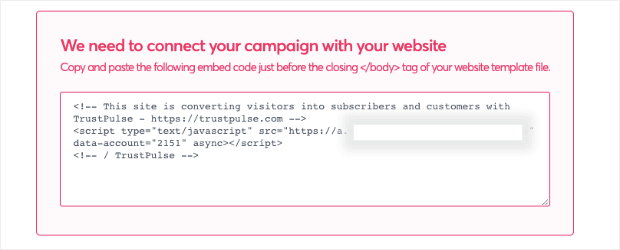 As indicated in the instructions, embed this code just before the closing </body> tag of your website template file.
Does that sound confusing? Well, you're in luck.
Because there's an easier solution.
Head back to your WordPress Dashboard and locate the TrustPulse plugin in the left-hand side menu: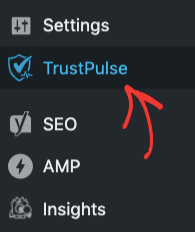 Since you've created an account now, you can click Connect to an Existing Account:

And just like that, you're account will be connected! You'll see a confirmation message letting you know: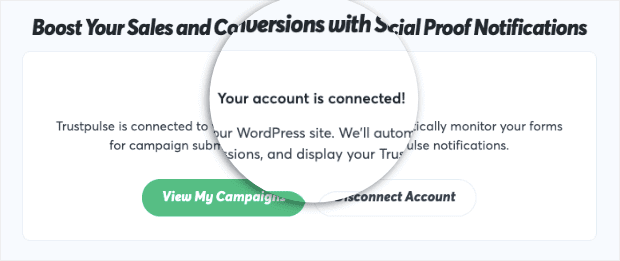 In your TrustPulse campaign dashboard, you can click Check Now to make sure that your site is connected:

Then you'll see the following confirmation message:

And that's it!
You now have a recent sales notification popup that you hooked up to your site in less time than it took to brew your morning coffee.
Remember, you can use TrustPulse for any platform.
That means you can add a live sales notification for Woocommerce, Shopify stores, Magento, or any eCommerce service you're using for your online store.
And TrustPulse will sync with your store in minutes.
We hope this article helped you out, and we're confident that if you follow our instructions to a T, you'll see sales on your site increase in no time.
When you do, let us know about it on Facebook, Twitter, or the comments section below! We love getting even more success stories from our happy customers.
Need more than the free 500 sessions per month? That's not a problem at all.
Upgrade now to one of TrustPulse's other plans to get even higher profits from your recent sales notification popups.