Do you want to add social proof notifications to your website, but you're unsure of the best software to use?
As you've researched different social proof software, you've likely come across FOMO. This is a well-known company that specializes in adding social proof notifications to websites to boost conversions.
And while FOMO is a good option, it may not be the right fit for your specific needs.
That's why, in today's post, we'll provide you with 7 FOMO alternatives that you can use to add social proof notifications to your site.
But before we dive into the list, let's quickly look at what FOMO is and why you may be looking for alternatives in the first place.
What Is FOMO?
FOMO is a social proof software that helps you make social proof notifications for your website: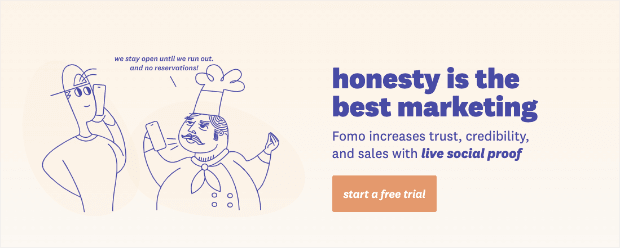 These social proof notifications leverage the marketing strategy known as FOMO (where the company gets its name), or "fear of missing out."
This powerful effect can lead to getting more of your site's traffic to:
Sign up for your newsletter
Leave you a review
Join your webinar
Purchase a specific product
And much more.
Again, FOMO is a well-known brand when it comes to creating social proof notifications to boost conversions. But they may not be the right fit for everyone.
One of the main reasons people search for a FOMO alternative is pricing. FOMO offers 4 paid plans, all of which are based on the number of notifications shown on your site:
Starter: $19 month for 25,000 notifications
Essential: $39/month for 50,000 notifications (plus live chat support)
Plus: $79/month for 250,000 notifications (plus phone support)
Advanced: $199/month for 3,000,000 notifications (plus manages A/B testing and API support)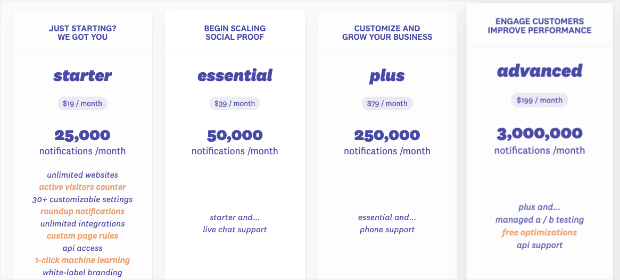 While the number of notifications sounds like a lot, they can be used up fairly quickly.
Imagine you take the Starter plan because your website doesn't get much traffic yet.
And let's say the average customer spends about 2-3 minutes on your site reading blog posts, watching videos, or consuming any of your other awesome content.
So you configure a new social proof notification to appear on your site every 10 seconds. That comes out to roughly 6 notifications per minute, which means you'll show between 12-18 notifications in each user session.
With the Starter plan, you'll pay roughly $19/month for less than 1,400 sessions on your site.
Compare that with software like TrustPulse, for example, and it's easy to see why this becomes a factor.
That's because TrustPulse's Basic plan offers 2,500 sessions at only $5/month. That means getting nearly 80% MORE sessions for literally 1/4 the cost.
And this is just one reason why you may want a FOMO alternative. Of course, everything completely depends on your site, your audience, and your marketing needs.
But now that we know what FOMO is and why you may be looking for other social proof software, let's dive into the list.
Best FOMO Alternatives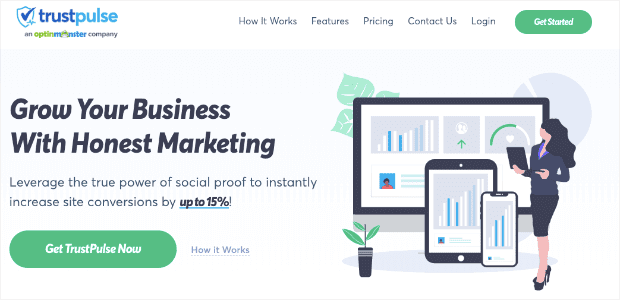 TrustPulse is hands down the best social proof software on the market. In a matter of minutes, TrustPulse lets you create, publish, and display stunning social proof notifications, even if you have no coding or tech experience.
Like all good social proof software, these notifications leverage "fear of missing out" (FOMO). As a result, you can expect to get more of your audience to take the actions you want them to.
With TrustPulse, you can create notifications to show when your site's traffic:
Signs up for your newsletter
Makes a live sale from your online store
Clicks a specific link on your site
Leaves a review on a 3rd-party site
Registers for a webinar
And much more. A notification may look something like this:

But how does a simple message like this actually improve conversions? Like we said before, these notifications use the psychological effect known as FOMO to persuade people into action.
When people see this message on your website, a couple of things happen:
First, your customers build trust in your brand. That's because when they see that other people are engaging with your business in some way, it makes you appear more reputable.
Second, your users become more likely to do what they see on the notification. Again, this is because TrustPulse uses FOMO to motive your users to take action.
In the end, this leads to a stronger online presence, more interaction with your target audience, and more sales from your online business.
The best part is that TrustPulse has all the features offered by FOMO but at a fraction of the cost. Whereas FOMO's lowest plan starts at $19/month, TrustPulse starts at only $5/month.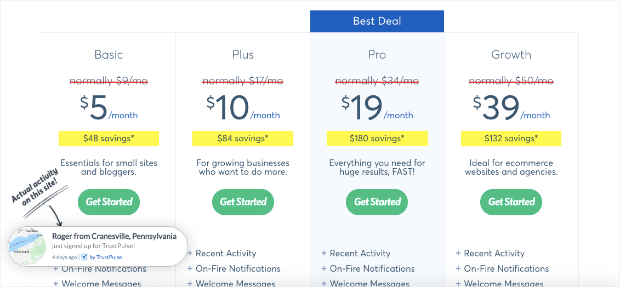 Ready to try it out for yourself? Sign up for your risk-free TrustPulse account today!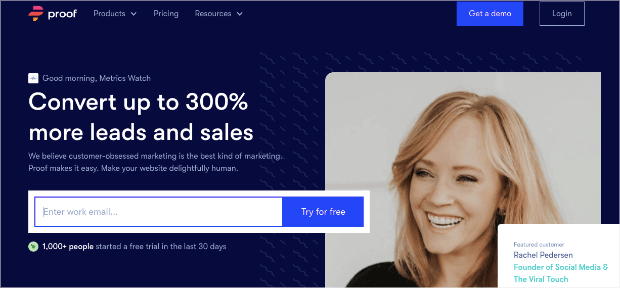 Proof, formerly known as UseProof, is another social proof plugin that may be worth checking out.
They offer a few different ways that you can increase conversions on your website, including their:
Hot Streaks: Show the total number of people who've taken the same action
Live Visitor Counts: Display the total number of people on your site or visiting a page
Recent Activity Notifications: Present real people who've taken a specific action on your site
And more.
With Proof, you also have other resources to learn how to use social proof the right way. They have their resource center, podcast, and a mini-course on web personalization.
Finally, you can reach out to their support staff at any time via email, though it's unclear how long it takes for the team to reach back out.
That said, they have additional support for people on the Pro plan or higher.
The main drawback to Proof is pricing. They have a few paid plans that range from $29/month (for 1,000 unique visitors) all the way up to $299/month (for 300,000 unique visitors).
That makes their starter plan 6x the cost of TrustPulse without offering extra features or functionality.
For a more detailed comparison of Proof, you may find this post helpful: FOMO vs Proof vs TrustPulse: Which Is Best for Social Proof?
That article will have more information on what features you'll get with each software and how they break down pricing.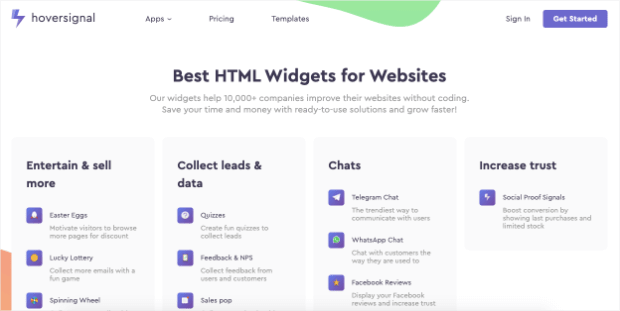 HoverSignal is a bit of a mixed bag. They build HTML widgets that get more people to engage with your site. They have a variety of apps not limited to social proof, including games, lead generation, and chat boxes.
Though social proof notifications are certainly an option, too. These include things like:
Facebook reviews
Instagram testimonials
Social proof signals
And more.
Plus, to help with design, they have over 200 templates that you can choose from. This allows you to make basic modifications that help campaigns match your website.
Finally, HoverSignal integrates with many popular tools like Mailchimp, Zapier, Shopify, and more. That way, you can fit HoverSignal into your current marketing stack.
Their pricing model is interesting. While you can purchase each app individually at $19/year, you can get the entire bundle for $34/year.
The only downside is that HoverSignal's social proof app seems more limited in terms of functionality. The templated designs are simple, and they don't look or feel as engaging as other social proof software.
In other words, HoverSignal is fun because it offers tons of different apps that accomplish different goals. This makes them fall into the "Jack of all trades, master of none" category.
But if you're looking specifically for a social proof tool for your site, you'd likely be better off checking out TrustPulse or Proof.
Learn more about HoverSignal today!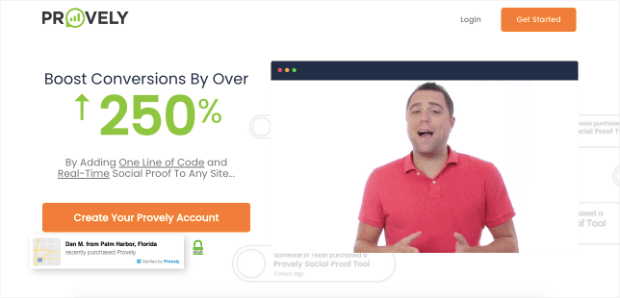 If HoverSignal is the "Jack of all trades," then Provely is definitely the "master of one" on this list of FOMO alternatives.
That's because Provely only creates limited social proof notifications: when users make a purchase or sign up for an offer (newsletter, webinar, and so on).
Provely is flexible and easy to install. You can use it on many different platforms like WordPress, ClickFunnels, Magento, Shopify, and more.
Plus, Provely gives you total control over the design of your social proof notification. That means you can match your notification's style and messaging to fit your brand's website.
Another thing that you may enjoy about Provely is how straightforward their pricing is. They have 3 plans:
$97/year for 1 domain
$147/year for 5 domains
$197/year for unlimited domains
Ok, but what's the catch?
Well, Provely's biggest strength (its simplicity) is also its weakness. Since Provely focuses on such a narrow form of social proof for your website, it may not be enough to help you accomplish all of your marketing goals.
TrustPulse, for example, gives you the ability to create notifications on 3rd-party sites with its Zapier connection. This is how we can display a notification when someone leaves a review on sites like Google My Business or Yelp.
Even though the review was left on another website, you can still create social proof messages to display on yours.
This is just one example of how other software may be more extensive than Provely. But if all you're looking for are live sales notifications for your website, then it can still be an appealing option.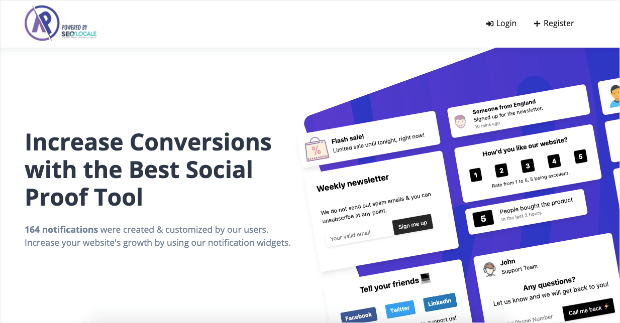 NotifyProof is a social proof software that offers lots of different campaign types. Plus, they'll even install the code and build your first campaign totally free.
The kind of social proof widgets they create include:
Informational bars
Feedback bar
Call to action bar
Live counter
Conversion counter
And more. Plus, they have lots of other widgets to help collect email addresses, get more customer feedback, and drive more sales.
NotifyProof integrates with major platforms like WordPress, Shopify, and Squarespace, so it will likely fit with your current website.
The biggest disadvantage of NotifyProof is that its pricing and features aren't clearly broken down on their website.
Yes, you do get one campaign installed and set up for free. But after that, they don't have a pricing page that says how much you will pay as you use more campaigns.
It also doesn't say how much control you'll have over your campaign's design or display rules. In the end, you're left signing up for a free trial without knowing what features and fees lie ahead.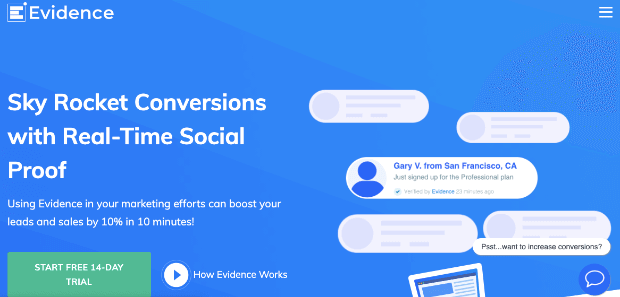 Evidence is another social proof software that you may want to check out. It proposes to make creating, installing, and maintaining social proof notifications easy.
Like all the other FOMO alternatives on this list, Evidence uses social proof notifications to increase conversions across your site. They do this by using the following campaigns:
Conversions: Show when real users take a specific action on your site
Streaks: Display when large numbers of people take the same action on your site
Visitor Count: Let other users know how many people are currently on your site
Announcements: Keep your users up-to-date with small notification messages
Boomerang Tabs: Write small messages in the browser title tag
For the most part, Evidence offers the same integrations, features, and design capabilities that you'd expect from any social proof software.
The only unique part of their strategy seems to be the Boomerang Tabs. These are hard to see, but they look something like this: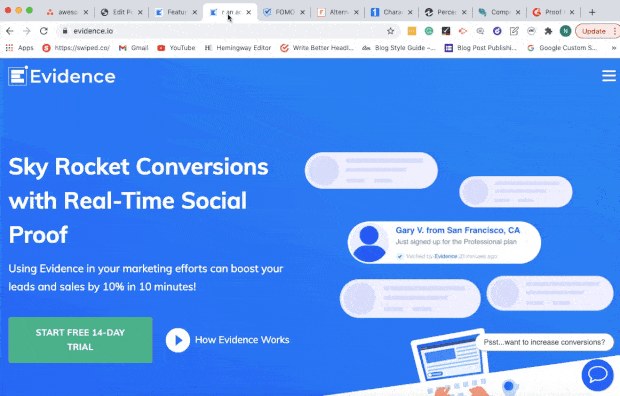 Essentially you can write small messages across your browser page's tab.
But while this is a cool feature in theory (and one not offered by any other tool on this list), it'd be hard to quantify how effective this tool is.
In other words, there seems to be no way to tell how much this would actually boost conversions.
Apart from that, their pricing model can be another disadvantage.
Evidence has 4 plans, all of which are priced by the number of visits your site receives:
Starter: $40/month for 5,000 visits
Jump: $80/month for 25,000 visits
Grow: $150/month for 75,000 visits
Scale: $250/month for 200,000 visits
Only you can decide what the right social proof tool is for your site.
That said, the pricing model here can be difficult for small businesses to justify considering the same features are offered by other companies at more affordable prices.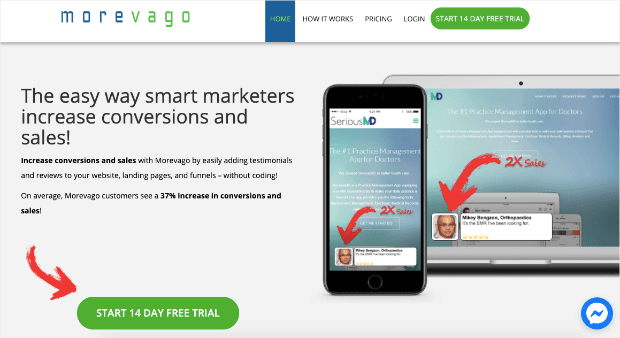 Morevago is the last option on our FOMO alternatives list, but that doesn't make it the least qualified to be on here.
This social proof notification software focuses on reviews and testimonials, which is a big part of building trust with your private audience.
In the same way you'd display user activity using the other tools on this list, you can create messages to showcase your awesome reviews.
Plus, you can add pictures and reference links to the reviewer, so your visitors know they're legitimate.
Morevago can be set up and installed in minutes regardless of the web platform you're using. The software is simple, straightforward, and effective at building your online presence.
The biggest disadvantage for Morevago, however, is that you can't create other kinds of notifications.
That means you won't have:
Newsletter signup campaigns
Webinar registration messages
Recent sales popups
Or any of the other social proof notifications we've discussed in this article.
Morevago's pricing starts from $14.99/month and extends to $197/month with a few options in between.
So if you're simply looking for a way to display customer reviews or testimonials on your site, Morevago can be a good option.
But if you want a social proof tool that does more, it may not be suitable for your marketing goals.
And that's it! We hope that you found our list of the best FOMO alternatives helpful.
If you did, you might want to read these other posts:
These articles will help you learn more about how social proof can build trust, boost credibility, and drive more sales.