Do you want to use FOMO marketing to increase your sales?
FOMO (Fear of Missing Out) can help you win more customers and revenue.
That's why everyone from small boutique store owners to the world's largest retailers use FOMO marketing.
The good news is it's easy for you to put these techniques into action.
We'll dive into the best FOMO marketing examples, but first, let's take a look at what FOMO marketing is and how it increases your conversions.
What is FOMO Marketing?
Did you know 98% of people leave your site without taking any action?
That's a lot of opportunity slipping through your fingers.
FOMO, the fear of missing out, changes that and helps you increase engagement and conversions across your site.
What makes this tactic so special?
Like most proven marketing techniques, FOMO relies on primal human behavior. As humans, we want to be involved in rewarding experiences, and we don't want to feel left out.
So, what does FOMO mean in marketing?
When applied to your business, FOMO helps your customers make a buying decision on your site.
Maybe a shopper is trying to decide whether or not a product is right for them. FOMO is a way to persuade those uncertain customers that it's time to purchase.
In this example from Amazon, we see FOMO marketing in action.
This time limit might just be the trigger that compels shoppers to make the purchase.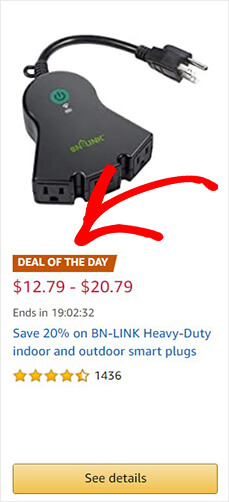 With FOMO marketing, you're pointing visitors in the right direction because you are highlighting the action you want them to take.
Let's look at another example.
This floating bar from Digital Marketer shows how you can target the site visitor's attention.

The bottom line is FOMO marketing makes people want to buy from you.
FOMO Marketing Examples
Now, FOMO isn't a new idea. There are a few ways you can add FOMO marketing to your site:
Live sales notifications
Visible countdown timers
Low stock level alerts
Online store owners and publishers use these FOMO techniques to:
Create anticipation about new products
Promote limited time offers
Build email lists
They turn to FOMO because it works.
Check out these FOMO marketing statistics:
60% of customers said they made a purchase after experiencing FOMO
56% of people are afraid of missing out on events and status updates if they're not online
33% of millennials have deliberately tried to create FOMO among their peers
There's no denying FOMO can boost your conversions.
But, if you do it wrong, you risk alienating your site visitors.
In other words, your FOMO marketing efforts should be responsible and honest.
If you want to quickly create your own FOMO notification, check out TrustPulse. TrustPulse is the easiest way to set up a FOMO notification on your site. No coding required. And it takes just five minutes to create and publish your notification.
Let's get to the best FOMO marketing examples you can use to grow your sales.
1. Real-Time Stats
Displaying real-time stats of how people are interacting with your business is a popular FOMO tactic.
One of the easiest ways to display real-time stats is by adding small but attention-grabbing popups whenever your site visitors make a purchase.
TrustPulse is a great tool for easily displaying FOMO notifications on your website.
The notification shows the person's name, and if available, their location.

TrustPulse also lets you run On-Fire campaigns, which allow you to track how many people took action over a specific period of time. These alerts are great for time sensitive offers and flash sales.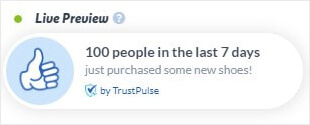 Using Fomo notifications, TrustPulse customers increase their conversions by up to 15%.
Why do these notifications work so well?
None of us want to miss a great deal when we see other shoppers are grabbing it.
When people are buying a product, we want to check it out too.
2. Show Stock Levels
Showing low stock levels like this one below can motivate your customers to buy.

Low stock notifications are effective because they create a sense of urgency.
Creating an urgency increases sales because it prompts your customers to take action.
After all, people will want to buy more because there's not many left. Who knows when the product is coming back in stock?
In other words, low stock notifications help your customers make a buying decision.
This isn't the only FOMO marketing example rooted in urgency.
3. Create Urgency Using a Countdown Timer
Another way to show urgency is with a countdown timer.
Countdown timers compel action because they let shoppers know the deal isn't going to be around for a long time.
The clock is ticking, so if they want the offer, they need to act.
Countdown timers are a proven method to grow sales and increase conversions by 8.6%.
Check out this example.
Using this FOMO marketing campaign, the Christmas Lite Show converted 30% of visitors into leads.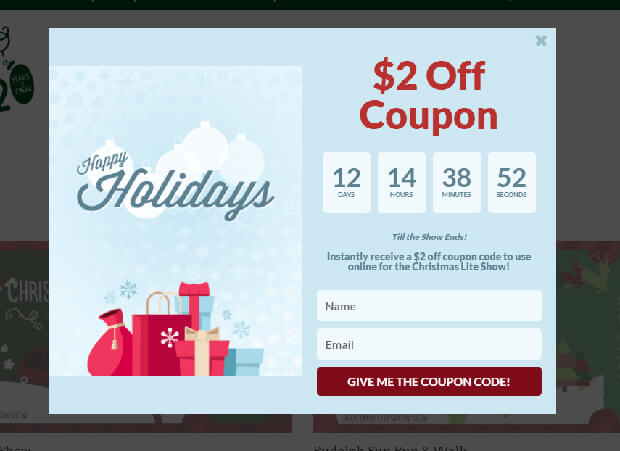 Consider adding common power words to your FOMO marketing campaign to trigger a sense of urgency:
Limited time
Today only
Act Now
Don't delay
Last chance
4. Offer Early Discounts
One of the best ways to drive FOMO is to offer early discounts.
Shoppers know they'll potentially lose value if they don't take action right there and then.
This strategy is based on the scarcity principle, the idea that limited supply makes us want something more.
Early discounts encourage your customers to take up your offer.
Check out this example from Amazon's Prime Early Access Deal.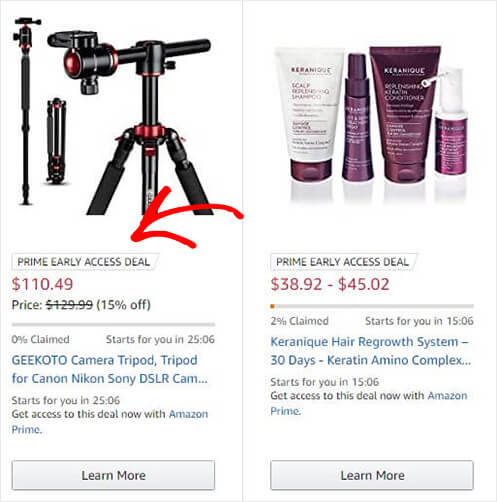 5. Limited Free Shipping
Can you guess the number one reason online shoppers abandon their carts?
Unexpected handling and shipping costs.
That's why free shipping works so well to grow sales.
Limiting free shipping is one strategy to increase conversions.
We already know we're more likely to act when we know an offer is expiring.
A limited free shipping offer creates pressure to buy before missing the deadline.
6. Use Social Proof
Next on the list is social proof.
Adding social proof is a great way to trigger FOMO.
Even if we don't realize it, we're heavily influenced by the people around us.
Social proof is our innate desire to belong.
If other people just like us are doing something, we want to check it out too.
That's why social proof is such a powerful marketing technique.

When you show the actions of other people, you combine social proof and FOMO.
You can also use TrustPulse to display social proof on your site, like how many people are joining your newsletter.
7. Make Your Offer Exclusive
Exclusivity is another way to drive FOMO.
People enjoy having special access to certain benefits.
Online business owners and content publishers often use the promise of exclusivity to grow their email lists.
Subscribers will often get:
Extra discounts
Early access to sales
News and updates
And more.
Here's an example from SkinScience.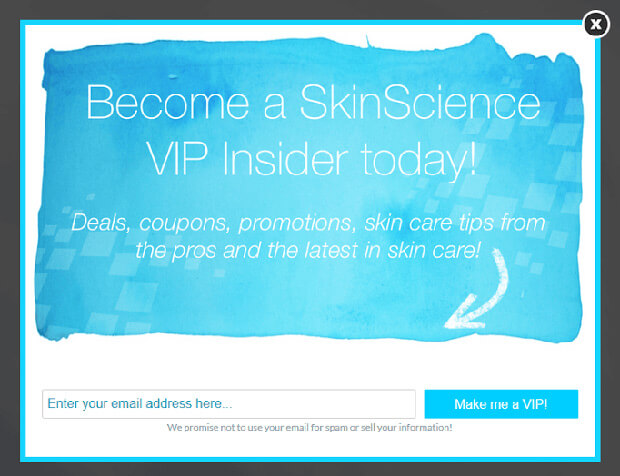 8. Show Missed Opportunities
Highlighting missed opportunities will prompt your shoppers to take action the next time you promote a deal.

Showing expired offers is another way to add urgency to your marketing.
We hope you liked these FOMO marketing examples.
If you want to learn more about FOMO and social proof, check out these articles:
Ready to increase your conversions with FOMO notifications? Get TrustPulse here.