Are you looking for the best types of web notifications to keep your visitors up-to-date? Or maybe you're simply looking for ways to improve user experience (UX).
Whatever your motivation, web notifications can be an excellent way to help out your customers and keep them engaged with your site.
That's because when it comes to eCommerce sites, communication is the key to making more sales.
That is exactly why, in today's post, we'll share 7 types of web notifications that increase UX and bring in more revenue. But before we begin, let's clarify what a web notification is in the first place.
What Is a Web Notification?
Web notifications are small messages that can appear both on and off someone's web browser. The goal of web notifications is to inform, remind, or engage the user in some way.
And even though there are many types of web notifications, they all share 2 goals:
Improve user experience
Drive more sales
Let's quickly look at how web notifications accomplish both of those goals.
1) Improve user experience (UX)
Many of us rely on web notifications more than we realize. Whether it's getting a reminder from Google Calendar, seeing that someone sent us a message on Facebook Messenger, or receiving a coupon code from our favorite online store, web notifications tend to make our lives a little easier.
Web notifications allow you to inform your site's visitors about great opportunities they would have otherwise missed out on.
As a result, you can streamline your customer journey, improve their UX, and boost your chances that they'll be a repeat shopper or visitor to your online store.
This leads us to our next point…
2) Drive more sales
Since web notifications are so great at improving UX, they also help you make more sales. And this isn't limited to promotional notifications, either.
Any time you send a notification, you're actively engaging someone on the other end. The more this user interacts with your message, the more familiar they become with your site.
Over time, this familiarity builds trust. And if your notifications have been truly helpful in some way, this trust can build relationships with lifelong customers.
7 Types of Web Notifications
Now that we know why web notifications are so important, let's look at the different types of notifications you can send.
1. Social Proof Notifications
We're kicking off the list with our wheelhouse: social proof notifications.
These are small messages that show when other users have interacted with your website. The most common type is a live sales notification:

These let users know when someone has made a purchase on your site. This creates a sense of FOMO (fear of missing out) and can boost sales by up to 15%.
But there are other types of social proof notifications, such as displaying when someone:
Leaves you a review on a 3rd party site like Yelp or Google My Business
Writes a blog comment
Signs up for your webinar
Subscribes to your email list
And many others.
Social proof notifications are an invaluable asset to any eCommerce store. They can give hesitant buyers that extra little push toward the checkout button.
And like we said at the beginning, these types of notifications are what TrustPulse does best: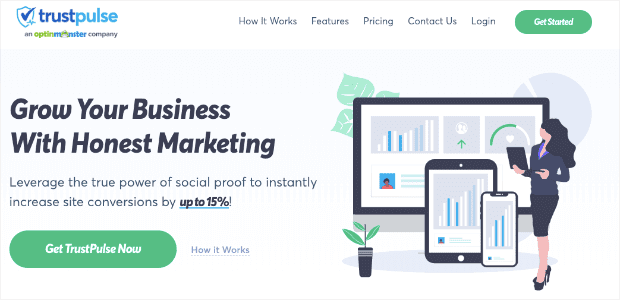 TrustPulse is the best social proof plugin and software on the market. It works with any website and can be used for all types of social proof notifications.
Plus, it's only a fraction of the cost when compared with our closest competitor.
You can actually try out TrustPulse totally FREE for the first 500 sessions. No strings attached.
After that, our paid plans start at just over $4/month, which is roughly the cost of your morning cup of coffee.
For a more detailed breakdown of our features and pricing, check out this article: FOMO vs. UseProof vs. TrustPulse: Which Is Best for Social Proof?
Want to get started? Sign up for your free TrustPulse account today!
2. Low Stock Notification
Low stock notifications are an often-overlooked notification for eCommerce sites. As the name implies, these are small messages that show a certain item is running out of stock:

Low stock notifications improve UX and boost sales at the same time.
How often have you wanted a product, hesitated, and learned that it was sold out when you came back to make a purchase? As a customer, this is an incredibly frustrating experience.
Adding a low stock notification to your website can help your customers avoid running into this problem.
At the same time, low stock notifications build a sense of urgency and scarcity. It lets people know that a certain product will be gone soon and if they want to buy it, now is the time.
That means more sales for you.
In the end, low-stock notifications are a win-win for eCommerce stores that sell physical products or have digital products as part of a limited-time offer.
You can easily create low stock notifications by signing up for your free TrustPulse account today!
3. Promotional Notifications
Promotional notifications let users know when you're running a promotion, discount, or special offer. These can be in the form of popups, floating bars, sidebar widgets, and many more.
Here's an example of a promotional offer in the form of a free shipping floating bar:

These notifications provide some kind of incentive–usually saving money–to customers to get them to make a purchase.
Here's another example of a promotional notification for a coupon code: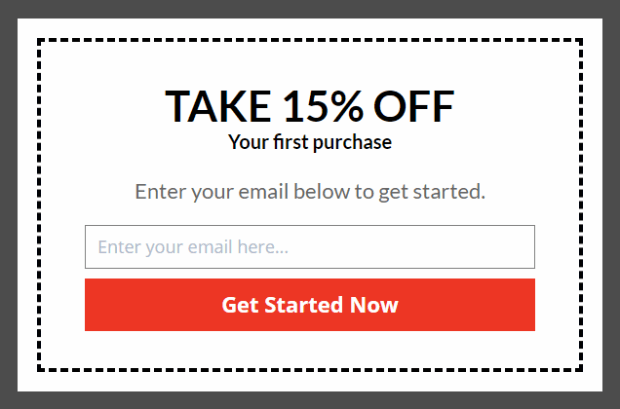 This promotional popup gives users 15% off their first purchase. These kinds of notifications are also great for growing your email list.
But how do you create floating bars, popups, or any other type of promotional notification if you're not a professional coder?
That's where OptinMonster comes in: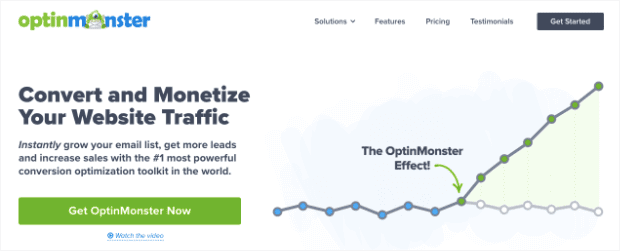 OptinMonster is the world's #1 lead generation plugin and software. They're the best at getting your site's visitors to take the actions you want them to.
They do that by creating "optin campaigns," which are essentially small notifications that have a call to action (CTA) in them.
OptinMonster's campaign builder is incredibly user friendly. They have over 50 pre-built templates for all occasions, and everything can be modified with a drag and a drop.
That means you can use OptinMonster to create promotional notifications in a matter of minutes, even if you don't consider yourself "tech-savvy."
For more information, check out this post: Is OptinMonster Worth It? An Extensive Review.
Sign up for your risk-free OptinMonster account today!
Plus, you can use OptinMonster to create many of your site's notifications, including our next one: transactional notifications.
4. Transactional Notifications
Transactional notifications are individual messages for customers involving information that relates specifically to them, their account, or their orders.
These messages typically include things like order confirmation, shipping updates, personal account information, and so on.
One type of transactional notification that is sometimes overlooked by online business owners is the thank you message.
When your users sign up for your newsletter or make a purchase, it's crucial that you let them know that their contact information or payment details have been processed successfully.
As we mentioned, OptinMonster is great for making many types of notifications. In fact, all of their campaigns have a transactional notification built-in with the success view: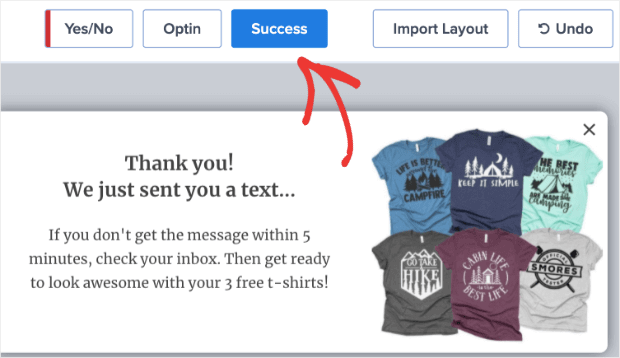 This informs users that their information has gone through and tells users what will happen next.
As a result, users aren't left wondering about what to expect, and you improve UX.
5. Cart Abandonment Notifications
Cart abandonment notifications are small messages that remind users when they left unpurchased products in their cart.
The most successful cart abandonment notifications will have some kind of offer or discount to get users back to shopping. Here's an example of a cart abandonment notification: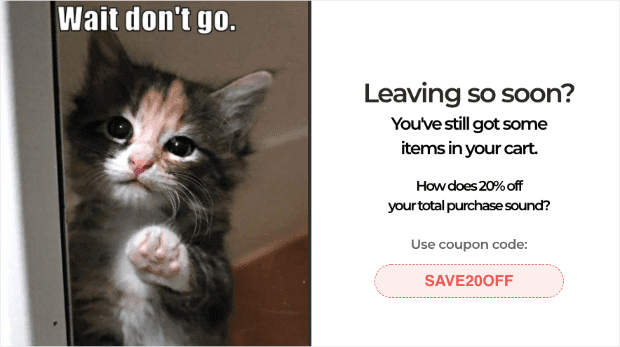 The easiest way to create these is with OptinMonster's Exit-Intent® Technology.
Exit-intent works by showing a notification as users are actively leaving their site. This is a crucial time to stop your customers from leaving because most never come back.
You can set up a trigger in OptinMonster to show a notification to users who still have items left in their cart.
Then with an exit-intent popup or fullscreen campaign, you can grab your users' attention and entice them back with a coupon code or special offer.
These notifications can go a long way in boosting your store's overall sales.
Ready to get started? Sign up for OptinMonster today!
6. Informational Push Notifications
Push notifications are messages that appear even if a company's website or app isn't open. These notifications are typically informational in nature.
An example of a push notification would be getting a reminder from Google Calendar about a meeting or event.
Even though you don't have Google Calendar open, you'll still get a notification about whatever appointment you have booked for that date.
Social media is another popular use of push notification. Whether it's a friend sending you a message on Facebook or something responding to your Reddit post, social media platforms love to keep their users engaged.
And that's the power of push notifications: they get users thinking about your business even if they weren't previously engaged with your website or app.
Love the idea of push notifications but not sure how to make them? We recommend trying OneSignal: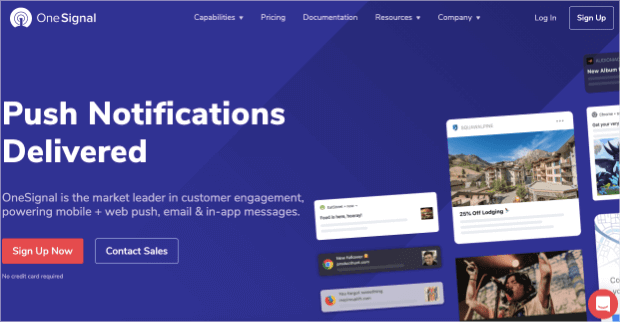 OneSignal is your best bet for quickly and easily creating push notifications for your company. They work for both web and mobile devices and include both in-app and email notifications as well.
With OneSignal, you can A/B test your notifications to make sure you're always sending the most helpful information to the right people.
Plus, you can personalize your messaging to increase engagement and boost UX.
You can start OneSignal with a free account to test it out. From there, you can choose one of their paid plans to fit your specific needs.
7. Live Chat Notifications
If you use a live chat feature on your website, you likely already have these notifications at your fingertips. If you're not using live chat on your site, well… you should definitely consider starting. 😉
Live chat notifications let users know that your chat message is available and/or your users have a response waiting.
This is an excellent way to engage users with your support team. More often than not, this kind of personalized communications has a direct impact on your overall sales.
The more interaction someone has with your brand, the more trustworthy and memorable your business is. From there, it's much easier to answer your customers' questions, help solve their problems, and get them the products they need.
And if you're looking for a live chat software to use, we recommend going with LiveChat Inc: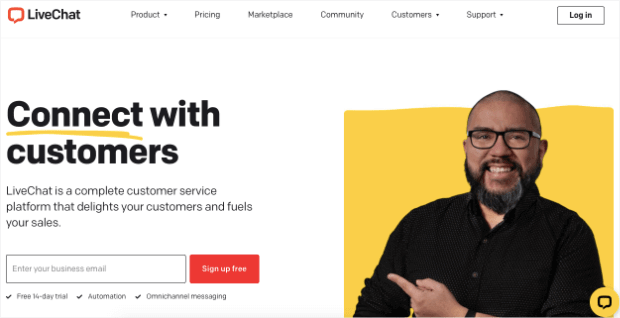 LiveChat Inc. is the best live chat solution on the market. It allows your customer support team to quickly connect with your site's visitors.
They also have an AI-powered chatbot automation system, which means you don't need a large team to handle basic inquiries. Instead, you can point users to helpful articles, provide discounts, or give product recommendations based on what your users ask.
LiveChat Inc. is easy to install and starts at just $16/month.
And that's it! Those are 7 types of web notifications that you can start using on your site today.
We hope you found this article helpful. If you did, you might want to check out the following resources:
These articles have everything you need to learn how to use social proof and social proof notifications to increase your sales.
Ready to get started? Sign up for your FREE TrustPulse account today!