If you want to learn how to increase eCommerce sales quickly and see instant results, you have come to the right place.
In today's digital age, eCommerce sales have become increasingly important for businesses of all sizes. With the rise of online shopping, it's essential to have an effective strategy to increase eCommerce sales.
This blog will share ten hacks on how to increase eCommerce sales and stay ahead of the competition.
So sit tight and start taking notes.
1. Make Your Site More Trustworthy
First, you need to make sure that your eCommerce website looks credible and trustworthy to new visitors. There are millions of scam websites set up every month, so it's crucial to your eCommerce sales strategy to demonstrate that your business can be trusted.
How can you do that? With trust badges.
Trust badges are small icons or seals that ease your customers' minds. These little badges can come in many forms, including:
SSL certificates
30-day money-back guarantees
Secure checkout
Payment method logos
Along with other types of social proof.
For a complete list, check out this article on 12 types of trust badges you need to have on your site today.
But the trust badge that will increase eCommerce sales most is a recent activity popup: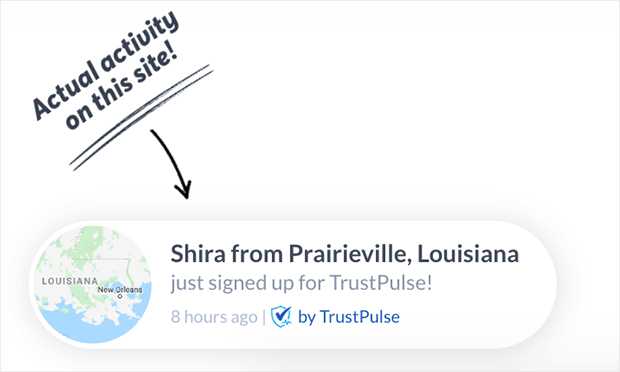 Recent activity notifications are small popups that appear on your site anytime other visitors take positive action with your business online. These actions include making a purchase, signing up for a newsletter, or getting a positive review on Google.
When potential customers see that other online browsers have taken some action with your business, it instills a fear of missing out (FOMO). Consequently, those potential customers are
more likely to take the same action.
The question is, though, "Do these small notifications work?"
TrustPulse has seen recent activity popups increase eCommerce sales by 15%. That's a tremendous amount of profit from such a small change. But hey, why not see for yourself?
Try TrustPulse today and take advantage of our unconditional 14-day money-back guarantee. That way, you can see how well recent activity popups can increase your eCommerce sales.
2. Optimize Your Checkout Page
The last thing you want to happen is to get visitors to the checkout page only for them to abandon it. That's why you need to optimize your checkout page for conversions too.
Here are some checkout page optimization tips that will make visitors want to complete the sale:
Include multiple payment options
Ask for payment info last
Reduce form fields
Number the checkout steps or add a progress indicator
Consider using a single-page checkout
Display reviews or testimonials
If you run your online store on WooCommerce, it's difficult to customize the default checkout page.
Luckily, you can use a landing page builder like SeedProd to create a custom WooCommerce checkout page.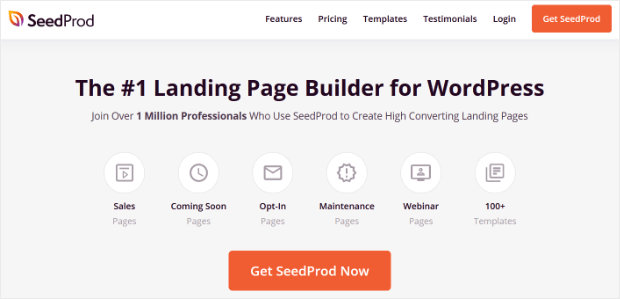 SeedProd offers ready-made WooCommerce blocks like checkout, shopping cart, add to cart, and products grid.
To create a custom checkout page, drag the checkout block and drop it onto your page.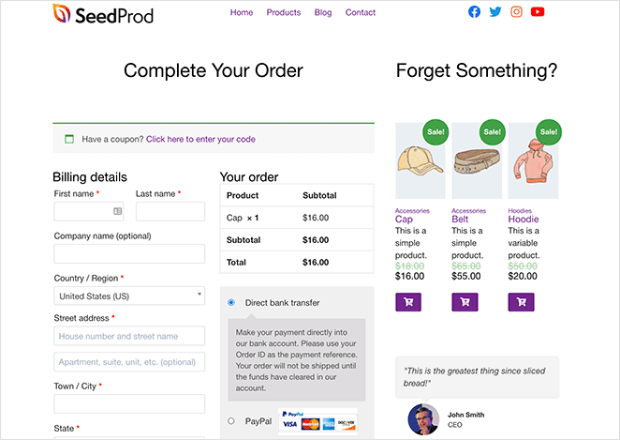 Then, you can quickly add other blocks to boost conversions, like testimonials, star ratings, countdown timers, progress bars, and more.
3. Grow Your Email List
If you're serious about increasing eCommerce sales, you need to have a solid email list to pull from. That's because email marketing is the most reliable, effective, and secure way to make more profit for your online store.
Think about it:
With email marketing, you're less likely to face account closures or suspensions than you are with social media marketing. And you get faster results than building out an organic content marketing strategy.
Plus, you spend less money than you do running paid ads on a product page.
At the end of the day, a good email marketing strategy will make or break your eCommerce business growth, which is why you need to take it more seriously.
How do you get more email addresses on your list? Frankly, there's no better tool for that than OptinMonster: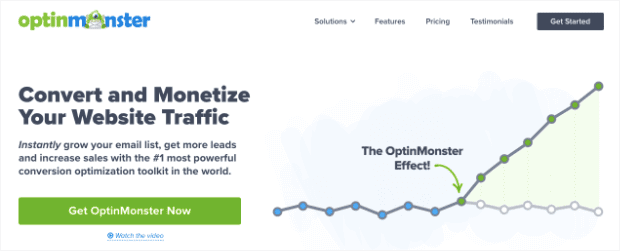 OptinMonster is the world's #1 conversion optimization kit. It allows you to create powerful optins that grow your email list in no time.
You can customize every aspect of your optin campaigns to match your company's style, brand, and voice. Then you can target these optin campaigns to specific pages of your site or particular users.
That way, your optin campaigns send the right message to the right people at the right time in their customer journey. This massively increases your chance that they'll sign up with you.
And investing in OptinMonster won't break the bank. In fact, it costs about the equivalent of 1 coffee per week. Not too bad for a tool that's been used to get over 11,000 new email subscribers in under 1 year.
4. Segment and Sell to Existing Customers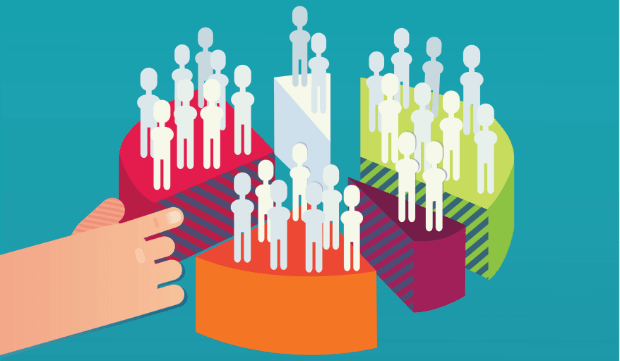 You may already have an email list to work with as you're trying to get new subscribers. If so, we have two questions for you:
Is your list properly segmented?
Have you built an automated email series that converts?
First and foremost, you need to make sure that your email list is appropriately segmented.
Otherwise, you'll be shooting emails to your audience blindly and hoping that something resonates with a small portion of them.
That's the most popular and least efficient strategy used by small business owners today.
Smart marketers, on the other hand, organize their email lists in ways that help them increase eCommerce sales.
They send targeted email campaigns to different segments of their list to increase the odds that their email copy with strike the right chord.
And they don't just do this once, either.
If you want to boost your sales, you should have an automated email series.
An automated email series allows you to craft several messages to your audience, all with the same goal: moving them further down the sales funnel and closer to making a purchase.
Not sure how to write an email series? Here's a helpful article that includes 6 email templates you can start using today.
5. Increase Traffic to Your Site
If you want to increase eCommerce sales, you need more customers. It's that simple.
The biggest question for most online business owners is, "How do I drive traffic to my website?"
At the end of the day, there are only three ways to do this:
Paid traffic
Organic traffic
Word-of-mouth traffic
Let's look at all 3 in more detail.
Paid Traffic
If you're looking for fast results, paid ads are the way to go. The most popular have been Facebook or Google Ads, but there are definitely others.
Many people have found success with LinkedIn, Twitter, or Pinterest ads. It depends on where your audience likes to hang out.
But one of the best resources is Instagram. That's because the platform released Instagram Shopping, which lets people purchase an item directly from their Instagram account. This checkout process causes less friction to the user experience and, in turn, increases sales.
This is especially true for people shopping from their mobile devices.
You can run Instagram ads to a specific post that allows people to purchase your products without reaching your site. This may hurt your eCommerce site's overall traffic but, in the end, means more money in your pocket.
Regardless of which platform you use for running ads, make sure to test and tweak your ad copy until you find something that resonates with your audience.
Organic Traffic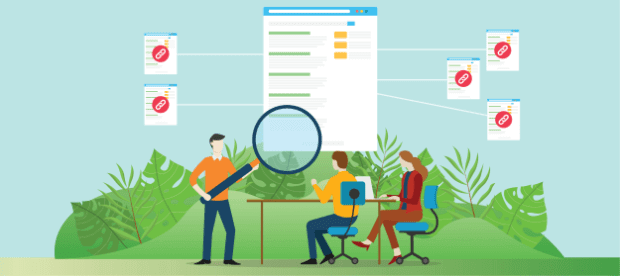 In the marketing world, running ads is a sprint. But driving organic traffic is a marathon that pays off long-term.
You'll see your sales soar if you can fine-tune your SEO strategy and bring in traffic organically.
This means having a great content marketing strategy. Though blog posts have historically been the most effective (because you can get them to rank on Google), other types of content can bring in customers too.
Videos, for example, are skyrocketing in popularity and don't show signs of stopping.
There are also infographics, ebooks, whitepapers, memes, and more. Some types of content resonate better with specific buyer personas, so test a few and then go all-in.
You can also grow your audience on social media without paying for ads. Doing so can create a strong sense of community in your customer base. Not only does this bring in more customers to your tribe, but it can help you reduce customer churn.
In the end, successfully driving organic traffic is an excellent way to see a boost in eCommerce sales.
Word of Mouth Traffic
Consider turning customers into your brand's ambassadors to increase your eCommerce sales. You can do this by incentivizing them to talk about your business's awesomeness.
Many companies like Uber and Airbnb used word-of-mouth marketing as the cornerstone of their success. Here's an example from Transferwise of how a good incentive can look:

If you can get customers to recommend your product or services to friends and family, you can expect an immediate increase in eCommerce sales. That's because consumers are more likely to buy things based on recommendations from people they know and trust.
Whichever method you choose to drive traffic (paid, organic, or word of mouth), be intentional about who you're attracting to your business.
Remember this rule:
General traffic ≠ sales. The right traffic = LOTS of sales
So focus on your content strategy, create a detailed buyer persona, and avoid bringing in traffic just for traffic's sake.
If you want to create a brand that customers love, read our guide on How to Build an Unforgettable and Profitable eCommerce Brand.
6. Run a Promotion
If you're trying to increase eCommerce sales fast, consider running a sitewide promotion. And if you can make your offer irresistible, you're bound to see your sales go up.
Remember that the key to running a successful promotion is a combination of 2 things:
That's it.
Your headline needs to be catchy and engaging. Something that stops people and draws them into your offer.
From there, you should have a killer value proposition that's hard to turn down. If you can nail those two things, your promotion will succeed.
And while both are essential components to making more revenue, take a note from one of the greatest copywriters of all time, Gary Halbert:
"Strong copy will not overcome a weak offer. But, in many cases, a strong offer will succeed despite weak copy."
So make sure you're providing your audience real value through your offer. And if you need money fast, consider running a flash sale. This can also be a good strategy if you're sitting on an old product inventory.
But how do you run the promotion? Again, OptinMonster is here to save the day.
OptinMonster doesn't just grow your email list. It can also be used to run sitewide campaigns for promotions. Check out this simple out-of-the-box promotion template: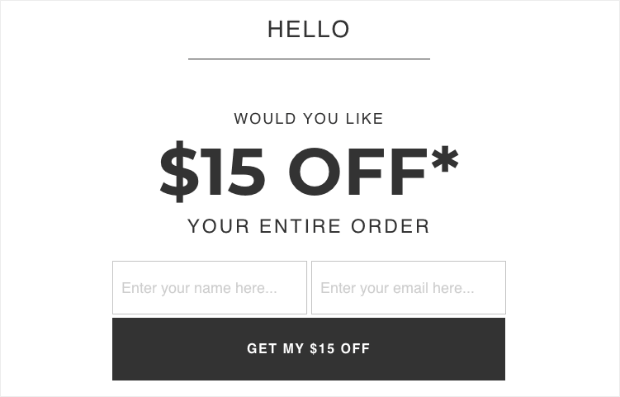 Campaigns like this are insanely effective at quickly growing your email list and boosting eCommerce revenue.
Plus, with OptinMonster's shareable MonsterLinks™, you can share your promotional campaigns in your blog posts, video descriptions, email campaigns, or anywhere else you can add a link.
That allows you to be more effective at cross-selling various products through different types of content.
In fact, MonsterLinks™ is how Lead Guru saw an 81.8% increase in their conversion rates. You can see the same results with OptinMonster, too.
7. Hold an Online Contest via Social Media
Social media marketing is incredible. The amount of revenue you can generate using different social media platforms is remarkable.
But what do most people do? They schedule generic posts a few times a week, set on autopilot.
While we have nothing wrong with the autopilot part (which we'll talk about shortly), your social media strategy should be more refined if you want to increase sales.
One technique is using online contests and giveaways with RafflePress: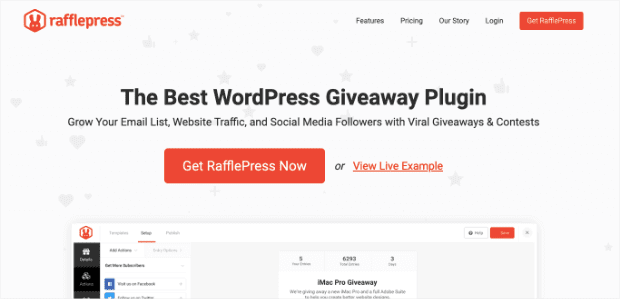 RafflePress makes it easy to create online contests bound to go viral. You can let users add entry points for following you on social media, visiting your website, signing up for a newsletter, sharing the contest with a friend, and more.
But the key to running a successful online giveaway is choosing the right prize. You want a prize explicitly targeted to your audience so you can create quality leads.
After all, you're doing this to improve revenue.
That means you need to attract future customers, not just contest participants.
So rather than giving away something like an all-inclusive trip to Hawaii (which everyone would love), you should give away something specific to your niche.
8. Build the Right Sales Funnel
So far, we've covered some individual strategies that you can use to increase eCommerce sales. But to send those sales into overdrive, you should link some of these eCommerce sales strategies together in a sales funnel.
Every customer will go through a unique journey from when they land on your page to when they pull out their credit card. But though the journey may be different for each person, the pathway should be consistent.
By that, we mean creating a detailed sales funnel.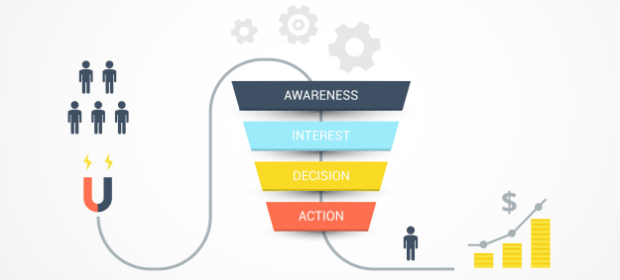 A funnel is a multi-step sales process that takes users from general interest in your product to lifelong customers. The type of funnel you build will vary, but the usual steps are:
Drive traffic to your site
Create an email optin campaign
Make an initial offer that's hard to resist
Upsell another product
Downsell if your upsell fails
Continue to nurture the relationship with strategic email campaigns
Again, there are many types of funnels to choose from. But these are the same basic principles behind all of them.
Building a sales funnel is crucial to increase your eCommerce sales. They allow you to have consistency in your sales process, which means you can troubleshoot and fix any weaknesses as you go.
With the data you collect, you can improve your lead generation tactics, refine your sales copy, stop people who want to abandon their cart, and more.
Not sure which funnel is right for you? Check out these three funnels as a good starting point:
Those 3 are great solutions for most small businesses to enter the world of sales funnels.
9. Automation
As mentioned earlier, we're big fans of putting things on autopilot. And with all the marketing automation tools available today, there's simply no reason not to.
As you're building your email campaigns or marketing funnels, you shouldn't spend hours and hours each week repeating tedious tasks to get the same number of customers filling their shopping carts.
Your time is too valuable for that.
Instead, you can invest in tools that build automated marketing systems to make you more money while you sleep. A big part of this is finding marketing tools that integrate with your email service provider.
OptinMonster, for example, integrates with over 30 email service providers like Drip, Constant Contact, Sendinblue, and more. And if you don't find your email platform on the list, you can easily add it in a few steps.
Then, through your email service, you can automate email campaigns to be sent out to the appropriately segmented list.
When done right, you can set everything up once and go into maintenance mode. You still need to be present, watch your open rates, and check in with your conversion goals, but you won't be writing the same emails 100 times a year.
Instead, you'll create a few campaigns, write a few emails, sit back, and watch your eCommerce sales grow.
10. Track and Monitor
Here's the deal. Increasing eCommerce sales isn't magic. It's finding the right formula that works for your business. That means lots of testing, tweaking, and tracking metrics.
To do that, you should consider getting MonsterInsights:

MonsterInsights is the world's best analytics plugin on the market. It syncs seamlessly with Google Analytics (GA).
But unlike GA, things are organized in a clear, easy-to-understand way. And it's all in your WordPress dashboard. What you should get excited about, though, is how MonsterInsights lets you build Urchin Tracking Modules (UTMs).
With UTMs, you can track the campaigns that brought you the most success. Then, you can invest your time, energy, and resources to get the most out of those campaigns.
When you build a UTM with MonsterInsights, that data can automatically create eCommerce conversion goals so you can see how much money you tangibly earn from any campaign.
Too many marketers get lazy with tracking and miss out on tons of revenue. Knowing the strengths and weaknesses of your marketing strategy is the only way to maximize profits.
MonsterInsights makes this tracking process about as easy as it gets.
MonsterInsights also has a Popular Products feature that lets you display up to 10 of your bestselling products at the end of single product pages.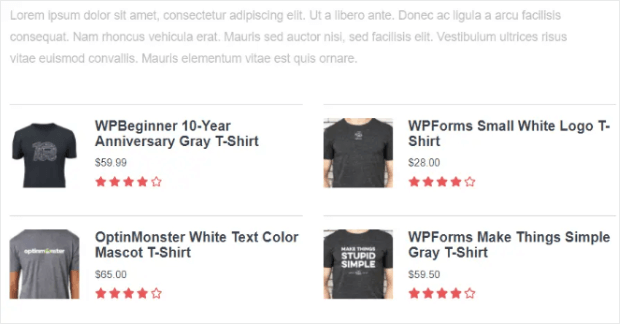 This specific feature offers another way you can boost eCommerce sales. By showcasing your hot-selling items, you can put them right in front of your customers so they can't miss them.
Bonus Tip on How To Increase eCommerce Sales: TrustPulse
And with this ends our list of the ten hacks on how to increase eCommerce sales.
We started this post talking about making your website more trustworthy. And it only seems appropriate to finish with the same point.
Because too many business owners need to pay more attention to the impact trust can have on sales.
You know that you're credible and trying hard to serve your customers. And you know that you only use honest marketing practices to do so.
But it's easy to forget that your customers don't know that about you yet.
When someone comes to your site, they're still trying to make up their mind about your business. It's your job to help them trust you.
Again, TrustPulse is one of the best ways to make that happen. Using our recent activity popups, you can display real-time positive actions taken on your trust.
Beyond leveraging FOMO to increase sales by 15%, these notifications show others that you're running a legitimate business.
So make sure your website's visitors are aware of your credibility.
Don't forget to check out the latest eCommerce Trends You Should Know to stay ahead of your competition and boost your eCommerce sales.
Sign up with TrustPulse today with our risk-free unconditional 14-day money-back guarantee.