Google reviews are an excellent form of social proof that can help shoppers decide if they want your product or your competitors.
And, with more than 5 billion Google searches happening every day, many for products and services just like yours, it makes sense to add Google reviews to your marketing toolkit.
But how can you get more Google reviews? Or any if you're just starting out?
Glad you asked! In this article, you'll learn 10 easy ways to get more Google reviews for your business.
How Many Google Reviews Do I Need?
Shoppers pay attention to reviews. In fact, 92% of shoppers rely on reviews to help them decide whether or not to make a purchase.
But not just any reviews will do.
Roughly 84% of shoppers think that reviews more than 3 months old are irrelevant. Even more compelling, 48% of shoppers only pay attention to reviews written within 2 weeks!
And, the average customer reads 10 reviews before trusting a business. So, what does that mean in terms of how many Google reviews you need?
Since shoppers want to see at least 10 reviews that are less than 3 months old (preferably even less than 2 weeks old), you'll want to get at least 10 new reviews every quarter.
How to Get More Google Reviews
Now that you know how many reviews you need, let's dig into the easiest ways to get them.
1. Verify Your Business on Google
To start, you're going to want to set up your Google My Business listing.
This is where customers go to write a review and where they'll find information about your business. With that in mind, it's essential to include this basic information:
Business name
Address
Website and phone number
Business hours
You'll also want to include extras like photos, categories, and a menu (if your business has one).
A good listing with all important information included looks like this: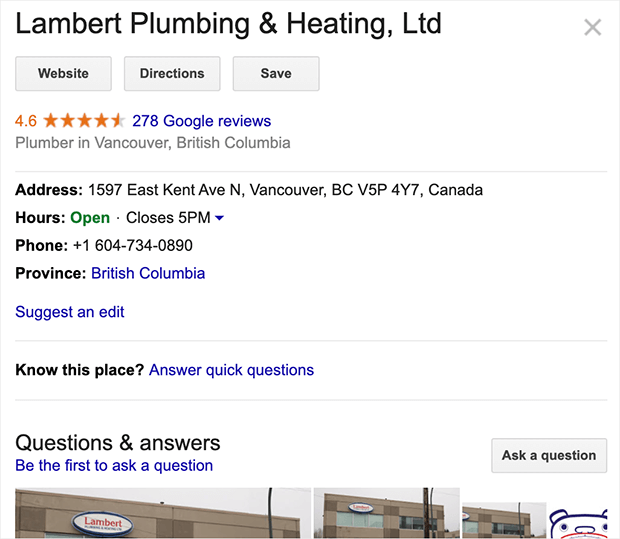 Once you have your listing filled out, make sure to verify your business so your information is eligible to appear on Search, Maps, and other Google services.
Plus, you'll only be able to respond to customer reviews if your listing is verified.
2. Add the Google Reviews Link to Your Website
You've set up your Google My Business listing and verified your business. Now it's time to add your Google reviews link to your website.
Here's how to get your Google reviews link:
Sign in to your Google My Business or make a new account.
Open the location you'd like to manage.
Click Home in the menu on the left.
Go to the "get more reviews" card to copy and share your link with customers.
Using the Google reviews link is a great way to keep users on your site while still giving them the chance to leave a review. When the user clicks the link, a box pops up on the page they're currently viewing.
Here's what the review box looks like: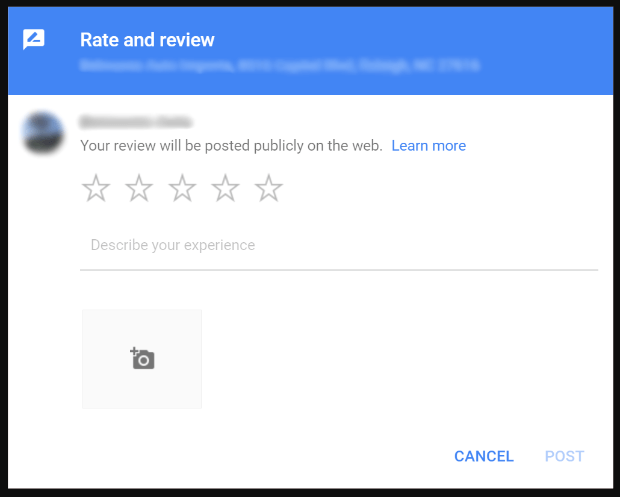 Users can give star ratings, upload pictures, and write comments. Once the user clicks Post, the review automatically publishes on Google.
Using the Google reviews link on your website also helps with user experience since customers won't have to go through multiple steps to write a review.
3. Use the Reviews Link in Surveys to Get More Google Reviews
Surveys are an excellent way to collect customer feedback. However, customers can only express their experience with the options the survey provides.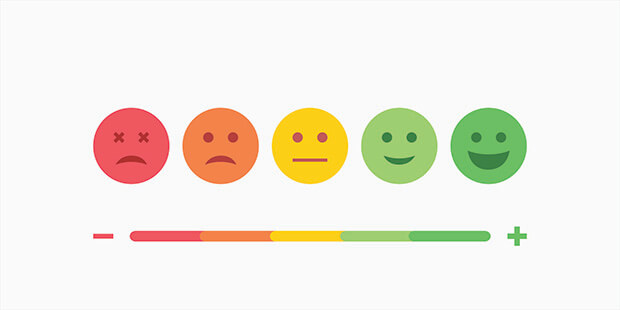 They may want to add a few words as well. Include the Google review link at the bottom of your survey emails, survey popups, embedded surveys, and more. You'll not only get valuable information from the survey, but you'll get another Google review from it!
4. Create a Google Review Email Campaign
Once a shopper has made a purchase and you have them on your email list, you can start planning an email campaign to get more Google reviews.
To do this, simply write an email asking for a review of the product or the shopping experience.
Here's a sample email series:
Email #1: The Purchase Follow-Up Email
The goal of this email is to check in on your customers to make sure everything's working well on their end.
You might not want to ask for a Google review right away. What if the customer is having issues? That could lead to a negative review.
In the first email, you can ask them for their satisfaction level by including a button that says "I love it!" and a button that says "It could be better," or something along those lines.
Here's what we mean: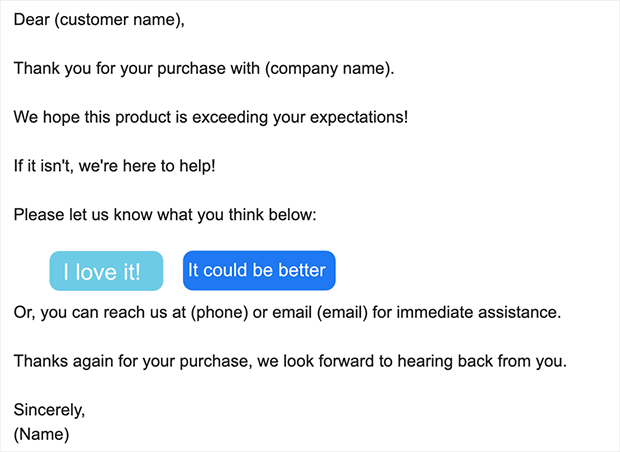 Email#2: Ask For a Google Review
The goal of the second email in this short series is to get a Google review if the customer responded that they were satisfied in email #1. You want to get to the point and include a clear call to action.
Here's an example:

Pro Tip: Want to know how to get more positive Google Reviews? If the customer wasn't satisfied, fix the problem first, then ask for a Google review again afterward.
Email #3: Thank the Customer
The customer has now not only purchased your product, but they've also taken the time to write a review. That definitely deserves a thank you, right?
Here's an example of a thank you email you might send:

The end of a thank you email should always have another type of offer to keep the customer interested.
This example offers to help with anything else the customer may need. In other cases, you could include a link to similar products, a link to your website, or even a link to where the customer can see their review.
5. Set Up an Automated Email Series to Get Reviews Effortlessly
Now that you know what to say in your email series, you'll definitely want to get things automated.
These email automation tools will help you get set up with an automated email process that will make it so easy to reach out to customers on just the right schedule to get the best results.
Most automation tools let you decide exactly when your emails go out. Plus, you can segment your email list to send different emails to customers who bought different products or services.
6. Ask for Google Reviews on Social Media
Do you have a business account on Instagram or Facebook? If so, you can use your social media platforms to get more Google business reviews.
For example, let's say you use a business Instagram account to market your products. When a customer from Instagram buys a product, reach out for a review on Instagram instead of via email.
It might feel more personal to the customer if you communicate with them on the channel where they found your product. Here's an example of a message you could send: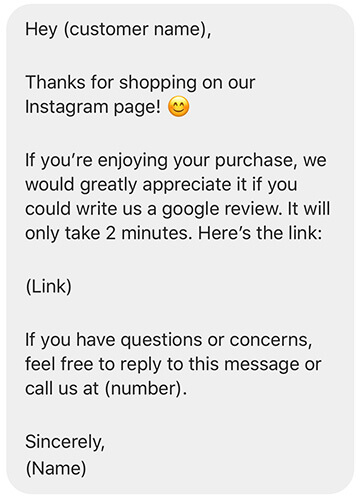 7. Use Review Generation Tools
Review generation tools like Yotpo help your business in gathering, promoting, and filtering reviews from your customers on websites like Google, Yelp, and Facebook.
It works like this: you send your contact list to the review generation tool and they automate a review process for you. They send review requests through email, SMS, and even video.
Here's an example of a review request email that Yotpo sends: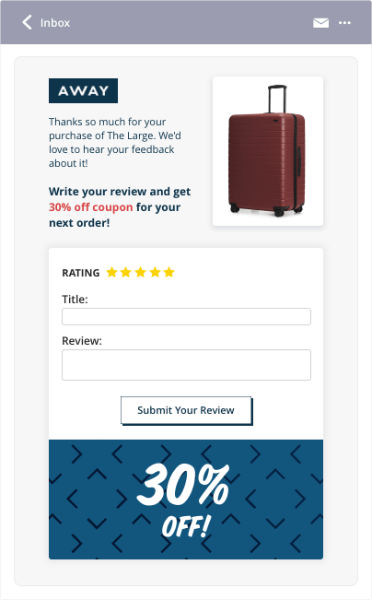 Most review generation tools offer real-time monitoring of your existing and incoming reviews, which lets you find out your customer's thoughts on your business and respond to any negative reviews.
Another great social proof tool that can really help you get more reviews is TrustPulse.
With TrustPulse, you can show off a notification to your visitors whenever you get a new Google review. Then, by adding the link to your Google reviews page in the Message Link field of your TrustPulse campaign, visitors can go check it out!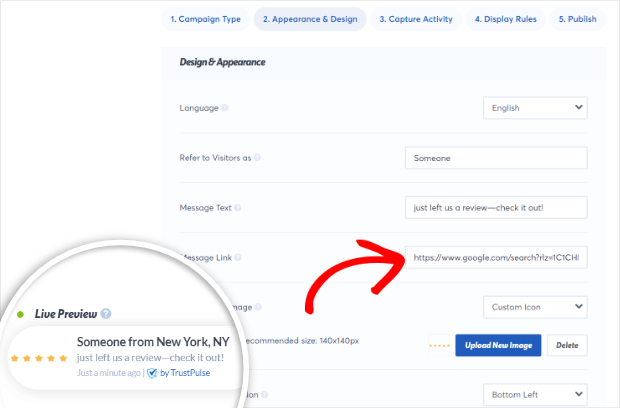 When customers see the reviews that other customers have left for you, they're more likely to do it too. That's the power of social proof for you.
It's important to note that review generation shouldn't be confused with fake reviews. Reviews are only valuable when they're honest and unbiased. Fake reviews are neither of those things.
Plus, if you're buying reviews or offering incentives for Google reviews without taking steps to address any customer issues, you're going to end up with many more real negative reviews. Our advice: don't offer incentives or buy reviews.
8. Handle Negative Reviews Gracefully
Negative reviews can hurt your business. Even worse? Answering negative reviews the wrong way. With 97% of shoppers reading a business's response to a review, you can't afford to ignore those negative ones.
Need help responding? We've got you covered with this guide to dealing with negative reviews.
Of course, sometimes just responding nicely won't be enough. That's why you should always follow-up with customers and take action to resolve their issue.
Being attentive and addressing the concerns raised in negative reviews might even convince the customer to go back and edit their negative review or delete it and write a better one.
It's also a great way to show potential customers that if they buy from you, they'll get great service if something goes wrong.
9. Use Popups With a Clear Call to Action
When a customer lands on your page, you can show them a popup that includes a call to action to leave a Google review about their last purchase.
Now, you don't want to show this kind of popup to just anyone landing on your site. You need to make sure only returning customers are seeing it.
But how can you be sure you're showing review popups to returning customers instead of new ones?
You need a lead generation tool. When it comes to targeting the right visitors at the right time, there's no lead generation tool that compares to OptinMonster.
Here's an example of the kind of popup you can make with OptinMonster using targeting features.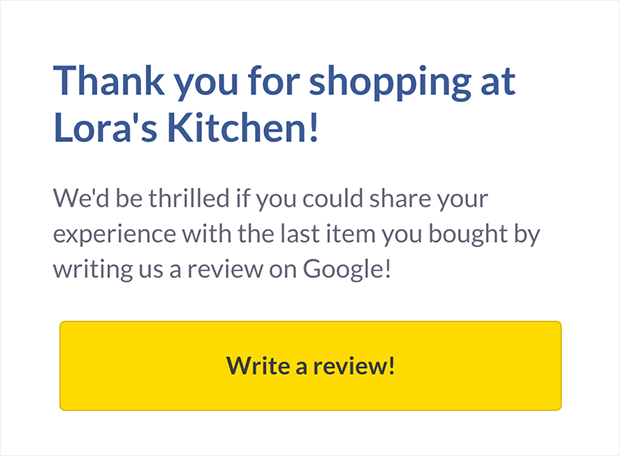 With OptinMonster, you can even insert your Google review link with the embed code and API so shoppers don't even have to leave your website to leave a review!
10. Ask for Reviews
It's true that delivering exceptional customer service is one of the easiest ways to get more Google reviews. If a customer is blown away with the service you provided, sometimes they'll write a review without being asked.
But to get the most Google reviews, there's no harm in asking. In fact, since 76% of customers are willing to leave a review when asked, you should definitely be asking. And you can easily use TrustPulse notifications to ask customers to leave reviews.
Yes, TrustPulse notifications are traditionally meant to create FOMO in users by showing real-time statistics. However, we've seen them used for other purposes as well.
Take a look at how HiFi Spin used the notification.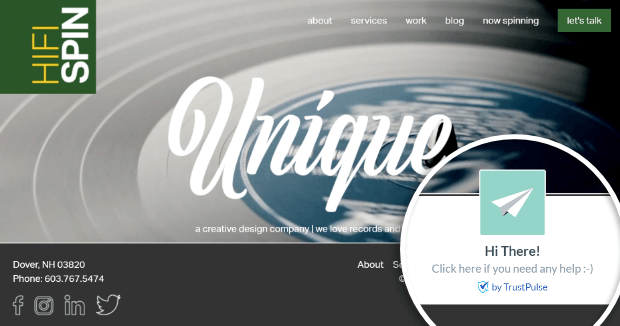 When the user clicks this notification, they're sent to a help form but you can use this style of notification to send your customers to Google review listings.
And you can use Trustpulse targeting features so the notifications only show to returning customers.
There you have it. By following the tips in this article, you'll get more Google reviews in no time.
Want more? Here's how to collect more customer testimonials across all platforms in 4 easy steps.