Are you looking to collect testimonials from customers but don't have the time to do all the work manually? Creating an automated testimonial collection process will let you work on other important parts of your business and collect testimonials at the same time.
Sounds good, doesn't it? In this article, we'll go over the best ways to create an automated testimonial collection process. Let's dive in.
Why Customer Testimonials Are so Important
Testimonials are a powerful way of using social proof to convert more visitors into customers. On top of making more conversions, testimonials also build trust and credibility. They help people feel comfortable with their purchase decisions.
And since 92% of people take time to read testimonials before making a purchase, you should definitely take time to collect them from existing customers.
But what if you're a small eCommerce business without enough time to reach out to customers one by one? Or, maybe you have so many customers that it'd be a full-time job just to contact them. If only there were a way to ask for, and collect, testimonials automatically.
Why Automate Your Testimonial Collection Process
Imagine if you could collect testimonials while you're sleeping. Does it sound too good to be true?
Well, that's automation in a nutshell. You can automatically send out email sequences so you're not stuck babysitting your email all day. Instead, you just write an email series and set up your automation rules.
Of course, you'll still need to do a bit of work like writing the emails and sorting through them after testimonials start coming in. Here's how to make it easy:
Step 1. Figure Out Where You Want to Post the Testimonials
Figuring out where you want to post the testimonials is crucial. For example, do you want the testimonials on your website, Amazon, or Facebook?
Whichever you decide, you'll need to include a link to those pages in your automated emails.
Once the user clicks on the link, it should go straight to where they need to be to leave a testimonial. Remember, the easier you make it for customers, the more likely they are to complete your call to action.
If you want customers to leave a review on your website, sending them to a landing page where they can write a testimonial directly on the page would be ideal.
WPForms is a great tool to collect testimonials. With WPForms, you can even add star ratings and customize your forms to include anything you want.
Here's an example of the kind of form you can make with WPForms.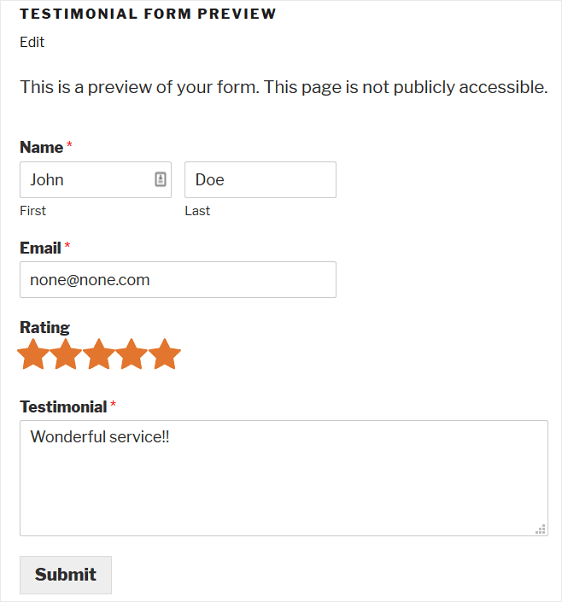 If you want to collect testimonials and reviews for Amazon, you'll want to send customers directly to the page to leave a review and not the page where they can view reviews left by other customers.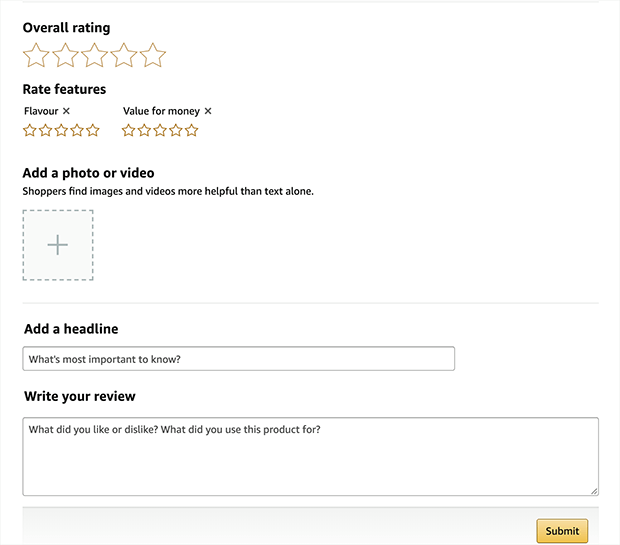 You should also add a request for testimonials to your business's Facebook page using a "leave a review" button that stands out from everything else on the page.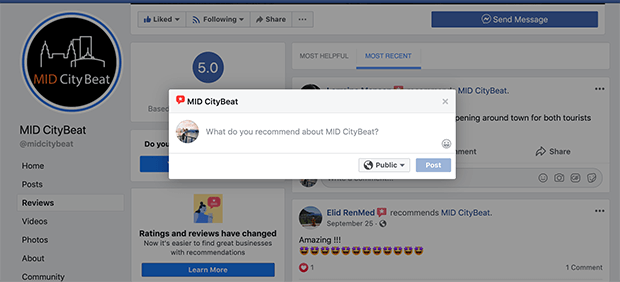 Step 2. Decide What Format You Want for Your Testimonials
Testimonials typically come in two different formats: video and text.
Text testimonials are always great. You can put them anywhere, and they're easier for the customer to make.
However, if you can get video testimonials, you'll get higher conversions since videos trigger more emotions and have a higher retention rate.
It's much harder to get a video testimonial since the customer has to put in a lot more effort. To help convince customers, you'll need to do the heavy lifting. Here are some things you can do to turn an "I don't know" into a "yes":
Offer to interview customers with your own camera equipment or edit the video yourself. That way, your customers will only need to talk and not worry about video editing or having the right equipment.
Show them great examples of other video customer testimonials so they have an idea of what they need. The examples don't need to be your own, but they should be similar to how you'd like them.
Offer customers an incentive to create a video testimonial. The incentive can be anything like a discount, a free tester, or a downloadable PFD.
Step 3. Create a Custom Post-Purchase Email Sequence
The post-purchase email sequence can easily be automated to help you collect testimonials without a ton of effort. There's really no better way to automate the collection process than through an email marketing sequence.
Your post-purchase customer testimonial email sequence is where you'll be asking customers to leave testimonials.
When someone purchases a product, they should automatically be put into this sequence using automation rules.
Email #1: The Follow-Up Email
Don't just ask for a testimonial as soon as the customer's credit card gets approved.
The first email should be sent out 3-7 days after the customer's first purchase. By now, the customer has gone through the entire buying process and has experienced your amazing customer service, the simplicity of buying your product. For digital products, they've had enough time to try out the product.
Also, in your email, don't only ask for a testimonial. What if the customer is having issues with the product? Along with a testimonial request, the email should ask if they have any questions and that you're there to help them if they need it.
By helping solve any issues they have first, customers are more likely to leave a positive testimonial (and praise your customer service as well).
Asking if they have questions is also a great way to gather feedback. In your follow-up email, you can structure it so that they can either leave feedback or leave a testimonial.
To send them to the right place, you could use a "satisfied" button and a "not satisfied" button or a smiley face and sad face. If the customer answers with satisfied, send them straight to where they can fill out the testimonial.
However, if they answer with "not satisfied," you'll need to send them another email to figure out what's up.
Email #2: Gather Customer Feedback
If the customer needs further assistance, they should be sent to a feedback form. Email #2 will be sent to customers who answered "not satisfied" in the first email. You can also easily create feedback forms with WPForms.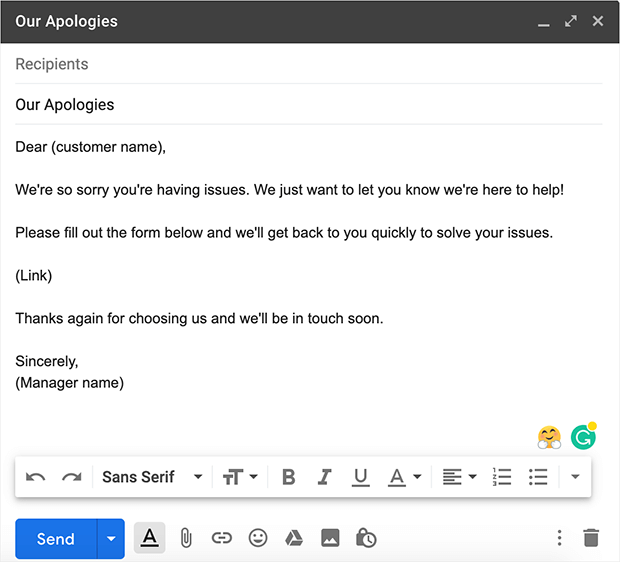 Email 3#: Retarget New Happy Customers
Once you've walked through the issues your customer is having, and everything is solved, customers should be sent another email only asking for a testimonial. If you've done an effective job at resolving their issues promptly, they'll hopefully be willing to leave a testimonial.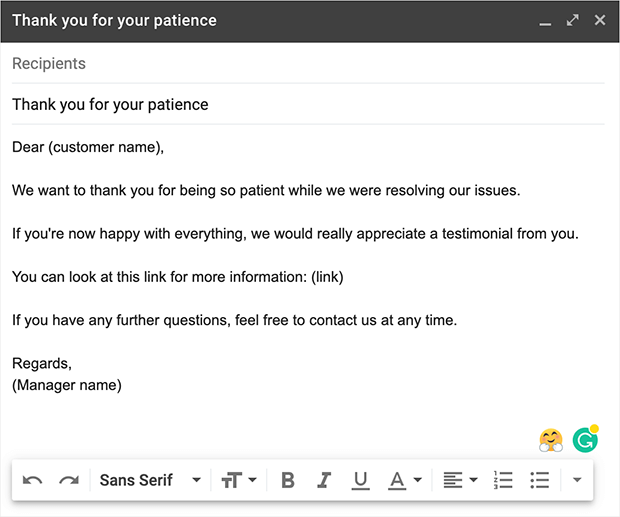 Email #4: Revisit Those Who Never Replied
The fourth email will be sent to those who never replied to email #1 or #3. This email should be set up to go out 30 days after the purchase. The goal of this email is to remind customers they've been asked to leave a review.
There could be all sorts of reasons customers didn't answer previous emails. Maybe they didn't get a chance to use the product yet, or they simply didn't open your email.
Sending another email 30 days after the purchase will give customers a bit more time to test out the product, and it will nudge those who perhaps missed the email in the first place.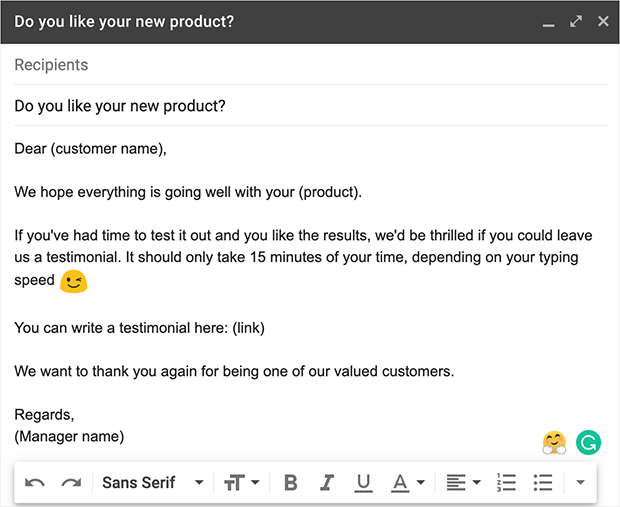 Email #5: Send an Email on a Special Occasion 
Any time there's a special occasion like an anniversary since the customer bought the product, send out an email letting them know you value their business, and you hope they'll keep you in mind forever. This is also a great way to capture customers who never bothered to answer your emails in the first place.
An anniversary can be 6 months to 2 years after the purchase. You just need to make sure that the customer is still using your product. Otherwise, it will be too irrelevant for them to create a testimonial.
Step 4. Post the Submissions on Your Website
This part of the process isn't automated. You'll need to go in manually and sort through the testimonials, edit them, then post them on your website.
For the best organization, it's a good idea to collect the submissions from your form through a separate email account. If you have a customer service team, you can direct all the submissions to their email to respond and post.
Responding to the customer's testimonial is the MOST important part of the testimonials collection process. Mail your customers a thank-you card, an email saying how much you appreciate them, or even offer them a gift of appreciation.
Automation Tools for Your Testimonial Collection Process
Automation doesn't just set itself up. Luckily, there are many services on the market that can help you create and automate the way you collect testimonials. Here are a few of our favorite tools to give you an idea of where to start.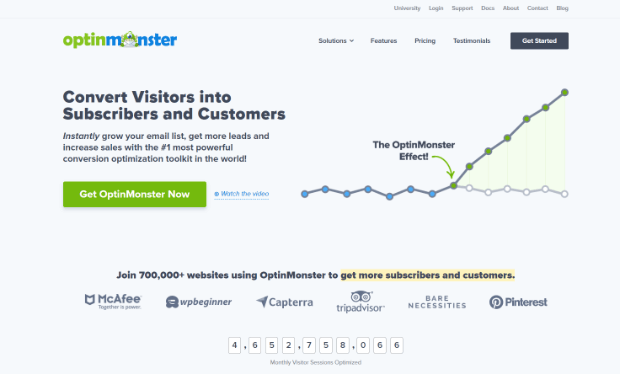 With OptinMonster, you can target customers returning to your site with follow-up campaigns and ask customers for a testimonial right on a popup. You can create targeted campaigns so you're not showing the popups to the wrong people.
Your OptinMonster popup can link to a landing page, a Facebook Page, Amazon, or wherever you wish to collect testimonials.
Plus, when you combine OptinMonster and WPForms, you can do more than simply ask for a testimonial. You can collect testimonials directly from a popup!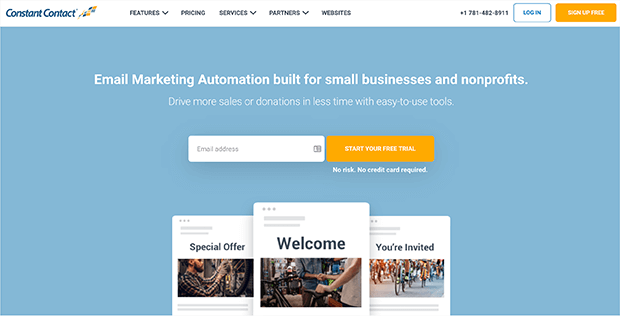 Constant Contact is an email automation tool that lets you customize your automation to the bone. You can pick the day, time, hour, and minute of when you want your emails to send. You can also segment your emails so they're reaching the right people at the right time.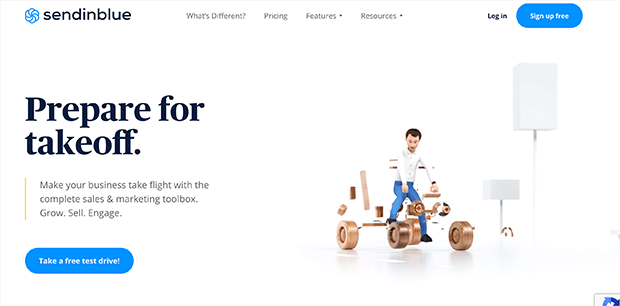 With Sedinblue, you can get the tools the big companies use at lower prices. Sedinblue makes it easier for you to automate your emails with machine learning-powered send-time optimization.
In your Sedinblue dashboard, you can organize all your contacts into different segments. If you have a huge email list, the organization feature will help you greatly.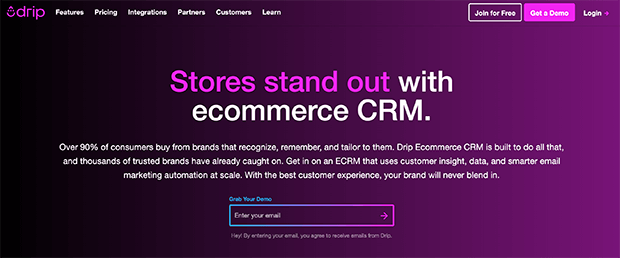 Drip mainly caters to eCommerce store owners. You can follow your customer's journey and automate emails not only through email but also in social media inboxes.
If a customer has bought something from you by finding your Instagram page, Drip will send them a message through Instagram messages. This is a great way to collect more testimonials by expanding your reach.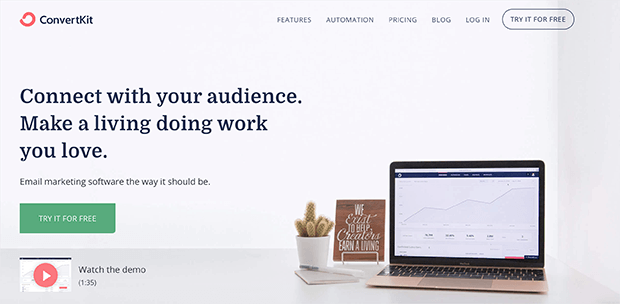 ConvertKit is a good overall email automation tool. They offer all the essentials to create a strong email funnel with a lot of rules to choose from, customization of a customer's path based on actions, targeted content, and segmentation of your email list.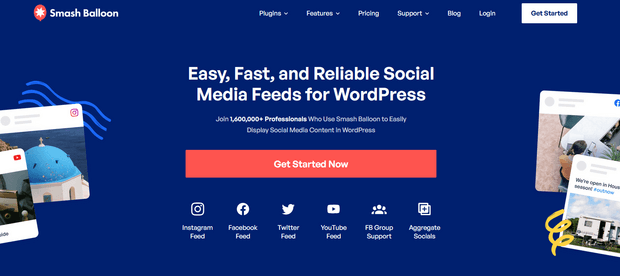 Smash Balloon is a bit different from the other tools on this list because it lets you collect social media testimonials automatically and display them on your website.
For example with Smash Balloon's Custom Twitter Feeds Pro, you can create a feed of tweets that mention your account and embed it anywhere on your WordPress site.
You can also display a YouTube playlist of video testimonials or embed a feed of Facebook reviews on your site.
This is the perfect way to keep your site automatically updated with reviews that already exist on social media.
Combine Social Proof and Testimonials to Increase Conversions
Testimonials are a great type of social proof that will help you increase conversions. But, if you want your conversions to skyrocket, you should add TrustPulse.
Trustpulse shows notifications that trigger FOMO (fear of missing out) at the bottom of the screen.
When visitors are on your page, they'll be able to see who has signed up, how many people are currently viewing a product, and how many people bought the product within a given amount of time.
When visitors see the notifications and testimonials, it helps simplify their buying decision. Here's an example of what TrustPulse's notification looks like.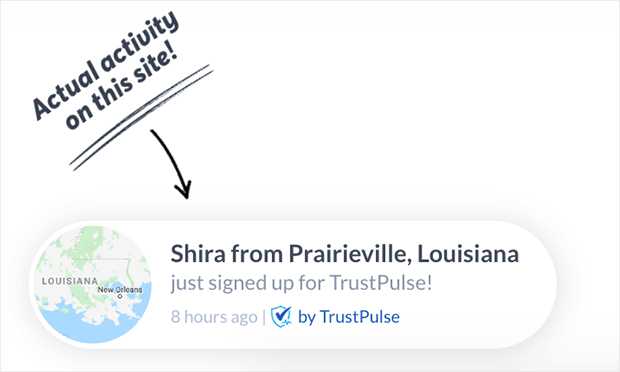 In the end, creating an automated customer testimonial collection process isn't too difficult. Yes, you need to do some work in the beginning to write the emails, then, once you get testimonials back, you'll want to sort through them and make edits.
But if you use the combination of emails in this article with an automation tool, you won't need to do anything between asking for testimonials and editing them.
This leaves you plenty of time to work on other important parts of your business, like signing up for TrustPulse. ?
Want more ideas on the kinds of testimonials you can collect? Check out this article showing 9 different types of testimonials you can use!