Ever wonder why you're not getting as much customer feedback as you'd like? Or maybe the feedback you're getting sounds more like "it was alright" rather than "it was amazing?" Well, it's possible that you aren't taking the right steps to an effective customer feedback strategy.
In this article, we take you through the 10 steps to creating an awesome customer feedback strategy.
Why Is a Customer Feedback Strategy so Important?
Before we get to the steps, you should know some reasons why having a solid customer feedback strategy is a game-changer for your business.
Basically, a customer feedback strategy is the holy grail to improving your brand quality, gaining more traffic, sales, and more buzz about your company now, and in the long run.
Customer feedback can come in the form of reviews, surveys, star ratings, polls, private emails, and more. You can use the feedback specifically for social proof reasons: to encourage other people to use your product. Or, to learn about where you can grow as a business.
Also, did you know that customer feedback can help guide your SEO? That's right, a well-written review with certain keywords and phrases can make you appear in more Google searches and gain you more customers.
In short, without a customer feedback strategy, you'll never be as successful as you could be.
Now that you know why it's so important, let's go over the steps you can take to create a customer feedback strategy of your own!
1. Reach Out to Customers
The reality is unless your customer either had an amazing or horrible experience with your company, there's not much chance of them leaving any kind of feedback. Plus, people are busy and forget about little things like this that help your business so much.
So don't be shy about reaching out to them. Send your customers an email with a link asking for feedback, give an option to leave a star rating, or set up a survey with your survey software.
Here's a customer feedback email from OptinMonster, which provides a link to a short survey: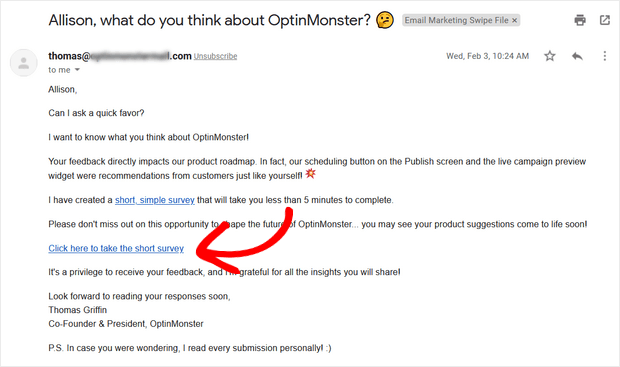 When users click on the link, they're taken to a conversational form they can fill out.
Conversational forms present 1 question at a time. This makes the form more engaging and less overwhelming, which will improve your form completion rate.
You can easily create your own conversational feedback form with WPForms.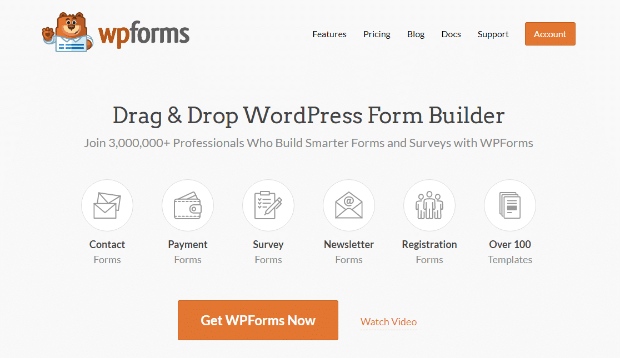 WPForms offers an easy-to-use drag and drop builder, so you can create a conversational customer feedback survey in no time. You can add a logo to your form, choose the colors, pick from different progress bar styles, and much more.
2. Give Great Live Chat Support
When customers have questions, they want answers fast. Having live chat on your website is a great way to answer these questions, and live chats have the highest customer satisfaction levels of 73%.
That's way more than email (43%) and phone (44%).
You can use live chat to get closer to your audience, as well as find out if you need to change something on your website.
For example, you may find that people often ask where the checkout button is. This probably means the checkout button isn't clearly visible and you should change the colors or text.
If your live chat software lets you record conversations, you can send those recordings to your customers via email so they always have a record of your answer.
3. Call or Follow-Up with Your Customers Regularly
Imagine your waiter brings your food but forgets your cutlery and never comes back. You wouldn't be a happy customer, would you?
That's why having a follow-up plan is important. You're not just checking on how your product is performing, but you're also letting the customer know you care about them.
In other words, consistent and thoughtful follow-ups are one of those little touches that go a long way.
Your follow-up doesn't have to be long or extremely detailed. A simple text-only email to thank a new customer or provide additional details would be just fine.
Here's an example of a simple but effective follow-up email from WPForms: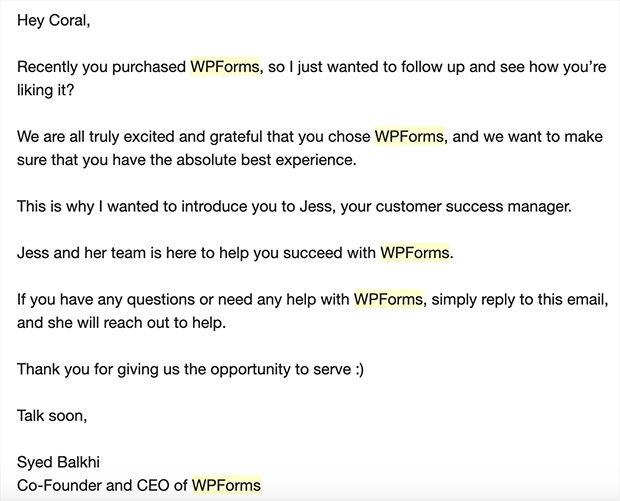 4. Create an Online Community for Higher Engagement
Creating an online community is a great way to get feedback! Of course, in order for it to work, you'll need to be active and present in the community.
Having a designated moderator who can start conversations and threads, post new content, and moderate existing conversations would be ideal.
You can encourage community members to share their experiences, stories, pictures, and videos of your products. And not only will they learn more about your products, but you can learn a lot about your potential customers, too.
A community is usually a place where customers will ask questions to each other. You can use this to find out what you're customers are thinking and build trust by swooping in and answering questions yourself.
Moz has a huge community where members can participate in conversations, join conferences, and vote for questions.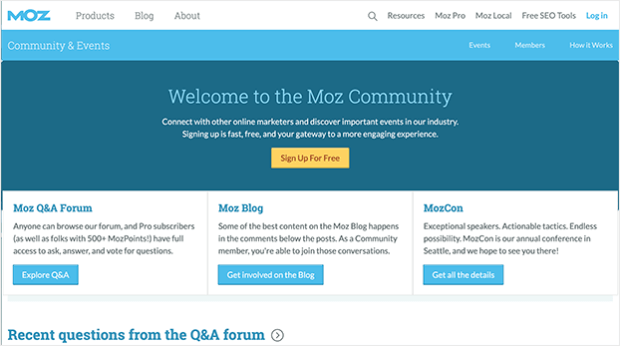 5. Proudly Display Positive Customer Feedback
When you display customer feedback on your website, you're using social proof. The concept of social proof suggests that after your customers see reviews from others, they'll feel more comfortable leaving a review, too.
So go ahead and display the feedback you're most proud of. Customers love to see that you value their thoughts and appreciation. Also, customers who consider leaving a review will know that if they do, it won't go unnoticed.
Make sure to update these reviews regularly so you're including new customers all the time.
Here's how SeedProd showcases its best customer reviews on a testimonials page: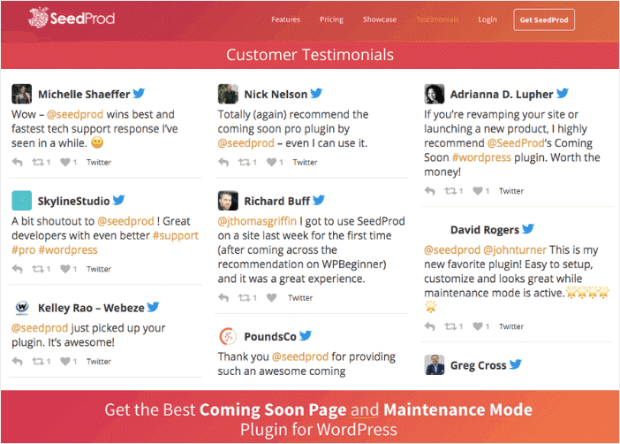 You can easily create a testimonials page like this using Smash Balloon, it's the best social media feed plugin for WordPress.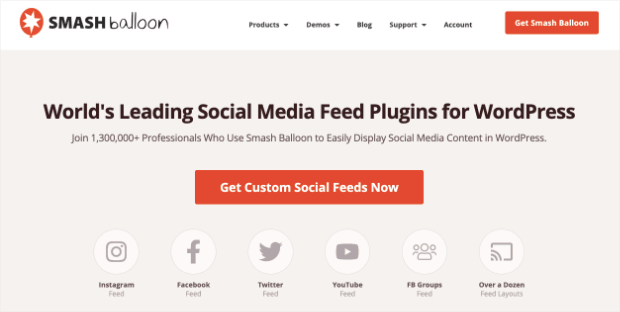 With Smash Balloon, you can keep your website automatically updated with testimonials and reviews from social media.
For example, you can:
Create a feed of tweets that mention your account.
Display a YouTube playlist of video testimonials.
Showcase a feed of Facebook reviews on your site.
Create an Instagram hashtag feed to show user-generated content.
The best part? The feeds are completely customizable and it's easy to control what content you want to display.
That means you can create a feed of social media reviews that puts your company in the best light possible.
6. Check Social Media Frequently
If someone is complaining about your business on social media, wouldn't you want to be the first to address it?
Leaving a negative comment unaddressed for weeks doesn't look good on your company. And, if you could have resolved that user's problem before other users decided to leave negative comments as well, wouldn't you be kicking yourself?
Checking social media channels is a great way to pick up on feedback. However, it would be hard to catch every comment about your brand.
Luckily, there are many tools like Brandwatch and Mention that alert you when your brand's been mentioned so you can be the first to acknowledge a kind comment or resolve a negative one.
7. Ask for Feedback at the Right Time
Knowing when to ask for feedback can be tricky. You want users to have enough time to use the product and be able to give accurate feedback, but you don't want to wait long enough that they can't remember their first experience with your company.
The best time to ask for feedback is right after the purchase.
Present your customers with a popup that says they'll get a discount on their next purchase if they leave feedback. Also, let them know that it will only take a minute.
Making a popup like this is really easy with a tool like OptinMonster. The popups are fully customizable so you can match the popup with your site's branding and create any kind of text you want.
Here's an example of the kind of popup you can create with OptinMonster: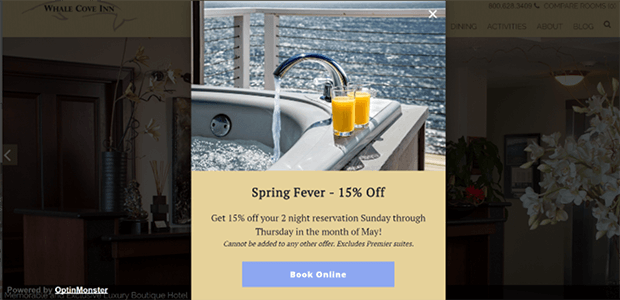 8. Use an Autoresponder
You can use autoresponders for a number of reasons. Here are just a few fun ways to use autoresponders to encourage customer feedback:
Create a follow-up sequence so customers receive an email about 7-10 days after their purchase. In that email, you can ask for feedback or a review.
Set up a welcome email series, which helps customers feel appreciated, showcases your brand, and prompts them to take the next step (like giving you feedback).
Turn a frown upside down by responding to a support email to let your customer know you're working on it, that you've resolved the issue, or by asking if you've done a good job. That last question could easily have a "please leave us feedback" button under it.
Make sure to personalize these emails by adding the person's name, highlighting mutual connections, and, of course, including the right birthday dates. You'll probably have a different closing when you use different examples, so rewrite as needed.
9. Offer an Irresistible Incentive
You can offer a lead magnet like a discount, free shipping, free samples, gift cards, anything. This is a great way to turn average feedback into amazing feedback.
Here are a few steps to successfully doing this:
Package the bait: What are you offering that customers can't get anywhere else?
Mention the savings: Let your customers know exactly how much they'll be saving by showing the original price vs. the new price with the discount applied.
Offer the incentive: This is where the customer will think "ah, why not?" Make sure the incentive is something they're interested in or related to the purchase they just made.
Create a sense of urgency: You can use a countdown timer or words like "limited time offer" to get their feedback on the spot.
Telus sent an email to their customers asking them to fill out a survey in return for a chance to win a $100 prepaid visa.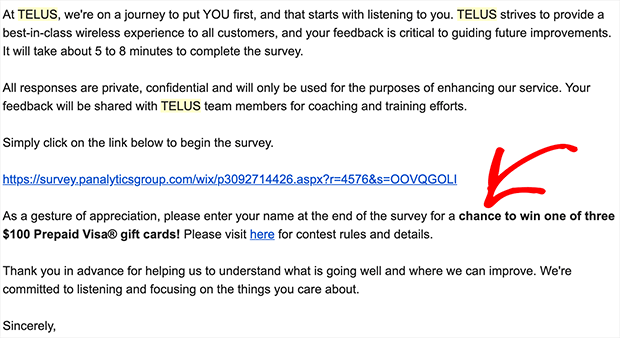 10. Build and Nurture Customer Relationships
Last but not least, building and nurturing relationships with your returning customers is key.
Returning customers are the people you want to keep close because they're the ones who are going to rave about your business to friends and family. They'll also be the most honest when leaving feedback since they want you to succeed.
Here are some ways to build relationships with your customers and collect awesome customer feedback:
Follow-up often
Send unexpected extras with deliveries
Nominate a "customer of the month"
Give them shout outs on social media
Display their testimonials
Personally greet them in emails
Those are just a few ideas, but the options are endless. And, remember to always say "thank you."
You can easily create a thank you page to make your audience fall in love with you by sharing things like videos, testimonials, and coupons.
In the end, getting customer feedback is really easy. You just need to find out how to collect feedback in a way that works best for your website and customers.
If you follow all of the steps outlined in this article, you'll be well on your way to a customer feedback strategy that rocks. But, be sure to experiment to figure out what works best for your particular brand.
Customer feedback is just one way to use social proof to increase conversions. If you want to get an instant lift, you should use a tool like TrustPulse.
With TrustPulse, you can use real-time event tracking, targeting to show notifications to the right crowd, and display on fire notifications to demonstrate how many people bought a product within a certain time, and more!
Get started with TrustPulse today—it takes under 3 minutes.