Are you looking to create a customer feedback program that works?
Without customer feedback, you may never know where you can improve, what works in your business, or what your customers feel about your brand.
As your business grows, it will get even harder to reach out to every customer one-on-one. So, how can you still keep track of how your customers feel without giving up too much of your time?
That's why in this article, we'll walk you through the 9 steps to create an automatic customer feedback program that works.
Why Is Customer Feedback Important?
Before we get to our step-by-step guide to creating a successful customer feedback program, let's look at why customer feedback is so important.
Customer feedback is like a flashlight when you've lost power at night. If you aren't using a flashlight in the dark, you'll trip over something you never knew was there (and stub some toes in the process).
The same goes for your business. How do you know there is an issue ready to trip you up unless you have that flashlight to shine on it?
Customers can help you figure out what isn't working in your business. From the user experience of your website or app ranging all the way to customer support and beyond – you need feedback to improve.
Pro tip: By asking customers to leave positive feedback online, you can boost your
social proof
and drive more traffic to your site.
But, it's one thing to check in from time to time with your customers. Finding a way to get regular feedback keeps you in touch with the constant changes to your customers' needs.
In fact, it's that regular check-in, feedback, action, and follow-up loop that transform regular customers into loyal customers.
In short, without a customer feedback strategy, you'll never be as successful as you could be.
Now that you know why it's so important, let's go over the essential parts that you'll need to create a customer feedback strategy of your own!
9 Important Parts of a Successful Customer Feedback Program
Count this as a bonus tip: Before you start creating your own program, there are 3 questions you should answer:
How will you prioritize the feedback? Let customers tell you what is important to them, but let your support teams have input here as well.
What will you do with the data? It's one thing to collect the data, but what you do with it is what really matters here.
What do you hope to gain by collecting data? It's OK to have a lot of goals here. But figuring out what you wish to learn will help you frame your questions.
By answering those questions, you now have the right framework to get started. So, let's dive right in.
1. Timing Is Everything
Knowing when to ask for feedback can be tricky.
So, how do you know when to ask for customer feedback? After all, you want people to have enough time to use the product and give accurate feedback. But, on the other hand, you don't want to wait long enough that they can't remember their experience with your company.
The best time to ask for feedback is immediately after interaction with your company.
Did they reach out to your support team for help with a product? Ask for feedback.
Did they just buy a product? Ask for feedback.
Their experience will be fresh in their minds when you ask for their immediate reaction. So you'll likely get more honest and open responses this way.
And if their experience was negative, you can respond even more quickly to help fix whatever went wrong.
For example, take a look at this survey popup from Kennedy Blue, a bridesmaid dress shop.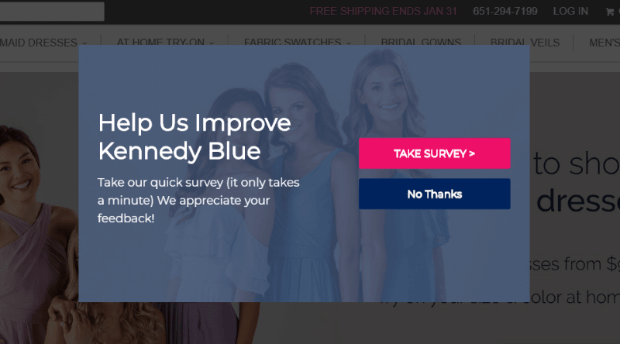 This survey asks their customers for feedback while still on their site. That makes their feedback current and well-timed.
Plus, it fits with their brand and is eye-catching.
If you'd like to make your own survey popups, we recommend OptinMonster.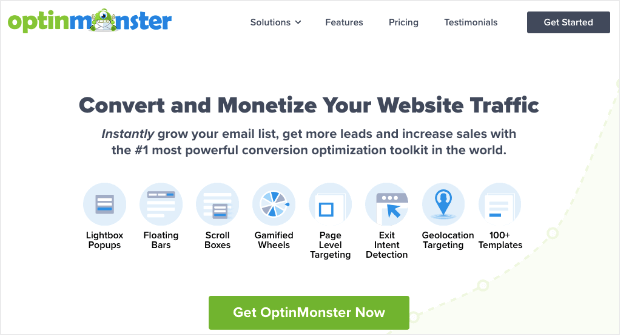 OptinMonster allows you to quickly and easily create popups for your website.
With a beginner-friendly designer and over 50 templates, you can have your own survey popups on your site today!
Not to mention, OptinMonster's powerful display targeting rules make sure that you are showing your survey at precisely the right time.
Remember that example we showed you from Kennedy Blue? That was actually created with OptinMonster.
Want to see it in action for yourself? Get started with your 100% risk-free OptinMonster account today!
2. Reach Out with a Customer Feedback Survey
The reality is that most customers only reach out to you if they had an amazingly great or absolutely terrible experience.
If they land in the middle, customers usually don't leave feedback – unless you ask.
That's why you need to reach out to them. Send your customers an email asking for their thoughts or a rating on their experience with your business.
Here's a customer feedback email from OptinMonster, which provides a link to a short survey: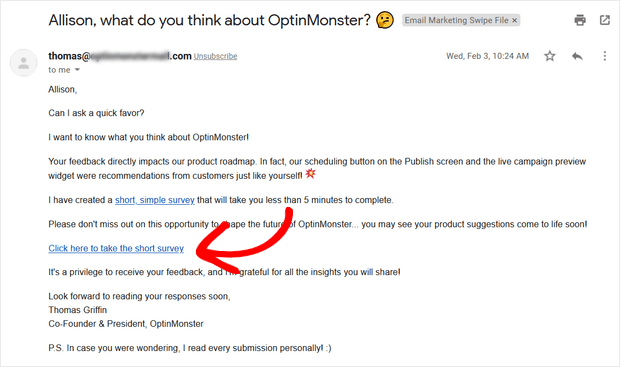 When users click on the link, they're taken to a survey that asks for their feedback.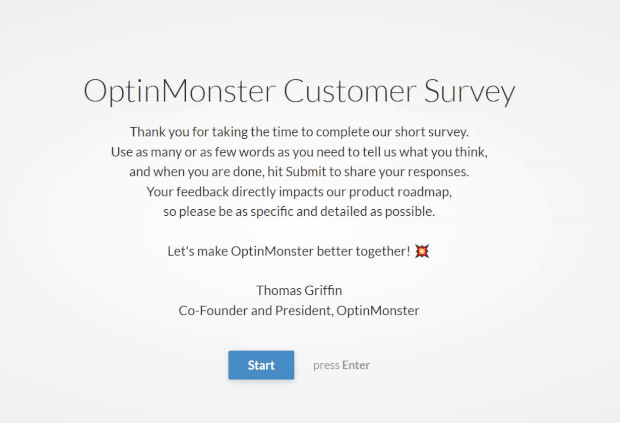 This type of survey is very useful in getting feedback.
There are different types of questions: number rating, multiple-choice, and open-ended. As you can see, the survey presents one question at a time. This keeps the person filling it out focused and engaged without feeling overwhelmed.
Together, this means higher completion rates.
If you want to create your own customer feedback surveys, we recommend WPForms.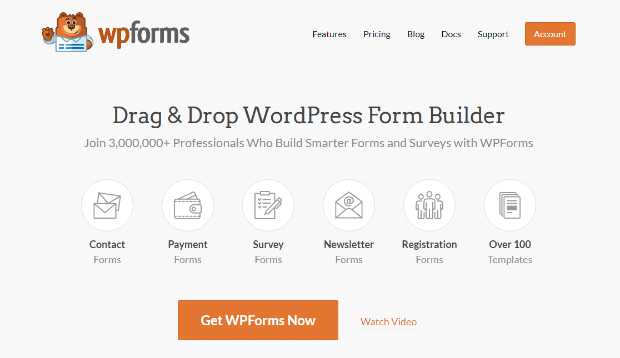 WPForms offers an easy-to-use drag and drop form and survey builder that gives you the power to create your own surveys.
The surveys are 100% responsive, so you know it will look great and produce results, no matter what device your customers use.
No matter what kind of survey you want to send (star ratings, number scales, multiple-choice, and more), you can create it on WPForms.
Plus, you'll have access to all the data in beautiful, interactive, and easy-to-understand reports. That way, you can get right to analyzing and acting on the data.
Ready to create your own surveys? Click here to get started with WPForms today!
3. Use Live Chat Support
When customers have questions or are facing any issues, they want help fast.
Chances are your customers will look to live chat for help. In fact, 46% of customers prefer live chat for digital contact. That's compared to only 29% of customers that prefer email and 16% reaching out on social media or forums.
With only around 9% of companies using live chat on their website, that's definitely a way for you to get ahead of your competition.
Live chat is an excellent way for you to help your customers. But, it's also a way to gather feedback.
By tracking your conversations, you can find hot button issues that give your customers headaches. Then, you can put fixes in place right away.
For example, you may find that people often ask where the checkout button is. This probably means the checkout button isn't clearly visible, and you should change the colors or text.
Most live chat apps, like LiveChat Inc, let you set up autoresponders to help troubleshoot or handle more frequently asked questions and issues for you.
That way, your time is free to focus on other things.
4. Follow Up with Your Customers Regularly
Imagine: your waiter brings your food to the table but never returns to check on it. You ordered your steak medium, but it came out well done. The waiter never comes back.
You wouldn't be a happy customer, would you?
Having a follow-up plan as part of your customer feedback program is crucial.
With a follow-up program, you're not just checking how your product performs. You're also letting the customer know you care.
After all, something that was fine to start (after all, your appetizer and drinks were terrific) may have something go wrong later. If you don't check-in, how would you know?
In other words, consistent and thoughtful follow-ups are one of those little touches that go a long way.
Your follow-up doesn't have to be long or extremely detailed. For example, a simple text-only email to thank a new customer or provide additional details would be just fine.
Here's an example of a simple but effective follow-up email from WPForms: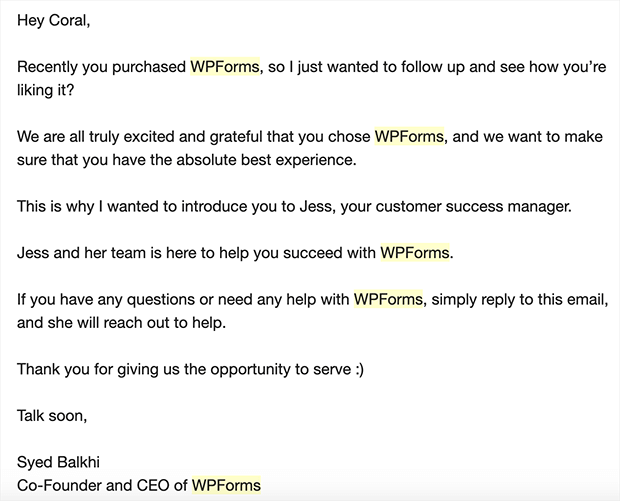 Most email service programs have tools to help you automate emails just like this. That way, you can craft a follow-up email once and then set them to email to your customers.
With automation rules, you can put your follow-ups on autopilot. So even if few customers respond, they will still see that you made an attempt and that you are there if they need it.
Looking for an email service provider? Check out these reviews from OptinMonster on several popular email providers to see which one works best for you.
5. Check Social Media Frequently
There are more than 3.5 billion active users on social media. So chances are, your customers are too.
And if something is wrong with your product or business, they are likely talking about it on social media.
Plus, 1 in 3 people check social media when looking for information on a product.
Can you see why it's vital that you frequently check social media? If talk about your company or products is negative, then that is potentially driving away 1 out of every 3 people.
By checking social media channels for mentions of your brand, you can get a great feeling for the pulse of your customers. In fact, it's a great way to pick up on feedback.
Luckily you don't have to waste time scouring every social media platform for mentions of your brand. Many tools like Brandwatch and Mention alert you when your brand's been mentioned. Then, you can be the first to acknowledge a kind comment or resolve a negative one.
6. Use an Autoresponder
We get it. You are very busy and can't dedicate every minute to a customer feedback program or customer care.
But you also want your customers to know that you genuinely care.
And that is where autoresponders and automation come in.
You can use autoresponders and automation for many tasks. Here are just a few fun ways to use autoresponders to encourage customer feedback:
Create a follow-up sequence in your email program that emails customers about 7-10 days after purchase. In that email, you can ask for feedback or a review.
Set up a welcome email series that helps customers feel appreciated, showcases your brand, and prompts them to take the next step (like giving you feedback).
Turn a frown upside down by sending an autoresponder to support emails. First, it can let customers know their email has been received and when they can expect a response. Then, when the ticket is closed out, you can have an automated email sent to ask for feedback on their support email.
Make sure to personalize these emails by adding the person's name and any other information you might collect. You'll probably have a different closing in various situations, so rewrite as needed.
7. Offer an Irresistible Incentive
Sometimes, you have to sweeten the deal when asking for reviews and surveys.
So, offer a lead magnet like a discount, free shipping, free samples, gift cards, or anything like that to entice your customers to give their feedback.
This is a great way to turn average feedback response rates into amazing feedback response rates.
Here are a few steps to successfully doing offering incentives:
Package the incentive: What are you offering that customers can't get anywhere else or is of high value?
Mention the goal: Be open with your customers and tell them why you are collecting feedback and what you will do with the information.
Offer the incentive: This is where the customer will agree to provide the feedback you asked for. Make sure the incentive is something they're interested in or related to the purchase they just made.
Create a sense of urgency: You can use a countdown timer or words like "limited time offer" to get their feedback on the spot.
For example, Telus sent an email to their customers asking them to fill out a survey in return for a chance to win a $100 prepaid visa.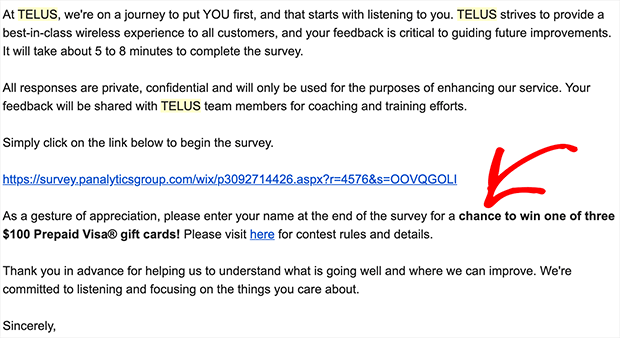 You can use your email provider to craft and send these emails. Or, maybe you want to use OptinMonster to display it as a popup on your site?
Either way, offering incentives are a great way to get more feedback.
8. Proudly Display Positive Customer Feedback
We've already talked about how the importance of checking social media.
But what do you do when you find happy customers online?
Like a parent that proudly frames their child's artwork at home, you should do the same to positive social media posts.
When you display customer feedback on your website, you're using what is known as social proof. The concept of social proof suggests that after people see positive reviews from others, they'll feel more comfortable buying from you.
So, go ahead and display the feedback you're most proud of on your site. Customers love to see that you value their thoughts and appreciation.
Also, customers who consider leaving a review will know that it won't go unnoticed if they do.
Make sure to update these reviews regularly, so you include new customers all the time.
Here's how SeedProd showcases its best customer reviews on a testimonials page: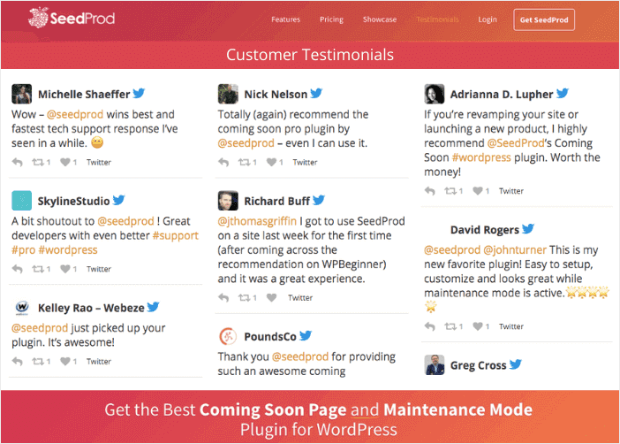 You can easily create a testimonials page like this using Smash Balloon; it's the best social media feed plugin for WordPress.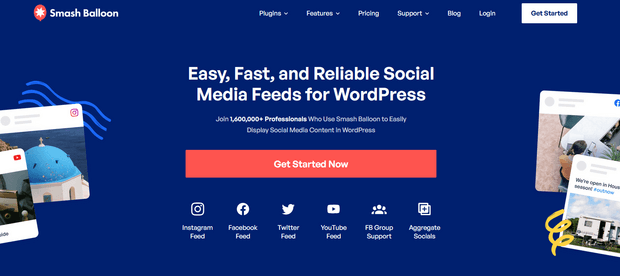 With Smash Balloon, you can keep your website automatically updated with testimonials and reviews from social media. For example, you can:
Create a feed of tweets that mention your account.
Display a YouTube playlist of video testimonials.
Showcase a feed of Facebook reviews on your site.
Create an Instagram hashtag feed to show user-generated content.
The best part? The feeds are completely customizable, and it's easy to control what content you want to display. That means you can create a feed of social media reviews that puts your company in the best light possible.
Start highlighting social media content with Smash Balloon today!
9. Build and Nurture Customer Relationships
Every other step in this customer feedback program is about one core idea.
Building and nurturing customer relationships.
Your returning customers are the people you want to keep close because they're the ones who are going to rave about your business to friends and family. They'll also be the most honest when leaving feedback since they want you to succeed.
Here are some ways to build relationships with your customers and collect fantastic customer feedback:
Follow-up often
Send unexpected extras with deliveries
Nominate a "customer of the month"
Give them shout outs on social media
Display their testimonials
Personally greet them in emails
Those are just a few ideas, but the options are endless. And, remember to always say "thank you."
You can easily create a thank you page to make your audience fall in love with you by sharing things like videos, testimonials, and coupons.
And that's it! Those are the 9 important parts of a successful customer feedback program.
In the end, getting customer feedback can be really easy. You just need to find out how to collect feedback in a way that works best for your website and customers.
We hope this tutorial has helped you set up a super successful customer feedback program.
If you liked this post, then you may also want to see:
These articles will help you make your program even more successful with tools and tricks to increase trust and simplify your feedback program.
And if you're interested in boosting your conversions and sales quickly and effectively, you should check out TrustPulse! It's proven to increase conversions by up to 15% instantly.
Sign-up for your 100% risk-free TrustPulse account today!