Do you want to collect customer feedback to improve your business?
Form builders help you create easy-to-fill forms that customers can use to quickly leave feedback about your business or service. And if you want to collect as much data as you can from customers, you'll need marketing tools to help you do that.
In this post, we've listed the best form builders and complementary tools to gather customer feedback.
Here's a table of contents of what we'll be covering today:
Before anything, though, let's get clear on why you should use a customer feedback form builder tool in the first place.
Why Use Customer Feedback Form Builder Tools?
The best way to keep customers happy is by listening to them. A customer can provide valuable insights into your business that you simply can't get on your own.
And learning their experience and opinions about your business can help you be more successful.
Most customers may not take the time to let you know about their experience unless you ask them for it. And the best way to do that is by using form builders and marketing tools.
You'll be able to identify happy and unhappy customers and improve your customer journey–not to mention your product/services. This will reduce churn and help you reach your business goals faster.
Now, let's jump into the top customer feedback form builder tools we've picked for you.
Best Form Builder Tools to Gather Customer Feedback
Customer Feedback Form Builder Tools
We've listed out the best form builder tools you can use to create customer feedback forms in minutes. We also show you how you can create a feedback form and integrate it with your email marketing service so you can ask for feedback through emails as well.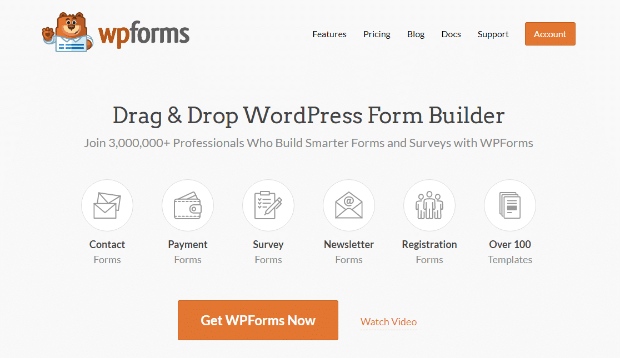 WPForms is hands down the best form builder in the market to collect customer feedback.
When asking customers for their reviews, ratings, and opinions, WPForms is your #1 go-to tool.
You can create beautiful forms in minutes using the readymade templates. And it lets you customize everything about the form with its drag and drop builder.
It works with all WordPress themes and page builders, so you can also match it to your website's design. Plus it comes with powerful features like conversational forms and form-only mode that help draw the focus of your customer to increase form completion rates.
Features
Tons of templates to get started
Email marketing integrations
Easily embed form on sites and in emails
Built-in spam protection
Responsive mobile-friendly forms
Instant notifications for you and your team
Manage customer feedback entries in one place
Cost
There's a free version available. Pro plans start at $39.50 per year and come with a 14-day money-back guarantee.
Get started with WPForms today!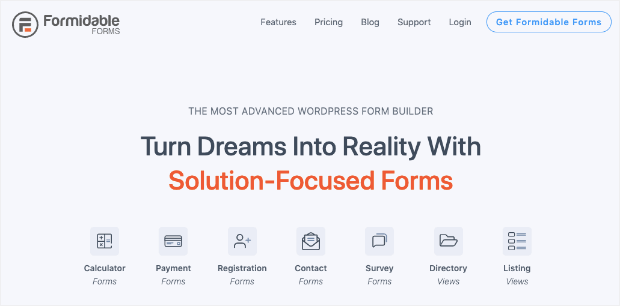 Formidable Forms lets you build advanced forms for WordPress sites.
It focuses more on professional website developers and has more complex features.
You can also buy add-ons separately to add more features and functionality to your feedback forms. It has a free version that's perfect for small websites, but the tool becomes expensive as you grow.
Features
Create all sorts of forms including customer feedback and surveys
Drag and drop form builder
Tons of templates that are easy to customize
Auto-populate fields with saved data
Cost
There's a lite version available for free. Premium version cost $99 – $399/year.
Check out Formidable Forms today!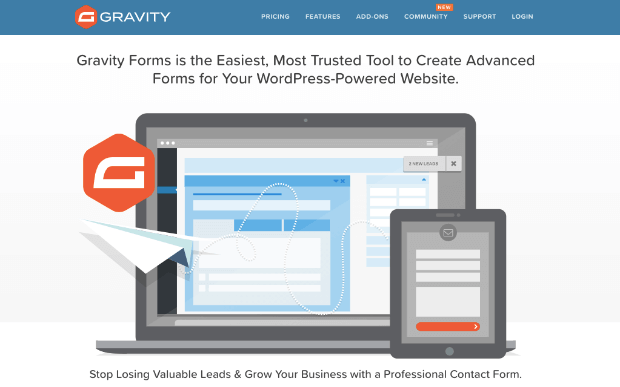 Gravity Forms is a paid form builder plugin that's quite popular on the market. It lets you easily create customer feedback forms and surveys. And you can also add quizzes to make your feedback forms more interesting.
Gravity Forms has an 'upload file' feature. This gives your customers an opportunity to show you the product they've received and provide proof of their review or complaint.
Features
Powerful drag and drop builder
Conditional logic
Multi-page forms
Allow customers to upload files
Cost
There's no free version available. Plans start at $59 per year.
Check out Gravity Forms today!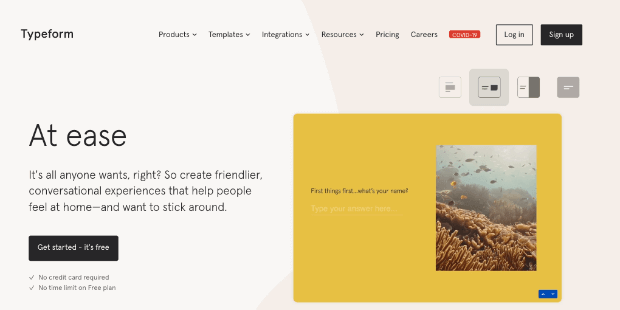 Typeform lets you create forms and surveys to be used as an alternative to WPForms for non-WordPress sites.
It comes with conditional logic so you can ask the right follow-up questions instead of leading customers to unnecessary ones.
You can also make your customer feedback surveys feel more interactive.
Typeform gives you a shareable link so you can use it on any platform. This makes it one of the most versatile and flexible form building tools on the list.
Features
Ready to use templates
Build forms in minutes
No coding needed
Embed forms on your site, email, or get a shareable link
Integrates with popular apps and services
Cost
A free version is available but will bear the Typeform branding. Paid versions start at $35 per month.
Customer Feedback Form Marketing Tools
Creating a customer feedback form is the easy part. Getting customers to actually fill them out can be challenging. And tracking and managing your form entries can become messy, too.
But with the right tools, you can make sure you get the most out of your feedback form campaign.
These tools complement your feedback form and help you:
Promote your customer feedback forms
Maximize form entries and data collection
Ensure feedback emails are received
Get data and analytics from your form campaigns
Having said that, let's check out the top form builder marketing tools.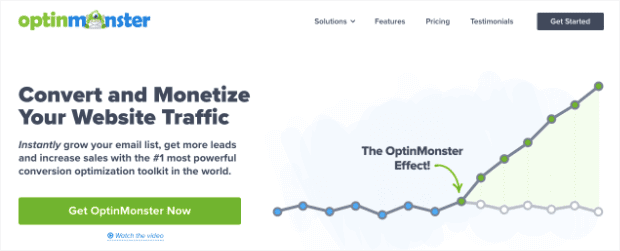 OptinMonster is the most powerful lead generation tool for websites.
It lets you create all sorts of campaigns to promote your feedback form including popups, slide-ins, and inline forms.
It comes with powerful targeting features so you can display campaigns based on where, when, and who is most likely to leave you feedback.
So, for instance, when a customer has completed their purchase and is about to leave your site, you can trigger a popup asking a customer to leave feedback on their shopping experience.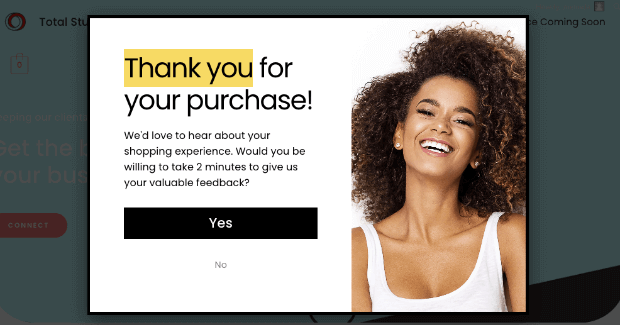 You can even embed the feedback form directly into the OptinMonster campaign.
To do that, when you're creating an OptinMonster campaign, you simply need to add an HTML block and paste the WPForms shortcode in it.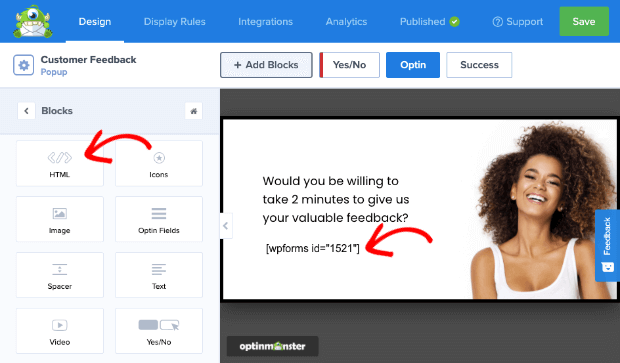 You can find the shortcode for your feedback form in the WPForms dashboard against the form name.

Once you add the shortcode, the form will display inside the popup or inline form, so customers can fill out their feedback on the same page. This improves user experience as they don't need to visit a new page to fill out the form.
Features
9 campaign types including slide-ins, floating bars, popups, inline forms, scroll boxes, and more
50+ templates to create stunning feedback campaigns
Easy customization with a drag and drop builder
Powerful targeting features to trigger feedback forms based on activity, interest, location, and behavior of customers
Integrates with popular email service providers
Cost
Starts at $9 per month (billed annually).
Get started with OptinMonster today!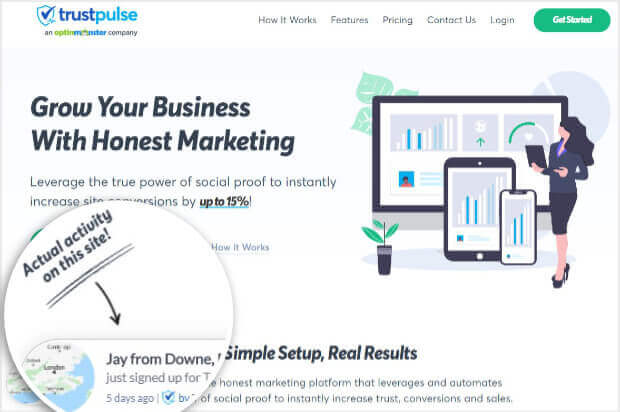 TrustPulse is the best social proof app on the market. It captures recent activity such as when someone fills out your feedback form. Then TrustPulse displays the activity in these non-intrusive popups.

This encourages your site's visitors to also leave you feedback as they see others are doing the same. And the popups are clickable so you can link them to your feedback form page.
You can also create and display static messages to ask customers for feedback.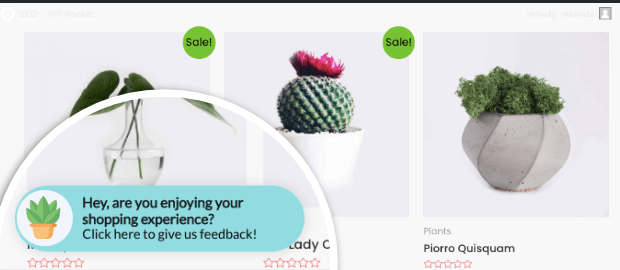 You can then control when and where these popups appear. That means you can display them only on the checkout page or where customers are most likely to leave feedback.
Features
Easy to set up and create campaigns
Create static action messages and recent activity popups
Customize every detail of the popup
No coding knowledge needed
Smart targeting to display popups at the right time to the right people
Get started with TrustPulse today!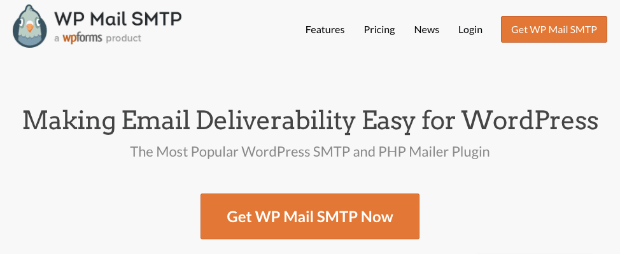 WP Mail SMTP is the most popular WordPress SMTP and PHP mailer plugin.
By default, WordPress uses PHP to deliver emails that aren't configured properly by many web hosts.
This means your email notifications could be blocked, flagged as spam, or end up in the junk folder. And you could miss important notifications when your customers leave feedback.
WP Mail SMTP helps you make sure your WordPress emails are delivered without fail and that they hit the inbox folder (rather than the spam/junk box).
That means you can be sure you're notified as soon as a customer leaves a review, rating, or complaint on your site.
This tool is available as a free SMTP plugin, and it's super easy to set up. You can also upgrade to the Pro plugin to get access to more features.
Features
White glove setup where the support team handles set up for you
Works with all the best email sending services
Native Microsoft and Amazon SES integrations (Pro)
Full control over which email notifications WordPress sends (Pro)
Backed by the WPForms team
Cost
Free version available. Paid plans start at $49 per year.
Get started with WP Mail SMTP today!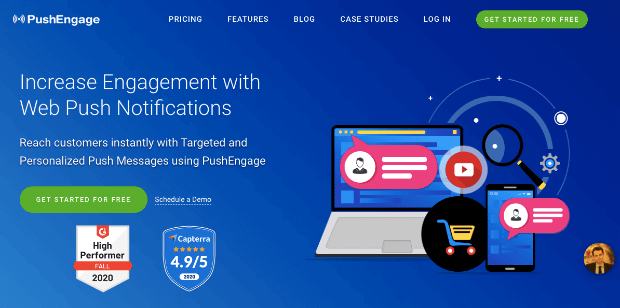 PushEngage is the #1 web push notification tool. It lets you send out messages to your customer's browser even when they aren't actively looking at your site.
You don't have to ask for feedback right after they make a purchase or close your site's tab on their browser.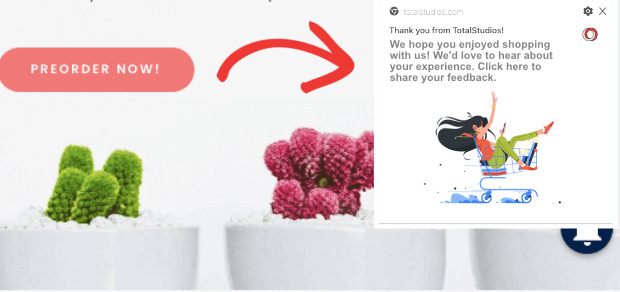 You can segment and target your customers according to their activity on your site. And then schedule personalized messages asking them to give you feedback, reviews, or ratings.
Features
User-friendly dashboard to create feedback notifications
Schedule messages to be sent according to timezones
Customize popups with images, emojis, colors, and more
Trigger notifications based on customer actions
Supports all devices and browsers
Create automated drip campaigns
Cost
PushEngage has a free plan that lets you send 120 messages to 2,500 subscribers. Their paid plans start at only $25/month.
Get started with PushEngage today!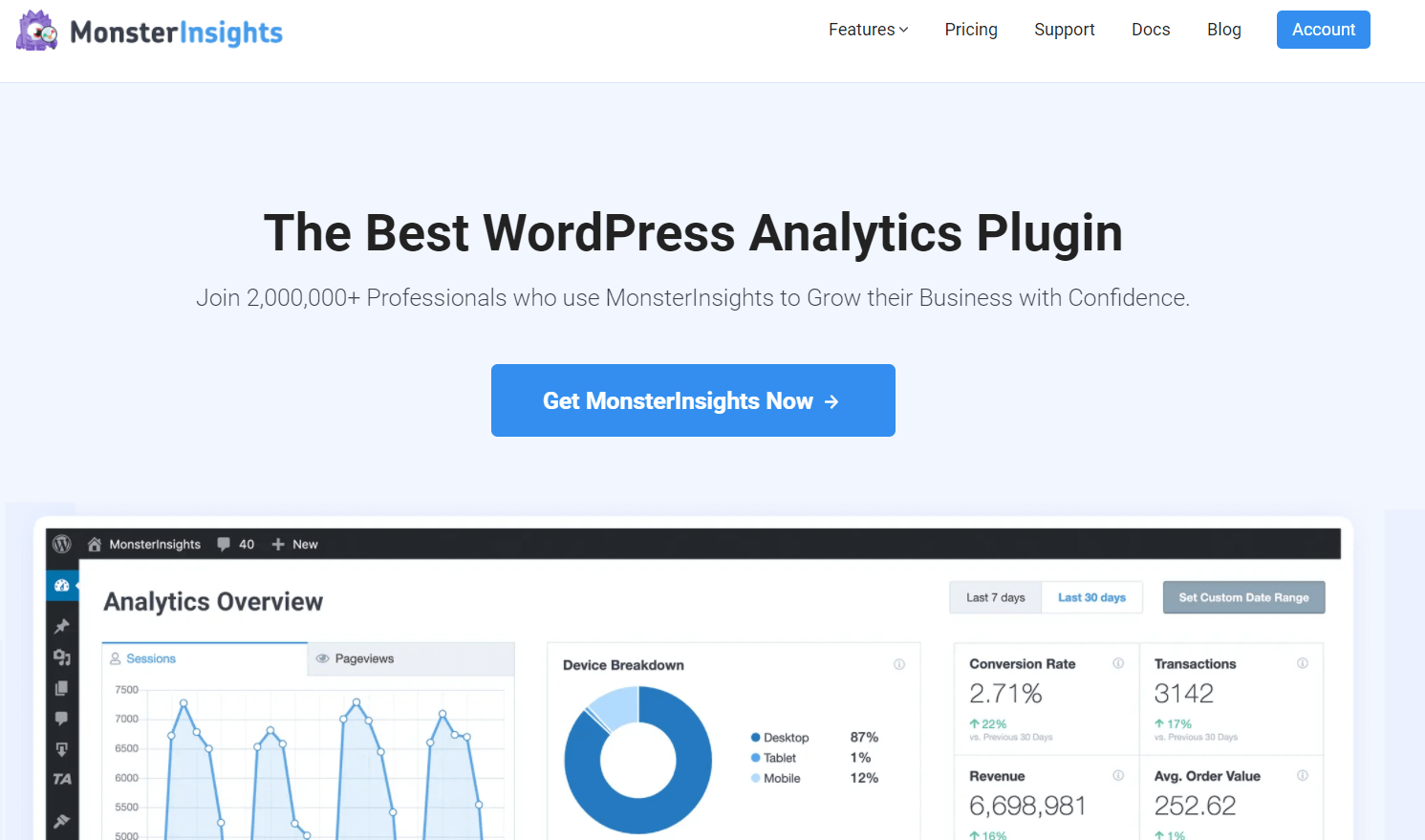 MonsterInsights is the best analytics plugin for WordPress.
It has specific trackers to help you analyze the performance of your feedback forms.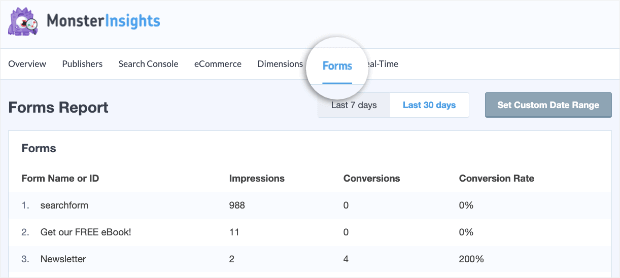 You can find out what your audience responds to best and how well your customer feedback forms are converting.
You can also find top-performing posts, pages, and products that you can use to target customers and get them to fill out your form.
With MonsterInsights, you'll have all the data you need to make your customer feedback efforts successful.
Features
Easy to set up and connect to Google Analytics
Track performance of feedback forms
Custom reports for eCommerce
Check user behavior to find their interests, location, and preferences
Cost
Paid plans start at $99 per year.
Check out MonsterInsights today!
Now that we know about the best form builders you can use, let's look at a quick tutorial on how to create a form in a WordPress site with WPForms.
How To Use WPForms To Build Customer Feedback Forms
Using WPForms to create any kind of form is super simple. We'll show you how to set up a feedback form.
Step 1: Get WPForms
WPForms is available in the WordPress repository and you can install and activate it on your site for free.
The free version lets you create simple forms like contact and suggestion forms. If you want access to more powerful features, you'll need to sign up for the pro version.
Once you add WPForms to your site, you can get started.
Step 2: Create a Feedback Form
From your WordPress dashboard, select the WPForms » Add New page.

Here, you can select a template or blank form. You'll want to add a name for your form and then choose the 'Suggestion Form' template because it has everything you need to create a feedback form.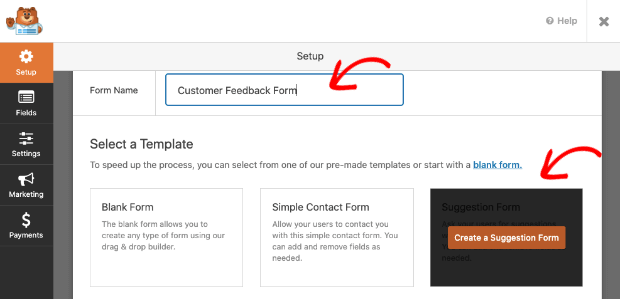 When you select the form, you'll see a 'Create a Suggestion Form' button that you can click on. This will launch the form builder.
Step 3: Customize Your Feedback Form
WPForms has a drag and drop builder which means you can click on any element in the form to edit it. And if you want to add more fields, you simply need to drag and drop them into your form.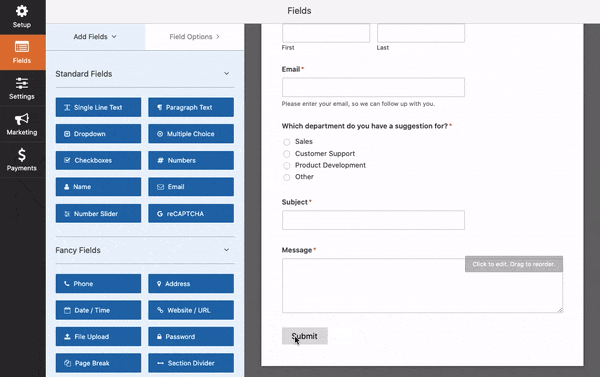 For your feedback form, you can add star ratings, a Likert scale, multiple-choice, and any other fields that you like.
When you click on the field, the settings for it will open in the left taskbar. You'll find more options to customize each field here.
For instance, under the 'Conditionals' menu, WPForms also lets you add smart conditional logic that lets you ask different follow-up questions based on the customer's answer.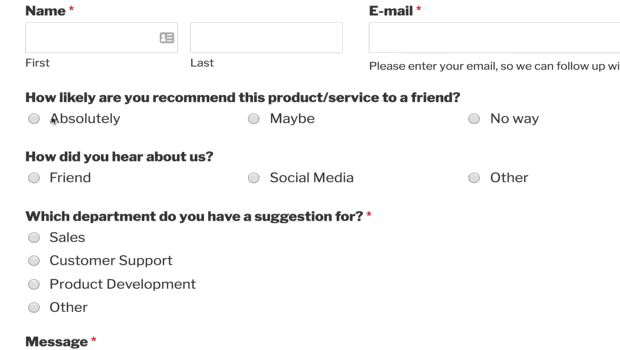 When you're happy with your form, you can customize the notifications and success message.
Step 4: Customize Settings of Feedback Form
WPForms has some neat features you'll want to use for your feedback form.
Switch over to the Settings » Notifications tab. You'll see options to add your team members' email addresses so you can be sure the customer feedback entries reach the right people.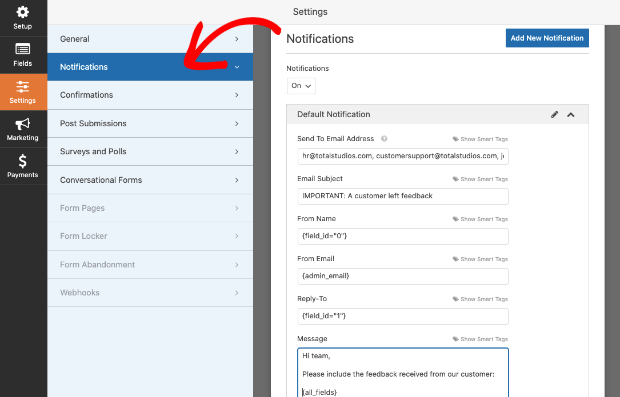 You can also change the email subject and message. We've added the tag 'IMPORTANT' to our subject line.
This way, you'll never miss a customer feedback entry.
WPForms notifies you instantly, so you can take action immediately in resolving any issues the customer has.
Next, under the Confirmation tab, you can change the success message that will be displayed to the customer once they fill out your form.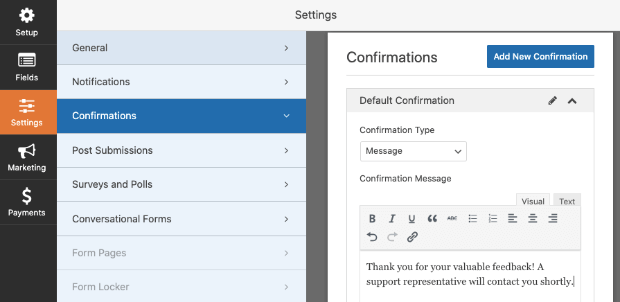 Step 5: View and Manage Feedback
To view and manage your feedback entries, head over to WPForms » Entries tab. Here, you'll need to select your form and you can see a list of people who have submitted the form.

You can view, edit, and delete entries. It also lets you export your entries in CSV files. And under each entry, you can add notes to keep track of the status of the feedback.
Now you've successfully created a customer feedback form using WPForms.
And there you have it! That's our list of the top form builder tools to gather customer feedback. These tools will help you build feedback forms, encourage customers to fill them out, and track your success.
We hope you liked this article, and if you're looking for more resources on customer feedback, experience, and reviews, check out these articles:
These articles will help you improve customer experience and boost sales and conversions as well!