Dealing with negative reviews gracefully can be tough for two reasons: negative reviews can hurt your ego, and they can significantly hurt your business. Luckily, if your product and service are good, there's no need to worry too much about getting the occasional negative review.
In this article, we'll put your mind at ease and teach you how to respond to negative reviews gracefully, so your business doesn't tank.
Accept That Negative Reviews Can Happen to Anyone, Including You
Imagine pouring all your heart and soul into your business. You build it up, you open it, and you finally start selling products. Your business is your baby, and you think everyone is going to love it just as much as you do. Then one day, you open your notifications, and someone has completely trash-talked you for everyone to see.
Ouch. However, it's not only your ego you need to worry about, but now you're at risk of losing potential customers as well.
We all know the impact a negative review can have on a business. Sometimes companies will even report their business as closed on websites like Yelp just to get away from bad reviews.
The first step in dealing with bad reviews gracefully is to accept that every business gets them because it's impossible to please everyone. It's up to you to decide how to deal with them.
The Reality of Negative Reviews on Your Website
9/10 people look at reviews before making a buying decision. Companies use reviews to display a form of social proof which shows visitors that customers enjoyed the product, meaning it's safe to buy.
Reviews can help convert more customers. If you have an eCommerce store, online reviews about a product can increase conversions by 270%. And, in general, customers spend 31% more on a business with good reviews.
If you start to get negative reviews, these numbers can start to decrease rapidly.
More than 4 negative reviews may decrease sales by 70%. But you might be wondering if one negative review hurt your company right away? Normally, no.
Unless it looks something like this:

If you're a business owner and care about your company, do everything to improve user experience, and are fair with your customers, you shouldn't be getting reviews like that anyway. You might get something more like this:

One small lousy review might turn some visitors away, but the majority will shrug it off and keep looking through the good reviews. Most people know how brutal people can be online from Facebook comment arguments and nasty tweets.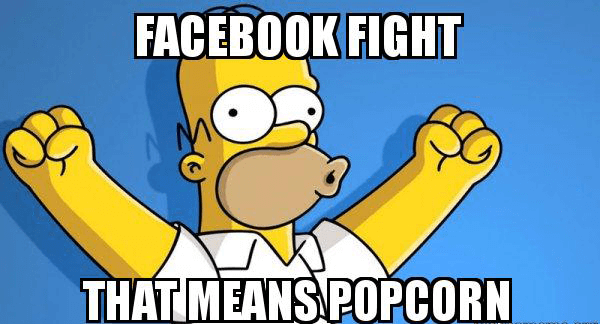 But if you do end up getting a negative review once or a few times, here's how you can deal with it gracefully to keep conversions flowing smoothly.
How to Handle Negative Reviews Gracefully
Sometimes, if you respond to negative reviews properly, it can actually help build customer trust.
No matter where you're receiving negative reviews (on your blog, Facebook, Amazon, etc.), there are a few guidelines you need to follow to make sure it doesn't get out of hand and that your business comes out looking professional.
1. Respond as a Business Owner
When a customer leaves a bad review, it can feel like you're being attacked personally, which may lead you to get upset and act out personally.
Remember that if a customer writes a bad review, it's about your business, not you. Make sure you remain calm, professional, and respond to each review as a business owner.
This means remembering your company values, not being defensive, and trying to understand the customer. If you can manage to keep your cool and respond professionally, your customers will admire you for it.
2. Always Respond, No Matter How Busy You Are
Responding to negative reviews is absolutely crucial. 89% of people read a business's response to reviews. Responding to negative reviews shows potential customers that you're taking the time to fix inconveniences. So, if they buy your product and experience an issue, they'll feel comfortable knowing they'll get the same level of attention.
But you might be surprised to know that not too many companies take the time to respond to their negative reviews.
What does not responding look like to customers? It looks like you, as a business, don't care about what customers are saying, or the bad experiences customers are having with your business.
Not only do you need to respond to reviews, but responding in a timely matter is also important. The majority of users expect a response from a company within just a few hours.
A quick response won't go unnoticed, either.

3. Be Authentic and Personal
You never want the customer to think that you've used a copied and pasted response from your response book.
When you or your employees respond to negative reviews, always include the name of the customer, the company, and who is returning the comment.
To make it even more authentic, add the role of the person writing the response and the contact information for the best person to talk to.
Here's an example of a personal and authentic response to a negative review:

4. Take the Issue Off-Line
To avoid an online exchange that everyone can see, address the issue first in a sincere comment, then offer to take it offline.
Here's an example of a well-thought-out response to a negative review:

5. Take Action
If you tell the customer you're going to look at the issue, it means the customer is expecting you to fix it. Taking action is the only way to get the customer to change their view of your company after a bad experience.
Most customers don't already have a settlement in mind. They're usually just looking for some kind of compensation.
Depending on how severe the issue is, you could just tell them you're going to have more training with your staff regarding customer service and give the customer a discount for their next visit.
However, in a more serious case, you might need to dig yourself out of the tunnel by offering a large compensation.
Chipotle had a food safety issue, which resulted in 647 customers getting sick. They had to publically announce they were going to retrain all their employees on food-safe matters, resulting in millions of dollars in training.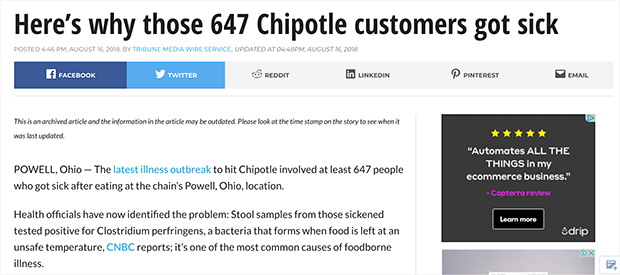 6. Ask the Customer for Feedback or a Testimonial
Use a negative review as an opportunity to ask the customer for feedback on your business. After you've taken action to resolve the issue, you can send the customer an email asking for feedback.
Feedback can help you better understand where the customer is coming from and how you can prevent other customers from feeling that way in the future.
And if you've gone above and beyond to solve your customer's issue, you can even ask for a testimonial. Chances are if they're thrilled with the service you've provided to make it up to them, they'll be happy to leave a testimonial.
7. Share Negative Comments With Your Team
Negative comments shouldn't be missed by anyone. Often, negative comments will include different parties of a companies team.
For example, maybe the customer service team was too slow to get back to the customer's question.
If only the manager knows about the issue, the customer service team won't know to adjust their service. And as an employee, it could be more awakening to see negative reviews from the actual customer, rather than just hearing them from the manager.
Responding to Negative Reviews on Different Channels
Your company likely has a presence on several different platforms. Platforms like Facebook and Google are popular places for users to find your brand and leave reviews.
Depending on where you're getting the negative reviews, there can be different options on how to handle them properly.
On some platforms, you can outright delete the comments or decide if they get published. Other platforms will post the review, whether you like it or not.
In this next section, we'll go over how to handle negative reviews on different platforms.
Handling Negative Reviews on Facebook
Facebook is one of those platforms where you don't have any control over comment moderation. Anyone can go onto your business's Facebook page and write a spammy comment or disrespectful review.
If the review is too nasty, you can report it. Just click on the three little dots on the top right corner of the review.

If the review goes against Facebook's community standards, it will be removed once reported.
Here's an example of a negative review written for a Restaurant Chain in Vancouver, BC.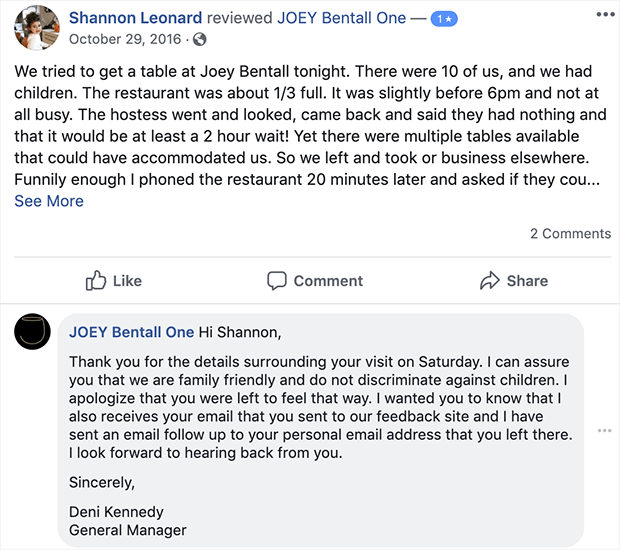 The manager responded politely, then took the opportunity to take the issue offline.
Handling Negative Reviews on Yelp  
Yelp is like Facebook in the sense that you can't delete negative reviews. If you think the review goes against Yelp's content guidelines, you can flag it.
However, there's no guarantee that Yelp's staff will remove the review if you flag it.
Here's a review a customer left about a pizza place on Yelp.

Take a moment and think about how you would handle this one.
Handling Negative Reviews on Google 
Google is probably one of the worst places to get a bad review. The user doesn't need to click on your site, then click the reviews section to see reviews. Instead, the search engine users see them without effort, and your company's bad review is exposed on the first layer.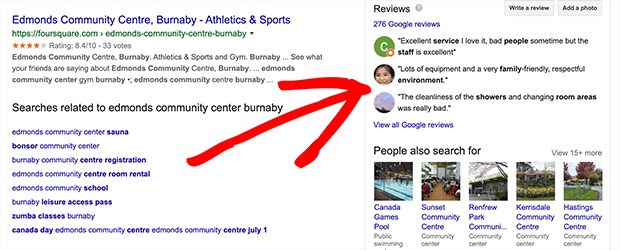 And just like the platforms mentioned above, it's impossible to delete reviews on Google. Google has its own content guidelines, so the review will only be removed if it goes against the policy.
Because you are so exposed on Google, it's where the most traffic will be seeing your reviews. Hence, it's even more important to handle negative reviews with care.
Handling Negative Reviews on Your Website 
When handling negative reviews on your website, you'll be able to delete them if you wish.
If you're using WordPress or even Shopify, you can set moderation rules. This means reviews will have to be approved by the moderator (you or your staff) before they get published.
Moderation rules can come in handy if you're dealing with purely hateful reviews where the customer clearly didn't have any motive other than to trash talk or target you personally.
When Is it Good to Leave Negative Reviews?
Although negative reviews can harm your business, there are instances where not deleting them right away (if you have the option) may be beneficial.
A business with hundreds of positive, 5-star reviews might come off a little suspicious. Visitors might think these reviews are fabricated and not left by real customers. Negative reviews can contribute to building trust, rather than diminishing it.
 If you can answer the reviews properly using the steps in this article, it will show other customers that you are professional and care about your company and what experiences people have.
Many bloggers and eCommerce owners will purposely accept negative comments and reviews because they know the customer is addressing an actual issue, rather than attacking the site owner.
Besides, taking on negative comments head-on shows that you're confident and can handle your business.
Here's an example of a comment that was left on RankXL when it got acquired by its new owner, Andrej.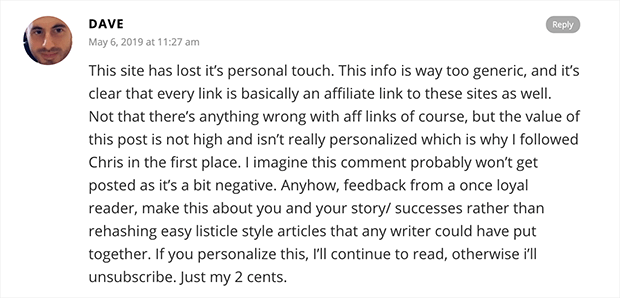 That's not a very warm welcome. But Andrej put his ego aside and answered like a boss.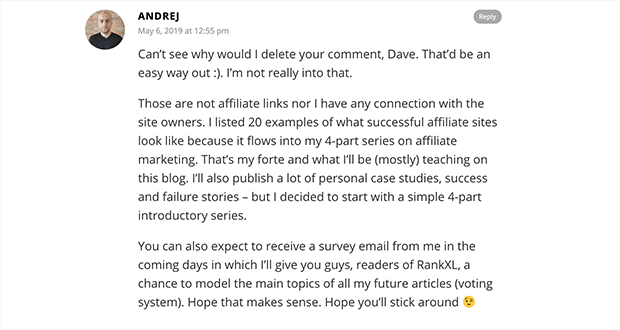 When customers read a response like Andrej's to a comment like Daves, much respect is to be had.
Final Thoughts
Getting negative customer reviews can really suck. If you don't own a website with moderation options, you can be stuck with the negative reviews forever.
But how you decide to deal with negative reviews is up to you. You can let them bring you down, or you can own them and turn it into a way to gain more trust with your customers and improve your business.
Besides handling negative reviews gracefully, another great way to build trust with your audience and show social proof is by using a tool like TrustPulse.
TrustPulse will show little notifications at the bottom of the user's screen to display how many other people are viewing or are buying the product.
Displaying reviews on your pages and using TrustPulse notifications is a powerful combination to drive more conversions.
So what are you waiting for? Join TrustPulse today!