Statistics can help you better understand how important fear of missing out can be for your business. If used correctly, they can be a powerful way to turn users into customers.
If you're not sure what FOMO is, don't worry. In this article, we'll go in-depth with statistics to teach you what it is, its effects on consumers, causes, and ways you can use it to convert more and increase sales.
Ready?
Let's get into it!
What Is FOMO?
FOMO, or fear of missing out, is the feeling of anxiety that a person experiences when they think they're missing out on something. Generally, these feelings are caused by seeing posts on social media. However, it's often triggered during online shopping experiences as well.
FOMO and Millennials
Did you know that 56% of social media users experience FOMO? And most of these people are millennials. About 69% of millennials experience FOMO on a daily, if not hourly basis.
It's vital for any business to understand what drives Millennials.
Why? They spend money. A lot of money. And they do a lot of their spending online.
General Millennial Shopping Statistics
Millennials spend about $600 billion every year in the United States alone. And, as they pay off loans and get better jobs, their spending will only increase.
In fact, Millennial spending is expected to hit around $1.4 trillion in 2020.
For eCommerce businesses, Millennials are even more important. They make more than half of their purchases online (54%). Not only that, but 41% of Millennials have completed an in-store transaction with their mobile device.
They're also really susceptible to FOMO in marketing. Let's take a look at those stats.
FOMO Statistics About Millennial Behavior
3 in 4 millennials (78%) prefer to spend money on experiences over stuff.
55% say they're spending more money on live experiences and events.
In the past year, 82% of millennials attended an event, and 72% say they would increase their spending to attend more real-life experiences.
77% of millennials say their favorite memories came from a real-life event.
69% say that attending such events strengthen their connections with other people.
69% also say they worry about missing out on events if they don't check social media.
The desire to spend money on experiences has increased by 70% since 1987.
60% of millennials have shared their experiences on social media.
What counts as a real-life experience? Concerts, travel, dinner with friends, classes—basically any in-person experience. For millennials, it's mostly about building memories and connections with themselves and the people around them over buying material objects.
FOMO Statistics
Now that you understand where millennials are coming from, it's important to know how your consumers think, their habits, and trends before deciding what kind of FOMO you want to use in your marketing strategy.
General FOMO Statistics
48% of millennials have spent money they didn't have to keep up with friends.
69% (7 in 10) of millennials experience FOMO.
60% of people make purchases because of FOMO, mostly within 24 hours.
56% of people who experience FOMO are ages 18-30.
33% of people purposely try to conduct FOMO among their peers.
45% of people who experience FOMO can't go for longer than 12 hours without checking social media.
20% of people can't go for more than 1 hour without checking social media.
36% of people are afraid of feeling like an outsider.
40% of people say they spend money on something once per year to post it on social media.
41% of people say "yes" to spending because they worry about not being invited in the future.
26% of people fear losing friends and 23% fear of being judged.
27% of people flock to social sites as soon as they wake up.
14% of people fear to be out of the loop at work or home.
77% of adult millennials and 70% of Gen Xers said they often think they can squeeze more than is possible into their day.
26% of people said they would trade habits such as smoking cigarettes in exchange for access to social networks.
51% of people log into social media more frequently than just 2 years ago.
Main Causes of FOMO
Social media platforms can change the social life of an individual both interpersonally and online. People can broadcast important life events or everyday activities.
And on platforms like Facebook, sharing is extremely simple with the click of a button. That's why Facebook has a billion users. And as you can guess, it's also the place that provokes the most FOMO (72%).
Following Facebook is Instagram, another heavily used social media platform with hundreds of millions of users. Many people use Instagram to follow brands and influencers. Instagram provokes 14% of FOMO.
Then, there are platforms like Twitter and Pinterest. Twitter causes 14% of FOMO and Pinterest around 8%.
Outside of the social media platforms, there are certain activities and experiences that are likely to cause FOMO.
For instance, travel causes 59% of all FOMO. If you've even been on a travel booking website, you might have noticed that FOMO tactics are everywhere!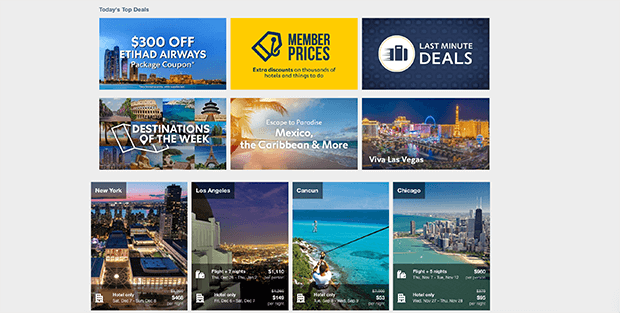 The second main cause of FOMO is events and parties (56%). People might feel less cool if they miss a party—especially when they see pictures on social media from who did attend and are posting pictures on social media.
Lastly, food is a big cause of FOMO (29%). Food FOMO might sound a little weird, but almost everyone has experienced it.
What does food FOMO look like? Here are a few examples:
Thinking for too long about what to order? Struggling to say no to a dinner invitation because you didn't want to miss out on great food? Looking at pictures of food online and wishing you could have it right now?
Don't worry, we've all been there.
5 Effective Ways You Can Use FOMO
Got the gist of what FOMO is but can't think of how to use it in your marketing strategy?
Here are 5 effective ways to use FOMO:
1. Capture Visitor Attention With Real-Time Event Tracking
Real-time event tracking is a great way to get your visitors' attention. You can put a little notification at the bottom of the page to show product purchases, demo registrations, or newsletter signups. People will feel more at ease, knowing that other people are taking action with your product.
A social proof and FOMO tool like TrustPulse can boost your conversions by up to 15% using real-time event tracking. TrustPulse has features specifically designed to create fear of missing out in shoppers with real-time activity.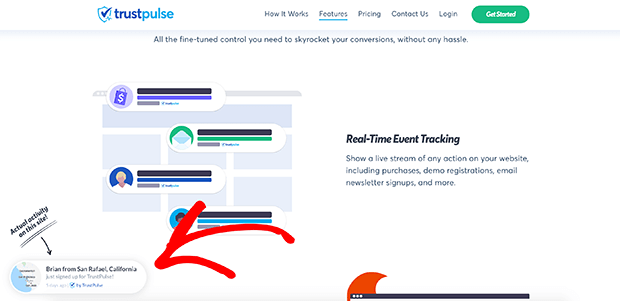 2. Use "On Fire" Notifications To Create Excitement 
"On fire" notifications are small notification bubbles on the bottom of the page that show visitors how many people are taking action in a given amount of time. This pushes people into thinking they, too need to take action quickly.
Pro tip: Place this type of notification on landing pages and checkout pages for the highest conversion rate and to minimize abandoned shopping carts.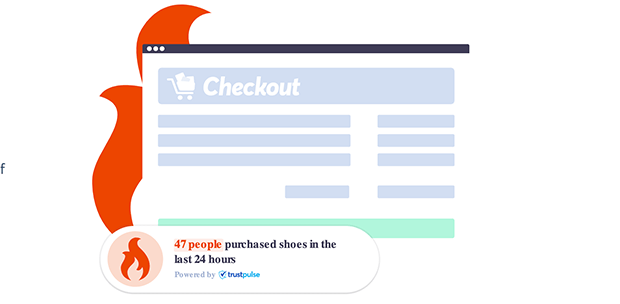 TrustPulse is the best way to add FOMO and social proof to your site, getting you more conversions instantly! Get started with TrustPulse today!
3. Show FOMO to the Right People
Use advanced features like OptinMonster's geo-location targeting and referrer detection tool to show your notifications to the right people at the right time.
The geo-location tool will help you determine your audience's geographics and show relevant campaigns based on users' locations. Similarly, the referrer detection tool will show you where your traffic is coming from so you can show specific campaigns.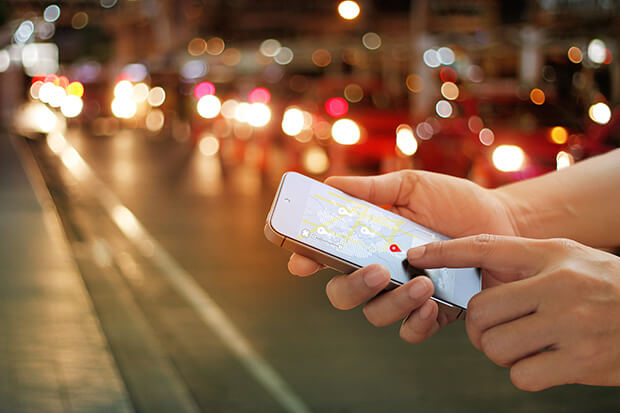 4. Use Clever Wording in Your Messages
Word choice has a big impact on FOMO. Try using power words like "limited time", "don't miss out", or "free". Using capitals, exclamation and question marks is also great to get users engaged.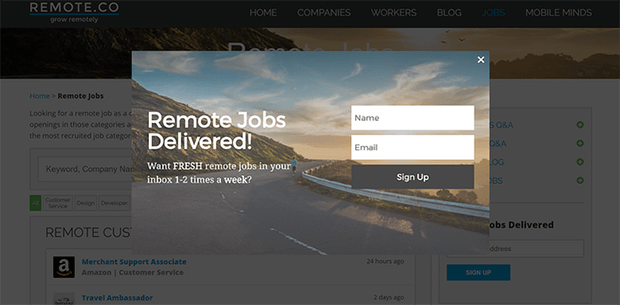 5. Quote a Celebrity, Influencer, or Authority
Including a quote from someone of influence can significantly boost FOMO. This works really well if you include it on your landing and checkout page. As people are about to complete their purchase, they'll extra assurance that someone they look up to has also used the product.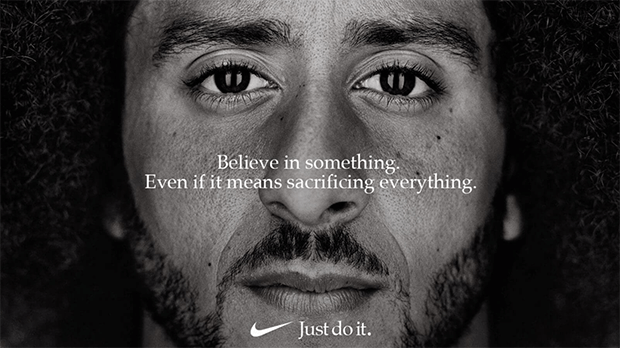 Things to Watch Out For When Using FOMO
As a marketer or eCommerce store owner, there are many benefits to using FOMO. It's a great way to push customers to make a purchase.
However, there are some things to keep in mind when using FOMO in your marketing strategy.
For starters, it's important that you don't go overboard as it's meant to trigger negative emotions and can make people feel uneasy. This could drive a wedge between you and your customers.
In a study by Citizen Relation, they found that FOMO triggers different emotions in people.
30% of people felt jealousy
39% of people felt envy
21% of people felt sad or disappointed
You don't want your customers to feel like this, do you? That's why it's important to use just the right amount of FOMO so your customers don't even realize they've experienced it.
That's a wrap! Now you understand exactly what FOMO is and you have the FOMO statistics you need to figure out the best ways to use it in your marketing.
Can't get enough stats in your life? Take a look at out social proof statistics that show how effective social proof can be for your business.
Sources:
Citizens Relation|Mashable|Entrepreneur|Eventbrite|credit karma|Strategy Online|Travel Daily News|Wayback Machine