Are you looking for affiliate marketing statistics to level up your earnings?
Beyond just numbers, these valuable insights provide essential information about recent industry trends and consumer behavior. This will allow you to tailor your strategies and significantly increase conversions, ultimately leading to a substantial boost in your revenue.
In this article, we'll share the most up-to-date and relevant affiliate marketing statistics to help you make data-driven decisions, find profitable opportunities, and skyrocket your conversion rates.
1. Affiliate Marketing Has a Market Value of Over $17 Billion
As of 2023, affiliate marketing has established itself as a thriving industry with a remarkable market value of over $17 billion. That's up from $13 billion in 2016.
And with projections indicating a potential market value of $40 billion by 2030, it's evident that affiliate marketing is a dynamic and booming sector that shows no signs of slowing down.
This rapid growth can be attributed to various factors, including the continued expansion of eCommerce and advancements in tracking technology.
Consumers are actively using the internet to purchase basic goods, home appliances, tech gadgets, and professional services. That's why businesses find affiliate marketing an effective way to promote their brand and connect with potential customers.
2. Over 80% of Brands Use Affiliate Marketing Programs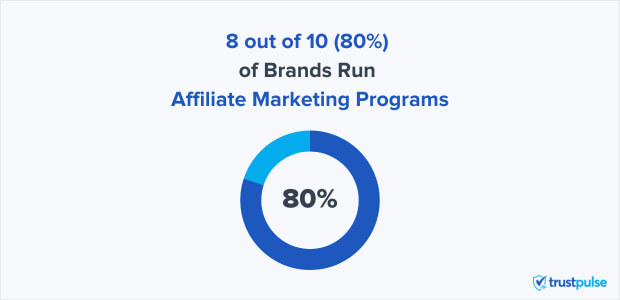 According to a survey by Rakuten/Forrester Research, 8 out of 10 (80%) brands run affiliate marketing programs. Their main goals for implementing such programs were to boost website traffic and drive sales.
Interestingly, more than 80% of advertisers allocated about 10% of their marketing budget specifically to affiliate marketing initiatives.
Setting up an affiliate marketing program can significantly benefit businesses, particularly those with small marketing budgets. It enables them to expand their reach, drive leads, and boost sales without the high costs of hiring a marketing agency.
By leveraging affiliates, businesses can promote their products and services at a fraction of the usual expense.
3. Google Searches for "Affiliate Marketing" Have Doubled Since 2016
Google Trends data indicates a steady rise in global searches for "affiliate marketing" since 2016, with a significant increase from 2020 onwards.
This is likely because many businesses, including those with physical stores, wanted to sell their products online during the COVID-19 pandemic.
They discovered that affiliate marketing could help them reach a broader audience and boost their sales. As a result, more businesses have embraced affiliate marketing, incorporating it into their digital marketing strategies due to its growing popularity and potential benefits.
Below is the graph from Google Trends showing interest in the keyword "affiliate marketing" on a scale of 100. The interest in this term is a whopping 99 in July 2023, marking the highest level to date.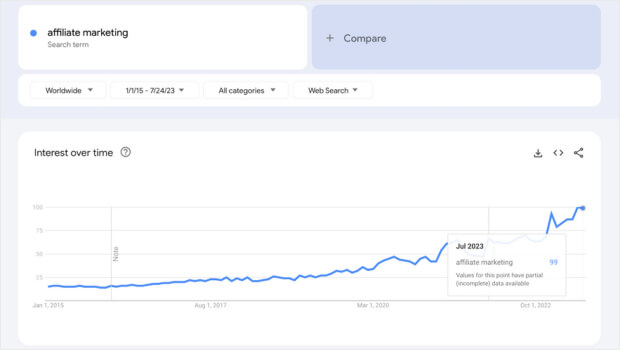 4. 88% of Consumers Have Been Inspired to Make a Purchase by an Influencer
Traditional advertising methods are becoming less effective day by day. Now, consumers increasingly seek genuine recommendations from trusted sources.
According to Nielsen Trust In Advertising Sell Sheet, 88% of consumers have decided to buy something based on an influencer's recommendation.
Collaborating with influencers can establish a special connection between brands and consumers throughout the consumer journey.
By observing how others operate in the influencer marketing landscape, businesses can adapt their strategies to make the most of the benefits influencers offer. This includes capturing opportunities to strengthen the brand-influencer-consumer relationship and nurturing its growth.
5. 9 in 10 Consumers Make Purchasing Decisions Based on Reviews
Customer reviews have become a critical factor in purchase decisions, with 9 out of 10 consumers relying on them. These reviews offer consumers valuable insights into the quality and overall satisfaction of a product or service before they commit to a purchase.
Companies that actively engage with customer feedback, address concerns, and maintain a positive brand image tend to attract a more significant customer base.
Moreover, this customer-centric approach not only fosters loyalty among existing buyers but also leads to positive word-of-mouth marketing.
That's why businesses must actively monitor and manage their online reputation to maintain a competitive edge in the market.
6. Amazon Associates Has 47.3% of the Affiliate Market Share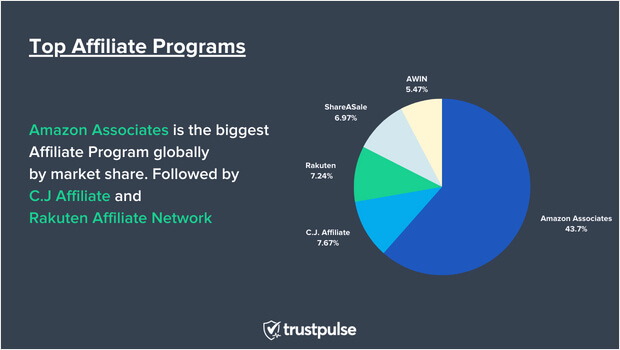 Amazon Associates is the biggest affiliate program globally, with 43.7% of the market share. The second spot is taken by C.J. Affiliate with a 7.67% market share, followed by Rakuten with 7.24%, and ShareASale with a 6.97% market share. AWIN ranks fifth with a 5.47% market share.
However, it's worth mentioning that AWIN acquired ShareASale recently.
7. Affiliate Marketing Accounts for 16% of eCommerce Sales in the US and Canada
Affiliate marketing plays a significant role in online marketing, contributing to about 15% of the overall revenue generated. It has proven to be as effective as email marketing, paid search, and social media marketing in promoting products and services.
Also, affiliate marketing is responsible for driving 16% of eCommerce sales in Canada and the US. This shows its growing importance in the digital business landscape.
One of the reasons for its success is that brands can connect with consumers through their affiliates without being pushy. Brand affiliates have dedicated followers who trust their content. As a result, it becomes easier for them to influence people's purchasing decisions and encourage them to buy products endorsed by affiliates.
This creates a win-win situation for both brands and affiliates as they work together to achieve their marketing goals.
8. Over 84% of Online Content Publishers Join Affiliate Marketing
Affiliate marketing has become a popular way for content publishers to boost their earnings. Around 84% of online publishers are now using it, and 94% of these publishers are involved in 2 or more affiliate programs.
Many publishers go even further, with 39% using 3 or more affiliate marketing programs. And 20% of publishers work with as many as 5 programs simultaneously.
When it comes to affiliating with brands, publishers have two main options. They can either:
collaborate directly with brands,
or choose to be part of an affiliate network such as Amazon Associates, AWIN, or ShareASale.
The advantage of joining an affiliate network is that it not only facilitates connections between publishers and brands but also streamlines essential processes like commission payouts and reporting.
9. 15% of Affiliate Marketers Earn Between $80,000 to $1 Million Annually
According to Authority Hacker, affiliate income can be categorized into four groups:
Beginner: $0 to $1,000 per month
Intermediate: $1,000 to $10,000 per month
Advanced: $10,000 to $100,000 per month
Super affiliate: over $100,000 per month
The majority of affiliates (around 80%) fall into the beginner to advanced categories, earning anywhere from $0 to $80,000 annually. About 15% can earn upwards of $80,001 to $1 million. Only a small 1% of affiliate marketers achieve 6 to 7 figures monthly.
10. Blogging Is Used by 65% of Affiliate Marketers to Increase Website Traffic
Blogging has become a key strategy for around 65% of affiliate marketers to boost website traffic.
Marketers and content creators favor it due to its cost-effectiveness compared to traditional advertising methods. In fact, statistics reveal that blogs generate up to 3 times more leads than ads.
Many successful affiliate marketers have also experienced a remarkable increase of up to 240% in revenue by providing valuable content.
The key lies in creating engaging posts that attract a targeted audience, build trust, and seamlessly incorporate affiliate links. This approach allows them to connect with their audience effectively while driving conversions and revenue.
11. SaaS-Based Products Pay 20 to 70% Commission to Their Affiliates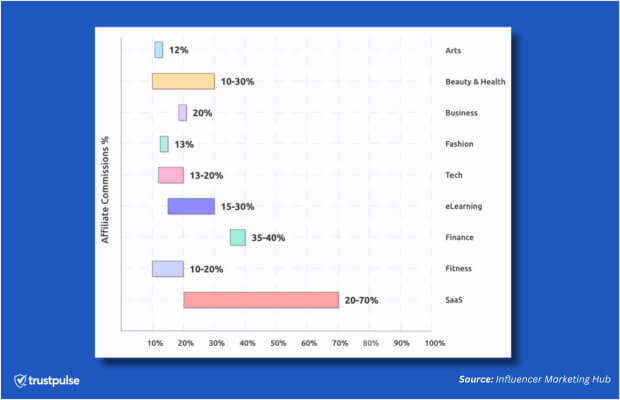 A survey revealed that SaaS products could be highly profitable for affiliate marketers and publishers, offering up to 70% commissions.
This is the highest commission percentage in the market!
However, it's essential to note that commission rates vary significantly, and some SaaS products also offer commissions as low as 20%.
12. Fashion and Wellness Industries Are the Top Affiliate Marketing Niches
The fashion industry, covering clothing, footwear, accessories, and more, accounts for 25% of all affiliate program accounts. But the most profitable niche is health and wellness, valued at over $5.5 trillion. The sub-niches of health and wellness include fitness, diet trends, alternative medicine, and organic food and drinks.
Other thriving affiliate marketing niches include:
Hobbies
Technology
Gaming
Sports
Travel
Beauty and Cosmetics
Luxury
Finance
Movies and Music
Pets
13. Mobile Devices Account for 50% of All Affiliate Traffic
Over 50% of affiliate traffic originates from mobile devices. This highlights the growing significance of mobile ads due to increased smartphone usage.
Stats also indicate that every other website visitor reads blog posts on their smartphones while searching for products or services.
That's why affiliate marketers must prioritize website optimization to ensure responsiveness and a better user experience, ultimately attracting more visitors.
14. Cost Per Action (CPA) Is the Most Frequently Used Payment Model Among Affiliate Marketers
There are various ways you can get paid as an affiliate marketer, but 99% of programs use a CPA (cost per action) commission model.
In this model, the advertiser pays you a specific amount for each user action, such as:
signing up for an email,
registering for an event, or
subscribing to a service.
Typically, you'll earn a commission every time someone makes a purchase by clicking your affiliate link. However, some programs may offer alternative payment models.
For instance, you might be paid based on the number of clicks your link receives (CPC or cost-per-click) regardless of completed sales.
15. More Than 67% of Affiliate Marketers Use Social Media
Affiliate marketing trends revealed that over 67% of affiliate marketers engage with their customers through social media networks.
There are around 4.88 billion people on social media as of 2023. This makes social media an excellent way for affiliate marketers to connect with niche audiences effectively.
They can promote enticing offers through ads and get more potential customers interested in their products or services.
16. SEO Is the Top Traffic Source for Over 69% of Affiliate Marketers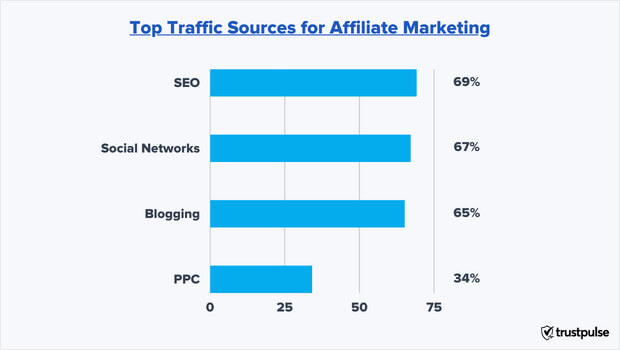 The most common way affiliate marketers get website visitors is through search engine optimization (SEO). More than 69% of affiliate marketers use this method.
PPC campaigns rank 4th in generating website traffic (around 34%), following social media (67%) and blogging (65%).
17. The Overall Revenue of Affiliate Marketing Grows by 10% Each Year
If you've been considering entering the world of affiliate marketing, the time to act is now!
Affiliate marketing is experiencing remarkable growth, with its income consistently rising by 10% annually since 2015. Even in 2023, this upward trend shows no signs of slowing down.
It's evident that the sector's potential for generating revenue is substantial and expected to attract a surge of experts and agencies in the coming years.
18. Voice Search Technology Is on the Rise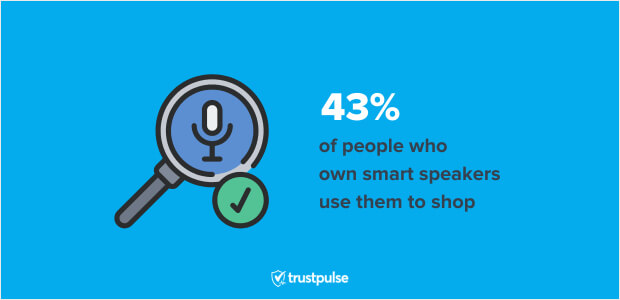 As smart homes become more popular, people are using voice-assisted technology a lot.
Over 72% of smartphone users use voice assistants daily. Nearly 40 million have a smart speaker at home in the US alone. In 2023, it's expected that 50% of households in the US will have a smart speaker. This is equivalent to around 63 million homes.
Another interesting fact is that 43% of people who own smart speakers use them to shop.
That's why businesses should think about the questions their customers might ask using voice search and optimize their website content accordingly. This means using natural language and long-tail keywords.
19. Top Coupon Affiliate Websites Generate Over $1 Billion in Revenue
Groupon is a well-known company that relies on affiliate commissions for its business model. This platform has seen incredible success as a bridge between local merchants and subscribers.
Statista reports that affiliate marketing generates a whopping $1.4 billion in annual revenue, serving over 50 million active users. This showcases the vast potential and impact of affiliate marketing platforms like Groupon.
20. Web Hosting Platform Bluehost Paid Over $5M in Commissions
Selling web hosting has become one of the hottest and most profitable opportunities for affiliate marketers.
With the increasing number of people starting their blogs and businesses, the demand for websites has skyrocketed. Brand owners need a reliable hosting service to get a website up and running. And that's where affiliate marketers can come in.
Take Bluehost, for example – they're crushing it in the affiliate game.
Bluehost paid a whopping $5 million in commissions in just one year, making their affiliate program one of the most rewarding in the industry. Publishers who promote Bluehost's web hosting service and other products can make around $65 to $130 from a sale.
That's a fantastic opportunity to turn your efforts into big bucks!
21. Nearly 55% of Affiliate Marketers Work From Home
This rise in remote work options has opened up new opportunities for affiliate marketers to balance their work and personal lives. They can optimize productivity and tailor their schedules to fit their preferences.
According to AffStat 2016 Affiliate Marketing Benchmark report:
Almost 55% of affiliate marketers work from home.
26% said they switch between working at the office or home, depending on the day.
Less than 20% have a regular commute to an office.
As the trend towards remote work continues to grow, we can expect even more affiliate marketers to embrace this flexible approach.
Use These Affiliate Marketing Statistics to Maximize Profits
And that's it!
These proven affiliate marketing statistics offer insights into the immense potential of this marketing strategy. By leveraging these statistics to tailor your approach, optimize your campaigns, and build strategic partnerships, you can set yourself up for maximizing your profits.
Looking to level up your affiliate game and achieve even higher earnings? Check out these 10 Affiliate Marketing Tips to Increase Your Income.
If you want the ultimate solution for managing your affiliate program efficiently, check out our AffiliateWP WordPress Plugin Review.
Incorporating TrustPulse into your affiliate marketing strategy can help you increase conversions and, therefore, your affiliate marketing revenue.
Get started with a risk-free TrustPulse account today and learn how TrustPulse can help you grow your affiliate marketing business.