Are you looking for an in-depth AffiliateWP review to see if it's the best affiliate program plugin for WordPress?
AffiliateWP is a popular WordPress plugin that lets you create your own affiliate marketing and referral programs. With AffiliateWP, a lot of the hard work is taken off your plate, so you can set most of your affiliate program on autopilot.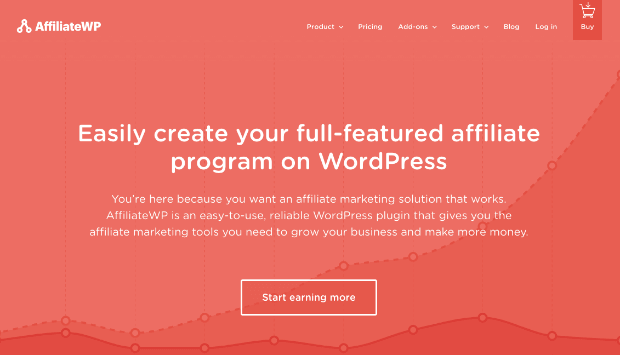 In this AffiliateWP review, we'll check out the most important areas of the WordPress affiliate marketing plugin to see if it's the best for you.
What Is an Affiliate Marketing Program?
First, let's look at what exactly an affiliate marketing program is and how it can help your business.
Affiliate marketing is a popular way for businesses to market their products and their most passionate fans to make money. At a basic level, it works like this:
You start an affiliate program and let people sign up as an affiliate marketer
The affiliate marketer gets a unique tracking code or URL to share with their audience
Affiliates promote your products using social media and their own sites
Customers use the affiliate marketers' links or code to buy a product
To reward your affiliate for bringing you business, you reward them with a commission
Obviously, this is a winning scenario for both you and your affiliates. Not only do you get your products in front of more eyes, but you create loyal ambassadors out of your customers.
Today, we will be looking at AffiliateWP, which helps you manage an affiliate program.
It's important to note that AffiliateWP does offer a dashboard and functionality for your affiliates.
However, this is not a tool for affiliate marketers and partners. For recommendations on tools and plugins for affiliate partners, check out our recommendations here.
AffiliateWP Review: Is It the Best Affiliate Program Plugin?
We know that everyone has different needs and expectations of their plugins. So, we included this table of contents that way, you can navigate this article more quickly and easily.
Then after our review, we'll go over some of the critical things you need to look for in any WordPress plugin.
Let's go ahead and jump right in.
Ease of Use
When looking at any affiliate program plugin, we want to look at the ease of use in 2 areas: running your program and setting up the plugin.
Managing your own WordPress affiliate program is incredibly easy with AffiliateWP.
AffiliateWP takes care of all of the hard work for you. From affiliate signups and onboarding to payouts, you can be as hands-off (or hands-on) as you'd like.
One big stressor when it comes to running an affiliate program is how to pay your affiliate marketers. How do you make sure they get paid quickly, securely, and without taking a lot of time? And in the case of international marketers, how do you pay them?
AffiliateWP offers an integrated Payouts Service that pays your affiliates directly from your bank account to theirs. It works in 37 countries and lets you manage payouts from one dashboard.
The AffiliateWP dashboard also makes managing and reviewing your affiliate accounts simple.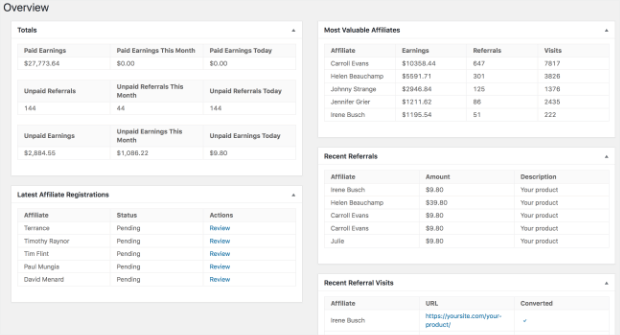 But how difficult is it to get up and running on your site? Not at all. How do 4 simple steps sound to you?
First, you'll purchase AffiliateWP. Then, you'll be given a link to download a .zip file which you'll use to upload to WordPress.
Next, head to your WordPress admin dashboard. Go to Plugins > Add New. Click on Upload Plugin on the top of the screen.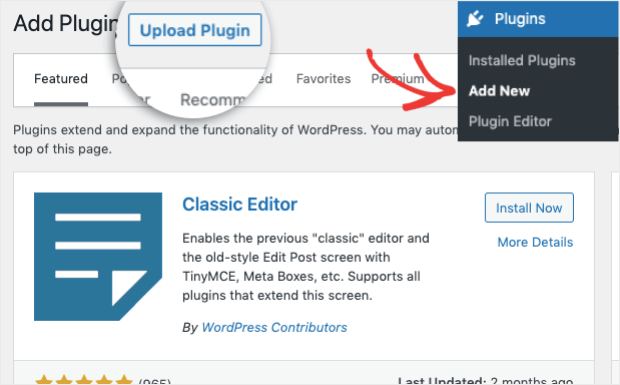 Now, click Choose File and select the zip file that you downloaded when you purchased AffiliateWP. Then click Install Now.

Finally, if the upload was successful, you'll see an Activate Plugin button. Click on that to activate AffiliateWP.

And that's all there is to installing AffiliateWP on your WordPress site.
Though, if you run into problems, AffiliateWP offers World-Class support and has an extensive knowledge database.
Now, let's take a look at the flexibility AffiliateWP gives you.
Flexibility
For many eCommerce businesses looking to add additional tools to their arsenal, they want the new tool to work with what they already have.
In other words, you want to make sure they talk the same language.
AffiliateWP integrates with many of the top eCommerce, LMS,  forms, and invoicing platforms. These are all 1-click integrations, so adding AffiliateWP to your marketing toolkit will be a breeze.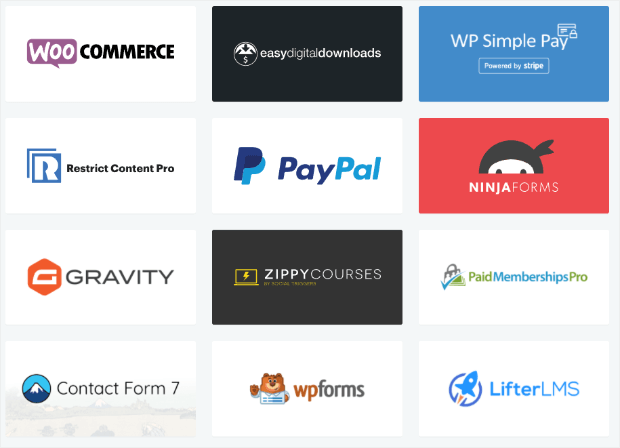 But what about flexibility with your affiliate program?
AffiliateWP shines in this area. With AffilateWP, there are a host of official free add-ons and 3rd-party add-ons so you can customize your affiliate program.
Some popular official free add-ons include:
QR code creators
Product limiters if you only want specific products to generate commissions
Sign up bonus program
Registration blocks to create your own registration forms
Those plugins are, as we mentioned, free. Plus, they are developed by the same team that runs AffiliateWP, so you know that they will work well.
Talk about flexibility. We can't think of a more flexible way to run a program than picking and choosing your own benefits.
Flexibility also means not limiting your growth. AffiliateWP gives you an unlimited number of affiliates. You'll never have to worry about running out of room to grow your marketing program.
You'll also never run out of visual resources (called Creatives) for your affiliates to use to effectively market your products.
So, the only numbers you have to focus on are conversions and sales.
Next up in our AffiliateWP review, we'll look at security.
Security
Security should always be on the top of your list when using any tool. For affiliate program tools, security means more than limiting your site to attacks by hackers.
It means protecting your program from spam entries and misuse of affiliate programs.
AffiliateWP uses Google reCAPTCHA to prevent spam bots from creating false affiliate accounts.
Also, you can change the default settings to have someone manually approve each affiliate account if you prefer. Only you know how comfortable you are in letting just anyone become an affiliate marketer for your brand.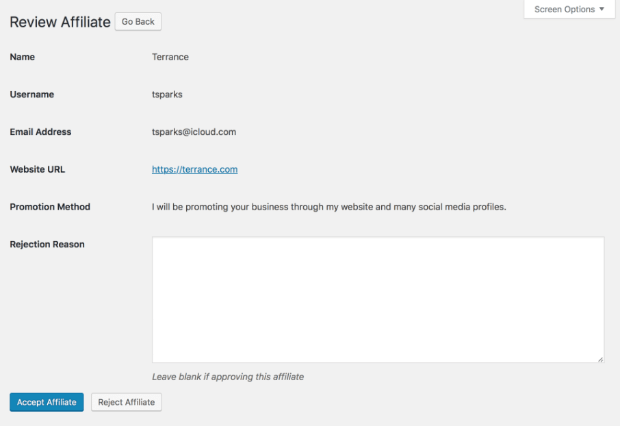 And suppose something should happen with one of your affiliate marketers. In that case, AffiliateWP also makes it possible for you to block specific sites or pages from generating referrals.
When it comes to the actual plugin, you can rest assured that as long as your license is valid, you will receive automatic updates. Free of charge.
AffiliateWP was built to use exclusively on WordPress. So, you know that this plugin was created by WordPress experts that made sure it works well with the platform.
Your data is also safe since it's housed fully within the WordPress platform. You'll keep full control of your data and your program at all times.
Now, let's turn our sights on pricing.
Pricing
AffiliateWP pricing comes in 3 tiers.
First, the Personal level runs $149.50/year. This level gives you all of the basics to build your affiliate program. The only limitation to this plan is that you can only use it on 1 website.
Next, AffiliateWP offers the Plus plan for $199.50/year. On this level, you can run AffiliateWP on 3 sites, so it's great for brands that have multiple sites.
Finally, there's the Professional tier. This is $299.50/year and opens up AffiliateWP for use on 10 of your sites. Plus, it unlocks 15 add-ons that are unavailable in the lower levels.
With AffiliateWP, you only have the yearly cost. There are no hidden fees or surprise costs.
AffiliateWP Review Verdict: Is It the Best Affiliate Program Plugin?
Setting up and running an affiliate program on your site can be a massive undertaking. The plugin you choose should help you simplify the process and make it easy to keep running.
So you need a tool that acts as a partner that will:
Be easy for you, your team, and your affiliate partners to use
Offer a variety of add-ons and options to customize your program as it grows
Safely guard your business and program integrity
Fit into your budget
These sound like simple criteria, but to be named the best WordPress affiliate program, we need this tool to go above and beyond that.
So, does AffilateWP live up to that expectation?
Yes. When we think AffiliateWP, we think it aces our criteria of being easy to use, flexible, secure, and affordable.
These reasons (and more) are why we think that AffiliateWP is the best WordPress affiliate program plugin.
Don't forget to check out these 10 Affiliate Marketing Tips to Increase Your Income.
What to Look For In An Affiliate Program Plugin
While we highly recommend AffiliateWP, we want to remind you of a few key things to look for as you research plugins.
Any plugin you add to your WordPress site should have these basic qualities:
Easy To Use: The plugin needs to be easy to use for anyone on your team that will be using it. Even if 1 person finds it hard, there's a chance that the plugin may go unused, making it a waste of time.
Money-Smart: Check out the price versus features. You don't want to overpay for the features you won't use, You also don't want to miss out on essential tools because they are out of your price range.
Support: Unfortunately, support isn't always a given for a lot of plugins. Some even make you pay extra to get help from a real person. Make sure the support offered meets your needs.
Matches Your Vision: If you are looking at affiliate program plugins, chances are you have a vision for how it'll look. Find a plugin that matches that vision and doesn't force you into a program you are uncomfortable with. Take the time to understand what the plugin offers.
And that's it for our AffiliateWP review! We hope that you found this article helpful. If you did, you might also want to check out the following resources:
And don't forget to sign up for your 100% risk-free TrustPulse account today!