Do you want to drive your online revenue with affiliate marketing?
Affiliate marketing is a smart way for business owners to drive sales by rewarding those who recommend their products or services.
In this article, we've listed the best affiliate marketing tools for WordPress that help maximize your affiliate revenue.
You'll find the best WordPress tools to start your own affiliate program where you can get people to sign up and start recommending products.
You'll also find the best tools for affiliate members to drive click-through rates and increase commissions.
Here's a table of contents if you want to jump ahead to the best WordPress affiliate marketing tools.
How to Choose the Best WordPress Affiliate Marketing Tools
WordPress is a great platform to build a successful affiliate marketing site. It's home to many plugins and tools that can help you easily grow and manage your affiliates
However, it's important to pick the plugins that work best for you.
If you're serious about making money from affiliate marketing, you need to start looking at tools that will actually help you get results and grow your revenue.
From our own experience, here's what you should look for in affiliate marketing tools:
Allows you to easily add affiliate links to posts and pages
Lets you add and manage affiliate links in your WordPress dashboard
Helps you track your highest performing affiliates
Lets you track clicks on your affiliate call to action buttons
Helps you create shareable links that you can use on social media
Lets you create popups and ads to promote affiliate products
The tools we've selected will cover all these areas to make affiliate marketing easy and successful.
Best WordPress Affiliate Tools for Program Owners
It may be easy to manage affiliates on your own when you just start out. However, as you grow, you'll need tools to make the process smoother and faster.
Luckily, there are plenty of plugins and tools to help you build a solid affiliate program. Here's our pick of the best affiliate marketing tools for WordPress.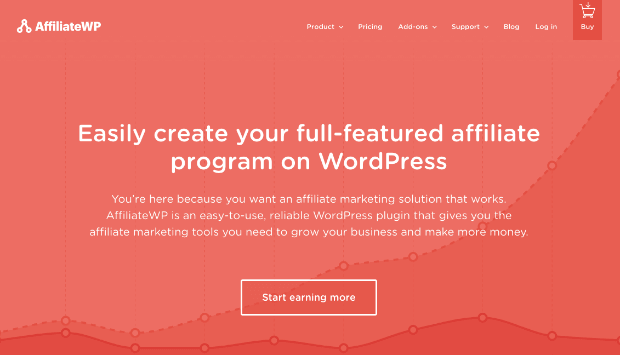 AffiliateWP is a complete affiliate marketing solution that lets you easily create a full-featured affiliate program in WordPress. It has all of the affiliate marketing tools you need to grow your business. Plus, it gives you unlimited affiliates and creatives for faster, more effective promotion of your website.
You can use real-time reports to reliably track earning affiliates, affiliate coupons, affiliate-referred visits, and other important stats.
Managing your affiliates is easy as well. You can edit individual affiliate accounts and moderate your affiliate registrations.
And from the built-in Affiliate Area, affiliates can track their own performance, find creatives, and retrieve their referral URL.
Features
Helps your affiliates rank higher and boost traffic
Accurate referral and affiliate tracking
Easily pay affiliates to their bank accounts
Built-in referral link generator
Integrates with popular WordPress eCommerce and membership plugins
Automate your affiliate program with the Uncanny Automator integration
Unlimited visual resources and text links to promote your site
Manually or automatically accept affiliate requests
Cost: Starts at $149.50/year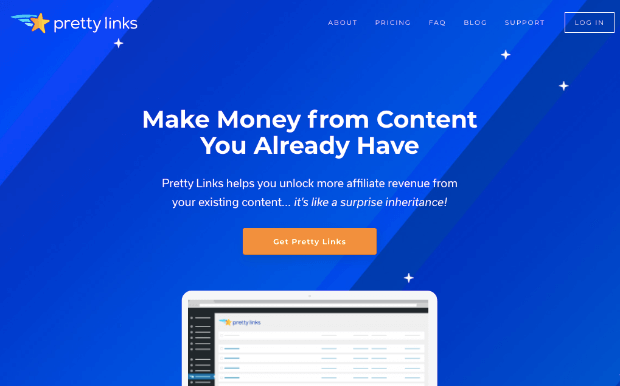 Pretty Links is a popular link management tool that lets you turn long and ugly affiliate URLs into short and memorable links.
This makes it easy to share affiliate links with others through emails, social media, and even podcasts.
It stands out for its auto-link option that lets you automatically add affiliate links to certain keywords.
Added to that, the plugin also lets you set up redirects for your pages. This is helpful if an affiliate link suddenly causes a 404 error.
Features
Easy to set up and use
Saves time and makes the affiliate linking process efficient with autolinks
Brand and advertise your links with the Pretty Bar tool
Inbuilt data and statistics to check affiliate link performance
Easy to enable redirects to avoid broken pages
Cost: Starts at $59/year
Click here to get started with Pretty Links today!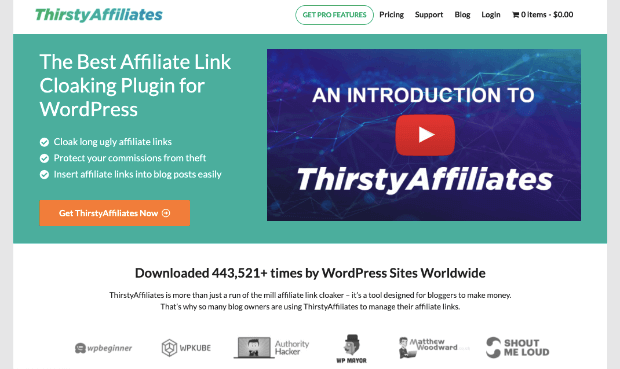 Thirsty Affiliates is another robust affiliate link management tool to organize your affiliates and manage them within your WordPress dashboard.
It's similar to PrettyLinks and both plugins are great. We've listed both options because, in the WordPress community, it's all about choice.
With ThirstyAffiliates, you can easily find and add affiliate links into WordPress pages and posts. It lets you cloak long URLs with shorter links to make them look great.
Plus, you can categorize your affiliates so it's faster and easier to manage them.
Features
Insert affiliate links automatically using keywords
Data and reports let you see how your links and campaigns are performing
Better organize your affiliates using categories
Add banners and photos to links
Cost: Starts at $49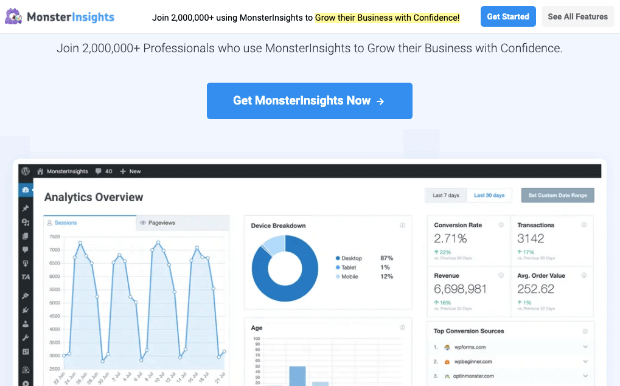 MonsterInsights is a powerful analytics tool that lets you track how much money you're making from your website.
It has an inbuilt affiliate link tracking feature. This gives you detailed reports on how your affiliate campaigns are performing. You can monitor URL clicks, banner ads, and any outbound links.
In this way, you can easily find out which affiliates are the most profitable and which products or links earn the most money for you.
Features
Super easy to track the performance of affiliate links
Valuable insights and actionable data to optimize your affiliate marketing strategy
User-friendly dashboard that makes it easy for anyone to understand and use
Great support team that's responsive and helpful
Cost: Starts at $99.50/year.
Click here to get started with MonsterInsights today!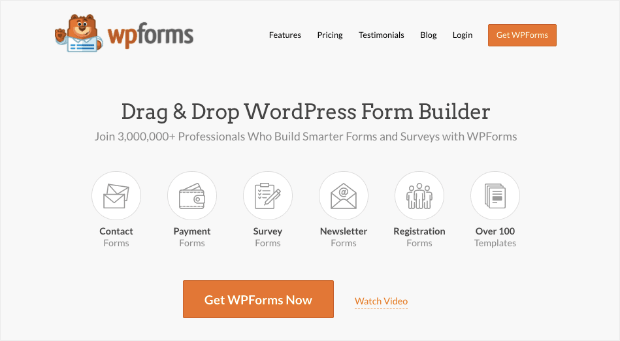 WPForms is the best WordPress form builder. It lets you create all kinds of forms including affiliate sign ups forms.
This allows potential partners to send affiliate requests to you through your website. You can also create feedback forms to find out what your website users like and don't like about your affiliate program.
It integrates with popular email services like ConstantContact so you can automate your replies to save time and make the process more efficient.
Features
Readymade templates that let you create forms in 5 minutes
Drag and drop visual builder that lets you customize your form as you create it
Create registration forms, surveys, contact forms, and newsletter forms
Responsive mobile-friendly forms
Instant notifications that alert you or your team to respond to leads quicker
Cost: Free version available in the WordPress repository. Premium versions start at $39.50/year
Get started with WPForms today!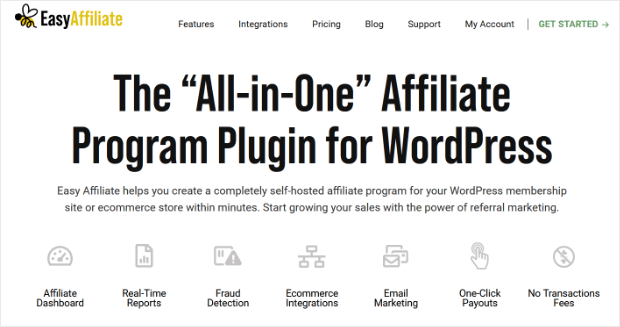 Easy Affiliate is a powerful affiliate management tool that lets you build a robust affiliate program.
It's great for site owners who are just getting started with affiliates. It also works well for those who want to get a better system to manage their existing programs.
The setup process is easy and it's loaded with helpful management tools. You can easily track the success rate of clicks, sales, and payments using performance tracking.
Plus, the tool is compatible with popular platforms like WooCommerce, PayPal, Authorize.net, and MemberPress. So it's easy to integrate your program with your existing setup.
Features
Beginner friendly and simple to set up complex programs
Quick setup process to create affiliates and set commission levels immediately
Performance graphs that can be customized to get valuable insights into what's working and what's not
Manage and view all your payments from platforms like PayPal, Authorize.net, and more
Easy integration with popular platforms
Cost: Starts at $99.50/year.
Click here to get started with Easy Affiliate today!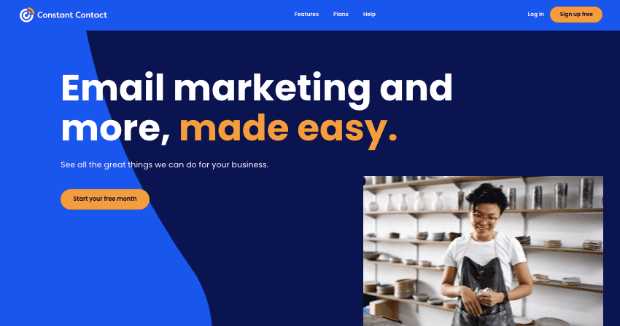 Constant Contact is the best email marketing solution. It lets you connect with customers after they've signed up, purchased something, or even left your site.
You can use Constant Contact to set up automated campaigns to promote affiliate partners. You can also promote your affiliate program through your newsletters and other emails.
In this way, you can grow your affiliate marketing program, and see higher earnings through your partners.
Features
Drag and drop email builder with tons of templates
A/B testing to find what engages subscribers more
Trigger welcome emails and email series
Resend emails to non-openers
Cost: Start at $49/month
Sign up for Constant Contact now!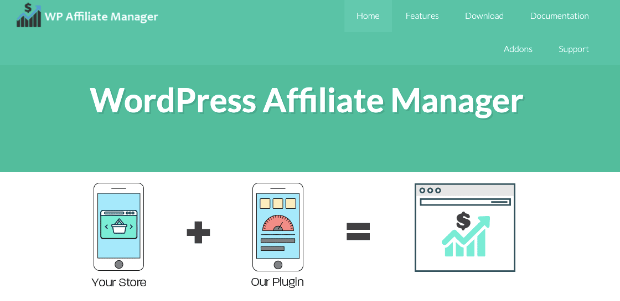 Affiliates Manager is a free solution to help you get started with an affiliate program. You can set up affiliate recruitment, registrations, and logins.
Besides that, it makes it easy to manage affiliates, track referrals, and give commissions appropriately.
Features
Add unlimited affiliates
Real-time report of traffic and sales recorded
Integrates with popular eCommerce solutions including WooCommerce, Stripe Payments, Easy Digital Downloads, and more
Manually adjust sales goals, payouts, and bonuses
Cost: Free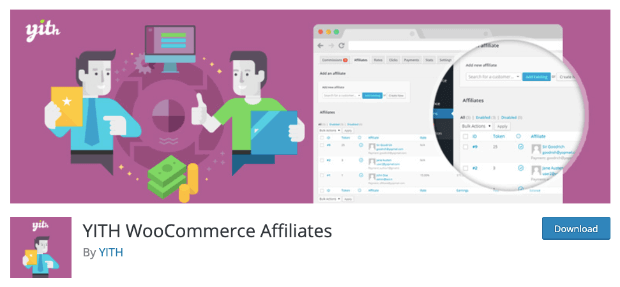 YITH WooCommerce Affiliates is another WordPress eCommerce affiliate marketing tool.
This plugin lets you recruit affiliates to share your products on their site and blogs in exchange for commissions when those products are sold through them.
For WooCommerce shop owners, you can create affiliate profiles and customize commissions. However, since it's a free affiliate marketing plugin, users have complained of slow or no support.
Features
Set general commissions or calculate commissions on a prorated basis
Create affiliates directly from users registered on your site
Register payments that need to be paid out to affiliates
Allows transparency as you can give affiliates their own dashboard to see their own information and sales trends
Cost: Free
Get started with YITH WooCommerce Affiliates!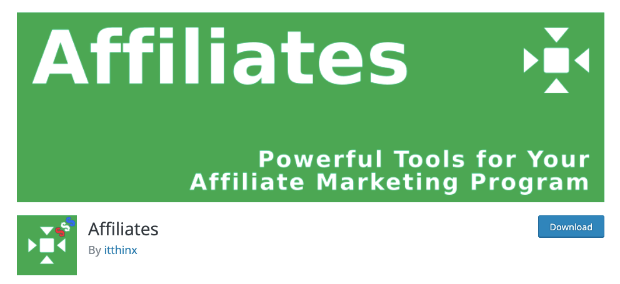 Affiliates By itthinx helps you partner with affiliates to promote your product or service. It lets your affiliates easily share links to any page using simple tools in the Affiliates dashboard.
Their affiliate system works well for sellers and shops. It's great for blogs, membership sites, distributors, and microsites too.
Features
Flexible dashboard templates, blocks, and shortcodes
Affiliates get tools and info about their earnings and performance
Track site visits through affiliate links
Integrates seamlessly with WooCommerce, BuddyPress, Events Manager, and more
Cost: Free
Get Affiliates By itthinx now!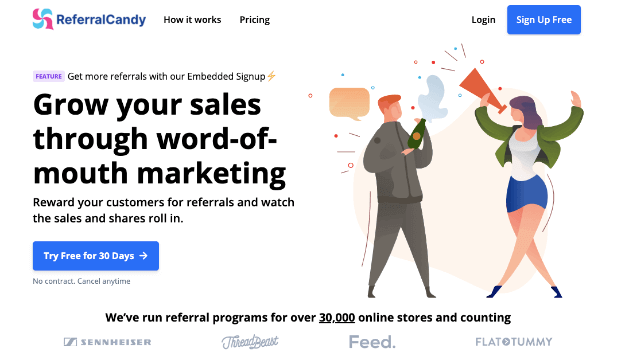 ReferralCandy helps you boost sales through customer referrals.
The plugin lets you set up automated referral campaigns to reward customers for referring friends to your store.
While the friend gets a discount, the referring customer gets a reward, and you get more sales.
Features
Automatic referral tracking and reporting
24×7 live chat support to help you resolve any issue
Get data-driven insights to track traffic and high-performing referral sources
Cost: Start at $49/month
Get started with Referral Candy now!
That's our list of the top affiliate marketing tools and plugins that will help you build a great affiliate marketing program for your business.
We have a few more tools in store for you that are super helpful for you and your affiliates.
When you run an affiliate program, you may find yourself in need of guiding affiliates on how to drive traffic and increase sales.
While the plugins are useful for every WordPress site owner, we've listed them here because they are incredibly helpful for affiliate partners.
These tools can help improve their site's ranking and visibility to generate more sales from their sites.
As an affiliate program owner, you can encourage them to use these plugins on their site. This means more affiliate revenue for them and more sales for you!
Best WordPress Affiliate Tools for Affiliate Partners
Here's our pick of the must-have tools for every affiliate partner to help drive traffic, boost click-through rates, and skyrocket commissions.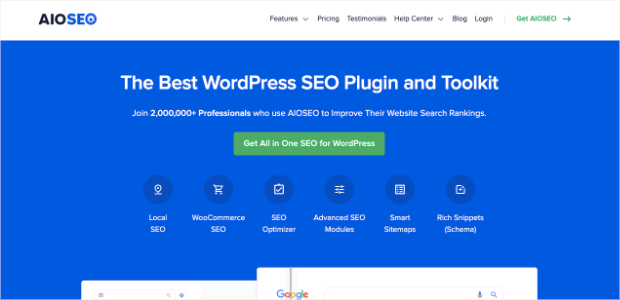 All in One SEO is hands down the best SEO tool for WordPress. It's a comprehensive suite that's packed with all the features you need to get your site to rank in search engine results.
Though it has powerful advanced SEO features, it makes it incredibly simple to set up and manage your site's SEO.
For affiliate marketers, SEO is extremely important. It will help you drive more traffic to your site to boost sales and conversions.
Features
Easy SEO management from your WordPress dashboard
Optimize every new page or post before publishing
Makes SEO easy for anyone including beginners
Comprehensive suite of on-page SEO, technical SEO, and competitor analysis
Easily connect to Google Analytics or MonsterInsights to get data and analytics
Responsive support team that's very helpful and on top of things
Cost: Starts at $49.50
Get started with All in One SEO now!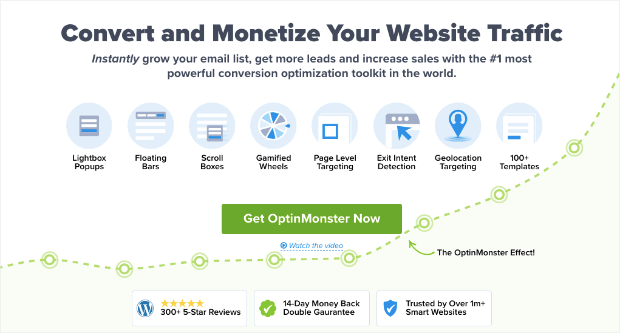 OptinMonster is the most powerful lead generation and conversion optimization tool on the market.
In simpler terms, it helps you create promotions, notifications, lightbox popups, and banners to draw a visitor's attention to your affiliate products and links.
By making your affiliate products more visible, you can maximize your revenue and sales.
Also, it has powerful features like Exit-Intent® technology. This detects when visitors are leaving your site and triggers a popup to convert them into subscribers and customers.
Features
Easy to create and customize campaigns with 100+ templates to choose from
Boost affiliate promotions on your site with popups, slide-ins, banners, floating bars, and more
Run A/B testing to check which campaigns perform the best
Track how much money your making and how well affiliate links are performing through optins
Powerful targeting features to optimize campaigns
Cost: $9/month (Billed annually)
Get started with OptinMonster right away!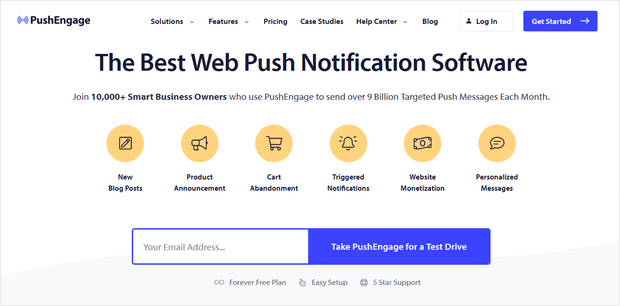 PushEngage is the leading push notifications app in the market. It lets you send targeted and personalized messages to people who have visited your site even if they don't have your site open on their browser.
This will remind them about your site and encourage them to come back. PushEngage can drastically improve your traffic and visitor return rates to generate more sales and revenue.
By default, PushEngage will send a notification to your subscribers every time you publish a post. This creates more visibility and greater chances of getting your affiliate links clicked on.
You can also create custom notifications to promote your high-performing affiliate pages.
Features
Trigger notifications based on user actions
Increase click rates by 2X using automatic segmentation
Automate drip campaigns to create a series of push notifications
Track the revenue generated from push notifications
Great customer support
Cost: Free plan allows 2,500 subscribers. Premium plans start at $24/month.
Get started with PushEngage now!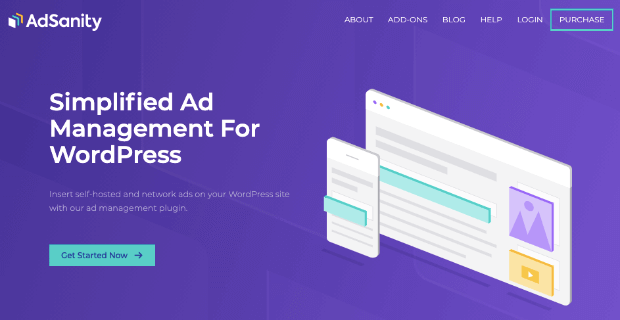 AdSanity is the simplest ad management plugin for WordPress. You can insert self-hosted and network ads on your WordPress site which makes it a great tool for affiliate marketers
You can use this plugin to create ads for your affiliate products or for your well-performing pages that contain affiliate links. This will greatly help improve your click-through rates.
Features
Beginner friendly
Lightweight plugin so it won't slow down your site
Create and manage ads easily
Insert your own or your partner affiliate banners into widgets, sidebars, and posts
Suite of add ons to extend functionality
Statistics to show you how your ads perform
Cost: Starts at $49/year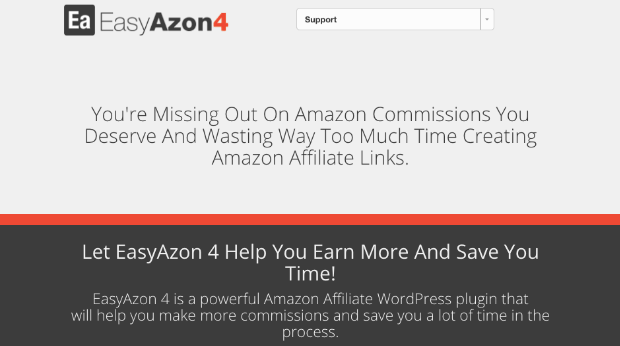 EasyAzon is one of the best WordPress affiliate marketing tools that you can use to make money through Amazon.
You can easily add Amazon affiliate links to your blog posts directly from WordPress. So there's no need to visit the Amazon site each time.
Thus, it helps you save time and make more on commissions.
Features
Simple and fast method of creating Amazon affiliate links
Makes it easier to generate commissions
Control affiliate links through site defaults or use individual links
Set links to open in a new window with 'no follow' attributes
Display a product popup and prompt users to add the item to their shopping cart.
Access global traffic with its inbuilt automatic link localizer
Cost: Starts at $47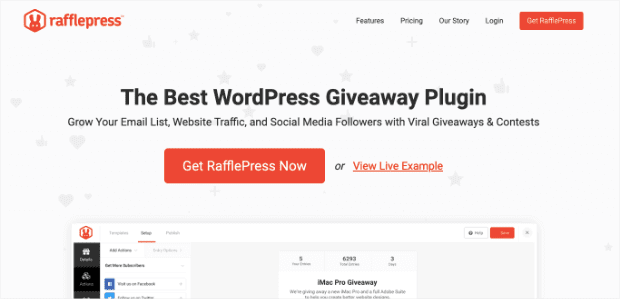 RafflePress is the best WordPress giveaway plugin on the market. It lets you create viral giveaways and contests. This helps drive traffic, subscribers, and sales.
It's a great tool for both affiliate program owners and members.
You can run campaigns to promote your affiliate program or encourage affiliates to reach targets. Plus, it can be used to promote affiliate products and to encourage visitors to refer friends.
Features
Drag and drop builder to create engaging highly engaging contests and campaigns
Plenty of pre-built templates to get more subscribers, improve engagement, and increase traffic
Responsive mobile-friendly designs
Easy for users to enter contests with 1 click
Keeps out fraud entries
Seamless integration with social media and marketing services and CRMs
Cost:$49/year
Get started with RafflePress now!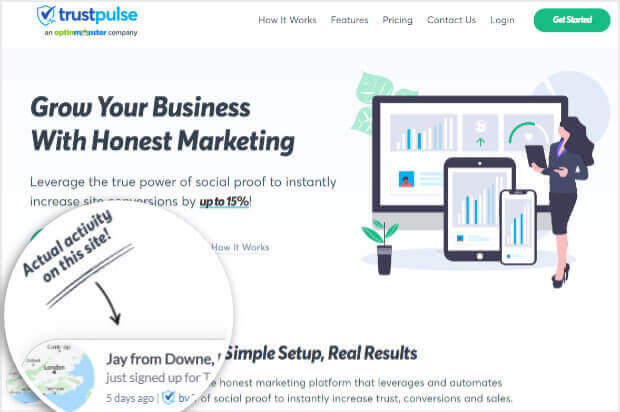 TrustPulse is a really cool social proof app. It lets you instantly increase trust, conversions, and sales on your website.
When people visit your site, they may not trust your products or recommendations. In fact, 98% of visitors leave your site without taking any action. Added to that, 70% never return because they don't believe you can be trusted.
To overcome this, TrustPulse creates non-intrusive popups that display recent activity on your site.

It works because when we see others doing something, we are encouraged to do the same. For more details on this, check out how TrustPulse works.
Using TrustPulse, you can display recent sales, newsletter sign-ups, form submissions, social media follows and likes, and a whole lot more.
In this way, you can build trust and credibility with users and instantly boost your click-through rates, sales, and commissions.
Get started with TrustPulse now!
And there it is. Our pick of the 17+ best affiliate marketing tools to get you started and to run a successful affiliate program.
If you liked this article, you may also want to check out:
These posts have everything you need to increase traffic, drive sales, and grow your business.