In this article, we're going to share the WordPress eCommerce plugins you need to build your online store from the ground up.
WordPress is the most popular content management platform online, and there are tons of WordPress eCommerce plugins available to boost your sales, marketing, and customer support efforts.
And by "tons," we mean that there are more than 55,000 plugins to sift through to try to find the right ones. You don't have time for that—you've got an empire to build.
So, we've done the work for you! Keep reading to learn all about the best WordPress eCommerce plugins that are going take your online store from dream to meeting sales goal after sales goal in no time. We've even included a handy table of contents for those of you who may already have your site built, but want some extra help in one area or another. ?
Table of Contents
WordPress eCommerce Plugins to Build an Online Store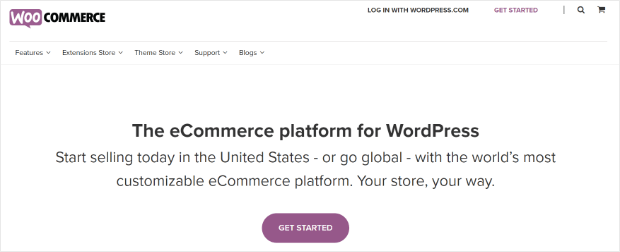 WooCommerce is a powerful WordPress eCommerce plugin that just so happens to be FREE. It's the driving force behind 30% of all online stores and offers incredible flexibility and customizability.
With just a few clicks of a button, you can create a beautiful WooCommerce store.
Key Features:
Hundreds of extensions and themes, making it easy for you to add new features to your WooCommerce store
Supports physical products as well as digital downloads
Affiliate marketers can add affiliate or external products to your site, providing users a better experience
Easily manage your inventory or even assign it to a store manager
Built-in support for popular payment gateways (plus, you can add many other payment options using extensions)
Automatically calculate taxes, shipping costs, and other expenses
Excellent support including documentation, a knowledge base, help desk, and community forums
The biggest drawback to WooCommerce is its scalability. As your store gets larger. you'll need to move to a managed hosting provider to scale your WooCommerce store.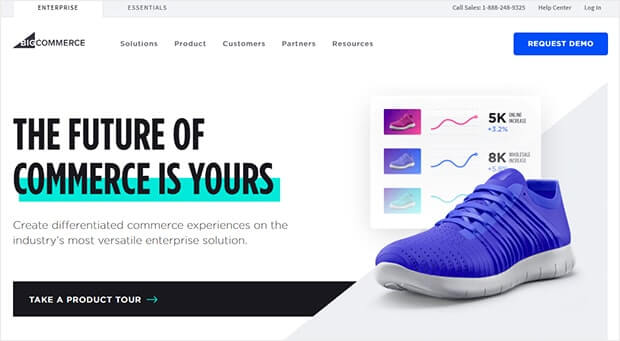 BigCommerce is an eCommerce solution that's specifically designed to help businesses with online sales. It's the same platform that runs powerhouses like Skullcandy, Ben & Jerry's, CamelBak, and other super well-known online stores.
BigCommerce is cloud-hosted and offers seamless integration with WordPress. This offers awesome scalability, enterprise-grade security, and high performance.
Key Features:
Keeping your eCommerce engine separate from other content makes it easier to run your WordPress site
You can use it to sell on other channels like Facebook, Instagram, and Amazon
Choose from dozens of top payment gateways and only pay the payment service provider (no transaction charges)
Offers a wide range of shipping and fulfillment options
Comes with 80+ predesigned, responsive templates to help you design the best storefront
Easily customize your store with BigCommerce apps
The biggest disadvantage of BigCommerce is that it isn't free and more advanced features like Google customer reviews and abandoned cart recovery features are only available with an upgrade to more expensive plans.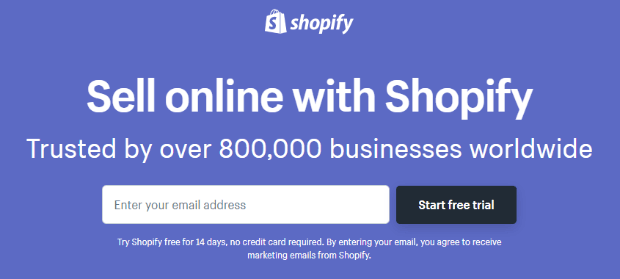 Shopify, like BigCommerce, is a cloud-hosted eCommerce solution that lets you easily get started with selling online. To get started with Shopify, you just sign up and go. No need to fuss with setting up different payment gateways, handling shipping or taxes, making sure the site is secure. Shopify handles it all.
Shopify isn't a plugin, but it's on our list anyway because it is an all-in-one solution that's hassle-free.
Key Features:
Supports both digital and physical products
Comes with an inventory editor, bulk importer, and an order tracker, making inventory tracking super easy
Multiple payment options mean you can accept credit cards online and in person
Streamlined shipping system and direct integration with popular providers like USPS makes order fulfillment a snap
Shopify integrates with everything
The biggest downside to Shopify is that it doesn't have a native WordPress integration. ?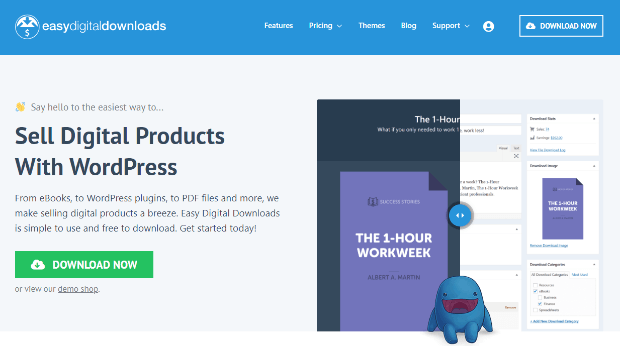 Easy Digital Downloads is a lightweight WordPress eCommerce plugin that comes with all the features you need to sell digital products without hassle.
While other WordPress eCommerce plugins, like WooCommerce, let you sell digital products from your store, they come bundled with many features for selling physical products that you'll never need if you sell only digital goods. Easy Digital Downloads doesn't do that.
Key Features:
Easy to use—even for first-timers
Hundreds of extensions available for everything from payment gateways to marketing platforms
Works with almost any WordPress theme, but also has themes built specifically for the plugin
Has great support with forums, videos, tutorials, and an IRC chatroom
The only real drawback to Easy Digital Downloads is if you want to add an external or affiliate product you have to install a third-party addon for it.
WordPress eCommerce Plugin to Grow Your Email List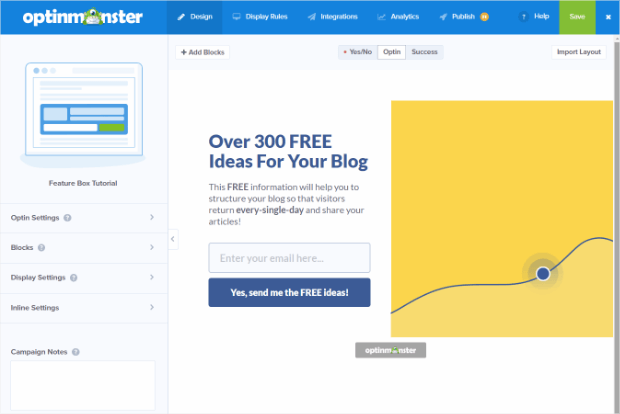 OptinMonster is the most powerful conversion optimization and lead generation software in the world. We say that a lot, but what does it really mean?
A conversion is something that you want visitors to your site to do, right? Like sign up for your email list, or complete their purchase instead of abandoning their cart.
And, optimization simply means making something as effective as possible.
So, when we say that OptinMonster is #1 at conversion optimization, what we're saying is that we are the best and most effective solution for getting your site visitors to do the things you want them to do.
We offer awesome tools for publishers, eCommerce, agencies, and B2B. No matter what it is you do, OptinMonster has a solution for you that will help you increase sales, get more subscribers, and convert more of your web traffic into customers.
With our drag and drop campaign builder, you can easily create beautiful, effective, high-converting, mobile-friendly optins in minutes.
You can create targeted campaigns using out-of-the-box features like referrer detection, onsite retargeting, geolocation targeting, and cookie retargeting. And we offer seamless integrations with your email marketing service so you can segment, personalize, and target campaigns with awesome results.
Key Features:
OptinMonster comes with tons of gorgeous, professionally-designed templates, and our support team is truly outstanding. If you're ready to kick your lead generation into high gear, OptinMonster is definitely for you.
SeedProd is a workhorse of a plugin. It handles coming soon pages, launch pages, under construction pages, and maintenance mode pages for your WordPress site.
And, what's super cool about this WordPress eCommerce plugin: SeedProd is a powerful tool for capturing leads before your WordPress site even goes live.
Key Features:
Built-in email autoresponder
Search engine optimized
Social follow and share
The plugin is already a great idea to use for its coming soon page capabilities anyway. Having a pre-launch page really helps build excitement about your brand and can jumpstart your site's SEO.
When you add that optin form integration to start building your email list as soon as possible, though? That can really give your business a big advantage when you do open. Imagine already having a mailing list of hundreds, or even thousands, when you're ready to announce your grand opening!
Even if you're not new to the game, you can use SeedProd to create custom maintenance mode and 404 pages that will delight your visitors and get you leads.
WordPress eCommerce Plugin to Increase Your Sales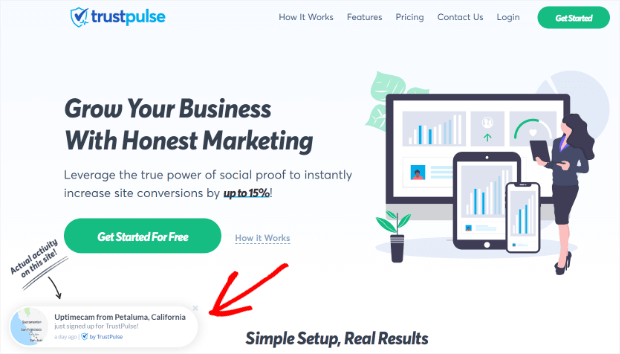 TrustPulse isn't actually a plugin; it's a simple bit of code that you embed on your site. It shows up as those cute little popup bubbles that tell you "So-and-so just did this."
That's called social proof, and TrustPulse can help you leverage its power to increase your conversions by up to 15%.
Social proof, even something as simple as a popup telling visitors about your site activity, shows visitors that you're trustworthy.
Key Features:
Smart targeting using advanced rules and timing controls to show your campaign at the right time to boost conversions
Flexible design options to match the look and feel of your website
Actionable analytics show you at a glance which pages deliver the highest conversions
Works seamlessly with all popular website platforms
Once you embed the TrustPulse code, your visitors will see real-time customer activity on your website in the form of eye-catching, verified activity bubbles. These notifications instantly add credibility and solidify your good reputation in the eyes of a new visitor.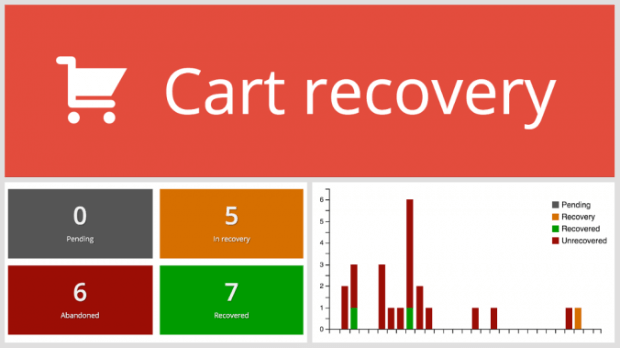 Cart Recovery for WordPress is a WordPress eCommerce plugin that works with WooCommerce, WP eCommerce, Easy Digital Downloads, and Restrict Content Pro right out of the box.
You can use this plugin to easily track abandoned carts, view stats in your WordPress dashboard, and configure automatic recovery email sending. Plus, it integrates with WordPress' GDPR compliance tools for data access and data removal requests.
Key Features:
Captures customers name, and email address as soon as they're entered during checkout
Capture and engage with new customers who never reach checkout with "Save to Cart" (Pro feature)
Abandoned cart email campaigns are triggered automatically when carts are detected as abandoned
Track in-progress carts, abandoned carts, and recovered carts easily within your WordPress dashboard
The biggest downside to Cart Recovery for WordPress is that you have to upgrade to the Pro version in order to view abandoned cart details.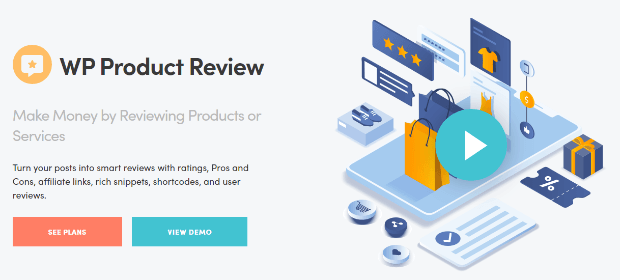 WP Product Review is the best WordPress eCommerce plugin on the market for product reviews. Adding a product review is really easy and you get to choose how you want to manage and display reviews on your website.
You just select the product review option when writing a blog post and the plugin shows you all settings you need to write your review. You can even break down your review into features, add images, pros and cons, and more.
Key Features:
Save time by importing features from reviews you've already built (and Amazon info!)
3 review layouts let you choose a layout that appeals to your visitors
When posting comments, users can rate the different product specifications
Automatically generate comparison tables from existing reviews
WP Product Review comes with sidebar widgets that let you showcase your reviews. And, you can use it to collect user submitted reviews or let your users add their own rating and reviews in the comments. All reviews are displayed in schema.org rich snippet format for maximum SEO benefit.
WordPress eCommerce Plugin to Get Your Site Ranked in Search Engines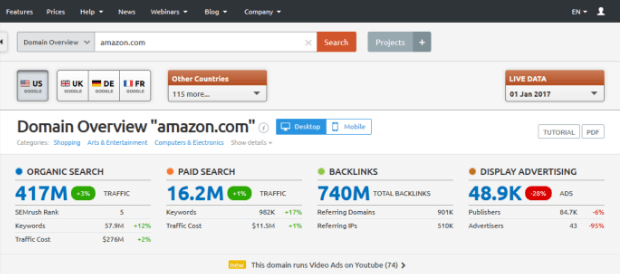 SEMrush not only helps you keep track of how well your own site is doing but what your competitors are doing, so you can beat them at their own game. With SEMrush you can set up side-by-side domain comparisons, conduct competitive analysis, and create up to 50 target keyword lists.
Key Features:
Advertising research lets you know what your competitors are up to
Keyword research helps you choose the right keywords for SEO and PPC campaigns
Audit your site to get an in-depth overview of what's working and what needs attention
The biggest disadvantage of SEMrush for small businesses is going to be the cost.
Yoast SEO helps you ensure that your website content is SEO-driven, helping you increase traffic and earnings on your eCommerce site. A lot of time and effort goes into optimizing websites for SEO performance, but Yoast SEO is a WordPress plugin you can count on to keep it user-friendly.
Key Features:
Content and SEO analysis
Snippet preview shows you how your post or page will look in the search results
Cornerstone content and internal linking features help you optimize your site structure
Insights tool shows you what your text focuses on so you can keep your article in line with your keyphrases (Premium feature)
Automatic internal linking suggestions (Premium feature)
As far as drawbacks go, Yoast SEO lacks support for the free version of their plugin. Given its popularity, we can maybe give them a pass on that.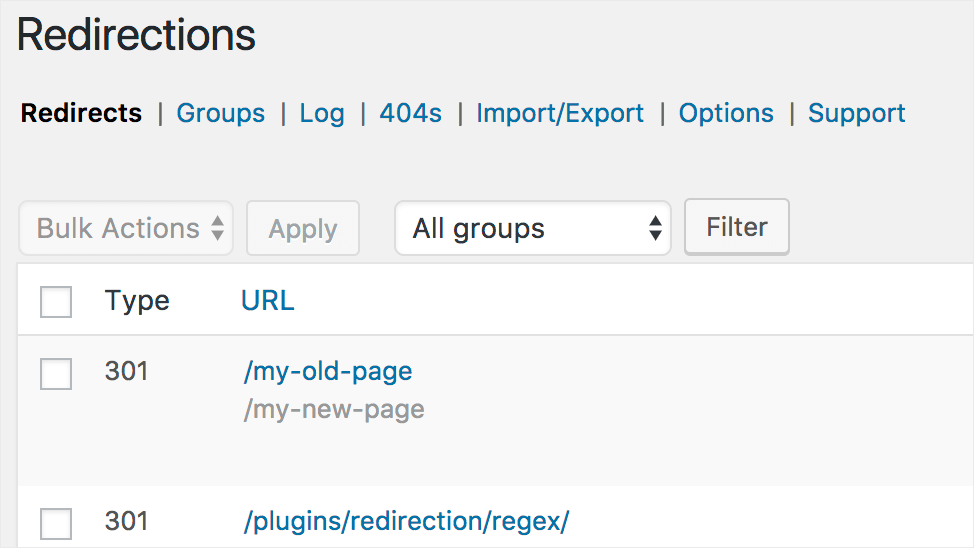 Redirection is the most popular redirect manager for WordPress and helps you easily manage 301 redirects and keep track of 404 errors.
With this WordPress eCommerce plugin, you can do straight URL matching, as well as use conditional redirects. And, Redirection makes it easy to redirect based on things like a user's login status, browser, referring site, cookies, and more.
Key Features:
Conditional redirects in addition to straightforward URL matching
Track 404 errors so you can fix them
View logs of all redirects including user and browser information
Redirects are good for your site's SEO because it lets the search engine know that the page it's looking for has been moved, so your old page's traffic and backlink strength can be pushed to the new page.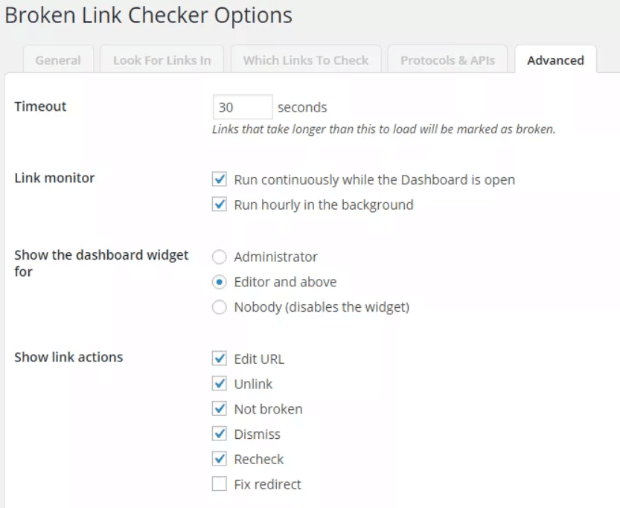 Broken Link Checker lets you check your eCommerce site for broken links so you can fix them before you start bouncing visitors. This plugin monitors links in pages, posts, comments, and even custom fields.
Key Features:
Monitors links wherever you want: posts, pages, comments, blogroll, and custom fields
Edit links right from the plugin dashboard
Get notifications via plugin dashboard or email of links that don't work, missing images, and redirects
Broken links can do a lot of damage to your SEO and rankings. Plus, they're super annoying to visitors. Even checking for broken links a couple of times a year can help you reduce bounce rates and increase page views.
WordPress eCommerce Plugin to Create a Great User Experience
One of the best ways to create a great user experience is to ask users what they want and expect from your brand and your site. And WPForms is the best way to get that valuable feedback from your site's visitors.
Not only is WPForms the best WordPress form builder plugin available, but it's also the best online survey tool you can get!
Key Features:
Create a form in just a few minutes without writing any code using the drag and drop builder
Smart survey fields: Likert scale, ratings, multiple choice
Create polls and display real-time results on your site
Real-time insights offer beautiful reports with the best visualization
On top of all that, WPForms includes multi-page forms, email integration, conditional logic, and tons of other features, plus addons to extend its functionality even more.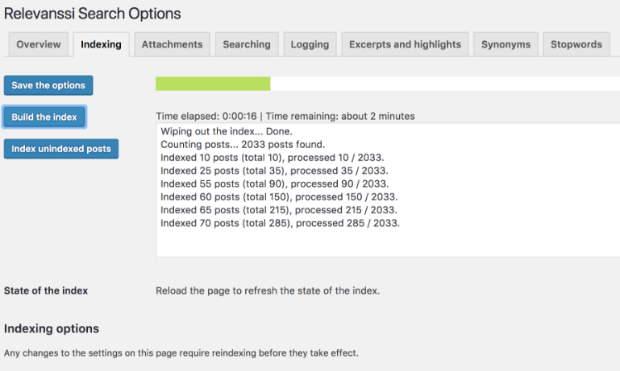 Relevanssi greatly improves the severely lacking WordPress search function. With this WordPress eCommerce plugin, you can customize your search to include pretty much every bit of content on your site and even offer cool options like "Did you mean…" suggestions or fuzzy matching.
Key Features:
Extends search functionality to include comments, categories, post excerpts, and more
Show "Did you mean" suggestions
Multi-site support (Premium feature)
Visitors will bounce from your site if they can't find what they need quickly. The increased search functionality offered by Relevanssi gives you the chance to improve user experience and reduce bounce rates.
WordPress eCommerce Plugin to Maintain and Protect Your Site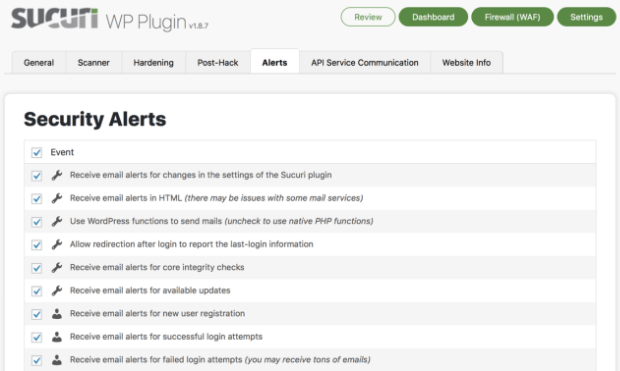 Sucuri Firewall can protect your eCommerce store from just about any type of attack including brute force attacks, malware, DDoS attacks, and more.
Key Features:
Unlimited malware and hack cleanup
A comprehensive 5-step process to ensure that your site is protected
Sucuri keeps your site and users' information safe by blocking attacks before they even reach your server. The scanning functionality monitors your site every 3 hours to check for malware, malicious JavaScript, malicious iframes, suspicious redirections, spammy link injections, and other bad stuff.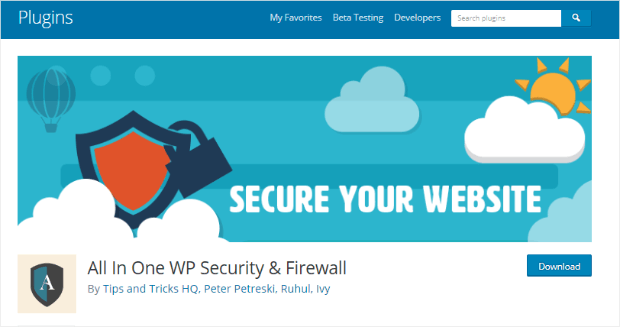 All In One WP Security & Firewall is the best free WordPress security plugin available. It's user-friendly and comes with a ton of features.
Key Features:
Login Lockdown keeps your WordPress site protected against brute force attacks
Force logout capabilities
The ability to blacklist specific IPs or IP ranges
A security dashboard that shows important info like failed login attempts, account activity, and users online
All In One WP Security & Firewall has lots of features and extendability. And, their support is easy to deal with and very patient.
WordPress eCommerce Plugin to Test and Analyze Your Performance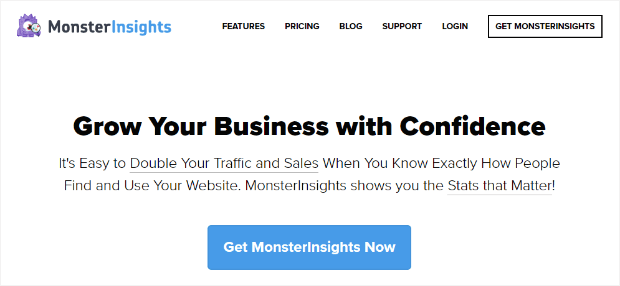 MonsterInsights gives you the power of Google Analytics in an intuitive, easy-to-use platform. It's designed to give you deeper insights into how visitors are interacting with your website and offers enhanced eCommerce tracking features for users operating on WooCommerce and Easy Digital Downloads platforms.
Key Features:
Sales tracking for WooCommerce, Easy Digital Downloads, LifterLMS, and MemberPress
Referral and ads tracking
Integrate Google Analytics and Facebook Instant Articles with a single click
Track form views, submissions, and conversion rates
With the simple click of a button, you're can have real-time data on the performance of your eCommerce site, and get a deeper insight into customer preferences and the success of your sales and marketing initiatives, all with MonsterInsights.
Choosing the Best WordPress eCommerce Plugins
That wraps up our list of the best WordPress eCommerce plugins. Remember, plugins should extend the functionality of your eCommerce site and make your online store run better and offer more features that appeal to your customers.
The plugins that we've included on our list of WordPress eCommerce plugins will do just that. But, if you're interested in branching out, here are some things you can look for when trying to decide whether or not to add a plugin to your WordPress site.
1. User Reviews and Ratings
User reviews and ratings are one of the best places to look for information about how a plugin will work for you in real life. Plus, you'll be able to see how—or if—the creator of the plugin responds.
You can find WordPress eCommerce plugin reviews and ratings in the sidebar of official plugin pages: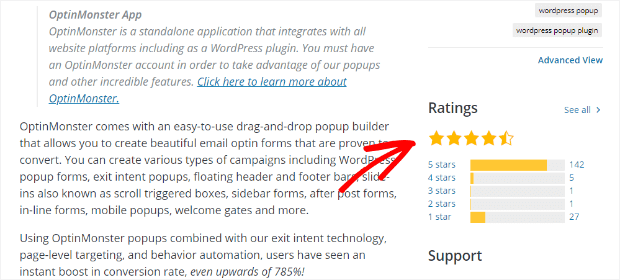 To view all reviews a plugin has simply click See all to the far right of the word Ratings:

2. Customer Support
Support is super important to consider when choosing the best WordPress eCommerce plugins for your site. You don't want to be left trying to figure things out on your own if something goes wrong.
Official WordPress plugins have support forums you can access on the plugin's WordPress.org page: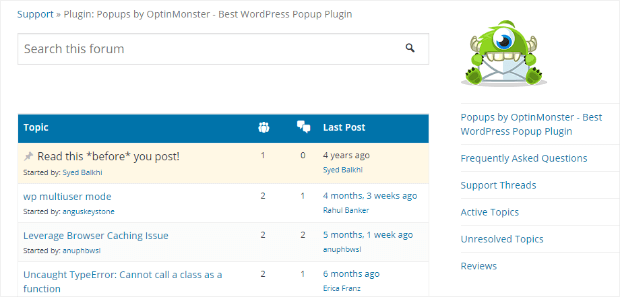 Be sure to look at pinned posts, though, since some plugin creators use a different customer support system (like OptinMonster does).
3. Plugin Screenshots
WordPress eCommerce plugin screenshots show you what it's like to actually work in the plugin. You'll find screenshots on the WordPress plugin page, near the bottom: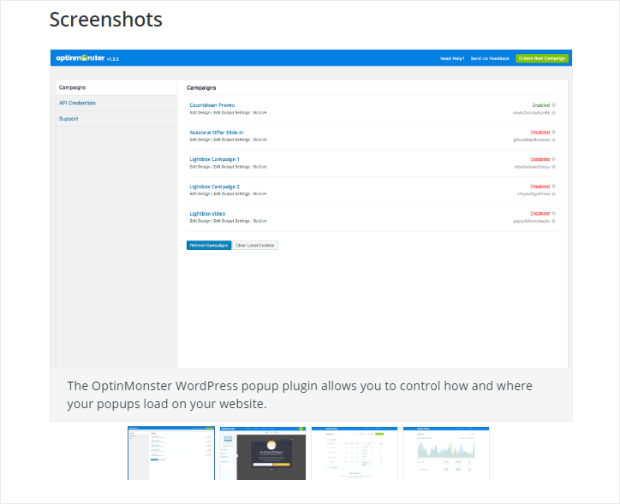 That's all there is to it! Now you have everything you need to build a killer online store in WordPress using all the best WordPress eCommerce plugins. Which plugins will you use?
We're particularly fond of OptinMonster. ? Did you know that you can quickly and easily connect OptinMonster to ManyChat to create your very own chatbot for your site? How cool is that?! Get started with OptinMonster right away to create a chatbot for your site (Growth plan required) and totally WOW your visitors!