Do you want to get more customers for your online store to boost revenue?
Without customers, there would be no sales and zero profits. So, obviously, the more customers you have, the better it is for business.
But it's a challenge to attract new leads and turn them into loyal customers who love and trust your brand.
Luckily, there are powerful tools available that can help you attract the right customers and build solid relationships with them.
In this post, we'll reveal the best customer acquisition tools to increase conversion rates and sales.
Creating The Right Customer Acquisition Strategy
Before we dive into the list of tools, we want to draw your focus to building the right strategy to attract, convert, and retain customers.
Customer acquisition is more than just getting a person to buy. You need to target the right people, engage with them, and find a way to keep them coming back for more.
If you start off on the wrong foot and bring in visitors who aren't interested in your product or service, they may never buy anything from you.
In other words, your time and resources will be wasted.
On that note, here's a strategy we recommend for improving your customer acquisition efforts:
Identify your target audience
Attract and convert leads
Build long-lasting customer relationships
Analyze, test, and optimize
It's a simple and straightforward list, but it's incredibly powerful. And with a strategy in place, you can choose the right tools that will help your business grow.
Customer Acquisition Tools to Increase Profits
There are plenty of customer acquisition tools on the market, making it hard to choose the right ones.
We've selected tools that are designed to help you convert visitors into customers and retain them.
These tools are also created with business owners in mind. That means they're affordable and easy to manage.
Bur most importantly, they're proven to bring results and drive sales.
To make it easy to navigate the list, we've categorized our customer acquisition tools based on which part of the strategy you're working on.
You can use this table of contents to skip ahead to the section that interests you the most:
Otherwise, let's start with customer acquisition tools to help you find your target audience.
Customer Acqusition Tools To Find Target Audience
We'll start with understanding your audience and market so that you can tailor the rest of your customer acquisition strategy to maximize results.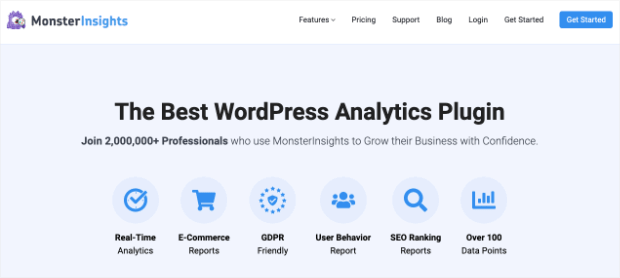 MonsterInsights is the best Google Analytics tool for WordPress.
Google Analytics gives you valuable insights into your audience and your website performance. But it can be difficult to set up especially if you're not tech savvy.
MonsterInsights lets you connect your site to Google Analytics in a few clicks. You can then access your data right from your WordPress dashboard.
Plus, MonsterInsights turns complex data into reports that anyone can understand. That means you'll be able to learn about your target audience more quickly.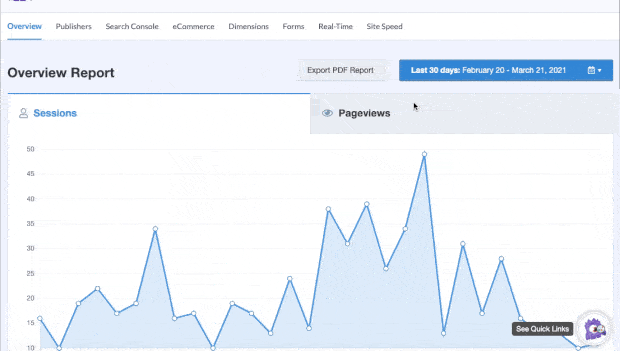 You'll know where they're coming from such as social media platforms, ads, or search engines. You'll also know which countries your business is most popular in.
MonsterInsights shows you which keywords are bringing in traffic and what your users are searching for.
This lets you tailor your marketing strategy accordingly to convert more visitors into customers.
Features
Rely on real-time data, analytics, and reports
Understand user behavior and preferences
Track performance of content and marketing campaigns
Leverage enhanced eCommerce tracking and reports
Cost
Starts at $99.50 per year.
Get started with MonsterInsights!
Customer Acqusition Tools To Attract and Convert Leads
Once you know who your audience is, every marketing campaign you create can match their preferences and interests.
Here are the tools that help convert casual traffic into customers.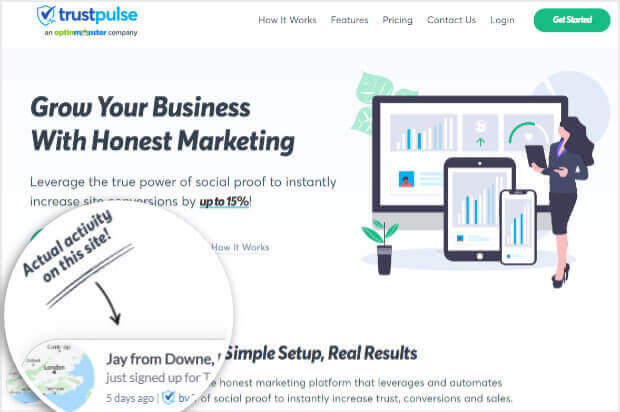 TrustPulse is the #1 social proof app to convert visitors into customers.
It's our very own customer acquisition tool that's proven to instantly lift conversions by up to 15%.
TrustPulse helps build trust and confidence in shoppers so that they take action on your site.
It does this by capturing recent activity on your site, such as sales and sign-ups. Then it showcases these actions in non-intrusive popups, like this:

When shoppers see others buying your product, it shows them that people love and trust your brand. So they'll be more likely to make a purchase.
TrustPulse lets you showcase recent activity of individuals or group statistics.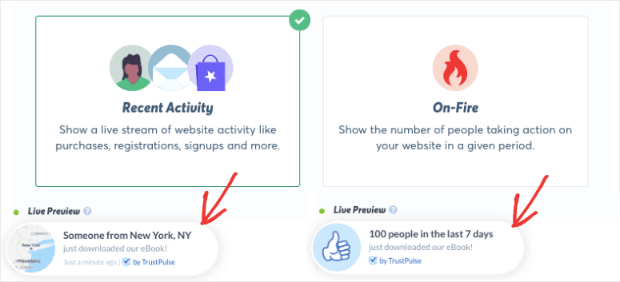 You can also use it to show action messages to alert your customers about flash sales, discounts, offers, and more:

But the best part about TrustPUlse is how easy it is to set up and start designing professional notifications in minutes–even if you have no coding or design experience.
Everything can be customized with drop-down menus, simple text input fields, or selecting colors from a color wheel.
As you can see, TrustPulse has everything you need to connect with shoppers and convert them into customers.
Features
Easy to set up and manage campaigns
Automatically captures activity and displays popups
Customize messages and popup designs
Smart targeting to show popups to the right people at the right time
Works on all popular website platforms
Cost
Starts at $5 per month.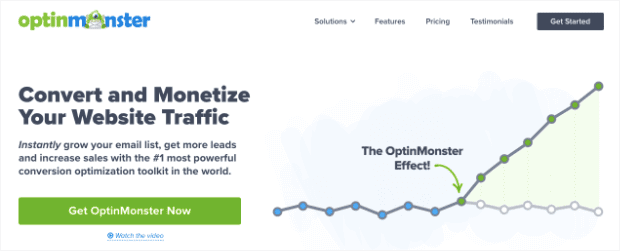 OptinMonster is a premium tool to boost customer and lead acquisition at incredible rates.
With OptinMonster, you can create stunning marketing campaigns such as popups, slide-ins, and floating bars to convert visitors into subscribers, leads, and customers.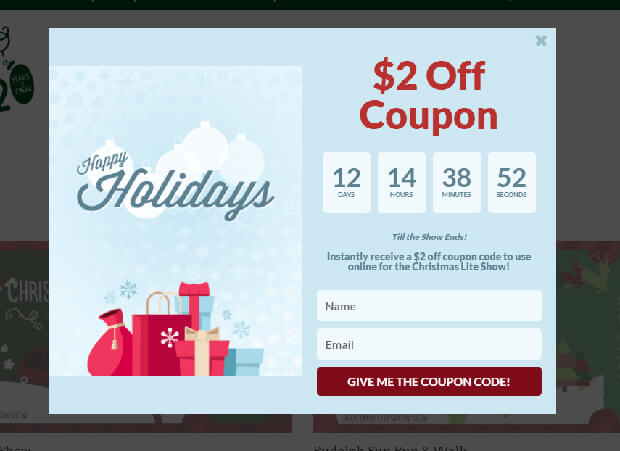 It comes with 50+ beautiful templates and a user-friendly drag and drop builder to customize designs in minutes.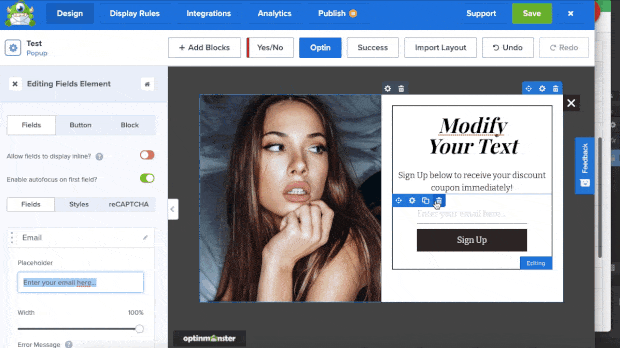 OptinMonster has more targeting features than any other tool. This lets you display campaigns to your audience when they're most likely to convert.
For example, you can target visitors on specific product pages, when they click a button, or when they're about to leave your site.
You can also integrate with popular email services to automate lead generation and email marketing campaigns. That way, you can also build strong and long-lasting relationships with your customers.
Features
9 campaign types and 50+ beautiful templates
High-converting campaign elements like countdown timer and optin forms
Powerful targeting features to convert customers and reduce cart abandonment
Integrates with popular email services like Constant Contact and Mailchimp
A/B testing and analytics to check results
Cost
Starts at $9 per month (billed annually).
Get started with OptinMonster!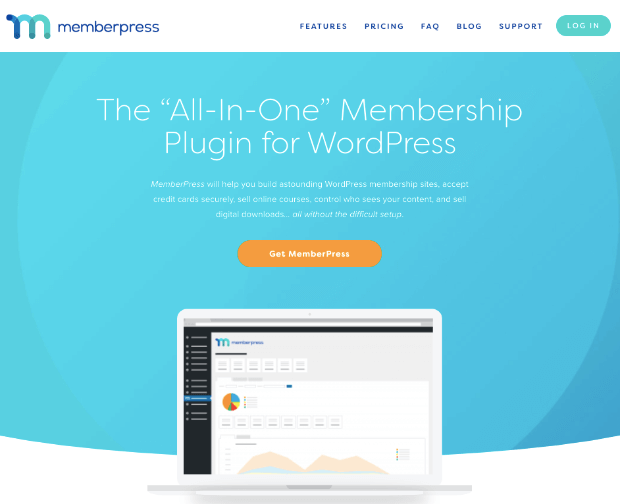 MemberPress lets you create membership programs on your site. You can restrict content and exclusive features to premium plans. This gives you an opportunity to turn visitors into paying customers.
Your membership benefits can include premium content, free shipping, priority support, and early-bird access to events and sales.
Using MemberPress, you can collect leads, increase conversion rates, and generate more revenue.
Features
Control who sees your content and digital downloads
Create multi-level memberships with different pricing plans
Integrates with popular marketing platforms
Accept payments securely
Cost
Starts at $149 per year.
Get started with MemberPress today!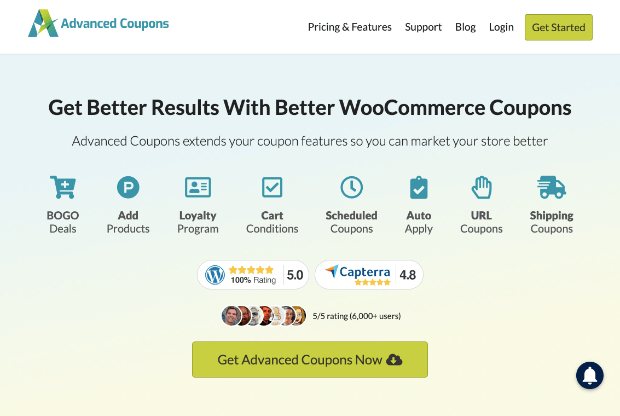 Advanced Coupons is a simple yet powerful tool to offer deals and discounts to shoppers.
With irresistible offers, customers are more likely to buy from you and keep coming back for more.
You can use Advanced Coupons to offer BOGO deals, loyalty programs, shipping coupons, and more.
It's easy to set up, create rules, and manage coupon programs. Advanced Coupons will automatically detect if a shopper is eligible for a discount or deal and apply it to their cart.
Features
Simple set up and easy to manage
Auto apply coupons
Schedule coupon validity
Alert customers about available coupons
Cost
Starts at $39.50 per year.
Get started with Advanced Coupons today!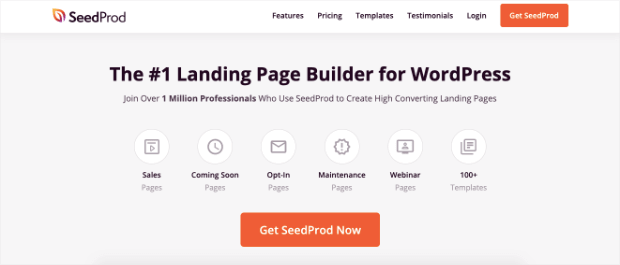 SeedProd is the best WordPress page builder to create high-converting landing pages.
It lets you add optin forms, countdown timers, video blocks, and more to convert window shoppers into customers.
With SeedProd, you can also create coming soon pages and maintenance pages with optin forms. That way, you can collect leads and customers even when your website isn't actively online.
It comes with a drag and drop builder and 100+ stunning templates to set up your pages in minutes.
Features
Customizable call to action buttons
Optin forms to collect email addresses
Add social media share buttons and star ratings
Built-in customer acquisition tools and page elements
Integrates with email marketing platforms
Cost
Starts at $39.50 per year.
To grow your customer base, you'll want to collect as many leads as you can. Leads are people that have shown interest in your product or brand.
They may read your blog post, sign up for your newsletter, request a quote, or submit a query. Every person that interacts with your site has the potential to become a customer.
In this section, we'll show you tools to collect leads so you can connect with them later to build relationships and ultimately, convert them into customers.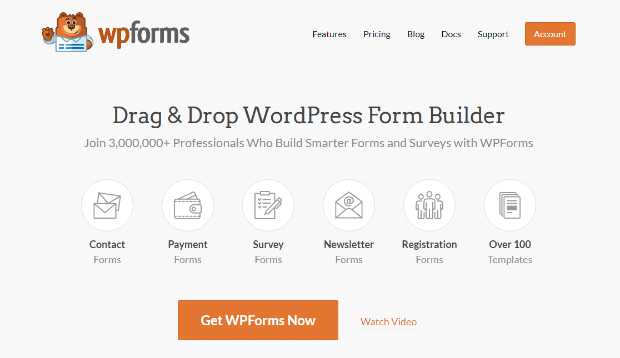 WPForms is the best form builder for WordPress.
Forms are one of the best ways to bring in new customers and engage with existing ones.
With WPForms, you can create any kind of form for your website. This includes contact forms, registrations and logins, surveys and polls, payment forms, and more.
It comes with 150+ templates and a drag and drop builder to craft beautiful forms in minutes. And you can display these forms in pages, posts, sidebars, or footers to maximize conversions.
Features
Built-in form spam protection
Integrates with popular email service providers
100% responsive designs that look good on all devices
Use smart conditional logic for better performance
View all your leads and customers in one place
Cost
There's a free Lite version available. Paid plans start at $39.50 per year.
Alternatives: TypeformYou can also use for non-WordPress sites.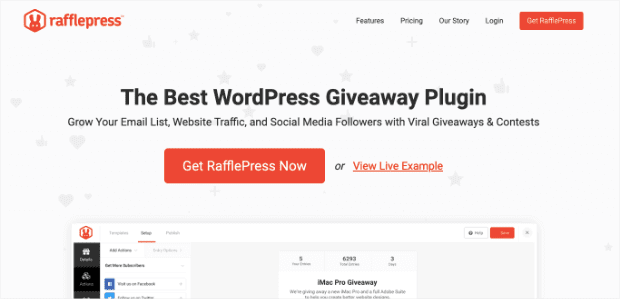 RafflePress is a powerful giveaway tool to explode your email list.
It lets you create stunning contests to collect leads, boost engagement, and bring in more customers in a short period of time.
With premade templates and a drag and drop builder, it's easy to create full-fledged giveaways in minutes.
RafflePress also lets you add eligibility conditions in just 1 click. That way, you can ask participants to become social media followers, leave a comment, share the post, or refer a friend.
With these features, you can collect leads, create brand awareness, and boost social media engagement at the same time.
To get a glimpse of this tool in action, check out how SeedProd 3x their sales with viral RafflePress contests.
It was wildly successful as 50,000+ people entered the giveaway, thousands shared it on social media, and 4,000+ people converted into customers.
Features
Stunning templates that are designed to work
Responsive mobile-friendly designs
Built-in fraud protection
Integrates with all popular social media platforms, email marketing tools, and CRMs
Track performance and goals
Cost
Starts at $39 per year.
Alternatives: Check out Rafflecopter for non-WordPress websites.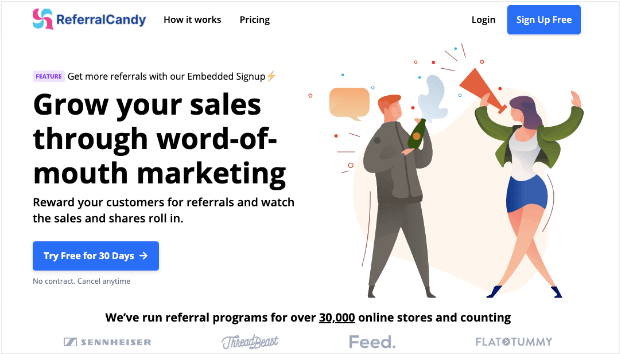 Referral Candy is a plugin for WooCommerce sites. It lets you set up a rewards system for customers who refer their friends and family.
ReferralCandy makes it easy to create rules and eligibility criteria. When customers meet the set criteria, this tool will automatically pay the reward.
With ReferralCandy, you can get existing customers to bring in more customers at an affordable cost!
Features
Automated referral program
Minimal set up
Built-in fraud protection
Analytics to make data-driven decisions
Cost
Starts at $49 per month.
Get started with Referral Candy today!
Alternatives: Check out ReferralRock that works on all websites.
Customer Acqusition Tools To Build Relationships
While customer acquisition is important, customer retention is the key to long-term success.
By building relationships with customers, you can boost brand engagement, credibility, and loyalty.
These tools are designed to help you connect with customers and subscribers to reach marketing goals and grow your business.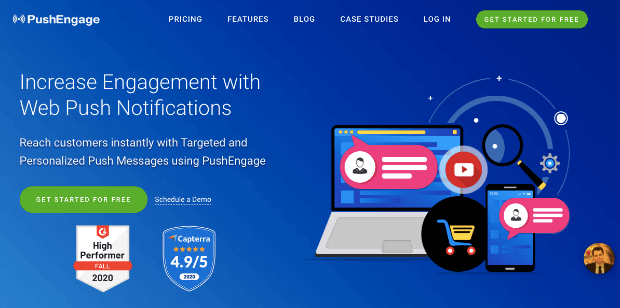 PushEngage is the best push notification tool on the market. It lets you send messages and alerts to subscribers' browsers.
Push notifications appear in a subscriber's browser even if they aren't viewing your website. This lets you stay in constant contact with your visitors long after they've left your site.
With PushEngage, you can alert customers about abandoned carts, restock alerts, sales, price drops, and more.
You'll be able to connect with visitors that left your site and turn them into returning customers.
It's also easy to get subscribers because people don't need to hand over their personal contact details such as a phone number or email address. They just need to allow browser notifications.
Features
Trigger notifications based on user actions
Easy to customize and personalize messages
Set up automated campaigns and series
Create and track campaign goals to optimize results
Cost
There's a free plan available for up to 2,500 subscribers a month. Paid plans start at $25 per month.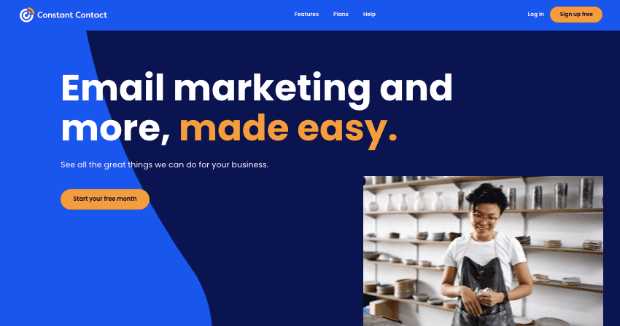 Constant Contact is a popular and powerful email marketing service provider.
Email marketing is one of the best ways to engage with visitors and customers to build relationships with them.
To send business emails, you need a reliable email service provider and Constant Contact is #1 on the list. You can send bulk emails without any hiccups so your marketing emails hit the inbox and don't go to spam.
Constant Contact lets you create automated email marketing campaigns such as welcome or re-engagement series. You can schedule emails and trigger campaigns based on the subscriber's actions and behavior.
Constant Contact also integrates with tons of marketing tools so you can set up automated workflows.
Features
High delivery rate to make sure subscribers get your email
Drag and drop editor to create stunning emails
100% responsive email designs that look great on all devices
Use Facebook and Instagram ads to get more leads
Cost
Starts at $20 per month.
Alternatives: Other great email marketing tools include Sendinblue and AWeber.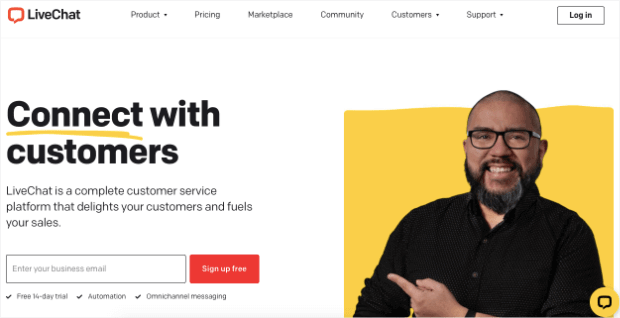 LiveChat gives you a way to instantly connect with visitors that need more information before they make a purchase.
The live chat box appears at the side of the screen like a salesperson waiting to help them.
You can set up automated messages to welcome customers to your site and let them know that you're available to assist them.
You can then convince them about your product or service and encourage them to buy it.
Features
Automated welcome messages
Quickly respond to customer support queries
Create and manage tickets easily
Track leads, sales, and goals
Cost
Starts at $16 per month.
Get started with LiveChat today!
Customer Acqusition Tools To Optimize Results
To maximize customer acquisition, you'll need to test and experiment with different strategies and campaigns.
This will help you find what your audience responds to and what works best for your business.
The tools below help you run experiments and optimize the results of your customer acquisition campaigns.

Google Optimize is a free tool that you can use to run split tests on your marketing and email campaigns.
However, it's quite difficult to set up and use.
To make it easier, MonsterInsights has a Google Optimize addon that you can set up in just a few clicks.
Then, you can create and run A/B tests to find which campaigns get better results.
MonsterInsights lets you adjust the speed and sample rate to better suit your business needs.
This tool can help you improve user experience and conversions right away!
Features
Easily implement Google Optimize in just a few clicks
Run experiments and split tests on marketing campaigns
Accurate results to see what customers prefer
Cost
Available in the MonsterInsights Pro plan that costs $199.50 per year.
Get started with MonsterInsights Google Optimize!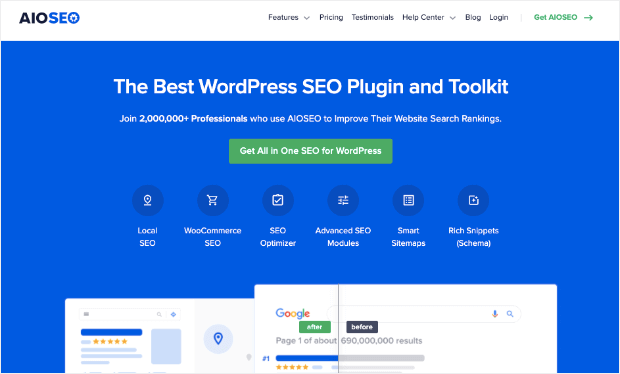 All in One SEO (AIOSEO) is by far the most popular SEO plugin for WordPress. It's a comprehensive solution to optimize your site's SEO so you can drive more traffic to your site.
As you bring in more traffic, you increase brand awareness as well as generate more leads and customers.
AIOSEO is easy to set up and use. It comes with 1-click options to enable recommended SEO settings on your site.
You can also optimize every new page and post before you publish it on your site.
With AIOSEO, you'll be able to drive more traffic and potential customers to your site.
Features
Optimize for keywords and readability
Automated SEO site audit
Apply technical SEO measures at the click of a button
Advanced SEO modules and rich snippets
Optimize specifically for eCommerce sites
Pricing: There's a free version available. The pro version starts at $99.50 per year
Get started with All in One SEO today!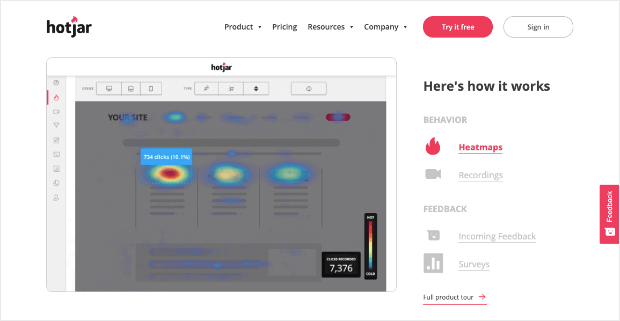 Hotjar is a heatmap tool to see how visitors engage with your site.
It gives you a visual map of where your visitors spend their time and where they drop off. That way, you can see what your visitors are actually doing and where they're clicking on your site.
HotJar helps you find spots where users are most engaged, so you can display call-to-action buttons and offers there. This will maximize customer acquisition and conversions.
Features
Visual insights into customer actions and behavior
Find areas of improvement
See where visitors abandon a session
Cost
Starts at $99 per month.
And there you have it! That's our list of the best customer acquisition tools to increase sales and profits.
You may not need nor be able to use all 15 tools in this list. To narrow it down for you, we've picked the top 4 tools you must have for maximum customer acquisition:
With that, you'll have everything you need to maximize customer acquisition for your store.
We hope you liked this post. And if you're looking for more tools and strategies to grow your business, check out:
These posts will help you convert more shoppers into lifelong customers.