Are you looking for the best WordPress plugins for your website?
WordPress is the most popular website building platform, which powers over 75 million sites worldwide. And one of the reasons it's so popular is that there are 58,000+ WordPress plugins, tools, and extensions that can take your business to the next level.
With so many to choose from, we've heard from our users that they spend too much time trying and testing plugins. And some have even found themselves stuck with a premium tool that they don't need.
In this article, we'll share our expert pick of the best WordPress plugins and tools that we know will be helpful.
Table of Contents
And since this is a long list, we've categorized the plugins based on your needs. So you can skip ahead to what you're looking for using these quick links.
Best Plugins and Tools To Build and Grow Your WordPress Site
Whether you're just starting out or you already own a WordPress site, we've selected plugins that will help you build and grow your site.
In case you don't already have a website set up, you'll need two things:
A good web hosting platform where your website's content will be stored. We recommend Bluehost. They're the official hosting provider recommended by WordPress.org. They offer world-class hosting services at affordable rates. It's also easy to set up WordPress and get started.
A domain name which is your website's address such as 'examplesite.com'. You can get a great domain name with Bluehost for free for your first year.
Once you have a website set up, we can dive right into the best WordPress plugins and tools.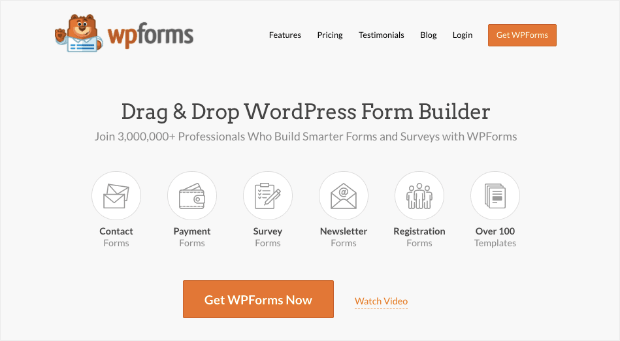 WPForms is the best form builder for WordPress ever!
It lets you build all sorts of forms for your site such as contact, sign up, log in, and registration forms. You can even create surveys and polls.
There are many form builders you can use to create standard forms. But WPForms has really taken into account the pain points you'll probably face along the way and has built-in features to combat them.
For instance, contact forms usually see a lot of spam entries filled in by bots. WPForms has anti-spam protection on any form you create, so you'll never face spam issues.
Apart from that, here's what we think you'll absolutely love about WPForms:
Visual drag and drop builder with plenty of field options to create any kind of form
Lots of templates to choose from so you don't have to start from scratch
Integrates with popular marketing platforms so you can trigger emails when a user submits a form
Integrates with popular payment platforms so users can make purchases
GDPR friendly forms
Smart conditional logic for high performance
Instant and customized notifications for your team
View all your leads in one place
It even lets you convert your form into a conversational format to keep the user engaged and reduce form abandonment.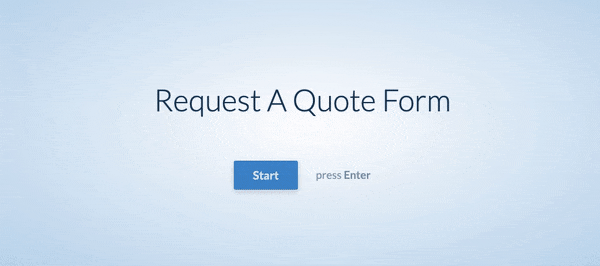 WPForms stands apart from the rest because it has features that simply don't exist in other plugins.
If you want to learn more about this tool, check out our detailed review on WPForms.
Pricing: WPForms has a lite version that's free and has all the features you need to create stunning forms. The pro version starts at $39.50 per year.
Alternatives: You can try Formidable Forms.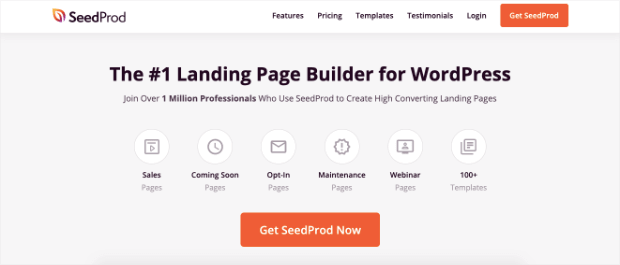 SeedProd is the ultimate landing page builder for WordPress. It's the best and most powerful tool we've come across to build beautiful landing pages.
It has a visual drag and drop builder that lets you create professional-looking webpages in minutes.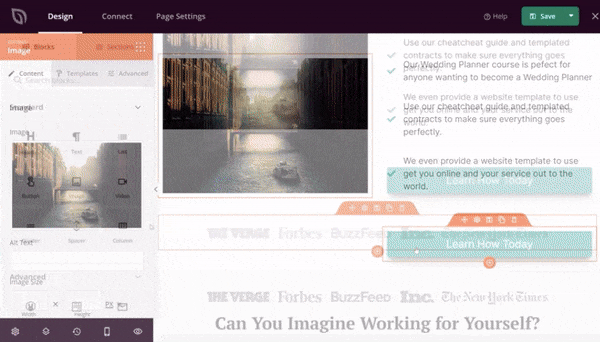 Here's what you'll love about SeedProd:
100+ beautifully designed templates
Responsive designs that look great on any device
Easily set up coming soon, maintenance mode, and 404 pages
Define color schemes, font combinations, custom blocks and sections
Create optin forms, social profiles, countdown timers, and buttons
Integrate with 3rd party email marketing services and CRM software
Smart design system that lets use reuse elements to save time
Zero coding knowledge required
With SeedProd, you can create a website that stands out from the rest. Plus, it has built-in lead generation tools that help you grow your business.
And if that's not enough, you can leverage the power of 3rd party platforms with seamless integrations.
Pricing: Starts at $39.50 per year.
Get started with SeedProd today!
Alternatives: If you're looking for more options to choose from, check out BeaverBuilder.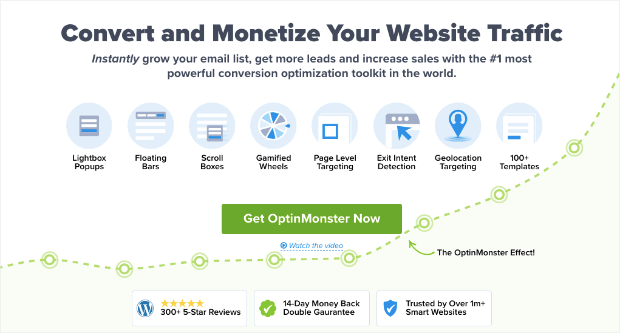 OptinMonster is hands down the most powerful lead generation tool on the market.
It's loaded with features to help you skyrocket conversions and grow your email list.
With OptinMonster, it's easy to create high-converting campaigns like popups, slide-ins, banners, and scroll boxes.
It has an easy-to-use interface that anyone can use to set up high-converting campaigns.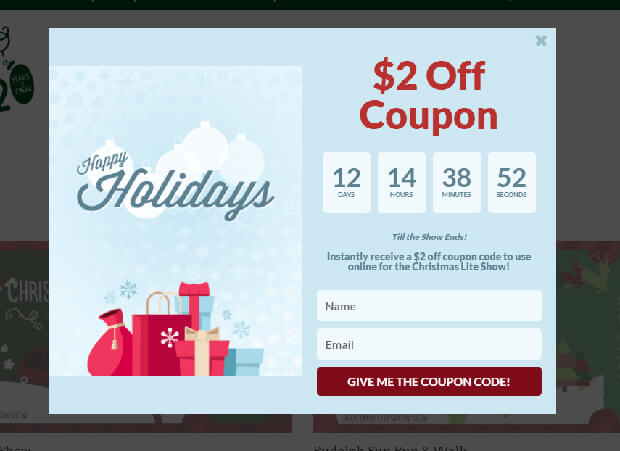 Here's what you'll love about OptinMonster:
Visual drag and drop builder so anyone can build campaigns in minutes
9 campaign types and 50+ templates to choose from
Powerful targeting features and campaign triggers
Specific WooCommerce targeting options
Responsive designs that look great on any device
Seamless integrations with email marketing services
Personalize campaigns for better results
A/B testing and analytics to find out what works
Collects only genuine leads and filters out fake or spam entries
OptinMonster has more targeting features than any other tool we've seen. You can segment your audience and target them based on location, activity, and behavior.
So for instance, the tool has built-in Exit-Intent® technology. This can detect when a visitor is leaving your site and trigger a popup to get them to sign up for your newsletter or continue their purchase with a discount.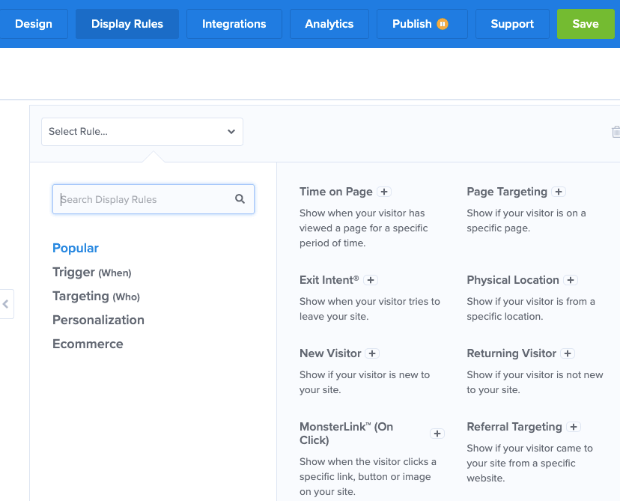 In a nutshell, it has everything you could possibly need to convert visitors to customers, increase sales, and grow your subscriber list.
Apart from that, OptinMonster can help increase page views, boost affiliate revenue, and reduce shopping cart abandonment.
Pricing: Starts at $9 per month.
Get started with OptinMonster today!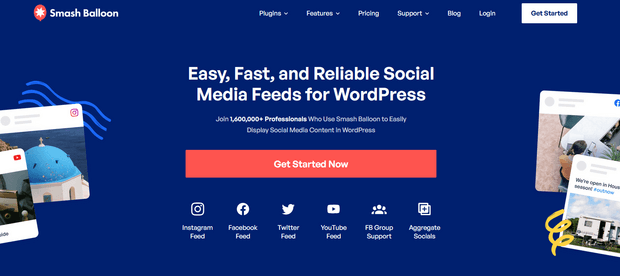 Smash Balloon is the world's leading social media feed plugin for WordPress.
It's a suite of social media plugins that let you create feeds from Instagram, Facebook, Twitter, and YouTube.
You can even combine all four feeds to create a powerful Social Wall like this.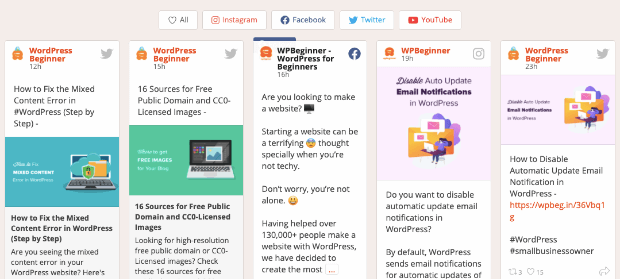 Smash Balloon helps you increase the time spent on your site as visitors have more content to view. Plus, with social buttons to like, share, and comment on posts, you can increase social media engagement.
Added to that, you can also increase your followers and subscribers by displaying one-click 'follow' and 'subscribe' buttons.
There are other social media plugins on the market but they don't come close to what Smash Balloon has to offer. It takes care of everything you need and more!
Here's Smash Balloon's highlights:
Create customized social media feeds in minutes
Responsive feeds that display perfectly on any device
No coding knowledge required
Search engine accessible and optimized for speed making the feeds SEO-friendly
Filter by timeline, hashtag, events, videos, photos, etc.
Amazing customer support that's friendly and responsive
Smash Balloon gives you the perfect way to show off your social media content on your site.
Pricing: Starts at $49 per year.
Get started with Smash Balloon today!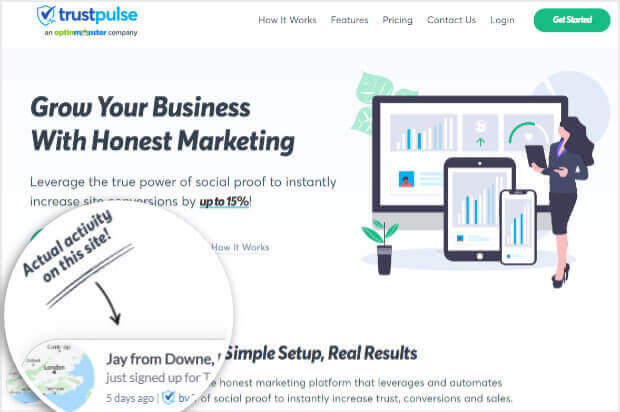 TrustPulse is the best social proof tool for WordPress. It lets you build trust and credibility for your site.
You can track activity such as purchases, downloads, and registrations on your site and display them as notifications on your site.
They appear as non-intrusive popups that don't disrupt the user's browsing but at the same time are hard to miss.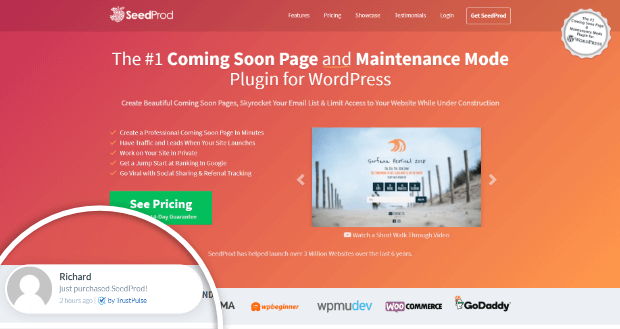 This is an effective way of adding a sense of FOMO (fear of missing out) and urgency to take action as others are doing the same.
Here's what stands out about TrustPulse:
Create notifications for recent activity, low stock alerts, reviews, and more
Customizable designs to match your website's theme
Seamlessly integrates with popular web platforms
Actionable insights and analytics to find the highest converting pages
Smart targeting to display campaigns at optimal times to maximize conversions
Create tons of cross-selling and upselling opportunities
To learn more about upselling and cross-selling, read: What Is the Difference Between Upselling and Cross-Selling?
TrustPulse has a track record of increasing conversion by up to 15%. It's easy to use and helps you win over customers instantly.
Pricing: There's a free plan that gives you access to 500 sessions per month. Paid plans start at $4 per month.
Get started with TrustPulse today!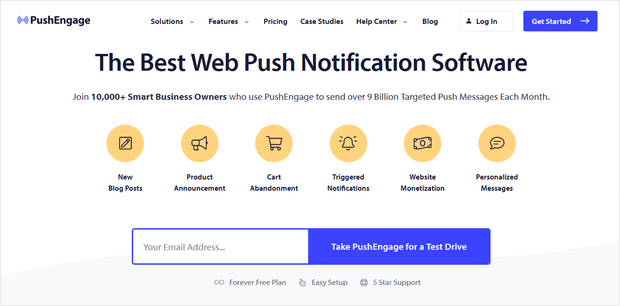 PushEngage is a highly-rated push notification platform for WordPress.
It lets you send targeted messages, alerts, and announcements to your visitors on their web browsers. This means visitors don't have to be actively browsing your site to see your message.
It's easy to get visitors to subscribe to these notifications because they don't have to disclose any personal info such as their contact number or email address.
Here's what you'll love about PushEngage:
Create attention-grabbing notifications that convert
Create automated drip campaigns
A/B testing, analytics, and goal tracking to optimize results
Send optin reminders to maximize subscribers
Dynamic user segmentation and targeting features
Works seamlessly on all web platforms
Using PushEngage, you can get more views for your blog by sending automated notifications about recently published posts. You can also set up triggers for cart abandonment, price drop notifications, inventory alerts, and more.
Pricing: The free plan allows you to send 120 notifications to 2,500 subscribers. Paid plans start at $25 per month.
Get started with PushEngage today!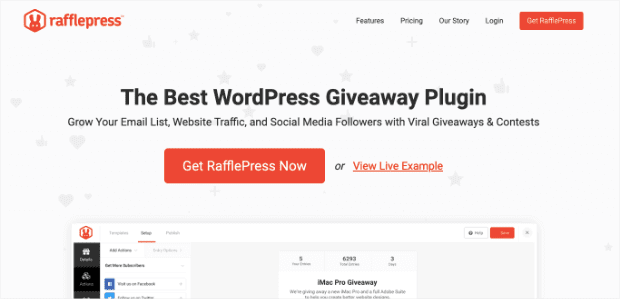 RafflePress is the best giveaway plugin for WordPress. It lets you create viral giveaways and contests to increase traffic, social media followers, and email subscribers.
It has a simple yet modern interface with a drag and drop builder that makes it easy to create attention-grabbing contests.
Here's what RafflePress has to offer:
Incentivize visitors to subscribe, like, share, comment, and follow you
Customizable entry options for major social network
Create distraction-free landing pages for the giveaways and contests
Integrates with social media platforms and email marketing services
Impressive success tracking and retargeting features
Built-in fraud protection
RafflePress helps boost engagement, increase exposure, and grow your social media following and leads.
Get started with RafflePress today!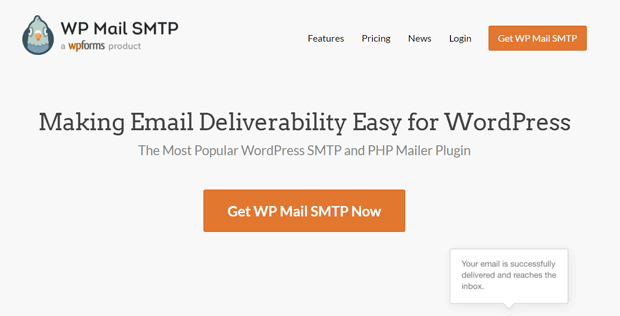 WP Mail SMTP is the best plugin to solve email issues. The reason this plugin is on this list is because almost every WordPress user needs it.
If you don't have the proper email configurations set up, you and your site's users could miss important notifications about comments, registrations, contact form entries, and the like.
By default, WordPress uses PHP mail function which doesn't properly authenticate emails that it sends. This leads to emails not being delivered or ending up in the spam folder.
WP Mail SMTP fixes these problems by using a proper trusted SMTP mail server.
Here are the key features of this plugin:
Quick and user-friendly setup so even beginners find it easy to use
Several SMTP providers to choose from such as Mailgun, Gmail, and SendGrid
Self-explanatory and guided notes to resolve email issues in minutes
No coding skills needed
What's really great about this plugin is that anyone can easily use it to solve really technical email issues on your site.
Pricing: Absolutely free!
Get started with WP Mail SMTP today!
Best Plugins and Tools To Optimize Your Site
Once you've built an awesome site, you'll need to optimize it to get the best results on search engines. Here's our top pick of WordPress optimization plugins.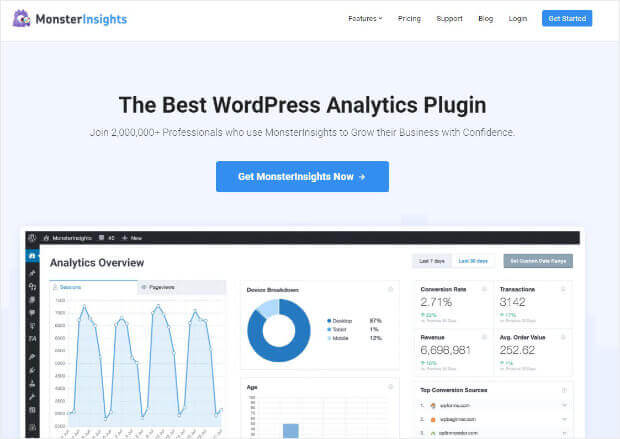 MonsterInsights is the best Google Analytics plugin for WordPress.
Usually setting up Google Analytics is technical and many site owners hire a developer to do it. MonsterInsights makes it easy for anyone to connect to Google Analytics.
Plus, it takes complex site data and turns them into simple reports that are easy to understand. So you can get valuable actionable insights that matter right inside your WordPress dashboard.
Here's what stands out about MonsterInsights:
Set up Google Analytics with a few clicks
Detailed reports on web traffic and visitor interactions
Set up advanced tracking such as eCommerce, forms, ads, and custom dimensions
Make your site GDPR complaint
Insights are accessible from your WordPress dashboard
MonsterInsights lets you view your site's total revenue, conversion rate, top products, and referral sources. So you can find ways to engage with visitors and attract new ones.
Pricing: There's a free version available. The pro version starts at $99.50 per year.
Get started with MonsterInsights today!
Alternative: Another great analytics plugin for WordPress that you can use is ExactMetrics. It provides accurate real-time stats about your site right inside your WordPress dashboard.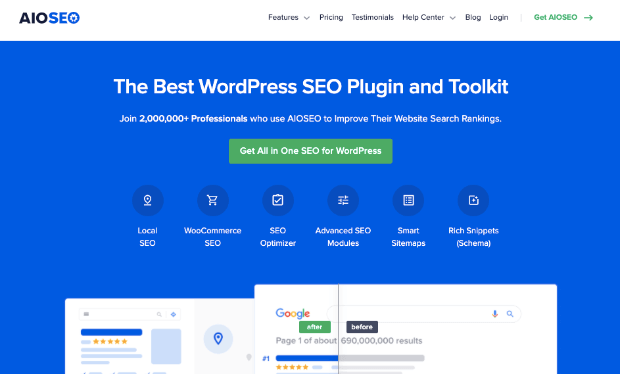 All in One SEO is by far the most popular SEO plugin for WordPress. It lets you easily set up SEO measures you need to start ranking on search engines.
It's the most comprehensive SEO solution and takes care of everything like:
Connect to Google Search Console
Add metatags, meta titles, and meta descriptions
Simplifies technical SEO like robots.txt, sitemaps, permalinks, and structured data
Optimize for social media sharing
Keyword optimization and readability checks
Advanced SEO modules and rich snippets
Specific features for Local SEO and WooCommerce SEO
Link assistant to find new internal linking opportunities
All in One SEO is suitable for all types of businesses, marketers, and web developers. It also comes with a setup wizard to easily configure WordPress SEO measures without hiring an SEO analyst.
Pricing: There's a free version available. The pro version starts at $99.50 per year
Get started with All in One SEO today!
Alternative: A good alternative is Yoast SEO that offers similar features to optimize your site.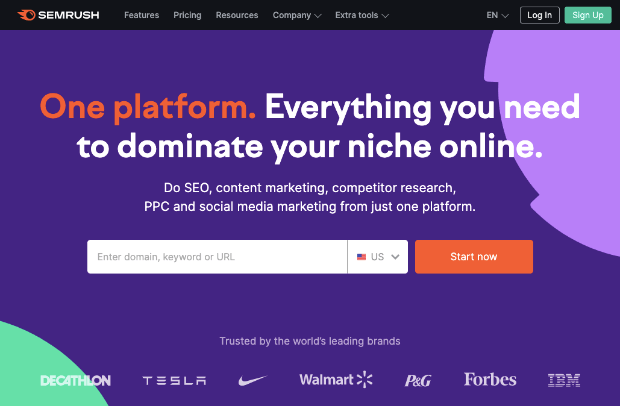 SEMrush is an all-in-one marketing toolkit for digital marketers. It lets you improve your SEO and paid traffic strategies.
Create target keyword lists
Competitor analysis
Advertising and PPC research and analysis
Site audit to get an in-depth view of what's working and what needs improvement on your site
Track keyword ranking and brand mentions
Discover best performing posts and pages on social media
Identify and fix broken links
SEMrush helps you gain insight into what's working for your competitors so you can create your own marketing strategy to outrank them.
You can make your site better and more attractive to search engines. There are plans for every kind of business like freelancers, startups, small businesses, agencies, and large enterprises.
Pricing: Starts at $199.95 per month
Get started with SEMrush today!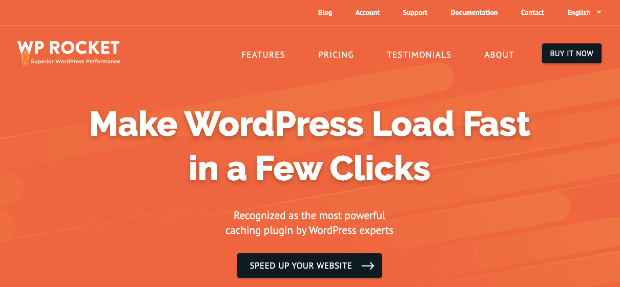 WP Rocket is the best caching plugin for WordPress. It instantly improves your site's speed and performance. It's beginner-friendly and doesn't require any technical skills.
Here's what WP Rocket has to offer:
Automatically turns on recommend cache settings
Automatically crawls and builds website cache
Built-in gzip compression, page cache, and cache pre-loading
Lazy load images
CDN support
Advanced features to improve page load time
You also get access to Imagify which is a free image optimization tool to speed up your site even more.
Pricing: Starts at $49 per month.
Get started with WP Rocket today!
Alternative: You can use WP Super Cache as a free alternative.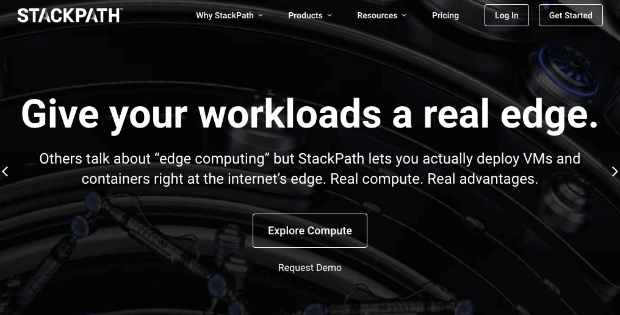 StackPath (formerly known as MaxCDN) helps speed up your website by using multiple servers across the world.
The CDN service will use the closest server to the site visitor to load the web page faster and more efficiently.
You can control where your content is stored and for how long. You can also instantly purge your content stored in caches on all servers at the push of a button.
Here's what you get with StackPath:
Set up 301 redirects to send users where you want them to go
Set specific cache rules
Add and remove headers before requests go to the origin or back to the client
Protect your content with URL signing
Free private EdgeSSL certificate
Real-time analytics
It optimizes how your pages load and how files are delivered to your users across the world.
Pricing: Starts at $10 per month.
Get started with StackPath CDN today!
Alternative: KeyCDN offers similar features to optimize content delivery across the globe.
Best Plugins and Tools to Backup and Secure Your Site
Your website lives in the digital realm where it's prone to errors and hackers. So it's best to keep a copy of your site that you can easily restore if things go wrong. In addition to that, you should take a few security measures to protect your site as well.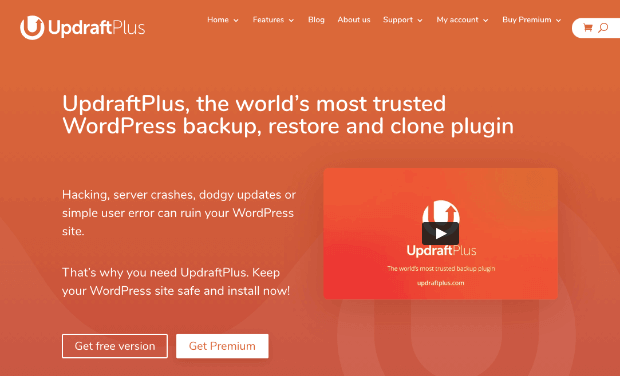 UpdraftPlus is the best backup plugin that lets you create automated and scheduled backups of your site.
It backs up your WordPress files and database that can be encrypted and stored safely.
Usually, the backup process can slow down your site. However, UpdraftPlus uses incremental technology that backs up your site in chunks. This makes sure your site's speed and performance are never affected.
You can restore your site directly from your WordPress control panel. It also has advanced features like cloning, migration, and reporting.
Pricing: There's a basic free version. Paid plans start at $42 per year.
Get started with UpdraftPlus today!
Alternative: You can try BackupBuddy which is also another great backup plugin.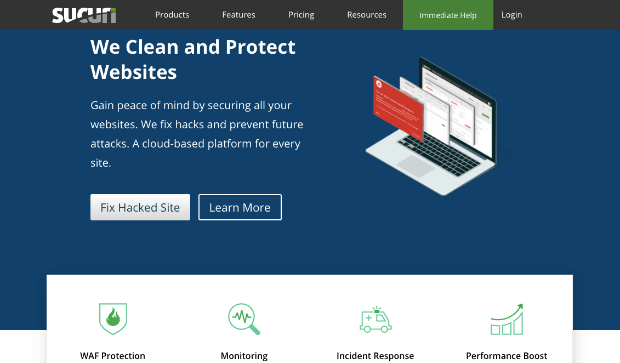 Sucuri is the best WordPress security plugin to protect your site from hackers.
It's equipped to secure your site against just about any type of attack including brute force, malware injections, and DDoS.
Sucuri has a 5-step process to ensure your site's security standards are up to date. It monitors your site at regular intervals to check for malicious code and suspicious activity on your site.
Sucuri's firewall is easy to set up and will block attacks before they reach your site.
Pricing: There's a free version available in the WordPress repository. Paid plans start at $199.99 per year.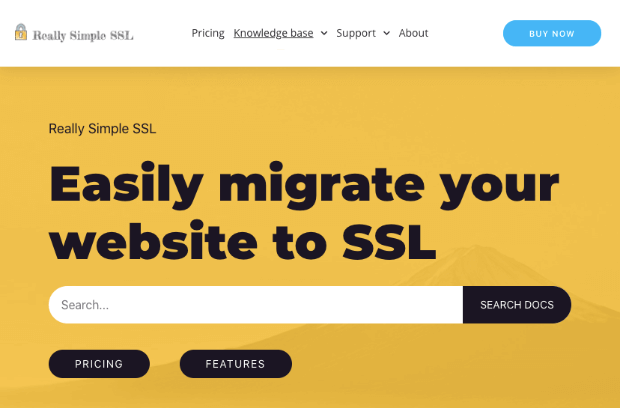 Really Simple SSL is a WordPress plugin that makes it extremely easy to install an SSL certificate.
Your website often sends and receives data between browsers and servers. Hackers can intercept this data and steal it for malicious purposes. To avoid this, you can use SSL (Secure Sockets Layer) that encrypts the data and makes sure hackers can't get their hands on it.
Now, setting up an SSL certificate can be quite complicated and expensive. You also need to migrate your site from HTTP to HTTPS.
Really Simple SSL automatically detects your site's settings and configures your site to run on HTTPS.
It saves you hours in enabling SSL on your site.
Pricing: Free. The paid version starts at $29.
Get started with Really Simple SSL today!
Best Plugins and Tools to Enhance User Experience
Visitors are more likely to spend more time on your site and revisit if they've had a good experience.
You can enhance your user experience using a couple of tools we've listed.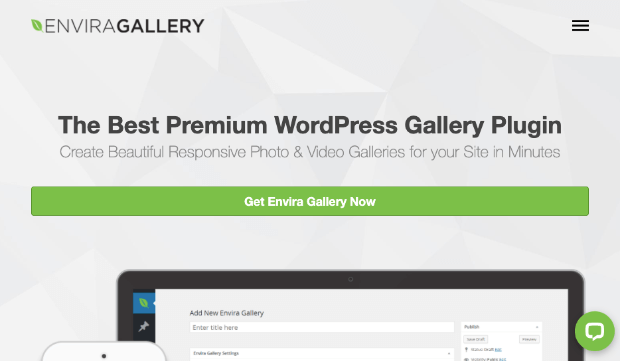 Envira Gallery lets you easily create beautiful image and video galleries on your site.
There are lots of gallery templates to choose from and you can customize them using the drag and drop builder.
All designs are responsive so the gallery will display correctly on all devices.
You can integrate with Pinterest, Instagram, and other social platforms and even add social share buttons to your gallery for users to like and share your content.
To display videos, you can connect to YouTube, Vimeo, and Wistia. You can also add your own custom embeds.
Envira goes a step further and lets you tag and categorize your content into albums.
And if you want to protect your work, you can add password protection and watermarks.
Pricing: Starts at $14 per year.
Get started with Envira Gallery today!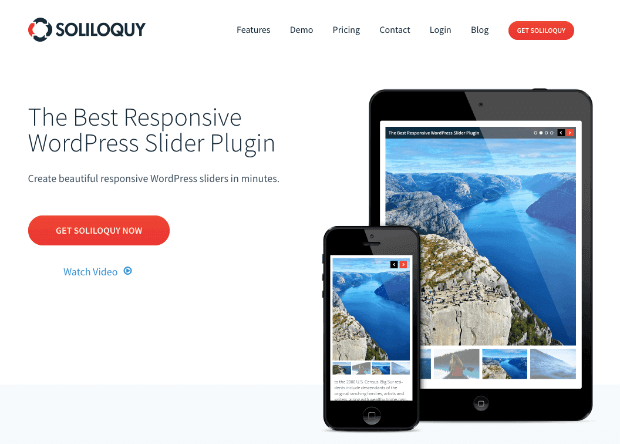 Soliloquy is a WordPress slider plugin that lets you transform just about anything into a slider on your site.
Here are a few things you can transform into sliders with this plugin:
Images and Videos
Blogposts
Social media content
Presentation slides and PDF documents
Custom HTML
This makes your content interactive and can keep visitors engaged for longer.
The plugin has a drag and drop builder so it's easy to use. It also comes with pre-built templates that are responsive.
You can create lightboxes, carousels, thumbnails, and dynamic sliders.
It even lets you disable right-click to prevent users from downloading your images.
Pricing: Starts at $16 per year.
Get started with Soliloquy today!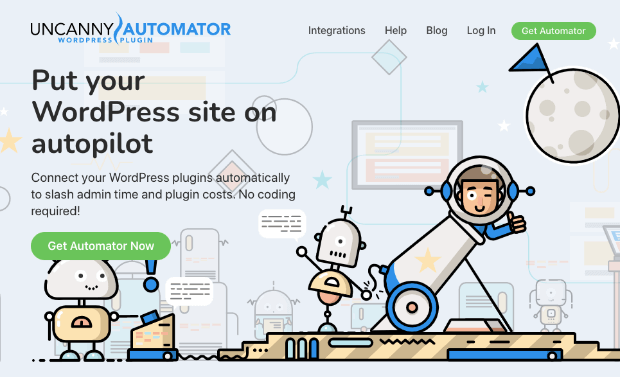 Uncanny Automator lets you connect your existing WordPress plugins to build recipes that personalize your visitor's experience.
It has ready-made recipes that you can set up in under 5 minutes. And you can choose your triggers from over a dozen plugins and thousand apps.
So for instance, when a user signs up for a membership program, a WordPress user role is automatically created for them. They are then enrolled in any features or courses they are eligible for. You can also trigger an email series to welcome them to the program.
Automator can cut your admin time in half and does all the work for you.
It's also built for beginners so anyone can learn to use it in no time.
Pricing: Starts at $149 with 1 year of support and updates.
Get started with Uncanny Automator today!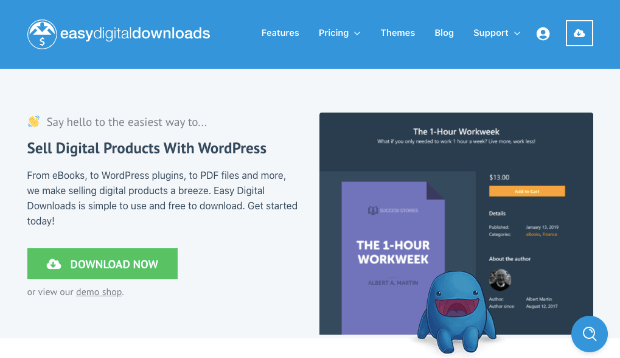 Easy Digital Downloads makes it simple for users to be able to download eBooks, PDF files, and other digital products.
You can offer them for free or set prices for your downloadable content. It integrates with popular marketing platforms, payment services, and storage providers.
It's the perfect tool for beginners but also comes with helpful features that benefit businesses of all sizes.
Pricing: Starts at $99 per year.
Get started with Easy Digital Downloads today!
Best Plugins and Tools Market and Monetize Your Site
Once you've set up and optimized your site, it's time to start earning revenue from it. These tools can help you do that.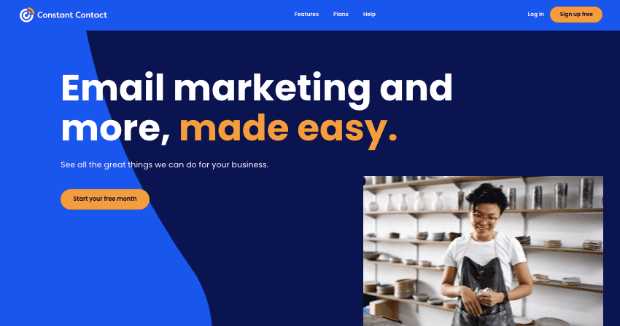 Constant Contact is by far the most popular email marketing service providers in the world. And it's the most effective and reliable way to start building your business.
It lets you build your email list quickly and filter valuable leads. Added to that, you can create beautiful email newsletters that you can schedule to be sent periodically.
It also lets you automate and trigger campaigns according to your subscriber's behavior.
Constant Contact is quick and easy to set up and use so it's a great option for beginners too.
Pricing: Starts at $20 per month.
Alternatives: Other email marketing tools that are good options include AWeber, Drip, SendinBlue, and GetResponse.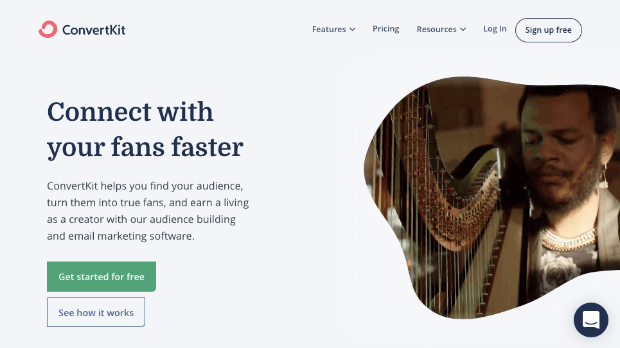 ConvertKit is also an email service provider but it has a few more features that you may find helpful.
ConvertKit lets you create segmented contact lists and automate your emails. It also gives you detailed analytics so that you can improve open and click rates.
It also lets you create landing pages for your content and launch lead generation campaigns to grow your email list.
So it serves as an all-in-one website builder and marketing platform.
Pricing: Starts at $29 per month for up to 1,000 subscribers. Bear in mind the cost for this platform increases as your subscriber list grows.
Get started with ConvertKit today!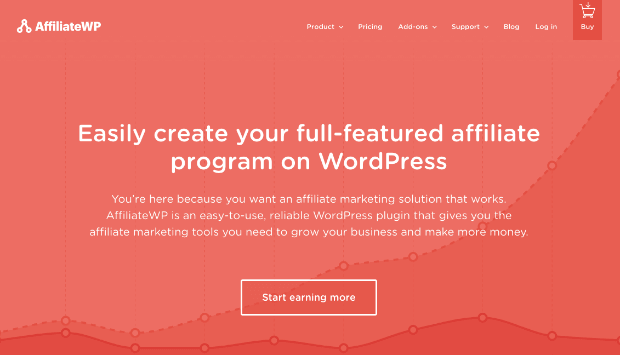 AffiliateWP is the best option to create an affiliate program on your site. You can launch a full-fledged affiliate program in minutes.
You can get more people to promote your products to increase sales and pay them a commission for their services.
AffiliateWP lets you track your affiliate sales and performance. So you can see who your top performers are and where most of your sales are coming from.
Affiliate members can access the affiliate area to track their earnings, find creatives, and generate their own referral links using the built-in referral link generator.
Plus, it integrates easily with MemberPress, eCommerce platforms, and payment services.
Pricing: Starts at $149.50 per year.
Get started with AffiliateWP today!
Alternative: Easy Affiliate is also a great affiliate program plugin for WordPress.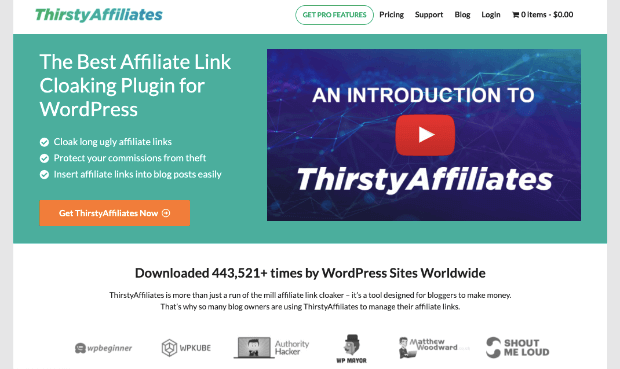 ThirstyAffiliates lets you easily manage your affiliate links and insert them into blog posts.
It cloaks long ugly affiliate links and makes them short and neat links so that it's easy to share on social media and emails.
It also protects your earnings from fraud.
ThirstyAffiliates also has built-in reports with charts and tables to give you useful statistics.
Added to this, it has a proactive link fixer and automatic 404 checker to make sure you don't miss any affiliate revenue.
Pricing: Starts at $49 per year.
Get started with ThirstyAffiliates today!
Alternative: Another good option to manage affiliate links is PrettyLinks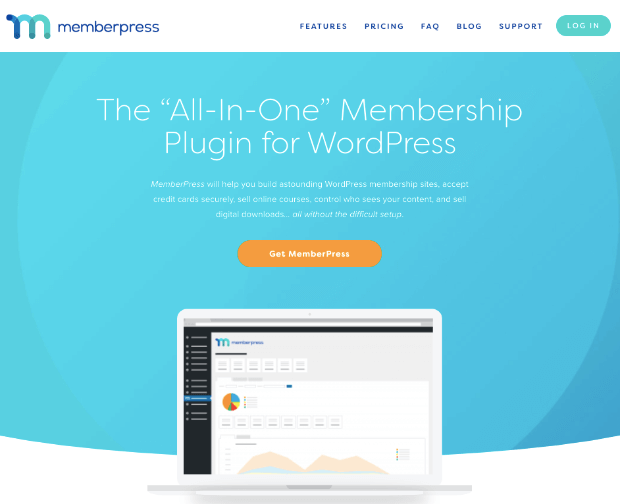 MemberPress is the best WordPress membership plugin on the market today. It lets you create membership programs to get users to sign up or subscribe to restricted content and features.
You could offer access to premium content, free shipping, priority support, and early-bird access to events and sales.
It lets you set up multiple levels of memberships with different pricing plans.
Pricing: Starts at $149 per year.
Get started with MemberPress today!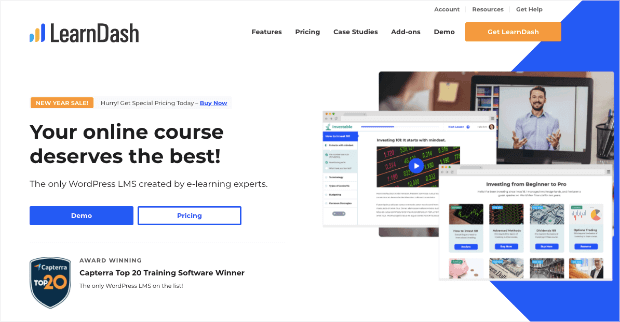 LearnDash lets you create professional courses from which you can earn money.
It's by far the most popular LMS (Learning Management System) plugins for WordPress. And it's used by major universities, professional training organizations, and Fortune 500 companies.
LearnDash makes it easy to set up and create courses with quizzes and exams. You can also issue certificates to your subscribers.
You can set one-time fees, recurring subscriptions, or membership plans.
Added to that, LearnDash has plenty of addons, payment options, and integrations so you'll have everything you need to run a successful online course program.
Pricing: Starts at $159.
Get started with LearnDash today!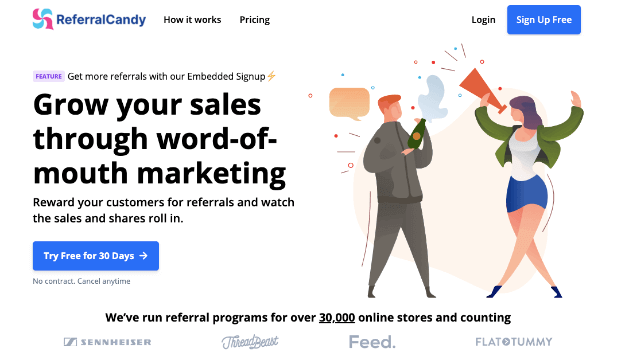 Referral Candy lets you reward customers for referring their friends and family.
You can create an automated referral program that pays out rewards whenever the referrer meets the eligibility criteria.
It helps you boost traffic and sales. Plus, you get actionable insights to make data-driven decisions.
Referral Candy also comes with built-in fraud protection so you can be sure your program is safe.
Pricing: Starts at $49 per month.
Get started with Referral Candy today!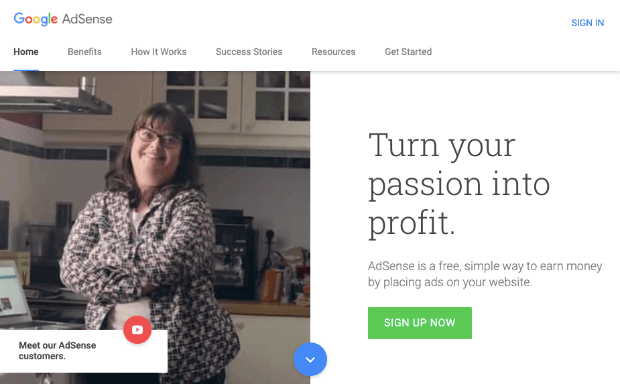 Google Adsense is a simple way to start earning money by placing ads on your site.
You can tap into the largest ad network in the world to generate maximize your revenue.
The ads displayed are relevant to your content or your audience's interests. You also get control over where, when, and what type of ads are shown.
Pricing: Free.
Get started with Google Adsense today!
Alternative: AdSanity lets you insert self-hosted and network ads on your site.
Best Plugins and Tools for eCommerce
If you want to set up an online store or already own one, you'll find these plugins and tools helpful. They help improve sales and revenue to make your store a smashing success.
WooCommerce is the most popular plugin to set up an eCommerce store on WordPress.
It lets you create product listings and set up a professional-looking store in a day. You can start selling your products or services online with secure payment and shipping options.
And the best part is that WooCommerce has tons of extensions and addons to expand functionality and features.
Pricing: Free to set up and use. You'll need to pay for extensions and payment gateways. It also attracts transaction fees and commissions.
The best and most affordable way to set up your WooCommerce store with Bluehost. It gives you access to the perfect mix of e-commerce tools, plugins, security, and expert guidance.
Get started with Bluehost WooCommerce today!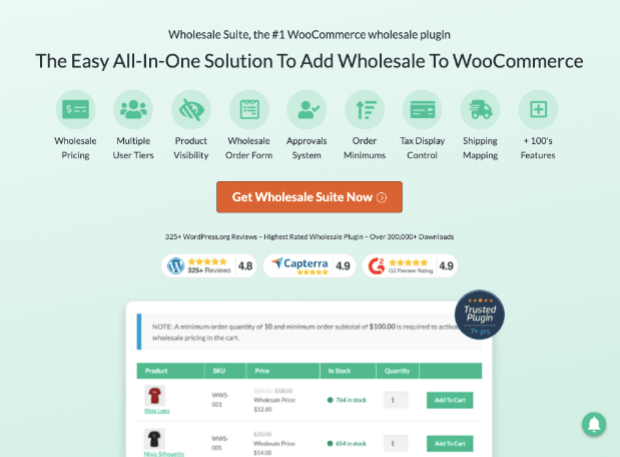 Wholesale Suite is a comprehensive solution for wholesalers.
It lets you set up wholesale prices, a separate wholesale catalog, and order forms as well. So you can let buyers know that there are discounted prices for bulk purchases.
Wholesale Suite is designed to help you increase the volume of sales on your site.
Added to that, you can create registration forms to capture leads. And then set up sign-up sequences to automate the buyer's journey.
Get started with Wholesale Suite today!
Pricing: Starts at $148.50 per year.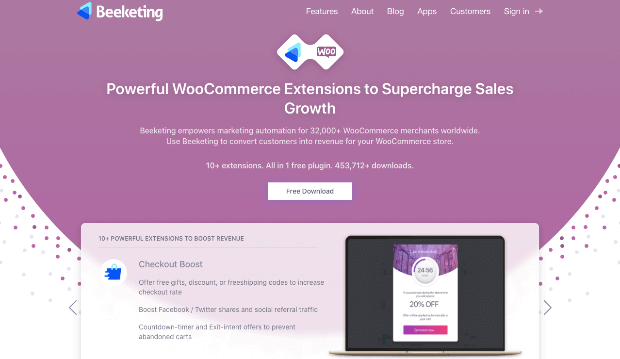 Beeketing for WooCommerce is a powerful marketing automation tool.
It comes with 10+ powerful extensions to boost your WooCommerce revenue.
You get access to upselling, cross-selling, and personalized recommendations. It also lets you increase average order volume with checkout boosts such as offers, free gifts, free shipping codes, and discounted checkout rates.
It's loaded with features to get visitors to start buying and to prevent and recover abandoned carts.
Pricing: There's a free version. Paid versions start at $19 per month.
Get started with Beeketing for WooCommerce!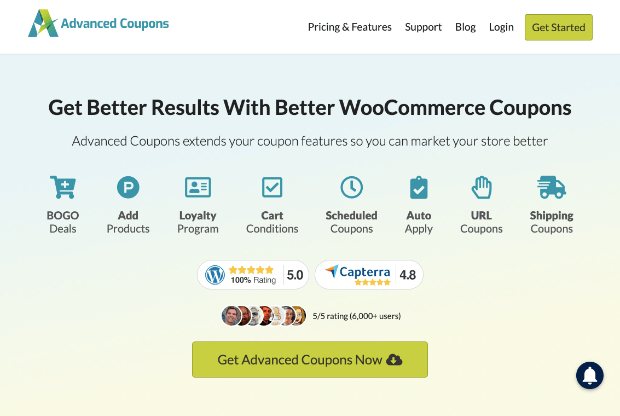 Advanced Coupons is the best way to market your store better. It helps you incentivize visitors to increase sales and revenue.
You can add BOGO deals, loyalty programs, shipping coupons, and more.
The plugin has flexible customization options to set cart conditions, scheduled offers, and auto-applied coupons.
Pricing: Starts at $39.50 per year.
Get started with Advanced Coupons today!
Best Plugins and Tools for Customer Support
Customer support is one of the main pillars of any business. It not only helps solve customer's problems but can also answer any pre-sales questions they may have. You can build a loyal customer base and spread positive word-of-mouth reviews about your business.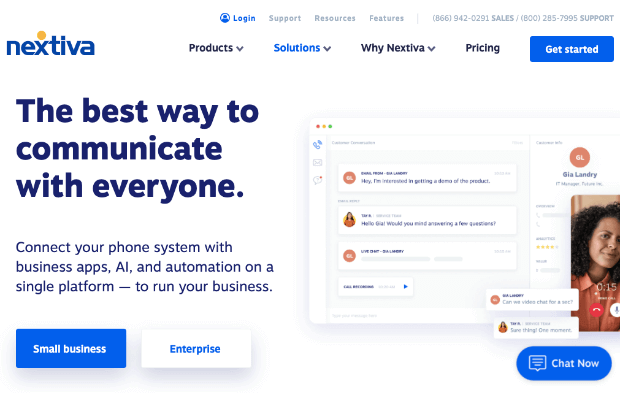 Nextiva is popularly known as the best business VoIP (Voice over Internet Protocol) provider but it's much more than that.
It's a comprehensive solution to add phone, text, video, email, and instant messaging. So you can use Nextiva for customer support as well as internal communications.
It lets you automate your channels to offer premium customer support.
Pricing: Starts at $18.95 per month per user.
Get started with Nextiva today!
Alternatives: If you're looking for more options, you can try 8×8 Phone Service and RingCentral.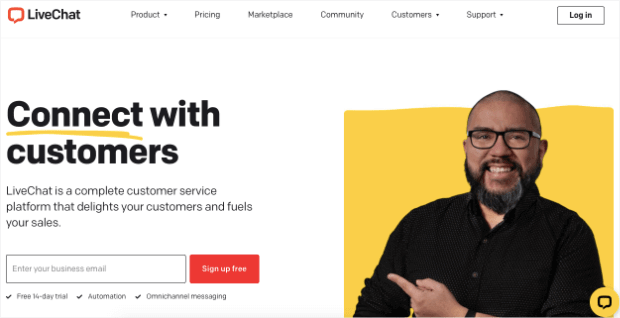 LiveChat helps you capture leads and solve problems proactively.
You can use AI chatbot automation to generate leads, create tickets, and chat across channels. Plus, it has powerful features to help you balance chatbots and the human touch.
Plus, LiveChat tracks sales and goals automatically so you can see how your chats boost revenue.
Pricing: Starts at $16 per month.
Get started with LiveChat today!
Alternatives: FreshChat and Pure Chat are good options to try.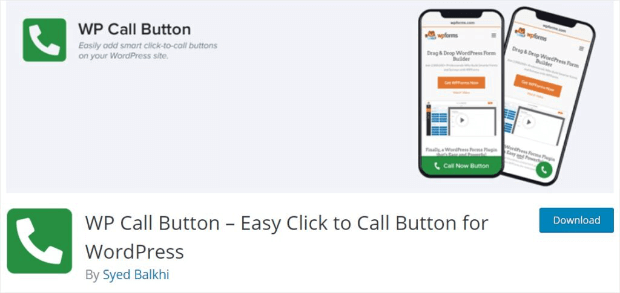 WP Call Button lets you create a click-to-call button on our site.
It's a simple yet powerful plugin with lots of customization options. You don't need any coding skills to set this up.
You simply need to install the plugin, enter your contact details, and customize the button to suit your website's theme.
The click-to-call button is 100% mobile responsive so visitors can connect with you from any device.
Pricing: Free.
Get started with WP Call Button today!
Other Helpful Plugins and Tools for Your Business
Running a website is no easy task. But with the right tools, you can organize and manage your workflow better. Here is a list of tools that are helpful in running your website.
And there you have it. That's our list of the best WordPress plugins and tools that will help you build, market, and promote your website.
You may not need all of them, so before we wrap up, we'll give you a few tips on how to choose the right plugins for your site.
What to Look for in a Good WordPress Plugin?
WordPress is home to thousands of plugins with more being added every day!
So though we've narrowed it down to just 42 plugins and tools for your website, it can still be hard to decide which are the best ones.
When choosing plugins for our own site, we look at certain factors that help us determine whether it's a good choice.
Below, we'll share our tips on how to select the best WordPress plugins.
1. User Review and Ratings
The best place to start when choosing a plugin is by checking what others have to say about it.
Their experience can tell you a lot about how the plugin works. Plus, you can see how the creator responds so you'll be able to tell if you're in good hands when things don't work the way they're supposed to.
You can find reliable reviews and ratings on the plugin's page in the WordPress repository.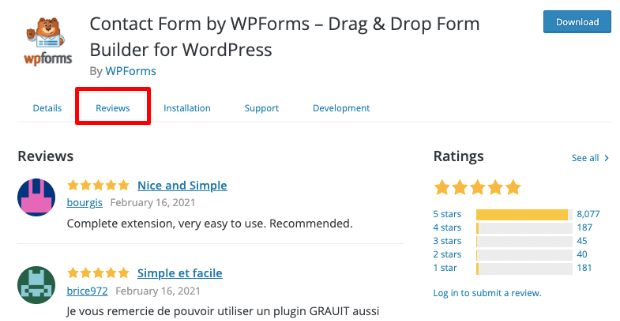 2. Plugin Details
The next thing we would check is the plugin's details. This tells you whether the plugin is being maintained regularly or has been abandoned by its creator.
You can check if it's tested with the latest version of WordPress so you know you won't have compatibility issues.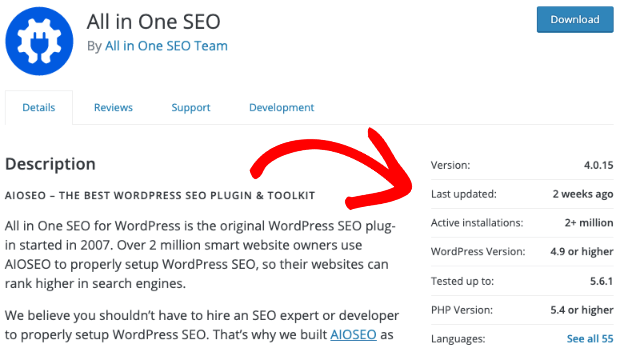 You can also see how popular the plugin is by checking the number of active installations. So you'll get a picture of how many people trust the plugin.
3. Plugin Screenshots and Demos
Almost all plugins have screenshots in their plugin list on WordPress. You can see the plugin's dashboard and settings to get an idea of how it works.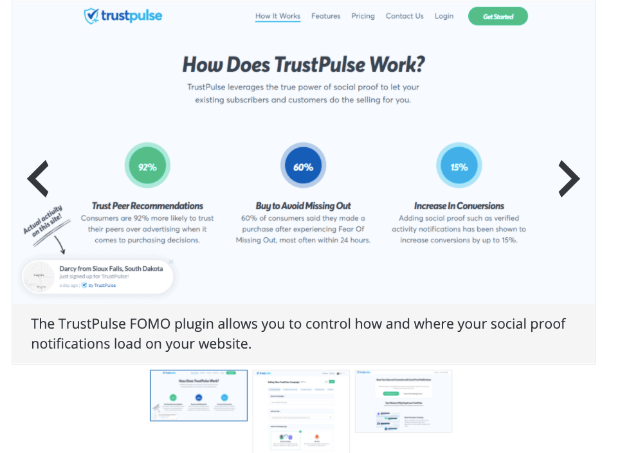 Most premium plugins also offer demos and free trials on their official websites. So you can try out the plugin before you make a decision.
4. Customer Support
More often than not, no matter how good a plugin is, you may run into issues. You could get stuck with installation or an incompatibility issue.
In times like this, you need to have a reliable support team that can help you overcome any hurdles.
You can check how good the customer support on the plugin's page on WordPress.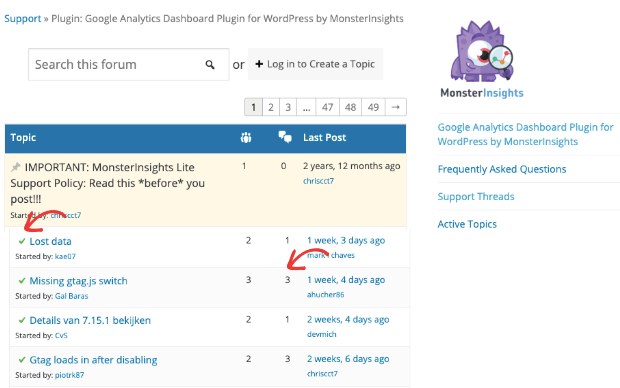 The green arrows indicate that the issue has been resolved. And if you see comments under issues, you'll know that the creator is actively resolving them.
This is a great indicator that the plugin has awesome customer support.
Free vs. Paid Plugins for WordPress – Which is Better?
WordPress has thousands of free plugins and even more premium ones. So is it better to use free plugins or are the paid ones worth it?
It solely depends on your needs. If you're just starting out and have a tight budget, free plugins are an excellent choice. However, since they're free, they do come with drawbacks.
You simply can't expect good customer support or regular updates. Many times, the plugin becomes difficult to maintain, and creators abandon them. And you'll need to switch to an alternative when this happens.
So free plugins are great to start out with or if you're looking for a basic function to add to your site.
If you're serious about growing your site and making it successful, then it does require an investment in the right tools.
Premium plugins offer powerful features, excellent customer support, and tangible results.
Depending on your business and your budget, you can select the tools that will work the best.
And with that, you should have everything you need to choose the best WordPress plugins for your site.
We hope you liked this post, and if so, you may also want to see:
These articles are loaded with info to help you grow your leads, sales, and revenue!