Are you looking for a detailed WPForms review?
Many reviews only scratch the surface of this form builder plugin, so we decided to put together a deep dive of the features in WPForms Lite vs WPForms Pro.
We'll also walk through some of the integrations in the paid version that could be a game-changer for your business.
WPForms Review: Is It the Best Form Builder?
WPForms is one of the top 10 most popular WordPress plugins. The free version, WPForms Lite, has more than 8,000 5-star reviews.

Clearly there are a ton of happy customers already using WPForms. But is it right for your website?
We've checked out comparisons of WPForms vs Ninja Forms, Gravity Forms, and Contact Form 7. Any of these plugins will let you make a simple contact form in WordPress, although Contact Form 7 is certainly showing its age now.
The real difference between the more modern plugins is the ease of use and the features you get.
You can't buy every contact form plugin and try them all out. So in this super detailed WPForms review, we'll give you a behind-the-scenes look at the features you need to know about.
First, let's look at how easy it is to make a simple contact form.
Getting Started With WPForms
Most form builder plugins ship with a simple form that you can use 'out of the box'.
That's great if you want to throw up a form and forget about it.
But if you want to actually customize your forms, you probably need a little guidance to get started. WPForms has an onboarding 'Challenge' that guides you through everything you need to know.
First, let's get the plugin installed. Then we'll show you how the onboarding works.
How Do I Install WPForms?
You can install the free version of the WPForms plugin from your WordPress dashboard.
Head to Plugins » Add New and search for WPForms Lite. Then click Install.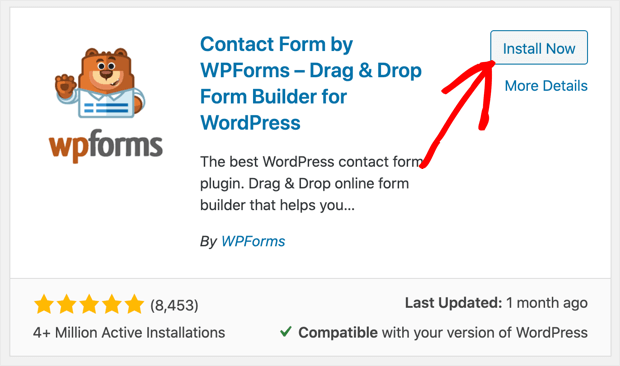 When the plugin's finished installing, don't forget to click Activate.
That's it!
If you've purchased a paid license, you'll want to download the latest version from the Downloads tab in your WPForms account.

From there, upload the plugin zip file in WordPress and activate it.
If you've bought a paid license, it's easy to paste the key into the plugin settings.

This unlocks all of the extra features and addons you get with the Pro version.
How Do I Make a Form in WPForms?
When you first install WPForms, you can take the WPForms Challenge. This is a fun way of learning how the form builder works without having to search around in the documentation.
Step by step, the Challenge shows you how to:
Drag and drop fields onto your form
Customize your notification emails
Embed your form on a page.
The tooltips guide you through each step in the WPForms editor, and the timer is a fun way to see how long it takes.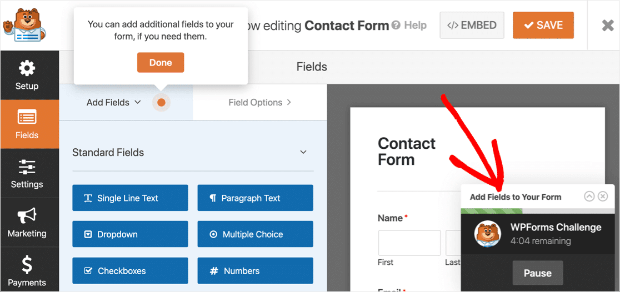 When we tried the Challenge, we made and embedded a custom form in less than 2 minutes. That's not too shabby.
Using the Drag and Drop Editor
As soon as you start using the WPForms plugin, you'll notice that the layout is completely different to Gravity Forms and Ninja Forms.
First, you'll see that the WPForms editor opens up in a fullscreen window. This makes the most of your entire monitor real estate, unlike some form builders that sit inside the WordPress admin interface.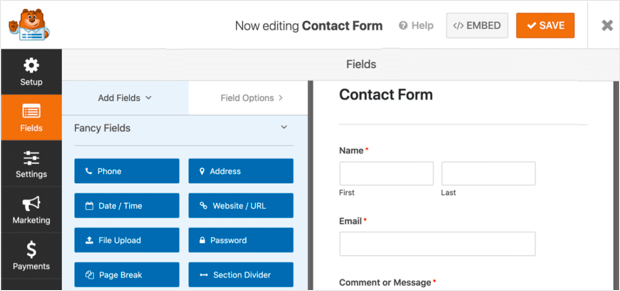 This lets you use your entire monitor. And it also reduces the chance that you'll click outside the form builder by accident, which could be frustrating if you lose your work.
You can also see that WPForms has an easy split-screen layout: form fields on the left, form preview on the right. These 2 panes scroll independently so you can always see where you're working.
Other form builders make you open and close the fields, or scroll up and down to edit your form. So WPForms definitely wins on usability.
Adding fields is as easy as dragging them over, left to right. When you click a field, the settings open on the left. Your changes show up in real-time on the form preview.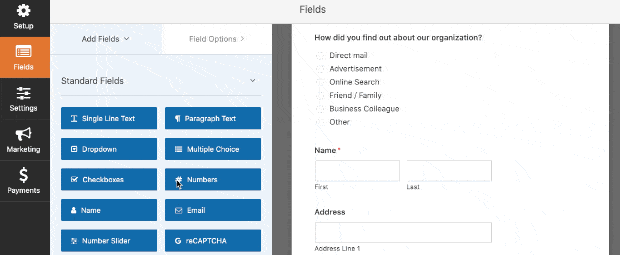 On the left, you can access the form settings and customize your confirmation message.
Compared to other plugins, WPForms requires fewer clicks and less scrolling around. This becomes increasingly important as you start to build more complicated forms with lots of fields.
How Do I Embed Forms in WordPress?
Embedding and publishing forms can be tricky with some form builder plugins. Often, you'll need to paste HTML or shortcodes into the corresponding blocks.
This is another area where WPForms makes life a lot easier. For example, you can:
Click the Embed button at the top of the form builder to create a new page for your form.
Add the WPForms block to a post and choose your form from a drop-down menu
Add a contact form to Elementor using the native WForms integration. WPForms also has native modules for Divi and SeedProd.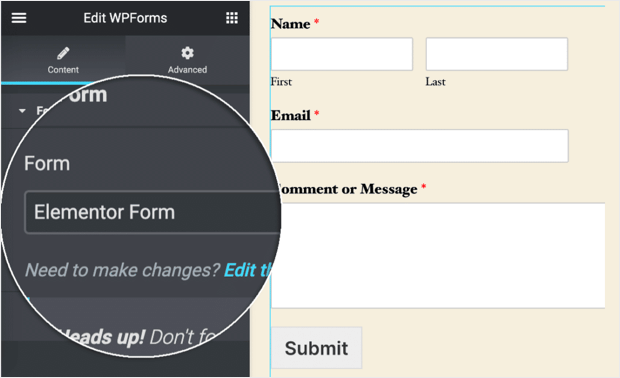 Sure, there are times when you might still want to use a shortcode, and that option is there for you if you need it.
Is WPForms Free?
Now we get onto the important part of the WPForms review: WPForms Lite vs WPForms Pro.
Let's break it down by features.
The free version, WPForms Lite, gives you access to the core functionality:
Make unlimited forms
Get unlimited responses
Get instant email notifications
GDPR controls
Form import and export tools
Basic form templates
hCaptcha spam protection
Google reCAPTCHA v2 and v3 support
Constant Contact email marketing integration
Uncanny Automator support
Free limited support on the WordPress.org forums
If you need to make basic forms and get email responses, WPForms Lite is perfect for that. For advanced functionality, you'll want to upgrade.
Do I Need WPForms Pro?
For anything above basic usage, upgrading to a paid version of WPForms makes sense. The Pro version unlocks a ton of features, addons, and functionality that can help you to increase revenue, save time, and make forms easier to use.
In our view, there are 3 huge reasons WPForms Pro is worth it:
Conditional logic – This feature lets you dynamically show and hide fields as the user works through the form. You can combine rules to make complex forms that never feel overwhelming.
Form entry storage – Entry storage lets you save, review, filter, export, print, and edit entries in the WordPress dashboard. WPForms has the most advanced entry storage in any form builder plugin. (We'll look at it in detail later.)
Extra form fields – You'll unlock all of the available fields, including page breaks, progress bars, smart phone fields, file uploads, and special survey fields like Likert scale questions.
These are the 3 killer features that will let you build smarter forms and work with the entries more efficiently.
Integrations are another huge benefit. WPForms Pro includes addons for popular email marketing tools and payment services, including:
GetResponse
Sendinblue
Mailchimp
Drip
Stripe
PayPal
Zapier
And more.
And it also lets you use:
100+ extra form templates
Survey and poll tools
Conditional notifications
Form abandonment detection
Offline forms
Multi-step forms
1-click geolocation
Guest post submission forms
Form landing pages
Form access controls
Conversational forms
And more.
So if you want to use email marketing integrations, or you're ready to use advanced forms, upgrading to WPForms Pro makes sense.
If you start with the free version of WPForms, don't worry: you won't lose any forms when you upgrade.
Is WPForms Secure?
Yes. WPForms has a ton of security and anti-spam tools.
One thing that's noticeable about WPForms vs other form builders is that it has a lot more spam protection options than other contact form plugins.
To stop contact form spam, you can choose from:
Secret form tokens – These trap spam bots by pairing a secret token with each submission. Form tokens are enabled by default on every new form.
Google reCAPTCHA – WPForms is the only form builder to support v2, v2 invisible, and v3 out of the box
hCaptcha – A privacy-friendly alternative to reCAPTCHA
Custom CAPTCHAs – Easily add math CAPTCHAs, or question and answer CAPTCHAs.
Email address blocking – Make custom allowlists and denylists to block specific emails or domains.
And that's not all. WPForms also has a form locker addon that lets you protect forms in different ways. You can use:
Passwords
Membership status
Expiration dates
And more…
Finally, there's 1 more important feature in WPForms Pro. With the GDPR tools, you can completely disable user tracking and entry storage if you're concerned about site security.
That way, if your site is ever hacked, there simply won't be any personal data in your database.
Our 7 Favorite WPForms Addons & Features
Now it's time to look more closely at some of the features in Pro. We already mentioned that WPForms can help you build your business, and these features are key to making Pro worth the investment.
1. Form Entry Storage
Many form builders offer form entry storage in the WordPress dashboard. But when you look at the features in WPForms, you can see just how advanced the entry storage is.
When you open up the entries, you can:
Mark as read
Star entries
Delete entries
Edit entries
And export all of the entries to CSV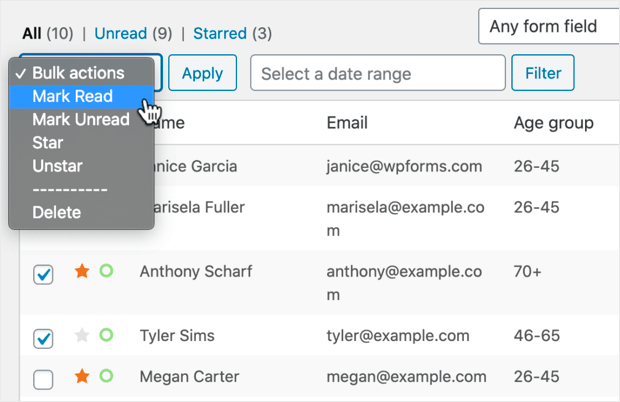 And when you search, you can add and remove filter conditions to narrow down the results.

Each individual entry opens up in its own screen. From here, you get options to export, print, and more.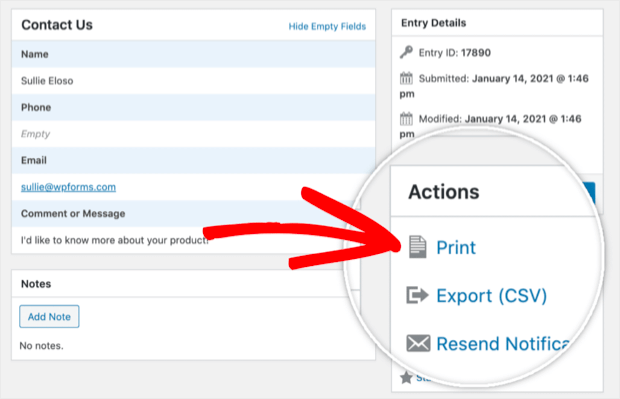 Competing form builder plugins just don't have the same management features. This makes WPForms especially valuable for:
Busy sites that get a lot of form submissions and need to filter and export them easily.
Teams with multiple reviewers; marking items read, or starring them, is a simple way for team members to manage entries and avoid duplicated work.
When you install the surveys and polls addon, you get even more ways to work with entries. We'll look at that in more detail in a moment.
2. Form Templates
WPForms Lite comes with some basic form templates to help you get started.
And WPForms Pro comes with 100+ additional templates that you can install with a single click.
These templates let you quickly make different types of forms like:
Surveys and polls
Frontend guest post submission forms
Custom login forms
Custom WordPress account registration forms
And more.
Any template can be tweaked to exactly fit your business or nonprofit.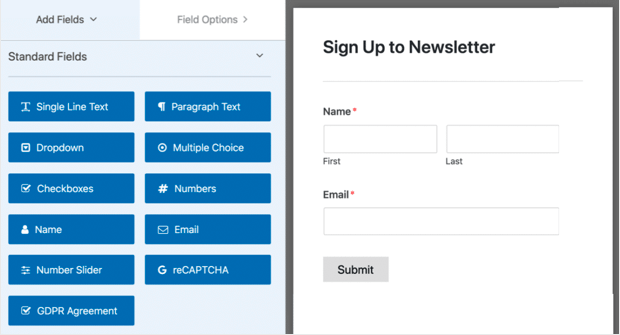 In the settings, each form can have its own custom message that shows up when the form's submitted.
WPForms also lets you manage your templates in different ways. For example, you can:
Duplicate forms
Make your own custom templates
Import forms from Contact Form 7, Ninja Forms, and other sites using WPForms.
Creating complicated forms can take a lot of time, so being able to rapidly make, export, and copy forms makes things a lot easier.
3. Geolocation
With WPForms Pro, you can automatically capture your visitor's location. The geolocation addon lets you find out where your visitors are without adding tons of address fields.
When someone submits a form on your site, you'll see a map of their location next to the entry.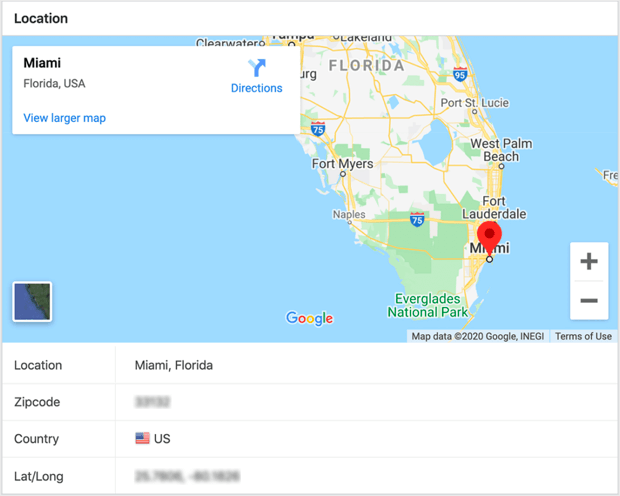 Also, did you know that WPForms has a smartphone field? It uses geolocation to dynamically change the phone field settings. This means you'll always capture every visitor's phone number in the right format.
(It even shows the correct flag!)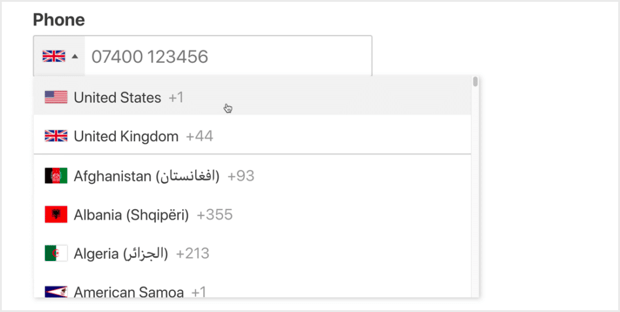 This is why WPForms is super impressive compared to other form builder plugins. Small details like a phone number field with the correct layout can make the difference between a valuable new lead and an abandoned form entry.
So what happens if someone starts filling out a form and then quits? Let's look at that next.
4. Form Abandonment
Form abandonment is the process of starting a form and then giving up part-way through.
There are tons of reasons why people abandon forms. Sometimes they get distracted. Occasionally, a technical issue stops the form from being submitted properly.
With the Form Abandonment addon, WPForms automatically detects activity that might result in form abandonment. When that happens, it takes a snapshot.

This is an awesome way to make sure that you aren't losing leads on your website.
5. User Journey Tracking
Sometimes it's tricky to know exactly which pages on your website are inspiring your visitors to fill in your forms.
The WPForms User Journey addon makes analytics super easy. It tracks each visitor up to the point they hit submit on your forms. When you view their entry, you'll see every page they visited along the way.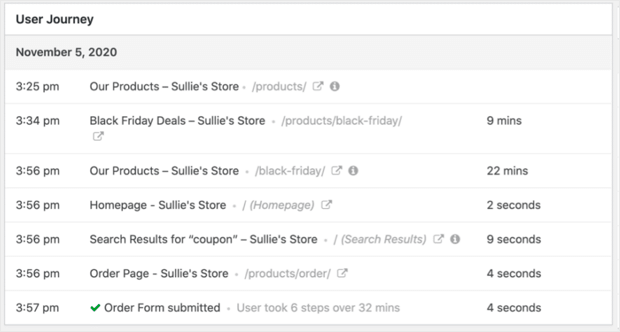 The User Journey addon gives you a simple overview that can help you spot trends. Use it to find your best-performing pages or identify content that isn't driving conversions as it should.
6. Surveys and Polls
WPForms has a super powerful surveys and polls addon that sets it completely apart from other form plugins.
If you already use WordPress, WPForms is the perfect survey tool because:
It's easy to embed surveys – There are tons of survey builder platforms on the market, but none of them work well with WordPress. WPForms makes publishing surveys as easy as embedding any other kind of form: click Embed, name your page, and publish it to go live.
You can see responses in WordPress – The surveys and polls addon gives you a ton of extra reporting tools right in the WordPress dashboard. For example, you can create and export charts for questions or entire surveys.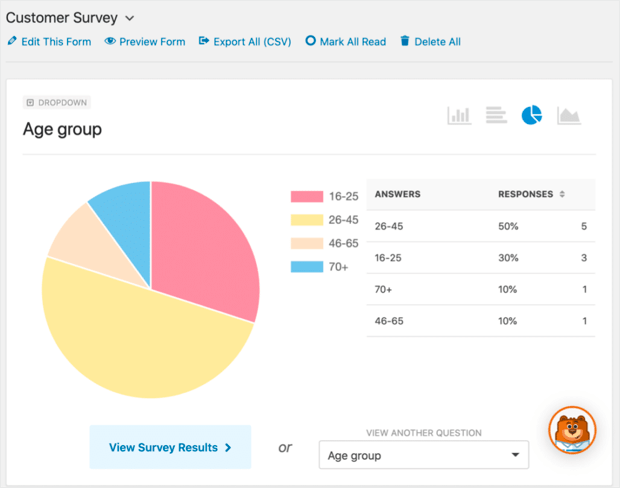 The survey and polls addon also gives you extra form fields we talked about at the start:
Net Promoter Scores – Find out how your business is performing by asking your customers to rank you on a scale from 1 to 10. You can also use conditional logic to ask additional questions if your customer doesn't rank you as high as you'd like.
Likert Scales – Set up questions in a matrix and ask your respondents to agree or disagree. WPForms produces a chart showing the most popular answers.
Star Ratings – Add a ranking field with stars to indicate a score. The field also supports customizable icons.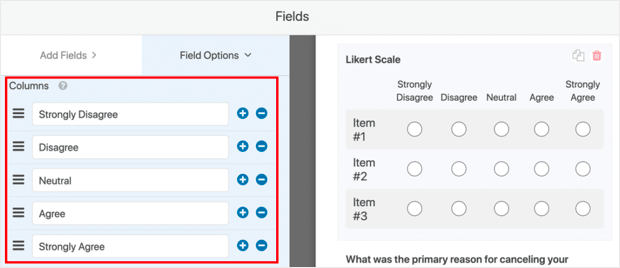 If you're using a separate survey platform right now, switching to WPForms is a no-brainer.
7. Conversational Forms
A conversational form is a fun and interactive way to present questions to your respondents.
Instead of making them navigate through the form top to bottom, the WPForms' conversational form layout shows 1 question at a time.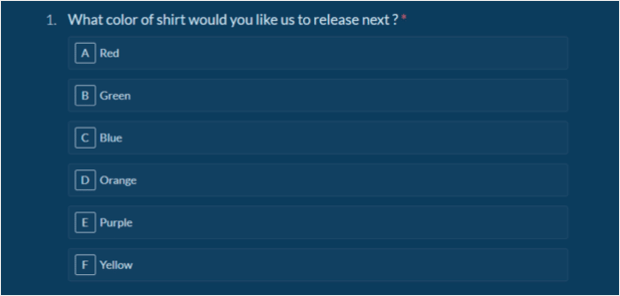 If you're using a separate tool to make conversational forms, this is another area where WPForms Pro is absolutely worth the upgrade. You can convert any form into a conversational form right in the form settings without writing any code.
How Do I Get Help With WPForms?
Now we've looked at the features in WPForms, it's time to talk support. Where do you go when you need help with something?
First up, there's a help button in the plugin that will guide you to docs for each feature. And WPForms has a ton of free support resources too:
Lite users get support on the WordPress.org forums. Replies are typically posted within a few days.
There's a Facebook group called the WPForms VIP Circle. Members can get help from the WPForms team and other users and sign up for monthly giveaways.
You can refer to the online documentation and developer documentation.
The WPForms blog is regularly updated with pro tips and step by step tutorials.
If you pay for a license, you can also open a support ticket through your WPForms account. Support is provided Monday through Friday, and you'll typically get a response within 1 working day.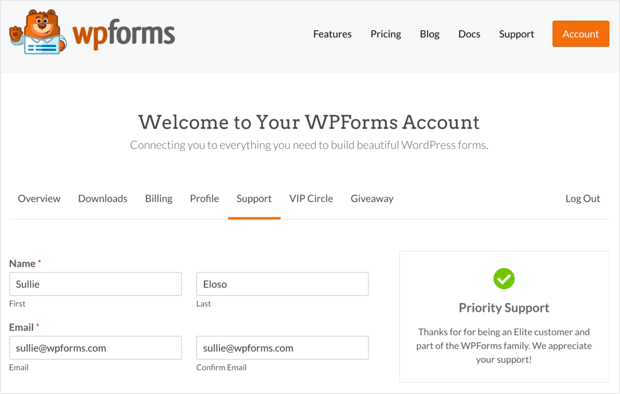 If you have any difficulty with WPForms not sending emails, you can install the WP Mail SMTP plugin to resolve that. WP Mail SMTP is made by the same team that develops WPForms, so the 2 plugins work great together.
Whether you prefer to get help with WPForms or research solutions yourself, there are tons of options out there that will help you make the most of all the features.
How Much Does WPForms Cost?
OK, so you've read our WPForms review and you're getting ready to buy. There's just 1 more question we need to answer: how much does WPForms cost?
Here's a summary of each tier along with the annual price:
Basic: Get 1 site with advanced fields, form entry storage, multi-step forms, file upload fields, Constant Contact, conditional logic, basic templates, +more for $79/year.
Plus: Get 3 sites and integrate with Mailchimp, AWeber, GetResponse, Campaign Monitor, Sendinblue, Drip, +more for $99/year.
Pro: Get 5 sites and integrate with PayPal, Stripe, landing pages, conversational forms, surveys and polls, user journey, form abandonment, geolocation, Zapier, user-submitted posts, 100+ extra templates, and more for $399/year.
Elite: Get unlimited sites with all addons and features, including ActiveCampaign, Salesforce, Authorize.net, webhooks, and client management for $599/year.
Not sure which plan to go for?
Check the WPForms pricing page – Check to see if there's a promotion going on before you buy the WPForms plugin. Sometimes, plans are reduced by up to 50% which will WPForms Pro even more affordable.
Keep the money-back guarantee in mind – WPForms offers a hassle-free 14-day money-back guarantee. There's no catch, so you can try out the features without fear of being locked in.
Upgrading is easy – If you want to start out on Basic or Plus, you can log into your account at any time to upgrade your plan. This lets you easily increase the features and addons you're using over time.
Nonprofits can also get a generous discount on a WPForms license. So if you run a charity, definitely check out the nonprofit pricing.
Our Verdict: Is WPForms the Best Form Builder Plugin?
After extensively testing the WPForms plugin, we can confidently say that it's the best form plugin for WordPress.
That's because it's so much more than a contact form plugin.
WPForms makes it easy to create any kind of form in minutes. The premium version adds tons of integrations and addons that will help you grow your business and make more money from your website.
And the features blow other contact form plugins out of the water. The surveys and polls addon turns WPForms into a fully-fledged survey tool, with the massive advantage of being able to work with your data in WordPress.
And that's it! We hope you enjoyed this article. If you did, you might also want to check out the following resources:
And don't forget to sign up for your 100% risk-free TrustPulse account today!