Do you want to learn the difference between upsell vs cross-sell and how these sales strategies can benefit your business?
Knowing the distinction between these two sales tactics can significantly impact your business's success. It can help you develop eCommerce marketing strategies that increase revenue and improve customer satisfaction.
In this article, we will define the meaning of upselling and cross-selling, share their examples, and clarify the difference between them. By the end of this article, you'll have a clear understanding of these two strategies and be able to implement them in your own business effectively.
What Is Upselling?
Upselling encourages customers to buy a more expensive version of a product or service they originally intended to buy.
This can be done by:
highlighting the benefits of a higher-end product or service,
emphasizing its superior features or quality, or
showing how it can better meet the customer's needs or preferences.
The main goal is to increase the overall revenue generated from a customer. But it's also important to ensure that the upsell is valuable to the customer. Not just an attempt to maximize profits.
That's because successful upselling relies on two factors. First, customers should feel they are getting additional value for their money. Second, the higher-priced option must meet their needs.
Let's look at some examples of upselling.
Examples of Upselling
1. In the beauty industry, a common tactic is to suggest higher-priced or larger alternatives to customers. This is usually done after they've added an item to their shopping cart. It can also be more beneficial and cost-effective in the long run for the customers.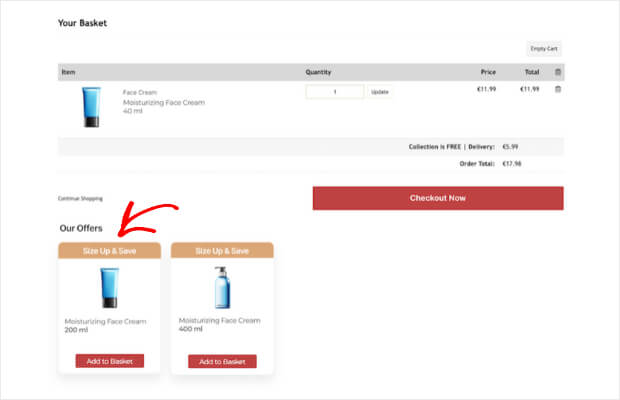 2. Let's move along with another scenario: a SaaS company offering multiple service tiers for its software. OptinMonster is an excellent example in this case. When a customer is on the pricing page, they are recommended a plan with enhanced or more features at a slightly higher cost. It shows that the premium plans are a better choice, ultimately leading to more sales.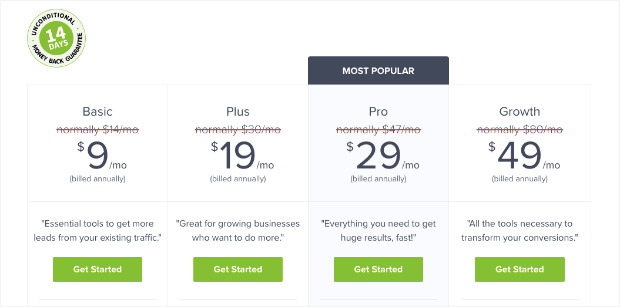 3. When you shop for any tech item (such as a laptop) from a tech company, it lets you change certain specs to upgrade your device's specifications. For example, you can alter the color, add extra storage, and much more. Sometimes, the company also offers after-sales technical support for a little extra cost. These personalized services make products highly appealing to the audience. Also, it makes it a fantastic upselling model that increases its order's worth and drives customer satisfaction.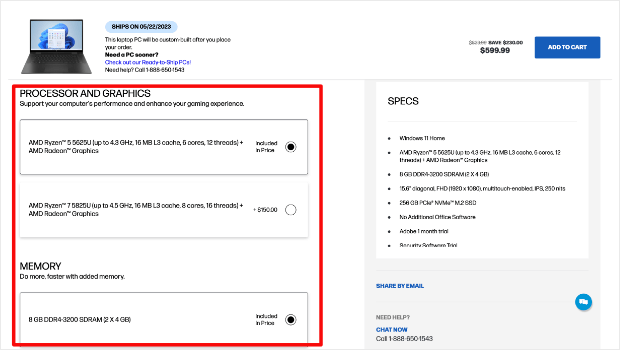 To learn more and boost your revenue with upselling, check out the Upselling Tips and Examples.
What Is Cross-Selling?
Cross-selling involves suggesting additional products or services that complement the customer's original purchase.
The idea is to recommend related or complementary items the customer might be interested in. It can involve anything from suggesting an accessory to go with a product to offering a bundle deal of products that work well together.
It can help provide existing customers with a personalized and comprehensive shopping experience. At the same time, increasing revenue for the business.
If you want to set up your own recommendations, read How to Cross Promote Products on Shopify.
Here are some examples of cross-selling.
Examples of Cross-selling
1. Many fast-food chains or restaurants offer to buy food item add-ons for a slightly higher cost. For example, after customers order a burger, they are prompted to add a side of fries or a drink to their order, increasing the overall value of the sale. This is a perfect example of cross-selling strategy during checkout.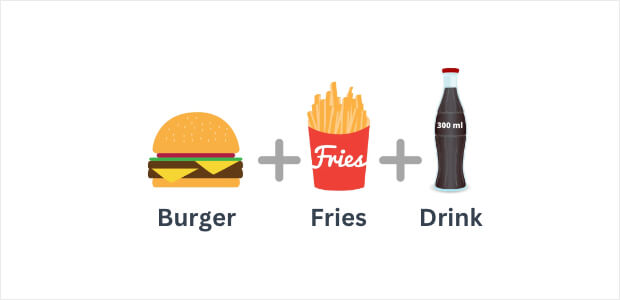 2. Buyers are often more receptive to choices made by fellow buyers. This incentivizes them to consider purchasing the recommended additional products. That's why Amazon uses the "Customers Also Bought" feature to cross-sell products. They have a vast database of their customers' activities. By using this data, they give accurate and relevant offers. You can apply this strategy in your eCommerce business store to enhance the customer experience and increase sales.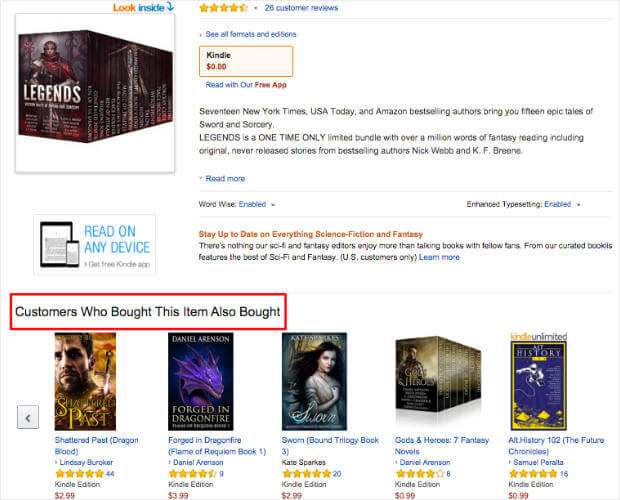 3. An example from Adidas is that after a customer adds a dress to the cart, they are shown some matching items to complete the look. By implementing this common practice, retailers can increase the chances of extra sales during the checkout process.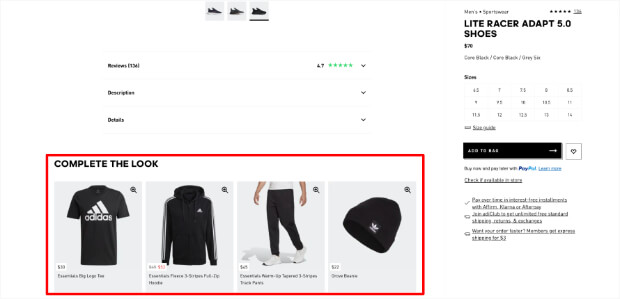 Upsell vs. Cross-Sell: What Is the Difference Between Upselling and Cross-Selling?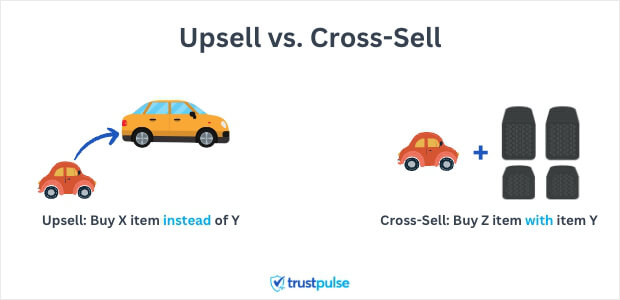 Upselling involves selling a more premium version of the same product. However, cross-selling involves selling other products that complement the main product.
Both techniques increase the average order value (AOV).
Let's consider an example to help you better understand the difference between both tactics:
Imagine a car dealership selling a car.
Upselling encourages customers to buy a more expensive version of the same car with additional features or better performance.
For example, a salesperson could suggest a car with a:
more powerful engine,
more advanced sound system, or
more luxurious interior than the one the customer initially considered.
The car is still the same product, but the customer is getting a more advanced and expensive version of it.
Cross-selling, on the other hand, might be suggesting additional products to the customer. This can include a car insurance policy, an extended warranty, or accessories.
Again, the main product being sold is the car. But the customer is also shown related products that provide added benefits to their existing purchase.
For instance, a salesperson could suggest:
a comprehensive car insurance policy that covers the customer in case of accidents or damages,
an extended warranty that provides added protection and peace of mind, or
accessories such as a roof rack, bike rack, or floor mats that enhance the functionality or aesthetics of the car.
How to Upsell and Cross-Sell
Upselling and cross-selling opportunities can arise at any point in the buyer's journey. Businesses need to identify these opportunities and use them. It'll help them increase revenue while providing additional value to their customers.
Here's how you can develop your cross-selling and upselling strategies regardless of the sales approach you are using:
1. Analyze Customer Data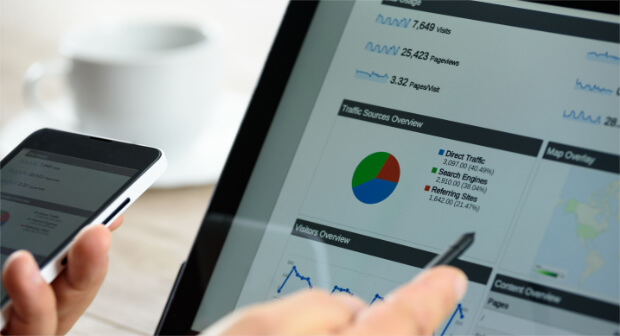 You can gain valuable insights by studying your customers:
purchase history,
browsing behavior, and
preferences.
These insights will help you make informed product recommendations.
There are several ways you can collect and analyze customer data.
One of the most common methods is through the use of customer relationship management (CRM) software. CRM software allows you to track customer interactions and transactions. This provides a comprehensive view of their purchasing behavior.
Another way is to collect customer data through surveys or feedback forms. By asking customers about their preferences and pain points, you can learn what products or services they may be interested in. This will increase customer lifetime value.
Read the following post to learn more about the best form builder tools to gather customer feedback.
2. Map the Customer Journey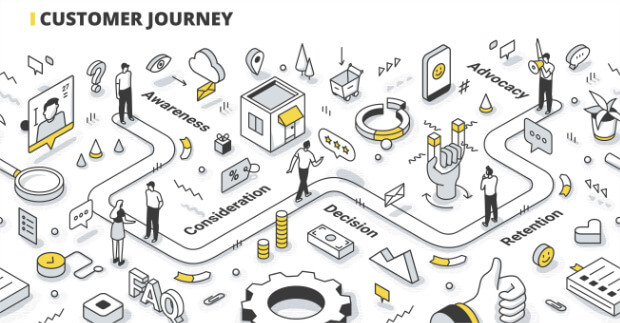 To effectively upsell and cross-sell, the next step is to map a customer journey map. And to map your customer journey, you'll need to analyze your customer's behavior and interactions with your business. This includes examining their actions from the first touchpoint to the follow-up after the sale.
Here are a few questions you can ask yourself to gain a deeper understanding of your customers and create customer personas:
How do customers typically discover your business?
What are the common pain points or challenges customers face when they first come across your business? How can you address these concerns?
What motivates customers to consider your product or service? Is it the price, features, or benefits?
What social media channels do customers typically use to interact with your business?
How do customers research and compare your products or services with those of your competitors? What are the factors that influence their decision-making process?
By answering these questions, you can gain a deeper understanding of your customers. Also, creating a map of their journey can highlight their key touchpoints and interactions with your business. This can help you find areas for improvement and opportunities for upselling and cross-selling.
Learn How to Create a Customer Journey Map and Convert More at Each Step.
3. Offer Problem-Solving and Relevant Products
Offering problem-solving and relevant products is a critical step in upselling and cross-selling. To identify problem-solving and relevant products for your upsell and cross-sell efforts:
Start by reviewing your customers' purchase history, browsing behavior, and preferences.
Look for patterns and commonalities that can inform your product recommendations.
Consider complementary products that align with their interests. Also, identify pain points your products can solve.
You can also use customer feedback and reviews to find areas for improvement or new product opportunities. Listen to your customers and address their needs. By doing this, you can improve your product offerings and customer experience.
4. Don't Forget to Give Post-Purchase Incentives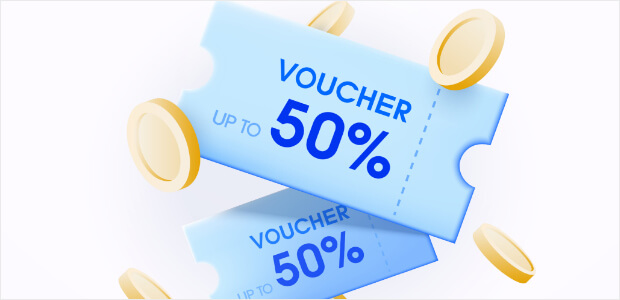 The idea behind post-purchase incentives is to encourage customers to return to your website to make repeat purchases. By doing this, you reward customers for their loyalty and incentivize them to continue doing business with you.
You can provide post-purchase incentives in several ways, including:
Offering discounts on your customer's next purchase.
Giving a coupon for future use.
Offering free shipping on their next order.
These incentives can be delivered via email, on a receipt, or through a loyalty program.
Post-purchase incentives are a great way to improve customer satisfaction and loyalty. When customers feel appreciated and valued, they are more likely to return to your online store and make purchases in the future. This helps you improve customer retention and long-term ROI.
Additionally, offering incentives can help reduce the likelihood of negative reviews or feedback. That's because customers are more likely to share positive experiences with others.
If you want to learn more about customer feedback and reviews, the following articles might be helpful:
Maximize Your Upselling and Cross-Selling Potential With TrustPulse
And that's it!
Both upselling and cross-selling are effective selling techniques you can use to increase average order value (AOV) and improve customer retention. By understanding the difference between the two and implementing the above steps, you can drive sales, create loyal customers, and increase overall revenue.
TrustPulse is a social proof platform that can help you with both upselling and cross-selling by providing customized notifications to website visitors. It's a powerful tool for businesses to increase conversion rates through both strategies.

Here's how TrustPulse can assist with upselling and cross-selling:
Utilize Real-Time Customer Activity:
Display real-time customer activity notifications on your website. Such as recent purchases or sign-ups.
Offer Personalized Recommendations: 
Use targeting and segmentation features to show relevant product suggestions. Target customers who have previously made purchases or shown interest in specific categories. For more, read our article on Easy Product Recommendation Strategies You Need to Use Today.
Showcase social proof by displaying notifications of recent customer interactions, such as purchases, reviews, or testimonials. These notifications build credibility and trust, making customers more likely to consider more purchases. Ensure that the notifications are placed strategically on your website, such as on product pages or during checkout.
Implement Upsell and Cross-Sell Prompts:
Trigger upsell and cross-sell prompts based on customer actions, preferences, and buying history. For example, when a customer adds a product to their cart, display a notification suggesting complementary items or a higher-priced version of the same product.
A/B Test Your Notifications:
Experiment with different notification designs, messages, and triggers using the A/B testing feature. Test variations to determine which combinations are most effective in driving upsells and cross-sells. Continuously optimize your approach based on the insights gained from these tests.
Monitor and Analyze Performance: 
Track metrics such as conversion rates, AOV, and revenue generated from upsells and cross-sells. Use these insights to refine your strategies and improve your results over time.
All this makes it an effective tool for any business looking to grow its sales.
So why wait? With our risk-free unconditional 14-day money-back guarantee, Sign up with TrustPulse today!