Are you looking for ecommerce marketing best practices to increase traffic and sales for your online store?
Choosing the best ecommerce marketing strategy isn't always easy, but it can pay off now and in the long term.
In this article, we'll go over how to get more sales on Shopify, WooCommerce or whatever ecommerce platform you're using.
What is Ecommerce Marketing?
Ecommerce marketing is the process of building customer awareness of your brand and products.
If you're wondering how to market your ecommerce business, remember these 4 important factors:
Visibility: Can customers find you?
Recall: Will customers remember you?
Conversion: Will customers buy from you?
Retention: Will customers come back to you?
The best ecommerce marketing plan will address each of these factors. Some marketing tactics can even improve multiple factors at once.
Before you choose which ecommerce marketing tools for business to use, you need to decide what ecommerce marketing strategies you're going to pursue.
Take a look at our list of proven ecommerce marketing ideas and pick 1 or 2 to try for a few weeks. At the end of this test period, review how your marketing efforts impacted your sales figures.
19 Ecommerce Marketing Techniques to Increase Sales
1. Optimize Your SEO
SEO stands for search engine optimization. This is what helps your store and product pages get to the top 10 search results on Google, Yahoo, or other search engines. Being on the first page or in the featured snippets means your links are far more likely to get clicked on. More clicks means more sales!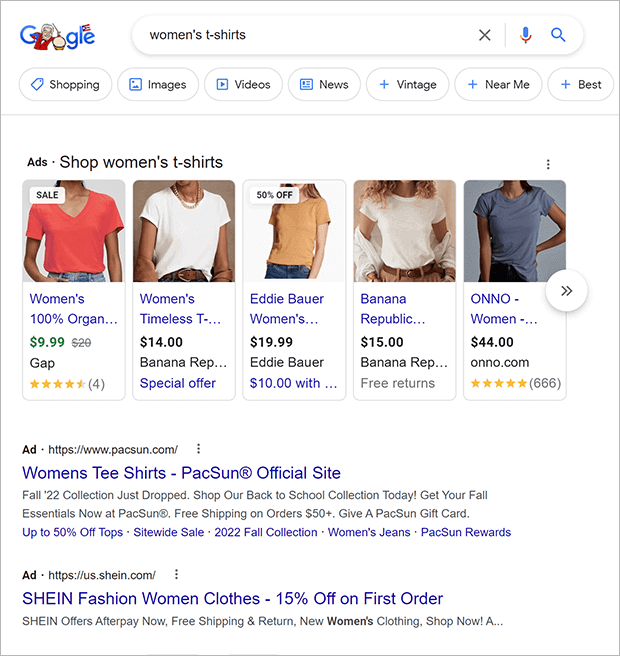 To optimize your ecommerce SEO, you'll need to:
Use keyword research to find what your customer base is searching for
Include important keywords in your page URLs, product pages, and blog posts
Build backlinks from trustworthy websites
Create a good user experience on your ecommerce website
SEO is a long-term marketing strategy that often takes time to show results but can really pay off when done right.
Resources
2. Invest in PPC Ad Campaigns
Pay-per-click (PPC) advertising is the most common form of advertising for ecommerce. As the name suggests, your business runs ads but is only charged when a user clicks on your ad.
The most common type of PPC ad is the paid search ad, which makes PPC another highly effective way to get seen on search. When a customer searches for a product type or category, ads will appear with detailed information about related products.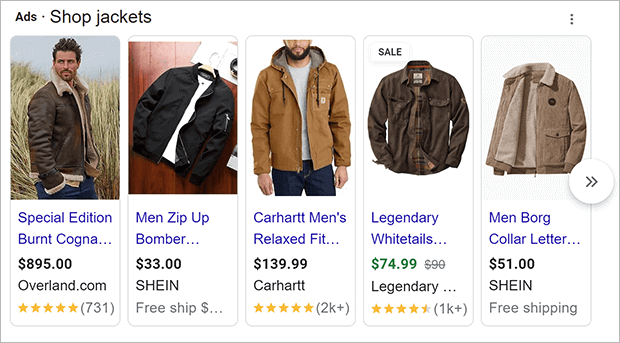 You can also buy PPC ads on Facebook and Instagram. Social media users will see these ads while browsing on the platform.
The best part about PPC ads is how well you can match ads to the target audience. You can also use retargeting to find people who've already seen pages on your ecommerce site and encourage them to go back to your online store.
Resources:
3. Join an Ecommerce Marketplace
Marketplaces like Amazon, eBay, or Etsy can help you access much larger audiences. Many marketplace shoppers value the convenience of buying from multiple sellers in one place. Some simply prefer doing their online shopping on a channel that they already know rather than a website they've never heard of.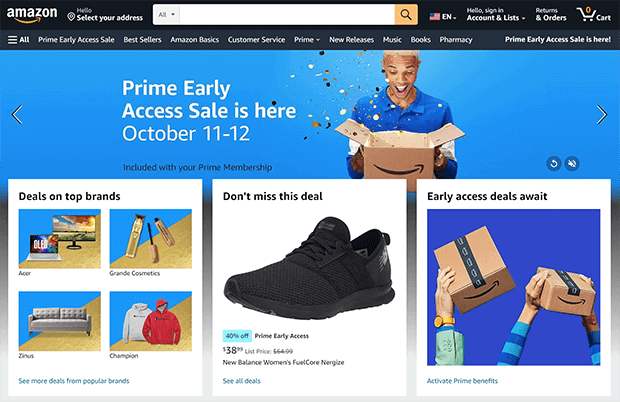 Selling on a marketplace does mean that you have to pay selling or listing fees and follow the rules of the marketplace. So use them to supplement, rather than replace, your branded store. Rather than list every single one of your products, stick to your bestsellers to help get the most out of your selling fees. When you can, brand your marketplace page the same as your website. Use branded images and packaging to nudge customers toward buying straight from your website next time.
Resources:
4. Sell on Social Media
Visually driven social media platforms like Instagram and Pinterest are a great way to reach more customers.
Many shoppers scroll through these platforms looking for inspiration. Your brand can provide the solution they're looking for!
Compelling product photos, strategic hashtags, and a consistent posting schedule will help you build a large following on social media. Then you can run contests or simply engage with your audience through comments to help build brand awareness and customer loyalty.
You can even create shoppable posts on Instagram and shoppable pins on Pinterest. If people see something they like, they can click instantly on the post to buy the product.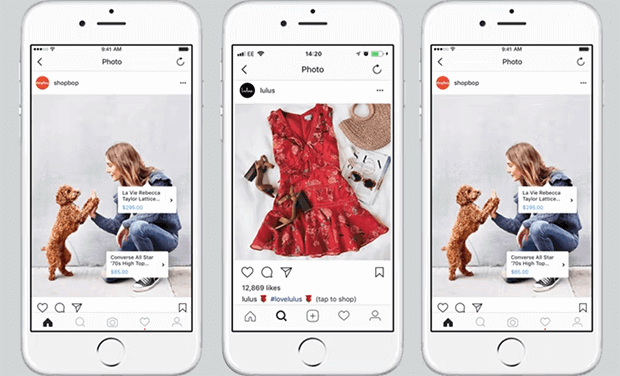 Resources:
5. Extend Your Reach With Influencer Marketing
Influencer marketing is another way to gain access to a broader audience and build brand awareness. Influencers are content creators with established audiences that promote your brand through authentic lifestyle content featuring your products.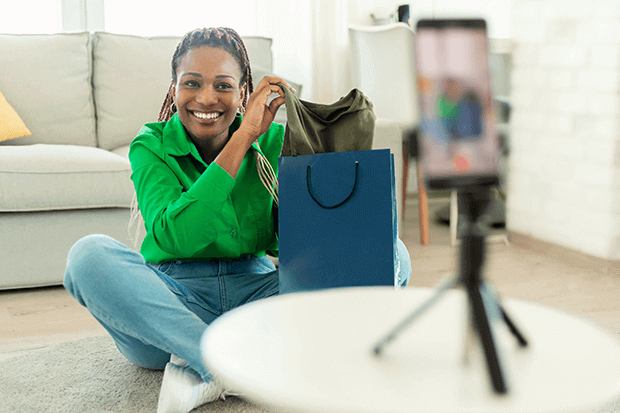 For example, a fashion influencer might style several outfits with one of your bestselling clothing items. A lifestyle influencer could create a recipe featuring one of your food products. They share this content with their audience. Because they're known for creating content in this niche, their audience will already be primed to be interested in your products.
Influencer marketing channels include:
Instagram (most popular)
TikTok
YouTube
Facebook
Snapchat
Twitch
Blogs
The best platform for influencer marketing will depend on your niche and target audience.
Resources:
6. Build a Memorable Brand
The ecommerce market is very crowded, so it's important to stand out. Your brand is far more than your color scheme or logo. It's all about being recognizable to your target audience, from the way you talk about your product to the way you treat customers or interact with people on social media.
Think about who your target market is and how your products meet their needs. Then figure out what makes you different from direct and indirect competitors. Maybe you source products only from a specific region or type of vendor. Or you offer extraordinary customer service and a generous return policy. Then pick the ecommerce branding strategies that best highlight your unique qualities.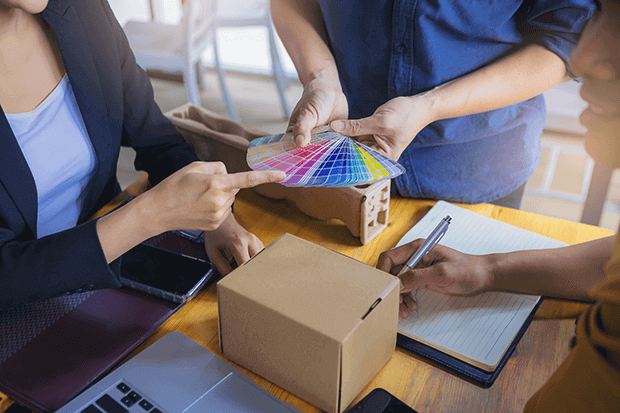 Resources:
7. Experiment With Pricing
Pricing is an often overlooked part of marketing. But everyone makes assumptions and decisions about a product based on price, so price adjustments are an easy way to change the perceived value of your products.
A bump sale can be a great ecommerce launch strategy. This means you start at a very low price, and then raise the price a set amount with every purchase. Customers who want a bargain will be motivated to purchase quickly. Those who are still deciding will see the price going up and feel a sense of urgency to buy before the price goes even higher. As the price goes up, the product looks more valuable to everyone else.
You can also try offering a flash sale for a limited time to generate urgency. This also helps protect your margins since you aren't constantly offering a discount. As an alternative, you can raise base prices but be generous with coupon codes and promotions. Customers will feel like they're getting a bargain. This is called price anchoring.
Resources:
8. Cross-sell and Upsell Your Products
Another way to push on the pricing lever is to upsell or cross-sell your products. Upselling means selling a more premium product than what the customer was originally considering. Cross-selling means recommending products related to what the customer is shopping for, often at a bundle discount.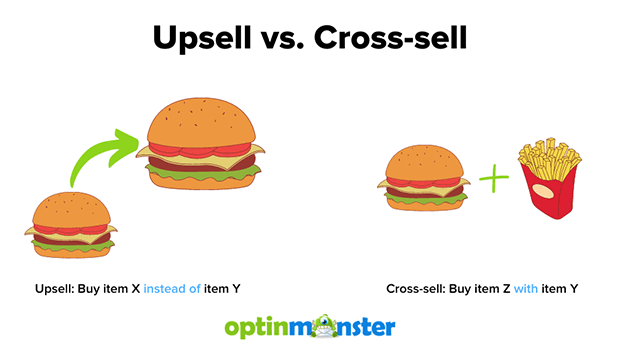 The key to effective upselling and cross-selling is making the right offers that actually add value to the order. For example, if someone is buying a printer, they'll also need ink or toner and paper. It wouldn't make much sense to suggest that they also buy a new computer mouse.
Upselling and cross-selling on product pages or on the shopping cart page is an important way to raise the average order value or the lifetime value of a customer. It's often easier to convince an existing customer to buy more than it is to persuade a brand new customer to buy anything at all.
Resources:
9. Create a High-Quality Customer Experience
A premium shopping experience doesn't have to cost you lots of money. It just means using good design to make it easy for your customers to find what they want.
Important ecommerce store design factors include:
Navigation
Search functionality
Checkout process
Product descriptions
Segmentation of products and promotions
Font size, color, and spacing
Accurate imagery
Balance between text and visuals
White space
Personalized offers and landing pages
Take a look at this example. Passion Planner features their product front and center, along with their vision and a quiz to help new customers find the right planner.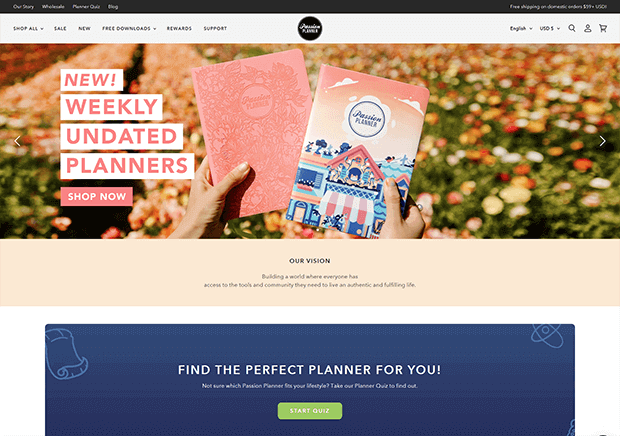 Resources:
10. Run a Pre-sale
If you're planning to offer more products, make sure to do some market research to see if there's a demand for new items. One creative way to test your market is to have a pre-sale.
A pre-sale is an ecommerce launch strategy where you sell the products before they're available to be delivered, often at a discount or with some other incentive. Customers have a chance to vote with their money about which products they want to see added to your catalog. You get an infusion of revenue to put toward new products and you have guaranteed customers for those orders.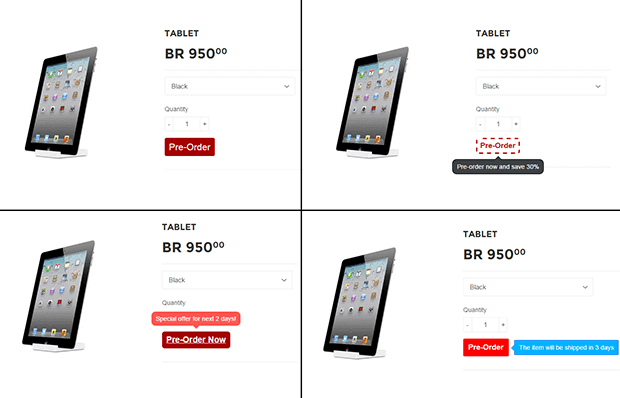 You can also use email signup forms to collect email addresses from customers who are interested in each product or put a poll on your website. These methods are less binding for the customer than a true presale. As the business owner, however, you assume some of the risk since no one has actually purchased the new products yet.
Resources:
11. Start Using Content Marketing
Content marketing is the creation and sharing of content such as blog posts, videos, infographics, and podcasts that generate interest in your brand's products. Having optimized ecommerce website content can help you rank better in search results and connect with customers outside your website and in a less transactional manner.
You can choose the content marketing strategy for ecommerce that makes the most sense for your business. Think about:
What kind of content do your customers like to consume?
What kind of content is easiest for you to produce and share regularly?
How can your content build awareness of your brand and the customer's need for your products?
Resources:
12. Feature User-Generated Content
Along with content that your team creates, you can showcase user-generated content (UGC). User-generated content is unpaid content created and shared by real customers. Some examples include:
Customer photos of your products
Tweets and other social media posts
Blog posts
Product reviews
UGC is an important form of social proof. Social proof is when people assume that what many other people are doing is the right or best thing to do. When potential customers see real people wearing your clothes or decorating their house with your products, they'll assume that the products are good.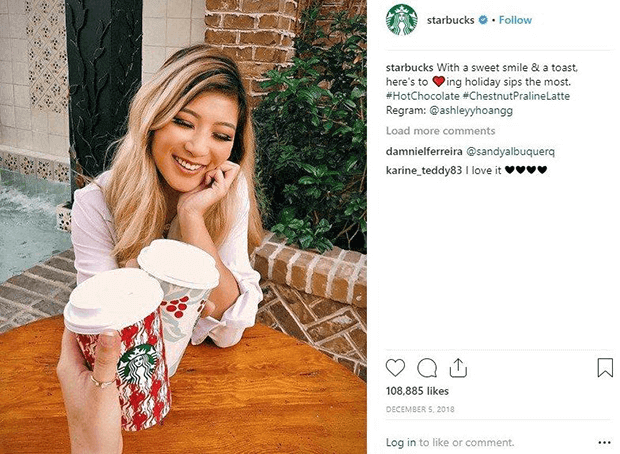 For UGC to maintain its authenticity, it's important that the content be unpaid and unsolicited. You can pay influencers to create content, but everyone knows that they've been compensated for mentioning your brand. Their positive portrayal of your product may not be their real opinion. UGC, on the other hand, is deemed highly trustworthy because people took the initiative to rave about your product.
You can share UGC on your website and social media marketing channels as a way to show how well-liked your brand is.
Resources:
13. Spread the Word With Ecommerce Performance Marketing
Performance marketing is a type of digital marketing program where you pay individuals or companies to talk about your brand, but only when a customer performs an action based on that marketing. In many cases, that action is a click or purchase.
Two popular forms of performance marketing are referral marketing and affiliate marketing. They are similar in that you pay out some kind of incentive whenever a customer makes a purchase because of a referrer or affiliate. Referrals are typically made by existing customers, while affiliates may not be customers but are influential in your niche.
Performance marketing can be more cost effective than other types of ecommerce marketing because you only pay when you make a sale.
Resources:
14. Market Locally
Just because you run your business online doesn't mean that you can't connect with the local community. Taking a local approach to ecommerce marketing tactics can increase your online sales.
Here are some ideas for marketing locally:
Run location-based promotions based on seasons, local events, or customer demographics in the region
Offer shipping deals based on location
Sponsor local events
Partner with local vendors to supply their businesses and get your products in front of their clients or customers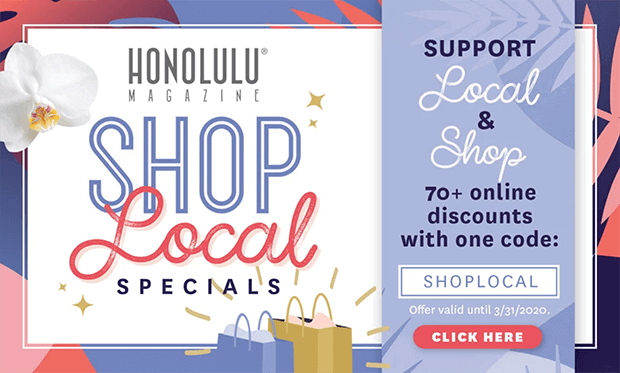 Resources:
15. Offer Coordinating Services
Adding a service line to your ecommerce business can increase the value of your products. Some examples might be:
A free or paid styling consultation for fashion customers based on what clothing they purchased
Installation or assembly services for home wares
Gift wrap and delivery for small goods
You could even consider shifting from a purely product-based ecommerce strategy to a hybrid business model with services and products. For example, you could offer a home organization service with a set of organizing containers included. Many customers value having the job done for them and would rather pay for a service than a product.
To offer these services, you will likely need to partner with service providers or hire and train additional staff.
16. Grow Your Email List
Email is still the best way to reach your customers. Social media is crowded and it takes a lot of work to stand out there and in search engine marketing. But email is a direct line that doesn't cost much.
You can use popups, floating bars, slide-ins, and other campaigns to grow your small business email list. There are plenty of incentives you can offer as well, from exclusive product access to discount coupons.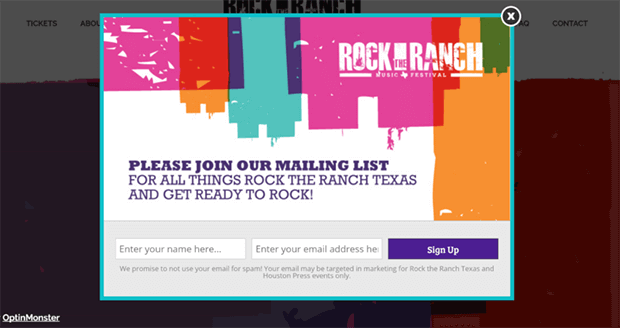 Resources:
17. Use Email Marketing to Increase Ecommerce Sales
Email marketing is one of the most powerful digital marketing strategies for ecommerce. In order to be effective, you need to send emails that deliver value to your customers. That means you can't just sell all the time.
There are many ways to use email to serve your customers:
Send a welcome email immediately after purchase to thank them for ordering
Educate new customers on how to use or care for their product
Entertain subscribers with interesting news from your industry
Provide a sense of belonging by featuring user-generated content from the community
Ask for feedback on processes, new products, pricing, and more
Send email campaigns for upcoming holidays or special events that they might need to shop for
Send abandoned cart emails that remind them about their need
Resources:
18. Serve Your Existing Customers Well
Don't forget to take care of your past customers. There's a lot of ecommerce marketing aimed toward attracting new traffic and conversions, but it's often significantly easier to sell to an existing customer than a brand new one.
To keep your customers coming back, you can set up a loyalty program that rewards them for repeated purchases over time. Your highest-value customers can also bring in referrals for your business, and they'd probably be delighted to earn discounts or store credit for sharing about you.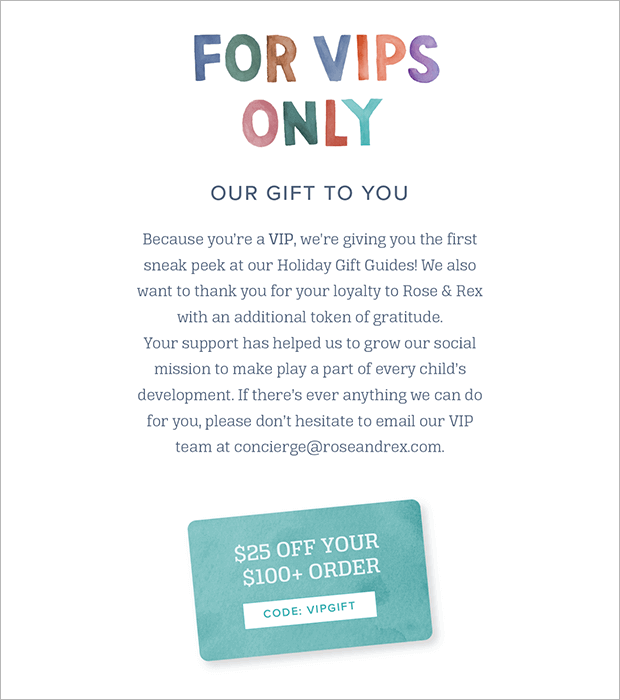 Customer support is another easy way to make a good impression and capture customer loyalty for life. Set up systems like live chat or autoresponders to help customers feel like their needs are important to you.
Loyal customers are the perfect source for testimonials, case studies, and reviews. Reach out to them personally when you can so that they know how much you value their opinion.
Resources:
19. Reduce Cart Abandonment
This is another retention-focused strategy. If you're bringing in lots of traffic but customers are all abandoning their carts before checkout, you've wasted your marketing effort and dollars.
Many of the causes of abandoned carts are completely preventable:
Unexpected taxes, fees, or shipping costs
Confusing or slow checkout process
Concerns about shipping or return policies
Some minor changes to your store template can often solve these issues. You can set up marketing automations to recover abandoned carts through email or push notifications, but preventing cart abandonment in the first place is just as effective.
Resources:
Bonus Tip: Build Customer Trust with Live Sales Notifications
Most of the ecommerce marketing ideas on this list focus on bringing in more potential customers. Driving traffic to your ecommerce site is the first but not the only step. You must also think about conversion rate optimization once those visitors reach your site. Trust is an important part of convincing them to buy.
TrustPulse is an easy way to show real-time social proof. With TrustPulse you can create an automated feed of purchase or other activity notifications. This signals to prospective buyers that the product is trusted by others. On-fire notifications, which show how many purchases or conversions have been made in a set period of time, are another way to drive urgency and desire to belong to the "in" group.
Resources:
Get Started With TrustPulse Now
The right combination of ecommerce marketing strategies can grow your business by leaps and bounds. We hope you found a couple marketing tips on this list that you want to try!
If you're looking for tools to help you carry out some of these ecommerce marketing strategies, check out the best WooCommerce plugins and the best Shopify apps for increasing sales.
Ready to boost your ecommerce marketing no matter what platform you're using? Give TrustPulse a try today!
If you like this article, please follow us on Facebook and Twitter for more free articles.