Do you want a fast and easy way to grow your subscriber list?
An email subscriber list is the best way to engage with your audience and build a personal relationship. This solidifies your brand and is a great marketing strategy for long-term success.
Below, we're going to cover the best tools in the market that help you build your list. And this isn't going to be an ordinary list of form builders.
We'll be covering a wide range of tools that help you at different stages of list building so that you get the maximum number of subscribers on a regular basis.
Before we dive into the list, let's take a quick look at what you'll ideally want to look for when choosing your list building tools.
What to Look For in List Building Tools
There are plenty of list-building tools out there but not all of them actually help you grow your subscriber list.
Some tools help you add an optin form where visitors can add their email addresses and sign up. But they lack much-needed features that help you target visitors and give them that push to become a subscriber.
If you want people to sign up, then you have to make it worth their while.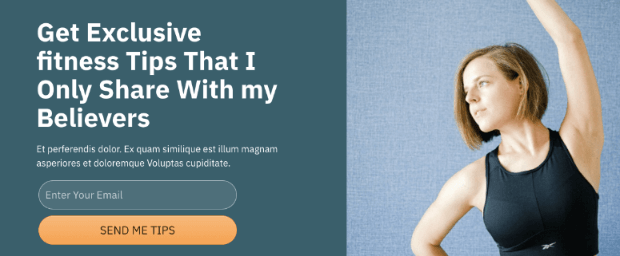 So when you're looking for list building tools, here's our recommend list of features they should have:
Templates and easy customizations so you can create personalized subscription campaigns in minutes
Targeting rules to promote campaigns at the right time and place when visitors are most likely to sign up
Custom fields to add lead magnets, freebies, and file downloads to incentivize users
Split testing and analytics to track performance and make improvements
Email integration so new leads are automatically added to your email account without manual work
These are the main factors to consider though there may be more depending on your marketing goals.
Now that you know what to look out for, let's dive right into the top list building plugins for WordPress.
Best List Building Plugins for WordPress
When we said this is no ordinary list, we meant it. At TrustPulse, we want you to succeed and we take that goal seriously.
Below you'll find the top tools in the market that will help you build your email list, send out emails, automate processes, and track performance.
Added to that, we've picked powerful yet affordable tools that are worth the investment.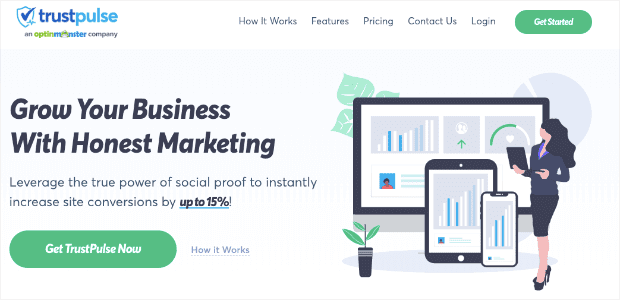 TrustPulse is a powerful tool to promote your signup form and maximize signups.
When new visitors come to your site, they have no reason to trust your brand and subscribe to your newsletter. TrustPulse helps overcome this obstacle by using social proof to boost their confidence and gain their trust.
It does this by automatically tracking when someone signs up.
Then TrustPulse will showcase this activity in a non-intrusive popup for other visitors to see.

When your users see that others are signing up, they'll want to do the same.
This is a popular marketing strategy called FOMO (fear of missing out). It plays on a natural human instinct where people take action because they see others doing it and they don't miss out on what you have to offer.
Along with social proof, TrustPulse lets you create customized messages too, so you can promote your newsletter anywhere on your site at any time.
Plus, every popup is clickable so visitors can access your signup form at any time while they're browsing your site.
Highlights
Track recent activity and group statistics
Target visitors viewing specific pages
Add a time delay to popups
Get actionable insights and analytics
Create campaigns that look great on mobile devices too
Pricing: Starts at $5 per month.
Platforms: Works with any website.
Sign up for your 100% risk-free TrustPulse account now!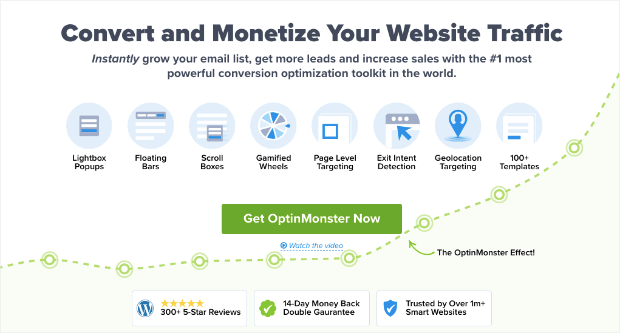 OptinMonster is the #1 lead generation tool to grow your email list exponentially.
It lets you create stunning optin campaigns for your site like popups, floating bars, inline forms, slide-ins, and more.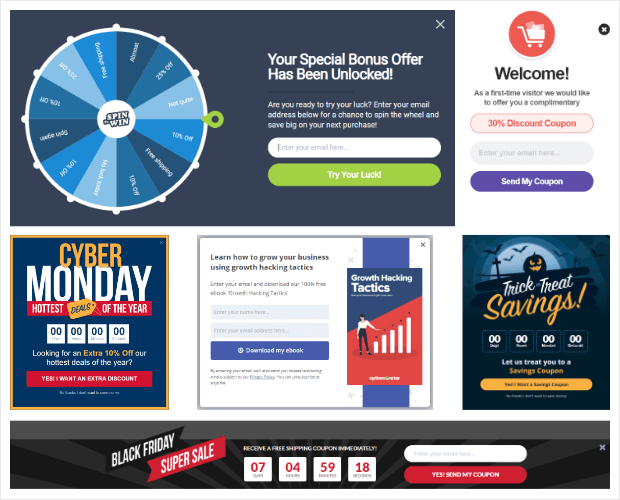 With OptinMonster, anyone can build professional-looking campaigns to get more subscribers. There are 50+ beautiful templates and a drag and drop builder to set up campaigns in minutes.
Aside from creating eye-catching designs, OptinMonster has built-in targeting rules to show campaigns at the perfect time and place when a customer is highly likely to convert.
For instance, you can use OptinMonster to offer a free eBook or strategy when a visitor is about to leave your website.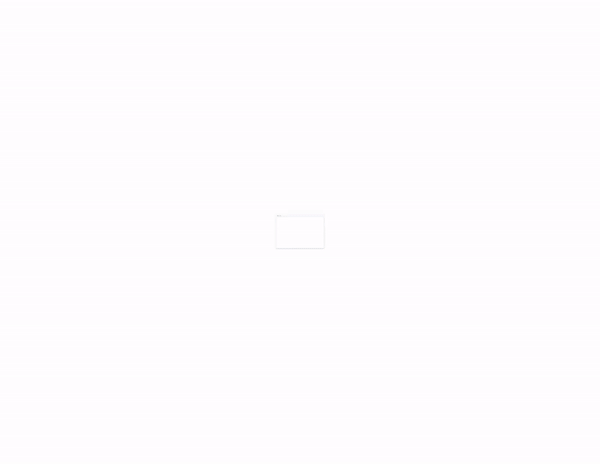 This gives them an incentive to subscribe, so you can recover these abandoning users.
You can also make sure existing subscribers never see the same campaign again. Instead, you can retarget them with new campaigns to keep them engaged on your website.
OptinMonster also lets you connect to your email account.
That way, all your leads will be automatically added to your email list, plus you can segment them right from the start. This will save you a ton of time by removing the need to manually import/export contacts.
Highlights
Set up in minutes without any coding skills
Create personalized campaigns that visitors will respond to
Build evergreen campaigns that run on their own
Automate lead generation and email marketing with premium integrations
Test campaigns to optimize results
Pricing: Starts at $9 per month.
Platforms: Works with any website.
Get started with OptinMonster now!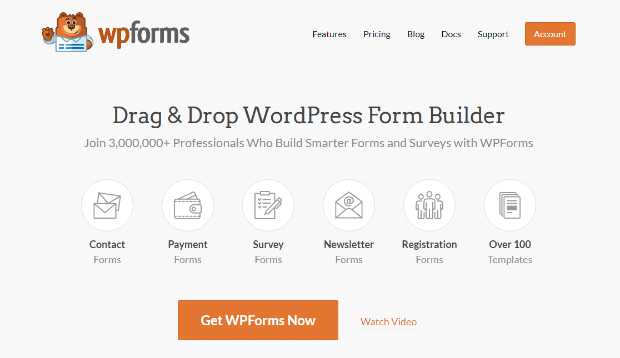 WPForms is hands down the best form builder tool for WordPress to create any kind of form for your site. You can create beautiful optin forms using one of the many templates available.
Having said that, WPForms is no ordinary form builder. It offers advanced features to your form that you can add at the click of a button (no coding required!).
First, this tool has built-in conditional logic. This means you can dynamically change the next question based on how your users respond.
Then you can set up automatic personalized email notifications to be sent to subscribers as soon as they sign up. You can also create notifications for you and your team, so you'll be updated about your lead generation.
Next, WPForms makes it easy to manage subscribers in your dashboard. You can view, delete, and add notes to every entry.
If that's not enough, you can sync your form with email service providers to have your leads sent to your email account.
Highlights
Create custom optin forms using 150+ responsive templates and the drag and drop builder
Add conditional logic, progress bars, conversational form, and more
Include smart fields like multiple choice, dropdown, file upload/download, and more
Block spam and fraud entries with built-in spam protection
Get analytics and reporting on subscribers
Integrate with email services and payment gateways
Pricing: The lite version of WPForms is available for free. The pro version starts at $39.50 per year.
Platforms: WPForms is a plugin for WordPress sites.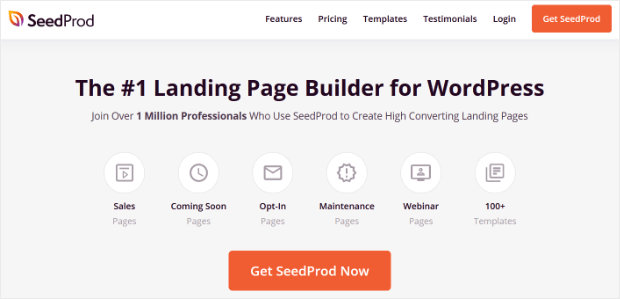 SeedProd is the best landing page builder for WordPress. It lets you create stunning optin pages for your site.
This means you can have a centralized place where you can send users from different platforms to sign up for your newsletter.
An optin landing page will give you space to let potential subscribers know what they can expect, why they should sign up, and any other details you want to provide.
SeedProd comes with tons of templates that make it easy to create eye-catching pages. Most of the templates have optin forms already added to collect subscribers. If not, you can add one with just the click of a button.
SeedProd also lets you track every form entry with or without a 3rd party email provider. That way, you can get all the subscriber insights you need inside your SeedProd dashboard.
Highlights
Responsive and mobile-friendly optin pages
Smart sections and blocks like headers and calls to action
Built-in subscriber management and email integrations
Bloat-free pages that are super fast
Fraud and spam protection
Pricing: There's a lite version for free. The premium SeedProd page builder starts at $39.50 per year.
Platforms: SeedProd is a landing page builder for WordPress sites.
Get started with SeedProd now!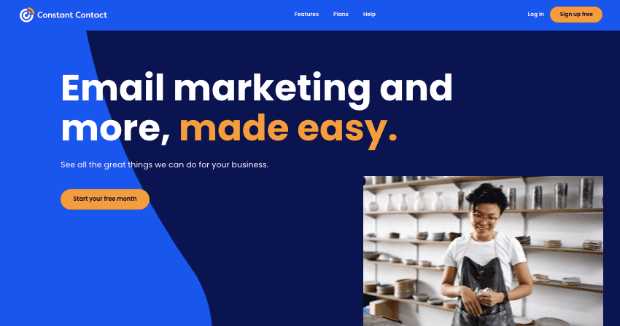 Constant Contact is a reliable and powerful email service provider (ESP) that you can use to send marketing emails.
Once you build your email list, you'll need to start engaging with them to keep them coming back to your site. With Constant Contact, you can create automated series and schedule emails to reach subscribers at the right time.
You can use premade templates to create and send stunning emails to your audience.
Constant Contact also lets you create signup forms and popups for your site to collect subscribers.
Plus, Constant Contact has one of the highest deliverability rates, so you can be sure your emails hit the inbox and not the spam folder.
Highlights
97% deliverability rate
Easy-to-use campaign builder
Pre-designed templates
List and audience segmentation
Integrations with popular marketing tools
Pricing: Starts at $20 per month.
Platforms: Works with any website.
Get started with Constant Contact!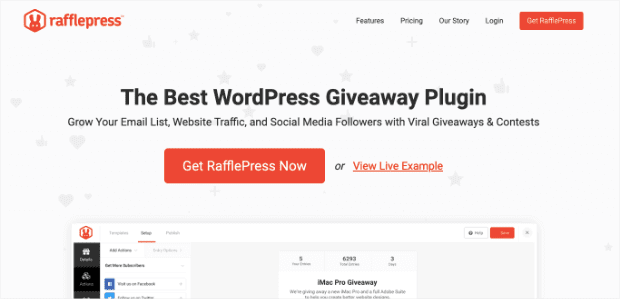 RafflePress is the best giveaway plugin for WordPress and serves as a really powerful tool to grow your subscriber list at incredible rates.
It has all the features you need to make your giveaway go viral. This lets you add more subscribers to your list fast and in a short span of time.
Inside RafflePress, you'll find pre-designed templates and a visual drag and drop builder to create beautiful contest pages.
You can add 1-click entry options where you can ask people to subscribe to your newsletter in order to participate in the contest. You can also ask them to follow on social media, share a post, leave a comment, and much more.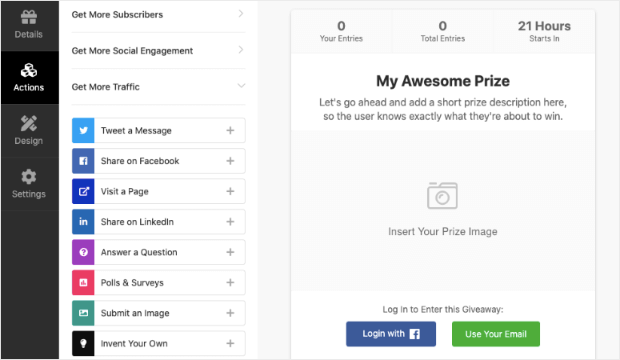 And you don't have to use any coding. Everything is accessible from the RafflePress dashboard.
RafflePress lets you can create, run, and manage your contest plus track subscribers with ease.
There's a FREE version that lets you create an awesome giveaway without spending a dime!
Key Features
Built-in viral sharing features like refer a friend
Multiple contest entry options
Integrations with social media channels, CRMS, and email marketing
Analytics to track your campaigns and success
Dedicated contest landing pages
Pricing: Free version available. The pro version starts at $39.20 per year.
Platforms: RafflePress works with WordPress sites.
Get started with RafflePress today!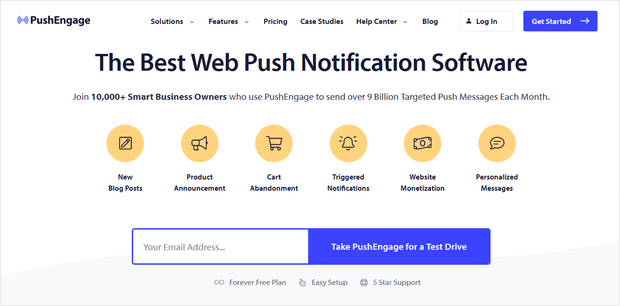 PushEngage is the best push notification tool to gain subscribers who don't want to share their email addresses.
A visitor can subscribe to browser notifications instead, so you can send them messages and updates even if you don't have their email address.
These notifications will reach the subscriber even if they aren't actively browsing your site. And PushEngage will send them notifications according to the subscriber's timezone so they get it at the best time for them.
PushEngage also lets you create a drip series to welcome and engage with customers just like you would over email.
You can also experiment with different campaigns to find the one that gets the best results.
Highlights
Scheduled and automated drip series
Audience segmentation and management
Local timezone notifications
Analytics reports to track performance
No coding required
Pricing: Get started for free. Premium plans start at $9 per month.
Platforms: Works with any website.
Get started with PushEngage now!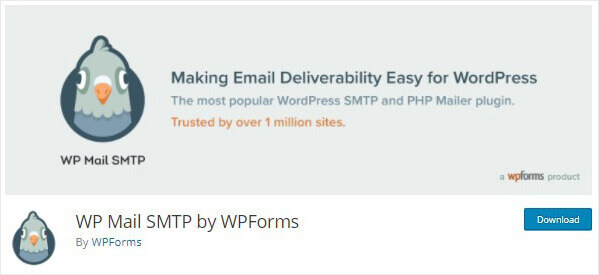 WP Mail SMTP is the best WordPress SMTP plugin that will make sure your emails hit your subscribers' inbox.
If you're using WordPress, by default, your site uses a PHP wp_mail()function to send emails. This doesn't always work as well as you'd like it to which means your emails can be undelivered, go to spam, or bounce back.
To overcome this, you need an SMTP plugin that gives you the proper infrastructure to send emails and be sure they're delivered.
WP Mail SMTP makes it easy for you to get an SMTP setup on your WordPress site.
The plugin even offers a white glove setup which means their support team will configure it for you.
WP Mail SMTP even lets you customize the 'from email' inside the plugin settings. Under the Mail section, you can simply enter the email address and the 'from name' you want to use to send WordPress emails.
WP Mail SMTP is a powerful, versatile, and incredibly effective tool for getting your emails in your customer's inbox.
Standout Features
Integrates with all popular email providers
Easily manage email notifications
Backed by the WPForms team
Offers white glove setup where the team will configure it for you
Cost: There's a free version in the WordPress repository. Pro plans start at $49 per year.
Platforms: Works on WordPress sites.
Get started with WP Mail SMTP now!.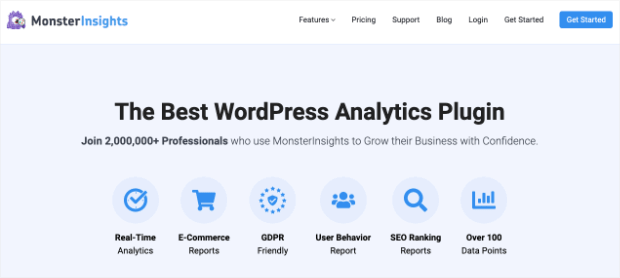 MonsterInsights is the best Google Analytics plugin that you'll need to track your marketing campaigns and subscriber growth.
The plugin lets you easily connect to Google Analytics and get all the stats you need inside your WordPress dashboard.
That means you can accurately track your most valuable KPIs, including:
User demographics
Pageviews
Custom conversions
Bounce rates
Sales
And more…
These insights will help you better understand your audience so you can tailor your optin campaigns accordingly.
Also, you can use this data to find popular pages and posts where you can promote your signup form.
With MonsterInsights, you'll be able to create a data-driven marketing plan that actually gets you more subscribers and conversions.
Key Features
Real-time analytics
Ecommerce reports
User behavior report
Custom UTM tracking
SEO rankings report
Price: Starts at only $99.50/year.
Platforms: Works on WordPress sites.
Get started with MonsterInsights today!
There you have it! That's our pick of all the tools you'll need to successfully grow your email list.
If you want to know which is the BEST tool, we recommend OptinMonster.
It has everything you need to target your audience, create stunning campaigns, and grow your list at incredible rates.
Then you'll want to rely on TrustPulse to boost visitors' confidence and get them to subscribe to your emails.
You can get started right away by signing up for your 100% risk-free TrustPulse account now!
We hope you found our curated pick of the best list building tools helpful. For more ways to get more subscribers, you'll want to check out our resources on:
These posts reveal more tools and strategies to build your list and grow your website fast.