Are you looking for ways to build trust and confidence with your customers?
Credibility is the key to long-term success because, without it, you won't be able to drive clients to your store. And without paying clients, you'll soon have to pack up shop.
But with the right strategies and tools, you can build trust with new leads and convert them into loyal lifelong customers.
Today, we're going to show you tried and tested methods to successfully build credibility for your business.
Let's dive straight into the tips!
How To Build Credibility for Your Business
1. Display Real-time Social Proof
Social proof is the best way to drastically boost confidence and trust in customers. It's a powerful marketing tool that uses customers' actions to encourage others to do the same.
It's like when you see a crowded restaurant, and you automatically assume it must be good. Why else would so many people eat there if it wasn't?
This is social proof in action.
It works because we look to others for signals to know whether we can trust a brand.
When visitors come to your site, they won't be able to see any other visitors there.
But wouldn't it be great if you could show them how many people are currently viewing your site and what actions they're taking, such as buying or signing up for something?
That's where TrustPulse comes in: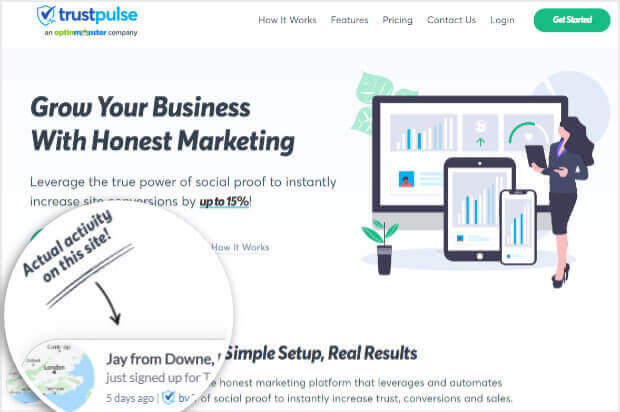 TrustPulse is the #1 social proof software on the market that offers the best features to build credibility for your business.
We've made it super easy to set up on any website. And once it's installed, it tracks and captures activity on your site, such as sales, signups, comments, and other actions from visitors.
It then showcases these actions in non-intrusive popups on your site. That way, it doesn't disturb the customer's browsing experience but, at the same time, it's hard to miss.


These social proof popups are simple yet powerful. In fact, TrustPulse is proven to instantly lift conversions by 15%.
Want to use social proof on your site? Sign up for your 100% risk-free TrustPulse account!
2. Create Pages That Look Professional
Shoppers and visitors want to easily find what they're looking for and more importantly, they expect the page to load fast.
If your site doesn't look great and is hard to navigate, it shows that you haven't invested enough time, money, and effort.
Customers will think that you don't really care about them, and they'll be less likely to take any action on your site.
From the get-go, make sure you pay attention to web design. As soon as they land on your website, you need to make a good impression. By giving them the best user experience (UX), you can get them to trust your brand.
You can create user-friendly professional-looking landing pages using SeedProd: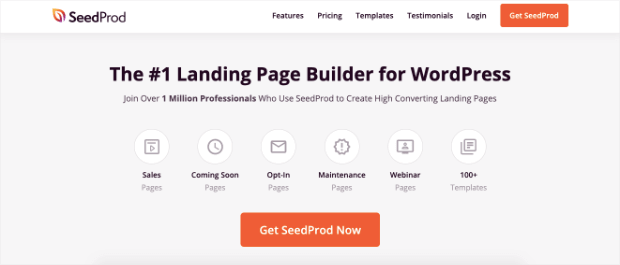 SeedProd is the best page builder for WordPress. It comes with 100+ templates, pre-built sections, and a drag and drop builder to create stunning landing pages in minutes.
That way, your website looks amazing and is easy to navigate as well.
It also lets you create coming soon and maintenance mode pages so that your visitors aren't met with errors and blank screens.
Instead, they'll see beautiful pages where they can connect with you.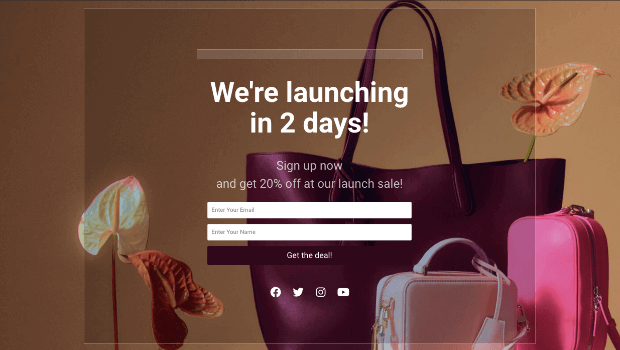 SeedProd's designs are responsive, which means your website will look great on any device. Plus, it's built for speed, so your pages will load fast.
Build stunning landing pages with SeedProd!
3. Use Data and Business Statistics
Numbers and data go a long way in building trust. You don't need to crowd your site with random numbers. Instead, show the ones that will convey the right message to shoppers.
This can include how many subscribers you have or how many clients or customers you've served. You can use infographics, charts, or display them in a neat layout like this: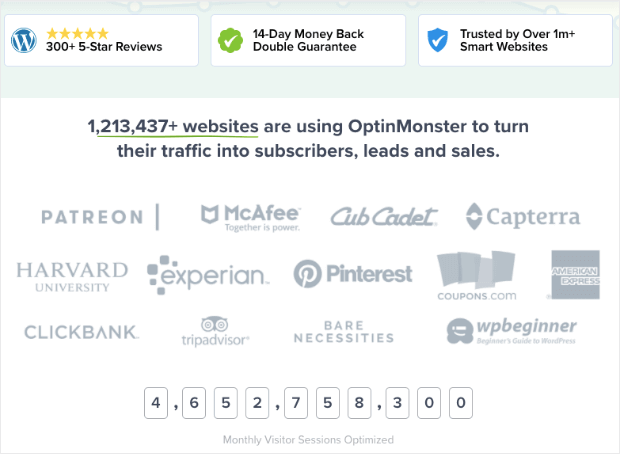 You can get this data from Google Analytics.
All you'll need to sign up for an account and then connect it to your website.
You'll also need to have a fair amount of technical skills to set it up. Thankfully, there's an easier way with MonsterInsights: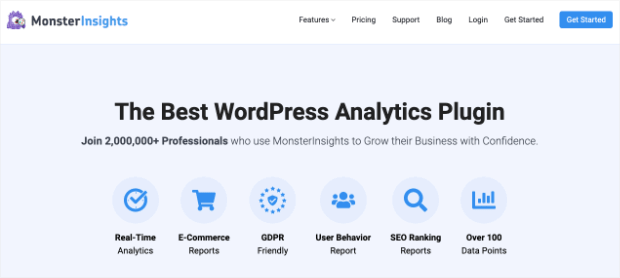 MonsterInsights is the best Google Analytics plugin for WordPress. It lets you connect your site to Google Analytics in just a few clicks.
This plugin turns complex data into reports that can be read and understood by anyone. You can access this data right from your WordPress dashboard.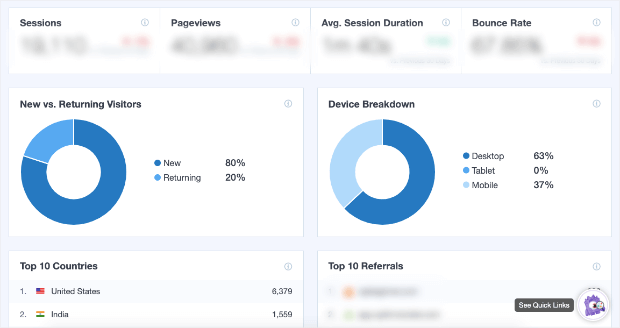 You can see how many visitors, page views, and paying customers you have, along with other valuable statistics.
Get started with MonsterInsights!
4. Leverage Testimonials and Reviews
Reviews have become an important part of business because customers rely on them to make purchase decisions. In fact, 9 out of 10 consumers read reviews before they make a purchase.
You can collect reviews from customers by asking them to fill out a short feedback form right after they complete a purchase.
You can also send them an email asking how their experience was and ask them to leave a review.
To create review and testimonial forms, WPForms is our go-to form builder.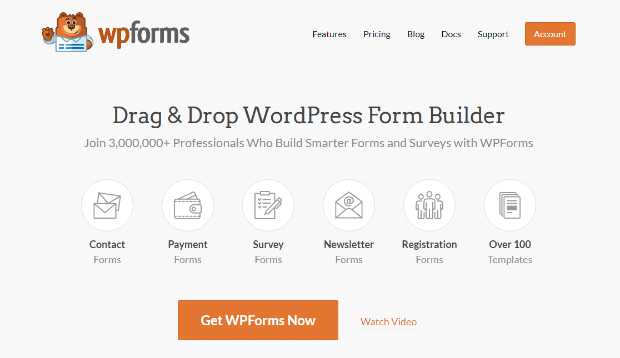 WPForms is a user-friendly form plugin for WordPress. It lets you create all sorts of forms such as contact and registration forms, surveys, polls, and more.
It's the best tool to create testimonial forms because it has a feature called smart conditional logic.
This lets you ask follow-up questions based on the customer's response.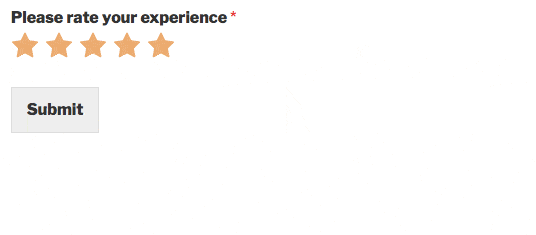 Most customers are happy to leave a review. You just have to ask.
And these forms make it easy for the customer to quickly leave a review without going through a long process.
Want to create your own review form? Sign up for WPForms today!
Another option is to showcase reviews from 3rd-party sites like Capterra and Google reviews: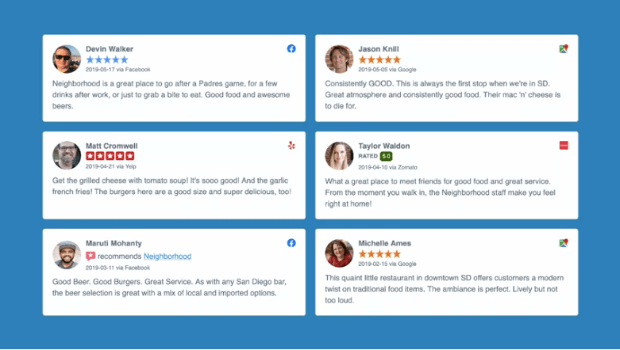 When visitors see that others trust your business and have had a good experience, they'll be more comfortable buying from you or taking other actions on your site.
5. Display Social Media Feeds
Social media plays a huge role in businesses. People look to see if you have an active following on popular platforms like Instagram, YouTube, and Twitter.
You can easily create these channels and post engaging content to spread brand awareness on social media. If you already have active channels, you can showcase them on your site in pages, posts, and sidebars.
Smash Balloon is the best tool to use to create social media feeds: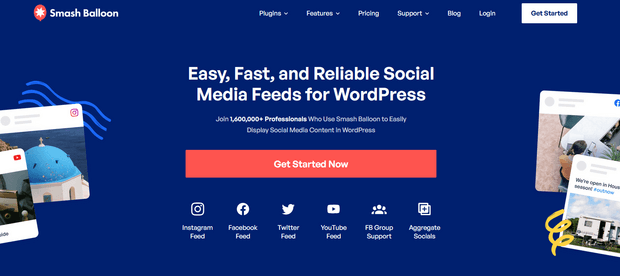 Smash Balloon lets you set up automated feeds where it will detect new posts on connected platforms and display them on your site.
You can customize the layout and look of the feed to match your website's theme and branding. And Smash Balloon lets you display social icons such as follow, subscribe, like, retweet, share, and comment.
That way, visitors can engage with your social media channels directly on your website.
Smash Balloon is a really powerful tool, and it even lets you combine multiple feeds to create a social wall: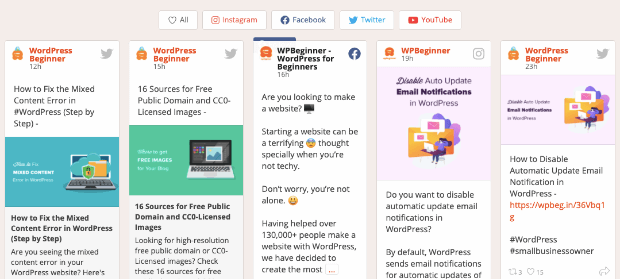 Are you ready to create your own automated social media feed? Get started with Smash Balloon today!
6. Build Relationships To Create Loyal Customers
Getting customers is a challenge. But keeping them is even harder!
If you want long-term success, you need to find ways to connect with customers on a higher and more personal level.
This builds long-lasting credibility. And when they feel a strong connection to your business, they'll happily recommend you to others.
The best way to do build customer relationships is through email marketing. It can help you make your brand a part of a customer's life by sending them valuable content and offers directly to their inbox.
To do this, you'll first need to grow your subscriber list, and the best way to do that is OptinMonster.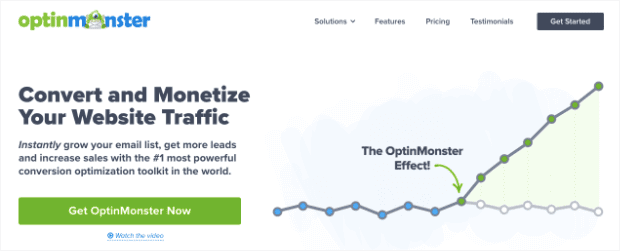 OptinMonster is hands down the most powerful and most popular lead generation tool to explode your email list.
It lets you create eye-catching popups, slide-ins, floating bars, gamified wheels, and more: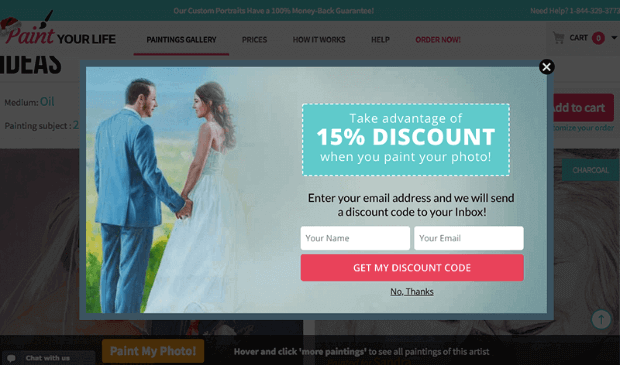 OptinMonster comes with powerful targeting rules to display campaigns to customers when they're most likely to convert.
You can target new or returning customers and display popups when they open your site or when they're about to leave. It even offers specific rules for eCommerce stores.
With OptinMonster, you'll be able to get more subscribers to start building a loyal customer base.
Want to grow your email list? Try OptinMonster now!
And once you have a subscriber base, you'll want to use a reliable email service like Constant Contact to send broadcasts and bulk business emails: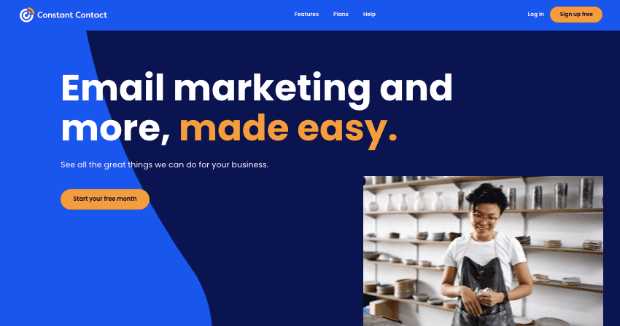 Constant Contact lets you create beautiful newsletters in minutes. It easily integrates with OptinMonster as well. That way, you can automate the process of collecting leads and send out marketing emails more efficiently.
Constant Contact also lets you set up automated email series and scheduled broadcasts to welcome subscribers and consistently engage with them.
Get started with Constant Contact!
7. Display Trust Badges
One of the biggest reasons visitors abandon a site is because they feel their data isn't safe.
Trust badges show customers that your website is secure. This helps them make transactions with peace of mind knowing their payment and personal info are safe.
These badges are given by different services and vendors. For instance, when you install an SSL certificate on your site, it makes sure any data sent to and from your website is secured against hackers.
The SSL certificate provider will give you a badge that you can then display on your site.
Similarly, you can get badges from payment processors like PayPal and Authorize.net. There are 3rd-party services such as security companies that provide these badges as well.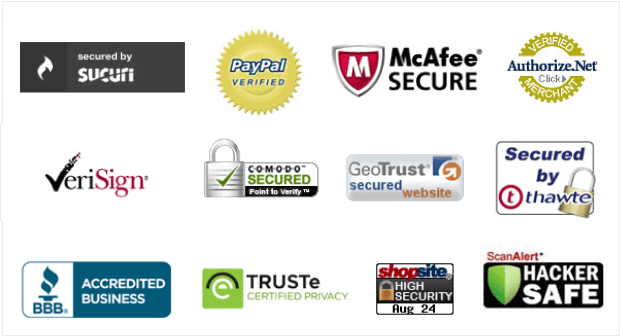 For instance, if you're using Sucuri to scan and protect your website, you can enable the trust seal that will say your site is 'Secured by Sucuri.'
This is just one example, though there are many others. The point is that you should load your site with trust badges to build credibility with your customers.
8. Showcase Awards and Achievements
If you've won awards for your work, why not add them to your site? This will show customers that you're not only good at what you do but you're also valued:

You can showcase awards on a dedicated landing page or add them to your home page.
Awards can instantly put a skeptical customer's mind at ease.
You can also achieve business milestones such as serving 10,000 customers or completing 5,000+ projects!
Every achievement adds credibility and helps boost confidence in your brand.
9. Be Available For Support
Most customers look at a business' support and after-sales services before they buy.
When they know that they can connect with you to resolve their queries and issues, they'll be more confident in buying from you.
And if you don't have the resources to be available to customers around the clock, you can create a request to call back form.
That way, customers can leave their contact information, and you can get in touch with them later.
Check out this cool request to call back slide-in created with OptinMonster. It's hard to miss and lets people know you're available to answer their queries.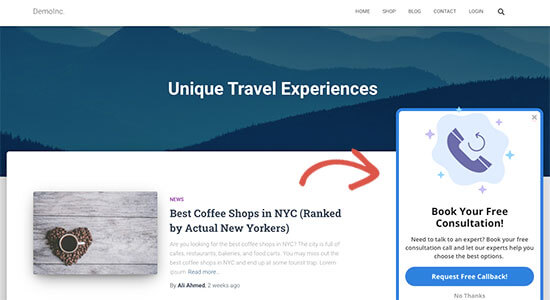 Another great channel for customer support is Live Chat. You can set up automated messages to reduce your response time and then get back to the customer when you're available.
You can even create a dedicated landing page for support like this one from WPForms.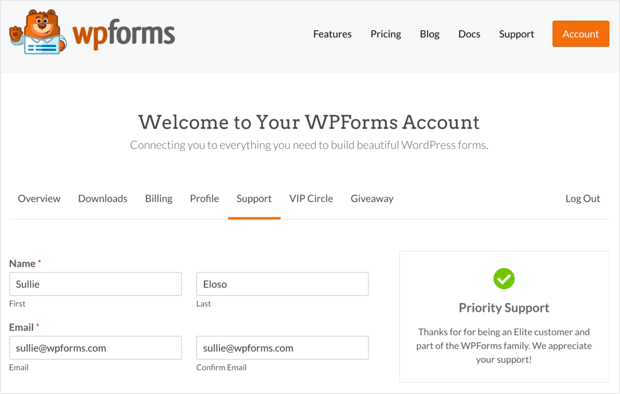 You'll need to be sure to respond within a reasonable time to keep customers happy.
If you have a team to handle customer support, check out professional phone systems like Nextiva. They help you streamline multi-channel support and have awesome features to keep customers satisfied.
10. Create a Knowledge Base and FAQs
When visitors come to your site, they may not fully understand what you're business is all about.
If you have a knowledge base, they can refer to it to find answers easily.
A knowledge base includes answers to any and all questions about your products/services. It saves time for you and your customer support team as they don't need to manually write replies every time users ask the same questions.
This kind of documentation legitimizes your business and boosts trust. Customers can see that you've clearly defined what you do, what you have to offer, and how they'll benefit from it.
At TrustPulse, we have a knowledge base where you can find documentation about how to use our tool.

One of the best tools to create a knowledge base is Help Scout. It's a popular help desk software that lets you create a self-serving knowledge base for customers to find answers about your products or services.
You can also add an FAQs section for short answers to common questions.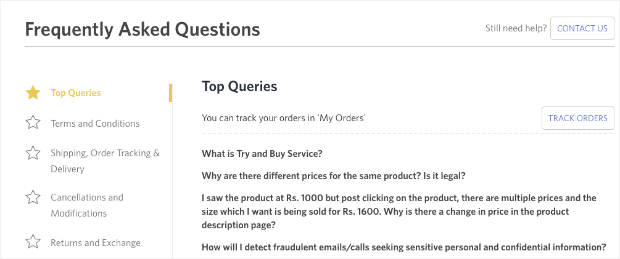 The best way to create an FAQ section is by navigating your site through the eyes of a new visitor. You can get bring in your team, friends, and family to give you feedback and questions they have.
With documentation and an FAQs section, you can remove any doubt and sales objections to convert more visitors into customers.
11. Record Case Studies
New customers will always be skeptical about your product or service.
What better way to build credibility than by proving your product or service actually works?
You can follow up with existing customers to see how your product or service has helped them.
And when customers have proven results using your product, you can write a case study on it. This way, you can convince potential customers that their money will be well spent.
Plus, case studies also give existing customers new ideas about how they can use your product or service to make the most of it.
12. Establish Clear Policies
When you offer clearly established policies on your site, customers will know that you're transparent, honest, and confident in your business.
You can do this by stating your shipping and return policies. You can also mention if you have a moneyback policy, demo, or free trial available.

By displaying this on your site, visitors will know exactly what you have to offer and how it benefits them.
This increases your chances of converting casual shoppers into customers.
And with that, you now know the top ways to build credibility for your business!
The biggest takeaway is that you need to show customers you care, your product actually works, and that you're confident in what you do.
And if you want to instantly boost credibility and lift conversions, sign up for TrustPulse right away.
We hope you liked this post, and if so, you'll also be interested in:
These posts will help you create a brand that people recognize, love, and trust.