If your website isn't using trust badges to give new visitors confidence in your business, you're missing out in a big way.
This blog will examine why your site needs to use trust badges. Then, I'll explore 12 examples of the most common website trust badges to boost conversion rates.
But first, let's make sure I'm clear on what trust badges are.
What Are Trust Badges?
Trust badges (or "trust seals") are small icons or symbols showing your audience that your website is reliable and their personal information is 100% secure.
While you may not be familiar with the term, you've seen these symbols on your favorite company websites:

And they aren't there by accident. Most reputable websites proudly display trust badges to build trust with new visitors. The way it works is very simple.
Your new website visitors have never interacted with your brand. To them, you could easily be another eCommerce scammer (or spammer) site looking to make a quick buck.
But when you use trust badges like those in the photo above, you effectively borrow authority from sites people widely use and trust. This is one of the smaller aspects of using social proof to enhance your business.
And believe it or not, these little trust badges can be the difference between gaining or losing a new customer, which makes sense.
Most of us rely on trust badges in the real world, too. Imagine this scenario:
You're at home watching your favorite rerun of FRIENDS on Netflix. The doorbell rings, and you look out the window. You see a car you don't recognize in the driveway and a person in jeans and a t-shirt standing at your entrance.
Do you open the door or pretend like you aren't home?
Ok, how about this one:
You're (again) at home watching Friends. The doorbell rings, and this time you see a police car in your driveway with a uniformed officer standing at the entrance. Everything looks 100% official, and, more than anything, a bright shiny badge catches your eye as you peek through the blinds.
Do you open the door this time, or do you hide under the covers and catch up on the drama that was Ross and Rachel?
Unless you've done something wrong, chances are you're more likely to open the door for the police officer than you are for the person you don't recognize. That's because, with the police officer, you immediately get a few visual cues to trust this person.
The car, the uniform, and, of course, the badge.
Trust badges on your website work in the same way. If you don't have them on your website, you'll still get people to open the door for you.
But by proudly displaying a trust badge on your site, you're way more likely to inspire confidence in your audience.
Why Digital Shoppers Are Skeptical of Your Site
If you're a business owner or work for an eCommerce site, you need to make sure you're using trust badges. That's because your digital customers are in a unique situation when shopping online.
They're more susceptible to fraud and, therefore, more skeptical of websites. And for a good reason.
The world of eCommerce is the only situation where a customer is asked to hand over their credit card information for a product they haven't tried, tested, or even seen before.
Plus, if you're not selling an online service, your customers need to pay and then wait before accessing their purchase.
That's a super vulnerable feeling and makes eCommerce customers more susceptible to fraud. It's no wonder they view websites with a healthy amount of skepticism when they're asked for personal information.
It's your job to minimize that skepticism by enhancing their user experience with social proof.
Why does that burden fall on you? Because your new visitors don't know you, and online fraud is a seriously big deal.
Why does that burden fall on you? Because your new visitors don't know you, and online fraud is a huge deal.
Finance Online published 57 Crucial eCommerce Fraud Statistics for 2023 which is enough to scare even the most responsible consumer. Here's a list of their five most eye-opening fraud statistics:
The incidence of global payments fraud has tripled, increasing from $9.84 billion in 2011 to $32.39 billion in 2020. This trend is expected to continue, with an estimated cost of $40.62 billion in 2027, 25% higher than in 2020.
On average, eCommerce retailers face approximately 206,000 web attacks every month.
21% of consumers express fear of credit card data theft, while 19% harbor concerns about the potential misuse of their confidential data.
More than half of the consumers surveyed (54%) reported experiencing fraudulent or suspicious online activities.
The US is the most fraud-prone country, with 34% of consumers saying they were most likely to have been victims of fraud.
That's some serious scamming going on. When viewed in that light, it's understandable that your online consumers approach your site cautiously.
But how can you overcome those fears to help your new visitors learn to trust you?
There are tons of ways. You can get customer testimonials. You could also go online and spend time improving your digital reputation. You may need to sit down and respond to those negative reviews you've been ignoring.
That last one is super important, considering how many customers use online reviews to make purchase decisions.
But you can also go straight to the source by using trust badges to build confidence in your new users.
How Trust Badges Increase Your Site's Conversions
Trust badges go a long way in easing your customers' worried minds. They allow you to borrow some authority from other brands that are well-known and highly trusted.
Plus, they've been proven to increase conversions. Blue Fountain Media ran a study where they had one form without a trust badge: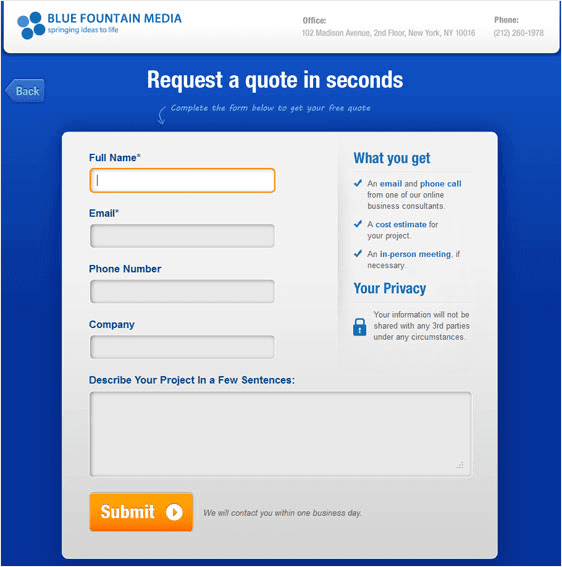 And another one with a Verisign Secured trust badge: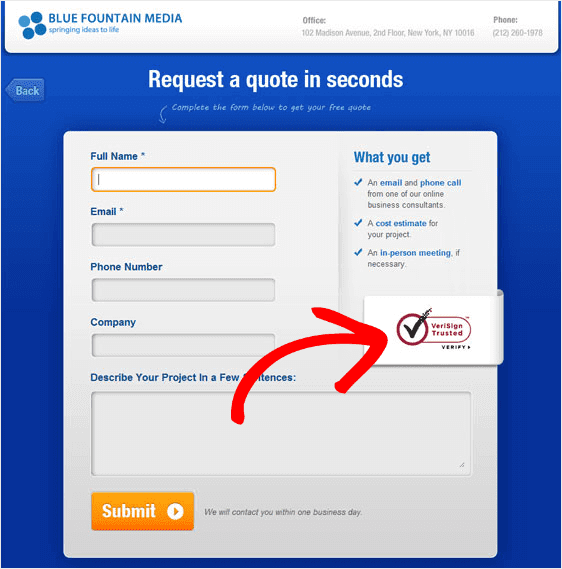 The result? The form with the trust badge led to a 42% increase in conversions.
Let's repeat that to make sure you didn't miss it while casually reading:
When the trust badge was added to the form, conversions rose by 42%.
And this isn't an isolated incident, either. VeriSign released a case study on how their extended validation (EV) certificates increased conversions by 30% for the hotel booking industry.
Now, most sites have caught on. Adding trust badges has become the norm. Let's turn our attention to 12 of the most common trust badges you've likely seen in action.
12 Types of Trust Badges To Boost Conversion Rates
Before we get started, let's quickly remember the purpose of a trust badge. It boosts your credibility and inspires confidence in your new visitors.
In other words, it's an icon, logo, or badge that helps visitors trust your site more. As we'll see, this is accomplished through an offer (like free shipping) or using 3rd party brands to borrow credibility.
Why the disclaimer? Because as we're about to see, there are many types of trust badges beyond what we've covered so far. You may already have a few embedded on your site without knowing it!
Let's dive in.
1. SSL Trust Badges
This is one of the most common types of website trust badges. In Google Chrome, this is the little lock that goes next to your URL: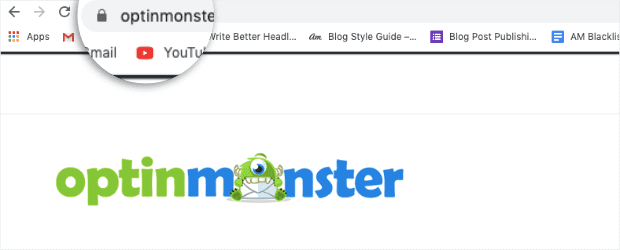 It shows that your site has an SSL certificate and is secure. Google Chrome is now going a step further. By clicking on the lock icon next to any domain, you can then click on Certificate: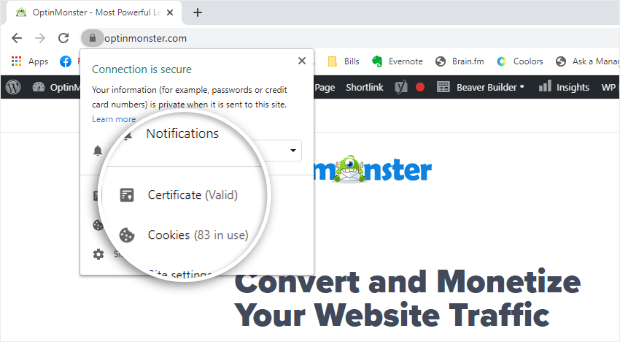 Then, you can instantly access a site's SSL information: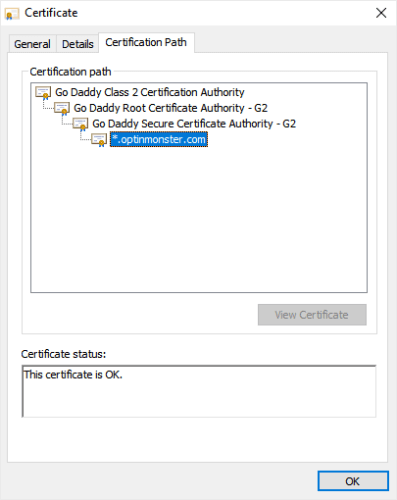 So make sure you've got your SSL certificate activated and running on your site. That way, your users can know just how secure they are when visiting!
2. Site Security Trust Badges
Beyond the simple SSL lock by your domain, some companies also put a security badge on their homepage. Here is an example from TrustLock, which specializes in creating trust seals for other companies: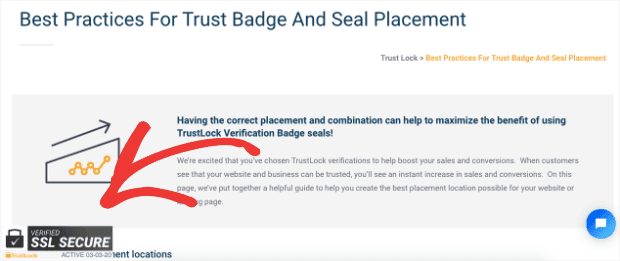 It's a very small, subtle logo in the bottom lefthand corner of the screen that reminds visitors their information is secure.
The most recent survey on the topic showed that the most trusted badge is from Norton: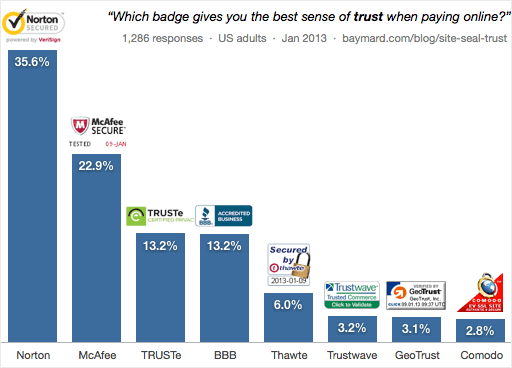 Note: This research comes from the Baymard Institute back in 2013. And while it may be outdated, it's, unfortunately, the most up-to-date research on this topic.
That said, adding any recognizable trust seal is better than nothing. Any other options should suffice if you don't want to add Norton for cost purposes or personal preferences.
3. Money-Back Guarantee Trust Badges
You can inspire confidence in your visitors by assuring them that they can get a refund. Most companies offer a 14– or 30–day money-back guarantee.
Here's an example of this trust badge from MonsterInsights:

It may be a small icon, but it makes your users feel safer about handing over their credit card information.
4. Free Shipping Trust Badges
Some companies use free shipping to attract more customers to go through with checkout. It's another measure against shopping cart abandonment because it reduces the chance of hidden costs at checkout.
And while you can always tell your customers you give free shipping, why not show them with a trust badge? Here's an example from an online fashion store with a Shopify trust badge for free shipping: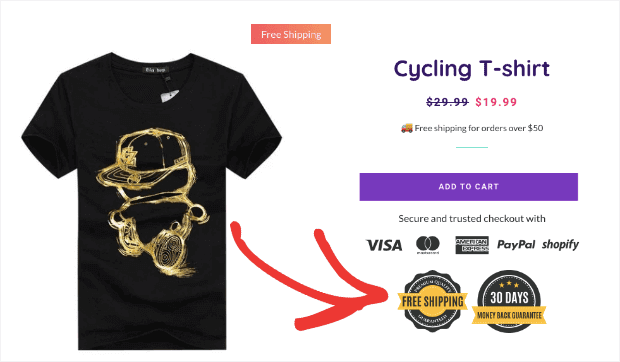 You'll notice their free shipping badge (and money-back guarantee badge) are both hard to miss. They have bright colors (yellow) and stick out because of their design.
These are the secure checkout badges you want to show up front as your customers are headed toward the checkout.
5. Secure Payment Trust Badges
Again, shopping online is super vulnerable. You're essentially giving your credit card information to a stranger in the hopes that they're legit.
Adding a secure payment badge helps your customers trust you with their credit card details. Here's an example of a secure payment trust badge from WPForms: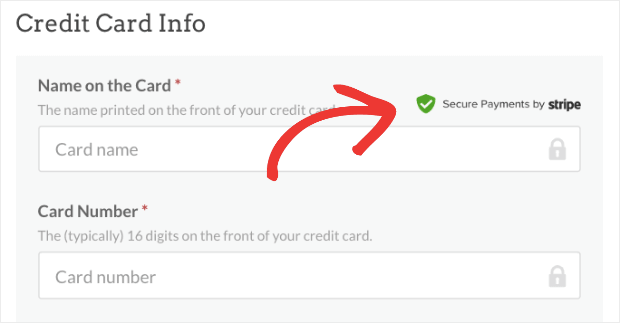 This trust badge is not overly flashy and isn't trying too hard to get the user's attention. It's a simple, green logo with a tiny checkmark.
In most cases, this is all it takes to remind your customers that their shopping experience is safe with you.
6. Accepted Payments Trust Badges
Some may argue that "accepted payments" isn't a trust badge. But when you think about it, using the logos of the accepted payment is still borrowing credibility from other companies.
When people see the Visa, Mastercard, or Amex logos, they immediately see a brand they recognize and trust. Here's an example from SEMrush's pricing page:

Can scammers put these logos on their pages as well? Of course.
But showing your audience that you accept widely used and trusted payment methods can give that little added boost of confidence they need to purchase.
7. Industry Awards Trust Badges
You need to show your audience if your company has previously won any reputable awards.
These small trust seals for websites demonstrate that you're not only trusted among users but among official critics as well.
Check out this example from SEMrush:

Even if people haven't heard of the company designating the awards, these trust badges are still effective at building your site's credibility.
8. Customer Logo Trust Badges
Like showing industry awards, you should leverage the brands of any widely-known clients you've worked with. This shows your audience that other brands they know and love have trusted you with their business.
Here's an example from Awesome Motive's homepage: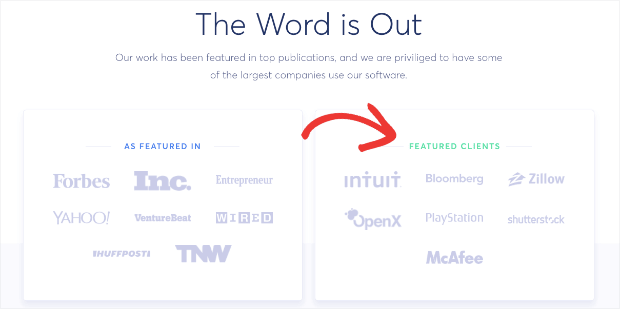 In this example, when a customer sees that brands like PlayStation, Zillow, and Shutterstock have used Awesome Motive's products, it's hard to doubt Awesome Motive's trustworthiness.
Adding client logos can even trigger a fear of missing out. Your audience is left thinking, "If it's good enough for them, it must be great! I don't want to miss that."
9. Total Satisfaction Trust Badges
Similar to the money-back guarantee trust badge, some companies offer total satisfaction. These companies are assuring customers that if they make a purchase and aren't happy with it, they won't be left to wallow in their regret.
One fashion store, Bombas, goes a step further and rebrands this trust badge as a Happiness Guarantee:

When you read the fine print, this trust badge represents so much more than just getting a refund. It shows customers that the company has a killer support team and will be with them throughout the customer journey.
10. App Store Trust Badges
Though not typically seen as a trust badge, these app store icons are a great way of showing your customers that you're software or service is available with reputable companies.
For the most part, when you think of things you can download on Amazon or Apple, you don't think of fraudulent products. They exist on those platforms, sure. But for the most part, you know Apple, Amazon, and Google are very reputable.
So displaying app store badges works exactly like a trust badge:

They borrow from another company's reputation to strengthen your own.
11. Social Media Trust Badges
This is likely the most debatable form of trust badge on the list. But we've included it because it checks off all the boxes of what a trust badge can (and should) do:
Build your site's credibility
Rely on another brand's reputation to strengthen your own
Inspire trust from your users
How many times have you seen a site that didn't have its social media logos proudly displayed? If you're like most people, you wondered what serious company wouldn't have a social media presence in today's world.
Consequently, simply adding these small trust icons lets users know they can contact you in many different ways. Or they can simply cyber-stalk you to learn more about your company.
In any case, the customer feels safer knowing they're working with a business that likes connecting with clients. WPBeginner lists their social media icons along with the number of readers they currently have:

Again, even if these social media trust badges aren't ever clicked, they can still inspire trust in your users.
12. Free Trial Trust Badges
This is the opposite of the money-back guarantee trust badge. With a free trial badge, you show users they can use your product with zero risk. That huge value proposition can tempt even the most skeptical online shopper.
Here's an example from Neil Patel's website, UberSuggest: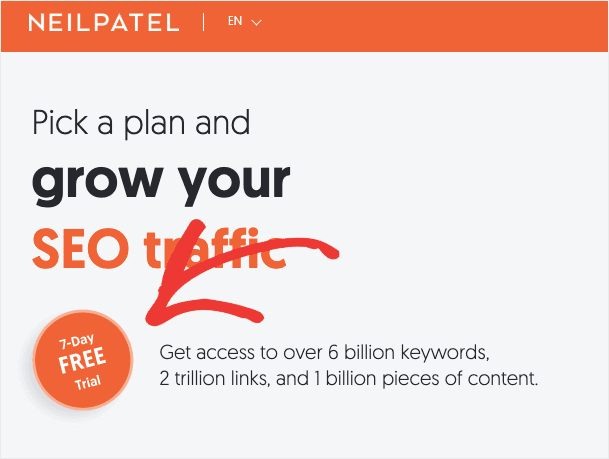 This is a quick and efficient way of showing users that they can test your product before purchasing.
Final Thoughts
Trust badges are a huge asset in retaining new visitors to your site. They've also been shown to increase sales and reduce cart abandonment.
The real reason trust badges are so effective is that they rely on social proof. In the past, I've written extensively on how social proof can help your business (real social proof, not that fake social proof nonsense).
And while trust badges play a large part in that, there are other forms of social proof you use, too.
One of our favorites is with positive action notification popups. You've probably seen these before, especially if you've followed our blog or frequently visited our site. They look something like this:
These small notification popups can increase overall sales by 15%!
So while you're playing around with using social proof to improve your business, why not give TrustPulse a try? I'd love to have you join the community.
What are you waiting for? Get started with TrustPulse today!