Online reviews have become an essential part of customers' decision-making process. Research shows that 97% of people read online reviews before making a purchase decision.
These reviews offer a glimpse into the quality of a product or service, helping buyers make informed decisions.
As a result, online reviews have become a crucial metric for onine businesses to track. This blog will look at online review statistics highlighting how important they are in today's digital business landscape.
But first, let's dive deeper into why online reviews are so powerful.
Why Are Online Reviews Important?
Online reviews are important for all online businesses for several reasons. Firstly, as mentioned above, online reviews play a critical role in helping customers make informed purchase decisions.
By tracking metrics like the number of reviews, ratings, and sentiment analysis, eCommerce businesses can understand how customers perceive their brand and make necessary adjustments.
For example, if an eCommerce store finds a specific product receiving highly negative reviews, it can analyze the feedback and identify the problem. It may be a quality issue with the product, a problem with the shipping process, or an issue with the customer service team.
The business can improve the customer experience, increase customer satisfaction, and drive more sales by addressing the problem.
Moreover, online reviews can help eCommerce sites improve their online reputation. Positive reviews can help build trust and credibility and boost sales.
By monitoring and managing online reviews, eCommerce businesses can respond to customer feedback and resolve any issues, ultimately improving their online reputation and customer satisfaction.
Let's take a closer look at some online review statistics demonstrating how important online reviews are.
Do Consumers Really Read Online Reviews?
Before the internet, it was much easier for companies to produce and sell inferior products.
That's because companies controlled all the communication about whatever they were selling a few decades ago. They could advertise on television or in magazines to reach a broad audience.
But that same audience couldn't speak up about their experience with a product outside a company's support team.
If someone didn't like your product 30 years ago, they could tell their friends and family. But beyond that, customers couldn't share their thoughts about your product with a wider audience than their network.
Now, everything is different.
Customers can easily go online to talk about their experiences with your product. They can tell thousands of people about your business in a single tweet.
Or they can hit any other social media platform and visit review sites like Yelp to tell other consumers how much they love (or hate) your business.
And what's even more important, consumers are basing decisions about your company on these reviews. Hosting Tribunal sourced the following online review statistics:
72% of customers won't take action until they read reviews
15% of users don't trust businesses without reviews
Local businesses have an average of 39 Google reviews
A single business review can lift its conversions by 10%
Online product reviews about a product can increase its conversion rate by more than 270%
What businesses are seeing is that online reviews are having a huge impact on how well you're able to grow their audience. So here's the question:
How much are you tracking these crucial reviews?
If you're not monitoring how people are talking about you online, you should be. And if you don't know how to start, no worries. We'll give you some tools to monitor your brand's reputation online.
But first, you need to be informed as to how online reviews are affecting your business. Let's turn our attention to how positive reviews are helping companies bring in more clients.
Positive Online Review Statistics
Getting a good review online is always an excellent confidence booster. If you own a business, you've likely worked incredibly hard to add value to your customers' lives.
Reading about real customer success with your product lets you know that you're doing something right. But a good online review is more than just something to make you feel good. It can bring in lots more profit.
Online review statistics found via Qualtrics XM show that:
A 1-star increase in Yelp rating leads to a 5-9% increase in revenue
Customers are willing to spend 31% more on a business with excellent reviews
92% of B2B buyers are more likely to purchase after reading a trusted review
And according to ReputationX:
Positive reviews make 73% of consumers trust a local business more
49% of consumers need at least a four-star rating before they choose to use a business
The link between positive reviews and bringing in more clients is undeniable. And it makes sense.
Think about the last time you purchased something from Amazon or tried out a local restaurant. When you choose between two nearly identical products (or businesses), one with a 3-star rating but the other with a 5-star rating, which are you more likely to choose?
Chances are you'll go for the higher-rated product every time. We naturally fear missing out, so when we see loads of other people enjoying a product, we want in on the action.
The more positive online reviews your company receives, the more likely you attract new customers to your business.
Negative Online Review Statistics
Getting a negative review about your company or product can be challenging. You've spent so many hours trying to create something to help people that any negative response feels like a personal attack.
But remember, you may get a negative review for tons of reasons.
Sometimes, we can be so close to our product that we fail to see or acknowledge some of its flaws. In those cases, a negative review can be a good way to improve your product.
Other times, we get customers who purchased something from our company with unrealistic expectations about its functionality. They either hadn't researched what the product specifically does or had inaccurate information from a 3rd party.
And another possibility is the unfortunate reality of running a business: you can't please everyone.
Some of your customers are just negative people, and there's not much you can do about that. The downside is how their negative reviews can harm your business.
Consider these negative online review statistics to see how negative reviews can keep you from growing:
The bottom line? Bad reviews don't just feel like a personal attack. They are a personal attack because they have a tangibly negative impact on your ability to generate revenue.
But there is a silver lining. Surprisingly, getting negative reviews isn't always a bad thing. Some negative reviews can have a positive impact on your sales:
52% of consumers trust a software product more if it has negative reviews as well
Negative reviews can increase conversion by up to 85%
Marketing expert Neil Patel speculates as to why these negative reviews might encourage other consumers to use your product:
"Bad reviews give customers a sense of the worst-case scenario. They want to know what can go wrong to understand how much it will matter to them."
The bad review gets rid of any "too good to be true" doubts. When every online review about your brand is gushingly over the top 5-star rating, it can come off as fake social proof.
A bad review can bring a certain level of authenticity to your brand or product. But does that mean you should be happy about or encouraging bad reviews?
Absolutely not.
Instead, it would be best if you simply learned how to respond to negative reviews tactfully.
Why It's Crucial To Respond to Negative Online Reviews
Unfortunately, many companies don't worry about their online reviews. Their logic is that everyone gets some good and, of course, some bad reviews.
So when a company sees the good, they celebrate it by sharing it with their team. When they get a bad review, they either ignore it, forget it, or attack it.
But the companies that make the most out of their online reviews will address it by responding to the customer.
And companies who respond to those reviews in a tactful way often reap the rewards. Just check out these online review statistics for companies that respond to positive or negative reviews:
Plus, Bryan Caplan suggests that over half of all consumers expect businesses to respond to negative online reviews within seven days, but 63 percent say that a business has never responded to their review.
That 63% is too much, especially since responding to negative reviews is easy. We've already written extensively on how to respond to negative reviews.
But if you're in a rush, here's the TL;DR:
Don't take it personally and acknowledge everyone gets negative reviews
Respond as the business owner, even if you're not
Always respond, even if you're super busy
Make your response authentic and personal as if you were talking with a grumpy friend
Take the issue offline by offering to move the conversation to a private chat
Take immediate action once you've told the visitor how you'll fix their problem
Follow up with the customer to ask for feedback or a testimonial on how well you handled their problem
The goal is to open the lines of communication and let the user know you are listening to them. That shows your clients that they aren't just another metric in your customer relationship management system (CRM).
Instead, they'll see that you treat them like a real human being.
And who knows? One negative review may lead to a killer testimonial that drives even more traffic.
Now comes the real question: How can you monitor all those online reviews? After all, you already have your hands full trying to run your business's day-to-day without scouring Yelp and Google for new reviews.
Fortunately, there are some awesome reputation management tools you can use to help you out. Here are three tools we recommend you look into.
3 Tools To Monitor Your Online Reviews

One of the best tools for tracking any reviews online is Google Alerts. This free tool lets you create daily alerts for any mentions of your brand online.
Enter your brand's name in the search bar to see who is talking about you.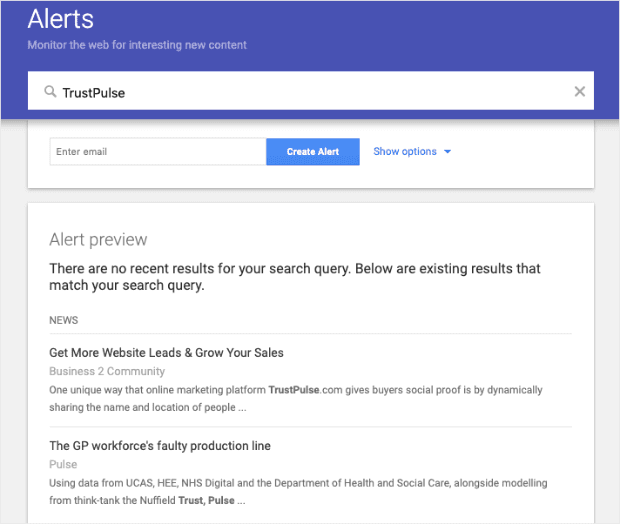 Then you can create a consistent alert to get those results emailed to you. The only downside is that it's tough to filter the information out.
Instead, it takes a bit of digging to find specific reviews about your site (rather than mentions).
That said, it's a free, easy tool to work with. Google Alerts is worth checking out if you're a small business on a budget.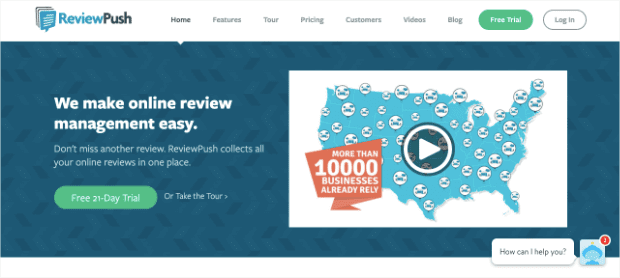 ReviewPush is an excellent tool for companies with a budget for monitoring their online reputation. You can create alerts for over 20 review sites and send them straight to your inbox.
You can also respond to those reviews directly from within your email alerts. That can help you avoid putting off the task and respond immediately. Finally, you can set up teamwide reports and give teamwide access to the online dashboard.
That helps when multiple people monitor and respond to your online reviews.
The only downside is that it can get expensive. Their pricing does include a free trial, but after that, it's $89 per month ($79 per month if you pay annually).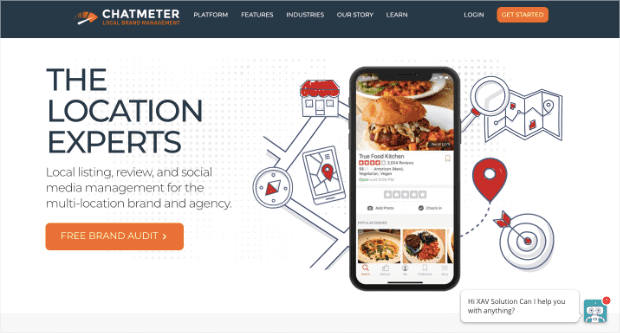 ChatMeter is another great tool for monitoring your online reviews. They have a cool Pulse feature that quickly analyzes what people say about your brand and makes all that information more approachable.
You can also monitor what people are saying about you on social media. So rather than only responding to comments on review sites like Yelp or Google, you can address what people are saying about you on Facebook, Twitter, or other social media platforms.
Unfortunately, the pricing is only available through a consultation. That's usually an indication that you're looking at pricier software. You can book a call to get a demo, but on the plus side, that comes with a free brand audit.
Final Thoughts
Today we've seen some online review statistics showing why you need to take your online reviews more seriously.
These online reviews can positively or negatively impact your business. The result depends on how well you hand the reviews themselves.
And remember, even a negative review can positively affect your revenue!
Addressing and improving your online reviews aims to harness the power of social proof. By showing that many other customers have loved your company enough to be vocal, you'll be more likely to get even more business to follow.
At TrustPulse, we're huge believers in the power of social proof. Why? Because we've seen how well it works.
For example, our positive action notification popups show your website's visitors when people have purchased or signed up with your business. This small notification popup looks something like this: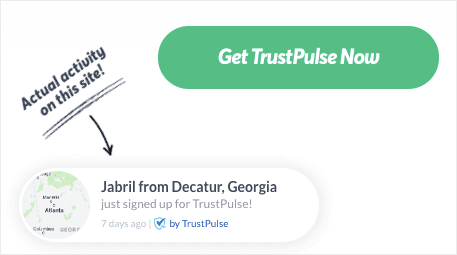 And it's been proven to increase sales by up to 15%.
Are you interested in exploring our positive action notification popups? Join the TrustPulse community today!