Are you looking for the best landing page builders for WordPress?
Having a dedicated landing page for your product or services is a great way to increase conversions and sales across your site. Though landing pages come in all shapes and sizes, they're an absolute "must-have-strategy" in any marketer's toolbelt.
But creating landing page after landing page can be a long, tedious, and downright boring process. That's why it helps to have a landing page builder plugin to make things go faster.
So, today, we're going to share the best landing page builders for WordPress that you can start using right now.
Before we dive into the list, though, let's clarify what landing pages are and why you'd want one.
What's a Landing Page (& Why Do You Need One)?
A landing page can be any page on your site where you intentionally drive traffic with a specific goal in mind. By that definition, even your home page can function as a landing page, depending on how you use it.
This is important to know because many new marketers have a common misconception about what landing pages are. They're more familiar with things like:
Squeeze pages
Sales pages
Pre-sell pages
And other forms of traditional landing pages that you likely see every day. And while these are definitely types of landing pages, that list is far from exhaustive.
What makes a great landing page isn't a set of rules or a specific design layout. Instead, a landing page is only "good" or "bad" if it's getting high enough conversion rates to hit your sales and marketing goals.
Does that mean you should save yourself some time and send traffic to your homepage? No, not at all!
In fact, there are many advantages to creating unique landing pages for the different actions you want customers to take. Here are a few of the advantages of landing pages:
Distraction-Free: When you create a landing page with a purpose in mind, you can design the page to focus on one specific goal.
Clear Calls to Action: Unlike general pages on your site, building a landing page lets you have an entire page dedicated to a single call to action. This typically leads to higher conversions from the page.
Product-Specific Social Proof: You may have a lot of reviews and testimonials about your brand, but landing pages let you go a step further. You can include reviews about specific products or services on landing pages to boost conversions and sales.
There are, of course, many other advantages of creating landing pages for your products or services.
But before we dive into our list of the best landing page builders for WordPress, let's quickly talk about the last advantage we just looked at: social proof.
More than anywhere else on your website, social proof can drastically improve conversion rates for landing pages.
We won't get into how social proof works in this article, but we recommend checking out this post: Social Proof: What It Is and How to Get Started.
For now, it's important to know that you should be loading your landing pages with quality social proof to build trust with customers. And for that, there's no better tool than TrustPulse: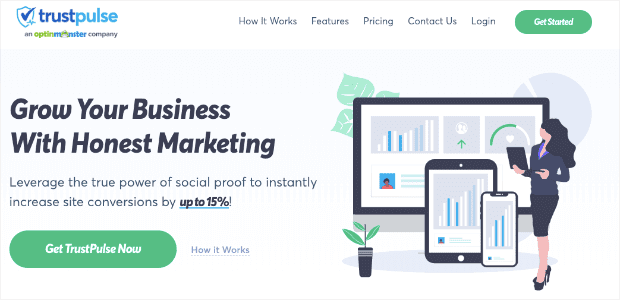 TrustPulse is the world's best social proof software. It lets you add social proof notifications to your landing pages without any coding skills required.
You can make your notifications match your page's layout, design, and messaging to get the highest conversions possible. Here's an example of what a social proof notification might look like:

These tiny messages have been shown to boost sales by up to 15%. When you put social proof notifications on your landing pages, you'll likely see an instant improvement in your overall conversion rates.
Want to see it in action? Sign up for your risk-free TrustPulse account today!
Now that we know what landing pages are and why you need them, let's look at 7 of the best landing page builders for WordPress.
Best Landing Page Builders for WordPress
One problem for marketers or online business owners is that it can be difficult to create landing pages for all your products and services.
This is especially true for marketers with limited tech skills. Fortunately, a landing page builder plugin will do the bulk of the work for you.
They let you set up beautiful landing pages in minutes and require zero coding to install, run, and maintain. That makes landing page builder plugins the perfect solution for setting up landing pages on your WordPress site.
Here are 7 of the best landing page builders for WordPress.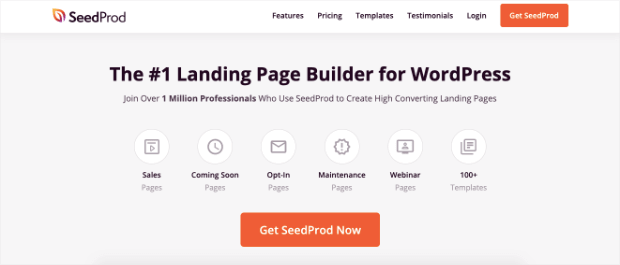 SeedProd is hands down the best landing page builder for WordPress. It has everything you need to quickly and easily create stunning landing pages in a matter of minutes.
Thanks to its drag and drop builder, SeedProd allows users to build the perfect landing page even if they have no prior design or coding experience. Plus, the team has created draggable "blocks" that can be used to make the design process even more simple.
These blocks include things like:
Headers
Calls to action
Columns
Images (along with a library of stock photos)
And much more
Apart from that, SeedProd has 100+ pre-built landing page templates that you can use to get started.
This shaves hours off of the landing page creation phase and lets you focus on what counts: providing the best possible product and service to your customers.
Finally, SeedProd integrates with most marketing tools, including all the major email marketing services. That means you can fit SeedProd seamlessly into your current marketing stack to keep things running on autopilot.
Price: SeedProd starts at only $39/month.
Get started with SeedProd today!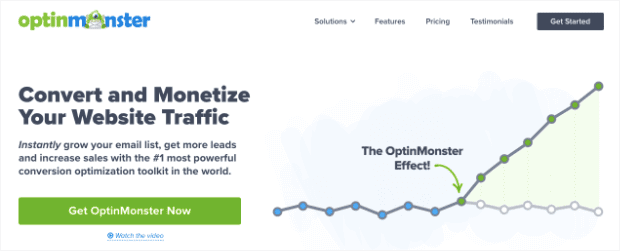 You may know OptinMonster as the world's #1 lead generation tool. But you may be surprised to learn that you can use two of OptinMonster's campaigns to accomplish everything you need from a landing page:
Inline campaigns
Fullscreen welcome mats
First, OptinMonster's inline campaigns allow you to put optin forms directly in your page's content. That means you can turn any blog post, feature's page, doc, or other popular pages on your site into a lead generation machine.
Second, OptinMonster's fullscreen welcome mats allow you to bring sales or pre-sell campaigns directly to your audience. As they're viewing a page on your site, the fullscreen campaign takes over their entire browser page so you can:
Show a video demo of your product
Entice your reader with persuasive and compelling copy
Use loads of social proof to boost credibility
Add optin or payment forms to get leads and drive revenue
And much more
Though OptinMonster won't create landing pages in the traditional sense (like other tools on this list will), it's excellent for optimizing any page on your site to reach specific conversion goals.
Price: OptinMonster plans start at just $9/month.
Ready to see for yourself? Get started with OptinMonster today!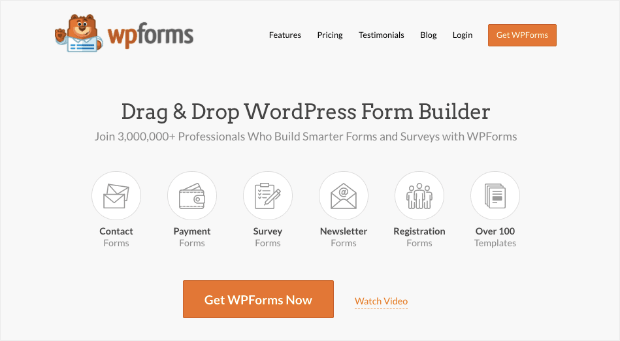 WPForms is the best form builder plugin for WordPress, making it one of the most efficient ways to create a landing page for your site.
That's because you can add WPForms to any of your site's pages to get people to take the actions you want them to. With WPForms, you can create a landing page to:
Collect webinar registrations
Accept payments from popular gateways like PayPal or Stripe
Generate new leads with newsletter signups
Gather feedback and testimonials from surveys
And much more
These functions allow you to create high-converting landing pages in a matter of minutes.
Plus, WPForms integrates with all the major customer relationship management (CRM) platforms so that you can send your new leads (or paying customers) directly into your current marketing flow.
Price: WPForms starts at $39/month.
Get started with WPForms today!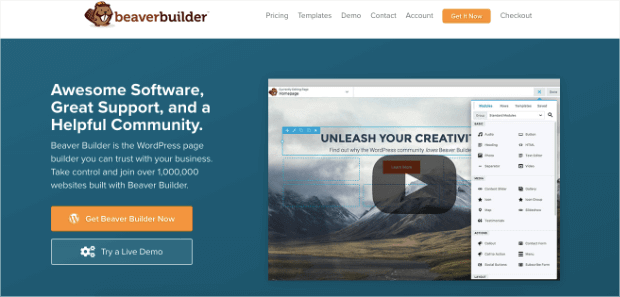 Beaver Builder is an excellent tool for creating dedicated landing pages across your site. It's easy to use, highly intuitive, and you can get set up in a matter of minutes.
With Beaver Builder, even someone with no tech experience can create professional landing pages. They've got dozens of pre-made templates that let you get a jumpstart on your landing page.
Plus, they have a drag and drop visual editor that lets you add custom features to your page, like:
Images
Text
Videos
Buttons
And much more
Since their builder uses a structured column layout, adding these features takes zero design experience. Everything goes into a well-organized place to make sure your page always looks as stunning as possible.
Overall, Beaver Builder is powerful, flexible, and a great solution for people who want to build a landing page.
For more detailed instructions on using Beaver Builder, we recommend you check out this article: How to Create a Landing Page With WordPress.
Price: Beaver Builder starts at $99.
The Divi Builder is another page builder that you can use to create beautiful landing pages (that actually convert). This product is brought to you by Elegant Themes.
And when you use the Divi Builder, it comes bundled with many WordPress themes that you can choose from. The Divi Builder is also compatible with most modern WordPress themes on the market.
Like other tools on this list, Divi offers a user-friendly design interface. With just a drag and a drop, you can add new features to your landing pages that are sure to increase conversions.
Plus, the Divi Builder comes loaded with over 20 pre-built templates to give you a head start on your landing page. From there, you need to change the text, photos, images, or other content on the template to have your landing page up and running in minutes.
The Divi Builder gives you 100% control over your landing page's look, feel, and functionality regardless of how much technical experience you have.
That makes it one of the best landing page builder plugins available.
Price: The Divi Builder starts at $89/year.
Get started with the Divi Builder today!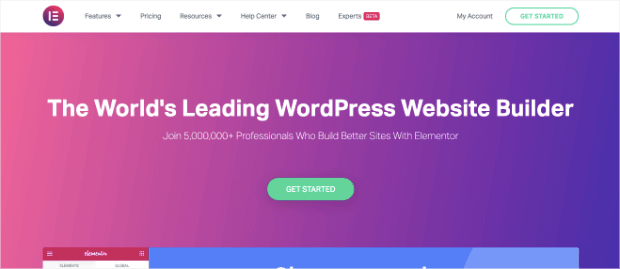 Elementor is one of the most popular landing page builders for WordPress. Like many other tools on this list, Elementor has a premium and a free version to let you get started at no risk.
From there, you can use Elementor's drag and drop editor to design stunning web pages on your WordPress site. This, of course, includes any kind of landing page you need.
Elementor offers over 300 pre-designed templates that you can use to make landing pages even faster. Many of these templates can be filtered out by niche, so you can quickly find the right layout for you.
Modifying the templates is easy with Elementor's drag and drop editor. And once you've built a design that you're happy with, you can save it as a custom template for future landing pages.
Plus, with its responsive design, you can create landing pages for desktop, mobile, and tablet to make sure user experience (UX) is high across devices.
Price: Paid plans start at only $49/year.
Try Elementor for your site today!
OptimizePress is a powerful solution for building landing pages on WordPress. You can get OptimizePress as a WordPress theme or as a plugin.
Either way, it'll have you building awesome landing pages in no time.
OptimizePress is fully responsive, which means your landing pages will look great across all devices. They even over 30 pre-made templates that work great on mobile, desktop, and tablet.
This can save you hours on the landing page design process.
Plus, OptimizePress offers all of the features and functionality as the other tools on this list. With their drag and drop editor, you can quickly add:
Text
Image
Video
Calls to action
And much more
So your landing page doesn't just look beautiful, but it also works the way you want it.
As a fun bonus, OptimizePress allows users to build membership sites without adding any extra plugins. Depending on the type of business you have, that can make OptimizePress an all-in-one solution for a landing page builder and membership site.
Price: OptimizePress starts at $99/year.
And that's it! We hope this article helps you find the best landing page builder for your WordPress site.
If you did find this post helpful, you should also check out the following resources:
These articles will have everything you need to learn more about how social proof can increase conversions and get you more sales.
Ready to get started? Sign up for your risk-free TrustPulse account today!