Are you looking for the best SEO plugins for WordPress to help you rank higher and drive more organic traffic?
Let's face it: when it comes to getting more traffic to your online business, there's no substitute for search engine optimization (SEO). It's a strategy that's (relatively) free, easy to learn, and, most importantly, has been proven to work.
And when larger businesses saw how effective content marketing was at bringing in new customers, they were able to pour massive resources into their SEO efforts.
As a result, it can be harder than ever to get your content to rank–especially if you're just starting out.
That's why, today, we're going to share the best SEO plugins for WordPress. These tools will help you boost SEO and bring in more organic traffic for years to come.
But before we dive into the list, let's get clear on what WordPress SEO plugins are and why you should use them in the first place.
What Is an SEO Plugin (& Why Do They Matter?)
SEO plugins are tools built for WordPress to help website owners ensure that their site's content is easily understood by search engines like Google.
And while there are other search engines out there such as Bing, Yandex, DuckDuckGo, and more, the goal for many businesses is to rank specifically on Google.
But for Google to give you their top slot, there's an endless list of SEO factors to take into account. There are non-technical things to consider, such as:
Finding and using the right keywords
Writing meta descriptions
Labeling alt-texts for images
Using the right header tags
And more
And then there's the technical SEO that you need to manage, such as:
Site speed
Mobile optimization
XML sitemaps
Page redirects
And, again, much more
The amount of things you need to keep track of to stay competitive is overwhelming at best; at worst, it's incredibly discouraging.
So you may wonder, how can small businesses outrank larger companies who have whole teams dedicated to improving their SEO? That's where the right SEO plugin can save the day.
An SEO plugin for WordPress is like having an entire SEO team in your corner. It will keep track of all the factors listed above and more. And as you use the tool more often, your understanding of SEO will increase, too.
That means you'll eventually be able to create more content that ranks in a lot less time.
Now that we know what SEO plugins are and why they're important, let's look at the best SEO plugins for WordPress that you can start using today.
The Best SEO Plugins for WordPress
Before we jump into the list, it's important to understand that SEO breaks down into 3 categories:
On-Page SEO: Optimizing your page or site content for better rankings.
Off-Page SEO: Promoting your website to boost your site (and pages') authority.
Technical SEO: The "behind the scenes" aspects that affect SEO (site speed, mobile optimization, 301 redirects, and so on).
This is a crucial distinction to make because even though we have a few SEO plugins on this list that cover everything, many SEO plugins help more in one category than in others.
But all of them are guaranteed to help your overall SEO efforts.
With that short disclaimer in mind, let's look at the best SEO plugins for WordPress.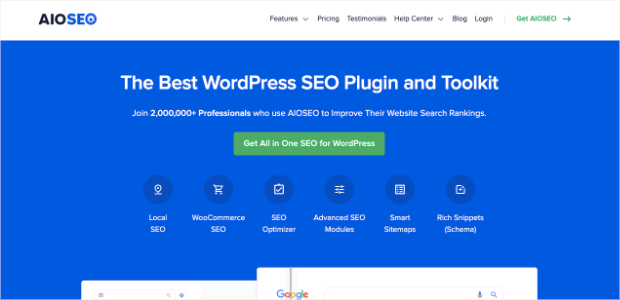 All in One SEO (AIOSEO) is hands down the world's best SEO plugin for WordPress. It's easy to use, incredibly powerful, and it won't break the bank.
With AIOSEO, you'll have a plugin that's jammed packed with features to improve your site's SEO. These features include:
Custom user roles
Google News sitemaps
Local SEO
Social media integration
Smart XML sitemaps
TruSEO on-Page analysis
Video SEO sitemaps
Internal link assistant
Redirection manager
And so much more. Whether you're new to SEO or you're a seasoned vet, AIOSEO has everything you need to rank higher and drive more organic traffic to your site.
At the end of the day, we're confident that AIOSEO is the only SEO plugin you need to start ranking higher.
Price: AIOSEO starts at just $49/year.
Get started with AIOSEO today!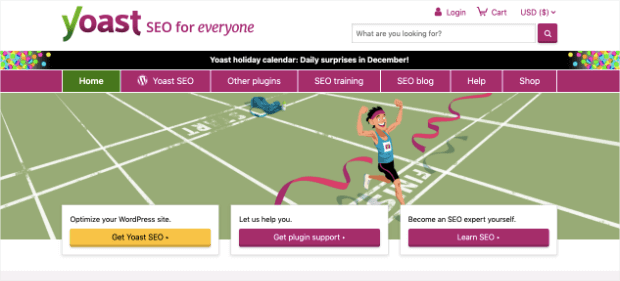 Yoast is one of the most popular SEO plugins for WordPress. It helps you optimize your website to get higher rankings.
Yoast will primarily help with on-page and technical SEO. When writing a blog, for example, Yoast will look at your content's structure and intended keywords. It will then make thoughtful suggestions on improving the content to better match the keyword you want to rank for.
Yoast also allows you to quickly and easily add meta descriptions, include image alt-tags, add optimized titles, and more.
Plus, this plugin automatically creates an XML sitemap to make it easier for search engines to crawl your website.
For all these reasons and more, Yoast has become the "go-to option" for many small businesses trying to improve their site's SEO.
The only downside to Yoast is that you can start writing your content to make the plugin "happy" rather than writing to make Google "happy." That leads to a better score with Yoast but lower rankings with Google.
Pricing: Yoast has a free version that is quite limited. Their premium plan is $89/year.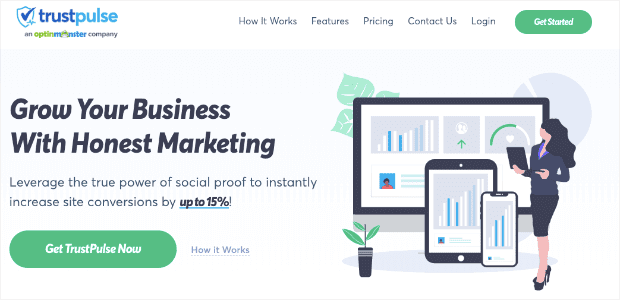 You may know TrustPulse as the best social proof software on the market, but it can actually do wonders for your SEO. That's because, with TrustPulse, you can accomplish two things with your audience:
Build website credibility
Boost your site's pageviews
Let's look at how each of these works to improve your site's SEO.
First, TrustPulse uses social proof notifications to show how your site's traffic is positively engaging with your brand. When other people see these notifications, they instantly trust your site more.
From your visitor's point of view, if other people are making purchases from your online store or signing up for your newsletter, it's less likely that you're running a scam site.
This helps your brand's online credibility, which encourages people to keep coming back to your site. That sends a positive signal to Google that you have quality content worth ranking.
Second, TrustPulse increases pageviews and keeps people on your site for longer. That's because you can add a link to your social proof notifications so users can quickly navigate to new pages on your site.
Imagine someone was on your website for the first time, and they were about to leave. Then, they see this notification for a new winter hat:

They've been looking for a new winter hat, so they click on it and check out your product. Now your user has been to 2 pages in the same session and likely doubled their time on your site.
When they see another notification, you can add MORE pageviews, MORE time on your site, and MORE positive signals to search engines like Google.
This makes TrustPulse one of the best-kept secrets when it comes to SEO plugins for WordPress.
Pricing: TrustPulse's paid plans start at only $5/month.
This, by the way, is only a fraction of the cost compared to other social proof software. For more information on that, check out this helpful review: FOMO vs. UseProof vs. TrustPulse: Which Is Best for Social Proof?
Get started with TrustPulse today!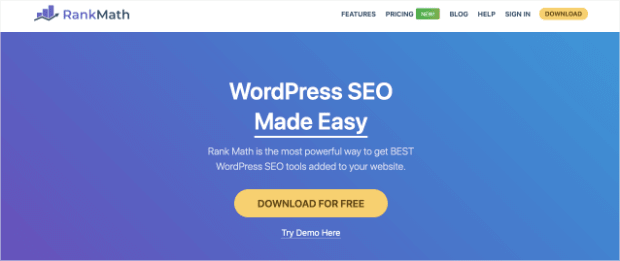 Rank Math is another SEO plugin that you can start using to improve your site's ranking today. It comes with built-in suggestions for on-page and technical SEO to make both Google and your audience happy with your content.
Getting started with Rank Math is incredibly easy. They have an easy-to-use setup wizard to walk you through the entire process. That means you can get started with Rank Math, even if you don't consider yourself "tech-savvy."
From there, Rank Math has an intuitive interface to keep things simple. You'll get tons of helpful suggestions on how you can optimize your site's and pages' content for search engines like Google.
Plus, Rank Math is constantly getting updated to keep it as lightweight and fast as possible. Since site speed is such a major SEO factor to consider, Rank Math makes their plugin's performance a top priority.
Finally, Rank Math has top-notch support to help you troubleshoot any problems you may run into along the way.
All of these features make Rank Math one of the simplest and most powerful SEO plugins for WordPress. The only downside is that there have been reports of compatibility issues with other plugins as Rank Math grows.
This is something you would need to test on your own site, though, as there is no list of which plugins Rank Math does or doesn't work with at this time.
Pricing: Though Rank Math calls itself a "free SEO plugin," the free version is limited. Their paid plans begin at $59/year.
Learn more about Rank Math today!

MonsterInsights is the best Google Analytics plugin on the market. So why is it on this list of SEO plugins?
Because SEO simply doesn't exist without having powerful data in your corner.
With MonsterInsights, you have all the power of Google Analytics right in your WordPress dashboard. Plus, MonsterInsights breaks down all of Google Analytics' data into an easily digestible format.
This makes it easy to build a smarter, data-driven marketing plan to get more pageviews, keep your eye on traffic, and, of course, improve your SEO.
MonsterInsights shows you where your users are coming from, what devices they're using, and what content they love most. It also helps you track eCommerce SEO by showing you which products are most popular, and which ones are sending customers away.
At the end of the day, MonsterInsights makes it easy to track and refine your SEO efforts directly from your WordPress admin dashboard.
Pricing: MonsterInsights starts at only $99/year.
Get started with MonsterInsights today!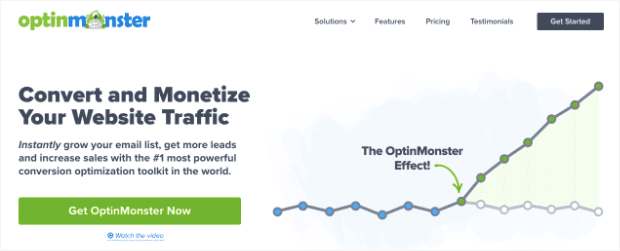 OptinMonster is another tool you may be surprised to see on this list. That's because it's more widely known as the world's best lead generation tool for growing your email list and getting higher conversions.
But one of the benefits of using OptinMonster is that it can drastically improve your site's SEO.
OptinMonster lets you quickly and easily create optin campaigns like popups, floating bars, fullscreen welcome mats, and more to engage your audience.
These can be used for things like growing your list or reducing cart abandonment, but they can be used in other ways, too.
For instance, you can use OptinMonsters to redirect users to popular posts or pages on your website. In the same way that TrustPulse helps you boost pageviews, OptinMonster's campaigns encourage users to check out more of your site.
Here's an example of a campaign that redirects users to a popular blog post: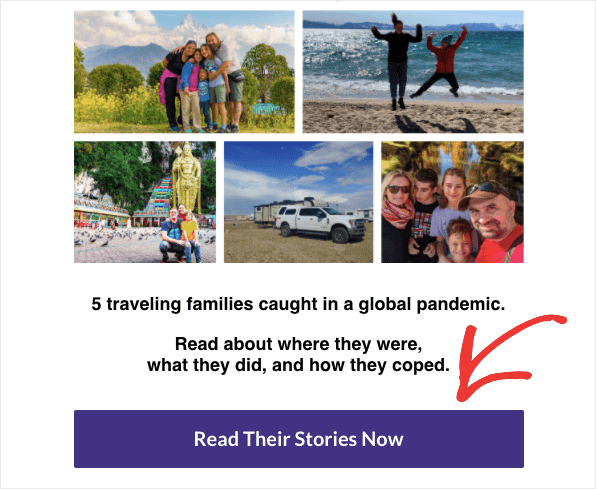 In the end, getting more pageviews, lower bounce rates, and longer times on your site will increase your SEO. But that's not all.
Another benefit of OptinMonster is that it's a self-hosted plugin. That means it won't rely on your site's resources to function the way you want it to.
With other lead generation plugins that rely on your site's shared hosting plans, too much traffic can cause your site to slow down or, worse, break.
Since OptinMonster works independently of your site's resources and bandwidth, your site will always run as fast as it should.
For these reasons, OptinMonster isn't just the best lead generation tool available; it's also one of your best options for boosting your site's SEO.
Pricing: OptinMonster's pricing plans start at just $9/month.
Get started with OptinMonster today!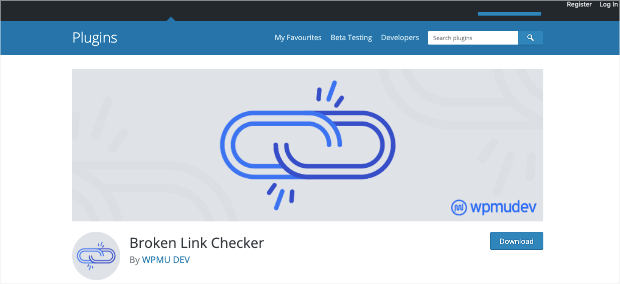 Broken Link Checker is an SEO plugin for WordPress that tests all internal and external links on your website. This will help you fix any broken links on your site, boost SEO, and improve user experience (UX).
As you likely know, links are a major factor when it comes to SEO. In many cases, marketers are focused on getting more backlinks from other sites that point to their own.
But the links that you use through your site are important, too. Adding broken links to your site can harm UX and send negative signals to search engines like Google that your site's content isn't up to date.
Broken Link Checker has tons of powerful features, such as:
Detects broken links on your site
Notifies you via email or through your WordPress dashboard if broken links are found
Prevents search engines from following broken links (optional)
Allows you to edit links directly from the plugin's page rather than updating each post
And more. Plus, Broken Link Checker is a totally free SEO plugin, making it a tool you can't afford NOT to try out.
Pricing: Free.
Try out Broken Link Checker today!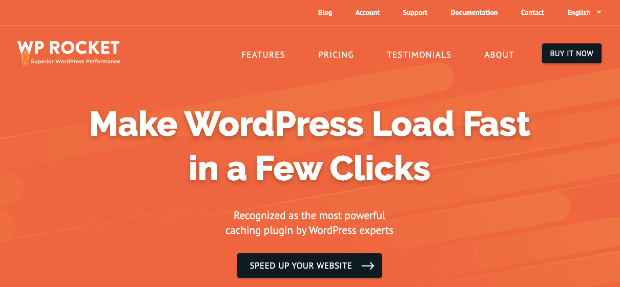 WP Rocket is another plugin that aims to improve your site's SEO and user experience (UX). It does so by reducing load times and increasing site speed.
WP Rocket is one of the more popular SEO plugins for WordPress because it has:
Super quick setup
Page caching
Sitemap preloading
Cache preloading
Database optimization
And much more. All of these benefits help with your website's performance and load times. In the end, this results in stronger SEO and a better UX.
So when people start finding your site from Google's search results, they'll be happy to stay for the lightning-fast load times.
Pricing: WP Rocket's pricing begins at $49/year.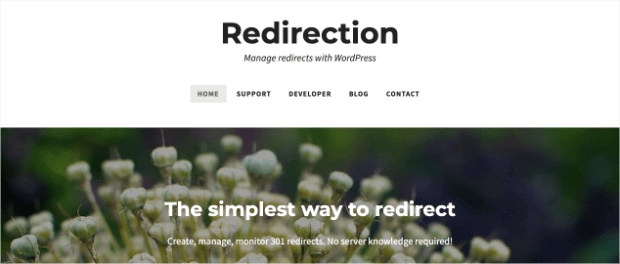 Redirection is an SEO plugin that helps you manage redirect links for WordPress. This helps you reduce errors with link redirects, improve UX, and boost your SEO.
Imagine you had a really popular blog post that gained hundreds of backlinks from external sites. But you decided to convert this blog post into an eBook and remove the post from your site entirely.
The problem is that people are still clicking links to be taken to that page. In many cases, website owners will create a redirect link to take users somewhere else to give them the information they want.
This is much better for UX than sending people to a boring 404 error page. It's also essential for helping search engines crawl your site more efficiently.
That's why using a plugin like Redirection is so important. It comes with tons of features to help you manage redirects, such as:
Simple management dashboards that don't require knowledge of Apache or Nginx
Conditional redirects based on login status, browser, and referrer
Extensive logs to track what redirects are most used
And more.
Plus, Redirection doesn't cost a thing making it one of the best free SEO plugins for WordPress to try at zero risk.
Price: Free.
Get started with Redirection today!
Which Is the Best SEO Plugin for WordPress?
We just covered the best SEO plugins for WordPress. But now you may be wondering, which is THE BEST out of all those?
If you had to go with just one SEO plugin, your best bet is definitely All in One SEO. Not only does it come with tons of features to help your on-page, off-page, and technical SEO, but it also offers those features at a lower price than other tools.
There's a reason why over 2,000,000 professionals worldwide trust AIOSEO to help them rank #1.
And that's it! We hope you enjoyed this post. If you did, you might want to check out the following resources:
These posts will have everything you need to learn how social proof can build instant trust with your audience. As a result, you'll get more engagement with your website and increase SEO to drive more organic traffic.