Are you looking for the best WordPress social proof plugin for your website?
A social proof plugin for WordPress can boost conversions and grow your online business by instantly building trust and credibility with visitors.
There are plenty of paid and free social proof WordPress plugins in the market, but not all are good, and finding the right one can get overwhelming.
Therefore, in this article, we have created a list of the best social proof WordPress plugins to help eCommerce stores and online business increase sales.
What Is a Social Proof Plugin?
A social proof plugin makes your website look credible and trusted by displaying social proof notifications such as recent sales notifications, customer reviews and testimonials, and much more.
What is Social Proof?
Social proof is a psychological phenomenon that suggests consumers are more likely to take a positive action toward your business when they see that other consumers have already done the same.
What is a Social Proof Notification?
Social proof notifications indicate that your product or services are socially approved, trusted, and used by real people. These notifications effectively tap into a consumer's emotions, trigger the fear of missing out (FOMO), and increase trust.
FOMO marketing is an effective and proven strategy, which makes WordPress social proof plugins an excellent tool to grow sales and businesses.
Resource: 35+ Social Proofing Examples You Can Start Using Today
How To Choose the Best WordPress Social Proof Plugin?
There are plenty of social proof plugins for WordPress, but deciding which is the best becomes difficult.
Right off the bat, you should look for plugins that help you showcase real social proof.
We emphasize this because some plugins let you create fake social proof reviews and notifications.

It's a dangerous shortcut because customers can spot fake social proof easily. Plus, it bears serious consequences (legal ones, too) that many businesses do not recover from.
So avoid fake social proof plugins at all costs!
Having said that, here's what we would look for while selecting a social proof WordPress plugin:
Easy to set up and use without the need for any technical coding
Affordable pricing plans or free versions
Proven track record of successful case studies
Powerful features to convert visitors through social proof
Works seamlessly with WooCommerce
Keeping this in mind, we've handpicked a few of the best social proof WordPress plugins.
11 Best WordPress Social Proof Plugins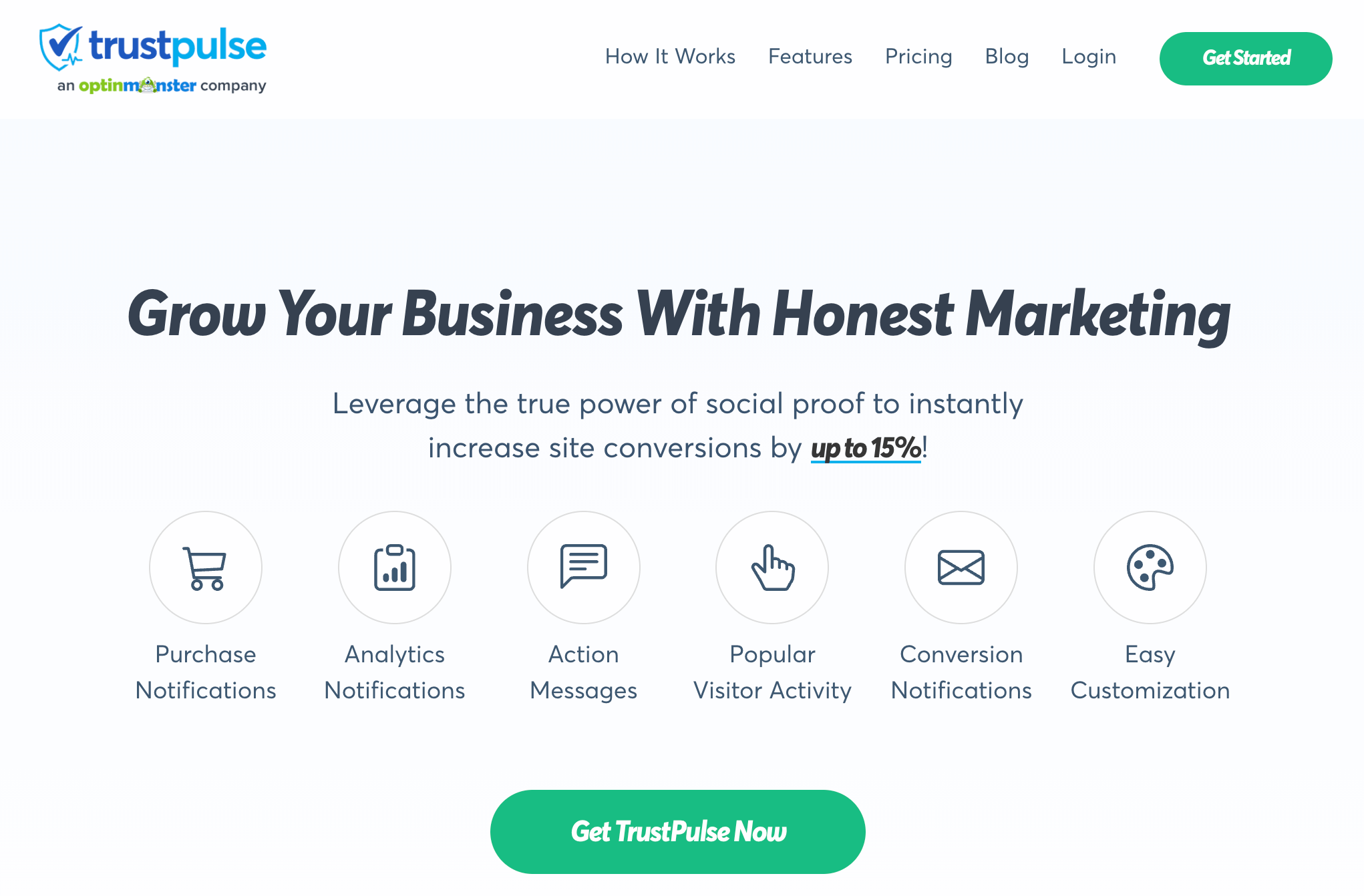 TrustPulse is the best social proof and FOMO plugin for WordPress. It lets you display recent activity notifications on your site to boost engagement, trust, and conversions.
TrustPulse captures real-time activity as well as group statistics on your site. You'll be able to show small popups the instant someone takes action on your site, like:
Making a purchase
Joining your email list
Commenting on your WordPress blog

And if you want to show reviews from third-party sites, you can connect to Zapier to capture user activity from thousands of apps. You can even choose to display reviews from Google Reviews or Yelp.
This is one of the easiest ways to get started with social proof because you're taking advantage of the traffic you already have.
The notifications are clickable, creating tons of cross-selling and upselling opportunities too. You can also redirect visitors to a signup page with an optin form to get them to subscribe to your mailing list.
Read What Is the Difference Between Upselling and Cross-Selling?
You can set it up, create, and display your sales notifications in under 5 minutes. You can also run multiple campaigns simultaneously to display different activities on your site. And TrustPulse lets you decide which campaigns get preference with its 'Order Priority' feature.
The great thing is these popup notifications have been shown to boost conversion rates by up to 15%. This is why TrustPulse is at the top of this list of the best WordPress social proof plugin.
Price:
$5/month only.
Ready to start using social proof to boost your conversions? Get TrustPulse today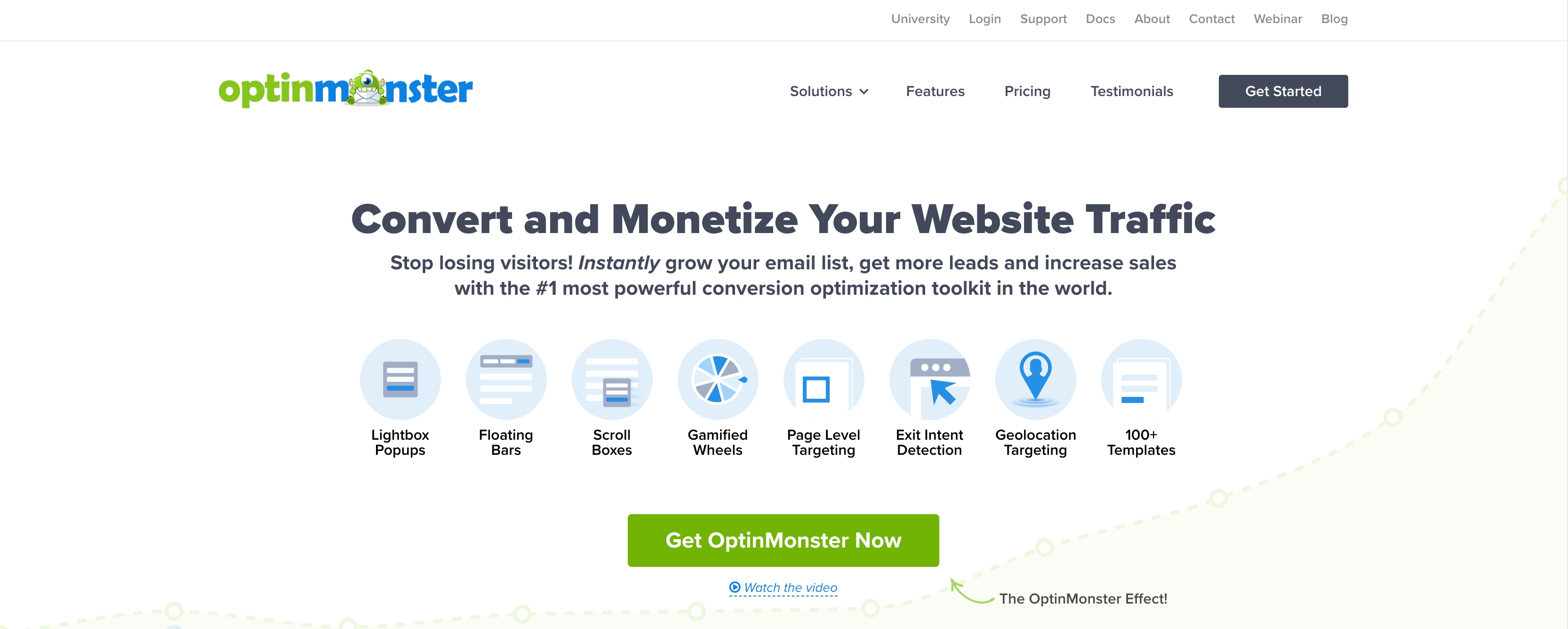 OptinMonster is the most powerful lead generation plugin for WordPress. It lets you leverage social proof to grow your subscriber list, drive site traffic, and increase sales.
It has 100+ templates to create eye-catching popups, banners, notification bars, slide-ins, and other such campaigns in minutes.
Plus, it's packed with cool features like countdown timers to create a sense of urgency and instill FOMO (fear of missing out) in customers.
OptinMonster works with any website, including WooCommerce, Shopify, and Magento. Over 1 billion people see a website with an OptinMonster campaign active every month; chances are you've already seen one in action.
You can easily add social proof to convince customers to take action. Like in this case, Contest Domination included social proof by showing the number of business owners and marketers who use its formula: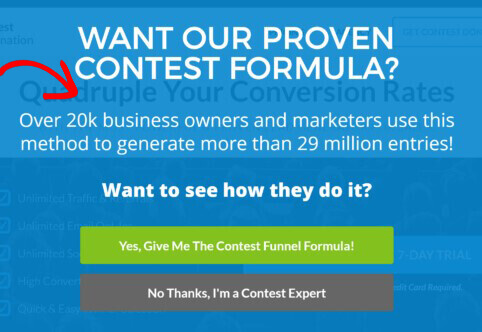 One of the advantages of OptinMonster is its advanced targeting and A/B testing features. You can control when, where, and to whom your popup is displayed to maximize results.
OptinMonster integrates with popular email service providers, including Sendinblue and Constant Contact, enabling you to automate your email marketing efforts.
But the best part about OptinMonster is its targeting rules. It lets you display your campaign at the right time to the right people.
For instance, OptinMonster's Exit-Intent® technology can detect when a visitor is leaving your site and display a social proof popup. You can convince them to buy or sign using discounts or lead magnets.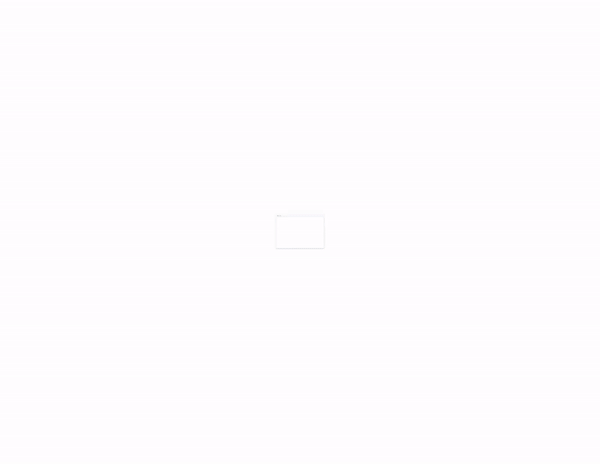 You can also track the performance of your campaigns using OptinMonster's built-in analytics or connect to Google Analytics for more in-depth data.
OptinMonster is a must-have social proof WordPress plugin for any site, especially for small businesses and eCommerce stores. Apart from increasing leads and revenue, it also lets you use social proof marketing to boost your site's sales, conversions, and engagement.
Price:
The Pro plan starts from $29/month.

WPForms is the best form builder for WordPress. It lets you build beautiful forms in minutes that you can use to capture customer reviews.
If you want your customers to trust you, you have to use reviews.
Social proof statistics show 97% of consumers look at reviews before making a purchase. Even better, just one good review can increase conversions by 10%.
So, how can you use the power of reviews to boost your trust?
The first step is to make it easy for your customers to leave reviews on your site.
Here's where WPForms can help. In a few minutes, you can create stunning review forms that you can embed on your site or send out in your email campaigns.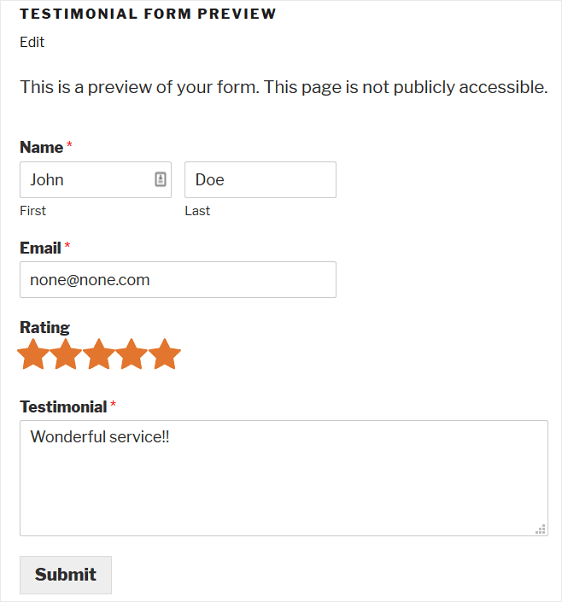 This way, customers can easily leave a rating and review for your site.
Here's what you'll love about WPForms:
Drag and drop form builder for easy customization of review forms without writing code
Responsive SEO-friendly review forms that work great across all devices
Check reviews from within your WordPress dashboard
Plenty of add-ons and extensions to increase functionality
Aside from WordPress social proof forms, WPForms also lets you create any form on your site, including optin, registration, contact forms, or even surveys and polls.
Price:
WPForms premium version starts from $49/year.

Do you have an active, engaged community on social media?
You can leverage that to build trust and confidence in your website visitors.
You can add your social media feeds to your site using the Smash Balloon WordPress social proof plugin.
You can capture customer activity from social media channels such as likes, follows, and shares and showcase it on your website.
Smash Balloon is a suite of plugins that help you create feeds for Facebook, YouTube, Twitter, and Instagram, including:
Facebook Feeds Pro
Instagram Feeds Pro
Twitter Feeds Pro
YouTube Feeds Pro
Smash Balloon comes with several options for displaying your posts, like showing a grid of all your posts or focusing on a single hashtag.
You can combine all your social media feeds to create a powerful social wall.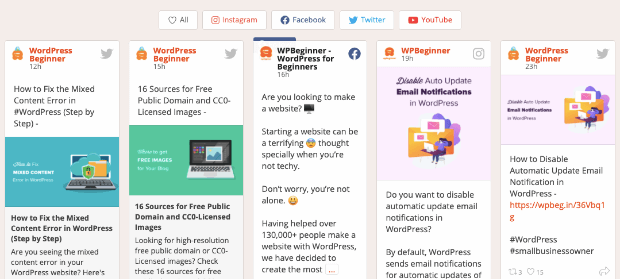 Adding your social feeds to your site achieves two goals. First, you're letting your site visitors know other people find your content valuable. So, they might gain some benefit from following you.
Second, you're making it easy for your site visitors to follow and engage with your social media content.
Key features include:
Customize feed layouts to match your brand and website
Display multiple feeds from all your social media accounts
Add shoppable feeds for eCommerce stores
Add feeds to landing pages, posts, sidebars, and more
Price:
'All Access Bundle' for all their plugins is $299/year. Individual plugin for just $49/year.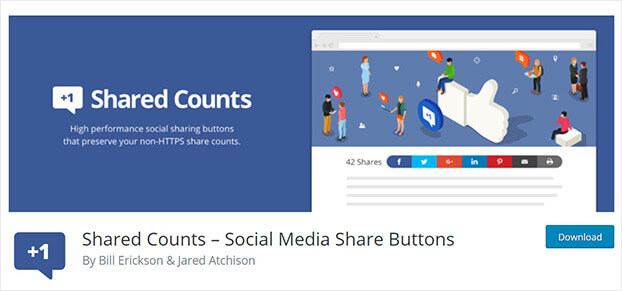 Shared Counts is a free social proof WordPress plugin that lets people share your posts on social media.
Having likes and shares on your content is an excellent form of social proof because people see high levels of engagement as a signal of your credibility.
Check out this social proof website example from the OptinMonster blog:

Share counts prove your content is popular and fosters trust among your audience. As a result, your casual visitors are more inclined to read it too.
Shared Counts lets your site visitors easily share content to all the major social media channels:
Facebook
Pinterest
LinkedIn
Instagram
Plus, you'll be able to style the share buttons to match your website.
Price:
It's a free social proof plugin.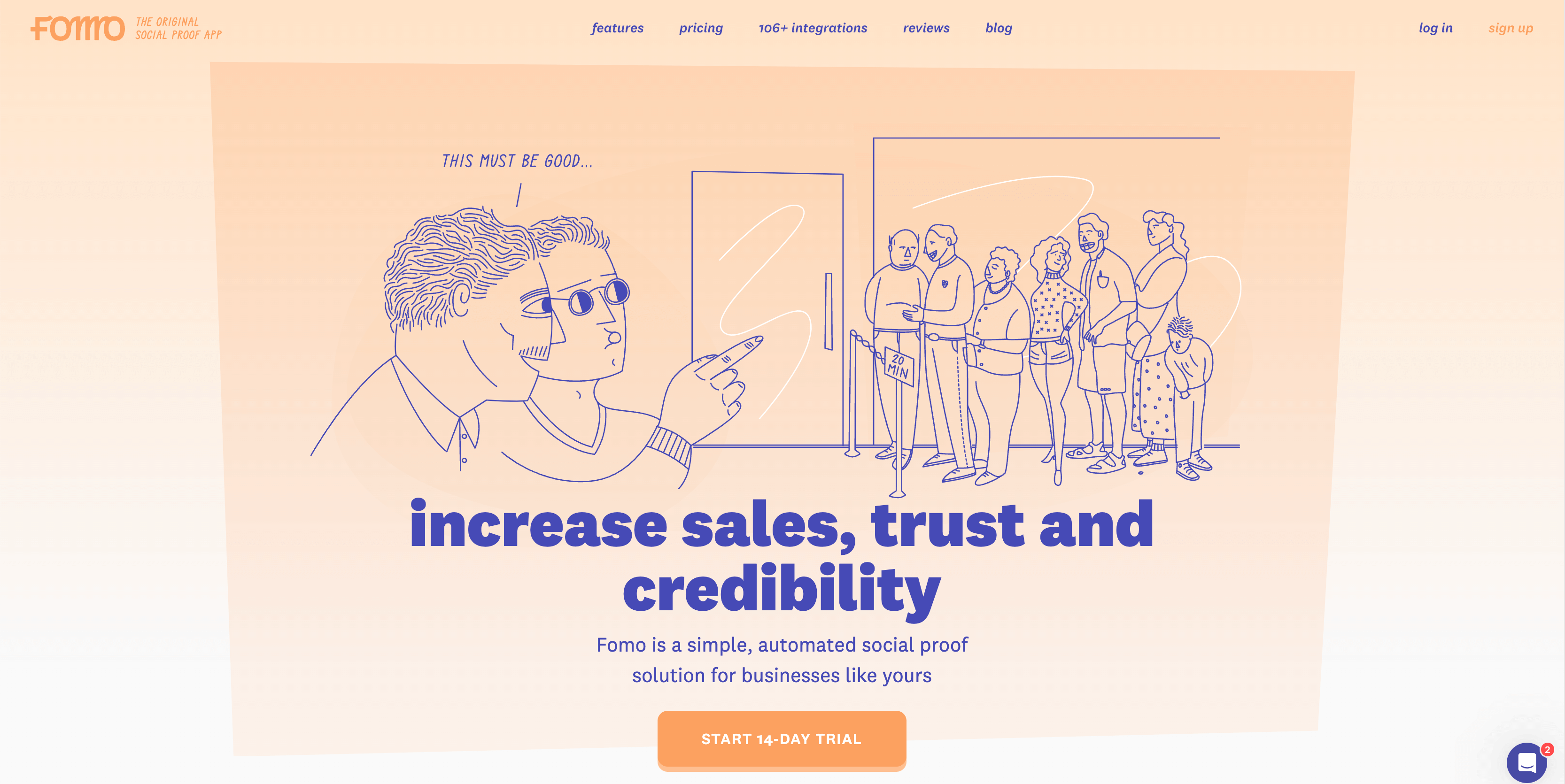 FOMO is another great WordPress social proof plugin.
You can capture activities on and off your site and display them in recent activity popups.
It comes with several customizable templates. Plus, it has plenty of page rules to control where the popups appear.
It's quick to set up and seamlessly integrates with 96+ apps.
We recently compared FOMO with other social proof plugins and found that FOMO isn't as user-friendly. If you're a beginner, it might not be the best choice.
You may want to see the following:
Price:
Starts from $19/month.

WordPress Popular Posts is a social proof plugin that lets you show content with the most views or comments. Or, you can choose to display trending articles.
You've probably seen a popular posts section while browsing the web. Showing popular posts lets site owners drive traffic to their best content.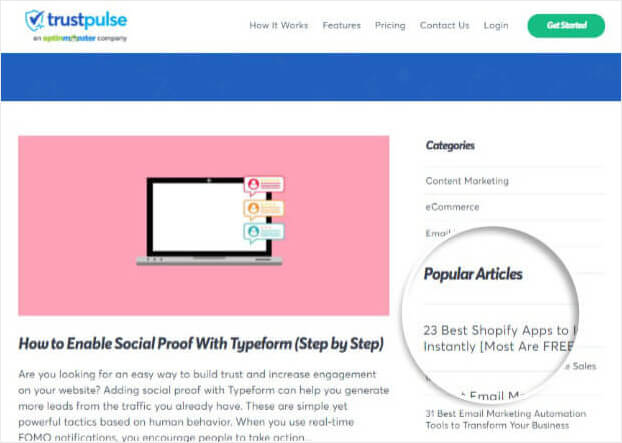 WordPress Popular Posts lets you control where to display your popular posts. And eCommerce sites can show the most popular products instead.
The best part? It's a free social proof plugin for WordPress.
Price:
It's a free social proof plugin.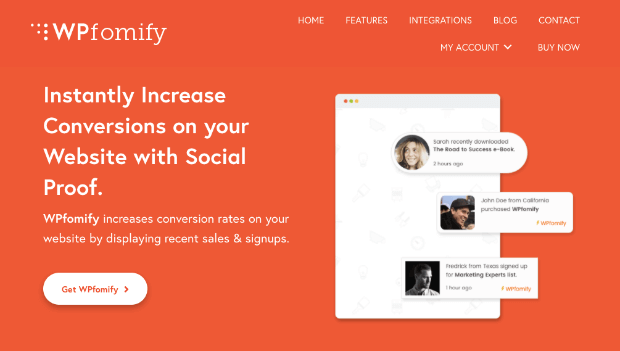 WPfomify is a WordPress social proof plugin that displays recent sales or signups on your site. Another great feature is the Visitor Count notification to show how many others are visiting your page.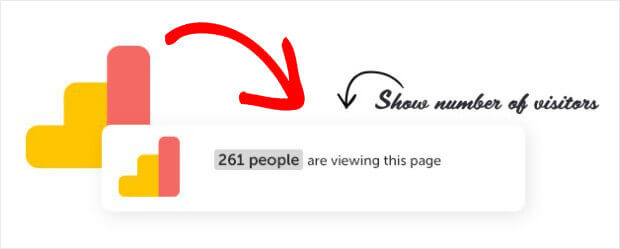 When people see others buying from you or joining your list, they'll be more likely to check out your products and services.
Price:
1 site license is $99/year.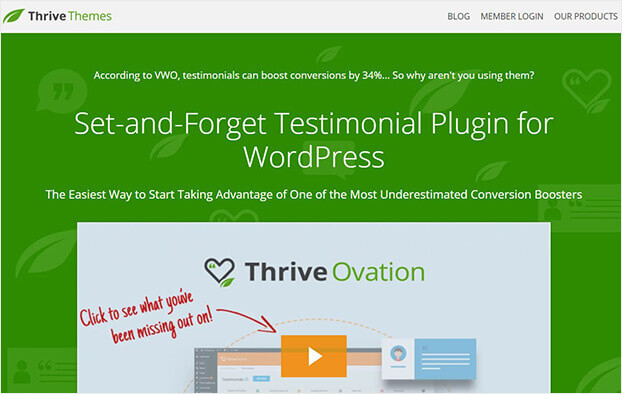 Thrive Ovation is another easy-to-use social proof WordPress plugin to collect customer testimonials. One great feature of Thrive Ovation is you can quickly convert WordPress comments into testimonials.
You'll also get to connect your Facebook and Twitter accounts. This means you can pull testimonials from your social pages automatically.
Price:
$299/year.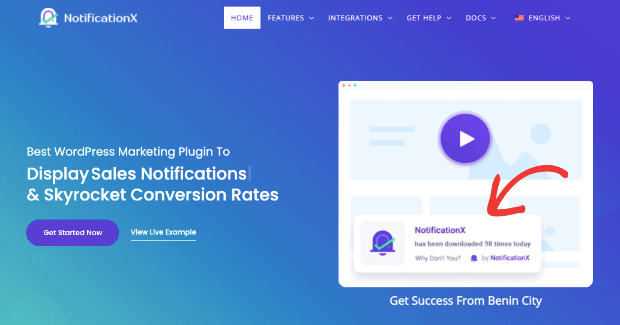 NotificationX is a reliable and well-established social proof software that also comes as a WordPress website social proof plugin.
NotificationX comes with all the bells and whistles you'd expect from social proof notifications.
Their goal is to help you increase conversions through social proof, including:
Email signups
Webinars
Popular content
Sales
And more
And since this is an established company, you'll have a large support team to help you troubleshoot any issues that may arise.
Price:
The pro version starts from $39/year.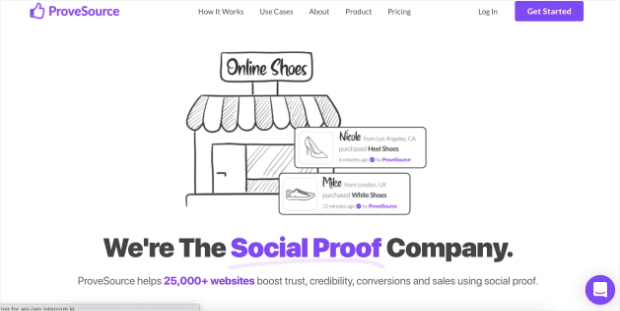 ProveSource is the last social proof plugin on this list, but certainly not the least qualified to be here.
This software helps you create conversion notifications in just a few clicks. You can also create 5-star review popup notifications for faster customer feedback.
ProveSource integrates with all your favorite tools, making it a powerful addition to any marketing stack.
Price:
$288/year.
There you go! We've covered the top WordPress social proof plugins.
If you're still undecided, we recommend using TrustPulse and OptinMonster. With these two WordPress social proof plugins, you'll have everything you need to take your social proof marketing to the next level and achieve your goals faster.
While TrustPulse lets you capture real-time activity and display sales notifications, OptinMonster enables you to create customized and targeted campaigns for lead generation.
Ready to start using social proof to boost your conversions? Get TrustPulse today.