Are you looking for a social proof plugin to boost credibility on your WordPress website?
A great social proof plugin can increase your conversions instantly.
And it makes sense why.
When people land on your website, they have no reason to trust you. So, even the best sales copy might not be enough to convince your site visitors. After all, every business makes claims about how amazing it is, right?
Here's where social proof comes in.
Social proof shows your site visitors that real people just like them are enjoying your products. It's why just about every business relies on this marketing technique to increase conversions.
In this article, we'll show you the best WordPress plugins for social proof.
Why Add Social Proof to Your WordPress Site
Before we dig into the details, let's have a look at why you need to add social proof to your WordPress website.
Like many of the most effective marketing techniques, social proof is backed up by basic human behavior.
It's the idea that we're heavily influenced by other people, especially when we're not sure what to do.
And it's an ancient concept.
As far back as the 16th century, professional clappers were implanted in theatre houses. Their job? Applaud the performance to encourage others to follow.
In modern marketing, the right kind of social proof gives your site visitors the validation they need to do business with you. You're showing them that real people are solving their problems with your products and services.
Put another way, social proof makes it easier for your site visitors to take action on your site.
It's so effective that 92% of online shoppers trust non-paid recommendations from other shoppers more than any type of advertising, according to social proof statistics.
You've probably seen examples of social proof across the web:
Customer reviews
Case studies
Live notifications of purchases
Now, thanks to social proof plugins it's incredibly easy to use this technique to display sources of approval across your site.
9 Best WordPress Plugins for Social Proof
There's no shortage of WordPress plugins for social proof.
Using these tools, you can automate social proof without writing a single line of code.
But bear in mind that some tools will offer you the option to create fake notifications. Even if it's tempting when you're starting out, you should avoid fake social proof.
First, lying to your customers is just the worst way to start your business relationship. And second, it's going to be tough to regain your customers' trust when you eventually get caught out.
So, that's why we handpicked the best plugins for showing real social proof.
Below, we cover all the tools you need to easily show social proof on your site.
One of the quickest ways to display social proof is by showing the actions other people are already taking on your website.
And TrustPulse is the easiest way to display this type of real-time recent activity on your site.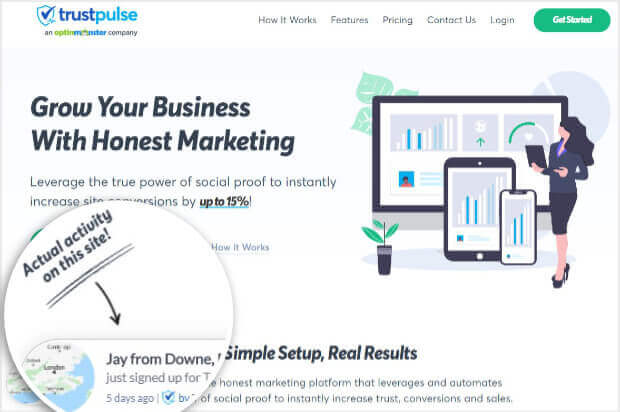 So, how does it work?
You'll be able to show small popups the instant someone takes an action on your site, like:
Making a purchase
Joining your email list
Commenting on your WordPress blog
And, if you want to show reviews from third-party sites, you can choose to display reviews from Google Reviews or Yelp.
This is one the easiest ways to get started with social proof because you're taking advantage of the traffic you already have.
Live notifications like these give your site visitors the confidence to engage with you and even buy your products.
And it's extremely easy to set up. Creating a social proof notification like this one takes just three minutes.

The great thing is these alerts have been shown to boost conversions by up to 15%. It's why TrustPulse is the best WordPress plugin for social proof.
Connecting TrustPulse with your WordPress site is incredibly easy. All you have to do is download and activate the TrustPulse plugin.
OptinMonster is another top WordPress plugin for social proof.
With OptinMonster, you can create eye-catching and targeted popups to grow your email list, drive site traffic, and increase sales.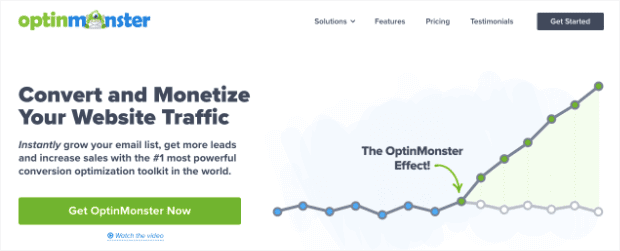 Chances are you've seen an OptinMonster popup in action because 1 million sites use it to generate more leads.
One of the advantages of OptinMonster is its advanced targeting features. You'll get to show your popup right when your site visitor is most engaged, like after they've spent a few minutes on your site or viewed several pages.
And including social proof adds an instant boost to your popup campaigns.
In this example, Contest Domination shows the number of business owners and marketers who use its formula: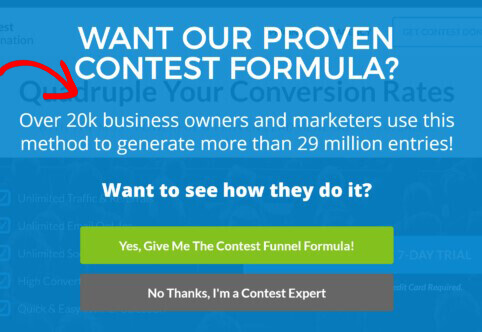 Once you grow your email list, you can proudly display your growing number of subscribers.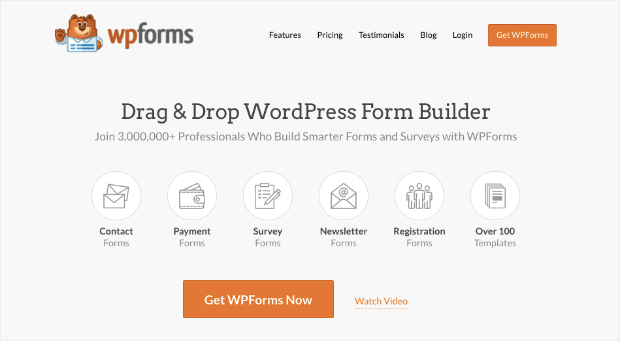 If you want your customers to trust you, you have to use reviews.
Social proof statistics show 97% of consumers look at reviews before making a purchase.
Even better, just one good review can increase conversions by 10%.
So, how can you use the power of reviews to boost your trust?
The first step is to make it easy for your customers to leave reviews on your site.
Here's where WPForms can help.
WPForms is a WordPress form builder plugin that offers:
Drag and drop form builder to easily create review forms without writing code
Responsive review forms that work great across all devices
Check reviews from within your WordPress dashboard
Do you have an active, engaged community on social media?
Then, you should display that fact on your website.
Using the Smash Balloon WordPress plugin, you can add your social media feeds to your site.
Smash Ballon is a suite of plugins that help you create feeds for Facebook, YouTube, Twitter, and Instagram, including:
Facebook Feeds Pro
Instagram Feeds Pro
Twitter Feeds Pro
YouTube Feeds Pro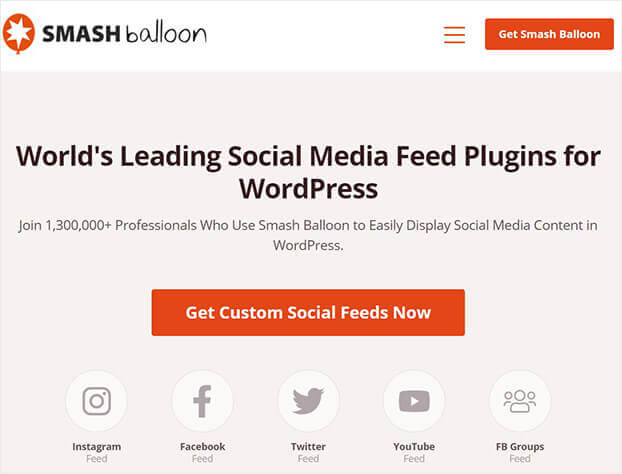 Smash Balloon comes with several options for how you display your posts, like showing a grid of all your posts or focusing on a single hashtag.
Adding your social feeds to your site achieves two goals. First, you're letting your site visitors know other people find your content valuable. So, they might gain some benefit from following you. Second, you're making it easy for your site visitors to follow you.
Key features include:
Customize feed layouts to match your brand and website
Display multiple feeds from all your social media accounts
Add shoppable feeds for eCommerce stores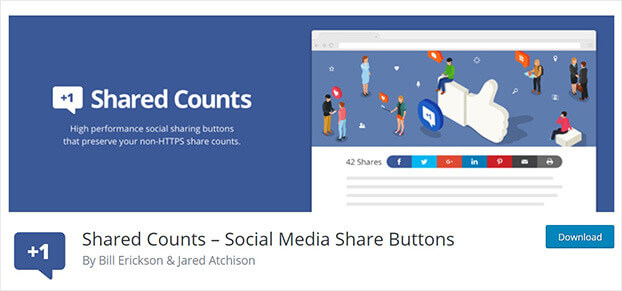 Shared Counts is a WordPress plugin for social proof that lets people share your posts on social media.
Having likes and shares on your content is a great form of social proof because people see high levels of engagement as a signal of your credibility.
Check out this example from the OptinMonster blog:

Showing share counts prove your content is popular and foster trust among your audience. As a result, your casual visitors are more inclined to read it too.
Shared Counts lets your site visitors easily share content to all the major social media channels:
Facebook
Pinterest
LinkedIn
Instagram
Plus, you'll be able to style the share buttons so they match your website.

You've probably seen a popular posts section while browsing the web. Showing popular posts lets site owners drive traffic to their best content.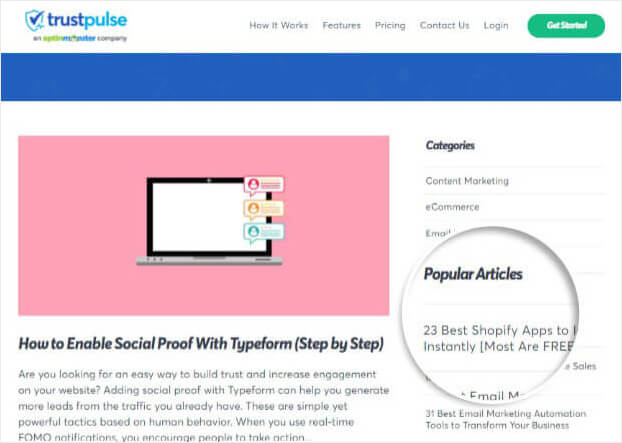 The WordPress Popular Posts plugin lets you show content that has the most views or comments. Or, you can choose to display trending articles.
It lets you control where you want to display your popular posts. And, eCommerce sites can show the most popular products, instead.
WPfomify shows real-time notifications on your site.
This WordPress social proof plugin displays recent signups or purchases on your site. Another great feature is the Visitor Count notification to show how many other people are visiting your page.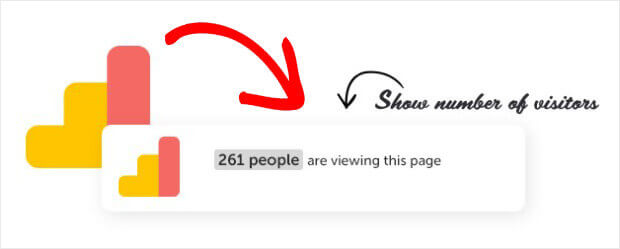 When people see other people buying from you or joining your list, they'll be more likely to check out your products and services.
Thrive Ovation is another easy to use tool to collect customer testimonials. One great feature of Thrive Ovation is you can quickly convert WordPress comments into testimonials.
With this WordPress plugin for social proof, you'll get to connect your Facebook and Twitter accounts. This means you can pull in testimonials from your social pages automatically.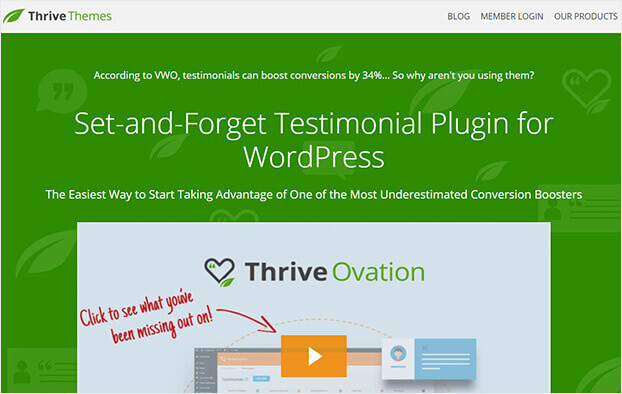 There you go! We've covered the top WordPress plugins for social proof.
And, if you're looking for practical social proof strategies, you should check out these articles:
Ready to start using social proof to boost your conversions? Get TrustPulse today.