Are you looking for the best sales notification plugins for WordPress?
Sales notifications can be a great form of social proof. These small messages display in your WordPress store any time a customer makes a purchase.
As a result, more people feel motivated to buy similar products as well.
But how do you create these notifications for your eCommerce shop if you don't have any coding experience? That's where a sales notification plugin comes into play.
So, today, we're going to share our top 7 sales notification plugins for WordPress.
Before we do, though, let's get clear on what a sales notification is and why it's so crucial for generating more profits.
What Is a Sales Notification?
A sales notification is a small message that appears to your site's visitors. It shows when another visitor or customer has made a sale in real-time.
You've probably seen these before. They look something like this:

And these small messages can have a BIG impact.
In fact, we've seen TrustPulse customers get an instant boost in conversions by 15% just by adding these sales notifications to their online store.
Why do they work so well? Because they leverage the power of FOMO.
FOMO ("fear of missing out") is a common consumer behavior that suggests people turn to others when making a decision. When they see one of your customers made a purchase, they'll immediately assume the product offers some benefit they don't currently have.
As a result, they'll be more motivated to make the same purchase to get that same benefit.
But does FOMO really work in online shopping? Absolutely! 
Just think about a time a friend told you about a restaurant, and you were suddenly more motivated to try it out. Or how kids can fight over the same toy when there are hundreds of other toys in the same room.
As consumers, we never want to feel like we're missing out on a positive experience or product. Sales notifications leverage this feeling and get your site's visitors to take action FAST.
Now that we know what sales notifications are and why they work, let's dive into our list of the 7 best sales notification plugins for WordPress.
7 Sales Notification Plugins for WordPress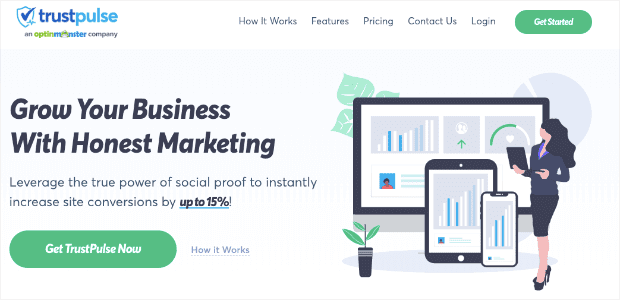 TrustPulse is hands down the BEST sales notification plugin for WordPress. It makes it super easy to add sales notifications to your website.
And the best part is that there's zero coding or "tech skills" required.
Instead, you can create stunning and professional notifications in minutes. Then you can add a URL to specific product pages so users can go directly to them from your notification.
Here's one example of what a sales notification would look like:

The notification in the image above was created and installed in less than 5 minutes.
That's because all the modifications can be made with drop-down menus, flipping toggle switches On or Off, and by selecting colors from a color wheel.
In other words, anyone can design the perfect sales notification in no time.
Plus, TrustPulse goes far and beyond allowing you to create sales notifications. You can also create tons of other types of social proof messages that inspire your site's visitors to take action.
This is perfect for helping your customers move down your sales funnel regardless of where they currently are. For customers not ready to make a purchase, you might show social proof notifications to have them:
Join a webinar
Sign up for a newsletter
Fill out a survey form
Check out a popular post or product page
Redeem a coupon for free shipping or other promotional offers
And much more. Part of the reason TrustPulse is so flexible is that it offers many different types of campaigns to choose from. You can select:
Recent Activity: Show individual user actions like purchases, registrations, and more in real-time.
On-Fire: Display the number of people who've taken an action on your site in a specified period of time.
Visitor Analytics: Show the number of pageviews a specific page has received.
Action Messages: Display a single static notification across your site to communicate more effectively with customers.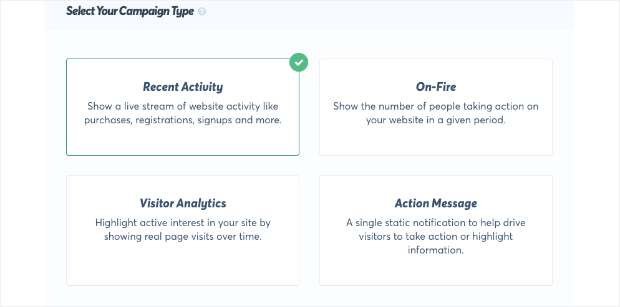 Once you've created your new campaigns, you can even determine which order you want them to appear in with our Order Priority feature.
That means you can send more pressing notifications to the front so they'll be seen by all your site's visitors.
And, finally, you have full control over where your sales notifications appear across your site. You can attach them to specific URLs, categories, pages, posts, or anywhere you believe will get the best results.
All you need to do is download and install the plugin like another tool you've used for your WordPress site. Then you'll be up and running in seconds.
Price: Pricing starts at just $5/month.
Want to see it in action for yourself? Sign up for your 100% risk-free TrustPulse account today!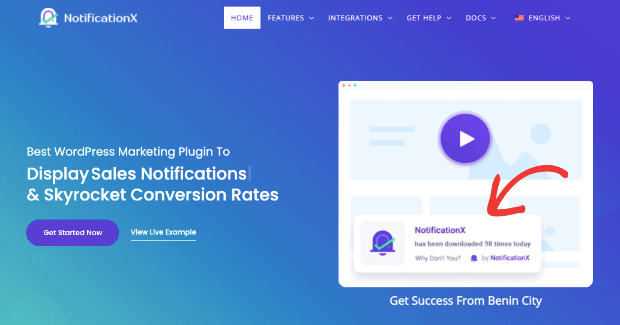 NotificationX is another sales notification software for WordPress that you can use to boost sales across your site.
Like TrustPulse, NotificationX allows you to add sales notifications to your online store. These messages show when people have made a purchase on your site in real-time.
Plus, you can add other forms of social proof, like blog engagement, WordPress review notifications, download counts, email subscriptions, and many others.
Features
Create many types of social proof notifications
Easy to install with WordPress
Free version lets you test the software
Integrate with your favorite marketing tools
Support and resources available for troubleshooting
That said, NotificationX does have a few negative reviews from the WordPress store expressing minor bugs or campaigns not working properly.
These could be the exceptions to the rule, however, so you'd want to see if it works properly on your site.
Price: There's a limited free version that lets you test the software. Paid plans begin at $99/year.
Learn more about NotificationX today!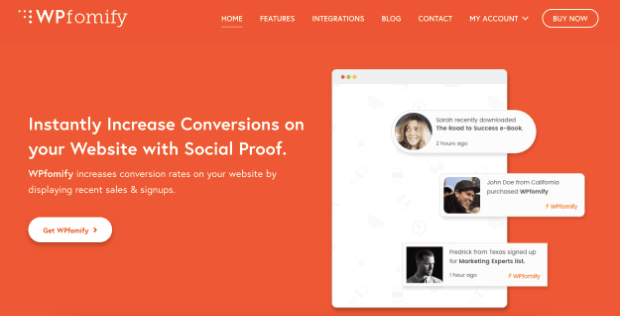 WPfomify is a sales notification plugin for WordPress like the others we've seen so far.
With WPfomify, you have tons of different options for setting up social proof across your site. That means you aren't just limited to sales notifications.
Instead, you can create social proof messages to show user activity, subscriber reviews, limited-time offers, and more. Plus, you can target these notifications to specific areas on your site for even more conversions.
Finally, you get helpful conversion tracking tools to optimize your notifications for the best results.
Features
Easy to set up and install
Lots of documentation for help
Mobile-friendly
Various notification types to get more conversions from FOMO
Integrates with your favorite tools
Customizable campaigns (no coding skills needed)
One disadvantage is that some customers have complained about their lifetime access not being honored. And according to the reviews, it was difficult to get a refund (in one case, the customer never did).
Price: Paid plans start at $99/year.
Learn more about WPfomify today!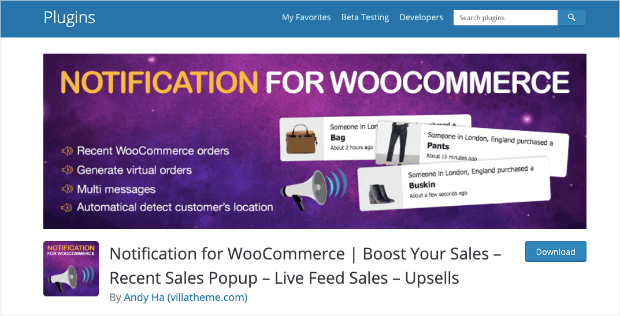 Notification for WooCommerce is a simple and straightforward sales notification plugin that you can use for your WooCommerce store.
This creates sales notifications that can include the customer's name, location, and purchase in a popup across your site. You can also rely on virtual orders if you're just starting out, though we always discourage people from using any form of fake social proof.
Features
Makes recent sales notifications FAST for WooCommerce products
Display different types of messages (and add custom shortcode to notifications)
Modify the design to match your brand
Easy to install
Responsive across devices
The downside to this plugin is that it works exclusively for WooCommerce. That means it might not be the best option for people with multiple sites or who use a different platform (like Shopify or BigCommerce, for example).
Price: There is a free version to let you test the software. After that, this plugin costs $30 for lifetime access.
Learn more about Notification for WooCommerce today!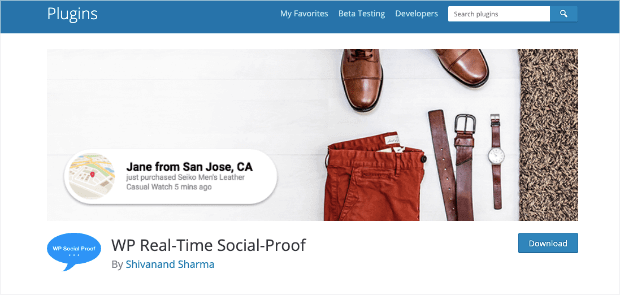 WP Real-Time Social Proof is a social proof plugin for WordPress that allows you to quickly create sales notifications for your online store.
Notifications can be animated and are added across your site to motivate your visitors to take the actions you want them to. That makes this plugin good for increasing newsletter signups, webinar registration, live sales, and more.
It's a simple plugin that's easy to use and, from what we can see in the reviews, is a reliable tool.
Features
Easy to install and set up
Mobile-friendly
Light-weight (so it won't hurt your site's performance)
Works out-of-the-box for WooCommerce
Target to specific pages or categories
There have been some negative reviews about how these campaigns appear on mobile, but it's not clear if the user was on the free version or the Pro plan.
Either way, you'll want to test how this works on mobile to be sure.
Price: There is a free version of this plugin. The paid plans start at $57/year for 1 website.
Learn more about WP Real-Time Social Proof today!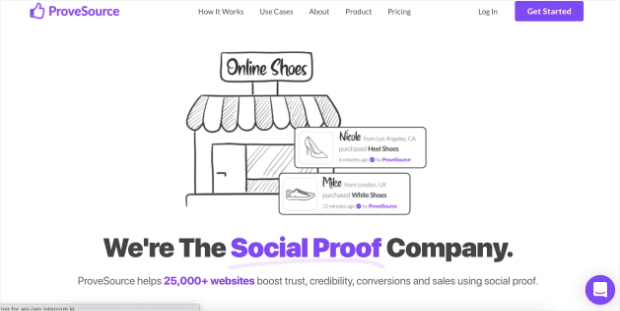 ProveSource is a popular social proof plugin that you can add to any WordPress site in minutes.
This plugin has a good reputation for being reliable, which makes it a great option for businesses with a larger budget.
It has tons of features to help you leverage the power of FOMO to drive more sales and conversions from your site.
Features
Advance targeting rules
Genuine social proof only (to maintain your online reputation)
Mobile-friendly
Over 100 integrations
Detailed analytics to optimize campaigns
The only downside is the price tag. ProveSource does have tons of great features, but you'll pay over 3x as much for the same features as you would with a plugin like TrustPulse.
Pricing: Paid plans start at $18/month, making it one of the more expensive tools on the list.
Learn more about ProveSource today!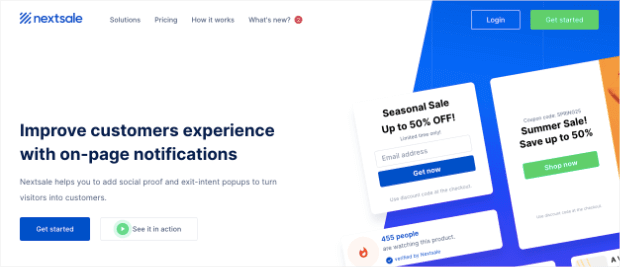 Sales Pop Notification (also known as "NextSale") is the last sales notification plugin for WordPress on the list. But it certainly isn't the least qualified to be here.
Sales Pop Notification is a great way to add sales notifications to your WordPress site. With this tool, you can create notifications to reach one of the following goals:
Generate leads
Create social proof
Create urgency
This gives you a lot of flexibility as you design the right social proof notifications for your site to get higher conversions.
Features
Easy to set up and connect to your WooCommerce site
Various campaigns available to get more from social proof
Create funnels for your notifications to increase sales
Analytics help you see which messages work (and which don't)
Customize notifications to match your store's branding
The downside here is the price for what you get. Like ProveSource, you'll be paying a lot more for the same features offered by TrustPulse.
Price: There is a free version that lets you test out this sales notification plugin. The paid plans begin at $29/month.
Which Is the BEST Plugin for Sales Notifications?
So far, we've looked at 7 different sales notifications for WordPress. But now, you might be wondering, "which is the BEST?"
We're confident that TrustPulse is the best plugin on this list to get you higher conversions and more direct sales.
That's because TrustPulse is the only plugin on the list that gives you advanced features at an affordable price.
Not only do you get social proof notifications that can be used in a variety of ways, but TrustPulse can also be:
Installed in minutes
Customized to match your brand
Targeted to your ideal audience
Plus, with a starting price at only $5/month, it's clear that this plugin gives you the most bang for your buck.
And that's it! These have been the 7 best sales notification plugins for WordPress.
We hope you found this article helpful. If you did, you might want to check out the following resources:
These articles will have everything you need to drive even more sales and conversion from your online store with social proof.