Are you trying to figure out how to increase online sales but not sure of the best place to start?
Getting more sales from your eCommerce store is something most online business owners struggle with. After all, it's not as simple as bringing people to your website–you then have to convert them into paying customers.
But there are many things you can do to start generating more revenue FAST. And, today, we're going to share them with you.
Since this is such an in-depth guide, we created a helpful table of contents so you can navigate to the method that most fits your needs:
Otherwise, let's dive straight into our list on how to increase online sales along with the tools you'll need to succeed.
How to Increase Online Sales (Tips and Tools)
1) Use More Social Proof
First and foremost, you should be loading your website with social proof. This is important for a few reasons, but here's the main one:
People won't buy from stores they don't trust.
It really is as simple as that.
But what kind of social proof should you be using? Ideally, as much as you can! That would include showcasing different types of social proof on your site, like:
Positive reviews or ratings
Testimonials
Impressive metrics on traffic, newsletter subscribers, customers, and more
And more…
The most effective type of social proof, however, is social proof notifications. You've probably seen these before. They look something like this:

Social proof notifications come in all shapes and sizes. Still, the most common is a recent sales notification (like in the example above).
These notifications let your site's visitors know when another customer makes a purchase from your store in real-time. This leverages FOMO ("fear of missing out") to encourage others to take the same action.
As a result, you help more of your site's visitors find the products they love, AND you drive more sales from your online store.
But how do you add social proof notifications if you don't have any coding experience or technical skills?
For that, the answer is definitely TrustPulse: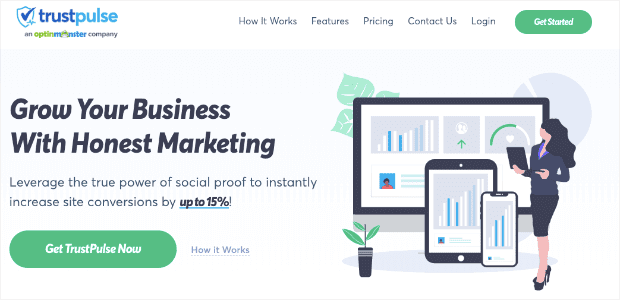 TrustPulse is hands down the best social proof software on the market. It lets anyone quickly and easily create social proof notifications of all types.
Everything starts with choosing the type of social proof campaign you want to use:
Recent Activity: Show when an individual takes action, like making a purchase, joining a webinar, or visiting a product page.
On-Fire: Display when larger groups are taking the same action, such as signing up for a newsletter, entering a contest, or taking part in a flash sale.
Visitor Analytics: Highlight interest in your site by showing the number of real page visits over time.
Action Message: Create a single static notification to communicate promotional or information content directly with customers.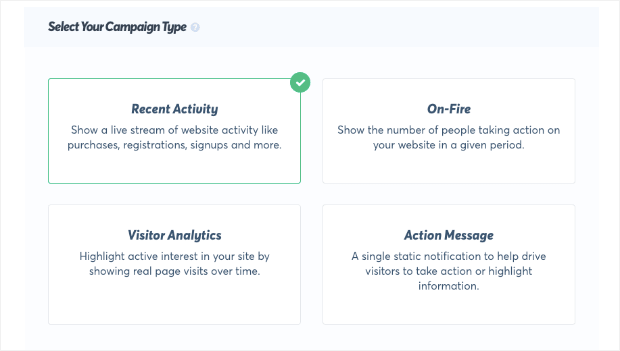 From there, you can modify your notification to match your brand's voice, style, and messaging. Plus, doing so is easy and doesn't require any technical experience.
In fact, you can modify everything about your notification, such as the:
Language
Message text
Notification link
Notification image
Color, font, and font-size of your message
And much more…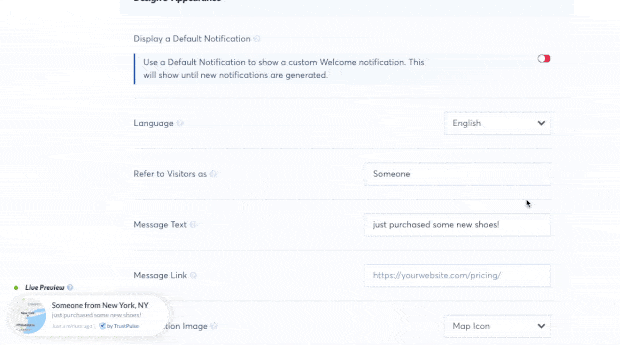 This allows you to set up social proof on your site in a matter of minutes. And remember, TrustPulse isn't limited to recent sales activity, either.
With TrustPulse, you can create social proof notifications to get more people to:
Subscribe to your newsletter
Read your popular blog posts
Join your online contests
Register to a webinar
Leave more reviews
Give a testimonial
And more…
Just starting out and don't have much social proof to work with? No worries.
You can use TrustPulse's Visitor Analytics or Action Message campaigns to rely on genuine social proof that doesn't require any sales.
With a Visitor Analytics campaign, you can simply show popular pages on your website that people are visiting. Then you can link the notification to the page so people can access it more easily.
This is great for getting more people to check out your landing pages.
Imagine running an online contest when you have low traffic. Rather than stating the number of people who entered the contest, you could boost your metrics by showing how many people have "checked out" the contest:

This lets you increase your social proof and credibility in a genuine and honest way, so you never have to rely on fake social proof.
Otherwise, you can use an Action Message to bring attention to informational and promotional content.
Here's an example of what an Action Message campaign might look like:

Both types of campaigns (Visitor Analytics and Action Messages) are perfect for leveraging social proof when you're just getting started.
And with TrustPulse, creating these notifications isn't just easy–it's also affordable.
That's right, TrustPulse is a fraction of the cost when compared to other popular social proof services on the market.
For more information about how TrustPulse stacks up to the competition, check out this helpful resource: FOMO vs. UseProof vs. TrustPulse: Which Is Best for Social Proof?
Ready to see it in action for yourself? Sign up for your 100% risk-FREE TrustPulse account today!
2) Grow Your Email List (& Use It)
There are many different ways to attract new leads to your website. And you SHOULD be using as many different ways to attract those leads as you can.
But once people are on your site, you'll want to make sure to add them to your email list. That's because, more than any other channel, email marketing is the most reliable way to drive passive income from your store.
Why is it the most reliable? Because other marketing channels can have updates or algorithm changes that negatively impact your store's sales almost overnight.
Think about it. When you use paid ads, your pay-per-click (PPC) platform dictates where your ads show and how much it will cost.
And if you build a strong social media following, you'll always be tied to the rules set up by the social media network you're using.
What about creating tons of optimized content to drive more organic traffic? As you know, Google can roll out new updates to its algorithm that drop your rankings (and your traffic).
But with email marketing, everything is different. Because once someone is on your email list, you're always in charge of communication.
You can send out email campaigns whenever you'd like without having to worry about another platform changing the rules on you.
Plus, most modern email service providers allow you to create automated email series. That means your new leads can be sent through a series of email campaigns with everything running on auto-pilot.
As a result, you can generate passive income for months–or even years–to come.
And what's the best tool for growing your email list? That would definitely be OptinMonster: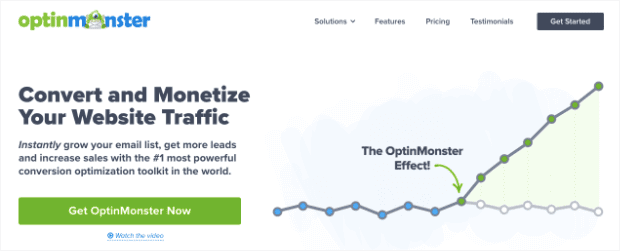 OptinMonster is the #1 lead generation software in the world. By "lead generation software," we basically mean it's the best at getting you tons of new email subscribers FAST.
That's because OptinMonster helps you create powerful optin campaigns like popups, floating bars, fullscreen welcome mats, and much more.
Here's an example of what a high-converting popup built with OptinMonster might look like: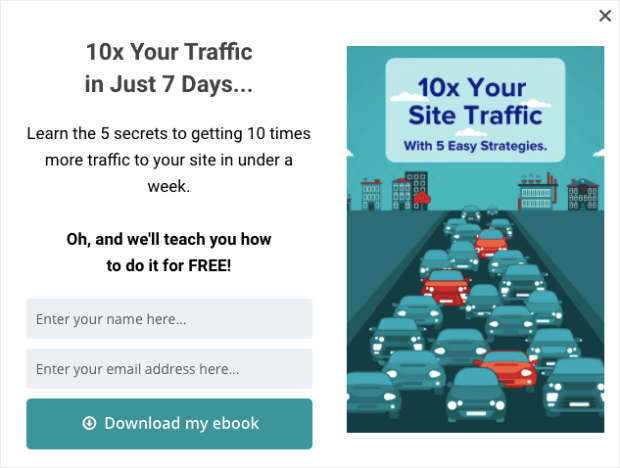 This example was built in less than 5 minutes thanks to OptinMonster's pre-made templates and drag and drop editor.
Plus, OptinMonster's targeting rules allow you to show the right messages to the right people at just the right time in their customer journey.
Some of their most popular targeting rules include:
Exit Intent® Technology: Engage users as they're actively leaving your website.
OnSite Retargeting®: Show fresh campaigns to returning users to avoid "popup fatigue."
Geolocation Targeting: Display campaigns to people based on where they're physically located.
These are just a few examples of OptinMonster's display rules, though there are many others.
The point is that OptinMonster is the best tool for quickly growing your email list with the right types of leads. It's the same tool Adam Enfroy used to add over 11,000 contacts to his list in under 1 year.
And in 2020, he used that list to make his blog generate $812,718.
You can achieve similar success by giving OptinMonster a try. Ready to give it a shot? Learn more about OptinMonster today!
3) Create a Sense of Urgency at Checkout
Another great method for getting more sales from your eCommerce store is adding a sense of urgency on your pricing page or at checkout.
This is important because most people need to visit your store multiple times before making a purchase. BUT most people who visit your website and leave don't ever come back.
That means you need to do everything in your power to get people to take action. For that, you can add a floating bar with a countdown timer and promotional offer to your pricing page: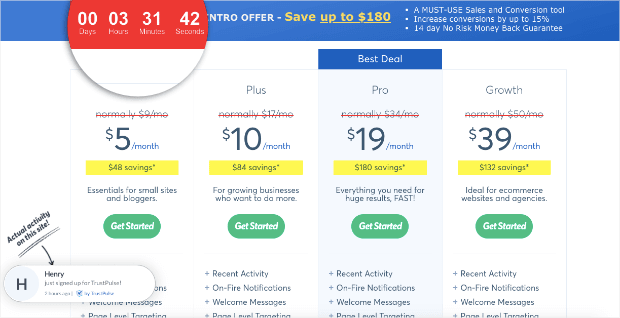 By adding a special offer with a countdown timer, you can motivate more of your site's visitors to make a purchase on their first visit to your site.
Want to learn how to create a floating bar with a countdown timer the easy way?
Check out this helpful resource: 6 Floating Bar Hacks to Boost Conversions (the countdown timer method is #1).
4) Send Push Notifications
So far, we've recommended growing your email list to drive more passive revenue for your online store.
Again, this is crucial because you will always own your email list (rather than being trapped by a 3rd-party platform's rules).
And we also recommended using a lead generation software like OptinMonster to grow your email list.
But a nice compliment to this strategy is using push notifications: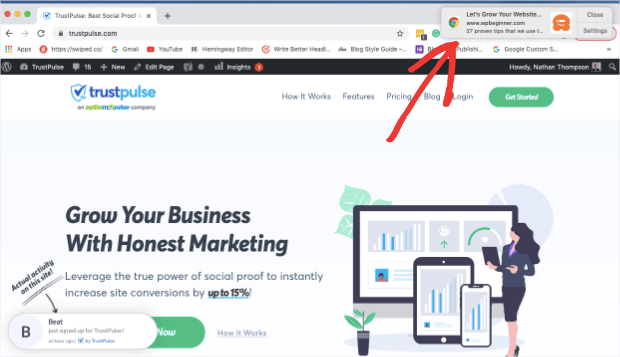 Push notifications are small messages that you send directly to your subscribers' desktop or mobile device. These messages will remain on your user's screen until they either engage with the message or close the campaign.
What's the benefit of push notifications over email, and how will they help you drive sales?
Push notifications tend to have a higher subscription rate because you don't need to ask for personal contact information.
Instead, your subscriber will simply click a button that says Allow to receive your push notifications.
This lets you send promotional and informational content directly to your new leads, which will help you drive more traffic to your site's product or landing pages.
In the end, this helps you boost sales and conversions across your site.
Looking for the right tool to set up push notifications on your site? For that, we highly recommend PushEngage: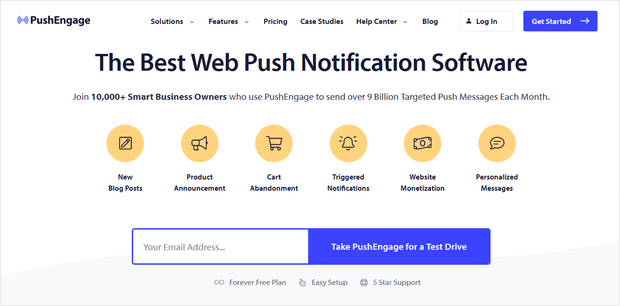 PushEngage makes creating push notifications totally simple. In just a matter of minutes, you can start growing your push notification subscriber list and sending messages directly to your audience.
PushEngage is great because of how easy it is to get started. Plus, you can create powerful A/B tests for all of your notifications to ensure you're getting the best results possible.
One of their A/B testing features is that you can send the split test to a small portion of your audience.
Then PushEngage will measure and track the high-converting notification and send that one to the rest of your audience.
Another way you can drive more profits with push notifications is by creating a "drip" series. This means your new subscribers will automatically receive a series of push notifications that guide them down your sales funnel.
Finally, you can segment your audience to personalize the messaging in your notifications. That way, you'll only send the most relevant and engaging offers to your subscribers.
Want to give it a shot? Check out how PushEngage can drive sales for your store today!
5) Work on Your Landing Page's "Copy" and Design
Whether you're using paid advertising to drive traffic to your website or sending people from other channels like social media or Google, your landing page is crucial to getting more sales from your online store.
That's because this will likely be your users' first experience with your site, so you want to start the relationship off on the right foot.
Your landing page should be clear, persuasive, and loaded with social proof.
It should also load fast, so you don't hurt your user experience (UX). And, where you can, you should make sure your landing pages "copy" (the persuasive language you use) matches the channel that brought the user in the first place.
If you're running social media posts, for example, your headline's copy should match the language in your post.
And it's the same with pay-per-click (PPC) ads: the headline you use for your ad should match the headline on your landing page.
That way, your site's visitors instantly know they've arrived at the right place.
They'll then be more likely to read through your landing page, see your social proof, and click your call-to-action (CTA) buttons.
To easily create a landing page, we recommend using SeedProd. It's the best drag and drop page builder for WordPress and there are tons of beautiful templates to get you started.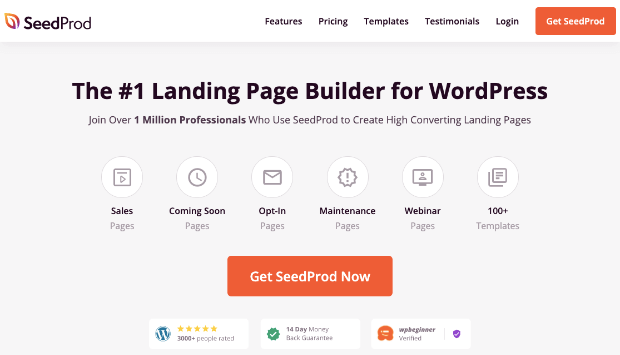 SeedProd's Builder includes conversion-focused blocks like testimonials, optin forms, countdown timers, CTA buttons, and more, that you can add to your landing page in 1 click.
It even comes with custom WooCommerce landing page blocks like add to cart button, products grid, recent products, top-rated products, and more.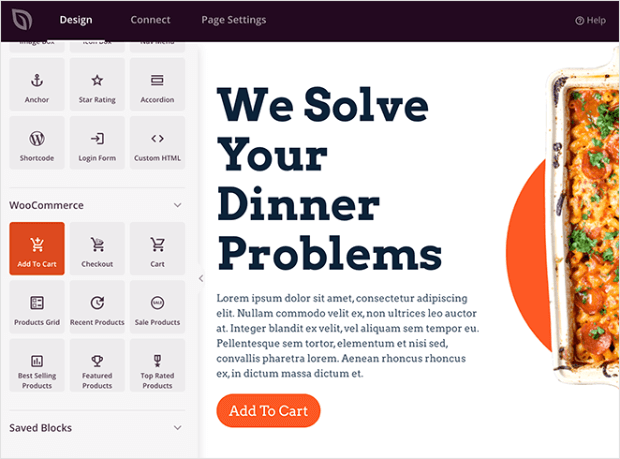 This is the perfect way to encourage users to purchase items right from your landing page.
Need help creating your landing pages? If you're using WordPress, then you should definitely check out the following resources:
These articles will have everything you need to create the perfect landing page for your business.
6) Drive More Organic Traffic With SEO
If you've been working on driving more sales from your online store, you've likely heard of the term "search engine optimization" (SEO).
SEO is a strategy used to ensure your website's pages and posts are ranked on search engines like Google.
This is a huge marketing strategy as organic traffic can be one of your best sources for bringing qualified and highly-interested leads to your site.
But let's be honest: there's A LOT of information about how to do proper SEO for your website.
In fact, trying to sort out how to get your pages and posts to rank on Google can be overwhelming. That's because you have different types of SEO to focus on, such as:
On-page SEO
Off-page SEO
Technical SEO
And each of these categories has its own lists of "to-do's" and best practices.
So how do you get started with SEO when you don't have the time to read hundreds of blog posts and don't have the budget to hire a consultant?
For that, we suggest going with an SEO tool to do the heavy lifting for you. And if you have a WordPress site, there's no better tool than All in One SEO (AIOSEO):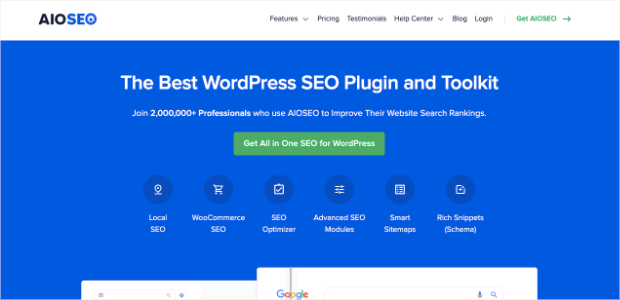 AIOSEO makes it easy to optimize your website for search engines like Google. It checks your website to determine the strengths and weaknesses that affect your site's rankings.
AIOSEO does so by providing online business owners with the following features:
Smart Sitemaps
Rich Snippets (Schema)
TruSEO On-page Analysis
Full SEO Audits
And much more…
And the best part is that this plugin is incredibly simple to set up. You'd just install the tool like you would with any other plugin you've used in the past.
Never installed a plugin before? No worries. Check out this article on how to install a WordPress plugin (3 methods).
From there, you'll be able to optimize your website so you can rank higher in the shortest amount of time possible.
This will bring you loads of organic qualified leads that you can use to boost sales from across your online store.
Ready to see it in action for yourself? Try out AIOSEO to rank higher today!
7) Track All Your Data and Test Everything
The last (but certainly not least) strategy we recommend for improving sales from your online store is to track everything.
Many new marketers or online business owners make decisions based on "hunches" or guesses rather than letting the data speak for itself.
But by relying on your most valuable metrics and key performance indicators (KPIs), you can get a better idea of what types of content or products your audience is responding to.
Then you can create new content or products to respond to your audience's needs and boost your overall sales.
While many businesses only use Google Analytics, we always recommend MonsterInsights to WordPress users: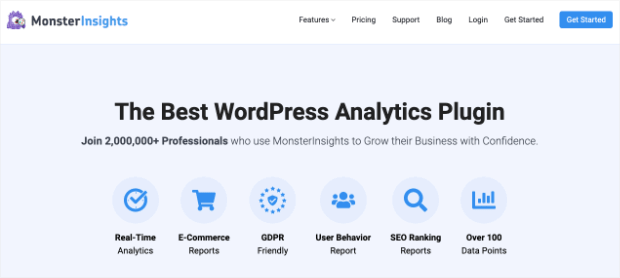 MonsterInsights is the best Google Analytics plugin on the market. Plus, it integrates with Google Search Console, too, so you can always stay up-to-date on how well your site is performing.
What makes MonsterInsights so great is that it presents that data to you in a more digestible way.
Rather than navigating through Google Analytic's native dashboard (which is known for being overwhelming and overly tedious), you can get valuable insights directly in your WordPress dashboard: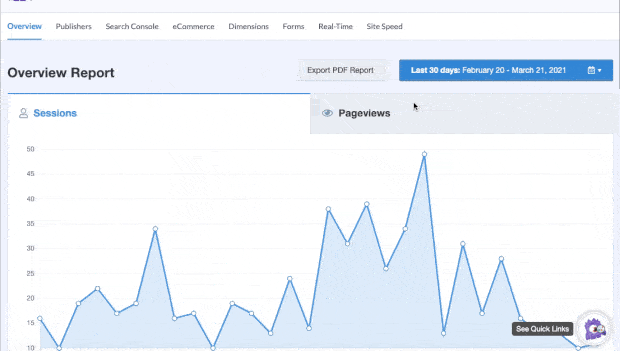 This gives you information on things like:
Sessions
Users
Pageviews
Top posts
Demographics of your audience
Custom conversions goals
And more…
Again, with all these KPIs at your fingertips, you can better understand what your audience responds to and create a more profitable marketing strategy for your store.
Want to try it for yourself? Check out MonsterInsights today!
And that's it! These have been 7 actionable solutions for how to increase online sales.
We hope you enjoyed this post. If you did, you should go check out the following resources, too:
These articles will have even more concrete strategies that you can use to increase sales for your online store today!