Are you looking for the best social proof software to boost your brand's trust, confidence, and sales?
One popular option for social proof software is Proof (formerly known as UseProof). And while they may be suitable for some online businesses, they may not be the best fit for everyone.
That's why, today, we're going to go over the best Proof alternatives for adding social proof notifications to your site.
But first, let's get clear on what Proof is and why you may be looking for an alternative in the first place.
What Is Proof?
Proof is a social proof software that allows you to create social proof notifications for your website: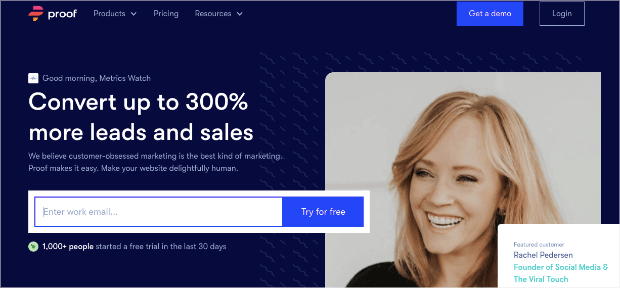 These notifications leverage FOMO ("fear of missing out") to boost conversion rates across your site. That could include getting more people to:
Sign up for your newsletter
Leave you a review
Join your webinar
Purchase a specific product
Plus much more.
And while Proof is one of the more well-known social proof software on the market, it certainly isn't the right fit for everyone.
That's because Proof does come with a heavy price tag, which can be intimidating for many businesses. However, they do have a free trial.
Proof's pricing is broken down as follows:
Basic: $29/month (with limited features and up to 4,000 unique visitors)
Pro: $79/month (up to 10,000 unique visitors)
Business: $129/month (up to 50,000 unique visitors)
Premium: $199/month (up to 100,000 unique visitors)
Platinum: $299/month (up to 300,000 unique visitors)
From there, you can get custom quotes for Enterprise plans.
That means you can be spending $79/month for a tool without knowing whether or not it will get you the results you're looking for.
Considering other tools like TrustPulse offer the same features with plans starting at just $5/month, it's easy to see how pricing becomes a major factor.
So with that said, let's dive into our list of the best Proof alternatives out there for building social proof notifications.
Best Proof Alternatives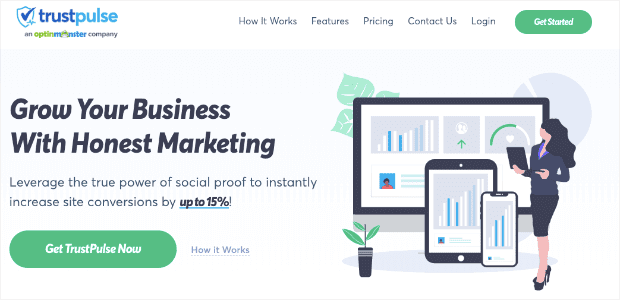 TrustPulse is hands down the best social proof software on the market. In a matter of minutes, TrustPulse lets you create, publish, and display stunning social proof notifications, even if you have no coding or tech experience.
These notifications leverage "fear of missing out" (FOMO) to get your site's traffic to take the actions you want them to.
With TrustPulse, you can create notifications to display when other customers:
Sign up for your newsletter
Make a live sale from your online store
Click a specific link on your site
Leave a review on a 3rd-party site
Register for a webinar
And much more. A simple notification may look something like this:

When other people on your site see this message, a couple of things happen:
First, your customers build trust in your brand. That's because when they see that other people are engaging with your business in some way, it makes you appear more reputable.
Second, your users become more likely to do what they see on the notification. Again, this is because TrustPulse uses FOMO to motive your users to take action.
In the end, this leads to a stronger online presence, more interaction with your target audience, and more sales from your online business.
The best part is that TrustPulse has all the features offered by Proof but at a fraction of the cost. Whereas Proof's lowest plan starts at $29/month, TrustPulse starts at only $5/month.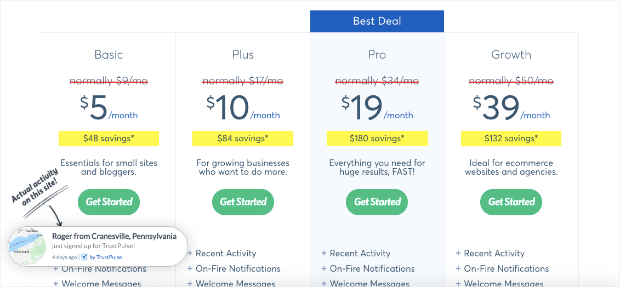 Ready to test it out for yourself? Sign up for your risk-free TrustPulse account today!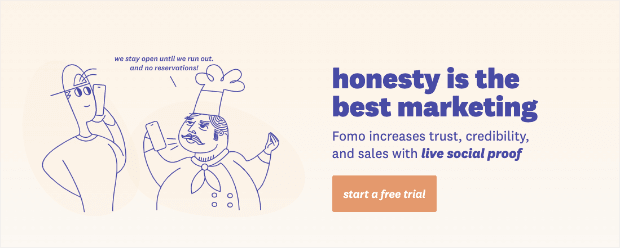 FOMO is another social proof tool that lets you create notifications and display them on your site.
Like TrustPulse, FOMO's goal with these notifications is to help you boost trust and increase conversions across your site.
With FOMO, you can quickly and easily create your social proof notifications. You can customize the design and style of your messages and even add animation to grab your audience's attention.
They have various display rules to ensure you have 100% control over when, where, and for how long your notifications will appear across your site.
Finally, FOMO lets you integrate with all of your favorite marketing tools for a more efficient workflow.
One of their biggest disadvantages, however, is pricing. Their lowest plan starts at $19/month, which is good when compared to Proof.
But without having any extra features, FOMO still comes out to around 4x the cost of TrustPulse.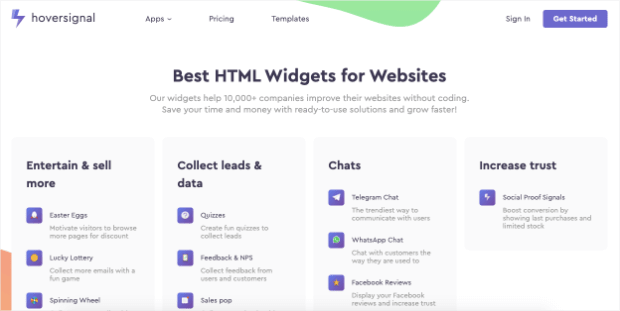 HoverSignal is a site that builds HTML widgets to increase engagement with your website. They have a variety of apps, including games, lead generation, chat boxes, and social proof.
They have over 200 templates to help you select the right type of social proof for your website. Plus, many of these apps can be installed for free (with limited impressions).
Plus, HoverSignal integrates with many popular tools like Mailchimp, Zapier, Shopify, and more.
Pricing is flexible because you can purchase each app individually for $19/month each. That said, you can get the entire bundle of apps for $34/month, which makes it difficult to justify the individual purchase.
The only downside is that HoverSignal's social proof app seems more limited in terms of functionality. The templated designs are simple, and they don't look or feel as engaging as other social proof software.
In other words, HoverSignal is appealing for the variety of apps they offer. But if you're looking specifically for a social proof tool for your site, you may be better checking out TrustPulse or FOMO.
Get started with HoverSignal today!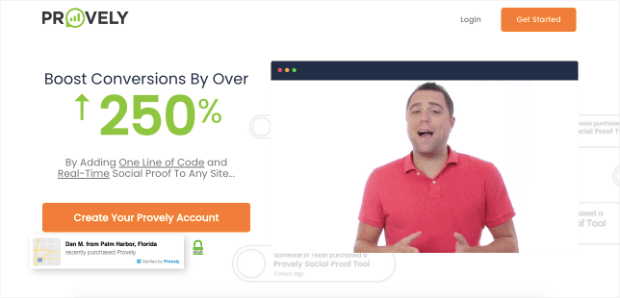 Out of all the Proof alternatives on this list, Provely is probably the most straightforward. That's because it only creates social proof notifications when users make a purchase or sign up for an offer (newsletter, webinar, and so on).
Provely is as flexible as it is easy to install. It works with different platforms such as WordPress, Shopify, Click Funnels, Instapage, Magento, and more.
And for all of these sites, Provely can be installed and running in just a few minutes.
Plus, Provely gives you total control over the design of your social proof notification. That means you can match your notification's style and messaging to fit your brand's website.
Then, you'll also be able to determine where the notification appears across your site and for how long. These small customization features can go a long way in boosting user experience (UX) on your site and increasing overall conversions.
And as you might expect, Provely's pricing breakdown is as simple as their software:
$97/year for 1 domain
$147/year for 5 domains
$197/year for unlimited domains
But Provely's main strength is also its weakness: it's so simple that it may not accomplish everything you need in a social proof tool.
TrustPulse, for example, connects with Zapier to let you show interactions with your brand from over 1,000 3rd-party sites.
This is how we can create social proof notifications when people leave reviews on Google My Business or Yelp.
Even though the review was left somewhere else, TrustPulse still allows you to capture that activity and display it on your site.
This is just one example of how other software may be more extensive than Provely. But if all you're looking for are live sales notifications for your website, then it can still be an appealing option.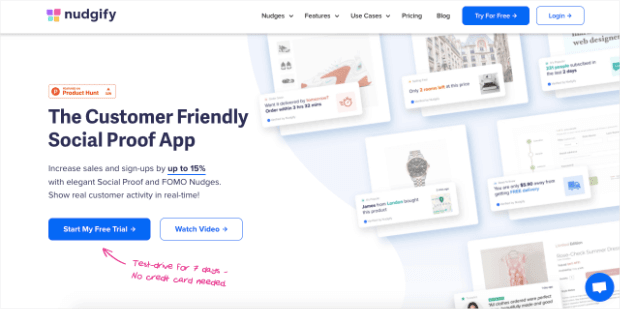 Nudgify is an extensive tool that helps you create social proof and FOMO "nudges" (which is simply a different way of saying "notification').
With Nudgify, you can create notifications for:
Live or recent sales
Items becoming low on stock
Testimonials or reviews
Special offers and promotions
And more.
Plus, Nudgify is loaded with features to help you get the most from this social proof tool. You can adjust your "nudge's" appearance to match your site's style. And you can customize the messaging to most effectively connect with your target audience.
Finally, Nudfiy integrates with all of your favorite marketing tools. This lets you add Nudgify into your current marketing stack, rather than trying to stubbornly fit the tool into your workflow.
Nudgify's pricing is both fair and flexible. There's a limited free version that people can use to get started. Form there, paid plans begin at $7/month (per website). Other paid plans include Genius at $29/month or Agency at $89/month.
As you upgrade, you can expect access to more site visitors and special features.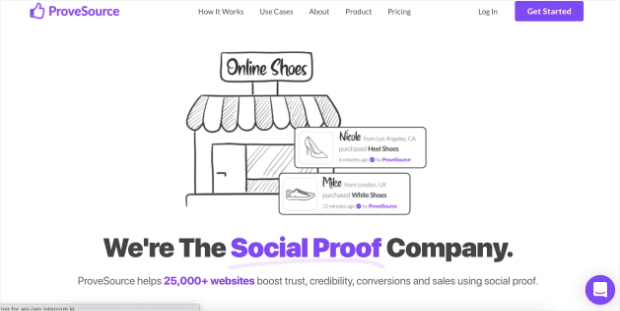 ProveSource is another Proof alternative that's worth checking out. It's easy to use, packed with features, and integrates with most major marketing tools.
With ProveSource, you can create notifications to show:
Recent sales
Full reviews
Page visits
Custom web form activity
And much more.
ProveSource is easy to set up and can be installed in a matter of minutes. From there, you can customize your notifications to match your website and keep your branding on point.
This tool is also mobile-ready, which means you don't need to worry about users seeing ugly notifications from their smartphones. Plus, you have total control over when, where, and to whom notifications will be shown across your site.
The downside is that they may still be working out a few bugs in the analytics software. A few users had reported a difference in site visitors between ProveSource and their Google Analytics.
Beyond keeping your metrics consistent across channels, this is important because of how the software is priced.
The free plan works for up to 1,000 visitors, then it switches to $18/month (for up to 10,000 visitors).
If the visitor count is wrong, however, then charges could be higher than expected.
And that's it! We hope that you found our list of the best Proof alternatives helpful.
If you did, you might want to read these other posts:
These articles will help you learn more about how social proof can build trust, boost credibility, and drive more sales.