Are you trying to figure out how to build a pre-launch email list, but you're not confident with your current strategy?
Pre-launching a new product can be an exciting step for your business.
But without the right marketing plan in its corner, pre-launches can also be incredibly discouraging. Imagine pouring hours of time into your new product launch, only to have it greeted by crickets.
That's why, in today's post, we'll show you the easiest way to build a pre-launch email list.
Then you can drive more initial sales to fund future marketing campaigns.
And the best part is that this entire funnel works in 3 easy steps.
Ready to get started? Let's dive into the tutorial.
How to Build a Pre-Launch Email List
In this tutorial, we're going to cover the following steps on growing a pre-launch email list:
Build a landing page
Add a lead capture form
Boost conversions with social proof notifiaitons
By replicating this EASY 3-step strategy, we're confident you'll see better results from your next pre-launch campaign.
Let's start by building a landing page.
Step 1) Build a Pre-Launch Landing Page
There's a lot of confusion around what a "landing page" refers to.
In short, a landing page is literally any page on your website that you intentionally drive traffic to in the hopes of converting visitors.
By that definition, literally any page on your site can be called a "landing page," including your homepage.
But for your product launch, you'll want to have a custom page built to showcase the features and benefits of your offer.
But you might be wondering, "Can't I just add information about my product to an existing page? Is a dedicated landing page really worth it?"
What makes a pre-launch landing page so effective is that focuses your audience's attention on a single call to action (CTA).
This is unlike other pages on your site that might ask users to check out your blog, navigate to the homepage, redirect you to social, and so on.
Instead, a pre-launch landing page will showcase your new product and simply ask users for their email addresses.
And as a result of focusing your audience's attention, you can expect more people to sign up to your mailing list.
Now for the big question: How do you create a landing page if you're pressed for time or technical skills?
If you're using WordPress, we highly recommend going with SeedProd: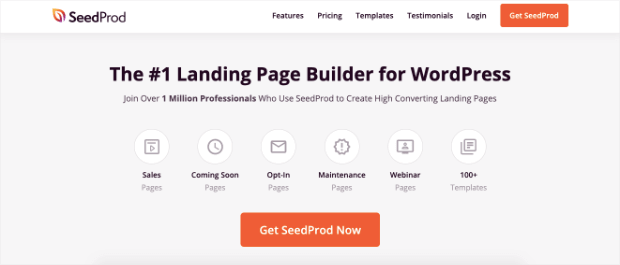 SeedProd is the best landing page builder for WordPress, and your best tool for creating a successful pre-launch landing page.
The biggest benefit of working with SeedProd is that it's SO EASY to use.
It comes with a codeless drag and drop visual builder, so you don't need any coding skills to build stunning pages FAST.
This includes things like adding:
Images
Video demonstrations
Testimonials
CTA buttons
And much more…
And to give you a head start, SeedProd offers 100+ templates that require little-to-no modification. All you need to do is quickly add an image of your product and change the text directly in the editor: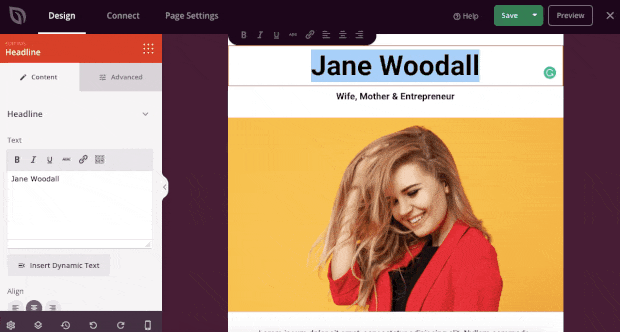 From there, you'll be able to integrate with your favorite 3rd-party tools.
That way, when someone signs up to the contact form embedded directly on your landing page, they'll be sent directly to the right segment of your mailing list.
This gives you EVERYTHING you need to start growing your pre-launch email list right away.
Get started with SeedProd today!
But now let's look at 2 more methods for optimizing conversions and making sure you're not leaving any new leads on the table.
We'll start with adding an exit-intent popup.
Step 2) Add an Exit-Intent Popup
If you've been running an eCommerce store for a while, you've likely heard the term "cart abandonment."
This occurs when a visitor comes to your online store, adds a product to their cart, and leaves without completing their order.
But site abandonment is just as problematic, especially for your pre-launch landing page.
Site abandonment is when someone comes to your landing page, interacts, but doesn't give you their email address in the process.
And believe it or not, MOST first-time visitors to your site won't ever come back once they're gone.
That's why we recommend using some form of an exit-intent popup to keep users on your page.
This is a campaign that appears as users are actively leaving your pre-launch page. It's a critical moment in your customer's journey, and one you don't want to let slip by.
Here's an example of an effective exit-intent popup: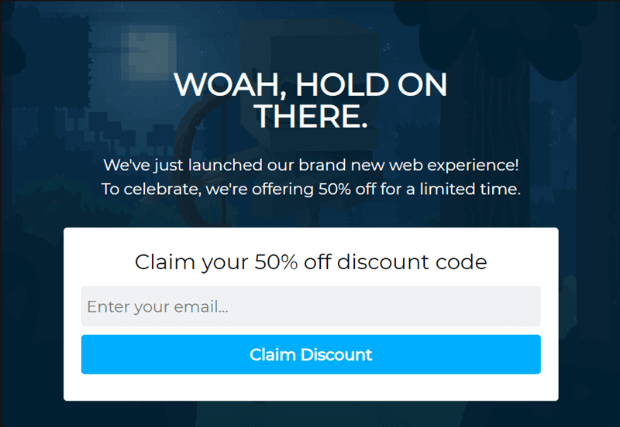 The example above is the exact exit message Shockbyte used to double their conversion rates.
This is a great method for some added protection against losing potential leads from your landing page.
If you have an offer or a discount that would really appeal to your target audience, you're sure to see conversions increase.
And the best way to create an exit-intent popup is with OptinMonster: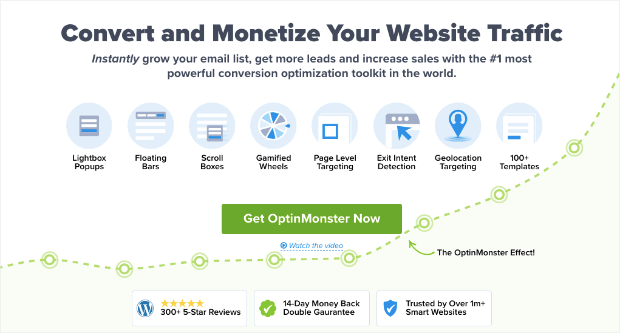 OptinMonster is a premium lead generation software that works with any website builder. It also comes as a convenient plugin for WordPress users.
It allows anyone to quickly and easily create exit-intent popups, even if you don't have any technical or coding skills.
Here's how it works…
You start by selecting one of OptinMonster's 50+ templates to build your popup campaign: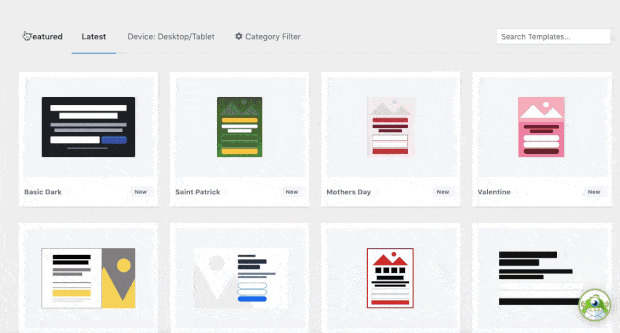 These templates are all mobile-friendly and fully responsive.
They're designed to save you time and give you HOURS back in your day.
From there, you'll be able to use OptinMonster's codeless drag and drop editor to modify the templates.
You can highlight any text you want and make changes directly in the builder:
Plus, you can add new features like:
Images
Videos
CTA buttons
Dividers
Icons
Chat widgets
And much more…
These features come as pre-configured "blocks" that can be placed in your campaign with a drag and drop: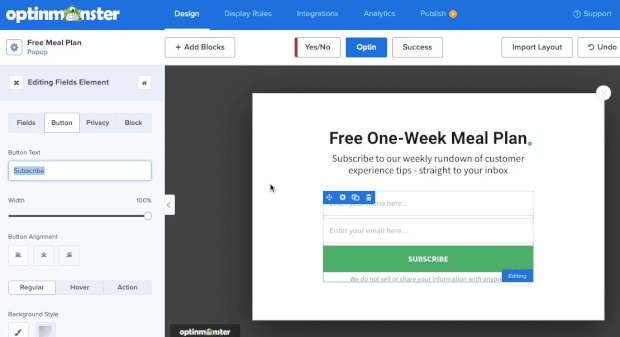 Then you'll need to set your Exit-Intent® trigger. Doing so couldn't be easier.
Just click the Exit-Intent® option from the display rules, and you'll be ready to go.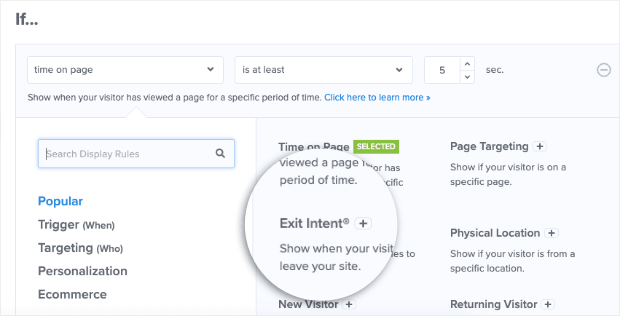 Finally, like SeedProd, you can integrate OptinMonster with ANY email provider on the market (and in just a few clicks).
That means your new leads will go to your pre-launch mailing list automatically.
At the end of the day, OptinMonster is the most powerful, flexible, and reliable popup-building tool on the market.
Want to see it in action for yourself? Get started with your 100% risk-free OptinMonster account today!
Now let's turn our attention to the last tip on how to build a pre-launch email list: using social proof notifications.
Step 3) Boost Conversions With Social Proof Notifications
It's no secret that social proof has a direct impact on conversions.
The more people trust your brand, the more they'll engage with it.
One of the best methods for using social proof comes in the form of small notifications.
You've probably seen these before. They look something like this:

These small messages have been proven to increase conversions by up to 15%.
And they're the perfect way to get MORE people to sign up for your pre-launch list.
Why do social proof notifications work so well?
That part's simple: they create a sense of FOMO (fear of missing out). 
FOMO is a powerful motivator for online consumers. It's that feeling we all get when we see people enjoying positive benefits that we'd like to enjoy, too.
For more information on this, check out this helpful resource: 9 FOMO Marketing Tips You Need to Start Using Today!
But how can you create these notifications without too much time or technical setup?
For that, you'll need a powerful social proof software like TrustPulse: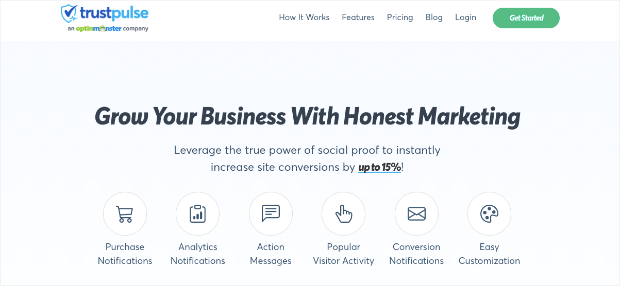 TrustPulse makes it EASY to add social proof notifications to your website and pre-launch landing pages.
It doesn't require any code, and it works with any website platform. Like OptinMonster, this tool also comes as a WordPress plugin for faster installation.
The thing that makes TrustPulse stand out is that it offers a variety of campaign types, including:
Recent Activity: Show a live stream of website activity like purchases, registrations, signups, and more.
On-Fire: Display the number of people taking action on your website in a given period.
Visitor Analytics: Highlight active interest in your site by showing real page visits over time.
Action Messages: Show a single static notification to help drive visitors to take action or highlight information.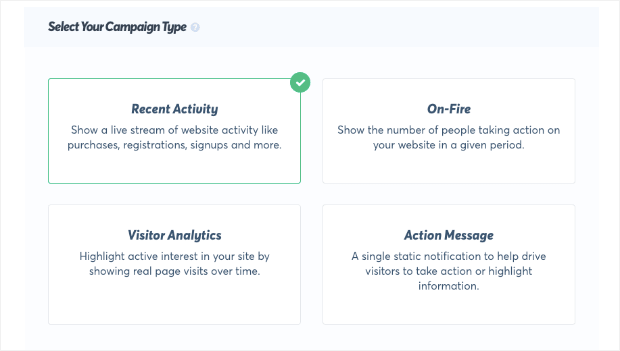 Having this variety is crucial to getting more signups from your pre-launch landing page.
Why? Because it allows you to use social proof before any conversions actually take place.
Unlike other social proof software on the market that encourages fake social proof, TrustPulse gives you authentic notifications right out of the gate.
That means you can display social proof BEFORE anyone actually signs up.
How? With a Visitor Analytics campaign.
Visitor Analytics campaigns display how many people have reached your landing page, regardless of whether or not they took action.
Here's an example of a contest using a Visitor Analytics campaign to boost registration:

Simply showing the number of visitors your page has will boost credibility with your audience. And the best part is that it only gets MORE powerful as people visit your page.
Then as people start signing up to your pre-launch mailing list, you can display that with a Recent Activity campaign.
Finally, when it comes to the actual campaign design, TrustPulse keeps things simple.
You'll have 100% control over how your campaign looks, what it says, and who sees it across your site.
The best part is that you can add a link to your landing page directly in the notification. Then you can display the message across your entire site to send MORE traffic to your pre-launch page.
At the end of the day, there are countless ways you can use TrustPulse to increase conversions for your next product launch.
But why not try it out for yourself? Sign up for your 100% risk-free TrustPulse account today!
And that's all for now! This has been a 3-step strategy for how to build a pre-launch email list.
We hope you enjoyed this post and, if you did, you'll definitely want to check out the following resources:
These articles will give you even more tips and tools for generating higher conversions and sales from your online store!