Are you looking for the best product recommendation tactics to increase sales from your online store?
Many shoppers who visit your site won't be ready to make a purchase. This is certainly true if it's their first visit.
That means you'll often need to give new visitors a little "nudge" in the right direction.
One of the best ways to do that is by making targeted product recommendations by suggesting items you know they'll love.
Not only will this increase sales across your site, but it will also increase your customer's average order value (AOV).
So, today, let's look at 5 of the best product recommendation tactics you can use to drive more revenue from your eCommerce store.
5 Unique Product Recommendation Tactics
In the past, we've written about product recommendation strategies.
If you haven't seen that article yet, you should definitely do so: 7 Easy Product Recommendation Strategies You Need to Use Today.
That article will give you a good base for recommending products on your site. But today, our focus is a little different.
That's because we'll be looking at unique and advanced tips to drastically improve your product recommendations.
These are strategies that are used by the pros, even though they're easy enough for beginners to set up.
By the end of this article, you'll have everything you need to totally overhaul your product recommendation strategy and grow your online sales.
Let's get started.
1) Use Social Proof
First and foremost, you need to load your website with social proof.
This will help new customers feel more comfortable making a purchase. And even if they don't buy something on their first visit, they'll be more likely to return in the future.
That's because people only buy products from brands they trust.
If they know that your business is legitimate from the get-go, there's a much better chance they'll check out your products and, eventually, pull out their credit card.
You can use various types of social proof, such as reviews, testimonials, video demonstrations from customers, and much more.
But one of the easiest (and most effective) forms is a social proof notification.
You've likely seen these before. They look something like this:

The image above is called a "recent sales notification." It lets other users on your site know when someone has made a purchase in real-time.
These notifications display the activity of other customers on your website which leverages FOMO ("fear of missing out").
Your site's visitors will see how popular your brand's products are and won't want to miss out on any benefits your products have to offer.
When they see that other customers are actively buying this item, they'll be more likely to click the notification and get redirected to the product page.
But now you might be wondering, "How can I make these notifications for my own shop?"
The best way to do that is with TrustPulse: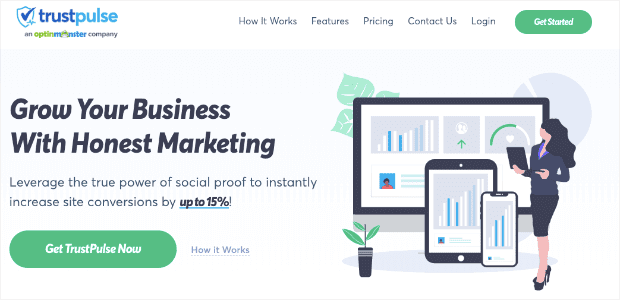 TrustPulse is hands down the world's best social proof software. It allows you to add social proof notifications to any website without any coding or "tech skills" required.
In just minutes, anyone can have powerful social proof notifications on their website in minutes.
And with these small messages, you can make targeted product recommendations to get your site's visitors to take action.
One of the best parts about TrustPulse is that it offers so many different types of social proof for your site. You have:
Recent Sales Notifications: Show a live stream of website activity like purchases, registrations, signups, and more.
On-Fire: Show the number of people taking action on your website in a given period.
Visitor Analytics: Highlight active interest in your site by showing real page visits over time.
Action Messages: Display a single static notification to help drive visitors to take action or highly information.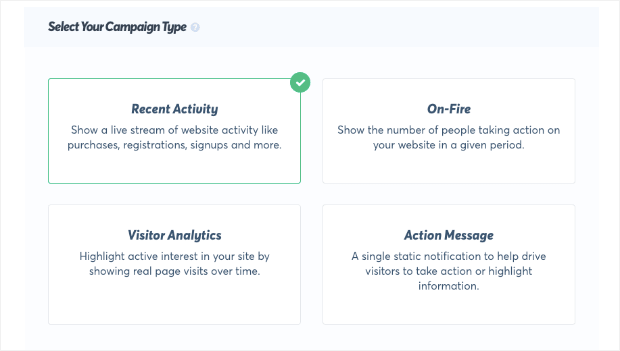 These 4 campaign types allow you to make smarter product recommendations based on where you are in your business.
If you're already making tons of sales, you can suggest products with recent sales notifications. But if you're just starting out, you'd need a different type of social proof.
That's where a campaign like Visitor Analytics or Action Messages comes in handy. Take the following notification for example:

This notification doesn't show a specific sale, but it redirects users to a high-converting page.
As this tactic leads to more sales, you'll be able to expand your social proof notifications to build momentum and drive more revenue.
But the best part is how easy TrustPulse is to work with.
You don't need any coding or design experience to set up and create social proof notifications. Instead, everything can be done from drop-down menus, text input boxes, and color wheels.
When the campaign is designed, you'll be able to target these notifications to specific posts or pages across your site.
In the end, it's all these features and more that make TrustPulse the most powerful social proof software on the market.
And at only a fraction of the cost of its closest competitors, it's easy to see why.
Ready to see it in action for yourself? Get started with your 100% risk-free TrustPulse account today!
2) Personalize Your Recommendations
One problem many eCommerce owners have is that they don't make recommendations based on user behavior.
Instead, they'll make product suggestions almost at random, hoping it leads to more sales.
A better tactic is to make your product recommendations as personal to the user journey as possible.
That means suggesting items based on what the customer has shown an interest in or purchased in the past.
For that, there's no better tool than OptinMonster: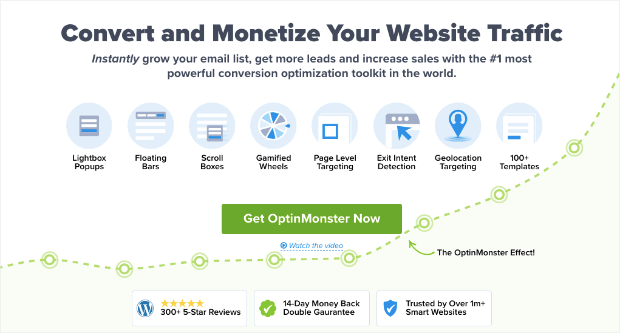 OptinMonster is the world's #1 lead generation tool kit. It allows you to make targeted product recommendations in a way that can dramatically increase your revenue.
Here's how it works…
Everything gets started by selecting a campaign type and template.
As far as the campaign types go, you're likely already familiar with them. These are things like popups, floating bars, gamified wheels, and more.
And for each type of campaign, OptinMonster has over 50+ pre-made templates: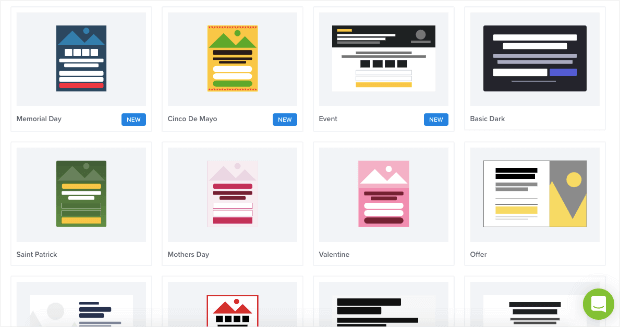 These will save you time, energy, and headaches in the campaign creation process.
And since they look great out of the box, you'll only need to make a few modifications to personalize your product recommendation.
Doing so couldn't be simpler with OptinMonster's drag and drop editor.
This allows you to customize your campaign in just a few clicks and doesn't require any coding skills at all.
And once you've designed the perfect campaign, you can target these rules based on your user's behavior.
This is especially true if you're using a platform like WooCommerce, Shopify, or BigCommerce.
OptinMonster comes with powerful targeting rules to help you show product recommendations based on how customers engage with your site.
You can show product recommendations based on:
The page a customer is viewing
The category a customer is viewing
Their cart total or subtotal
Specific items in their cart
And much more…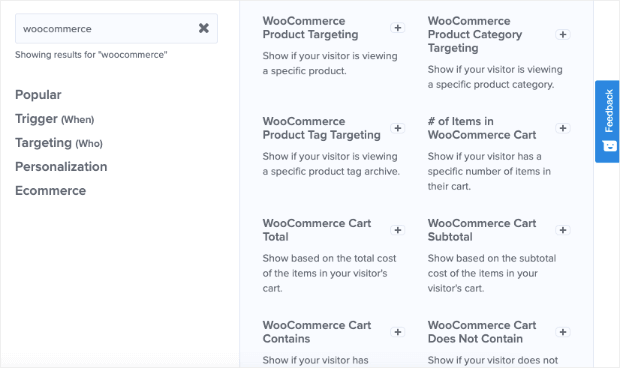 These kinds of targeting rules allow you to take your product recommendation tactics to the next level.
With a few small product recommendation popups, floating bars, and more, you can drastically increase your store's revenue.
Want to try it out firsthand? Get started with your 100% risk-free OptinMonster account today!
3) Leverage Push Notification Reminders
While many companies make product recommendations through emails or their social media feeds, there's a lot of missed opportunities when it comes to push notifications.
Push notifications are small messages sent to your client's browser, even when they aren't on your website.
This gives you direct contact with a larger audience base so you can instantly communicate product recommendations.
And since subscribers don't need to hand over personal information to receive these notifications (they simply need to click 'Allow'), your signup rates are often very high.
But how do you get started with push notifications if you don't consider yourself very "tech-savvy"?
For that, we highly recommend using PushEngage: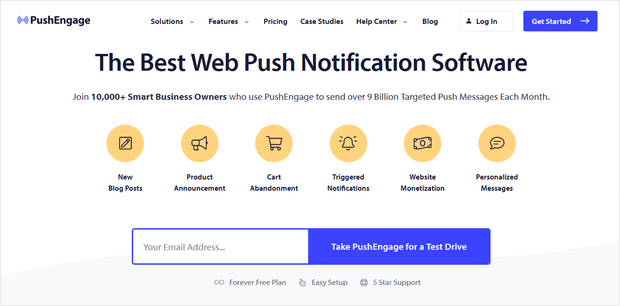 PushEngage is the best push notifications software on the market. With this tool, you can make product recommendations to a large audience and increase engagement with your site.
Plus, PushEngage allows you to "segment" your audience. This means you can organize your subscribers based on content they've viewed or purchases they've made in the past.
This allows you to personalize your notifications to get higher click-through rates (CTR).
And since each message is a link to a landing or product page, you can motivate users who've been off your site to come back on and check out your deals.
PushEngage comes loaded with other features to help you drive sales, including:
A/B testing
Flexible styles
Cart abandonment campaigns
Advanced analytics reports
Triggered notifications
And much more…
If you're looking for an easy-to-use but effective product recommendation tactic, PushEngage is hands down one of your best options.
Get started with PushEngage today!
4) Create Custom Landing Pages
A lot of eCommerce platforms like WooCommerce or Shopify allow you to create product pages. But, these usually come with a standard format and limit your choices for customization.
That's why we recommend building custom landing pages for all of your product suggestions.
Before you worry that this will take too long or require technical skills, WordPress users are in luck.
That's because you can use SeedProd: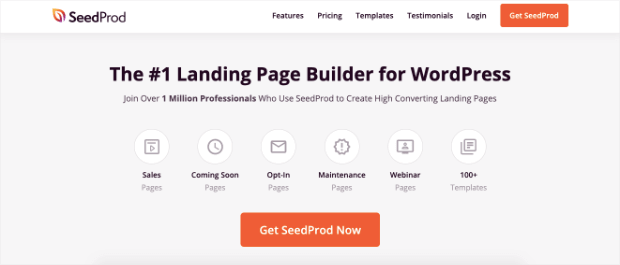 SeedProd is the world's #1 landing page builder. It allows you to create all kinds of pages, including:
Sales
Coming soon
Opt-in
Maintenance
Webinar
And much more…
It has a drag and drop builder which means you don't need any coding skills to design professional pages in minutes.
Plus, you can always rely on one of SeedProd's pre-made templates to save you time as you build your pages.
But the best part is that this plugin integrates with other marketing tools and platforms.
In fact, it has eCommerce-specific functions so you can quickly add your WooCommerce products, checkout page, add-to-cart buttons, and more.
Since you have total control over your page's design, you can highlight the recommended product's features, add testimonials and reviews, and customize the messaging to persuade your audience.
Using a tool like SeedProd really allows you to take control over your product pages and optimize your recommendations.
Try out SeedProd 100% risk-free today!
5) Build 'Frequently Bought Together' Bundles
So far, we've covered a lot of different ways you can recommend products. But let's talk about one of the most common:
Creating "frequently bought together" bundles.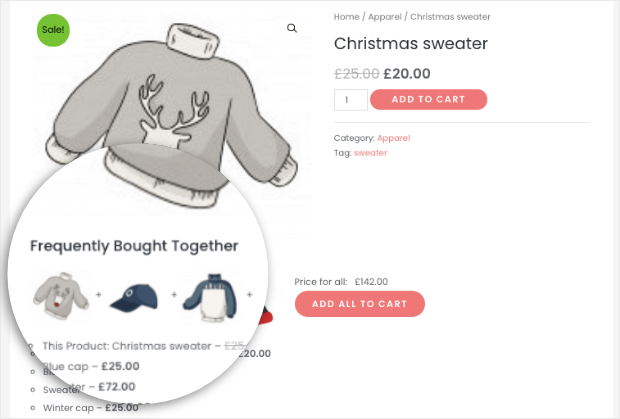 Depending on your eCommerce platform, you can install tools to help create these recommendations on your product pages.
They allow you to "bundle" items that pair well together so customers increase their AOV.
Again, the exact tool you use will change depending on the platform your site is built with.
WooCommerce store owners, for example, would benefit from a plugin like YITH WooCommerce Frequently Bought Together (Pro Version).
Whereas Shopify or BigCommerce users would need to find a tool specific to their platform.
That said, we highly suggest getting creative with these tools. Most frequently bought together software allows you to install your bundles with shortcode.
From there, you can add these to your OptinMonster campaigns for advanced targeting rules.
Rather than just showing your product bundles on specific pages, you can target users based on their behavior to increase sales.
That would mean using a popup that could look like this: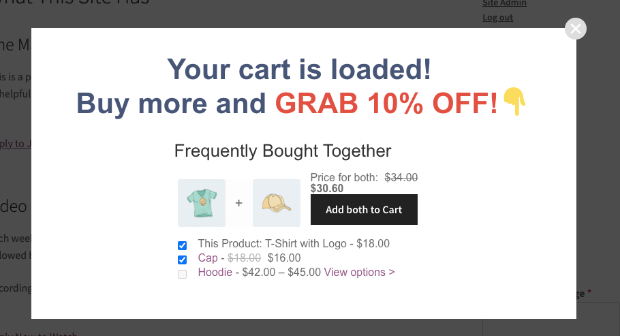 Doing so gives you more targeting rules to show these bundles to the right people, in the right places, and at just the right time in their customer journey.
To learn how to create a campaign like the one above, check out this helpful guide: How to Create a Frequently Purchased Together Offer in WooCommerce.
Or dive right in by getting tarted with OptinMonster today!
And that's it for today! These have been 5 of the most unique product recommendation tips you can use to increase sales from your store.
We hope you enjoyed this post. If you did, you might also want to check out the following resources:
These articles will have even more information about how to leverage tactics like social proof to improve UX and drive more sales online.