Do you have tons of awesome products to sell, but find that your customers only buy one or two things at a time? That can be frustrating, especially if you have products that you know your customers will love.
So, today, we're going to teach you 7 product recommendation strategies you can use without paying for expensive product recommendation engines. These tips will drastically improve your upsell revenue. But, there's one key ingredient still missing:
You need your clients to trust your recommendations.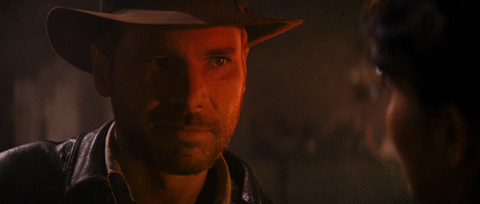 That's why we're also going to include 5 ways to make your product suggestions more trustworthy.
Before we do any of that, though, let's take a brief look at how effective good product recommendations can be for your business.
The Power of Product Recommendations
We've all seen product recommendations while shopping online. And there's a reason why the biggest brands in the world suggest their products to us:
Because when they do, we end up spending more money.
In other words, product recommendations work. And they work really well.
But if you're still skeptical, just check out some of these statistics sourced by Invespcro: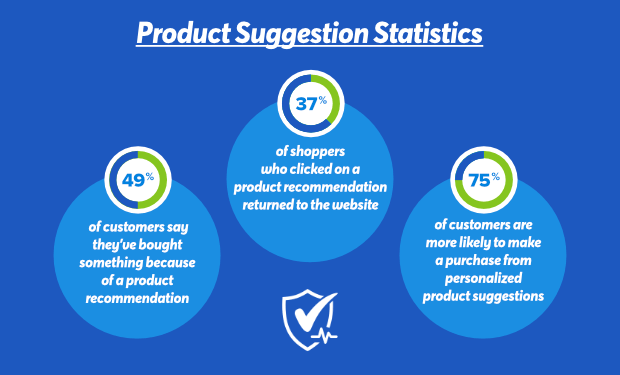 Personalized product recommendations make up nearly 35% of all purchases on Amazon
49% of customers say they've bought something because of a product recommendation
When a shopper clicks on a suggested product, they are 4.5x more likely to go through to checkout
37% of shoppers who clicked on a product recommendation returned to the website
75% of customers are more likely to make a purchase from personalized product suggestions
Statistics like those are hard to ignore. But, unfortunately, a lot of small to medium-sized businesses are missing out on this huge revenue potential.
Or worse, they're trying to recommend products and services to their customers but having no success.
Luckily, we're going to walk you through 7 product recommendation techniques that you can use to increase your sales. And then, we'll show you how to make all of your product suggestions instantly trustworthy.
Ready to make money recommending products? Let's dive in…
7 Tips to Increase Product Recommendation Sales
1. Show Customers Your Best Sellers
One of the easiest ways to make smarter product recommendations is to rely on your best sellers. On your website, you can create an entire landing page of best selling items that you think your visitors would enjoy.
Amazon, one of the most successful businesses on the planet, does this on their website: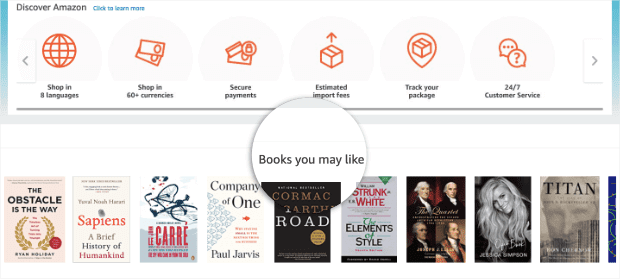 And if it works for them, there's no reason why it can't work for you as well.
This is a particularly helpful tip if you're a new business. That's because if you don't have a lot of data on your clients' demographics, interests, or purchase history, it can be hard to make accurate product suggestions.
But if you have items in your product line that have been popular, you can use them to make more general product recommendations across your site.
To easily showcase best selling products on your website, you can use SeedProd.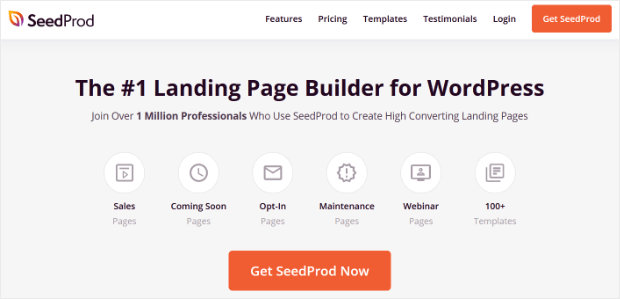 SeedProd is the best landing page builder for WordPress and it comes with custom WooCommerce blocks. Simply drag and drop the Best Selling Products block onto your page.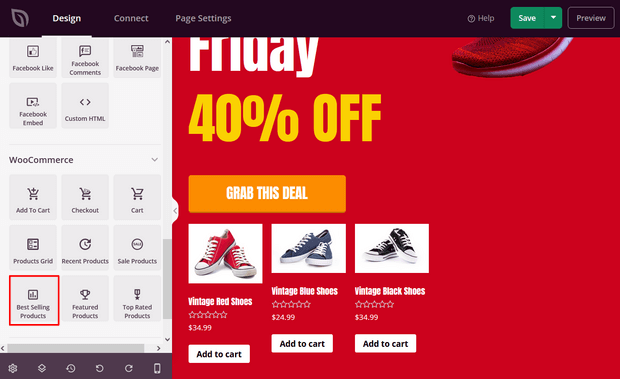 You can choose how many columns of products to display, set the order they appear in, choose colors and button styles, and more.
2. Figure out What's Trending in Your Product Line
Similar to our last tip, you can make product recommendations based on a current trend. This a really effective strategy around the holidays.
If you run a clothing store, for example, you can use the holiday season to make product recommendations that don't rely on your customers' data. These are products that happen to be trending around a certain time of year.
The same can be true of seasonal items. You may find that certain products are more popular in one season of the year, like summer or spring.
Starbucks typically does this at the beginning of each new season: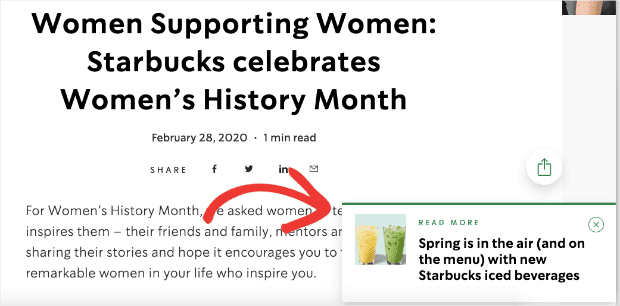 When you spot trends like this, you should use that knowledge to make smarter product recommendations.
3. Display Current Discounts and Sales
A lot of small and medium-sized businesses miss out on sales because they don't display their discounts and promotions loudly enough. If you're running a special promotion on specific products, then you should suggest those products to all of your site's visitors.
Old Navy, for example, uses a Floating Bar campaign at the bottom of their screen to show product offers across their site: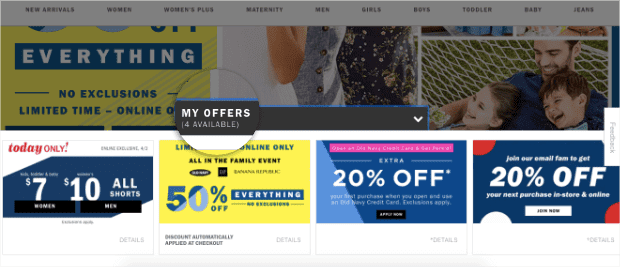 Again, when you see larger companies using some cool marketing strategies, they're probably doing it for a good reason.
Using a Floating Bar campaign is an excellent way to display product-specific discounts and sales on your website.
4. Use Geo-Location Targeting for Local Clients
If you're using a conversion optimization kit, such as OptinMonster, then you can target your customers based on location.
With this information, you can make much more efficient product recommendations that only certain customers can see.
Here's a product suggestion example from a dessert store suggesting Italian gelato: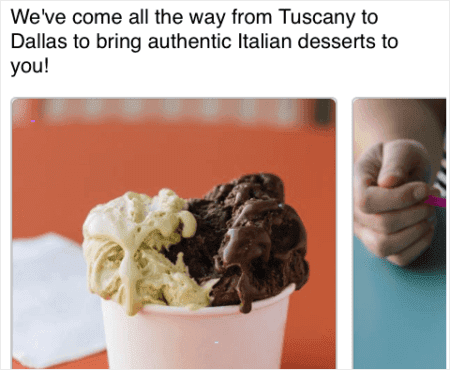 As you can see, geo-targeting is a great way for boutique stores, mom & pop shops, or franchises looking to expand in their community.
Check out how you can make a popup based on location for your product recommendations.
5. Rely on a Customer's Purchase History for Better Suggestions
You can tell a lot about what your customers love based on purchases they've made in the past. And you should use this information to make targeted suggestions for similar products to their purchase history.
This is the ultimate win-win situation.
Your client gets highly personalized and targeted product suggestions for items you're confident they'll love. And you'll get to serve your customers while increasing your revenue.
As you would expect, no one does this better than Amazon:

Setting this up is a lot easier than you might think. And no, you don't need to creep through your users' browser history or rely on backend recommendation algorithms.
You already have all the information you need.
With OptinMonster's page-level targeting, for example, you could trigger specific campaigns with suggested products based on what that user has purchased with you in the past.
Page-level targeting with OptinMonster is also an excellent solution for how to add recommended products on Shopify, WooCommerce, or other large eCommerce sites. Especially if you're not super comfortable with their platform's advanced settings.
This is also great for cross-selling related products through automated campaigns after checkout.
6. Suggest Products at Checkout
One of the most effective times for suggesting relevant products to your clients is at checkout. You've likely seen these before while shopping.
Here's an example from Walmart after adding a BBQ to the shopping cart: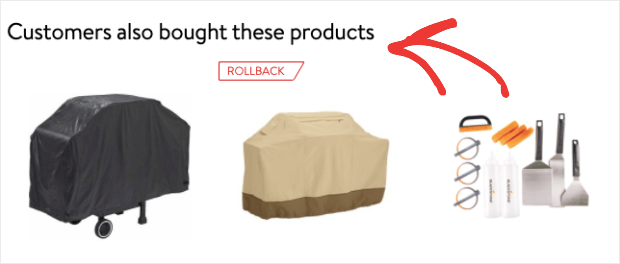 Keep in mind that if you do use this method, you need to be careful. If you accidentally make product recommendations that aren't related to items in your customers' shopping cart, it can hurt user experience (UX).
And when it comes to reducing shopping cart abandonment, you need to reduce friction as much as possible.
That said, if you can make highly related product suggestions at the shopping cart level, you can totally expect to see your sales increase. The right recommendations can go a long way toward improving your clients' shopping experience.
One way of doing this is content-based filtering. It's where each of your items has certain descriptors attached to trigger relevant product recommendations. It's a popular filtering method for suggesting products, but can be tedious to set up without the right tools.
But there's a much simpler way if you're less technical. You can trigger a campaign for recommended items on a specific product page. It gets the same result but can be done in a lot less time.
Check out this helpful article on how you can make product suggestion campaigns in your customer's shopping cart with OptinMonster.
7. Leverage Your Email List
So far, we've only covered how to recommend products to visitors coming to your site. But you may already have a list of warm leads who would love products that you recommend.
We're talking about your email list.
You can use your email list to send product recommendations to increase sales. And the best part is that you can use this strategy for any platform you're selling on.
Instead of wasting a Saturday trying to figure out how to recommend products on Amazon, for example, you can just create an email campaign and send them to your online store.
Hopefully, you've been segmenting your email list to send more personalized suggestions to your audience. This helps you group similar users together so you can create more effective campaigns.
But if you haven't been segmenting your email list, no worries.
Simply take your most popular products, trending items, or any promotional offers you're currently running and put them into your automated email series.
In fact, product suggestions can be a very powerful part of any email marketing campaign. So long as they're done the right way.
The most important thing to keep in mind is to take the time to write your email copy. When making all types of product recommendations in your emails, a good rule of thumb is never to come off as too "salesy."
Otherwise, you risk increasing unsubscribes and hurting your open rates.
Oh, and double-check all of your links. That's a big problem that happens more often than you think. The last thing you want is an interested buyer landing on a 404 page.
But when done right, sending product suggestions to your email list can be an effective way to boost your revenue.
Check out this example from the Dollar Shave Club: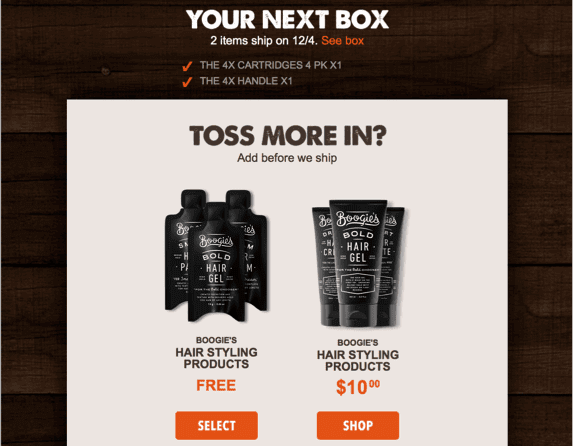 They put their product recommendations in a sleek email campaign. The copy is simple, conversational, and to-the-point.
This is an excellent example of how you can use email marketing to make powerful product recommendations.
Here's a great resource that gives you 6 email marketing templates to save time when writing your email series. Plus, you can use these for a product recommendation email template, too!
Ok, now we've covered 7 strategies for increasing your product recommendation sales. Your online business is now one big money-making recommendation engine at this point.
But the truth is that none of these strategies will work if your product suggestions aren't trustworthy.
So, now, let's take a look at 5 practical things you can do to make your recommendations instantly trustworthy.
How to Make Your Product Suggestions Trustworthy
1. Show High-Quality Photos of Your Product
They say that a picture is worth a thousand words. But when it comes to eCommerce, it might actually be more.
That's because the human brain is able to process images so much faster than text.
Since a photo will probably be the first impression your clients have of your product, it's important to make sure your images are high-quality.
Just check out the difference between a product photo like this from the popular baby cream, Butt Paste: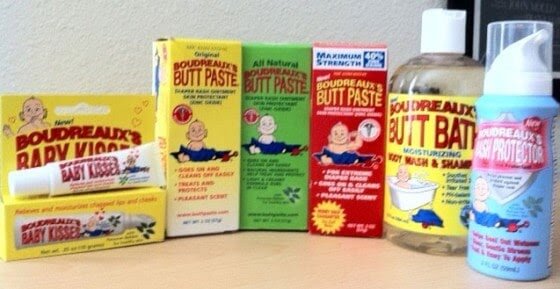 And another product photo from the same company:

Which one of these two products would you be more likely to purchase? If you're like most people, you definitely go with the second one.
You don't need to hire a professional photographer to take images of your products. Most smartphones are now capable of taking really high-quality photos.
Here's a great article that can help you find tools to brush up on your visual content creation skills.
2. Add Trust Signals to Your Product Recommendations
In the past, we've written about adding trust signals to your website. You can (and should) do the exact same thing with product recommendations.
Two very powerful trust signals are reviews and testimonials.
Adding a 5-star review scale underneath your product suggestion is a great way of showing other customers that this product has been tested.
Here's an example of a Shopify recommended product that is linked from an email campaign: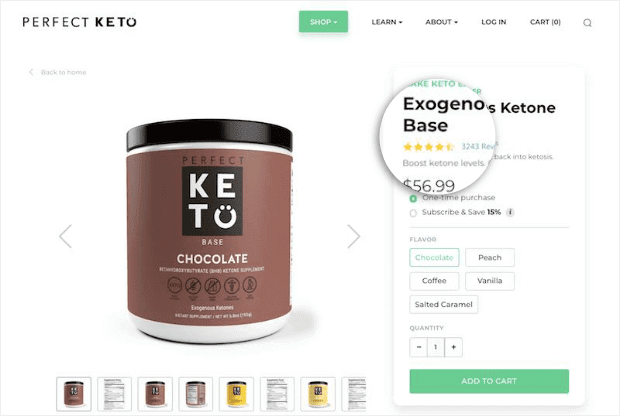 This small addition to the product recommendation Shopify uses can also go a long way toward making more sales for your business, too.
Netflix uses a "match percentage" to make their suggested movies more credible:

This small trust signal helps users choose which show or movie to watch next.
And if you're making a product recommendation on a specific web page or in an email, you should definitely add a testimonial. Testimonials are great at giving skeptical customers more information about the benefits of your product.
Plus, getting testimonials isn't nearly as hard as you might think. Just read this article if you would like to learn how to easily get killer testimonials for your products.
Other trust signals that you may want to include are things like free shipping badges, free trial seals, or money-back guarantees.
All of these let users know they can try your product at little or no risk making them instantly trust you more.
3. Use Web Copy and Design Best Practices
Earlier in this article, we talked about improving your email copy to help your product recommendations. But the same goes for your product recommendation's visual design.
If your campaigns are poorly designed, your visitors likely won't stick around long without closing it.
And if you're making product suggestions with language that sounds like a late-night infomercial, you shouldn't expect to build much credibility with your audience.
But if you spend just a few minutes to tighten up your copywriting skills, it can have a huge impact on your overall sales.
Here's a great example of a sleek design with simple language for a product recommendation campaign built with OptinMonster: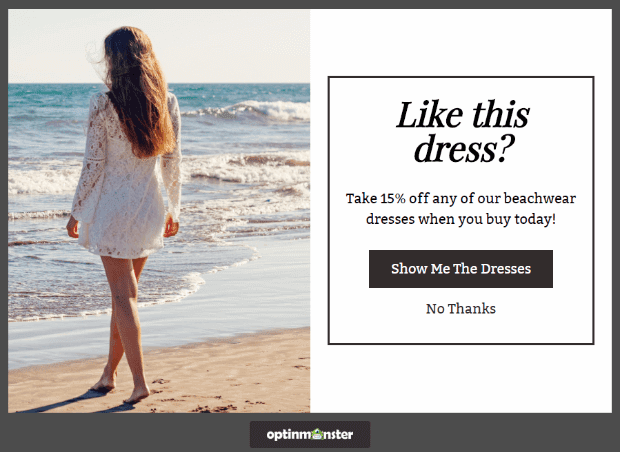 You should focus on a headline that grabs your users' attention. An easy way to do this is by using actionable verbs and power words.
Notice in the campaign from the image above, the headline starts with the verb "like," rather than "do you like."
And the call to action is the same, beginning with the verb "show."
But they could be even stronger with power words. These are key terms that evoke strong emotions with readers.
Need help choosing the right power words? Here's a list of 700 power words that you can start using to write more persuasive web copy today.
By taking the time to craft the right language for your headlines, product descriptions, and calls to action, you can make your overall message more credible.
To double down on that credibility, you can place your message over a professional-looking design.
This will help build trust with your customers and will also serve to make your future recommendations more powerful in the future.
4. Showcase User-Generated Content
Showing user-generated content is another great way to make your product recommendations more trustworthy. That's because consumers often look to their peers, not brands, for proof of a product's value.
Here's how Fenty Beauty does it: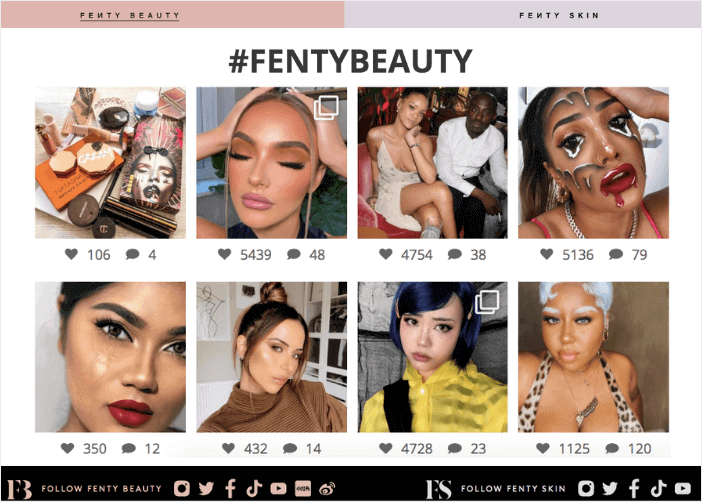 These Instagram photos show real people using Fenty products to create beautiful makeup looks.
Not only does it act as inspiration, but it encourages website visitors to purchase the products so that they can achieve the same results.
So, start encouraging your customers to share their photos on social media with your branded hashtag.
Then, embed an Instagram feed on your website using a plugin like Smash Balloon.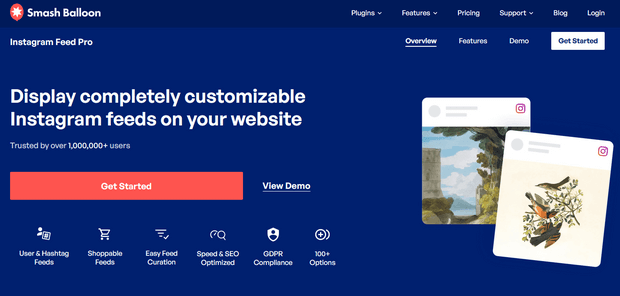 With Smash Balloon's Instagram Feed Pro, you can easily add an Instagram hashtag feed to any page or post on your WordPress site.
Simply install the plugin, connect your Instagram account, and in less than 30 seconds you can have a beautiful feed of customer photos to showcase.
Plus, Smash Balloon's feeds are highly customizable; you can choose from different layouts, design the feed to match your brand, control which content you want to display, and much more.
5. Display Recent Activity Popups
When you're recommending a specific product across your site, using a recent activity popup is one of the strongest tools you can have.
You've likely seen them before. They look like this: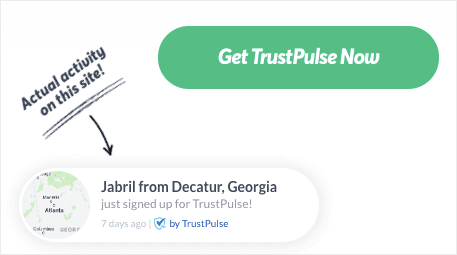 You can use recent activity popups to show when other customers have purchased the item that you're recommending on your site.
This is an incredibly effective marketing strategy. Why?
Because it leverages the power of fear of missing out, also known as FOMO.
FOMO is a psychological trigger that people feel when they see other people taking positive action. And while it's most commonly associated with social media, clever marketers know how to use FOMO to their advantage.
By displaying a recent activity popup every time someone makes a purchase on your website, your visitors will feel like they're missing out on an opportunity.
How effective are these recent activity popups?
We've seen them boost sales by up to 15%. For such a small addition to your website, that's a huge leap in revenue.
And while TrustPulse is the leading software for adding these recent activity popups on your website, we know there are other companies who do the same.
That's why we feel it's our responsibility to make sure that no matter which company you choose, you avoid software that allows you to rely on fake social proof.
Some companies allow you to fabricate positive action popups to display purchases that never actually happened. This is a terrible strategy.
Remember, one of the best things you can do for your company is to build up your brand's reputation. But when your customers know you're using software that allows fake social proof, they lose trust in your overall brand.
At TrustPulse, we pride ourselves on only allowing authentic social proof to be displayed on your website. As a result, even our customer's customers trust us.
Again, even if you decide to go with another software, it's in your best interest to avoid any companies that use fake social proof.
And that's it!
You now have 7 incredibly effective tips to increase conversion rates for your product recommendations. Plus, you've got 5 ways to make your product suggestions instantly trustworthy.
We're confident that if you follow these tips and tricks, you'll see your revenue increase in no time.
But now, we would love to hear from you. How do you build trust with your clients through product suggestions?
You can reach out to us directly on Facebook, Twitter, or in the comments section below. We love hearing from all of our users.
Except spam. We don't like spam. 😉
And if you'd like to see your site's sales increase by 15% with just one small adjustment, we've got just the solution for you: