Are you looking for the best digital marketing plugins in 2021 to grow your website, increase traffic, and drastically boost conversions?
Digital marketing is one of the most competitive aspects of your business.
Most modern businesses have websites that are targeting the same audience as you–not to mention all those bloggers, influencers, gurus, and other brands trying to stand out from the crowd.
This is especially true since WordPress has made it incredibly easy for anyone to build a professional website in a short amount of time.
But how do you build an online presence that gets more people to notice your WordPress site?
And, even more importantly, how do you convert those casual visitors into loyal (and paying) customers?
That's where having the right digital marketing tools come in. So, today, we're going to share 9 of our favorite digital marketing plugins.
Let's dive into the list.
Best Digital Marketing Plugins (2021)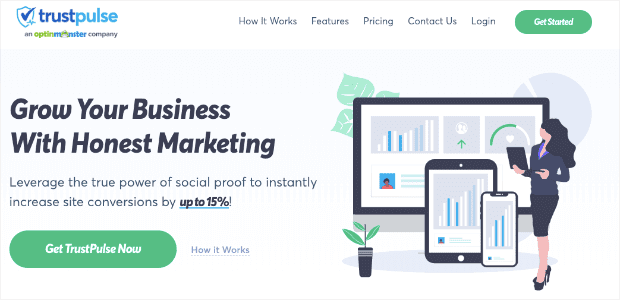 TrustPulse is the world's best social proof plugin. It allows you to create effective and high-performing social proof notifications in minutes–even if you don't have any coding knowledge or technical experience.
The great thing about TrustPulse is that you can get started with social proof no matter what stage of business you're in.
That's because TrustPulse offers 4 unique campaign types:
Recent Activity: Show a live stream of website activity like purchases, registrations, signups, and more.
On-Fire: Show the number of people taking action on your website in a given period.
Visitor Analytics: Highlight active interest in your site by showing real page visitors over time.
Action Messages: Display a single static notification to help drive visitors to take action or highly information.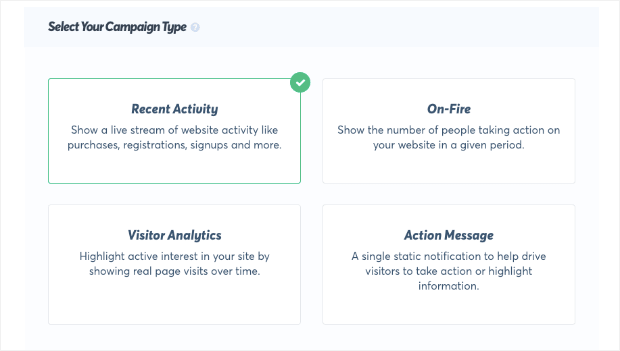 These campaign types are perfect for any type of social proof you're looking for. If you've started making sales, then you can leverage Recent Activity or On-Fire campaigns to drive even more:

But if you're just getting started, you can rely on pageviews as social proof, instead:

This allows you to use genuine social proof right from the very beginning. And since people can still click these notifications to be redirected to landing pages, they're the perfect way to start making your first few sales.
Plus, all of TrustPulse's campaigns can be styled to match your brand's voice, look, and message. You'll have full control over how your notification looks, where it's displayed, and where it links to.
That means you can totally customize your social proof notifications to reach any of your sales or marketing goals.
But now what you're probably wondering is, "Do these actually work?"
That answer is simple: YES!
Social proof notifications leverage FOMO ("fear of missing out"). This is a concept that affects all online consumers.
When people see others getting benefits from a product or service, they don't want to miss out on those benefits. As a result, showcasing which actions people take on your site motivates other people to do the same.
In fact, TrustPulse users have seen sales get an instant bump by up to 15%.
Key Features
Easy to set up
Codeless notification builder
Customize notifications to your brand
Linkable notifications to improve UX
Get started at any phase of your business
More affordable than other options (but just as powerful)
And much more…
Price: Paid plans start at only $5/month.
Get started with TrustPulse today!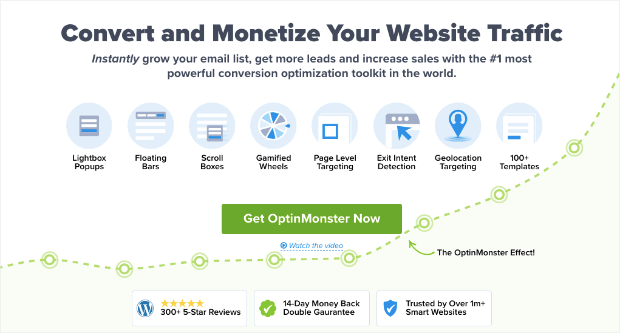 OptinMonster is the world's best lead generation tool and a premium WordPress plugin. In a matter of minutes, anyone can create stunning and high-converting optin campaigns.
"Optin campaigns" are things you're already familiar with, like popups, floating bars, spin to win wheels, and more.
These campaigns get your audience to take the actions you want them to take.
How does it work? That part's easy.
Everything starts by choosing from one of OptinMonster's 50+ pre-made templates. These are fully responsive and look great across devices.
From there, you can use the codeless drag and drop builder to add new features to your campaign or modify the text.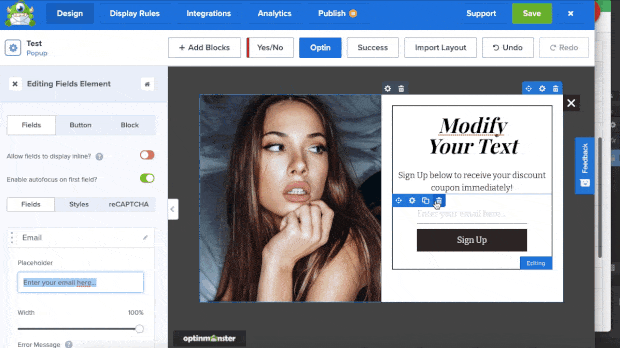 This allows anyone to create professional-looking campaigns without requiring any coding skills or technical experience.
Plus, when using the OptinMonster dashboard, everything can be done from your WordPress site. But since OptinMonster is a standalone product, it won't affect your site's performance.
And once you design the perfect campaign, you'll be able to show it to the right people, in the right places, and at just the right time in their customer journey.
You can do that with OptinMonster's powerful targeting rules. Some of the more popular rules include:
Exit-Intent® Technology: Recover abandoning visitors as they're actively trying to leave your website.
Geolocation: Personalize the customer journey by targeting people based on their physical location.
OnSite Retargeting®: Keep users engaged by showing fresh campaigns to returning visitors.
Page-level Targeting: Increase conversions by making offers that are related to the page or post a visitor is browsing.
Again, these are just a few of the most popular targeting rules, though there are many others.
And once you capture your new leads, you can sync OptinMonster to any email service provider (ESP) on the market. That means you can automate your email marketing efforts and send your new leads to organized contact lists for even higher conversions.
Key Features
No coding required
50+ pre-made templates
Hooks up to any ESP
Drag and drop builder
Advanced targeting rules
Looks great across all devices (mobile, tablet, and desktop)
Price: Paid plans start at only $9/month.
Want to see it in action for yourself? Get started with your 100% risk-free OptinMonster account today!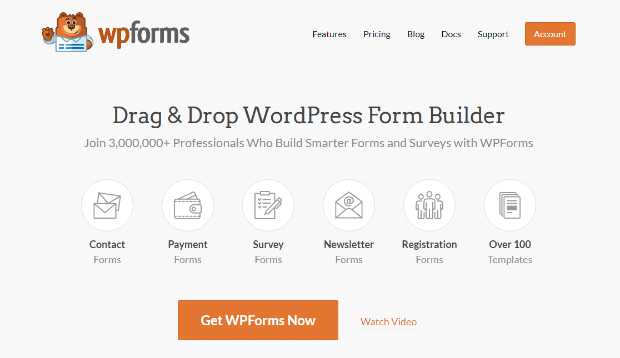 WPForms is the best form builder plugin for WordPress. It's one of the most popular options around, and for good reason.
WPForms makes it easy for you to create professional and reliable forms FAST. These forms can be placed anywhere on your site, and you can customize them to reach any of your marketing or sales goals.
The kinds of forms you can build are endless, including:
Newsletter signups
Order forms
Payment forms
Contact forms
Surveys
Quizzes
And much more.
Plus, WPForms integrates with your favorite marketing tools. That includes payment gateways, like PayPal and Stripe.
Or you can hook up WPForms to your favorite ESP to organize (or "segment") your leads.
If you're looking for a simple form builder that's easy to use, super powerful, and integrates well with other marketing tools, then WPForms is hands down your best bet.
Key Features
Drag and drop form builder
No coding required
Flexible placement (anywhere on posts or pages)
Pre-made templates
Powerful addons
Integrates with 3rd-party marketing tools
And much more…
Price: There's a free version of this plugin to start at zero risk. From there, paid plans start at $39.50/year.
Get started with WPForms today!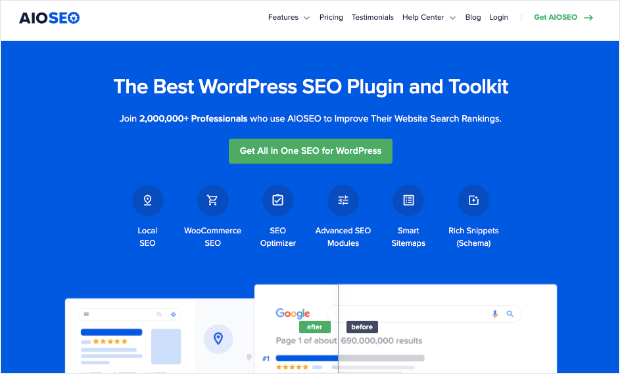 AIOSEO is the perfect plugin if you want to increase your rankings on search engines like Google.
That's because AIOSEO has everything you need to improve your search engine optimization (SEO) strategy.
With this tool, you can improve local or global SEO. You'll get smart sitemaps, an SEO audit checklist, social media integrations, and much more.
It will help you identify the strength of your on-page content and also help you create more clickable titles.
That means you'll be able to improve your on-page SEO, your off-page SEO, and your technical SEO, all with the same tool.
This plugin also comes with advanced WooCommerce support, giving your eCommerce site more opportunities to drive organic traffic.
At the end of the day, if you're serious about ranking higher on sites like Google, then you definitely need a digital marketing plugin like AIOSEO.
Key Features
Rich snippets schema
RSS content
Smart XML sitemaps
Social media integrations
TruSEO on-page analysis
Video SEO sitemaps
And much more…
Price: Paid plans start at $39.50/year.
Get started with AIOSEO today!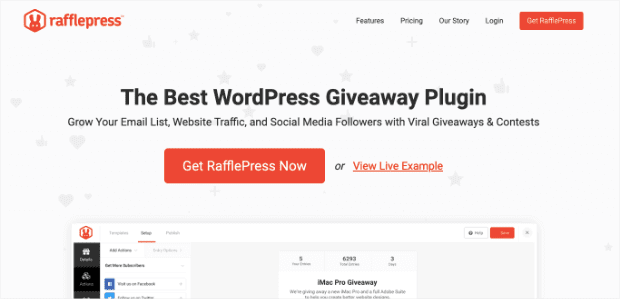 RafflePress is the best WordPress giveaway plugin that's designed to help you create viral online contests.
This works because of how simple these contests are to create, along with the flexibility of the entry rules.
You can use RafflePress's drag and drop builder to design stunning giveaways, share the rules of entry, add images, videos, custom functions, and much more.
Then you create tasks that you want your audience to complete to earn "entry points." You can make each task mandatory or optional, depending on your marketing goals.
Plus, you can create different tasks and assign them entry point values.
If someone joins your newsletter, for example, they could get 5 entry points. And if they watch a video demo, they'd get another 3 entry points.
This motivates people to complete as many of your calls to action (CTAs) as possible.
Plus, RafflePress syncs with your favorite ESPs, so you can add new contestants to the appropriate lists.
And when everything is configured, you can embed RafflePress on any post or page of your WordPress site. Or you can simply have the plugin generate a landing page for you.
This helps drive traffic from paid ads or social media promotions.
It's qualities like these (and more!) that make RafflePress the world's best online giveaway plugin.
Key Features
Drag and drop contest builder
Built-in landing page generator
No coding skills required
Displays entry points to leverage social proof
Integrates with 3rd-party digital marketing tools
And much more…
Price: Paid plans start at $39.20/year.
Get started with Rafflepress today!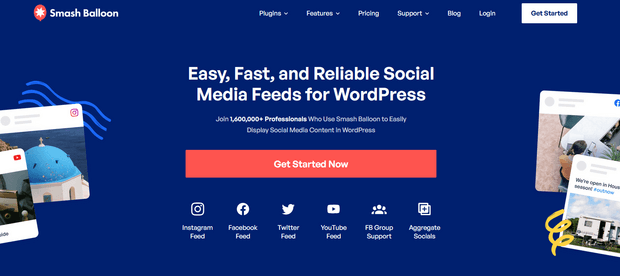 Smash Balloon is the world's leading social media plugin for WordPress. It allows you to quickly and easily add social media feeds to your website, from platforms like:
Instagram
Facebook
Twitter
YouTube
It's a simple and straightforward plugin that makes a big impact. That's because you can leverage your site traffic to boost engagement with your social media profiles.
This combines 2 distinct marketing channels (your website and your social media account) and makes each one even more effective.
Run social media contests, share fun photos, and showcase how engaged you are with your target audience. By displaying this kind of content across your site, you'll build your online presence, increase brand awareness, and ultimately build a stronger relationship with new leads.
But the best part is that you can customize your feeds to totally match your site's voice and style.
This lets you break free from other social media feed plugins that look generic. Instead, you'll have a plugin that cuts through the noise and helps you stand apart from the crowd.
Key Features
Increases social engagement
100% control over your feed's layout and design
Simple to set up
No technical knowledge required
Automatically selects optimized images
Fast load times
And much more…
Price: Each plugin can be purchased individually for $49/year. Or you can get the bundle pack for $299/year.
Get started with Smash Balloon today!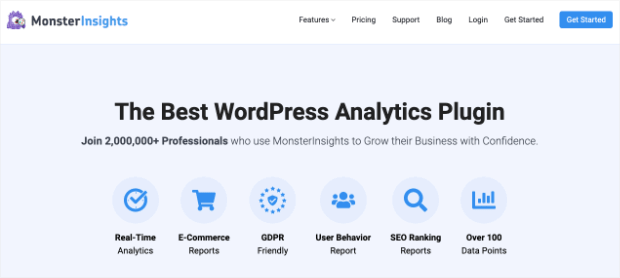 MonsterInsights is the only Google Analytics plugin you'll need to track your site's visitors and improve your digital marketing strategies.
With MonsterInsights, you'll have the power of Google Analytics right from your WordPress dashboard. That means you can accurately track your most valuable KPIs, including:
User demographics
Pageviews
Custom conversions
Bounce rates
Sales
And more…
Keeping your eye on this data is crucial for improving any part of your marketing efforts. This is true whether you rely on organic traffic with SEO, paid ads on PPC platforms, social media, and more.
That's because MonsterInsights will help you better understand your audience. And once you understand what your visitors want, you'll be able to tailor content to suit their needs.
From there, you'll also be able to create powerful and attractive offers that motivate your customers to take action.
But the best part is that you won't need to leave any of this up to guesswork. Because when you have MonsterInsights, you'll be able to create a data-driven marketing plan that actually gets you closer to your company's goals.
Key Features
Real-time analytics
Ecommerce reports
GDPR-friendly
User behavior report
SEO rankings report
And much more…
Price: Starts at only $99.50/year.
Get started with MonsterInsights today!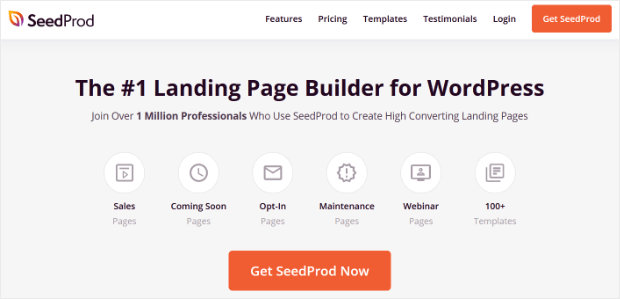 SeedProd is the #1 landing page plugin for WordPress. It helps total beginners create professional and high-converting landing pages in a matter of minutes.
With SeedProd, you can build all kinds of landing pages, including:
Sales
Coming soon
Optin
Maintenance
Webinar
And much more…
Plus, each of these pages comes with pre-built templates that save you time, energy, and headaches in the page creation process.
From there, you'll be able to use the drag and drop editor to add custom features to your page. That includes things like:
Headings
Custom text
Images
Videos
Testimonials
Reviews
And much more. In fact, SeedProd integrates with WooCommerce to give you added eCommerce functionality to your landing page. You can add things like frequently bought together bundles, popular items, "Go to Checkout" buttons, and more.
If you want an easy way to boost sales from any of your marketing channels, SeedProd is the plugin you've been looking for.
Key Features
Easy to set up
Codeless drag and drop builder
Looks great across devices
100+ pre-built templates
Integrates with 3rd-party marketing tools
And more…
Price: Paid plans start at $39.50/year.
Get started with SeedProd today!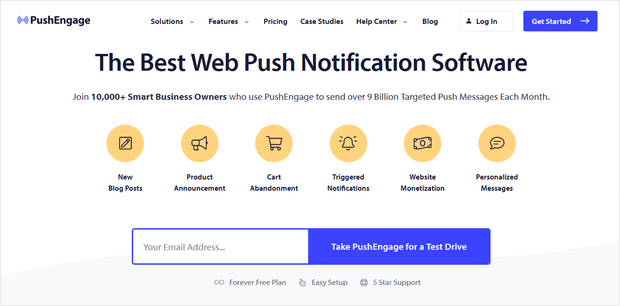 PushEngage is the best push notification software on the market. With this tool, you can drive traffic back to your site by sending personalized messages straight to your visitors' desktop and mobile browsers.
You can send notifications whenever you publish new blog posts, deliver new product announcements, alert customers to a price drop, send abandoned cart reminders, and more.
The best part is that you can send push notifications even if subscribers aren't currently on your website. That means you can lure them away from competitor sites and get them back on yours. It's a great way to increase pageviews, boost engagement, and generate sales.
With PushEngage, you can easily set up push notifications in less than 10 minutes, no need to hire a developer.
Plus, PushEngage comes with analytics, goal tracking, and A/B testing. This lets you get all of the actionable data you need to create the best-performing campaigns.
Key Features
Custom domains and branding
Triggered, custom opt-ins
Triggered notifications
Dynamic segmentation
Automatic drip campaigns
TurboSend and scheduling
Offline notifications
GDPR compliant
And much more…
Price: PushEngage offers a free plan that lets you send 30 campaigns/month to up to 500 subscribers. The paid plans start at only $9/month for unlimited campaigns and up to 100K subscribers.
Get started with PushEngage today!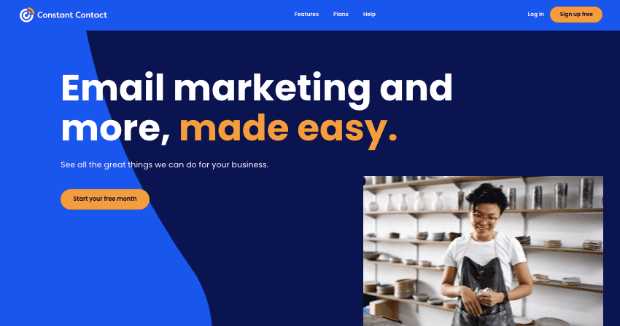 While there are a lot of great email service providers (ESPs) on the market, one of our favorites is Constant Contact.
That's because Constant Contact is easy to use and incredibly powerful. It also comes with so many features to help you grow your list and send automated email campaigns.
This is great because once you build your email series, you can flip the switch and let things run on autopilot. That gives you more time to focus on other areas of your business while knowing that you're not losing any leads in the meantime.
Constant Contact also has a host of other marketing tools like pre-made email templates, list segmentation, and much more.
And once you send these email campaigns, you'll be able to quickly track the results to optimize for future campaigns.
It's qualities like these that make Constant Contact one of our favorite ESPs around.
Key Features
Pre-built email templates
Powerful analytics dashboard
List segmentation
Automated email series
Syncs with 3rd-party digital marketing tools
And much more…
Price: Paid plans start at $20/month.
Get started with Constant Contact today!
And that's all for today! These have been the best digital marketing plugins that you can start using to grow your audience and boost sales today.
We hope you enjoyed this post. If you did, you'll want to check out the following resources, too:
These articles will have even more resources that you can use to grow your business, boost conversions, and drive more sales online.