Are you looking for the best lead generation tools to grow your business?
Consistently getting new leads is the lifeblood of your company's success. It's what will get you more paying customers so you can scale, invest in new tools, and reach higher goals over time.
But let's be honest: getting new leads can be tough–especially when you're just starting out. The good news is that the process is infinitely easier when you have the right tools.
That's why, in today's post, we're going to share the best lead generation tools on the market that you can start using today.
Let's dive straight into the list!
Best Lead Generation Tools for Growth
Since this is such a long list of tools that you can use, feel free to use this table of contents to help you navigate to the section that interests you the most:
Let's get started.
Top Lead Generation Tools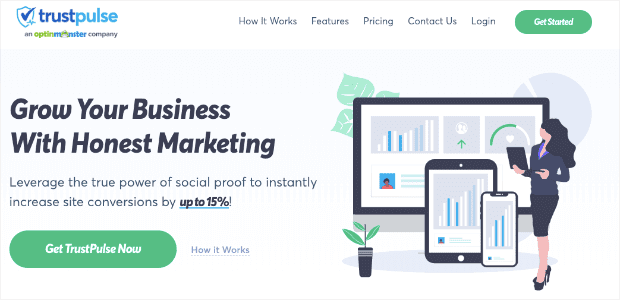 TrustPulse is hands down the best place to start if you're looking for a simple lead generation tool. It takes your site's visitors and uses social proof to motivate them into action with social proof notifications.
Social proof notifications are small messages that appear on your website. These messages display when other website visitors have positively engaged with your site.
In fact, you're probably familiar with social proof notifications. They look something like this:

But now, you may be wondering, "How does this help get new leads?"
TrustPulse is effective because it leverages FOMO ("fear of missing out"). This is a common characteristic of consumer behavior. When someone sees other people enjoying the benefits of something, they begin to feel like they're "missing out."
Consequently, they're more likely to take the same action and try to get those same benefits.
You can capture specific actions that users take on your site. Then, in a matter of minutes, you can build your social proof notifications to appear to your other users.
Not super tech-savvy? No worries. You can use TrustPulse right away with no coding skill necessary.
And TrustPulse works so well that we've seen customers get an instant boost in conversions by 15%. The best part is that it's a fraction of the cost of other social proof software.
For more information, check out this helpful resource: FOMO vs. UseProof vs. TrustPulse: Which Is Best for Social Proof?
That article will go into more depth on TrustPulse's features and pricing breakdown.
Want to see it in action for yourself? Start your 100% risk-free TrustPulse account today!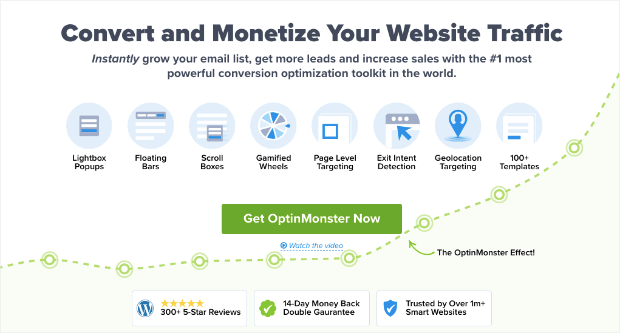 OptinMonster is another top lead generation tool that you can use to get FAST results. That's because it allows you to create "optin campaigns" like popups, floating bars, fullscreen welcome mats, and more.
These campaigns usually include persuasive language and an enticing lead magnet that your target audience will love. That could look something like this: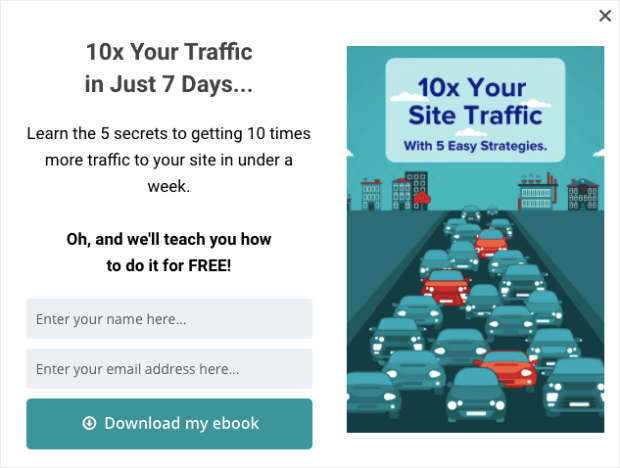 When a user wants to get the lead magnet, they'll enter some basic contact information like their name and email address. Then their information will go directly to your email service provider (ESP).
But do you need to be a professional designer or coder to make stunning campaigns like the one above? Absolutely not.
OptinMonster comes with over 50 premade templates that you can start using immediately. And with a drag and drop editor, customizing your campaign can be done in a matter of minutes.
That's just half the battle, though.
The other half is making sure you show these campaigns to the right people, in the right places, and at the right time in their customer journey.
For that, you'd need OptinMonster's powerful targeting rules, such as:
Exit-Intent® Technology: Display campaigns as users are actively leaving their browser page.
Onsite Retargeting®: Show new campaigns to returning users based on how they interacted with campaigns from their last visit.
AdBlock Detection: Target your visitors using AdBlock technology and recover up to 70% of lost leads.
Referrer Detection: Personalize your campaign's messaging based on the sites your customers are coming from.
These are just a few examples of targeting rules offered by OptinMonster, though there are many others.
The point is that when it comes to lead generation, no other tool is as simple, flexible, powerful, and affordable.
Check it out for yourself by starting your 100% risk-free OptinMonster account today!
Lead Generation and Email Marketing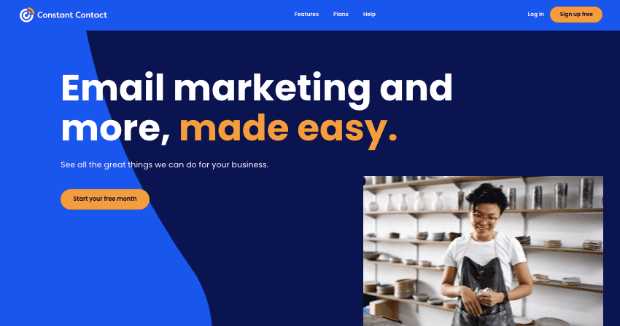 Constant Contact is one of the best email service providers on the market. It's affordable for smaller businesses to get started and powerful enough to scale as you grow into a larger company.
Plus, they won't punish your success by drastically raising prices as you scale (one of the criticisms of Mailchimp).
Some of the features you can find in Constant Contact include:
Heat-map tool to show you how people interact with your site
Analytics reports to help you optimize email campaigns
Email editor with customizable templates to save you time
Landing page builder to help you capture new leads and add them to your list
In the end, these tools help you learn more information about your current and prospective leads. Then, Constant Contact helps you capture their email address and nurture the relationship with email marketing.
Check out Constant Contact today!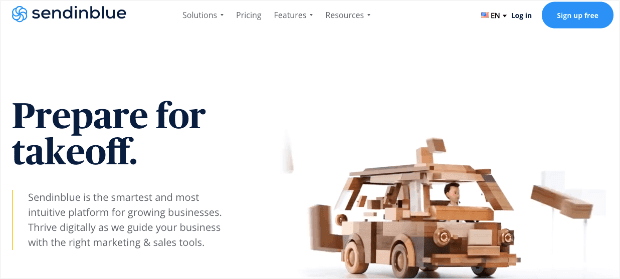 Sendinblue is another ESP that also focuses on helping you get better leads to grow your business. With Sendinblue, you can expect all the bells and whistles that come with an email provider, like:
Premade templates for email campaigns
Analytics reports for optimizing your strategy
A/B tests to get the best results possible
An awesome support team ready to help you troubleshoot problems along the way
And much more…
But you also get a ton of lead generation tools to help you find prospective clients, including:
Form builders
Landing pages
Help with Facebook ads
And more…
Sendinblue is one of the most comprehensive tools you can use when it comes to lead generation and email marketing.
Get started with Sendinblue today!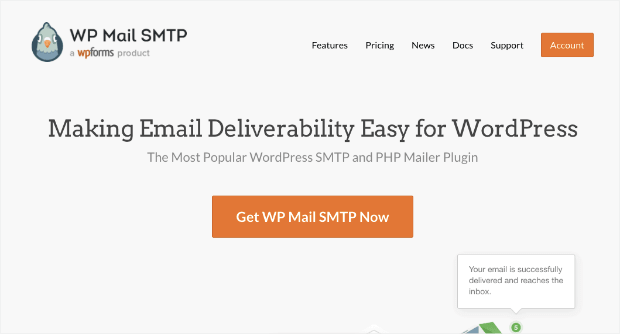 WP Mail SMTP is your best bet for making sure all of your WordPress emails reach your new leads' inboxes rather than their SPAM folder. And this is more important than you might think.
If you're using WordPress, you may not want to use an email provider. Instead, you may be sending emails directly from your WordPress site.
These would be things like transactional emails for shipping information, confirmation messages, small company updates, and more.
The problem is that many of these emails end up in your user's SPAM folder. That's because WordPress uses PHP to send emails by default. But many shared hosting sites don't configure PHP properly, which sends negative signals to email providers like Google, Hotmail, Yahoo, and others.
What does this have to do with lead generation? Because generating new leads is useless if you lose them as your emails go to their junk folder.
By using WP Mail SMTP, you can ensure that all your new leads will get the information they need where it belongs: directly in their inbox.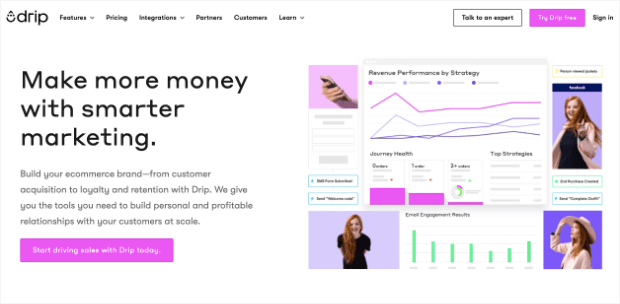 Drip is the last ESP we'll talk about on this list but certainly isn't the least qualified to be on here. Drip is the perfect tool for eCommerce. It helps you quickly and easily get new leads from your online store.
Then you can add those new leads to your list and send them professional-looking and high-converting email campaigns.
But it also comes with a bunch of helpful marketing tools to get you new leads, too. Some of these tools include:
Add tags to audience segments for personalized messaging
Add custom fields to signup forms to gather more data bout your leads
Track user behavior across your site to learn more about your leads' interests
Integrate with all your favorite marketing tools to build a powerful stack that gets you leads fast
And much more…
Plus, Drip is a more affordable option than other ESPs on the market, making it perfect for small businesses just getting started.
Lead Generation Form Builders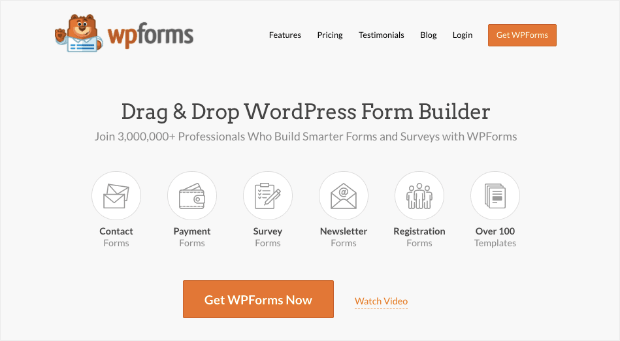 WPForms is the best form builder for WordPress that will get you the most information about your leads. With an easy-to-use drag and drop builder, it lets you design custom forms in minutes.
Plus, WPForms comes with lots of premade templates, so you can get started even faster.
When you use WPForms, you can use the following features to get as much information about your new leads as possible:
Conditional logic
Responsive and mobile-friendly forms
Form submission management
Multi-page forms
Spam protection
And much more. Finally, WPForms integrates with all of your favorite marketing tools and payment gateways like Stripe or Paypal.
That means as you gather new leads, you may even make a sale or two in the process.
Get started with WPForms today!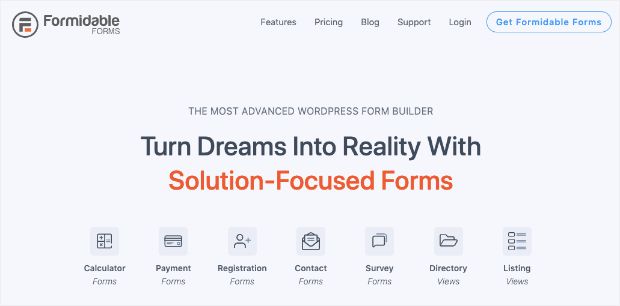 Formidable Forms is another form builder from WordPress that you can use to generate leads for your business. Like WPForms, you can use Formidable Forms to create:
Contact forms
Survey forms
Order forms
Registration forms
Payment forms
And more. With Formidable Forms, you can collect all the information you need to nurture your leads and transform them into lifelong customers.
Plus, you can easily add forms to all of your landing pages and integrate your forms with your ESP. When people land on your page and fill out the form, their email addresses will automatically go to the appropriate list.
Learn more about Formidable Forms today!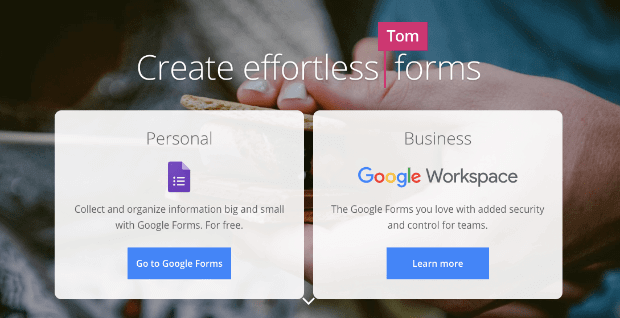 Google Forms is perfect if you're on a budget or not using WordPress. It's a simple form builder that lets you create various forms, though it's mostly used for short surveys.
That said, you can use Google Forms to gather all the information you need about your prospective clients. Plus, you can use Google Forms via email or easily embed it across multiple platforms.
In fact, you can even use Google Forms with an OptinMonster campaign. For more information on that, check out this helpful resource: How to Add a Custom HTML Popup to Your Site.
Finally, this is a completely free lead generation tool. That means you can get started at zero risk to see if it's the right tool for you.
Organic Lead Generation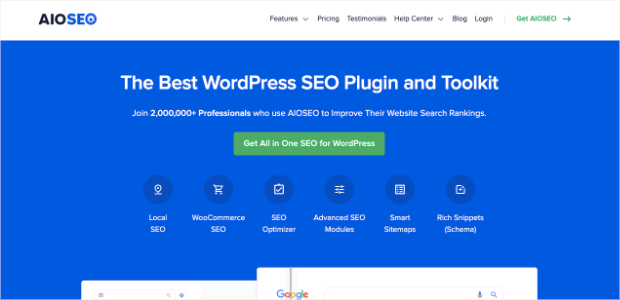 AIOSEO is the best SEO plugin for WordPress that will help you rank higher with Google. How does this get you new leads?
The higher you rank on Google, the more organic traffic you can generate for your site. When people land on your pages or posts from Google, you can add optin campaigns, social proof notifications, or other marketing tactics to capture the visitor's contact details.
And just like that, you'll be generating new leads for years to come.
AIOSEO comes with powerful features, such as:
Smart sitemaps
Rich snippets schema
Social media integration
Robot.txt editor
SEO audit checklist
Internal link assistant
And more. If you're serious about getting new leads from your SEO efforts, then the AIOSEO plugin is the best place to start.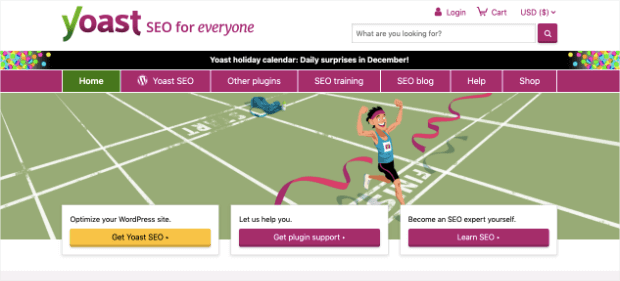 Yoast is another SEO plugin that's been a popular option for new marketers on WordPress. With Yoast, you can make sure that your site's pages and posts are optimized for search engines like Google.
This plugin helps you generate sitemaps, write better meta-descriptions, and has an on-page SEO analysis that's very useful if you're just starting out.
Yoast's features include things like:
Optimize for keywords and related keywords
Internal linking suggestions
Sitemap generator
Guide your technical SEO efforts
And more. If you need a simple plugin to help see some initial gains with your rankings, then Yoast can be a good option.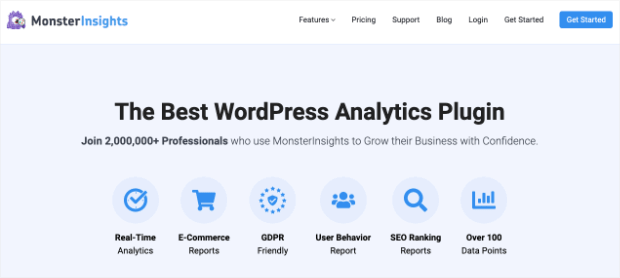 MonsterInsights is the best Google Analytics plugin for WordPress. This is an excellent tool if you're big on using data to make smarter marketing decisions to attract new leads.
MonsterInsights connects to Google Analytics, Google Search Console, and Google Data Studio to track your site's performance and audience.
With this data at your fingertips, you can find your most popular content and pages for new ideas to generate leads.
Then you can find more information on your sales funnel to see where things are working and, more importantly, where they're not. All of this information will save you countless hours as you refine your lead generation strategy.
And as you learn what your audience loves, it gives your sales team more information to work with to drive more revenue.
MonsterInsights comes with the following features:
Universal tracking
Easy-to-understand analytics reports
Outbound link tracking
Affiliate link tracking
Forms tracking
And much more.
Again, if you're using Google tools to generate leads and you have a WordPress site, then MonsterInsights is a no-brainer.
Learn more about MonsterInsights today!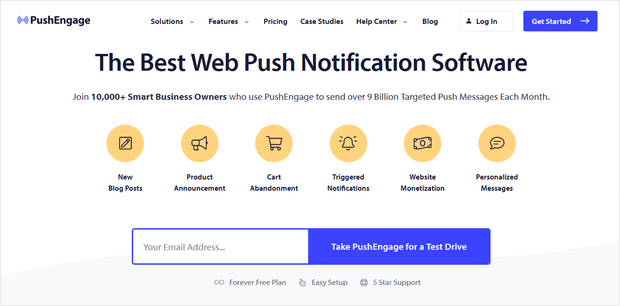 You might know PushEngage as the best push notification service on the market. But what do push notifications have to do with lead generation?
Push notifications give you direct access to leads who weren't ready to enter their email address yet.
The great thing about push notifications is that you capture new leads in a totally non-intrusive way. Instead of asking for your traffic's email address, they simply need to click a button to accept notifications on their browser.
Then you can use these notifications to send visitors to landing pages, popular blog posts, feature release announcements, and much more.
This is a great way of getting new leads who like your site and content but aren't 100% engaged with your brand.
Over time, you'll use these notifications to nurture the relationship and turn your lead into a loyal (and paying) customer.
Get started with PushEngage today!
Lead Generation on Social Media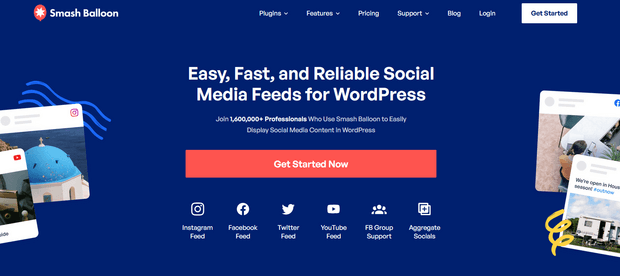 Smash Balloon is the best social media feed plugin available. It lets you add your social media feeds directly to your WordPress site.
This is the perfect lead generation tool for companies that have a heavy social media presence. It allows you to sync your website content with your social media strategy. In doing so, you can increase your follower count and connect with more leads on your favorite social platform.
Smash Balloon offers feeds for:
Facebook
Instagram
Twitter
YouTube
Everything can be set up in a matter of minutes and without knowing and code. Plus, Smash Balloon is lightweight and SEO-friendly, so it won't harm your site's performance.
Learn more about Smash Balloon today!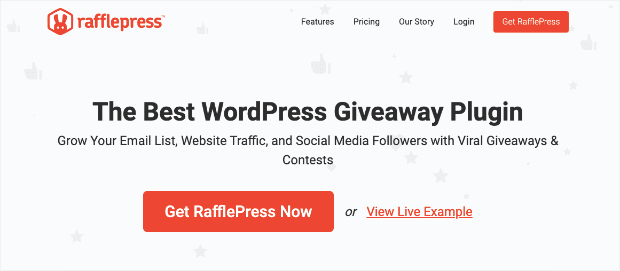 RafflePress is an online giveaway plugin designed to create viral contests for your site. This can be a HUGE advantage as you're trying to generate new leads.
That's because RafflePress allows you to make various requirements for people to enter your contest. This can include:
Joining your mailing list
Visiting social platforms like Facebook, Instagram, and more
Watching videos on your YouTube channel
Sharing with a friend
And more.
RafflePress makes it easy to run popular online contests in a matter of minutes. You can use these giveaways to make contact with new leads to kickoff a long and profitable relationship.
Want to see it in action for yourself? Learn more about RafflePress today.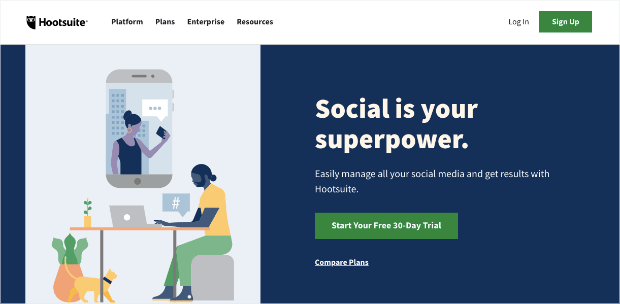 Hootsuite is a popular social media tool that you can use to generate new leads for your business. It really is an all-in-one social media tool that lets you manage your social presence.
With Hootsuite, you can:
Create and schedule posts
Manage all of your social media platforms
Plan your upcoming campaigns
Keep up with incoming messages (without visiting each platform individually)
Analyze and track your progress
And more.
Hootsuite is probably one of the most popular social media services on the market. Probably because it's such an effective lead generation tool.
If you currently use (or plan to start using) social media to attract new customers, then Hootsuite is definitely worth checking out.
Learn more about Hootsuite today!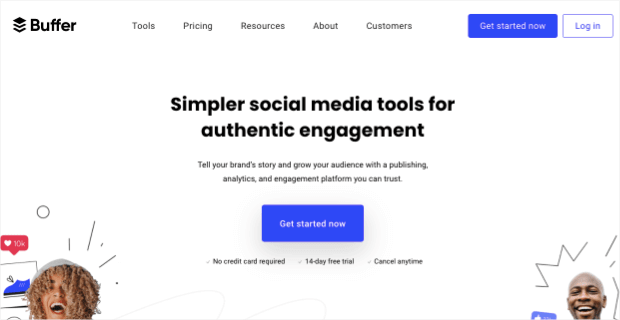 Buffer is another social media software that you can use to attract new clients on various social platforms. The advantage of using Buffer is its simplicity.
This tool is easy-to-use, especially if social media isn't the core of your lead generation strategy. They have a user-friendly interface, lots of support if you run into problems, and even let you get started with a free trial.
With Buffer, you can:
Plan, create, and schedule posts
Refine your strategy with detailed analytics
Engage with your customers by getting notified of new likes, shares, and comments
Again, if you're just getting started with social media to generate leads, Buffer can be an excellent place to start.
Learn more about Buffer today!
PPC Lead Generation Tools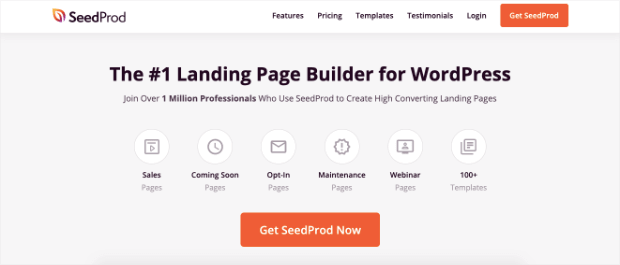 You might know SeedProd as the best landing page builder for WordPress. But what you might not realize is that this makes it one of your PPC strategy's best lead generation tools.
How? Because when people click on your ads, they'll need to go to a landing page. And SeedProd is hands down your best bet for building professional and high-converting landing pages FAST.
SeedProd comes with tons of premade templates for your landing pages. You can filter these out based on your goal for the page itself, such as making sales or growing your email list.
Some advantages of using SeedProd to build your PPC landing pages include:
Responsive and mobile-friendly designs
Drag and drop page builder (no coding required)
Integrate with all your favorite marketing tools
Smart sections to save you time for your page's layout
Spam protection
And more.
If you run PPC ads to your business as a way of getting more qualified leads, then you should absolutely look into SeedProd to build your landing pages.
Learn more about SeedProd today!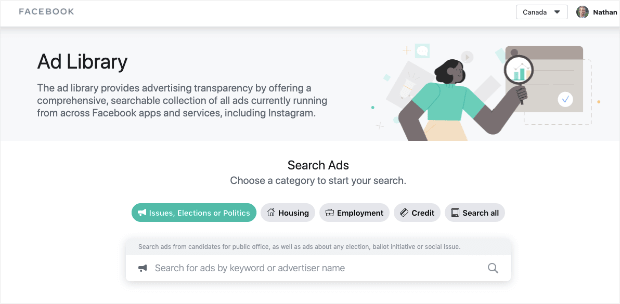 If you run paid ads on Facebook, then Facebook's Ad Library can be one of your best lead-generating assets.
This platform allows you to type in a keyword related to your product or niche. Or, you can simply search based on a company name.
Then you'll see the ads run by specific pages related to your keyword or business of interest. How does this help generate leads with PPC campaigns?
Because you can use Facebook's Ad Library to look at your competitor's strategy. You can use what you learn about their successful ads to make better campaigns for yourself.
As you're looking through the results, search for ads that have been running for a few months or longer. That's a good indicator that the ads are getting a good ROI and are worth learning from.
Check out Facebook Ad's Library today!
And that's it! These have been 19 of the best lead generation tools on the market.
We hope you found this post helpful. If you did, you might want to check out the following resources:
These articles will have everything you need to optimize your site for more conversions to get more leads in no time.