Do you want to drive more online sales and generate leads easily?
The best way to do this is to use small popup notifications that show real-time sales happening on your site. This encourages visitors to buy your product as they see others doing the same.
In this guide, we'll share the top sales notification plugins for WordPress to boost conversions across your site.
But first, let's get clear on what sales notifications are and why they're such a powerful tool.
What Are Sales Notifications in WordPress?
Sales notifications are small, non-intrusive popups that appear on your site to alert a visitor when someone has made a purchase.
They're hard to miss and can encourage an undecided customer to buy your product or service: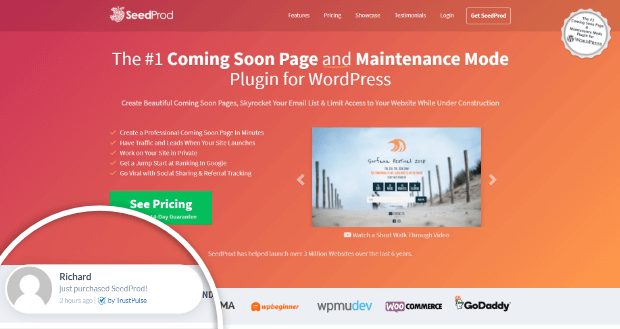 In other words, it's a marketing tool that uses the 'FOMO' effect, which means it creates a 'fear of missing out' on what others are doing.
It works because we have a natural instinct to trust a seller and buy a product when we see other online consumers buying it first.
When used right, sales notifications can increase engagement, boost sales, and drive conversions.
You can easily find a plugin to add sales notifications to your WordPress site. But WordPress is home to thousands of plugins which makes it challenging to pick the right one.
To make it easy for you, we hand-selected our pick of the 11 top sales notification plugins for WordPress.
Best Sales Notification Plugins for WordPress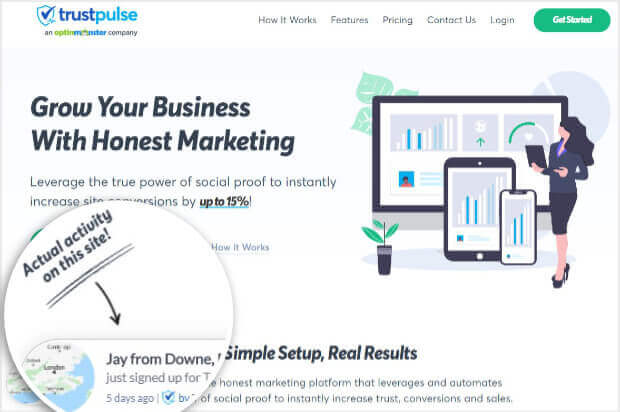 TrustPulse is the most powerful sales notification app on the market to build a strong brand name and customer base. It lets you display attractive social proof popups that are customizable and easy to create.
You've likely seen TrustPulse campaigns in the past. They look something like this:

When it comes to online sales, credibility and trust are pillars that can make or break your business. Customers can't see or feel your product and therefore have to rely on the experience of others.
TrustPulse can help you overcome this by building a strong sense of popularity and trust for your brand. It also creates upsell and cross-sell opportunities to drive sales higher.
While TrustPulse lets you display recent sales notifications, it can do much more for your brand.
You can track purchases, registrations, downloads, and other activities on your site and display them in well-targeted popups.
What's really great about TrustPulse is that it's easy to install, use, and customize, so you don't need to hire a developer or have any coding knowledge to get started.
Key Features
Easy-to-use visual builder to create and customize popups in minutes
Automated integration with eCommerce platforms
Match your theme and branding
Display recent individual activity and group statistics
Create static messages to alert customers about sales, price drops, and more
Track campaign performance
Cost
TrustPulse is free for up to 500 sessions per month. Paid plans start at $4/month (billed annually).
Want to see it in action for yourself? Sign up for your risk-free TrustPulse account today!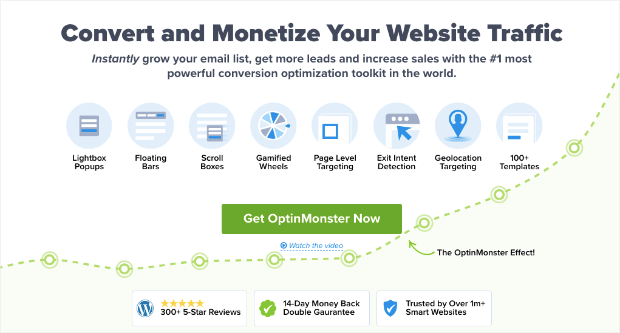 OptinMonster is the most powerful lead generation software and sales notification tool on the market. It lets you create stunning popups with countdown timers to boost your eCommerce sales.
Using its visual drag and drop builder, you can build popups to display recent sales activity, inform customers about upcoming sales and discounts, or prompt them to become email subscribers.
It gives you full control over when and where these popups appear on your site. You can even display it only to specific users or specific geo-locations.
It has 50+ templates you can use to create lightbox popups, floating bars, inline content, slide-ins, gamified wheels, and scroll boxes.
OptinMonster makes it easy to create and customize sales notification popups in under 5 minutes.
Key Features
Wide range of campaign types and templates
Visual drag and drop builder for easy customization
Powerful targeting features, including eCommerce specific triggers
A/B testing and data analytics to get better results
Cost
Plans start at $9 per month, which is billed annually.
Get started with OptinMonster today!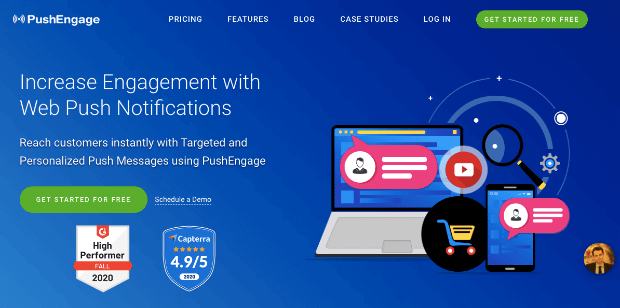 PushEngage is the hands down the best push notification app that helps drive more sales, reduce cart abandonment, and increase engagement with customers.
It lets you trigger notifications based on your user's actions. That means you can create various campaigns to reduce cart abandonment, get more reviews, boost email sign ups, and much more.
With automated drip campaigns, you can schedule series that run on their own based on where your visitor is in their customer journey.
PushEngage helps you improve user experience (UX) and drive more leads with optimized notification campaigns.
Key Features
High level of personalization to the sales notifications
Powerful A/B testing tool to test different versions of your campaign
Supports multiple browsers
Get data analytics, revenue tracking, and actionable insights
Control when, where, and to whom your notification appears
Cost
Free to use for 120 notifications a month. Pro plans start at $25 per month with unlimited notifications.
Get started with PushEngage today!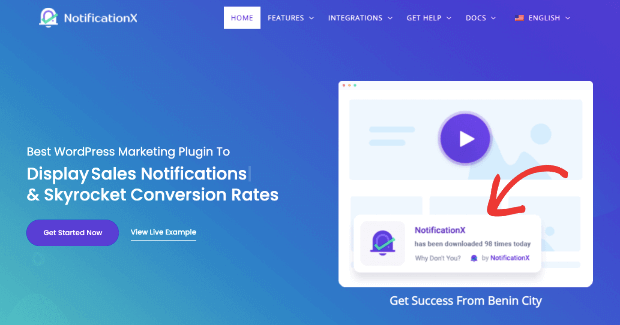 NotificationX lets you create sales notifications to show downloads, comments, reviews, and your site's sales.
There are 36+ design templates to easily create notifications in minutes. You can let visitors know about special offers, deals, and announcements through the popups.
The popup notifications can be applied across your site or on specific pages.
Plus, it supports notifications from a range of third-party apps with WooCommerce, Envato, Zapier, and Elementor integrations.
If you're on the Pro version, there's also an analytics tool that you can use to find out what works and what doesn't to get better results from your future campaigns.
The downside to this plugin is that it has fewer targeting options to optimize your campaigns' performance.
Key Features
Easy set up with a user-friendly interface
Detailed analysis of notification performance
Controlled display of notifications
9+ integrations available, including Freemius, Easy Digital Download, and ConvertKit
Seamlessly integrates with your theme
Cost
It starts at $39 per year.
Check out NotificationX today!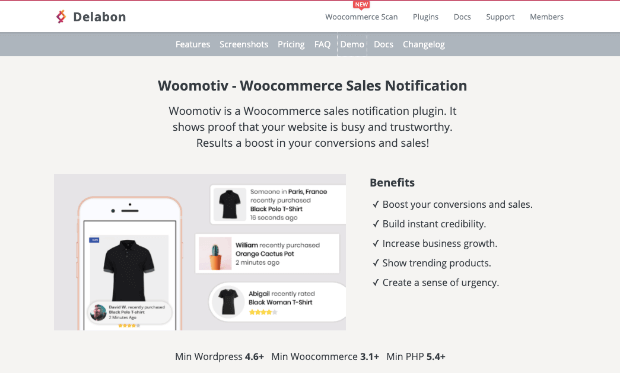 Woomotiv is a live sales notification plugin for WooCommerce stores. It displays trending products as well as recent or random sales popups. And it's a fairly simple plugin to set up and use.
The plugin is built using the latest coding best practices, and it's tested on the most recent browsers.
Most of the features you'll need for sales notifications are a part of their Pro plan.
Key Features
Display notifications with recent and random sales, user reviews, and custom messages
Mobile ready and responsive
Customize avatar, size, position, shape, and animation
Filter when and where to show the popup
Cost
It costs $9.99 per year.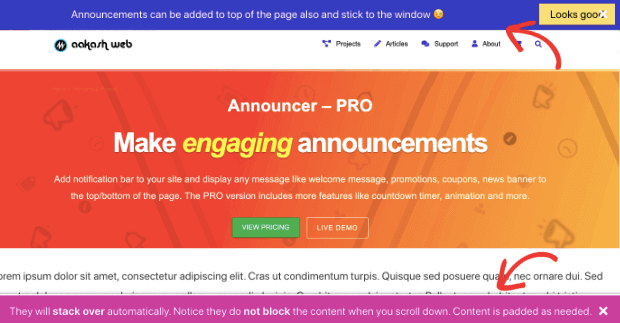 Announcer is a WordPress plugin that lets you create notifications and message bars on your site. You can make custom messages for cookie usage, welcome notes, privacy policies, and promotions.
The downside to this plugin is that it displays popups automatically based on the time spent on your site or the users' page scroll. You won't have much control over the timing of the popup.
That said, it can help increase engagement and sales with call-to-action buttons displayed in the message bar.
It's a lightweight plugin, so it shouln't have any effect on your website's performance.
Key Features
Create multiple messages and stack them if you want to display them on one page
Display the same messages or hide them using cookies
Ready-made layouts available
Supports shortcodes in messages
Schedule announcements between a given time range
Cost
There's a free version in the WordPress repository. Paid plans start at $19 for one year.
Get started with Announcer today!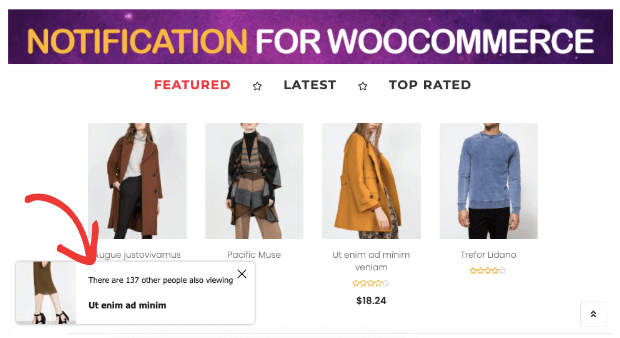 Notification for WooCommerce is a WooCommerce extension that lets you create social proof notifications for your store.
You can display recent orders, along with the customer's name, location, purchased items, product image, and time of purchase.
This is an AJAX loading popup, though, which means the popup will load only after your site loads. While it won't affect your loading speeds, but the popup will be delayed.
Key Features
Displays on desktop and mobile
Customization options to change color, position, order, image, and animation effect
Loop notifications
Cost
There's a basic version that's available for free, but it limits you to 2 products. The pro version costs $30 with 6 months of support and unlimited products.
Check out Notification for WooCommerce today!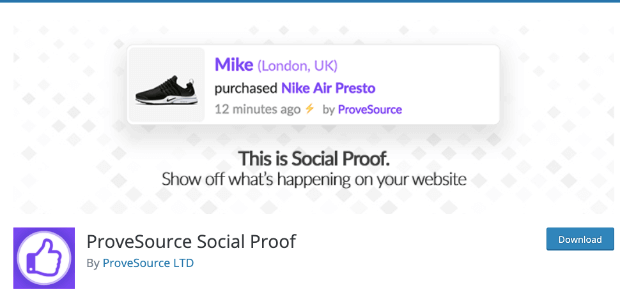 ProveSource is another social proof plugin that lets you display sales notifications to increase conversions.
When you install the plugin, it automatically connects to your WooCommerce store and pulls recent orders. It creates sales popup notifications and starts displaying them right away.
You can use it to show recent sales, page visits, and even a live traffic counter.
It integrates with 100+ services such as Zapier, MailChimp, WooCommerce, and Trustpilot.
Key Features
Easy installation process
Customize position, timing, color, and images
Optimized to display on mobile
Clickable popups to create cross-sell and upsell opportunities
Support team available on live chat and email
Cost
It's a free plugin.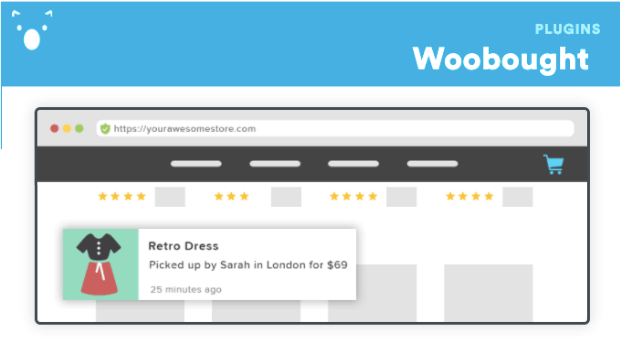 WooBought lets you display recent purchase notifications to visitors.
What's different about this plugin is that it lets you translate your notification popup into 6 languages.
Also, it lets you add a timestamp to create urgency. And you can add the product name, price, and stock information to the notification as well.
Having said that, the size of the popup will vary depending on the info you add. If you're not careful, the notification can become overly intrusive, and visitors may get frustrated.
Key Features
Supports single product notifications
Easy customization options
Set waiting time periods between notifications
Lightweight plugin, so it doesn't bloat your site
Switch off notifications for mobile devices
Cost
There's a free version. The pro version starts at $29 annually.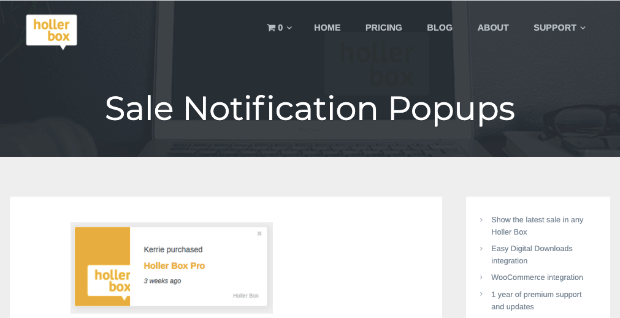 Holler Box is a live sale notification plugin that helps you get more leads and grow your email list.
You can create header banners, lightbox popups, and subtle popups. You get to choose where and when the popups appear, and how many times it shows to each visitor as well.
It integrates with WooCommerce, Easy Digital Downloads, GiveWP, Paid Memberships Pro, and Memberpress to pull recent activity.
Key Features
No coding skills needed
Customize the look, image, and position of the popup
Choose display settings or let it play at random
See how many people click on the popups
Add forms and shortcodes to popups
Cost
It costs $99 per year.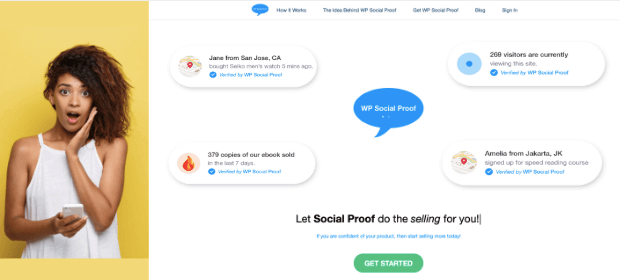 WP Real-Time Social Proof lets you display real-time notifications for recent sales and signups on your website.
It auto-syncs with WooCommerce and Easy Digital Downloads. And it also supports webinars and subscriptions.
If you subscribe to the Pro version, you'll also be able to create custom messages and sound notifications. It lets you integrate with Google Analytics to fetch real-time visitor data and track conversions.
The downside to this plugin is that users have complained of slow support and limited customization options.
Key Features
Simple to set up
Popups are optimized for mobile
Supports Gutenberg blocks
Display across the site, or include/exclude specific pages and posts
Configure timing, duration, and position of popups
Cost
There's a basic version available for free. The pro version starts at $57 per year.
Check out WP Real-Time Social Proof today!
And there you have it. This has been our hand-picked list of the best sales notification plugins for WordPress.
So what's our top pick of the sales notification plugins?
After looking at what all the plugins have to offer, we can confidently say that with TrustPulse, you'll get everything you're looking for in a sales notification tool.
TrustPulse offers extensive features to create customized social proof popups, and you can optimize your campaigns to maximize your results.
And with paid plans starting at just $5 per month, it's also one of the most affordable options on the market.
We hope you enjoyed this post. If you did, then you would probably benefit from the following resources, too:
These posts have lots of info to help you increase engagement, drive sales, and grow your business.
Want to see a quick boost in sales by up to 15%? Sign up for your risk-free TrustPulse account today!