Do you want to learn how to create a coming soon page that drives traffic and boosts excitement while you build your site?
Coming Soon pages let visitors know that your site is almost ready for launch. Sure, that's useful, but why are coming soon pages so important?
Well, coming soon pages are extremely helpful in generating future traffic before your site is even launched. And with the right tools, they're incredibly easy to set up and design.
In this tutorial, we'll show you step by step how you can create your own stunning coming soon page that will drive return traffic to your site.
Why Your Site Needs a Coming Soon Page
Coming soon pages serve as a curtain for your website until it's ready to launch. But if used right, they can do much more than that.
These pages can help you kick off your marketing strategy before your site officially opens for business.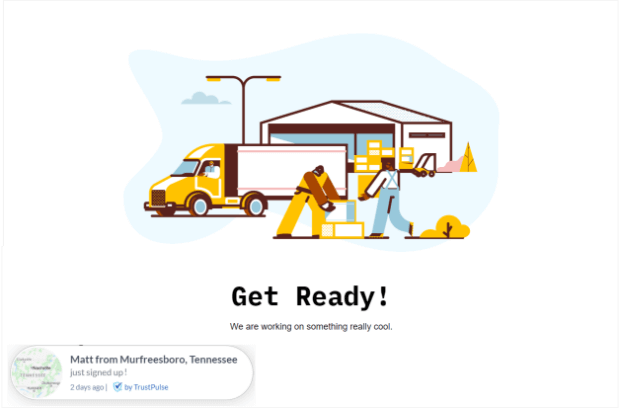 Here are a few great ways we've seen our customers effectively use their own coming soon pages:
Lead Generation – Visitors leave their email addresses to be notified when your site goes live. This way, you can start marketing to them right away.
Social Media Engagement – Ask visitors to follow you on social media platforms by adding links to your profiles.
Gauge User Interest – Ask visitors to take a poll or survey on what they would like to see on your site.
Generate Buzz – Add a countdown timer to spark excitement. You can also give visitors a sneak peek into your product info or invite them for beta tests.
You can do other things with a coming soon page, but these are just some of the more productive things you can do with your coming soon page.
Having said that, let's dive into our guide on how to create a coming soon page.
How to Create a Coming Soon Page on WordPress
We'll use the SeedProd plugin for this tutorial to create our coming soon page.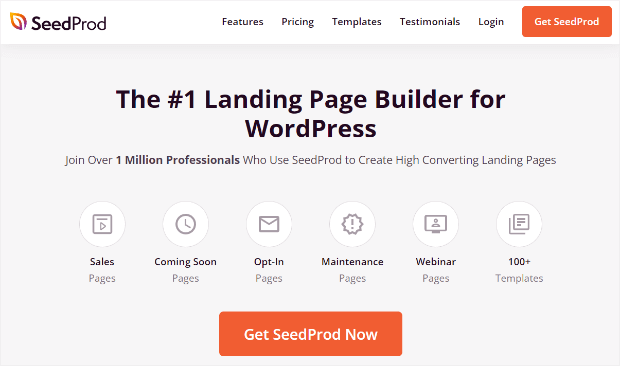 SeedProd is the best landing page builder for WordPress. It works with any theme, so you don't need to worry if it will be compatible with your site's design.
Here's why we've picked SeedProd:
Beginner-friendly with lots of page templates to choose from.
Drag and drop builder makes it easy to customize and design your page.
Built-in SEO features
Control who can see your site under construction
Integrate with marketing tools and other apps
Collect email addresses and leads
Add optin forms, countdown timers, social profiles, and more
With all these features, you can create beautiful and dynamic coming soon pages that will excite and entice visitors to come back!
Now, SeedProd has a lite version available for free in the WordPress repository. We'll be using the Pro version for this tutorial to explore some of its unique features.
Step 1: Install and Activate SeedProd
To get started, install and activate SeedProd on your site. For step-by-step instructions, check out this post from WPBeginner on how to install a WordPress plugin.
Once it's activated, you'll need to enter your license key if you're using the Pro version. You can find the license key in your account on the SeedProd website.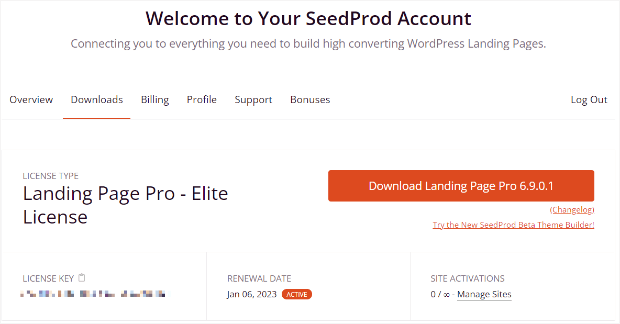 Copy this key and head over to your WordPress dashboard. Here, open the SeedProd » Settings page and paste the key in the License Key box.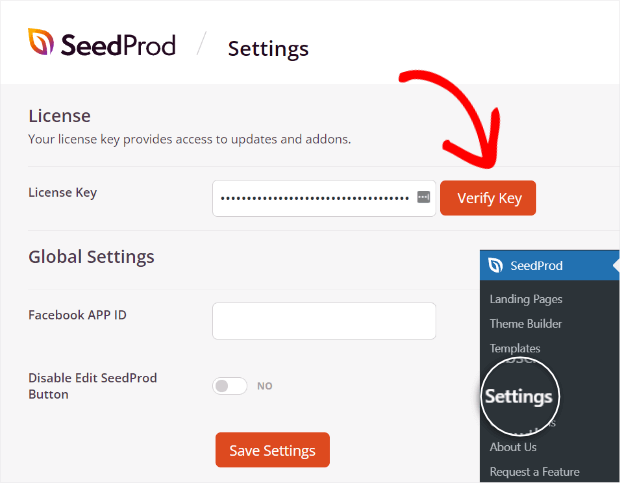 Then, click on the Verify Key button to activate your license.
Step 2: Select a WordPress Coming Soon Page Template
SeedProd has tons of templates, so you can create a coming soon page in just minutes.
Navigate to the SeedProd » Landing Pages tab in your WordPress admin site. You'll see a few different types of pages that you can create.
Select the coming soon page by clicking on the Set up a Coming Soon Page button.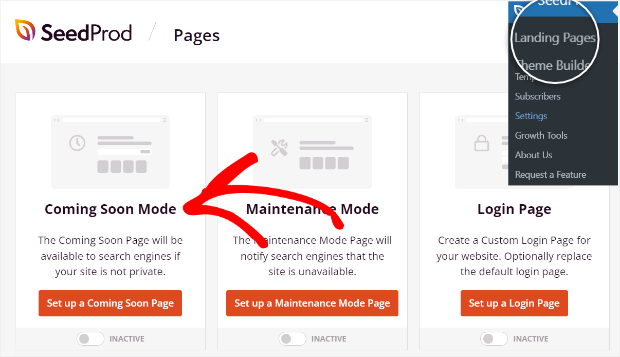 You will then be able to scroll through various design templates. If you'd like, you can also start from scratch with the blank template option.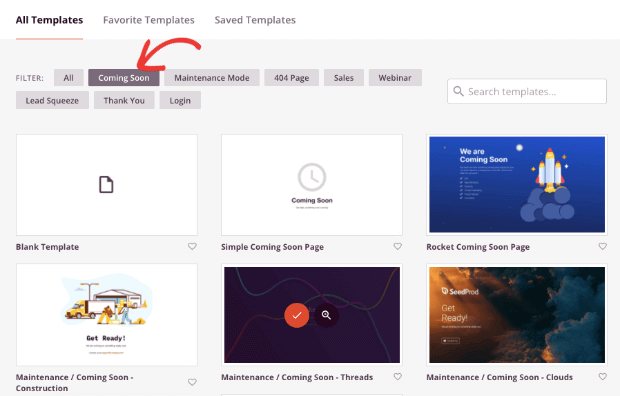 Once you've selected your template, a page builder will open where you can edit and customize it.
Step 3: Customize the Coming Soon Page
SeedProd displays a live preview of your coming soon page, so you always know what it will work like once it is published.
Editing is simple. Just click on the block you'd like to edit, and the settings will pop up on the left-hand side.
If you'd like to add other functions like images, spacers, buttons, and even forms, the drag and drop editor makes it a breeze.
Click on the Blocks tab on the left side of the builder and find the option you'd like to add. Then, just drag and drop where you'd like it on your coming soon page.
Branding is essential, and SeedProd embraces this. That's why you can change anything you want, such as the text, background image, and colors.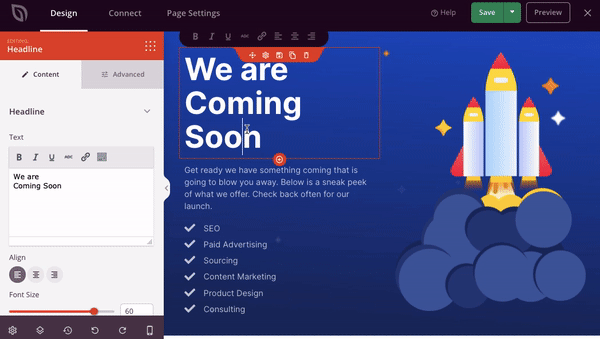 You can even collect leads from your coming soon page by adding an optin form. You'll find this option under the Advanced section in the left-hand menu.
Now, visitors can leave their names and email addresses so you can start connecting with them before your site even goes live.
As you work, you can save your changes using the Save button at the top-left of the screen.
Step 4: Integrate Your Coming Soon Page With Marketing Tools
One of the great features of SeedProd is that it integrates with popular email services and marketing apps.
This integration lets you easily collect and organize the email addresses visitors submit on your coming soon page.
Then, you can start emailing these leads to drum up excitement for your upcoming site launch. Or you can connect to automation tools like Zapier to automate your flow ahead of time.
You can even connect to Google Analytics to track your website's statistics and get valuable insights.
To access the integrations, switch to the Connect tab.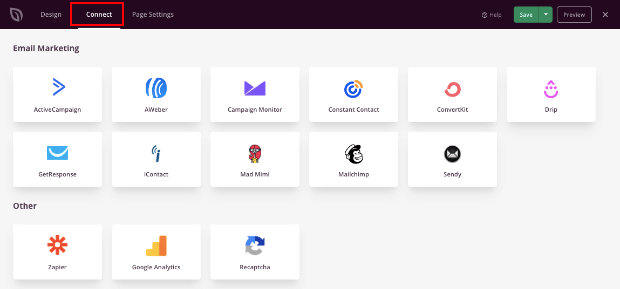 Here, you'll see all of the available integration options.
Once you select the service you'd like to integrate, SeedProd will ask for all the information it needs to get everything linked.
You'll just need either an API key or your username and password for most services.
Step 5: Select Who Can View Your Unpublished WordPress Site
Chances are, several people or teams will need to view your site as it's under development. Doesn't coming soon mode prevent that?
Sort of.
But there is a workaround.
SeedProd not only lets you create coming soon pages, but it understands that sometimes you need to let specific people view your site that's in progress.
This is found in the builder under the Page Settings » Access Control tabs.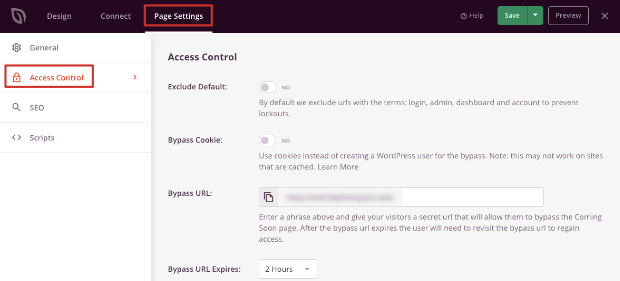 On this page, you can exclude or bypass URLs such as your login and admin dashboard links. This option ensures you don't accidentally get locked out of your site when you enable coming soon mode.
You can also create a special URL link with a time limit to grant someone temporary access to view your site.
There are also options to filter visitors by IP address or user roles.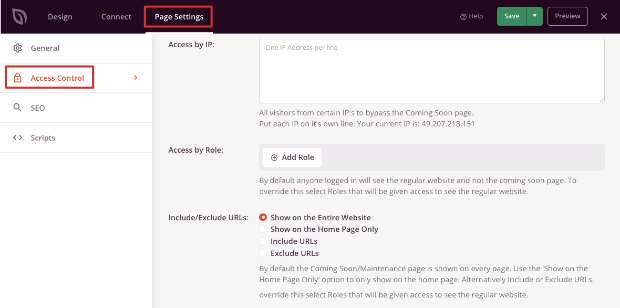 Now, there may be instances where you want to add a coming soon page only to a section of your site. Say, for example, you have an upcoming product launch or new membership program.
SeedProd lets you selectively choose URLs where you want to display the coming soon page instead of showing it across your whole site.
Step 6: Optimize the Coming Soon Page for SEO
The whole idea of creating a coming soon page is to generate traffic and excitement.
What's helps generate traffic? Search engines.
SeedProd has features that make your coming soon page search engine friendly and start getting noticed.
In the page builder, under the Page Settings » SEO tab, you'll see options to enter an SEO title and description. This is what will appear on search engines when someone searches for your site.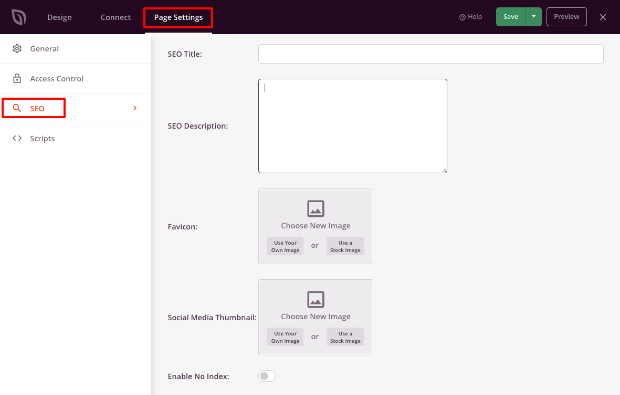 Next, you can choose a favicon (the little image that shows up in a browser's address bar or next to a site name in a bookmark list) and social media thumbnail as well.
And finally, you can enable the No Index mode to prevent search engines from indexing this page and displaying it on SERPs (search engine results pages).
Once your site is live, you'll need a comprehensive SEO solution. We recommend using All in One SEO because it has everything you need to optimize your site, rank on search engines, and outrank your competition.
Step 7: Publish the Coming Soon Page
We are almost done creating your coming soon page.
When you're satisfied with how your coming soon page looks and functions, the next step is to publish it.
It's as simple as clicking on the Save button in the upper right-hand corner of the builder. This will open up a dropdown menu with an option to Publish your page.
If you need to come back later to finish editing, you can click on Save as Template.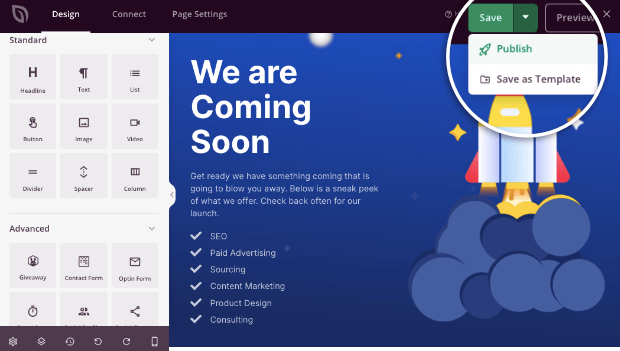 Once you publish your coming soon page, you'll see an option on the success screen to view your coming soon page by clicking on the See Live Page button.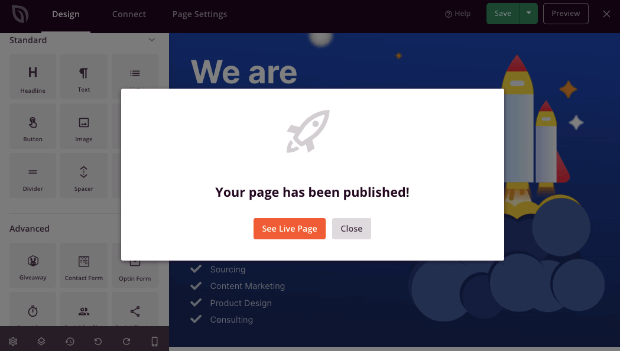 There's just one step left in getting your page online, and this is probably one of the most critical steps. Publishing is just one step of a two-step process to launch your coming soon page.
Step 8: Activate Coming Soon Mode on Your Site
Now, we need to activate Coming Soon Mode. Coming soon mode directs your site visitors to your coming soon page. Otherwise, they will just see your work in progress.
To activate this mode, go to the SeedProd » Pages tab. Now, use the toggle switch to enable Coming Soon.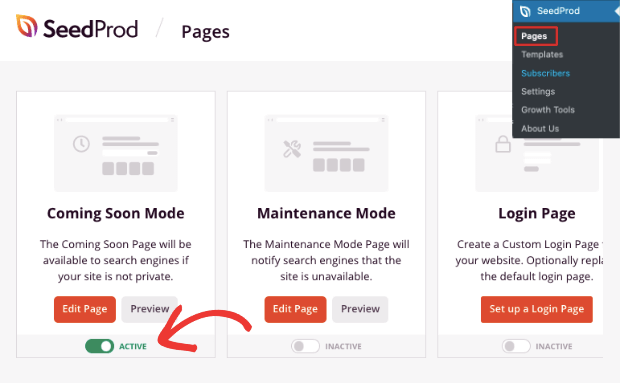 And with that, your site is in coming soon now, complete with a beautiful and responsive traffic-generating page.
Reminder: When you're ready to publish your site, you need to return to SeedProd and turn off Coming Soon Mode.
To do this, you'll simply use the same toggle switch to turn off coming soon mode. This will remove the Coming Soon page and make your site accessible to all.
Step 9: Viewing Leads and Subscribers
If you've added an optin form on your coming soon page, then you'll want to access the leads you've collected.
Head over to the SeedProd » Subscribers tab. Here, you'll see a list of all the leads you've collected through your coming soon page.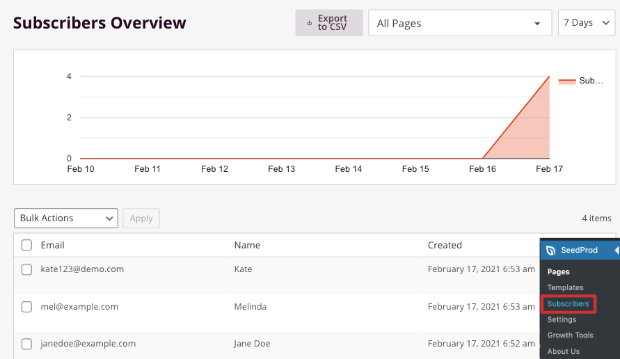 You can start promoting your site to your leads. For example, if you have an online store, you could build momentum by offering early-bird offers and referral discounts.
And there you have it! That's our guide on how to create a coming soon page in WordPress.
We hope this tutorial has helped you set up a buzz-worthy coming soon page that converts visitors into subscribers.
If you liked this post, then you may also want to see:
These articles will help you make your site successful by using popular marketing tactics, finding the best WordPress plugins for your new site, and ranking on Google.
And if you're interested in boosting your conversions and sales quickly and effectively, you should check out TrustPulse! It's proven to increase conversions by up to 15% instantly.