Do you want to notify your customers of flash sales on your site to maximize revenue?
There are plenty of tools that let you create different kinds of flash sale notifications such as website, browser, and mobile notifications.
In this guide, we'll show you how to create and send high-converting flash sale notifications to your subscribers and customers.
We'll also give you our recommended list of tools to send flash sale notifications using other methods.
Creating a Flash Sale Notification
Running a flash sale is a great way to boost sales and revenue. But since it's a limited-time sale, you need to inform your customers and prompt them to check out your sale before time runs out.
The best way to alert website visitors instantly is to use popup notifications about upcoming or current flash sales, like this:

These popups are non-intrusive but hard to miss and can grab the visitor's attention instantly.
To set up these flash sale notifications, you'll need a powerful notification tool that allows you to easily add this function to your site. This is where TrustPulse comes in.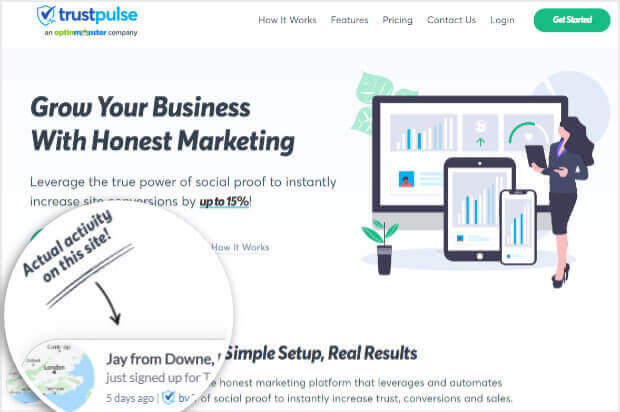 TrustPulse is the best social proof app on the market. It lets you capture activity from your site and display it as social proof to visitors.
These notifications boost trust and confidence in users which in turn leads to more sales and revenue.
TrustPulse has a ton of cool features you can use to create all sorts of notifications such as recent sales, group statistics, and flash sale alerts.
Here are a few important highlights of TrustPulse:
Quick and simple set up
Create flash sale notifications in a few minutes
Customize notifications to match your branding
Track performance and analytics of your campaigns
Control where, when, and to whom your campaigns are displayed
Today, we'll show you how to create flash sale alerts using TrustPulse to promote your sale instantly.
Step 1: Install and Activate TrustPulse
If you're new to TrustPulse, you'll need to install and activate TrustPulse on your site.
You can install it as you would any plugin. For more help on this, follow this guide on how to install a WordPress plugin.
You can also sign up for an account on our TrustPulse website and add your site from the dashboard.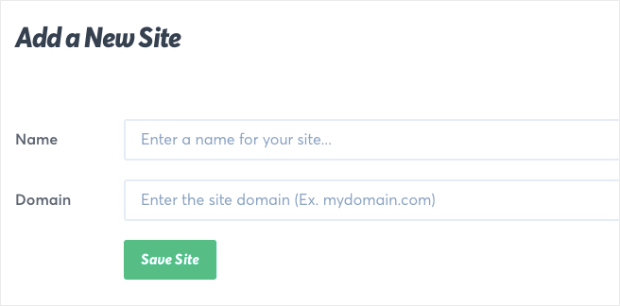 TrustPulse works across all website platforms. So you can add TrustPulse to any website including WordPress, Magento, Shopify, Weebly and BigCommerce.
Once you've done that, you can create your flash sale notification.
Step 2: Create an Action Message Notification
On the TrustPulse dashboard, you'll need to select the 'Create Campaign' button to get started.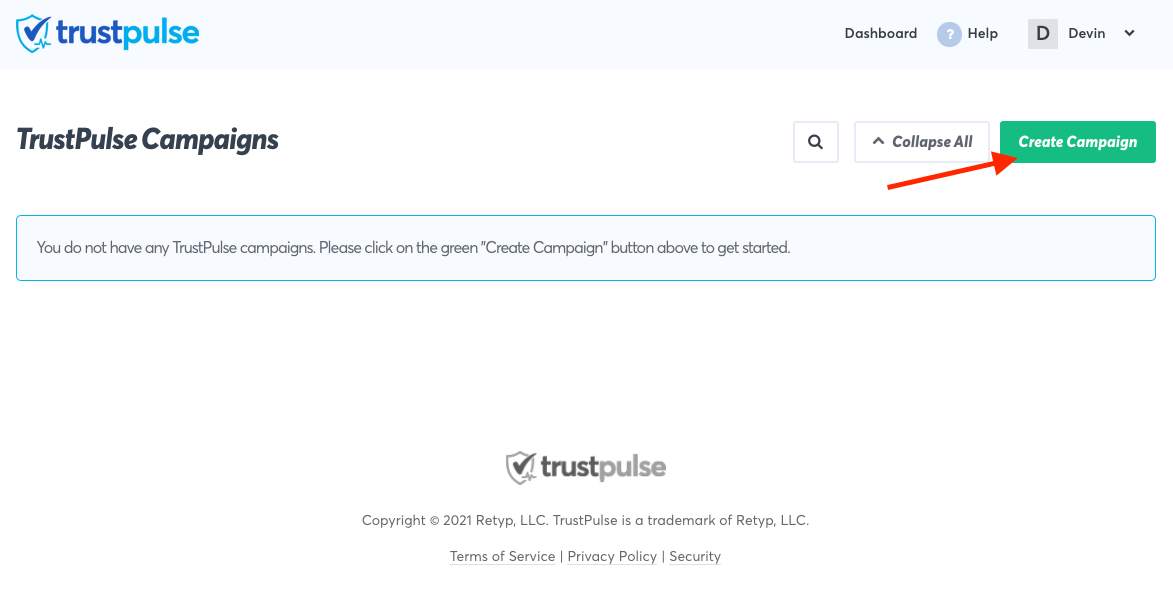 This will open up the campaign builder. Under the 'Campaign type' tab, you can name your campaign. We've named it flash sale so it's easy to find when we run multiple campaigns together.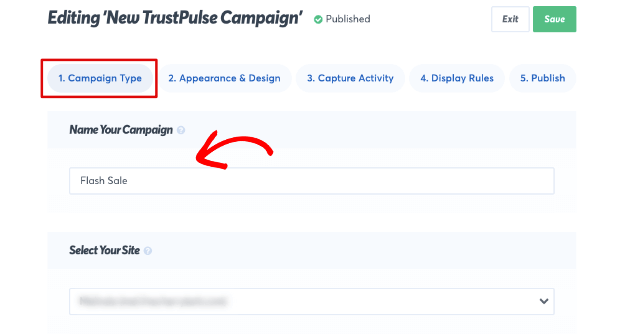 On the same page, you can select your website and then the campaign type you want to create.
To create a flash sale notification, we'll use the 'Action Message' which will show a single static notification to help drive visitors to your flash sale.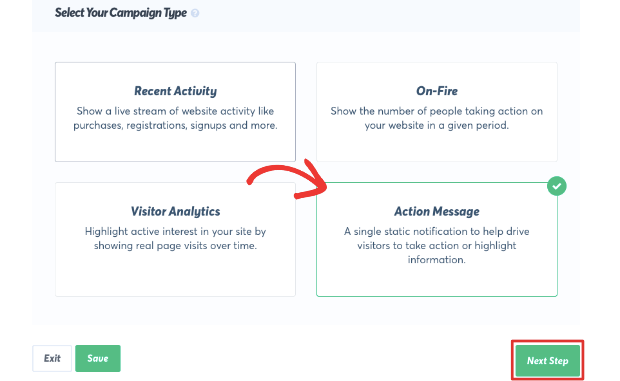 Once you're done making your selections, click on the 'Next Step' button.
Step 3: Customize the Flash Sale Notification
Now, you're ready to design the flash sale popup. Under the 'Appearance & Design' tab, you'll see options to completely customize the notification.
First, you can choose your language which is by default set to English.
Next, you can add your own text to your popup. As you make changes, you'll see them reflected in the live preview at the bottom left corner of your screen.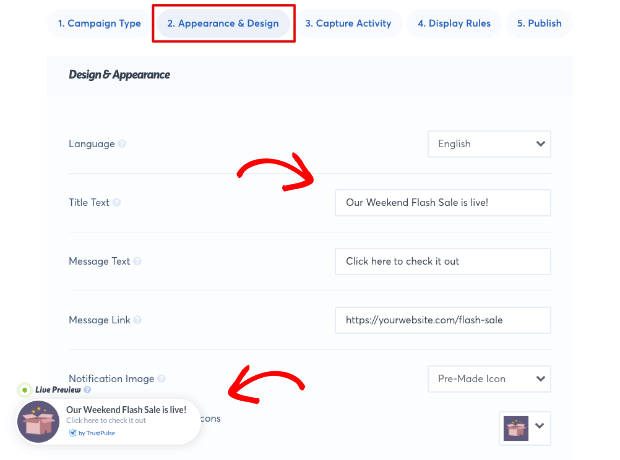 After you've added your custom text, you can add a link to your popup. This will make it clickable and you can direct your visitors to your flash sale.
After this, you can choose to display an icon, avatar, or image in the popup. You can use one of our premade icons or upload your own.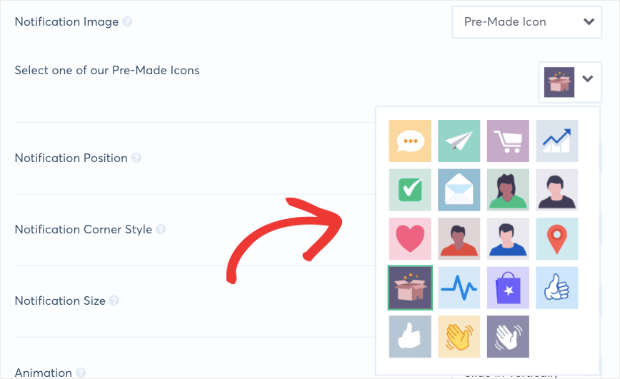 Next, you can choose where you want your notification to appear. You can select the top or bottom left, or top or bottom right of the screen.
You'll also see options to change the popup shape and the animation effect.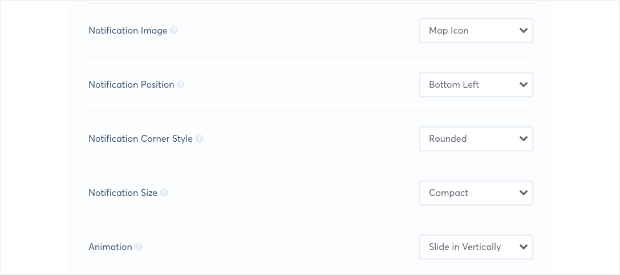 Once done, you'll want to check out Advanced Settings where you can change the color, font, and border of the notification.
Using these options, we've matched our popup to the color scheme of the website we're creating this flash sale alert for.
So it looks natural and coordinated with the rest of the site.
When you're happy with your notification, you can set up display rules for your flash sale alert.
Step 4: Set Up Display Options
From the top menu, switch to the 'Display Rules' tab to control when, where, and for how long your notification appears.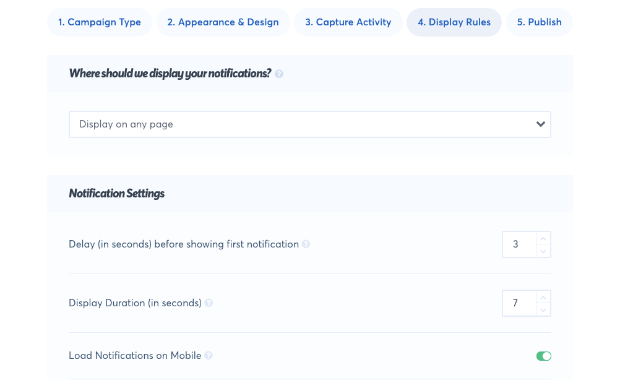 First, you can choose to display the flash sale notification on all pages of your site or select exact URLs.
You can also filter pages by matching text and patterns. And if you want, you can also exclude certain URLs from showing the popup.

Once you make your selection, you'll get 3 more display options:
Choose how long the visitor browses your site before the popup appears.
Control how long the display duration of the popup will last.
Choose whether or not to play your notifications on mobile devices.<//li>
Before we complete this step, since this is a flash sale notification, you may want to use the 'Order Priority' feature.
If you have multiple TrustPulse campaigns running, you don't have to turn off the other campaigns to run the flash sale campaign.
Instead, you can set an order priority that tells TrustPulse which campaign to display first.
You'll find the Order Priority option under the 'Advanced Settings' menu on this page.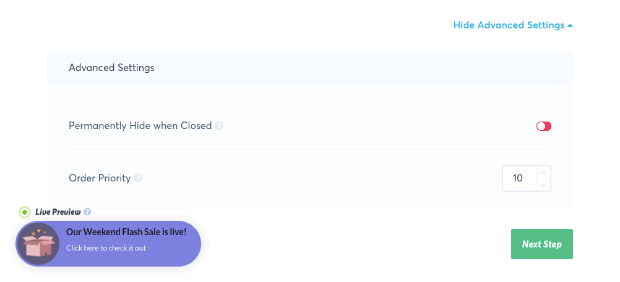 You can change the order priority to 1 as the flash sale will run only for a limited period. This will maximize the number of people that see your flash sale notification.
Step 5: Launch Flash Sale Alert
Now, you've designed a beautiful flash sale alert and set up display rules, you're ready to publish your campaign.
Switch to the 'Publish' tab, and you'll see a sample of your campaign.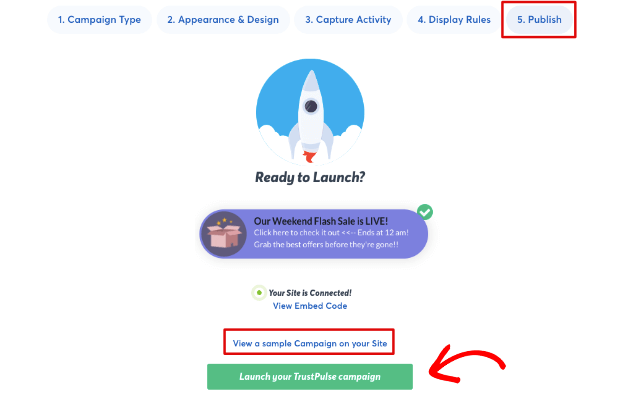 You can also view a sample of your campaign on your site so you can see how it looks against your website's theme.
When you're ready, hit the 'Launch your TrustPulse Campaign' button. And with that, your flash sale notifications will appear on your site.
When your flash sale is over, you can turn off this campaign from the dashboard. When you click on the green toggle switch under the Status column, it will turn red to indicate the campaign is inactive.

And if you click on the statistics icon under the Actions column, it will open the analytics dashboard where you can track the performance of this campaign.
Now, you've successfully created and run a stunning high-converting flash sale notification on your website.
But when you host a flash sale, you may want to reach out to as many customers and subscribers as possible to maximize your profit.
There are different channels you can use to make sure all your customers are alerted. We touch upon these options next.
Other Flash Sale Notifications You Can Create
You can alert your customers about flash sales through multiple channels of communication. This way, you'll be sure to get the most out of your flash sales.
Here are 4 kinds of flash sale notifications you can create:
1. Lead Generation Flash Sale Notifications
Flash sale notifications work great as popups, inline forms, banners, and slide-in campaigns.
You can use OptinMonster to create such campaigns.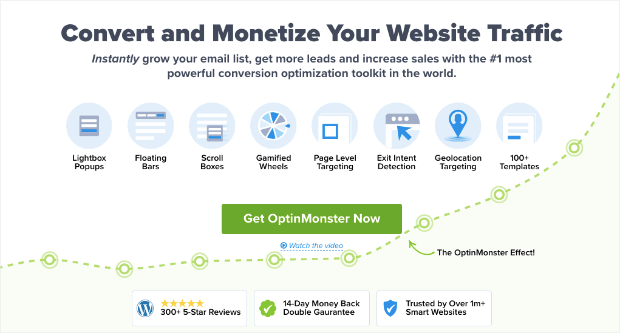 OptinMonster is the most powerful lead generation tool. It lets you create flash sale notifications and also collect email subscribers at the same time.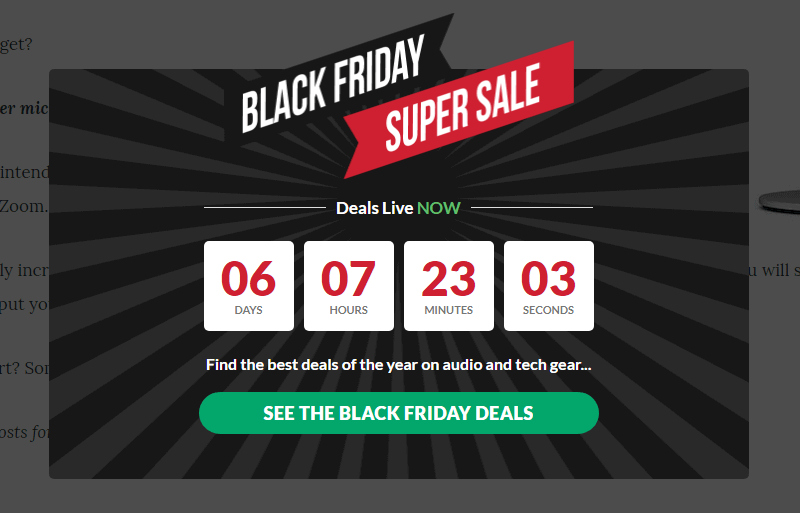 It has a drag and drop builder to create flash sale notifications in minutes. And you can add a countdown timer to your notification so visitors will know when the sale ends.

This creates a sense of urgency and encourages customers to take advantage of the limited-period offers.
And it has powerful targeting features so you can display campaigns according to a visitor's interests, activity, and location.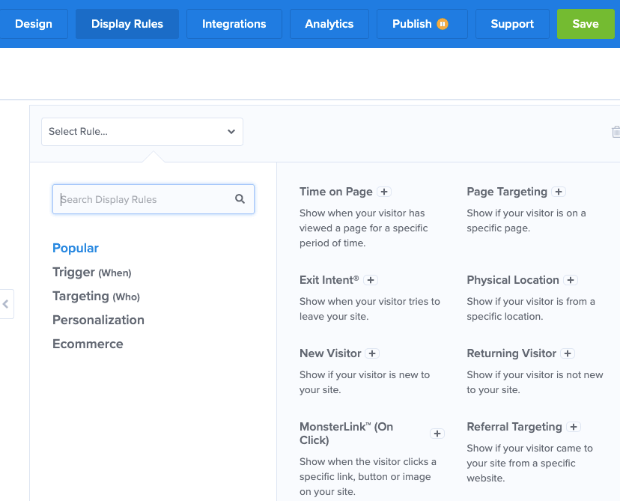 With OptinMonster, you can create multiple campaigns, set up targeted display rules, and track your campaign's performance.
You'll have everything you need to get the most traffic and sales for your flash sales.
2. Web Push Notifications
You can send push notifications to your visitor's browsers even when they aren't actively viewing your site.

We recommend using PushEngage as they're the #1 web push notification app on the market.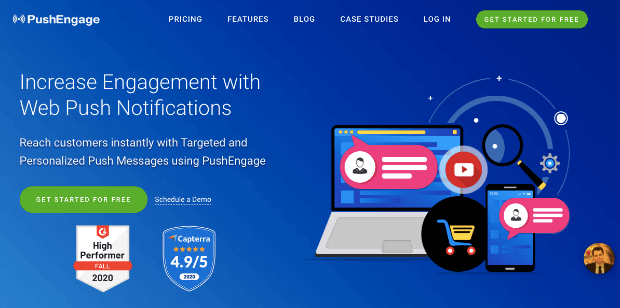 PushEngage lets you easily create stunning and exciting push notification alerts.
And you can schedule it to be sent to visitors according to their timezones, so they'll get the alert when they're most likely at their computers.
Plus, you can set an expiry time for the notification, so the visitors won't receive the notification once the sale ends.
You can segment your audience by their activity, device, location, and URL their viewing. And with campaign analytics, you can see which notifications perform the best.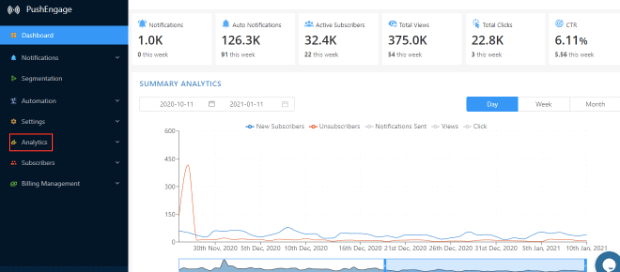 In this way, you can optimize future sales notifications to get the best results for your flash sale.
3. SMS Flash Sale Notifications
If you have SMS subscribers, you can send a short text message broadcast. They'll receive your message directly on their phone.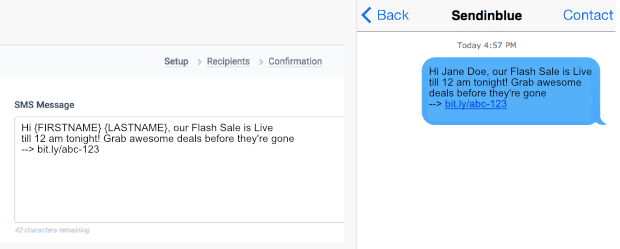 SMS works great for flash sales because these messages are concise and to the point.
Subscribers only need to spend 2 seconds reading your message and if they're interested, they can click on the link and be directed to your flash sale.
We recommend using Sendinblue for SMS notifications.
It's the best SMS marketing platform to send SMS broadcast messages. They make it super easy to create the messages in minutes, import your contact list, deliver them to subscribers.
4. Email Broadcasts
You can send out flash sale alerts through emails to your subscriber base to let them know you're hosting a flash sale only for a limited time.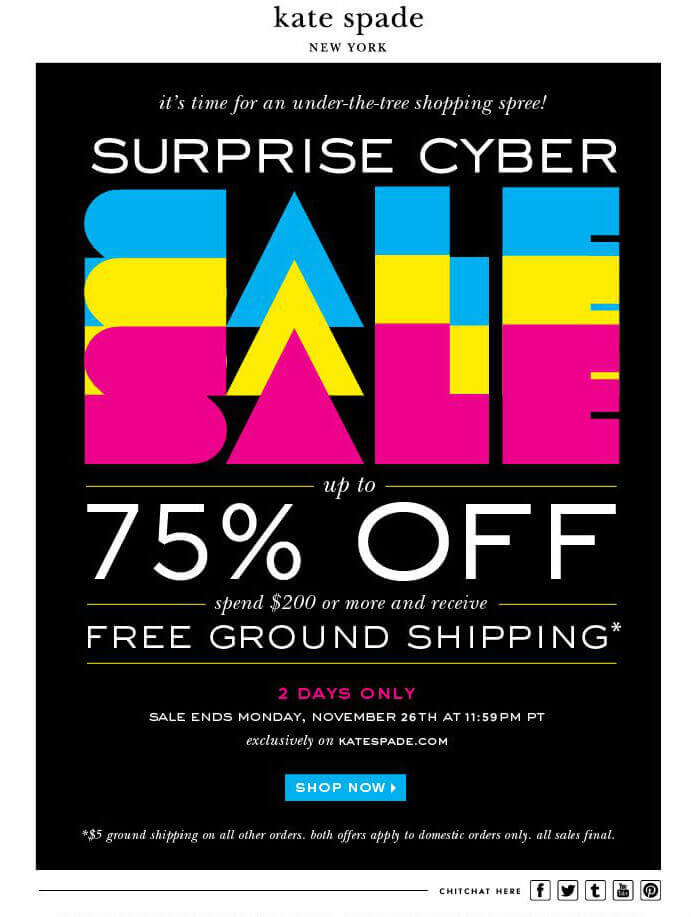 Email is a great way to keep subscribers and customers engaged in your brand. And if you plan your campaign ahead of time, you can send out an email sequence to build momentum and excitement for your sale.
To send out email broadcasts, we recommend Constant Contact. It's the best email marketing platform to create and send email broadcast notifications.
You can also integrate Constant Contact with OptinMonster to automate your lead generation and email campaigns.
So when someone signs up for email alerts through an OptinMonster popup up on your site, you can automatically trigger emails from Constant Contact to welcome new subscribers and keep them updated on your sale.
And with that, you have everything you need to create and send out flash sale notifications to your subscribers and customers.
We hope this tutorial helped you create awesome flash sale notifications for your site.
You may also want to see How to Create a Recent Sales Notification Popup (the Easy Way) to boost your sales and conversions on regular days.
And if you're ready to create your flash sale notifications, sign up for your 100% risk-free account today!