Do you want to make a website for a small business but don't know where to start?
Building a business website is a great way to establish your presence online and control how people perceive your brand.
However, the actual process of making a website is challenging for someone with no experience. It can feel overwhelming, especially if you don't know where to begin.
In this article, we'll guide you through a simple, step-by-step process to build an impressive website for your small business. From picking a website hosting service to search engine optimization (SEO), it covers everything you need to know.
By the end of this article, you'll be ready to build a website that enhances your online presence and drives business growth.
Let's get started!
The Benefits of Building a Small Business Website
Building a business website has its fair share of benefits for both the brand and the customers. You increase credibility while making your business look more professional.
According to a survey, 84% of consumers believe that a business with a website is more credible. It makes sense when you think about it. You get your own registered domain name, tighter control over product page SEO, and the ability to reach a wider audience.
Having a website can also help improve customer service. Still, many of you might wonder why to bother when you can just set up a social media page.
The problem is that you'll have to cater perfectly to social media algorithms and rules. This means hiring social media managers who are familiar with the platform. You'll also spend more time buying or paying subscription fees for ads to advertise your brand.
If you feel like social media is the better platform for your business, that's fine. But building a website that goes along with it is the best of the best worlds. It doesn't have to cost much, and the benefits far outweigh the initial effort.
Essential Components for Building a Successful Business Website
To build a successful business website, you need a few crucial things in place. These are the building blocks that help your online presence shine.
Here are the five essential parts every business website should have:
Domain Name: This is the address and name of your website on the internet, such as trustpulse.com.
Web Hosting Plan: A service provided that allows you to publish and maintain your website online.
Website Builder: A platform that allows you to create a website without prior coding knowledge. It shapes the design, layout, and functionality of your site. Examples include WordPress, Squarespace, and even Shopify.
Optimized Content: Helpful content that generates and drives leads.
Search Engine Optimization (SEO): Optimizing a website and its content to improve visibility in search engine result pages (SERPs).
You'll soon learn that all of these components heavily rely on each other.
For example, a good domain name can impact SEO by improving the brand's visibility and click-through rates.
Similarly, high-quality content and good SEO go hand in hand in improving your performance in search results.
How to Make a Website for a Small Business in 6 Steps
In this tutorial, we'll show you how to make a small business website in WordPress:
1. Pick a Domain Name and Hosting Provider
The first step to building a small business website is picking and registering a domain name.
Picking a Name
The domain name is the address of your website and an essential aspect of your brand identity. Here are some important elements to consider when choosing a domain name:
Relevance and Targeting: A relevant and fitting domain name helps you target a specific audience and improve the search ranking placement.
Perception of Trust: A trustworthy domain name that aligns with your brand can positively influence consumer perceptions.
Usability and Memorability: A memorable domain name makes it easy for users to remember and revisit the site. Readability is also crucial, and search engines consider it for rankings.
If you're struggling to find the perfect domain, try the domain name generator at Nameboy for inspiration.
Website Hosting and Domain Name Registration
Once you've decided on your domain name, you'll need to get it registered.
We recommend Bluehost for an all-in-one solution. It provides both domain name registration and hosting services.
With Bluehost, you can get:
Free domain name for the 1st year
SSL certificate (a necessary trust badge)
Easy WordPress installation
Highly secure and reliable web hosting
All for less than $3 per month. It's a great, hassle-free way to get started with building your small business website.
Here's how you can sign up for a domain name and hosting plan with Bluehost:
1. Head over to the Bluehost website and click the Get Started Now button.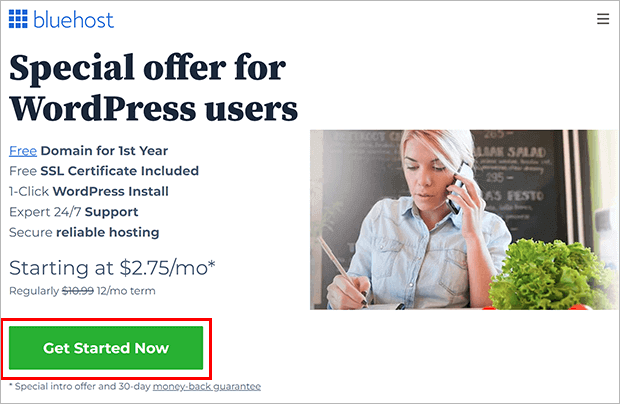 2. Choose a pricing plan that fits your needs. The two entry-level plans are fine for small businesses. However, you can also pick higher plans for extra features and bandwidth.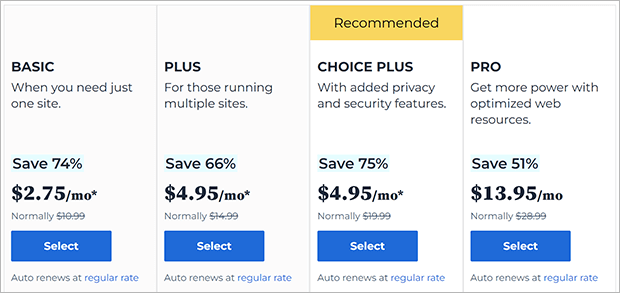 3. Next, choose your domain name.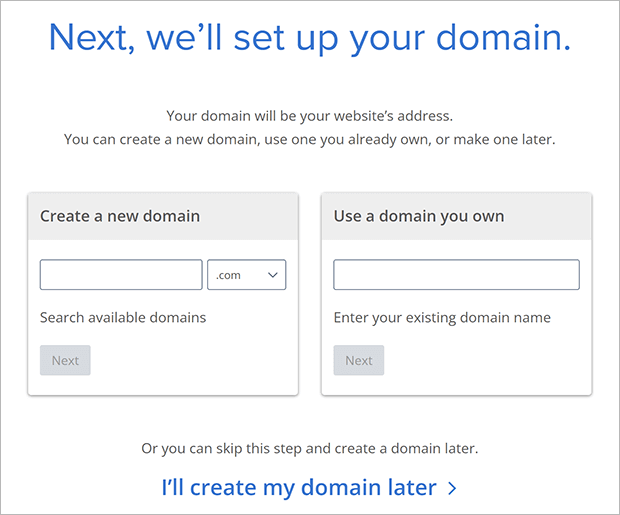 Enter your domain name if you've already purchased it elsewhere. You can also look for available domain names or choose one later on.
2. Getting Started with WordPress
If you follow our advice and choose Bluehost as your hosting provider, installing WordPress on your website becomes a breeze. With just a few clicks, you can have WordPress up and running.
WordPress features excellent lead-generation tools, affiliate plugins, drag-and-drop page builders, and more. It's highly customizable and SEO-friendly and has a gigantic community of developers contributing to the platform. Due to this, finding help and resources online won't be much of a problem.
The installation process is straightforward, especially with Bluehost.
Log into your Bluehost dashboard and let the platform automatically handle the WordPress installation.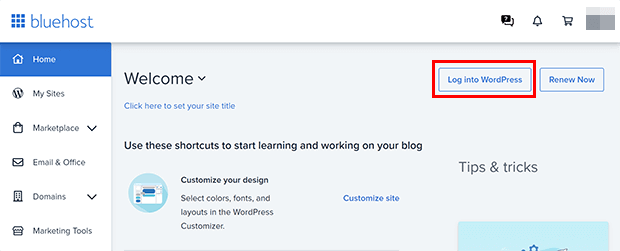 Once that's done, you can log into your WordPress website from the dashboard. You'll be directed to the WordPress dashboard and admin page from there.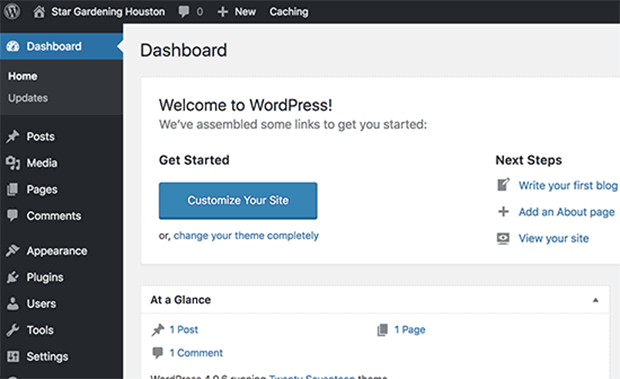 Here, you can effortlessly add pages, posts, photos, and videos to your site.
3. Choosing a Theme or Template in WordPress
You can select a theme by clicking the Appearance » Themes menu in your WordPress dashboard.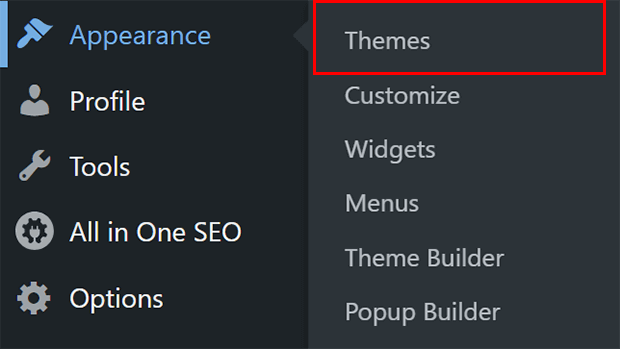 Themes can change your site's web design and layout, so find something that fits the look you want for your brand. You can change almost anything, including layout, fonts, colors, and other design elements.
Bluehost's automatic WordPress installation comes with a default theme. It's a bit bland, so you'll likely want to change it to something that aligns with your brand and fits the needs of your business. Fortunately, you have many free themes to pick from within the platform.
You can also get custom theme builders that give you more control over the look and layout of your website. We recommend checking out ThriveTeams for the best features and functionality.
Another valuable tool to consider is SeedProd, a drag-and-drop WordPress site builder. It provides theme, landing page, and sales funnel builders with over 200+ customizable templates. Moreover, SeedProd allows dynamic personalization for a more tailored user experience.
How to Choose The Perfect Theme
Although WordPress themes can be changed or edited later, it is not always an easy thing to do. Changing your brand's visual identity may also lead to confusion and lower sales. Therefore, we recommend spending some time and picking the best possible theme for your new WordPress website.
Here are a few tips on choosing the perfect WordPress theme for your new small business website:
Simplicity is the ultimate sophistication. Avoid flashy designs that are crowded with unnecessary information. Look for something clean that supports your brand's identity and goals.
Ease of use and user experience is just as important. People should be able to navigate the website, so a clean layout with subtle visual cues is important.
Make sure your theme looks good on all screen sizes. A lot of website traffic will come from mobile devices, so your theme should be dynamic and responsive to support this.
See how a theme affects the site's loading speed. You can use various website speed test tools to check this.
If you've been following our guide diligently up to this point, you should at least have a site that looks good.
Now, let's enhance its functionality by adding plugins and expanding its features.
4. Installing WordPress Plugins and Extensions
Plugins and extensions can add much-needed functionality to your business website. Think of them like apps that serve different purposes. The WordPress plugin directory features over 60,000 free plugins and even more paid plugins you can purchase from various vendors.
Of course, picking from all of those options is no easy task. We've compiled a list of our favorite plugins for small business websites to make things easier for you. Most of these are either free or have free plans, so you can get a taste of what the plugin has to offer.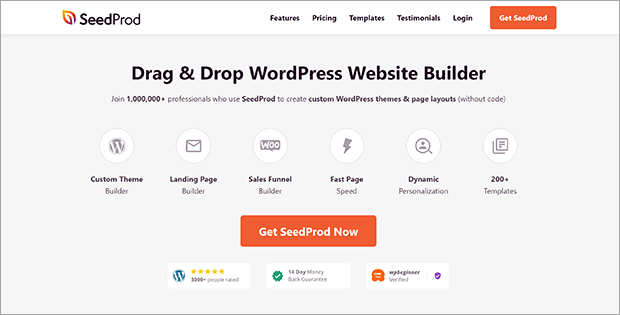 Drag-and-drop builders can be a godsend for small businesses. They are relatively easy to use, and you can get the hang of them within minutes.
SeedProd is our favorite drag-and-drop page builder. It allows you to customize the theme of your website and even features tools like a landing page and sales funnel builder.
SeedProd is fast, responsive, and features dynamic personalization. It has over 200+ templates for you to pick from, so you can easily find something that fits your needs.
All of these website templates are customizable and can quickly adapt to your website. It can be as simple or complex as you like. For example, you can just swap out a few font colors or go through the library of ready-made blocks to create a fully custom page.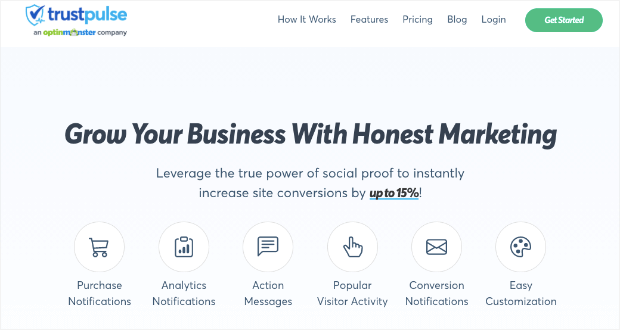 TrustPulse is the best social proof app for marketers and online businesses.
With TrustPulse, you can display real-time notifications of actions taken by others on your WordPress site, such as:
Purchases
Sign-ups
Reviews
Downloads
And more!
The best part is that you don't need coding skills to build these social proof notifications. Setting up, designing, and launching social proof notifications is super easy.
Moreover, you can even create targeting rules to make specific notifications for certain web pages, show individual or group activity, and link to whatever activity you're tracking.
This tells the user that the site is actively getting a lot of engagement, so it might be a good option to buy from.
Once TrustPulse is live on your site, you can customize notifications to match your brand and boost conversions by as much as 15%.
Get started with TrustPulse today!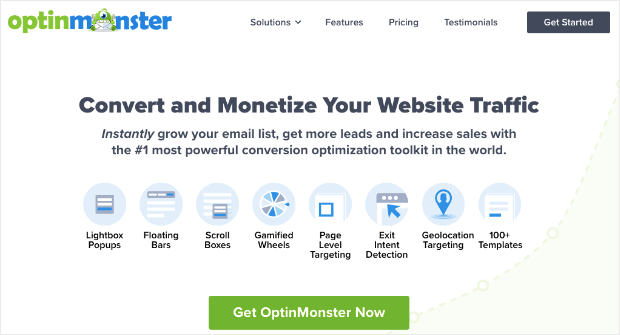 OptinMonster is the best popup plugin for WordPress. It helps you get a better conversation rate, boosts eCommerce sales, and gets you more email subscribers.
The tool features everything, including lightbox popups, floating bars, scroll boxing, gamified wheels, and more. It's the most comprehensive popup builder out there, and all the designs are customizable, so you can adapt them to your business needs.
The plugin also features Exit-Intent Technology to help you target visitors who are leaving your website. The gamified spin-a-wheel popup is also great for engaging visitors on your site.
Other than that, there are a lot of targeting and retargeting options, along with comprehensive A/B testing.
OptinMonster is more than a WordPress plugin. It's also a SaaS tool that works on other popular platforms such as Shopify, ConvertKit, Drip, and more.
The plugin features over 75 popup templates, detailed analytics and actionable insights, white labeling, and works for multiple campaign types.
5. Adding Pages to the Website
The next step is to start adding pages to your website.
WordPress makes it super easy to publish new pages. Simply log in to your WordPress Dashboard and go to Pages » Add New.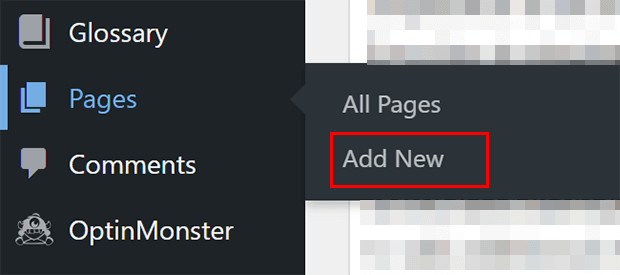 You can also create custom pages using the SeedProd page builder plugin. Its drag-and-drop interface makes it pretty easy to use.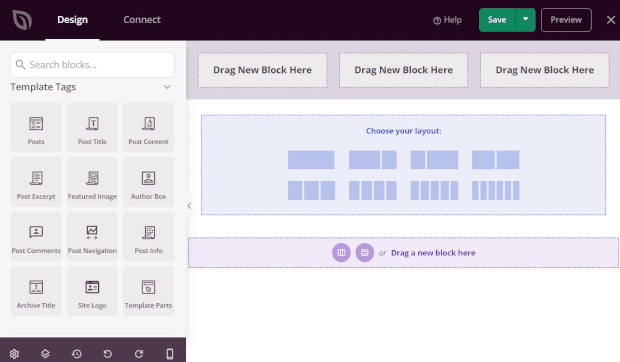 Use this SeedProd tutorial to learn how.
Here are a few pages that you must have on your new small business website.
Homepage: This is the main first page of your business website. It will include your business name, a brief description of your products and services, customer testimonials, and more information about what you offer compared to competitors.
Product/Services Page: A product or services page is crucial if you are getting started with your business. It will list all your products, a description for each product or service, and pricing information. Include call to action (CTA) buttons here so customers can buy directly or request a quote.
Support/Contact Page: You'll need a contact page that contains information like your business address and phone number. Add a support email and other channels visitors can use to ask for help. A contact form will work well here.
About Page: Website visitors will want to know who you are and what makes you stand out before they decide to do business with you. Your About page should contain information about your brand's vision, what you stand for, and how you can help them.
Other important pages include a landing page, a splash page, and a squeeze page. These pages aren't necessarily important right now, but you should read up on them so you're prepared to launch successful campaigns in the future.
6. Content and SEO Optimization
Content and SEO optimization are important for any website or blog that wants to rank high in search engines. A higher ranking automatically generates more organic traffic as more people are likely to click on links that appear at the top of a Google Search result.
Optimizing content for value improves user experience, making it easier for users to find what they need and boosting lead generation.
But how do you optimize all of this in the first place?
When you're first getting started, All in One SEO is the perfect SEO plugin and toolkit.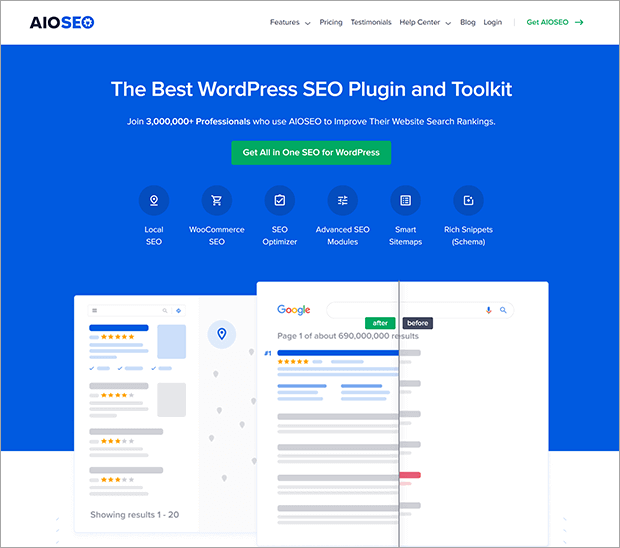 All in One SEO is the best SEO plugin for making your WordPress website appear higher on Google and other search engines.
Search engines bring lots of people to your website, which is great for your business. With AIOSEO, you can quickly find ways to make your website even better for search engines.
You can use it to set up advanced WordPress SEO tools like:
Optimized search appearance
Meta titles and descriptions
Keywords
XML sitemaps
Schema markup
SEO Audit Checklist
And more!
Taking The First Steps to Online Success
That's it!
Building a small business website could be your first step to online success. Whether you're working on a personal blog or an eCommerce business, the above tips will help you.
It's natural for many to think that a website isn't immediately important. While that may be true for some cases, it's the best place to start. It gives your business a professional look and establishes a lot of credibility.
To create your website the easy way, check out these 12 Best Website Builders for Small Businesses.
Here are a few more guides to help improve your small business in the future: